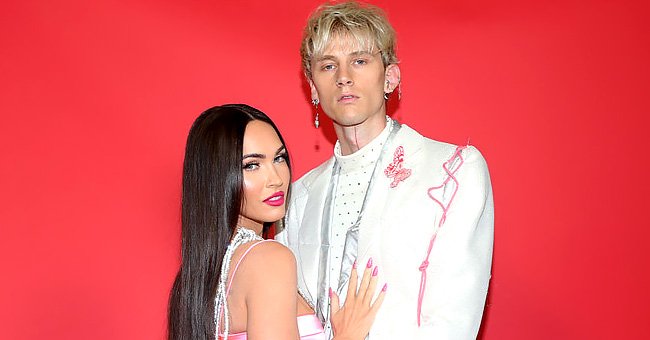 Getty Images
Megan Fox Confirms She and Her Fiancé Machine Gun Kelly Consume Each Other's Blood — What Is the Purpose of It?
Megan Fox shocked fans after revealing she and her fiance, Machine Gun Kelly, drank each other's blood. The actress confirmed what she meant and expounded on why they consumed blood sometimes.
In January 2022, Megan Fox and Machine Gun Kelly, born Colson Baker, surprised the world with news of their engagement after over a year of dating.
Both the actress and singer posted the proposal video on social media, which was recorded through Baker's cellphone strategically angled while leaning against a cup.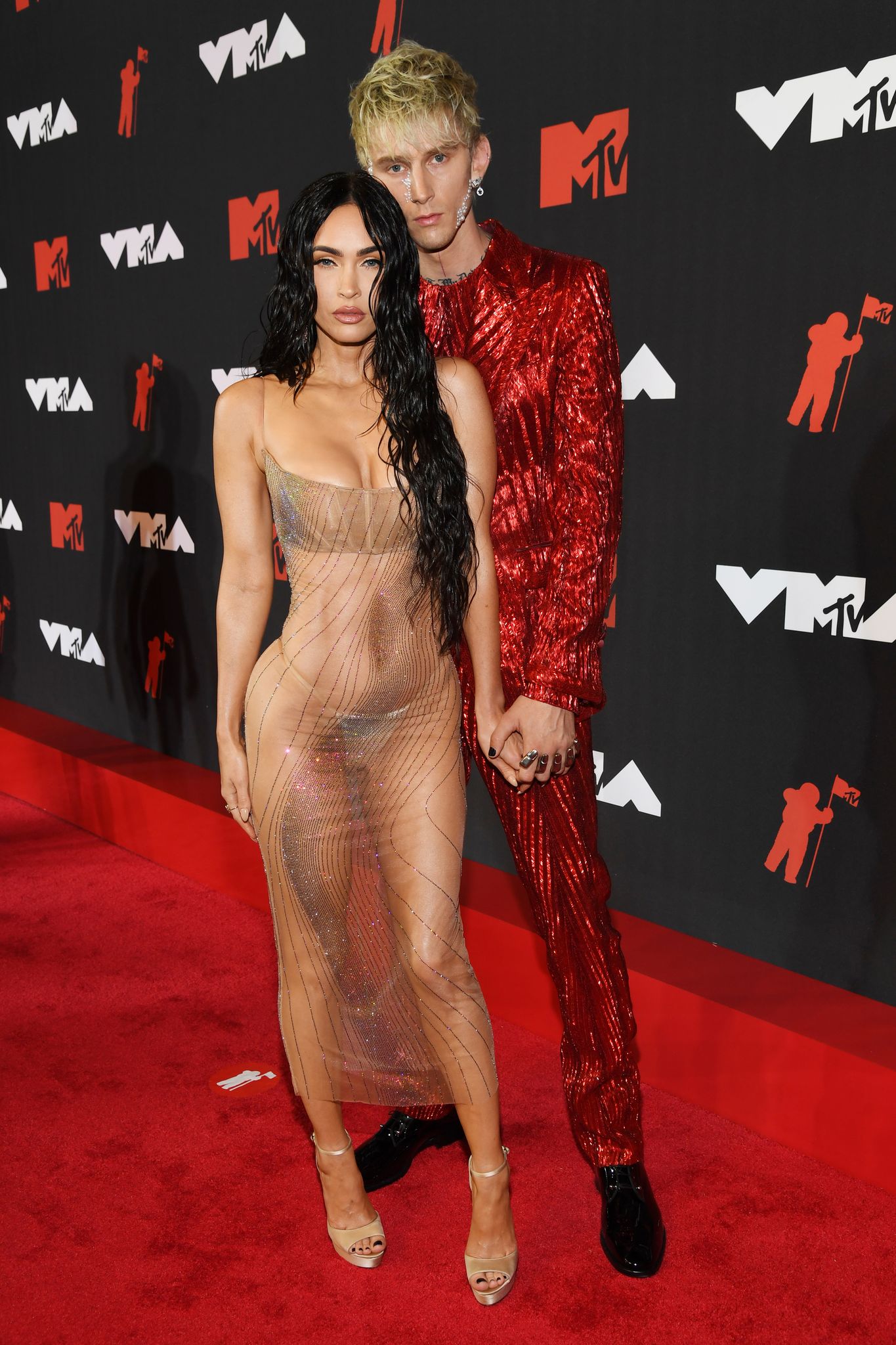 Megan Fox and Machine Gun Kelly during the 2021 MTV Video Music Awards at Barclays Center on September 12, 2021 in the Brooklyn borough of New York City. | Source: Getty Images
Baker proposed with a Colombian emerald shaped like a teardrop, forming an obscure heart with a diamond by a banyan tree. Together with Stephen Webster, he personally designed the ring to suit their relationship, which, if taken off, will cause pain.
To make it more special, the emerald represents Fox's birthstone, while the diamond represents his. The stones are "set on two magnetic bands of thorns that draw together as two halves of the same soul forming the obscure heart that is our love," Baker said. Meanwhile, Fox said in her post:
"Somehow, a year and a half later, having walked through hell together and having laughed more than I ever imagined possible, he asked me to marry him."
FOX AND BAKER DRINK EACH OTHER'S BLOOD
While her post had everyone excited, fans could not help but wonder what the "Transformers" star meant when she said, "We drank each other's blood."
In an interview with Glamour, Fox confirmed that they had consumed each other's blood, but not in the manner most people would imagine. She said:
"It's just a few drops, but yes, we do consume each other's blood on occasion for ritual purposes only. I'm much more controlled. I read tarot cards, and I'm into astrology, and I'm doing all these metaphysical practices and meditations."
Fox also performs rituals during full and new moons, including drinking a drop of each other's blood. While it may seem unorthodox to many, it is an activity that brought the couple close to each other.
Baker and Fox first crossed paths years ago, but it wasn't until their 2020 film, "Midnight In The Switchgrass," that they actually met.
The "Teenage Mutant Ninja Turtles" star revealed that she knew Baker was her twin flame after looking into his eyes. Although it was not love at first sight for the singer, he was taken aback by Fox's personality, noting that she was unlike any other person he had previously met.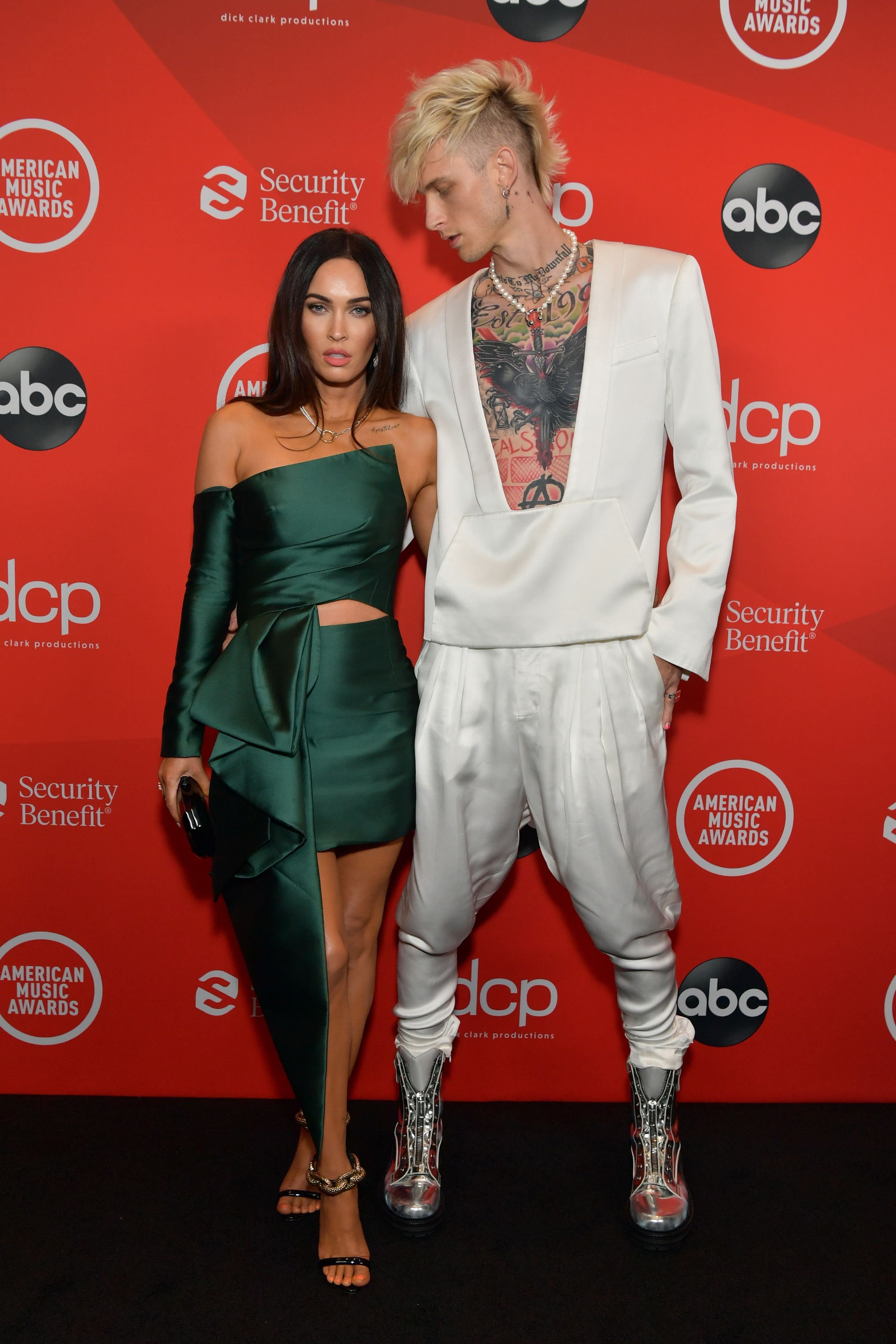 Megan Fox and Machine Gun Kelly attend the 2020 American Music Awards at Microsoft Theater on November 22, 2020 in Los Angeles, California. | Source: Getty Images
"I came from broken homes, and I watched love never work," Baker said. "Love gave me a reason to stay here." According to the rapper, his fiancee has positively influenced his life and inspired him to work on his issues to be a better person.
"She helped me realize that you can't bury your trauma," he added. With Fox by his side, Baker is ready to step up in all aspects of life, including his relationship with his family.
Baker is currently a father to his daughter, Casie, while Fox is a mother to three children: Noah Shannon, Bodhi Ransom, and Journey River.
Please fill in your e-mail so we can share with you our top stories!