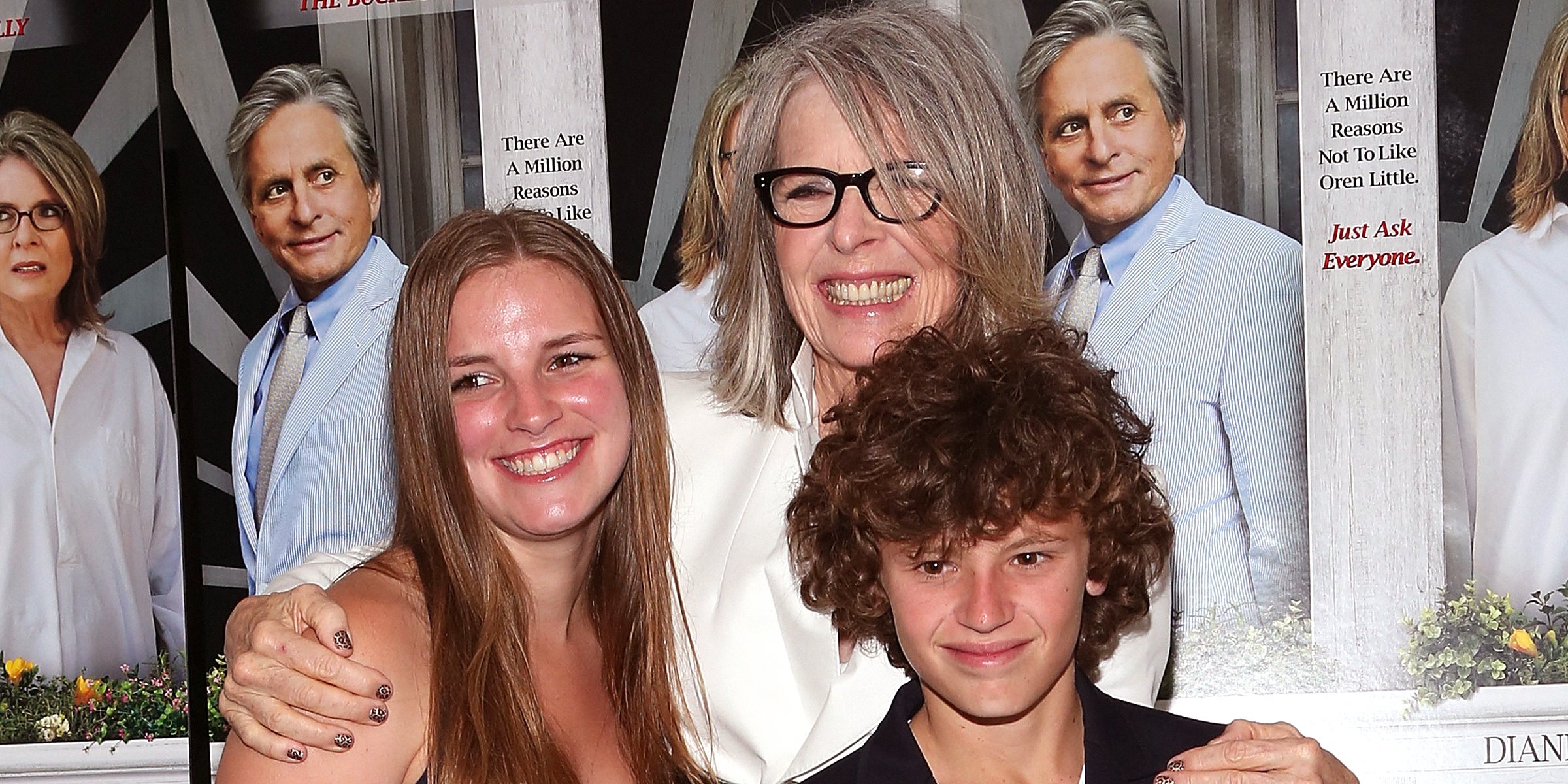 Getty Images
Diane Keaton Only Had a Child at 50 after 'Thinking for a Very Long Time' before She 'Plunged In'
Diane Keaton is a doting mother to two adopted children and has never been married. She decided to stay single after her experiences with love but later revealed that she regrets that decision. Find out why.
Diane Keaton is an American actress known for her beauty, talent, and impeccable fashion style. She has enjoyed a stellar career in Hollywood that has spanned decades, appearing in productions such as "Annie Hall," "Book Club," "Something's Gotta Give," "The First Wives Club," and many others.
Born Diane Hall on January 5, 1946, in Los Angeles, California, Keaton has always desired to be on the big screen since her early years.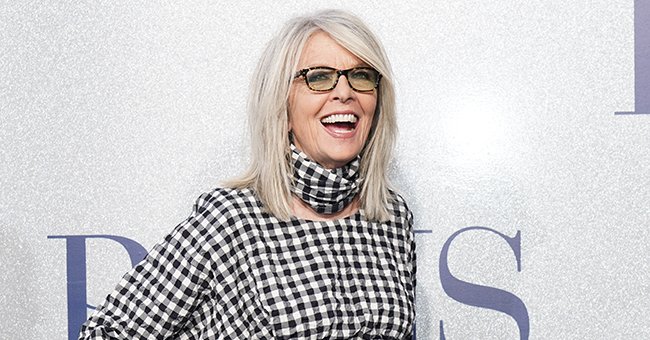 Diane Keaton attends the premiere of STX's "Poms" at Regal LA Live , May 2019 | Source: Getty Images
She grew up in Santa Ana, and after graduating from high school in 1964, Keaton moved to New York to study at the Neighborhood Playhouse School of the Theatre.
A few years later, she landed her first role in the 1968 Broadway show "Rain." Keaton also featured alongside Woody Allen in his production, "Play It Again Sam."
Eventually, she would star in other of his films, such as "Sleeper," "Manhattan," and "Annie Hall," which became one of her most notable projects and earned her an Academy Award.
KEATON'S RELATIONSHIP WITH WOODY ALLEN AND AL PACINO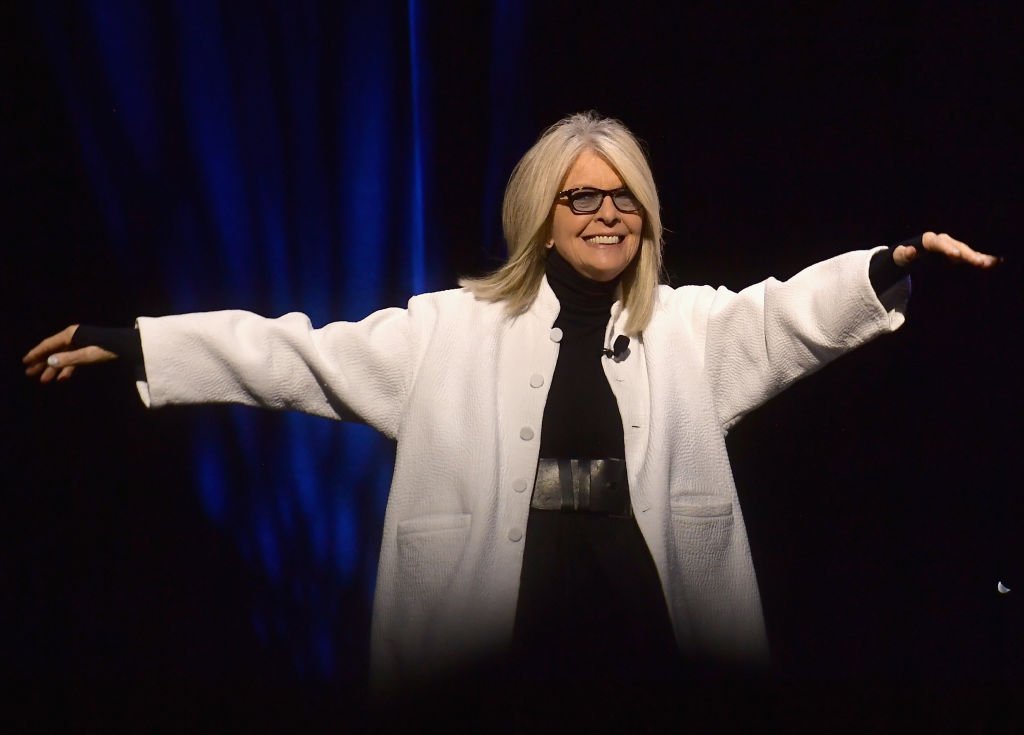 Diane Keaton speaks onstage at CinemaCon 2019 The State of the Industry and STXfilms Presentation, April 2019 | Source: Getty Images
Apart from starring opposite each other in productions, Allen and Keaton enjoyed a romantic relationship off-screen.
It was revealed that the actress had a "huge crush on" him when she saw him at an audition for "Play It Again Sam" in 1969.
Keaton joked that Allen cast her in the play due to her height difference, with the actress being shorter than the actor. On the other hand, Allen admitted to being captivated by Keaton.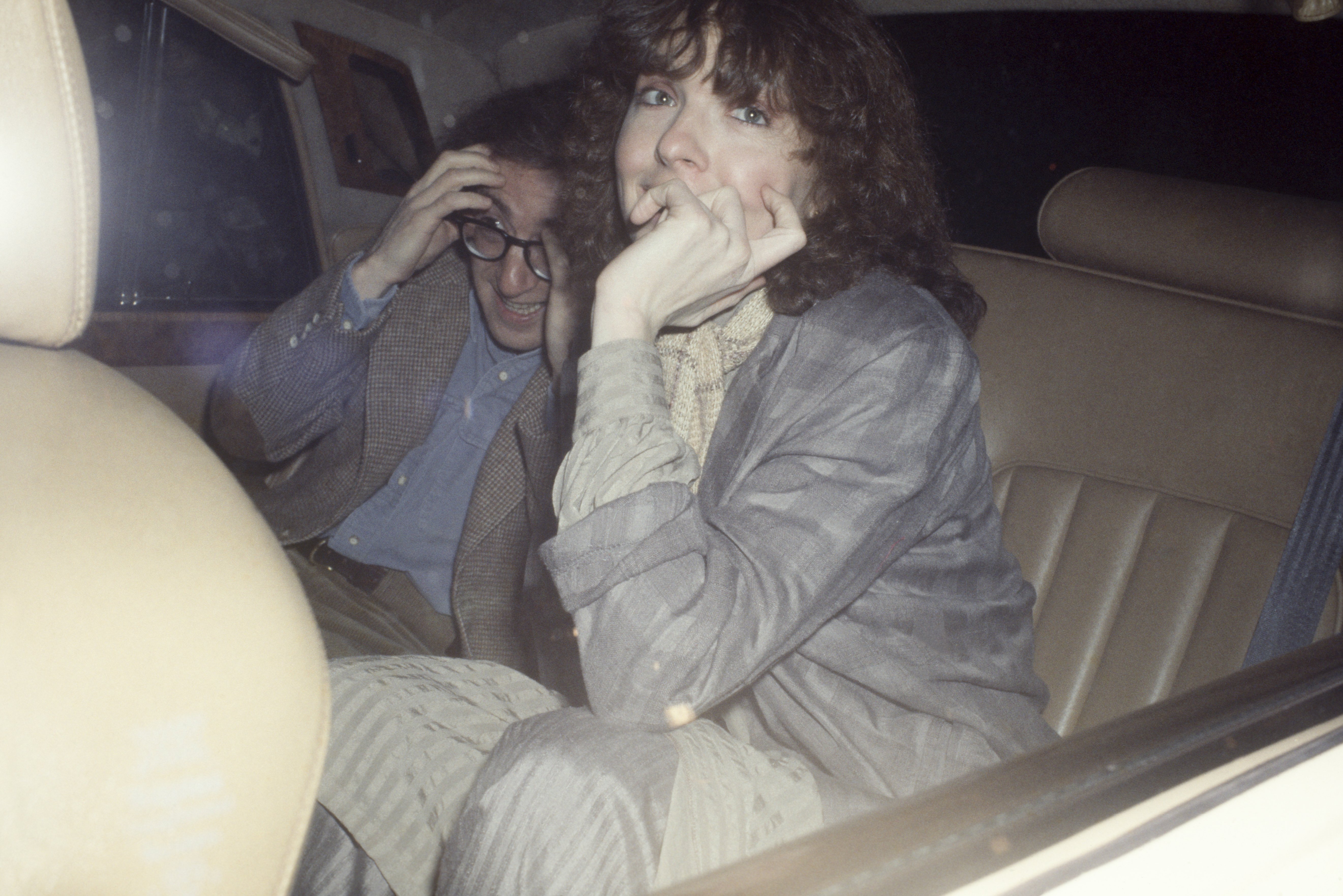 Diane Keaton with Woody Allen in a limousine; circa 1970; New York. | Source: Getty Images
He described her as fresh, funny, adorable, and original in style. The pair's mutual attraction for each other led to their real-life romance. The bond between the duo helped in their on-screen chemistry.
Even while filming the 1973 film "Sleeper," Keaton revealed that she loved being Allen's sidekick. Their romance became so serious that they moved in together and pursued their relationship with dedication.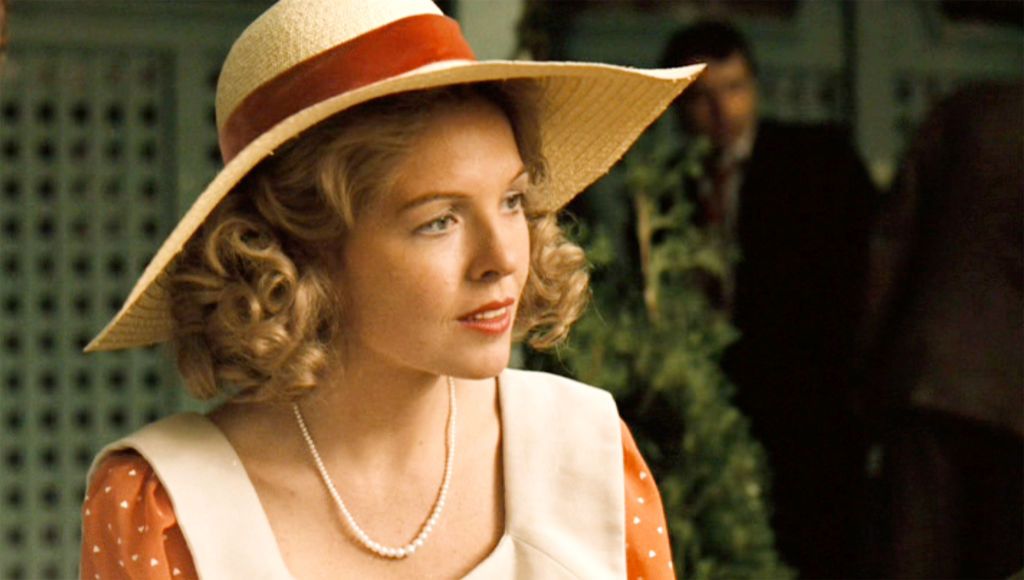 Diane Keaton as Kay Adams in "The Godfather," with the release date of March 15, 1972. | Source: Getty Images
Unfortunately, the former lovebirds' relationship was short-lived, as they broke up after Keaton landed a role in "The Godfather" and moved back to California. Nevertheless, the pair remained friends.
In his memoir, Allen noted that he still consulted her on castings or whenever he had any creative problems he was struggling with. Following the movie stars' breakup, Keaton got to date other Hollywood's famous men, including Al Pacino.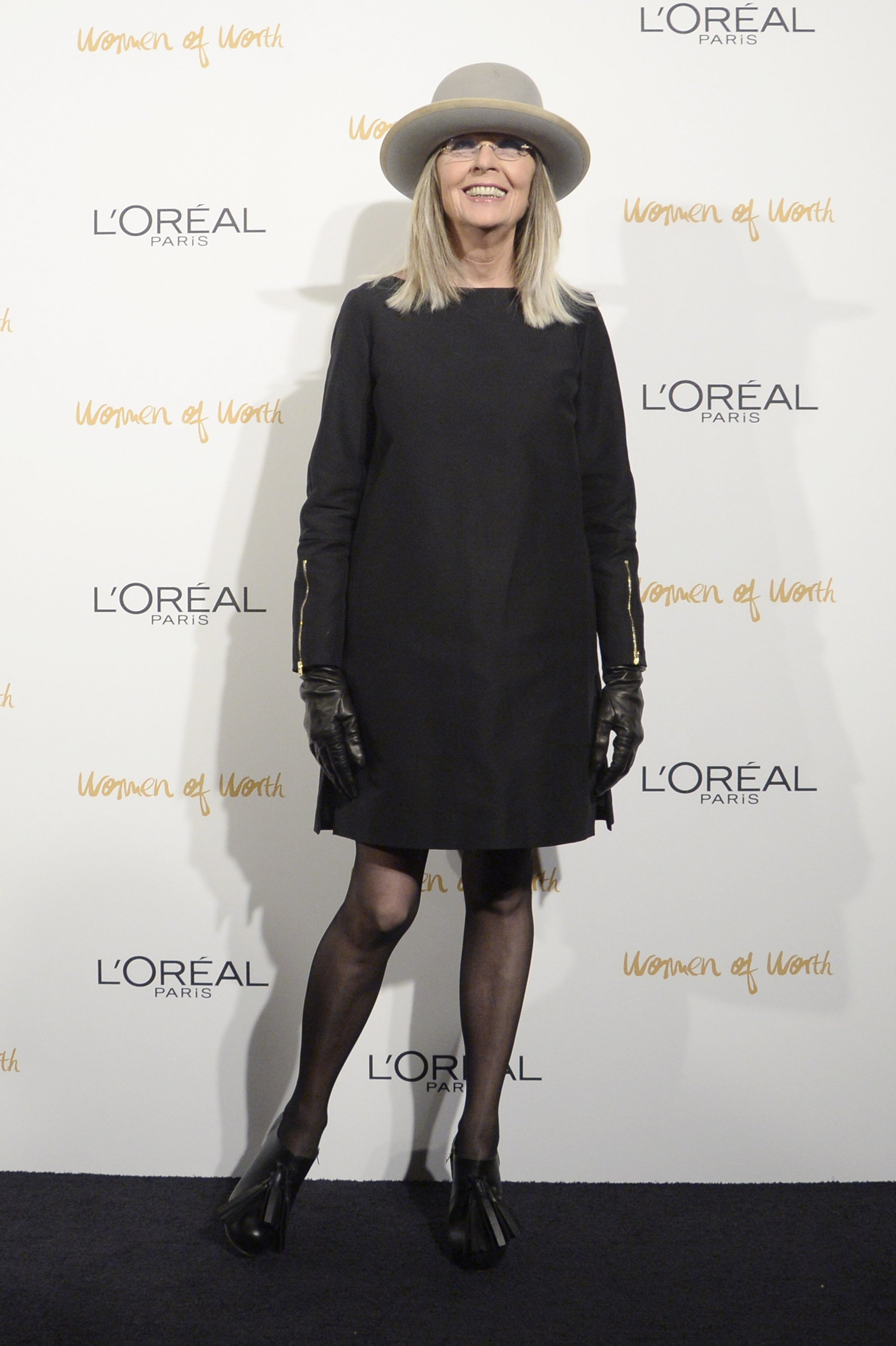 Diane Keaton at the L'Oreal Paris' Women of Worth event on December 3, 2013, in New York City. | Source: Getty Images
The two stars met while filming "The Godfather" and were relatively unknown at that point, with Keaton admitting she was taken by him from the beginning. Keaton explained:
"I was mad for him. Charming, hilarious, a nonstop talker. There was an aspect of him that was like a lost orphan, like this kind of crazy idiot savant. And oh, gorgeous!"
Sadly, the pair's relationship ended after the third trilogy of "The Godfather" when Pacino refused to marry the actress.
WHY DID KEATON DECIDE TO REMAIN UNMARRIED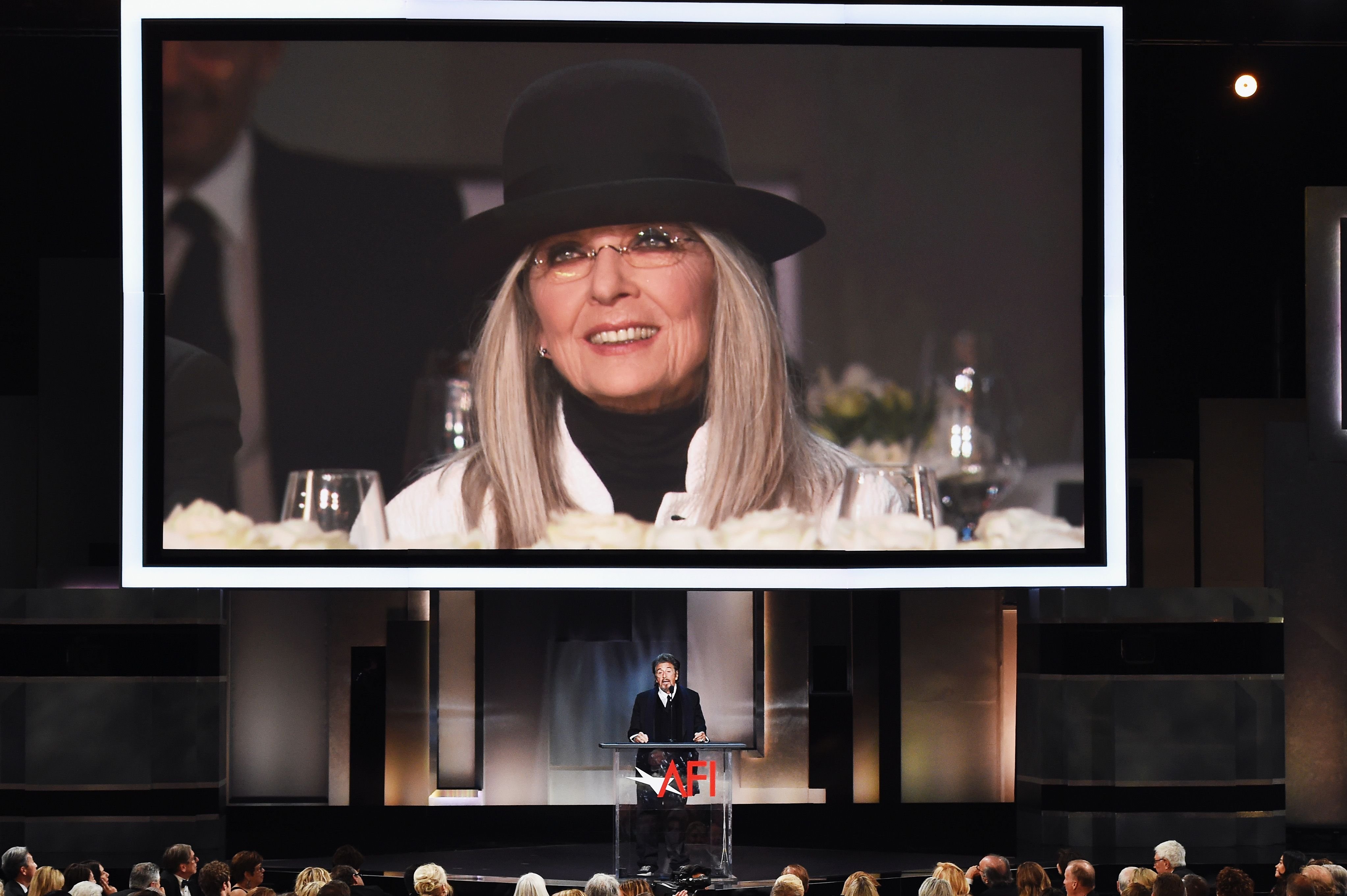 Diane Keaton projected on a video screen while Al Pacino speaks onstage during the American Film Institute's 45th Life Achievement Award Gala on June 8, 2017, in Hollywood, California. | Source: Getty Images
Over the years, Keaton has been candid about why she decided not to marry. However, during a 2021 interview, the Hollywood icon made it known that everything went back to her mother and her relationship with her father.
She recalled how her mother would always be around while her father was always at work and saw how much her mom gave up.
In addition, the "Something's Gotta Give" star explained that she wanted to try out more adventurous things, and she was not ready to compromise too much.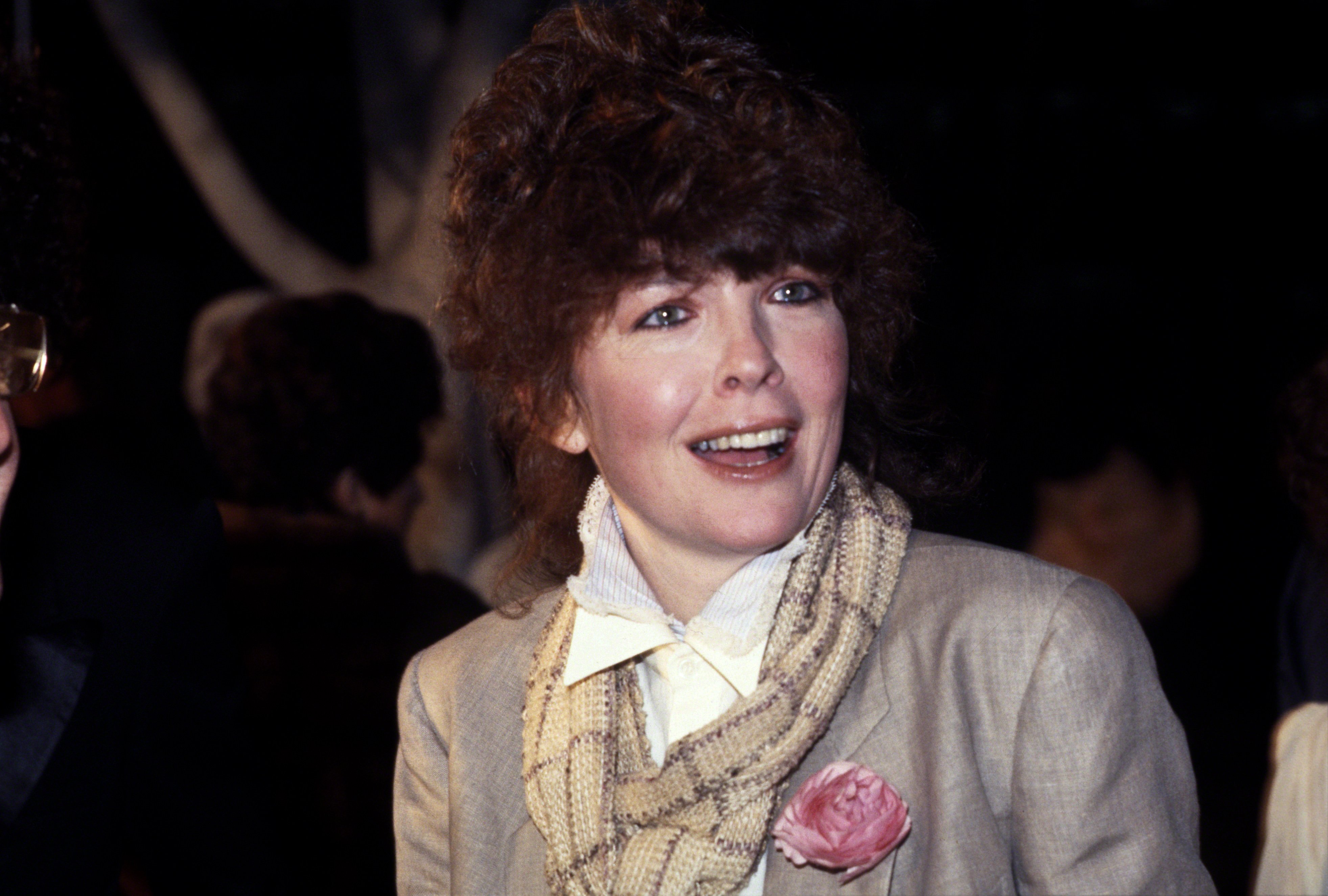 Diane Keaton circa 1978 in Los Angeles, California. | Source: Getty Images
Furthermore, Keaton revealed she was afraid of men and did not want to lose her independence. In Keaton's words:
"I didn't want to give up my independence. By the way, no one has ever asked me to marry them, either, so that might be a good answer."
KEATON FINALLY BECOMES A MOM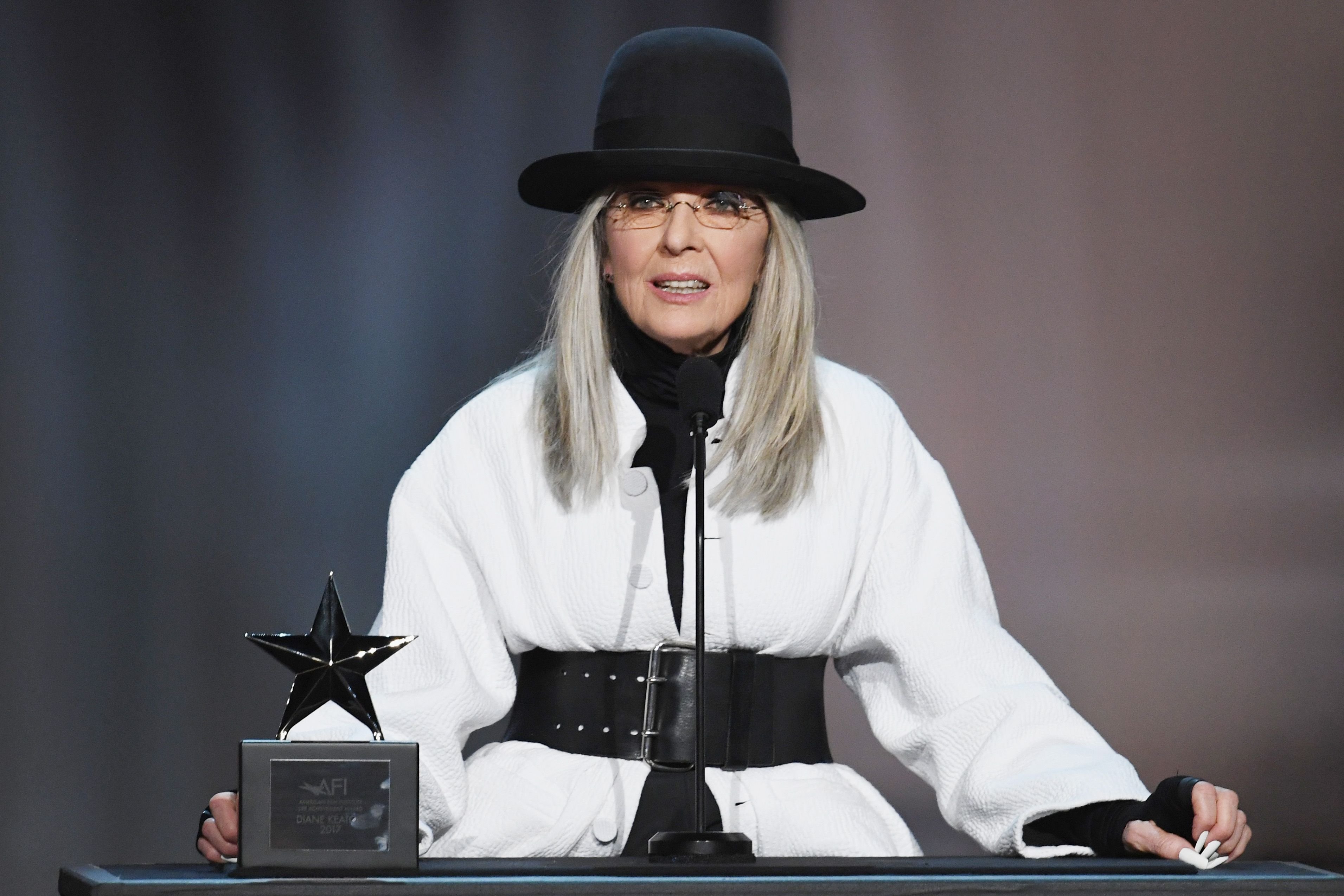 Diane Keaton accepts the AFI Life Achievement Award at the American Film Institute's 45th Life Achievement Award Gala Tribute to Diane Keaton in Hollywood in 2017 | Source: Getty Images
In addition to her decision to remain single, Keaton never saw herself becoming a mother. The award-winning actress stated that she did not think she would ever be prepared for motherhood as a career-oriented woman.
However, everything changed in 1996. At 50, Keaton adopted a baby girl named Dexter, and a few years later, in 2001, she adopted a second child — her son, Duke.
In 2008, the star revealed why she'd become a mother so late in life, explaining how she'd wanted to be in a "strong and substantive" relationship before becoming a parent. However, never getting married made that impossible.
According to Keaton, being a mom was something she could ignore, but she dived right in after thinking about it for a long time. She explained.
"Motherhood was not an urge I couldn't resist, it was more like a thought I'd been thinking for a very long time. So I plunged in."
Keaton's decision to stay single never stopped her desire to experience a happy romance. During an interview, she stated that she wanted to be in a good relationship, but it never happened, thereby making her indecisive for a long time.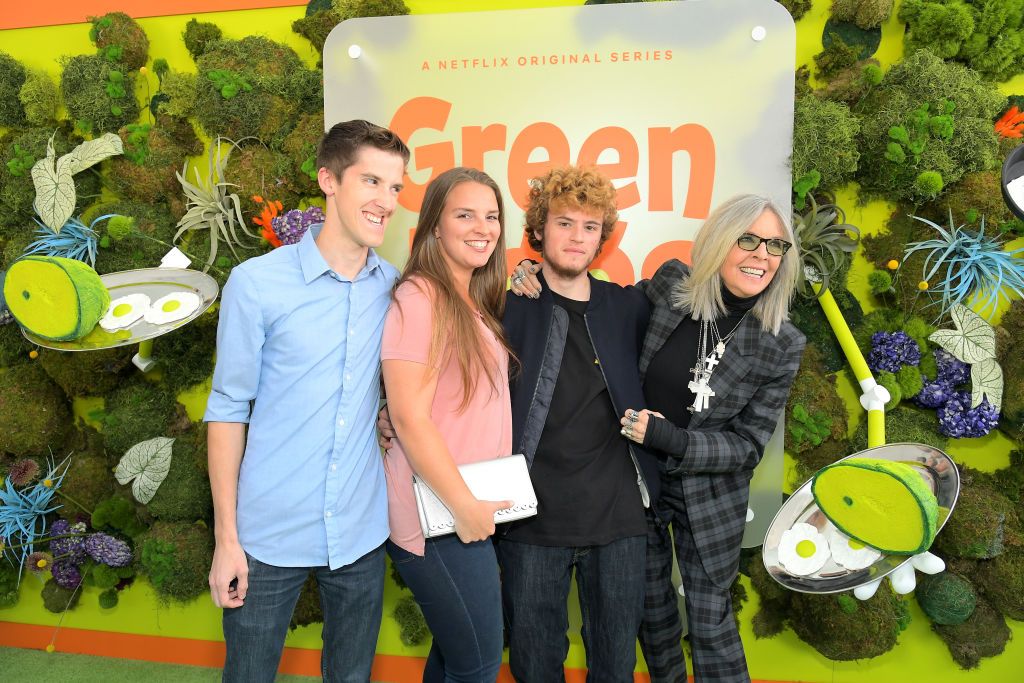 Diane Keaton, her son Duke, daughter Dexter and her boyfriend, Daniel Wagner, at the premiere of 'Green Eggs & Ham' in November 2019 in Los Angeles | Source: Getty Images
Keaton added that the prolonged wait for a good romance took over her life for a long time, eventually leading to her decision to remain single. However, the actress said in some ways that she regrets not marrying.
The "Annie Hall" star did admit that it might have been better for her to be in a relationship before becoming a mother.
According to Keaton, as a single parent, she can provide everything for her kids, but in the end, having a man is important.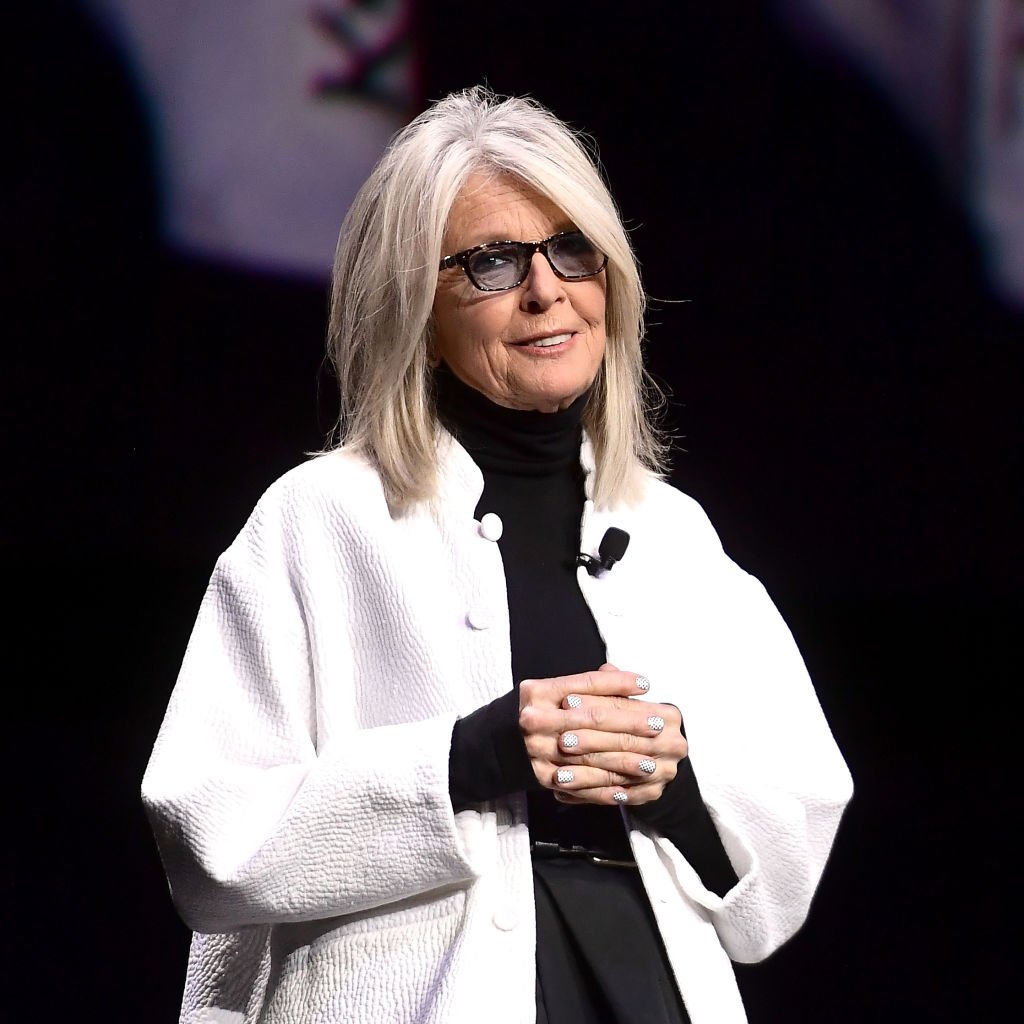 Diane Keaton speaks onstage at The Colosseum at Caesars Palace during CinemaCon, the official convention of the National Association of Theatre Owners, on April 2, 2019 in Las Vegas, Nevada | Source: Getty Images
INSIDE HER MOTHERHOOD EXPERIENCES
Despite Keaton's regrets about not having a man to raise her kids, she still cherished motherhood and considered it more fulfilling than any relationship. In her words:
"I'm sorry, but it's better than any fantasies you have about love… It is love. It's the best thing."
Diane Keaton poses for a photo during a portrait session at The Waldorf Towers in New York City, NY on November 7, 2010. | Source: Getty Images
However, Keaton could not help but worry about her children's welfare during the late stages of her life. The actress's father had passed away at 68 and her mom in her 70s, so the well-being of Keaton's kids when she eventually got old bothered her. She mentioned.
"When I think about my kids in their 20s and 30s, and me in my 70s and 80s, I worry about that, definitely. I want to be there for them."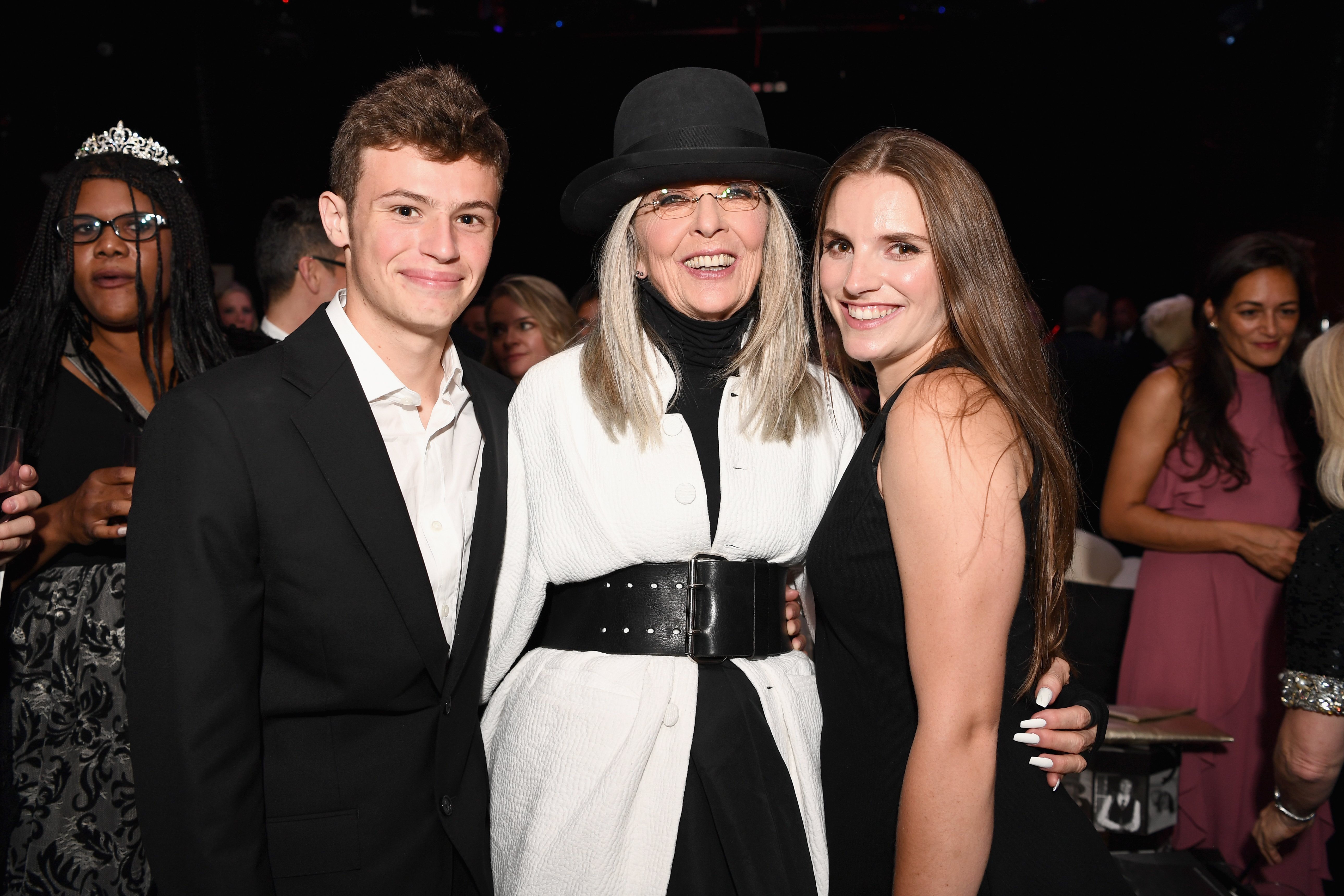 Duke Keaton, Honoree Diane Keaton and Dexter Keaton at the after party for American Film Institute's 45th Life Achievement Award Gala Tribute to Diane Keaton at OHM Nightclub on June 8, 2017 in Hollywood, California. | Source: Getty Images
It has been more than two decades since Keaton adopted her kids, and she has been there for them and has enjoyed many funny and embarrassing experiences with them. She once recalled taking her young children to school in her bare feet, leaving them embarrassed.
Keaton also confessed that she drives her kids crazy when she says a lot and asks plenty of questions. So now, Keaton says she is trying her best to say less and "zip it up."
Please fill in your e-mail so we can share with you our top stories!