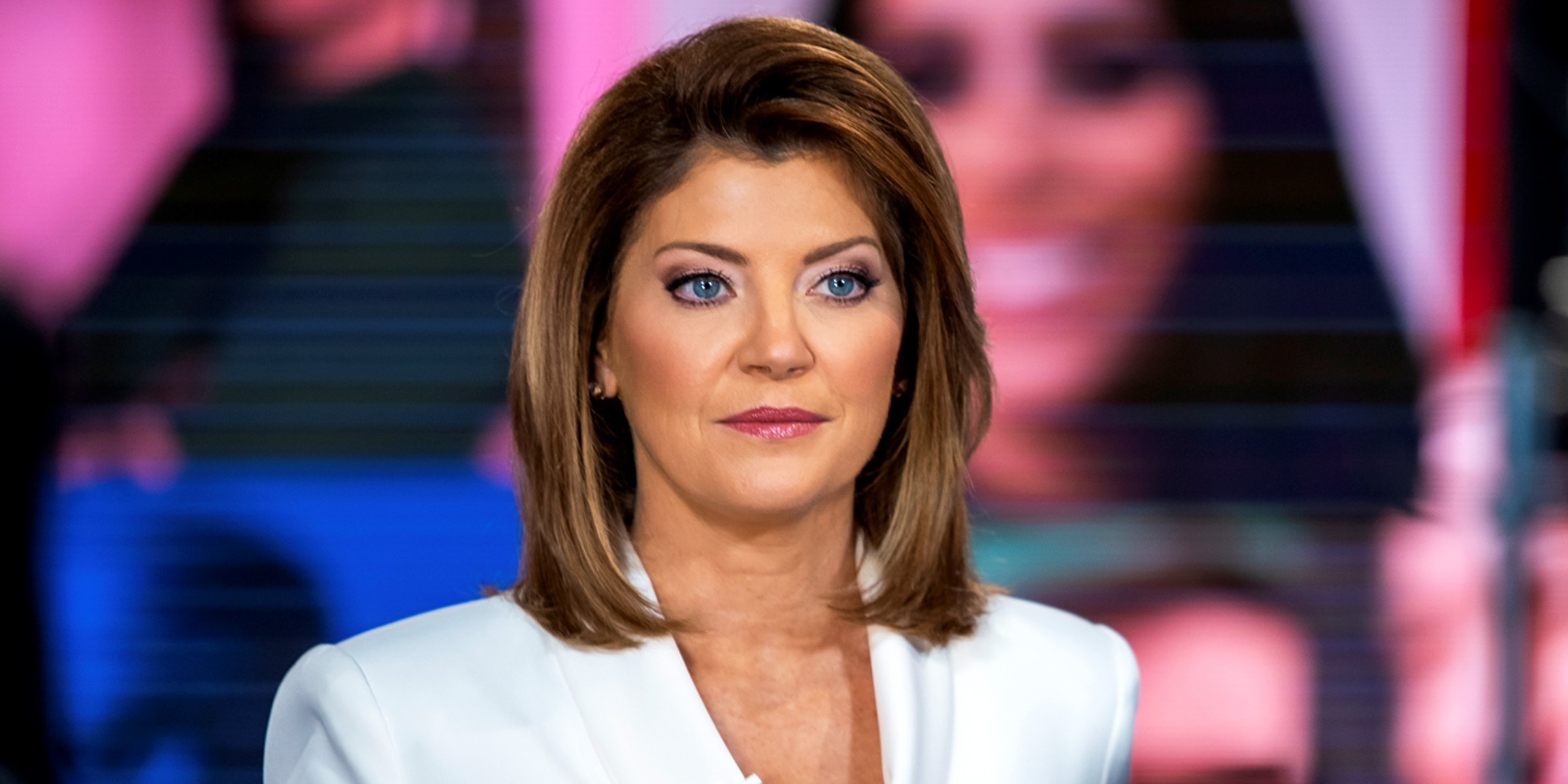 Getty Images / instagram.com/norahodonnell
Inside CBS Anchor Norah O'Donnell's 4-Level Home Where She Raises Fraternal Twins with Her Partner of 31 Years
American TV journalist Norah O'Donnell met her husband, Geoff Tracy, in college when she was only seventeen. The couple has been married since 2001 and has a home where they host unforgettable parties with over 100 guests.
CBS anchor Norah O'Donnell has been married to her husband, Geoff Tracy, for two decades. When she appeared on "The Drew Barrymore Show" in December 2020, O'Donnell revealed she met her beloved spouse in college when she was only 17.
The couple crossed paths in Georgetown and tied the knot in 2001. Reflecting on their time together, the TV journalist said she and Tracy were in it for the long haul.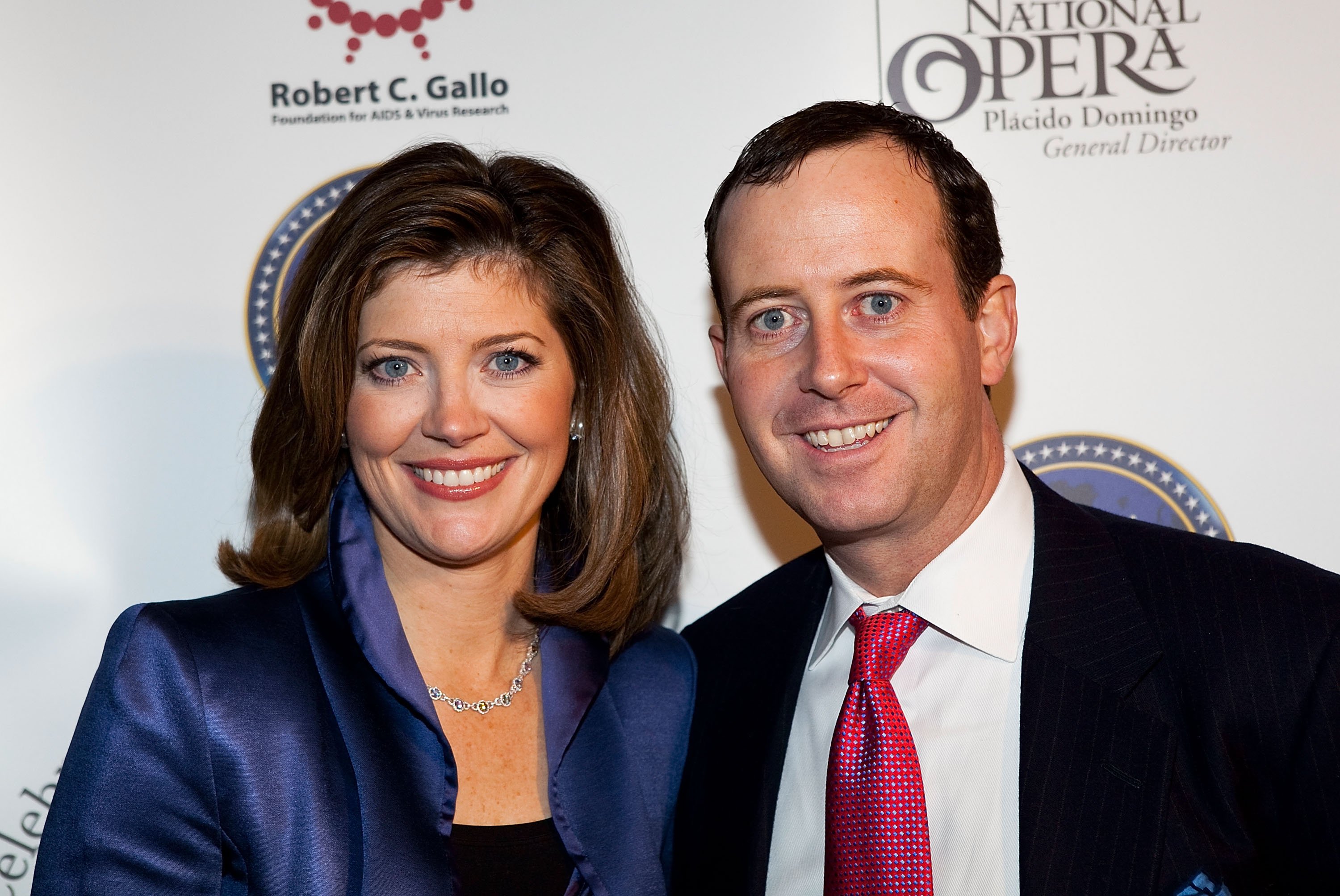 Norah O'Donnell and Geoff Tracy at the celebration to honor the Inauguration of Barack Obama at Cafe Milano on January 16, 2009 in Washington, DC | Photo: Getty Images
When asked about the secret to their long-lasting marriage, O'Donnell shared that her mother always told her to marry her best friend: "Marry someone that respects his mother, and loves his mother and treats her well," she said.
The "Evening News" star added what kept them going for all these years was their willingness to do things together. The pair go on walks every morning and play golf together.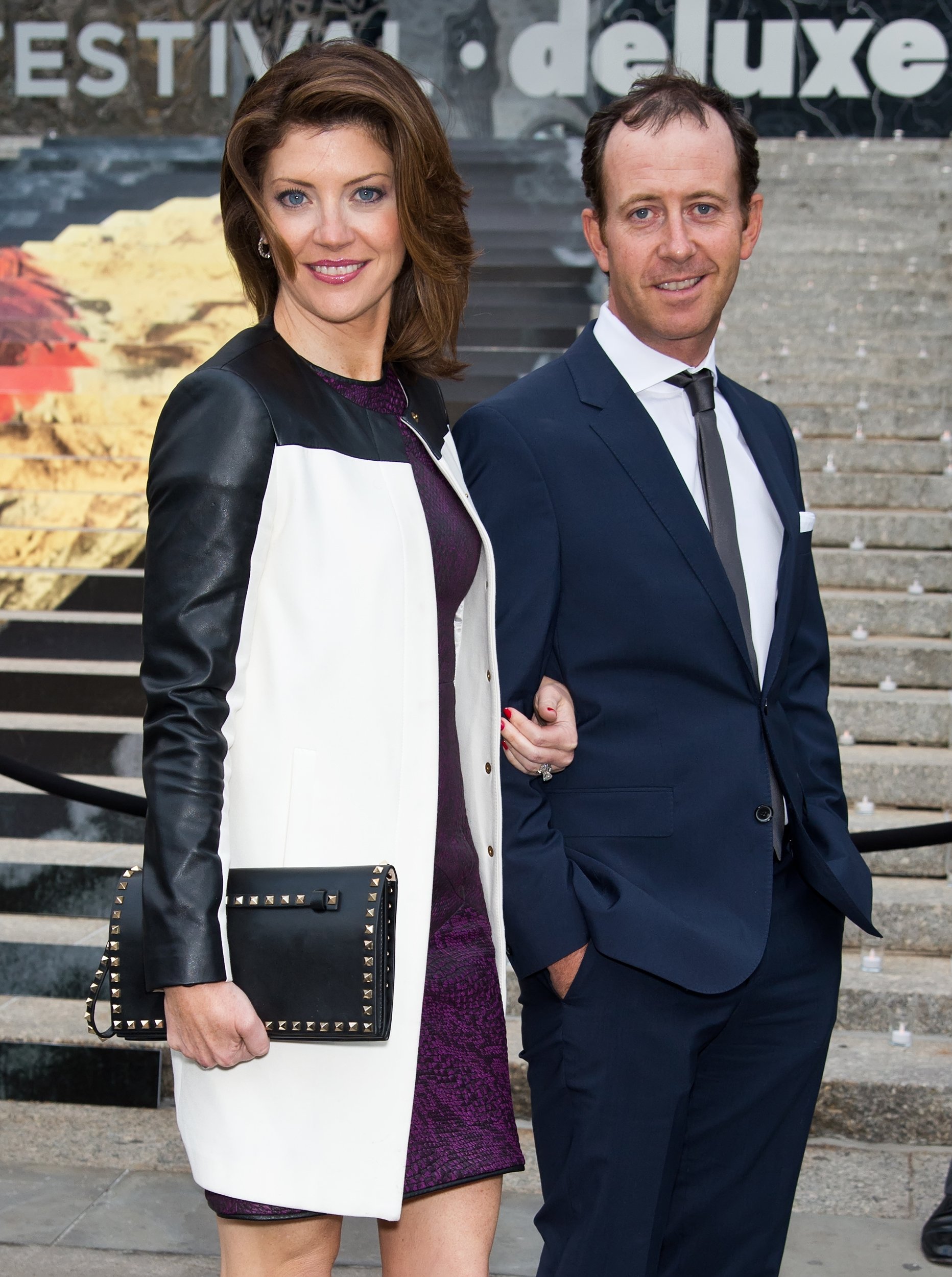 Norah O'Donnell and Geoff Tracy attending the Vanity Fair party during the 2014 Tribeca Film Festival at the State Supreme Courthouse on April 23, 2014 in New York City. / Source: Getty Images
The couple also tends to forgive each other a lot. "There is a lot of forgiveness involved in any relationship," said the "60 Minutes" correspondent.
Regarding family, O'Donnell and her husband, Tracy, welcomed their long-awaited twins after only 16 years together and their daughter a year later.
Their first bundles of joy arrived in May 2007 in Washington D.C. The couple's daughter Grace weighed in at 6 lbs, eight oz. Her twin brother Henry was 5 lbs, 2 oz.
O'Donnell and Tracy later had their third child, a baby girl named Riley, who arrived in July 2008, weighing 8 pounds and 21 inches in length.
O'DONNELL AND TRACY'S FOUR-LEVEL HOME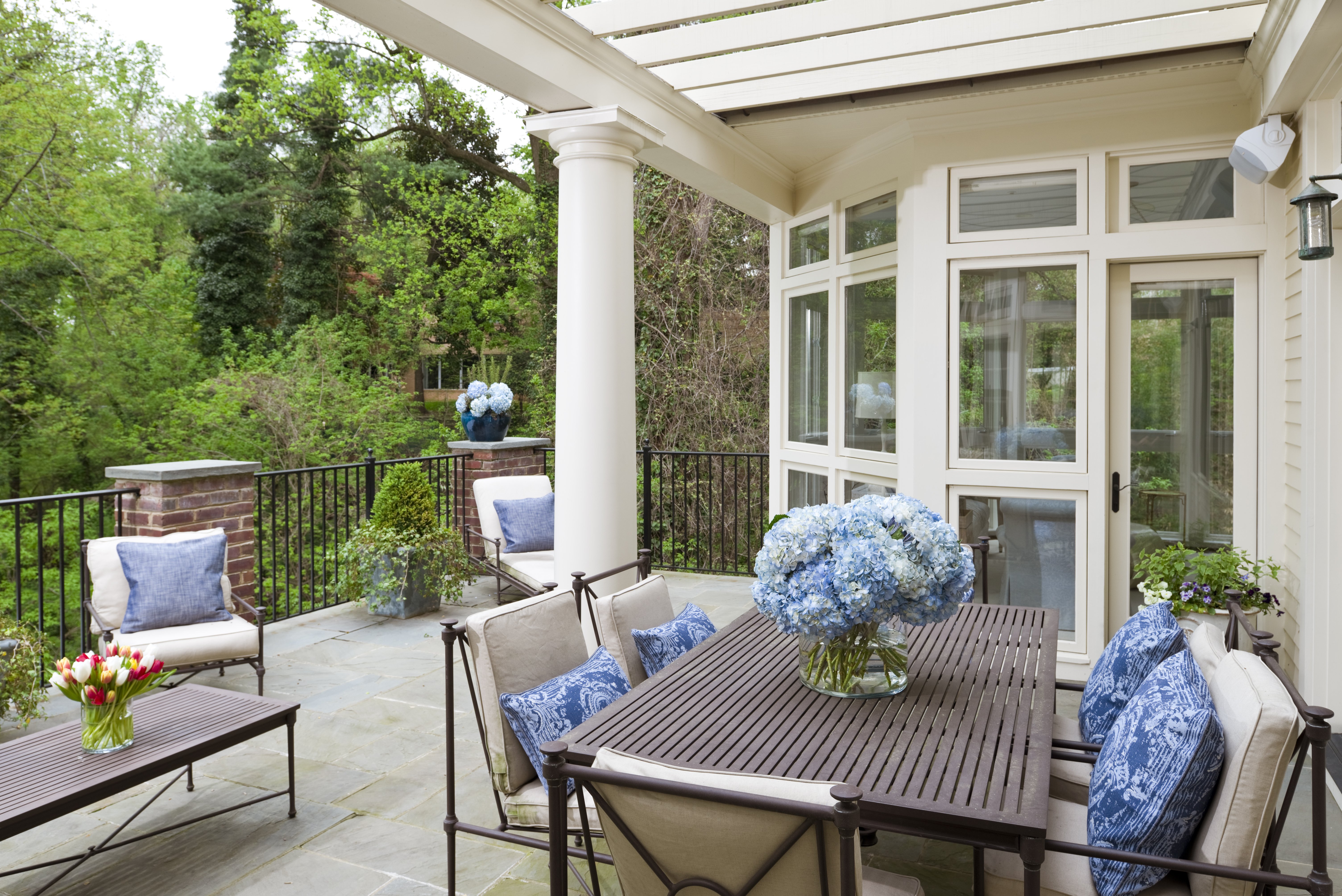 Geoff Tracy and his wife Norah O'Donnell's Wesley Heights mansion outdoor sitting area. | Photo: Getty Images
The duo owns a seven-bedroomed, four-level D.C. home in which they made 75 percent decorative changes. Tracy told The Washington Post in 2013 that they made structural changes to their great room and kitchen to increase the natural light coming into the space.
They also wanted to enhance the view from their front door to the woods behind the abode. He and his wife were assisted by Kelly Holland, an Arlington-based interior designer, to decide on elements of their home.
Tracy revealed there was an enormous TV cabinet blocking the entryway to the great room. So, they decided to take it out and mount the TV to the wall above the fireplace.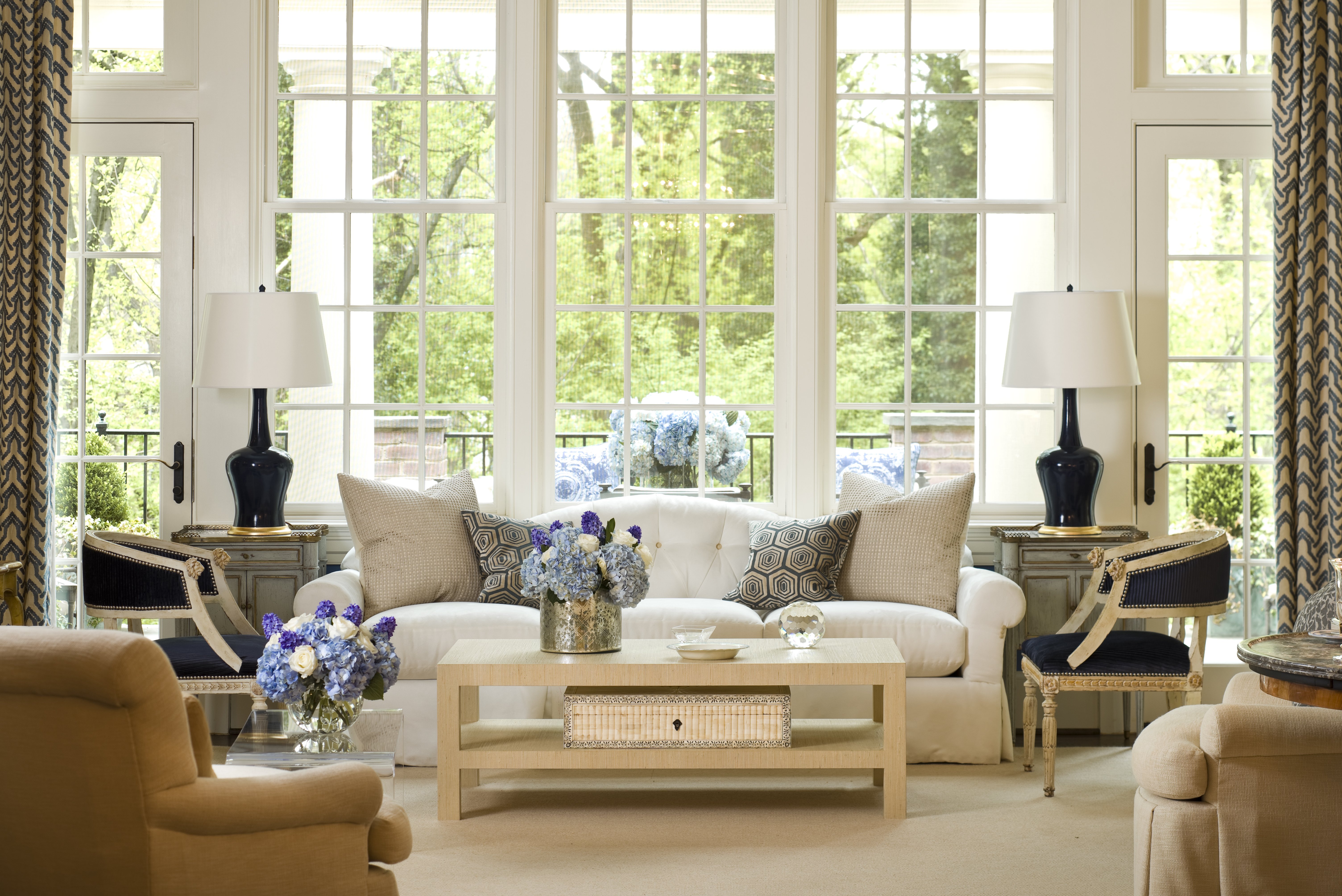 Geoff Tracy and Norah O'Donnell's luxurious lounge area with floor-to-ceiling windows. | Photo: Getty Images
He mentioned it was his wife's idea to remove two of the columns from the front door and relocate them to the great room, which creates a broader front entrance.
Though he made peace with an exposed TV set placed above the fireplace, Tracy said his spouse installed a painting that could be adjusted to obscure it. The great room boasts a coffered ceiling and a wall of windows and glass doors that open to the deck.
The mansion features an elevator that links all four levels of the home, which also consists of a formal staircase and a private rear staircase. The family area is on the lower level, and it has a fireplace and a games area.
The couple's house was built in 2004 and served as a home away from home for the South African and Australian Embassies as temporary residences for their ambassadors during renovations.
O'Donnell and Tracy fell in love with the property because it was spacious enough for their kids and had enough room for the family to entertain.
THE CHANGES THE COUPLE MADE TO THEIR HOME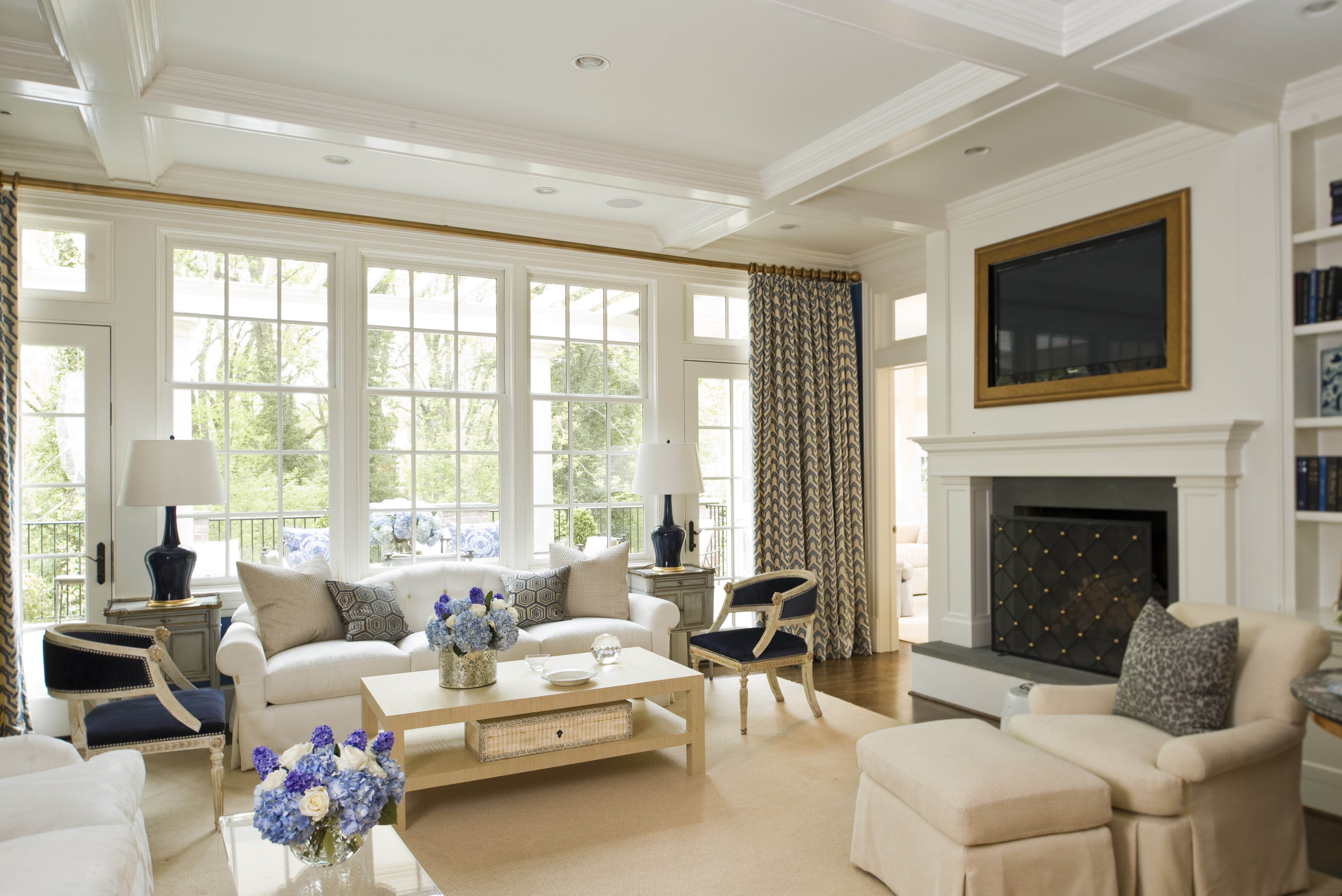 Geoff Tracy and Norah O'Donnell's cream-white living room with a flat-screen TV above the fireplace. | Photo: Getty Images
In remodeling the house, Tracy revealed that they got rid of part of the wall that connected the kitchen to the great room for a more open-plan structure:
"We knocked out part of the wall that connects the kitchen and great room because we like the openness."
The New York City businessman added when previous residents used the mansion; it featured a more outdated floor plan with a closed-off kitchen.
The twosome also chose to remove plantation shutters from the walls of windows in several rooms. They found that it blocked out too much of the woodland view.
Tracy and O'Donnell also removed the floor-to-ceiling fieldstone surrounding the family room fireplace, opting for a contemporary look.
"The stone looked like we should be living in the mountains or something, the father of three joked during an interview with The Post.
THE CHANGES MADE TO THEIR KITCHEN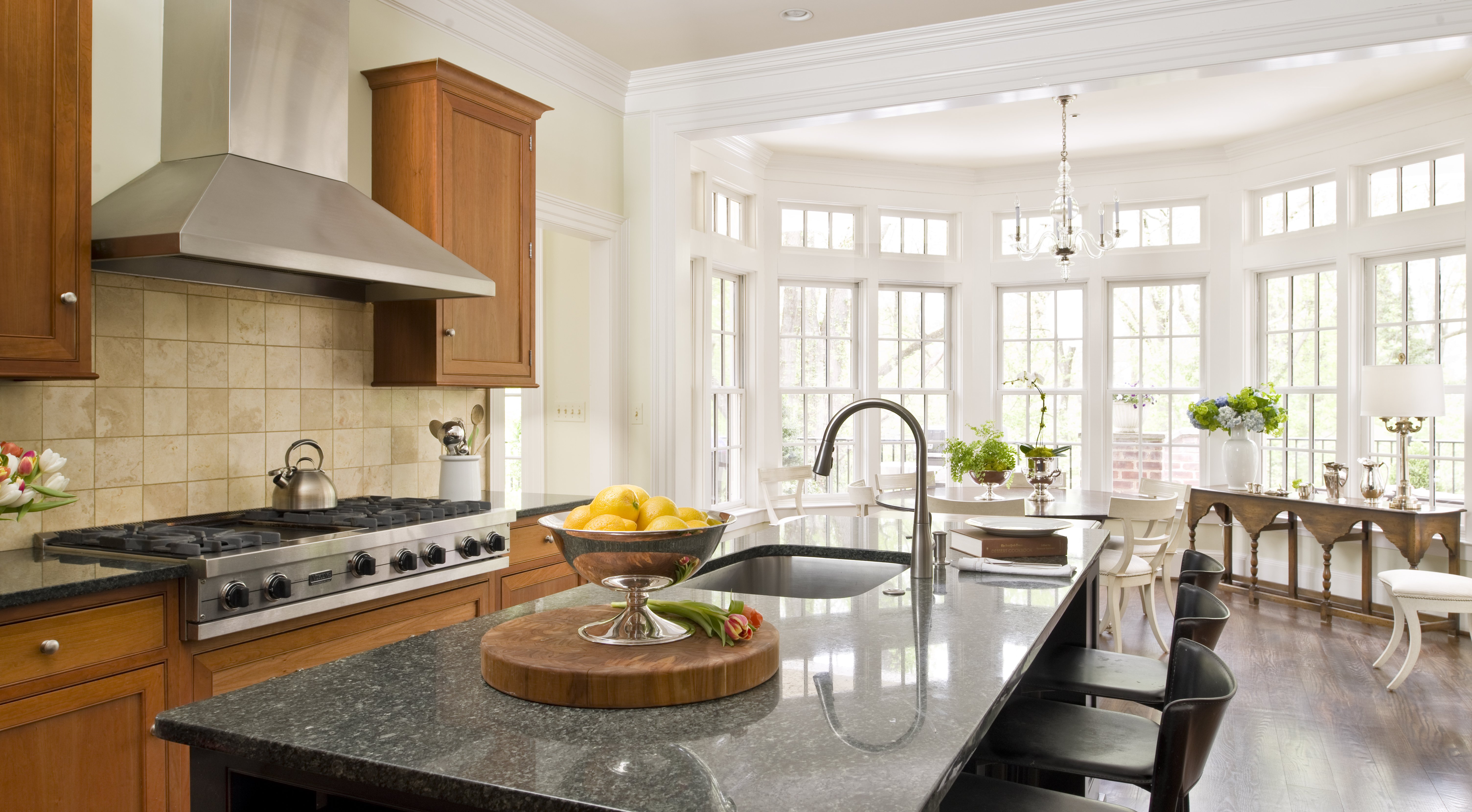 Geoff Tracy and Norah O'Donnell's open-plan kitchen with an island that features a granite countertop. | Photo: Getty Images
For the kitchen, which features high-end appliances, ample counter space, and myriad cabinets, its walls were knocked down to make space for an open-plan area and great room.
The kitchen previously consisted of dark granite counters and was replaced with mother-of-pearl granite. O'Donnell and Tracy also expanded the center island for more seating and prep space.
The catering kitchen and the office behind the main kitchen were revamped to add a third oven, including more counter space and cabinets. The window line of the room walls functions as Tracy's office and features a dishwasher, cabinets, and a wine cooler.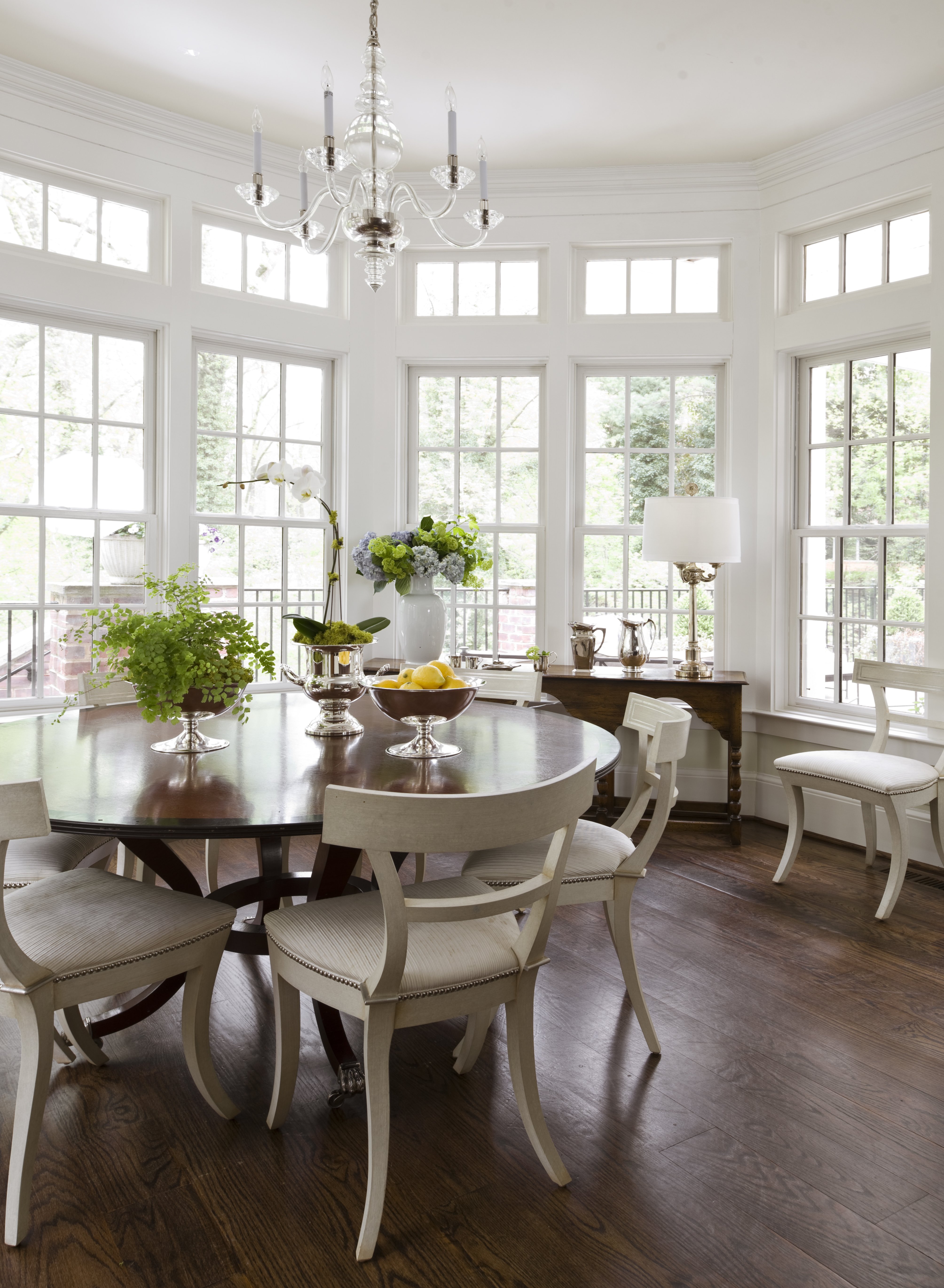 Geoff Tracy and Norah O'Donnell's wooden floor dining area that features a matching round table and beige chairs. | Photo: Getty Images
Adjoining the kitchen is a carved breakfast room with floor-to-ceiling windows. Tracy, a restauranteur, disclosed that O'Donnell worked on getting custom-made window treatments for the breakfast space:
"But I think it would be cheaper to staple a bunch of $20 bills up there. I had no idea how expensive those things would be."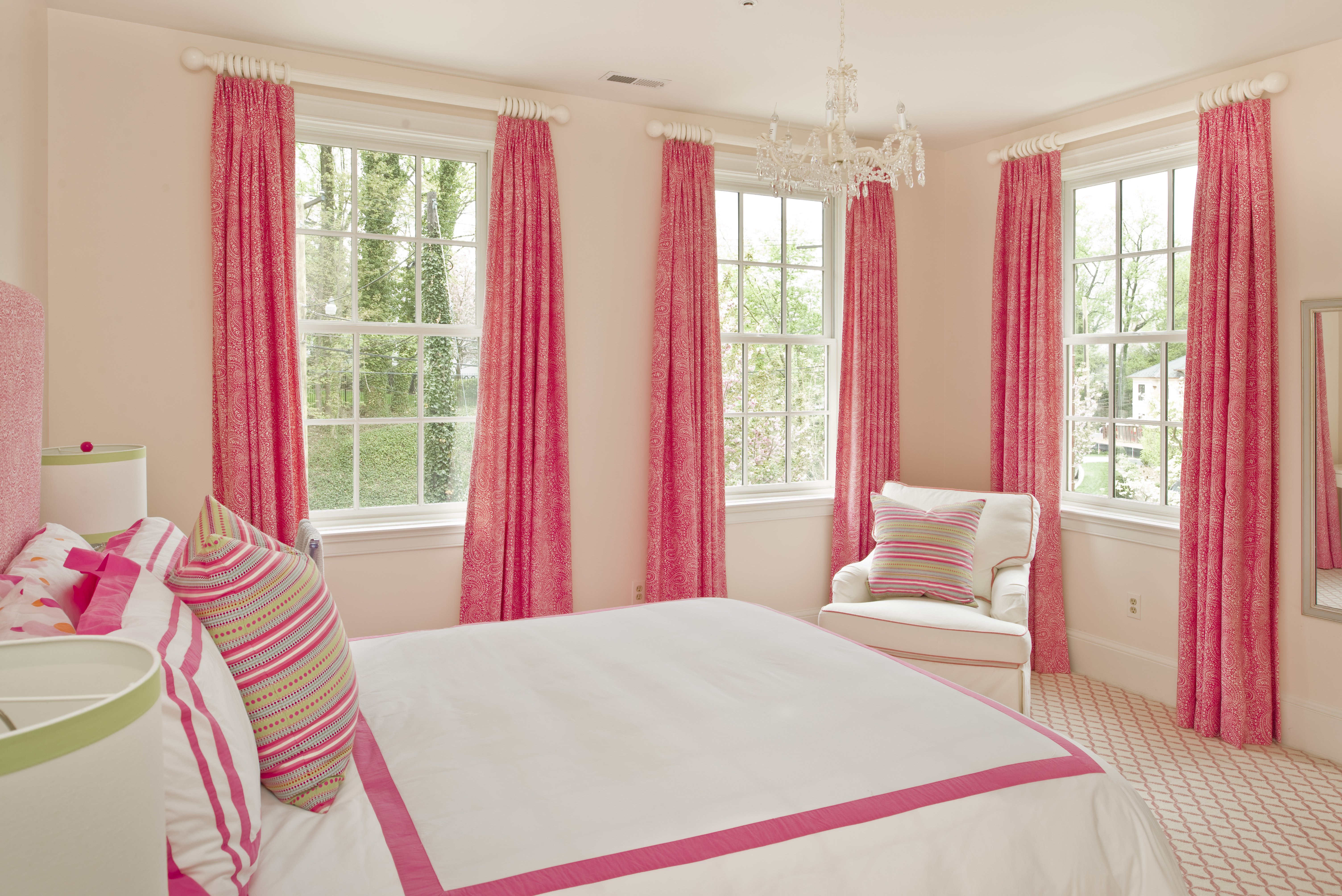 The couple's daughter's pink-and-green-themed bedroom with matching finishes. | Photo: Getty Images
The kids' bedrooms are on the third level of the house and include a full bath for each of them. Tracy revealed O'Donnell ensured the closets were organized for easy access for the children because they want them to be independent:
"Norah and I were Montessori-educated kids, and so are our three, so Norah made sure the closets are organized and the kids can reach everything so they can learn to be independent at a young age."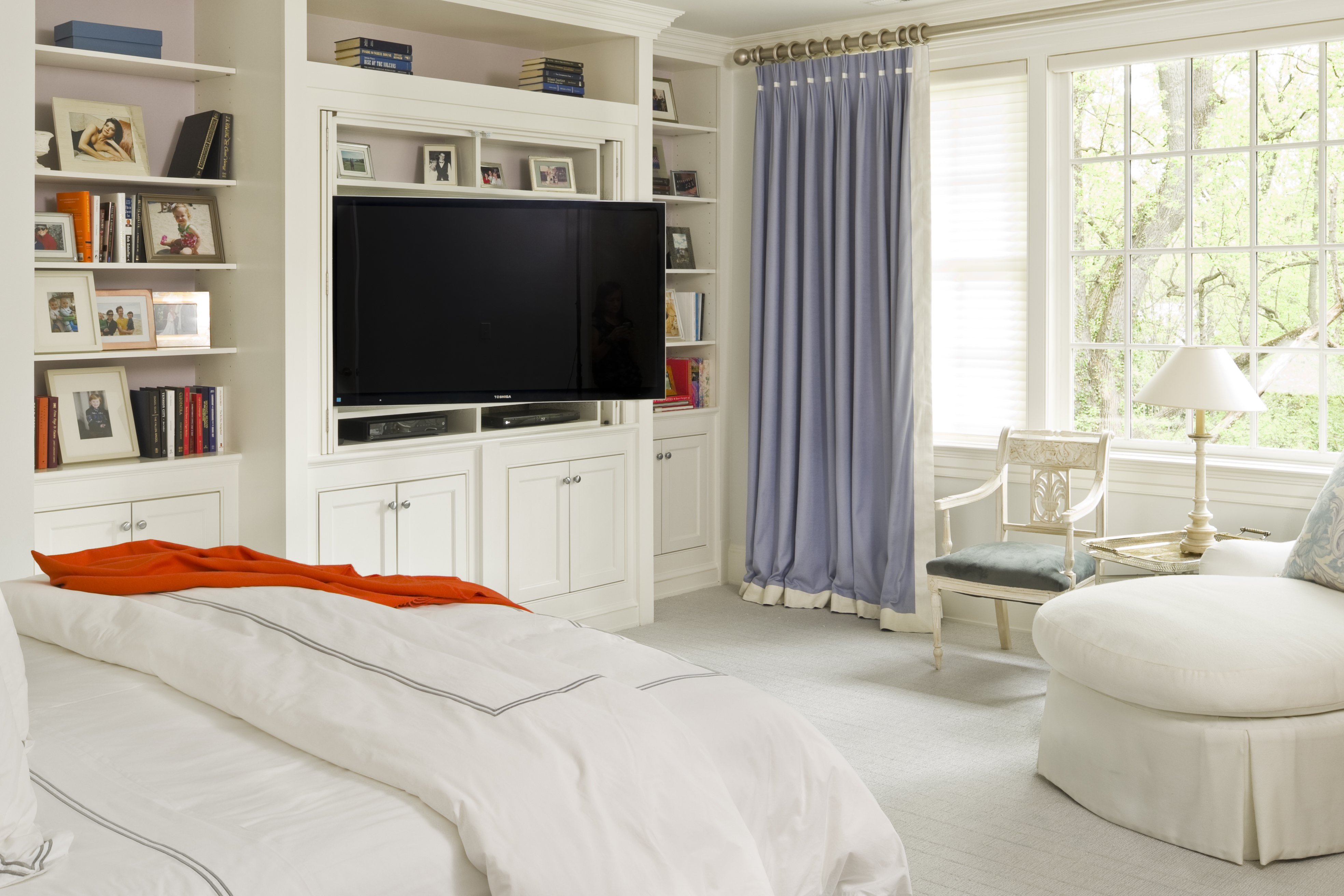 Geoff Tracy and Norah O'Donnell's son's blue and cream-white bedroom with a flat-screen TV. | Photo: Getty Images
O'Donnell and her husband's bedroom features a walk-in closet for the lady of the house and a second closet for the man of the house.
The couple has a luxury bath with a soaking tub and a flat-screen TV where Tracy watches his wife while at work on weekday mornings.
THE FAMILY'S FAVORITE ROOMS IN THE HOUSE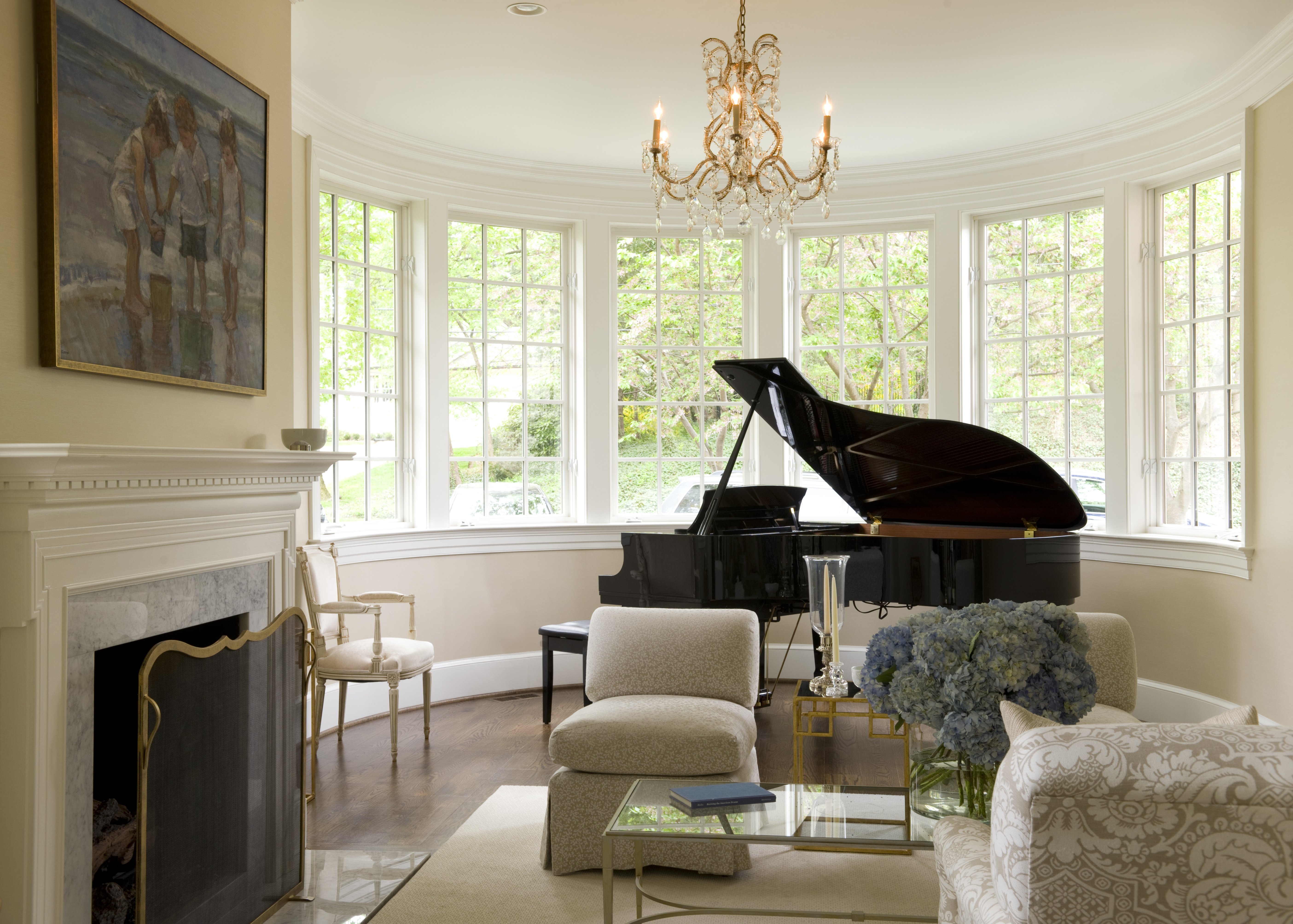 Geoff Tracy and Norah O'Donnell's piano room that features a chandelier and a marble fireplace. | Photo: Getty Images
While the family of five spend their time between two cities because of O'Donnell's work schedule, their daughter, Grace, shared she loved their home in D.C. more because of its spacious playroom.
The said space extends across the entire attic level of the house and features two dormer windows, including built-in cabinets and a guest bedroom.
Meanwhile, Tracy shared his favorite part of the house includes three rooms on the main level. On the front house is a circular music room that features a grand piano and a marble fireplace.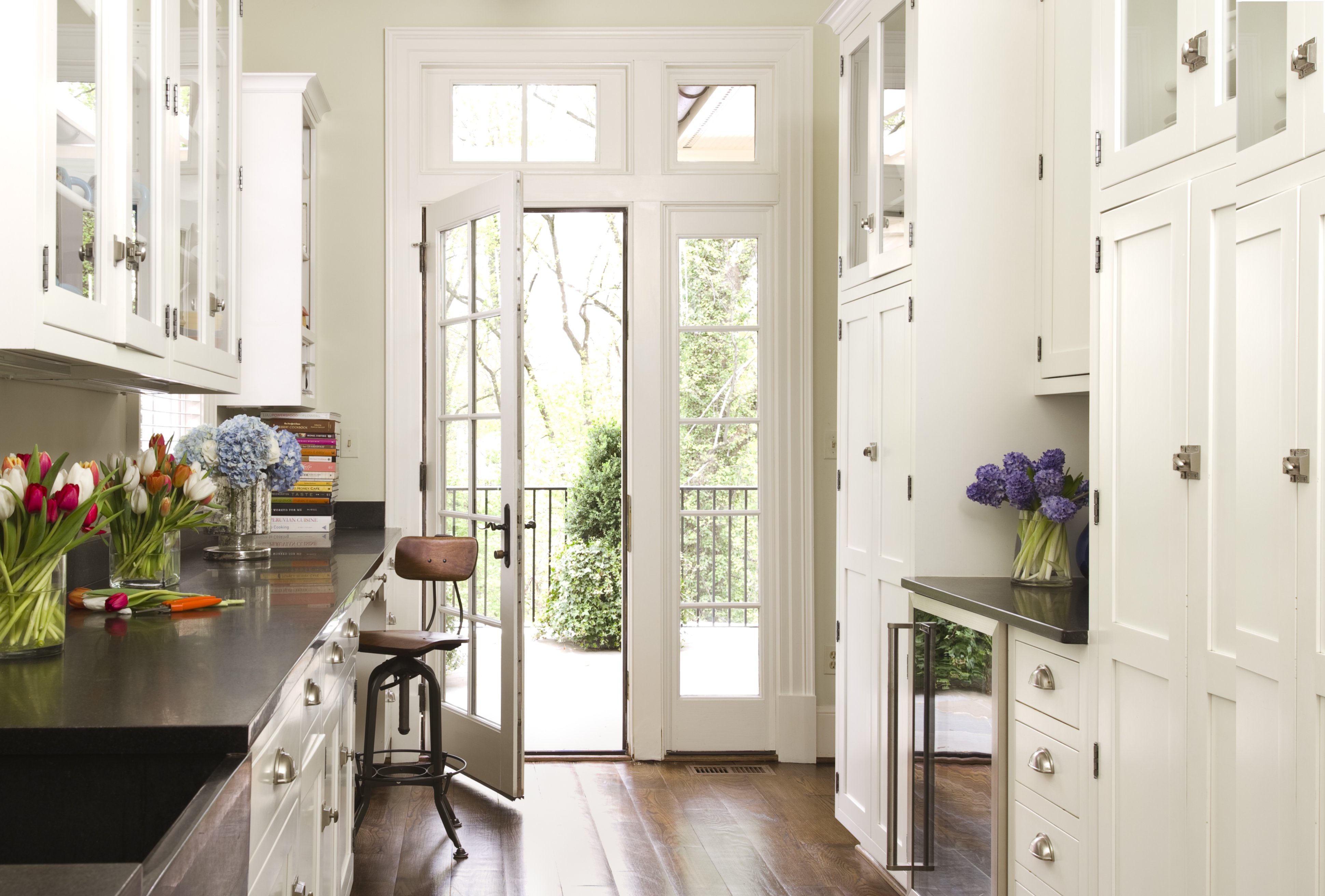 Geoff Tracy and Norah O'Donnell's white cabinet prep room with wooden floors. | Photo: Getty Images
Beyond the space is O'Donnell's office which has creamed colored walls, a desk next to the window bay, and another marble fireplace. Her refined office opens to a cream-white sunroom with floor-to-ceiling windows and a glass door.
The three rooms mentioned receive natural light and boast a stunning view of poplar trees that act as a privacy fence for eight months a year. O'Donnell expressed her favorite spaces include her office and the rooms mentioned above:
"It's great in the morning to sit at my desk with the sun warming my back, a fire in the fireplace and the kids lounging and reading in the sunroom. "
O'DONNELL AND TRACY LOVE HOSTING FRIENDS AND FAMILY IN THEIR ABODE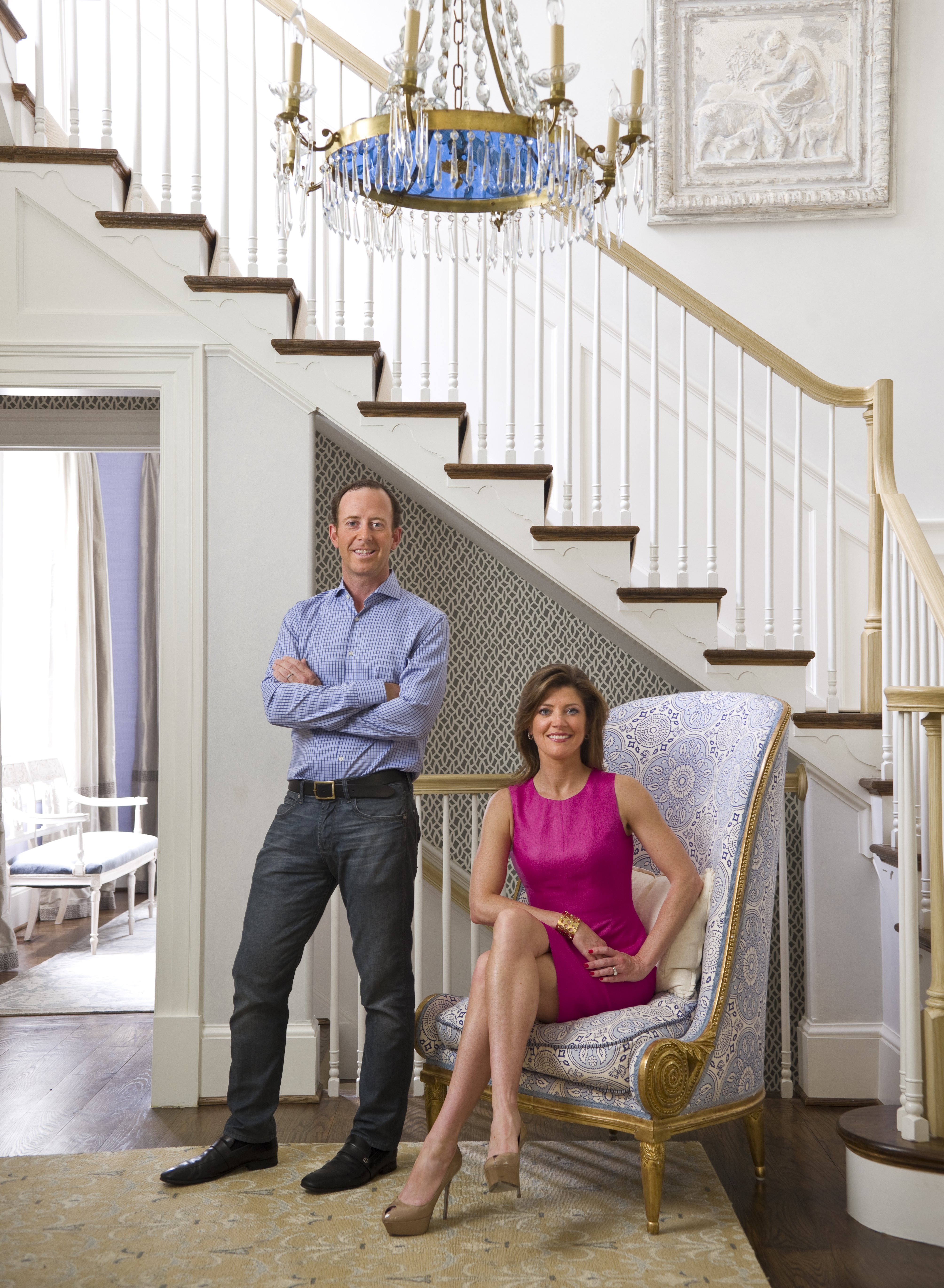 Geoff Tracy and Norah O'Donnell posing in their Wesley Heights home. | Photo: Getty Images
The family is friendly enough and generous that their home became a gathering place for their friends and family. O'Donnell said the biggest selling point about the property is its layout with massive rooms on the first floor where they host cocktail parties and intimate dinner parties.
"We wanted our house to be the gathering place for our friends and family. A house is meant for being lived in, getting dirty, and being filled with people," she said.
Her most memorable event hosting was a 75th birthday party for Bob Schieffer of CBS, where they served dinner in the dining room and utilized other spaces in the house.
Tracy shared that the couple set up tables for dinner for about 40 to 50 guests in the music room, O'Donnell's office, and the sunroom.
While at it, he admitted to scratching on the hardwood floor from the disco party they hosted as well. "I'm like a teenager who wrecks the house with a party when his parents go away for the weekend," Tracy admitted.
His wife recalled the evening all too well. They hosted a birthday party for a friend celebrating their 40th birthday. O'Donnell revealed they converted the foyer and the great room into a dance floor for the '70s-themed event, and the guest raved about it.
In addition, the couple hosted the dessert menu of the Horace Mann Elementary School's Progressive Dinner fundraiser in 2011 and entertained 150 guests with champagne and pastries created by Chef Tracy's restaurant staffers.
Please fill in your e-mail so we can share with you our top stories!