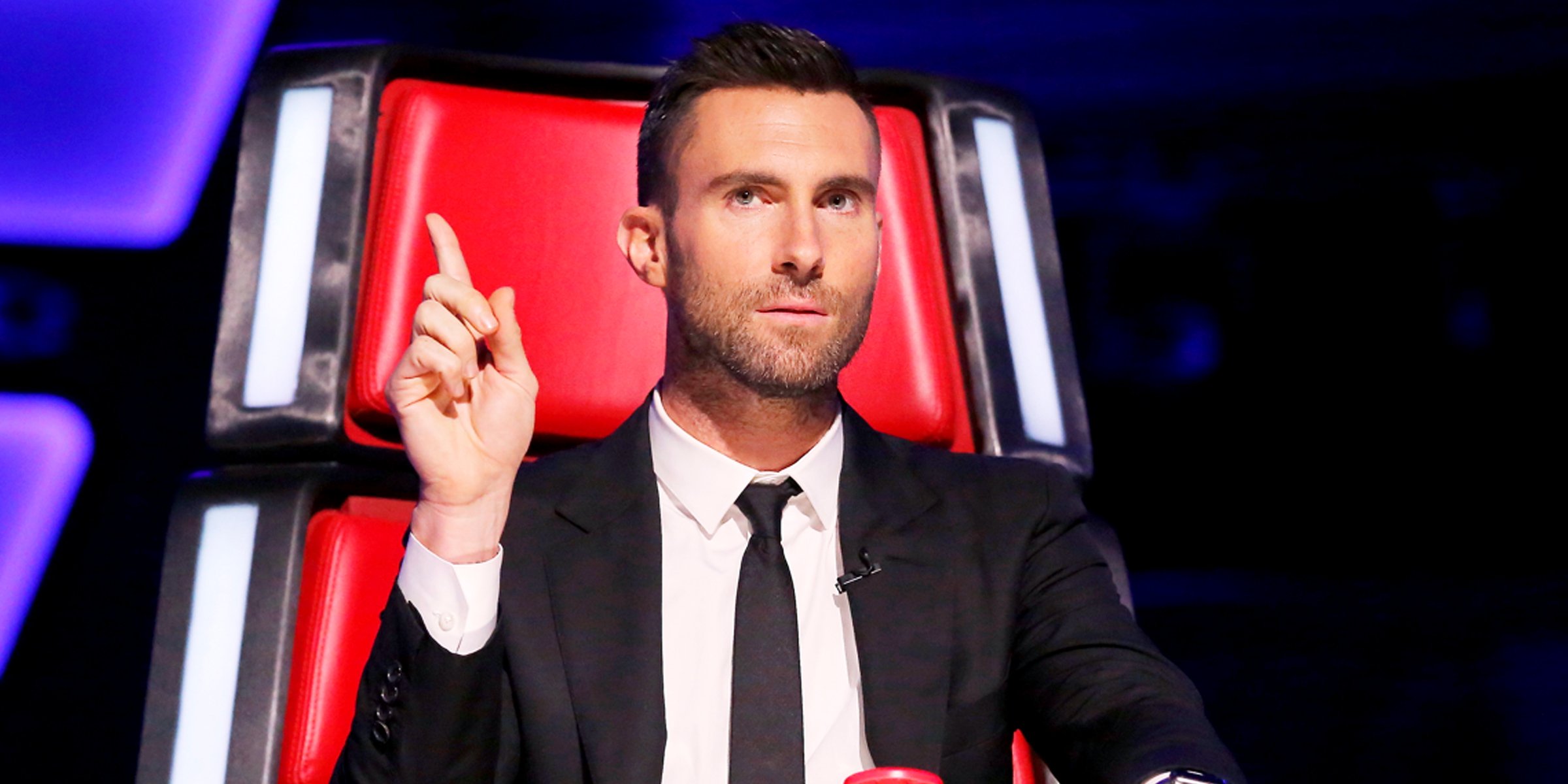 Getty Images
Adam Levine Realized He Loved Future Wife & Mom of His 2 Kids after Their Split: 'It Was a Wild Ride'
Adam Levine and Behati Prinsloo started their relationship in 2012. A few months later, they broke up but reunited after a short time. A few days after the reunion, the singer proposed. Why did Levine pop the question quickly? Find out.
American Singer and Musician Adam Levine is famous for many things, but being the lead vocalist of the pop-rock band Maroon 5 tops the chart.
Throughout his career in the music industry, which began in 1994, the icon has received many accolades and is a recipient of multiple awards. Besides being a fantastic singer, Levine is also a proper family man. He is happily married to his wife, Behati Prinsloo.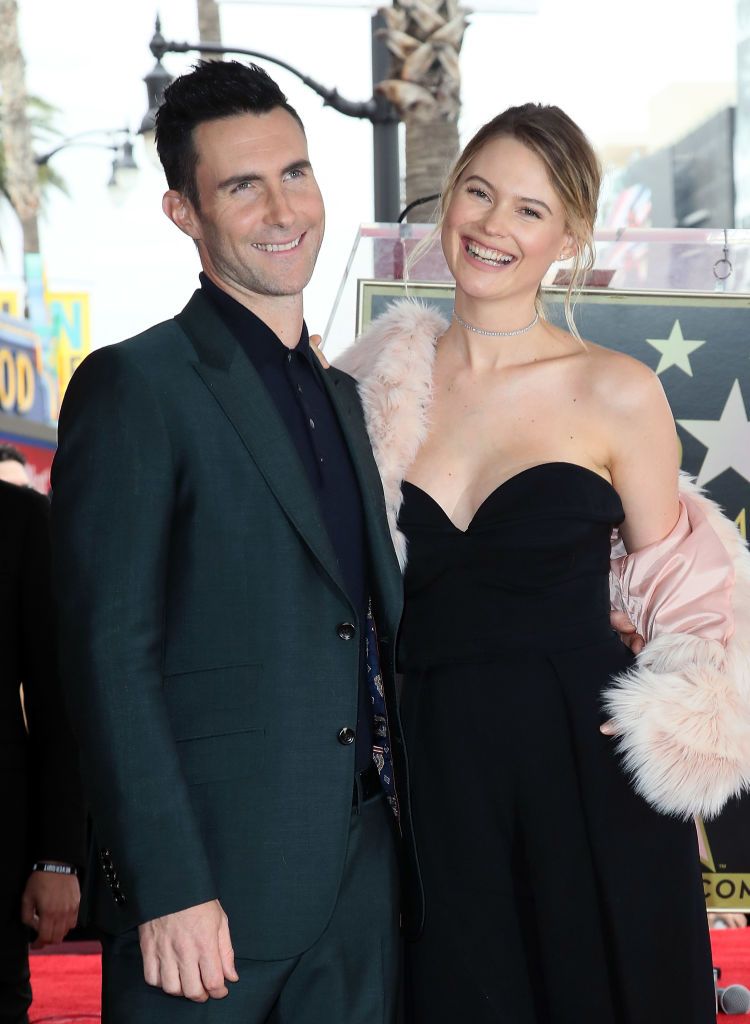 Adam Levine and Behati Prinsloo during his honor with a Star on the Hollywood Walk of Fame on February 10, 2017 in Hollywood, California. | Source: Getty Images
The lovebirds' romance started over ten years ago when they were at the peak of their careers. According to reports, Levine and Prinsloo first met via email while the former was looking for a girl to feature in his video.
Although the video shoot did not work out, things progressed quickly for the duo. They continued to interact via email for a month until they met in person for the first time.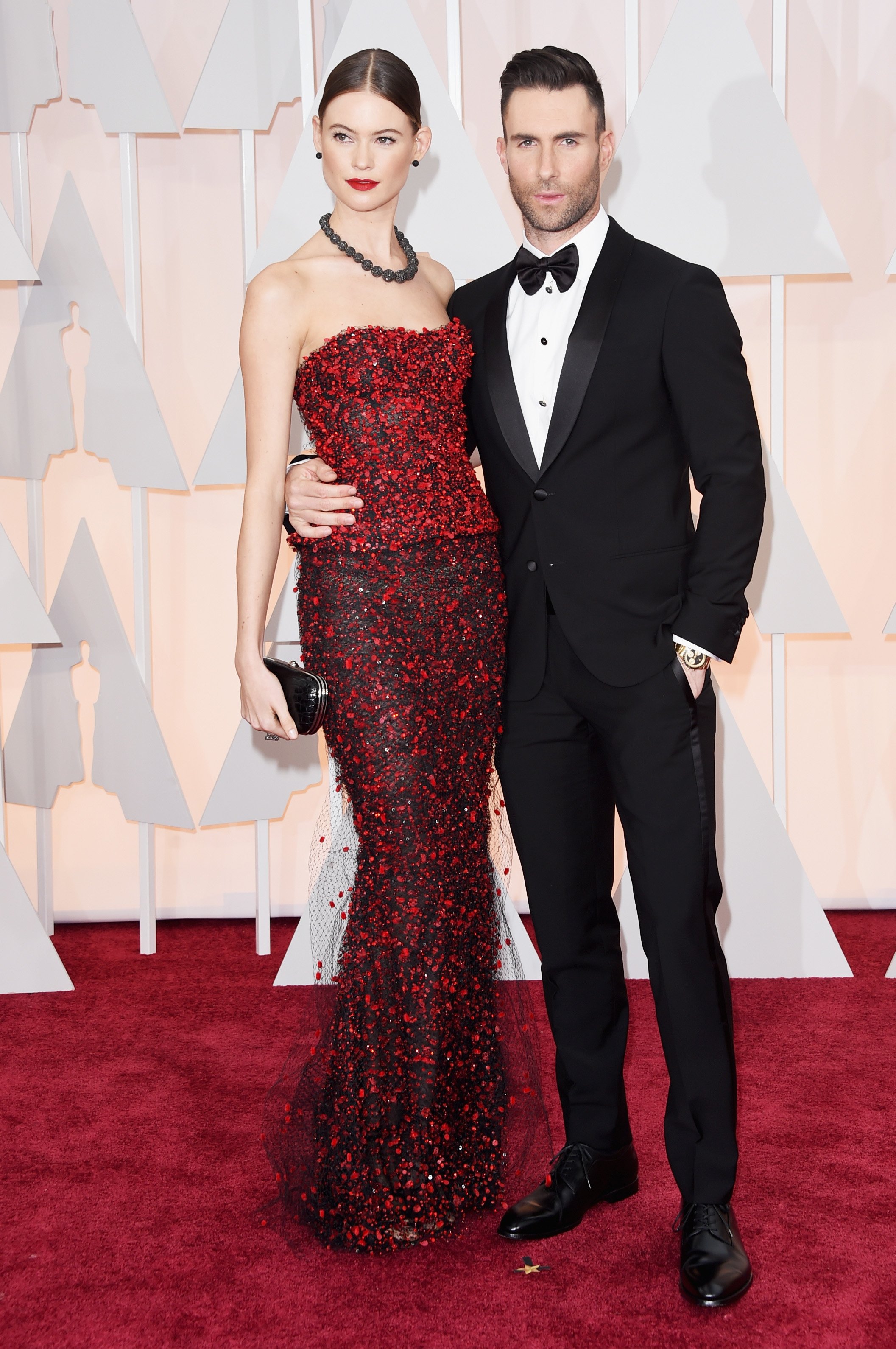 Adam Levine and wife Behati Prinsloo at the 87th Academy Awards in 2015 in Hollywood | Source: Getty Images
Prinsloo recalled the awkward sight and feeling of Levine wearing boxing gloves and hugging her. Then, the singer took his future wife for dinner, and they talked for a long time. For the duo, it was indeed love at first sight.
WHO IS PRINSLOO? FACTS ABOUT HER RELATIONSHIP WITH LEVINE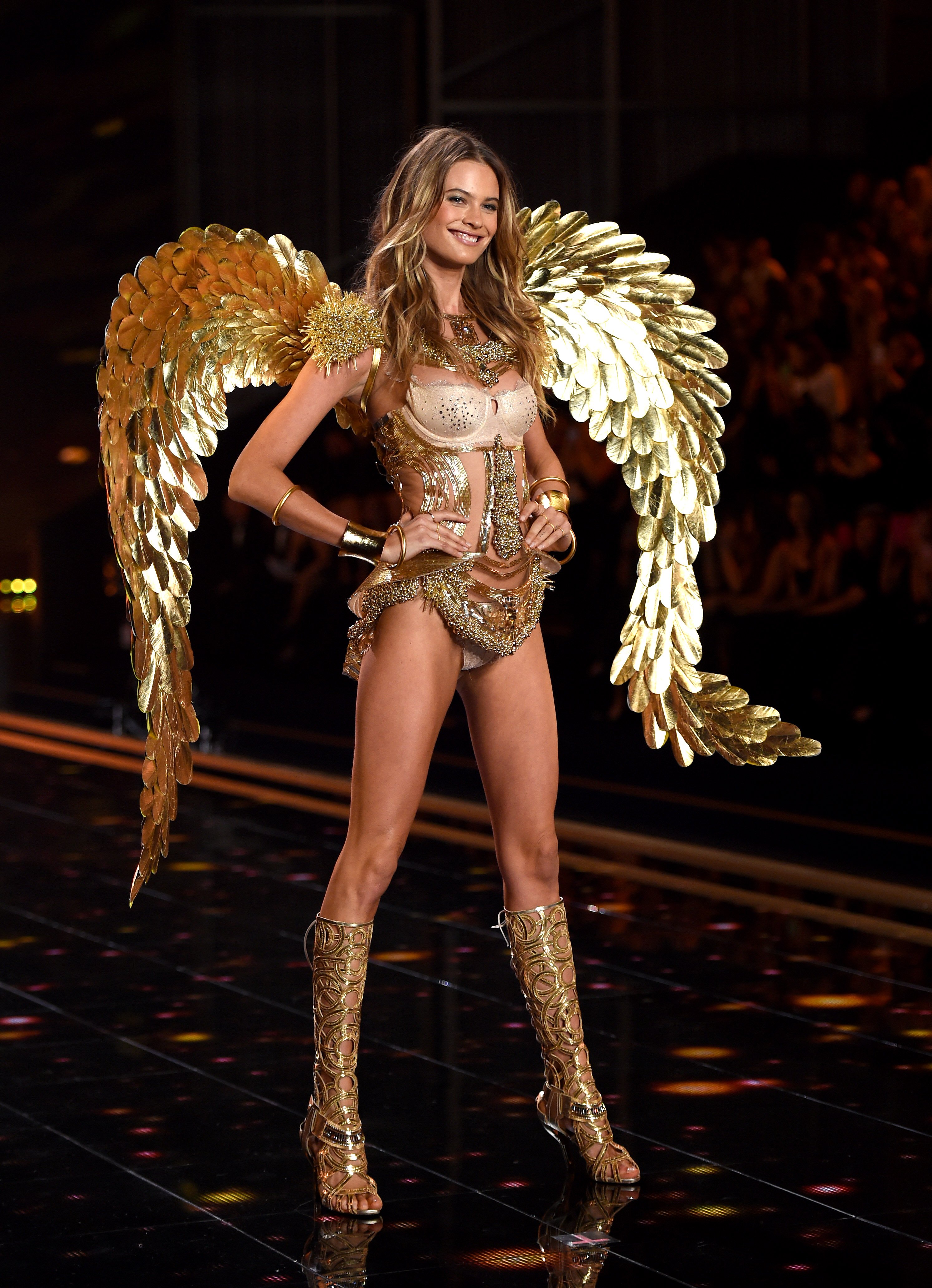 Behati Prinsloo walks the runway at the annual Victoria's Secret fashion show at Earls Court on December 2, 2014 in London, England | Source: Getty Images
Prinsloo is a Namibian model. She began her career after she was discovered during a vacation with her grandparents in Cape Town. In 2008, she became a Pink contract model, and the following year she moved on to become a Victoria's Secret Angel.
The model's relationship with Levine made the rounds in the early 2010s. They were a couple for a while before splitting in May 2013. Reports revealed that the singer had moved on with Model Nina Agdal. However, two months later, Levine and Prinsloo reunited.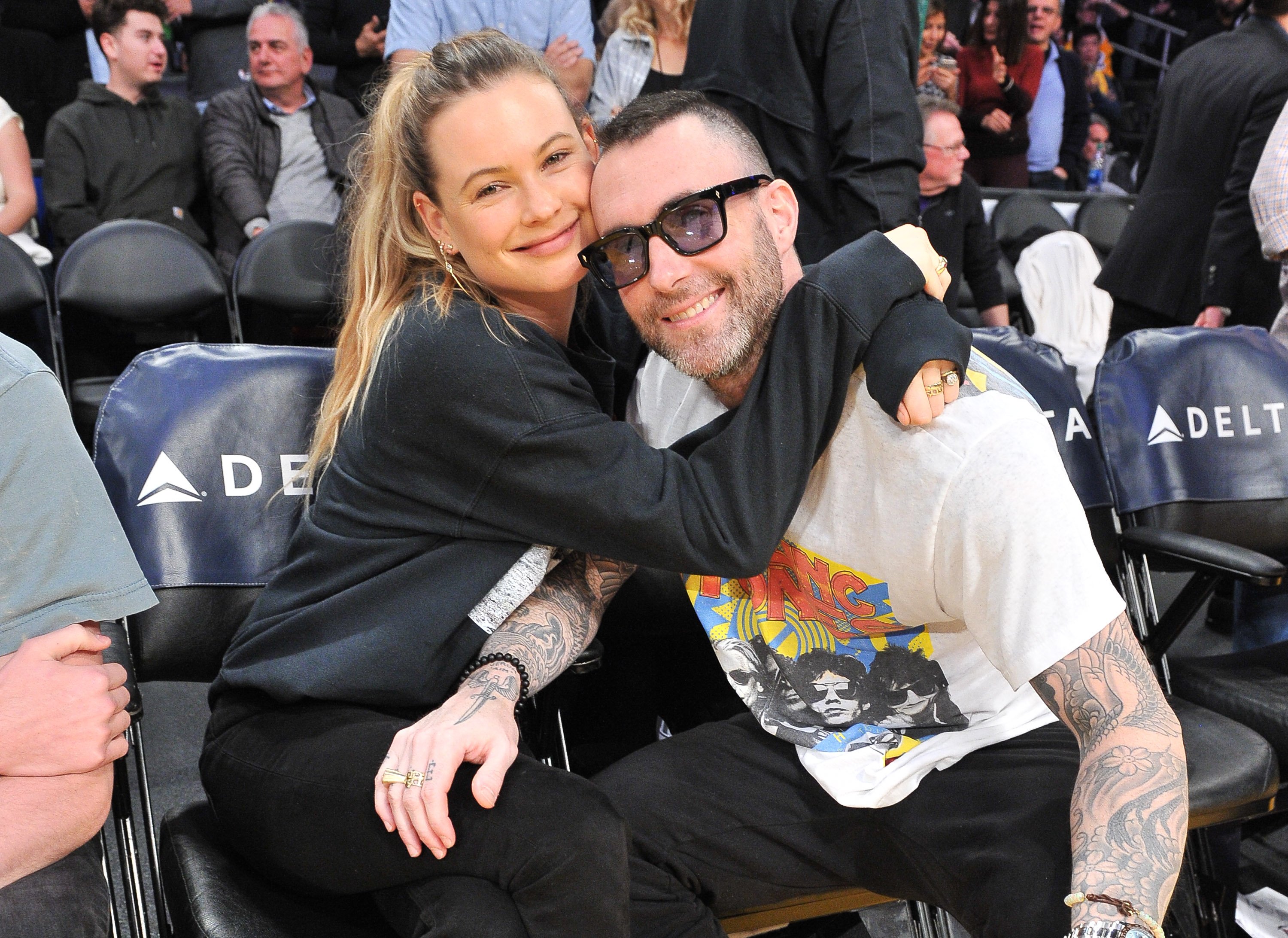 Adam Levine and Behati Prinsloo attend a basketball game between the Los Angeles Lakers and the Dallas Mavericks at Staples Center on December 01, 2019 in Los Angeles, California | Source: Getty Images
Later, a source would reveal after the breakup, Levine could not stop thinking about his future wife and realized that he loved her, adding that he wanted to be with Prinsloo.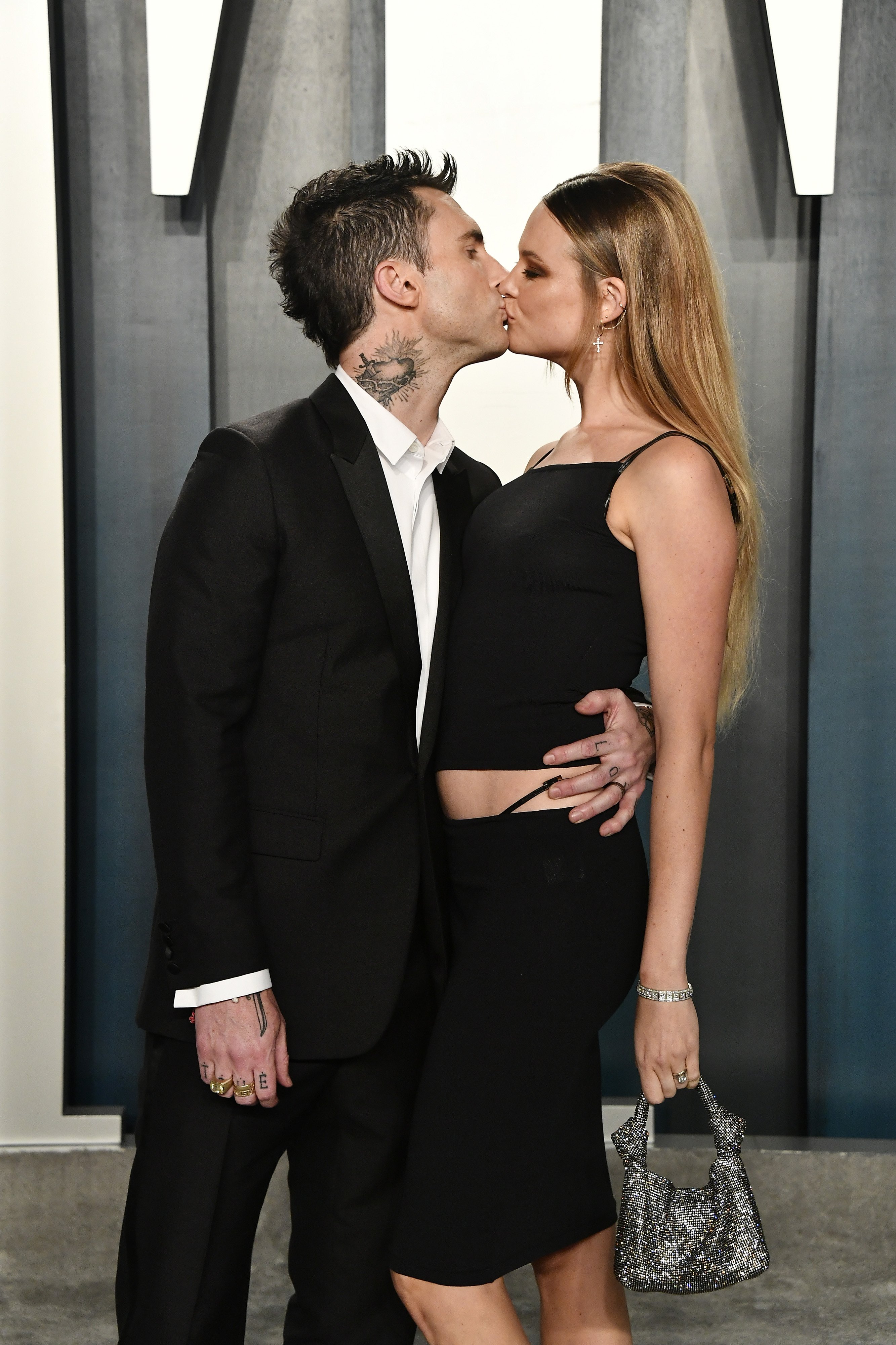 Adam Levine and Behati Prinsloo attends the 2020 Vanity Fair Oscar Party hosted by Radhika Jones at Wallis Annenberg Center for the Performing Arts on February 09, 2020 in Beverly Hills, California | Source: Getty Images
A few days after their reunion, Levine took his relationship with the model to the next level by popping the big question. The couple took to social media on July 16, 2013, to share the big news, and fans could not be happier.
During an interview, the Maroon 5 star recalled how his old-fashioned yet romantic proposal went down. Levine confessed that he got down on one knee, but immediately, he lost balance, and the singer was forced to get on the second one.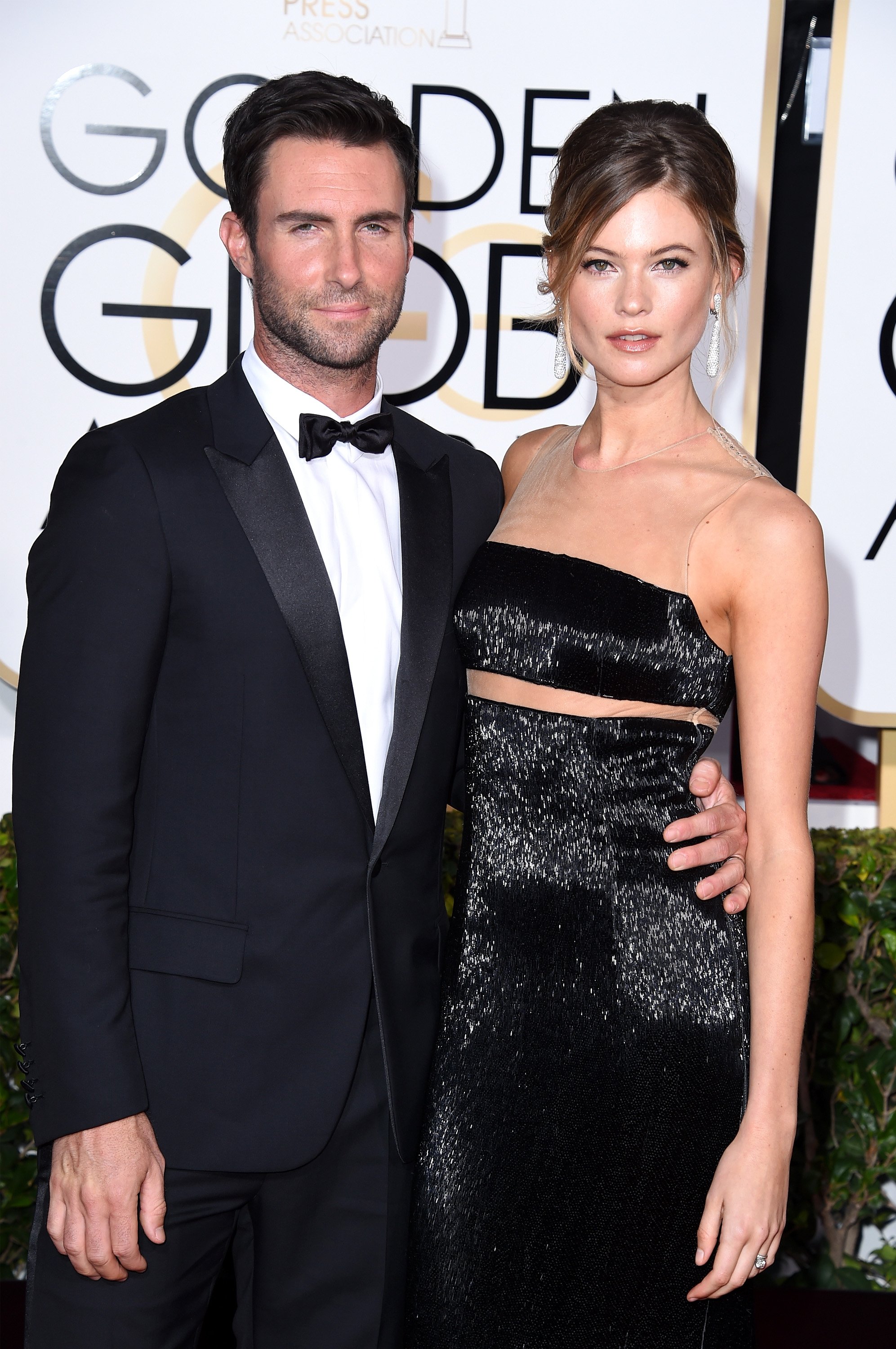 Musician Adam Levine and Behati Prinsloo attend the 72nd Annual Golden Globe Awards at The Beverly Hilton Hotel on January 11, 2015 in Beverly Hills, California | Source: Getty Images
Then, he brought out a vintage ring, which Prinsloo revealed was from the 1930s, and asked the model to marry him, to which she replied in the affirmative.
DETAILS OF THE COUPLE'S WEDDING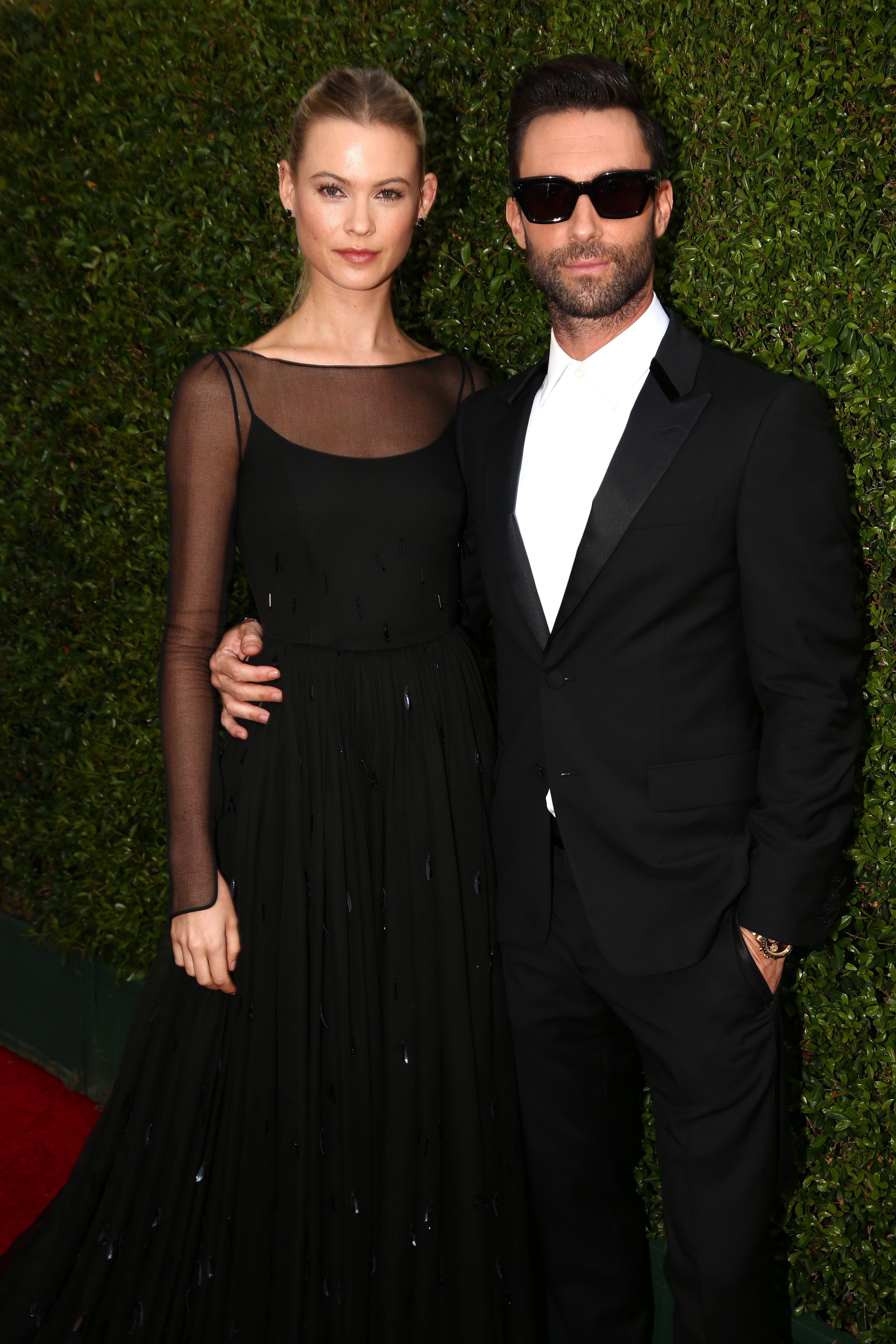 Model Behati Prinsloo and recording artist Adam Levine arrive to the 66th Annual Primetime Emmy Awards held at the Nokia Theater on August 25, 2014 | Source: Getty Images
On July 19, 2014, Levine and Prinsloo walked down the aisle at Flora Farms in Los Cabos, Mexico. Celebrity Wedding Planners Stefanie Cove and Yifat Oren beautifully decorated the wedding venue.
On the other hand, the reception venue was decorated with strung tiny white lights, long garlands of flowers, and large circular tables around mango trees for their 275 A-list guests.
The guests comprised Victoria's Secret models like Coco Rocha, Erin Heatherton, and Candice Swanepoel, alongside other celebrities such as Jason Segel, Robert Downey Jr, etc.
They were presented with fresh fish and beet salads, organic pork chops, Mexican popsicles, and treats from an organic ice-cream cart. According to a source, most guests enjoyed the menu so much that they finished eating in less than an hour.
Next, they proceeded to the dance floor, moving their bodies to lovely music from Maroon 5 and Stevie Nicks. Indeed, it was a memorable event. Following the wedding, Levine and Prinsloo traveled to South Africa for a worthwhile honeymoon.
PRINSLOO TALKS ABOUT PREGNANCY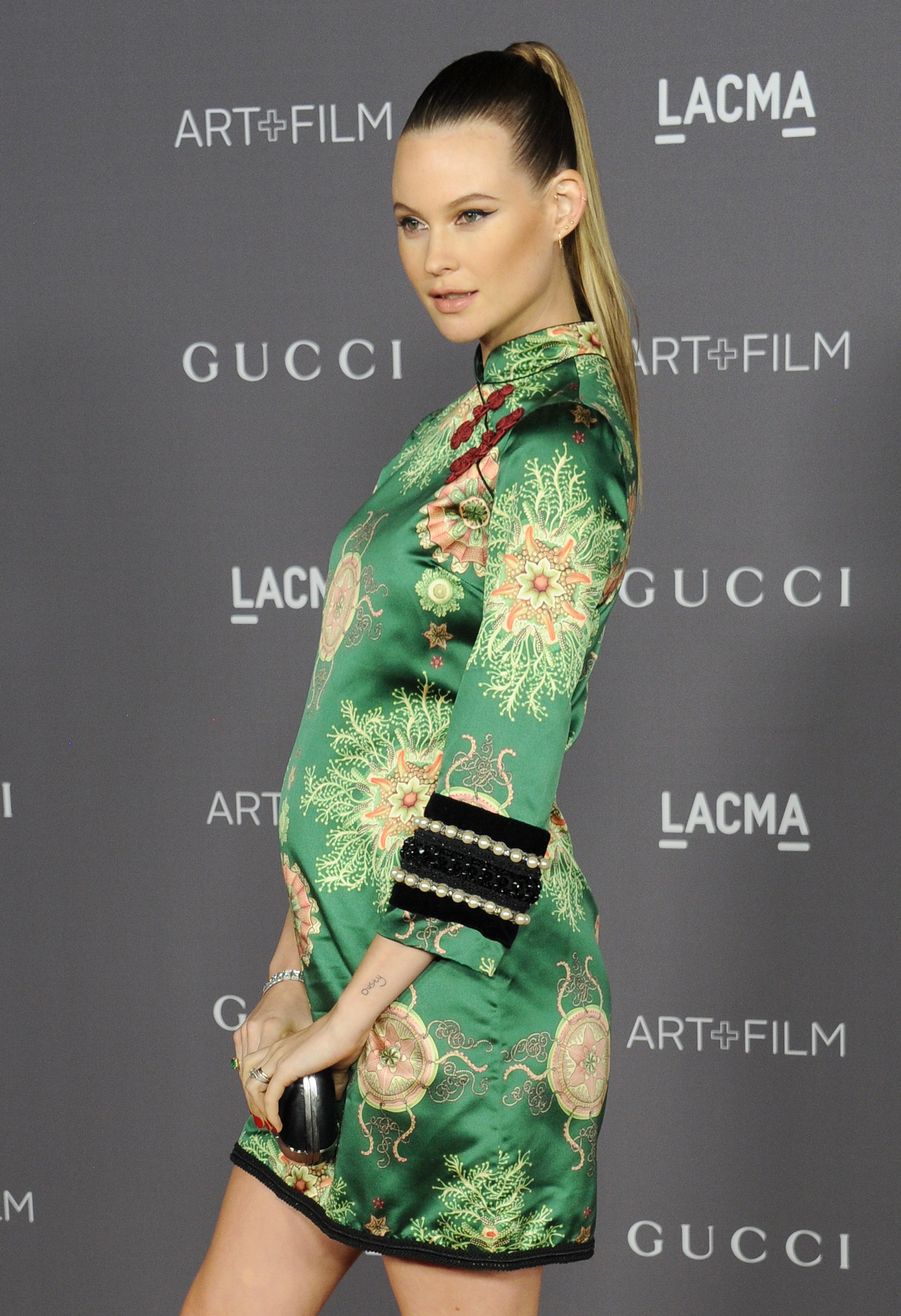 Behati Prinsloo arrives at the 2017 LACMA Art + Film Gala honoring Mark Bradford and George Lucas at LACMA on November 4, 2017 in Los Angeles, California | Source: Getty Images
A few years after their wedding, Levine and Prinsloo welcomed their first child. Recalling her pregnancy journey, the model made it known that, when she got pregnant, she wanted nothing more than to enjoy her time as an expectant mother.
According to Prinsloo, she loved being pregnant and doing nothing; however, after she welcomed her daughter, the model battled Postpartum Depression. Prinsloo said it was difficult to get back to everyday life, but in due time, she did.
In 2018, the singer's wife gave birth to her second child. Unlike the first pregnancy journey, Prinsloo mentioned that everything felt easier.
According to the Victoria's Secret Icon, working out and breastfeeding were easier. Prinsloo also noted that she was not pressured to return to work. In her words:
"No one pressured me to return to work, not even Victoria Secret, who I was under contract with — they never asked me when I was going to be back."
INSIDE THE COUPLE'S PARENTHOOD JOURNEY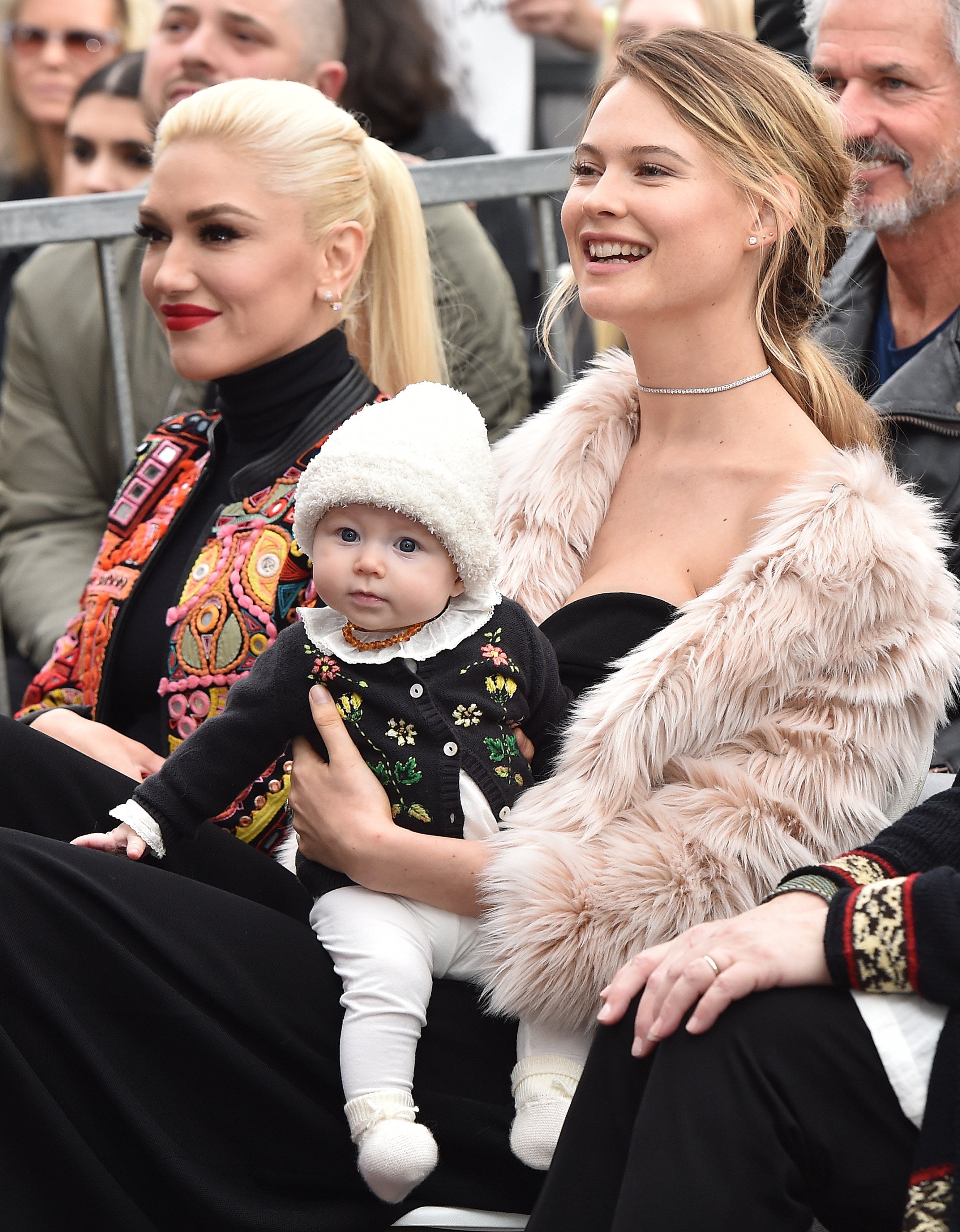 Model Behati Prinsloo, daughter Dusty Rose Levine and singer Gwen Stefani attend the ceremony honoring Adam Levine with star on the Hollywood Walk of Fame on February 10, 2017 in Hollywood, California | Source: Getty Images
Levine loves being a married man and considers marriage one of his most significant achievements. Two months after his 2014 wedding, the Grammy Award-winning musician told Us Weekly:
"I never really thought I would adore it. It's so trippy. I'm a child. How did this happen? I use that word [wife] right now alot. I say it for no reason. I say it a lot — 'Wife, wife, wife,' I love it. I even changed her number in my phone to 'wife.'"
Apart from being a husband, Levine also cherishes his role as a father. He and his wife are doting parents to daughters, Dusty Rose and Gio Grace.
The couple welcomed Dusty on September 21, 2016, and Prinsloo took to Instagram to announce the good news. Two months later, the father of two opened up about his daughter's name.
Levine revealed that he had come up with the perfect name and texted it to famous TV host, Ellen DeGeneres, to get her opinion. Unfortunately, she disapproved of it. Instead, she gave the singer five names to choose from, one of which was "Dusty."
On the other hand, Levine and Prinsloo's second daughter, Gio Grace, was born on February 15, 2018. Unlike her big sister, not much is known about the origin of her name.
When it comes to their kids, Levine and Prinsloo consider all other things secondary. Despite their busy schedules, they create time for their daughters and hang out as a happy family.
Levine and Prinsloo may have only two kids. However, fans anticipate the arrival of another child, as the model has said they want at least three kids.
According to Prinsloo, Levine wants five kids, while she wishes to have three or four. However, the mom of two believes she has the final say, as she is the one to give birth to the children.
Please fill in your e-mail so we can share with you our top stories!