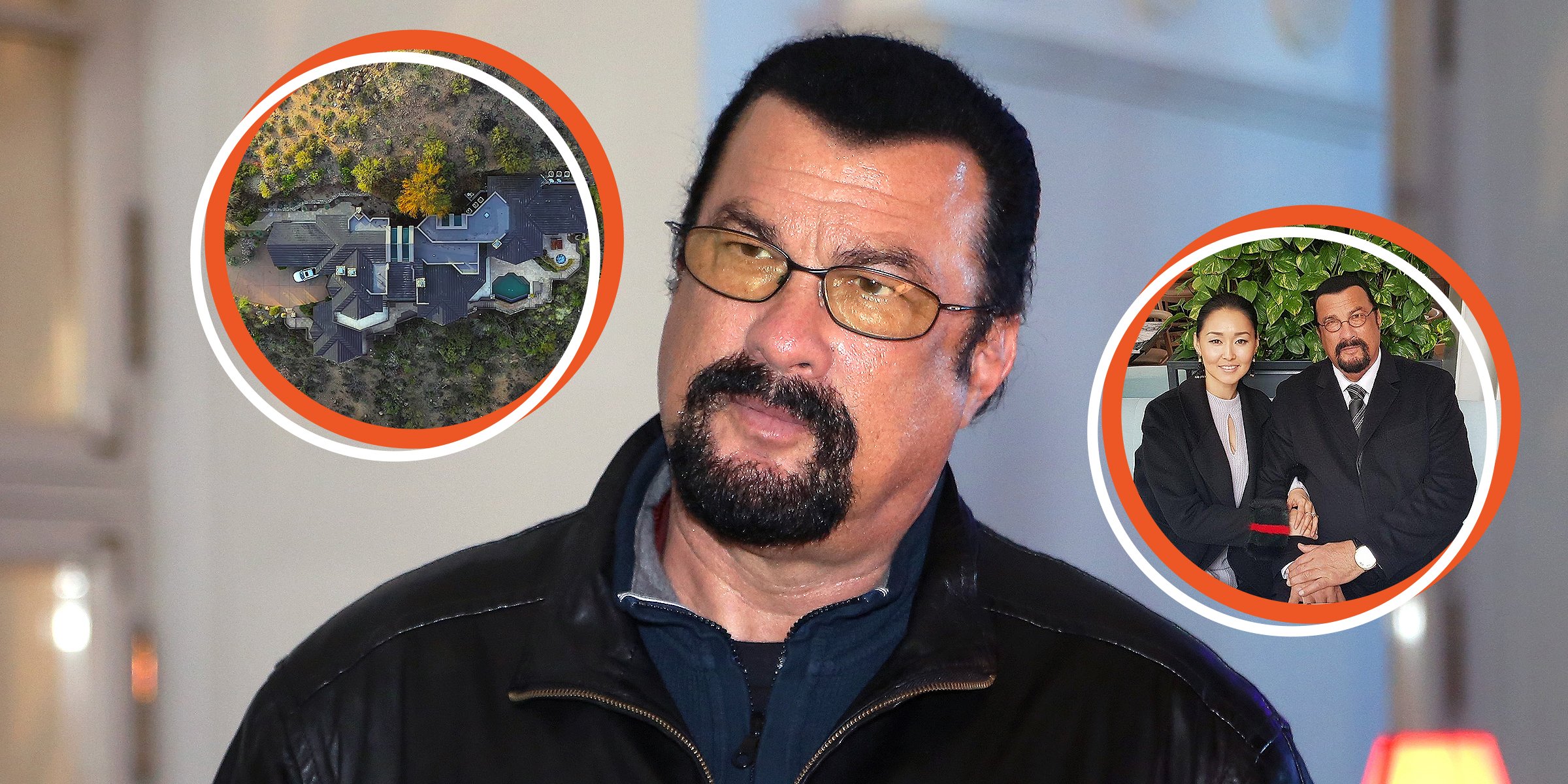 Getty images | Instagram/Seagal Official | YouTube/ Paul Benson Engel & Völkers
Inside Steven Seagal's $3,4M Bulletproof Mansion That He Bought after Marrying His 4th Wife
Steven Seagal rose to fame after starring in several action-packed films in the 80s. He has been married four times and lives in his bulletproof mansion, only befitting a seventh-degree aikido black belt actor.
Steven Seagal became a respected star after starring in the action films "Above the Law," "Hard to Kill," and "Under Siege." He would later star in the reality series "Steven Seagal: Lawman" and continued churning out action farewell into his 60s.
When he's not making films, the star retreats to his bulletproof mansion that overlooks the cities of Phoenix and Scottsdale and that he purchased shortly after marrying his fourth wife. Let's take a look into his marriages and his million-dollar fortress.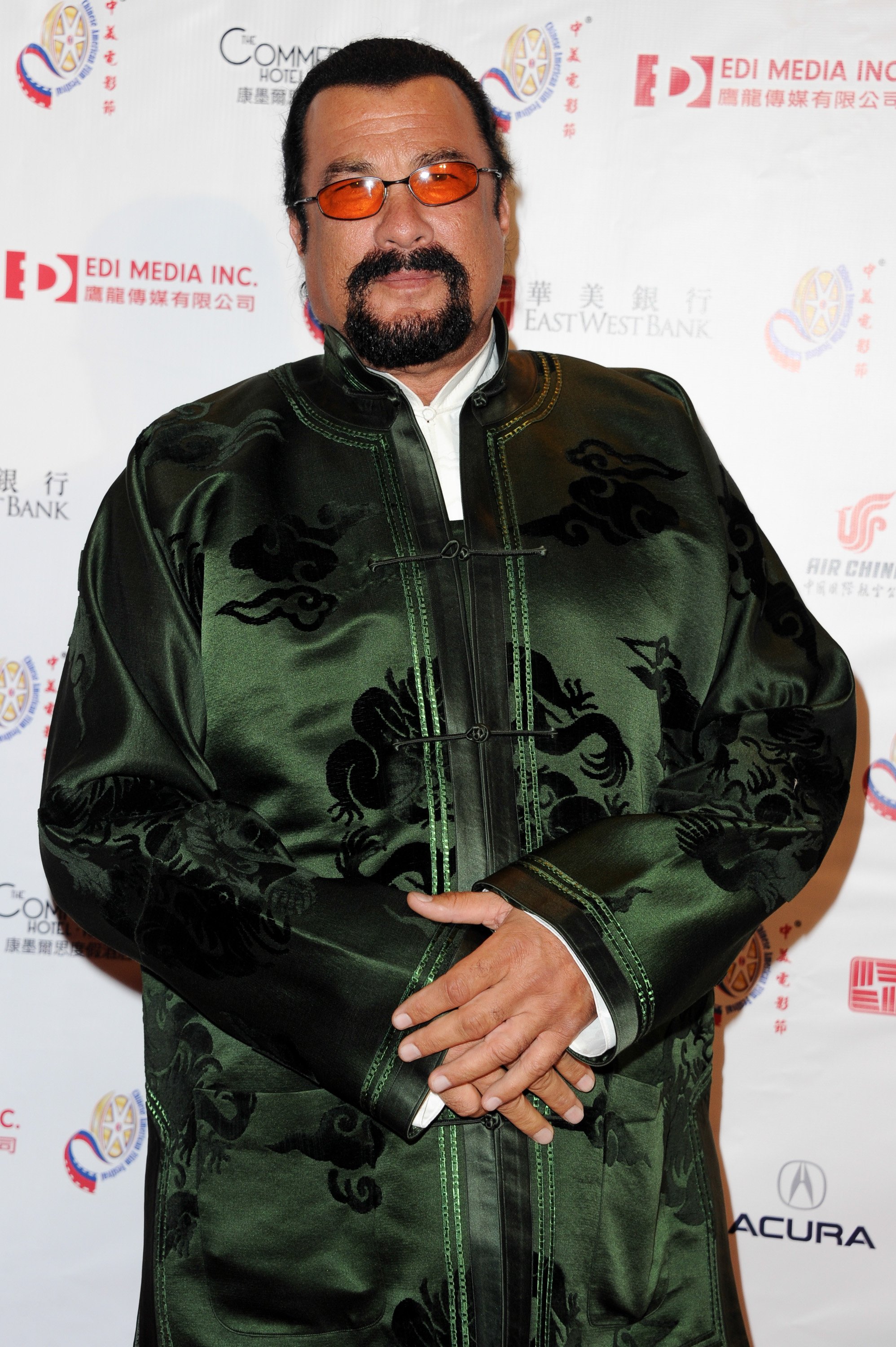 Actor Steven Seagal at Pasaden Civic Auditorium on November 4 2014 | Source: Getty Images
In the 80s, Seagal ruled the box office as a martial arts master, and during an Aikido seminar in July 1974, the actor met Japanese Aikido instructor Miyako Fujitani. Initially, Fujitani was not attracted to Seagal and thought he was too skinny for her liking.
But as time went by, his eyes and soft-spoken nature appealed to her and the two married in December 1974. They welcomed two children, son Kentaro in 1975 and daughter Ayako in 1979. Unfortunately, the pair split in 1987.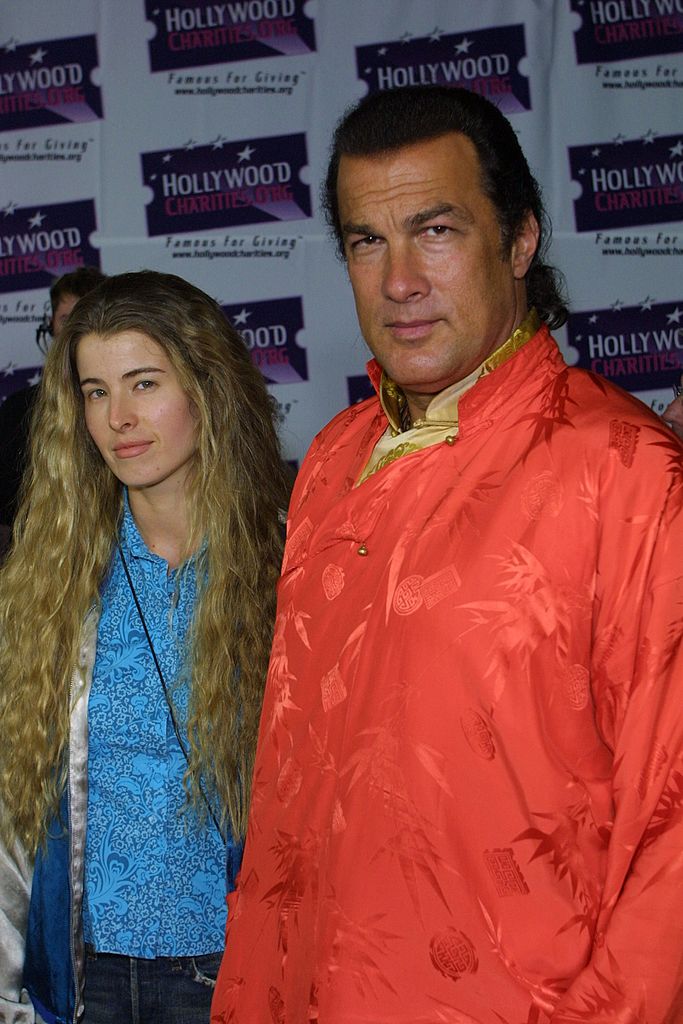 Actor Steven Seagal and wife Adrienne La Russa in Universal City California on August 29, 2001 | Source: Getty Images
In 1984, Seagal married "Days of Our Lives" actress Adrienne La Russa. It is crucial to note that this was three years before he split from his first wife. Reports claim that Russa was not aware that Seagal was married because their marriage became null on the grounds of bigamy that same year.
SEAGAL'S THIRD WIFE, KELLY LEBROCK, FELT SORRY FOR HIM
After splitting from his first wife in 1987, Seagal married his third wife, Kelly LeBrock, with whom she had three children Annalize, Dominic, and Arissa. Their marriage, however, ended in 1996 after the couple filed for divorce, citing "irreconcilable differences."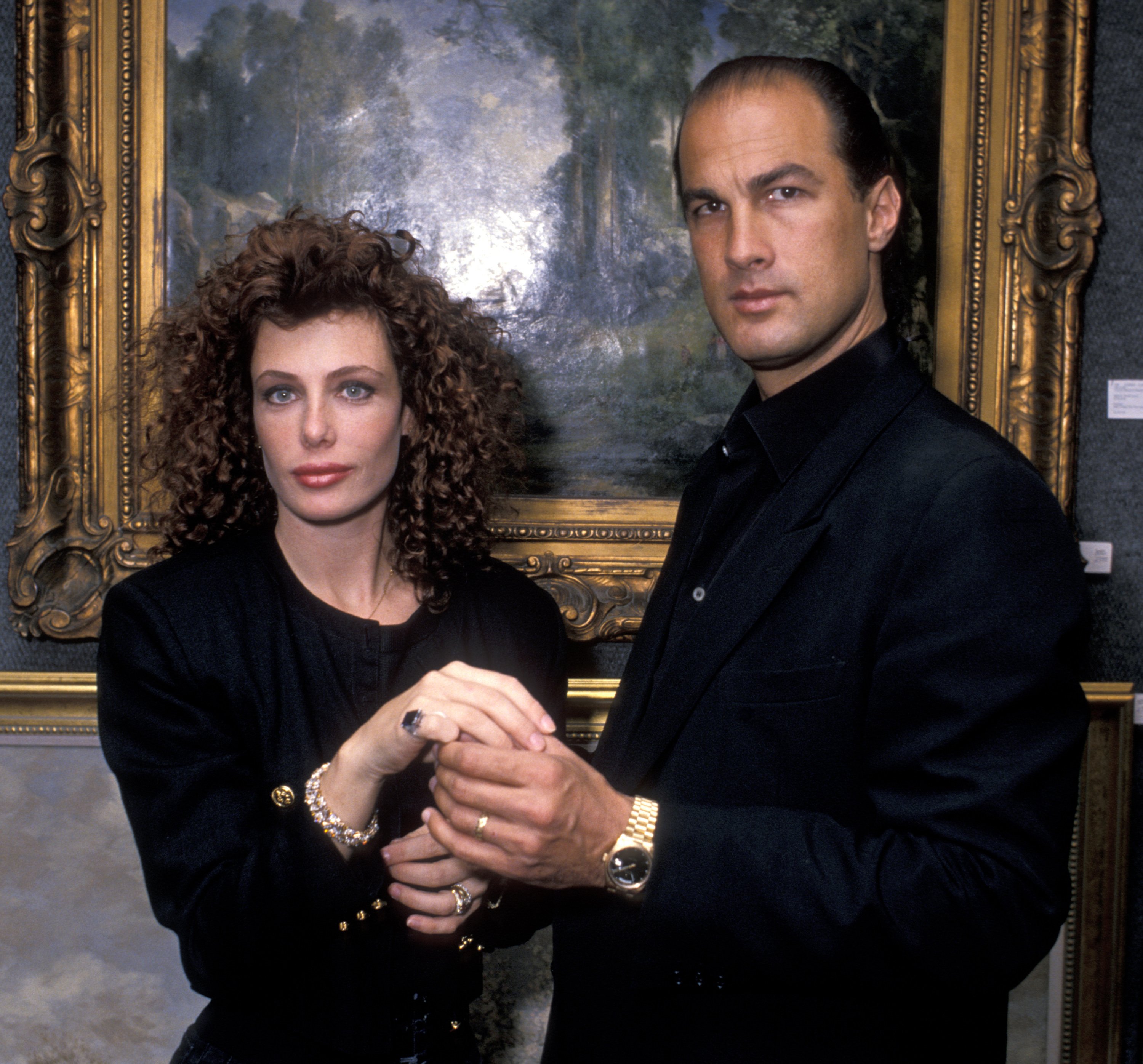 Actor Steven Seagal and his wife model Kelly LeBrock at Butterfields in Los Angeles California on November 3, 1988. | Source: Getty Images
Life post-divorce was, however, not easy for LeBrock. "I admit, I became a hermit. When I split with Steven, the divorce was very ugly, and details of the case were on the evening news." She told Mail Online, adding:
"I had absolutely no self-esteem. I hated myself. I decided to swap my old life in Beverly Hills for a new one in the country, in Santa Barbara."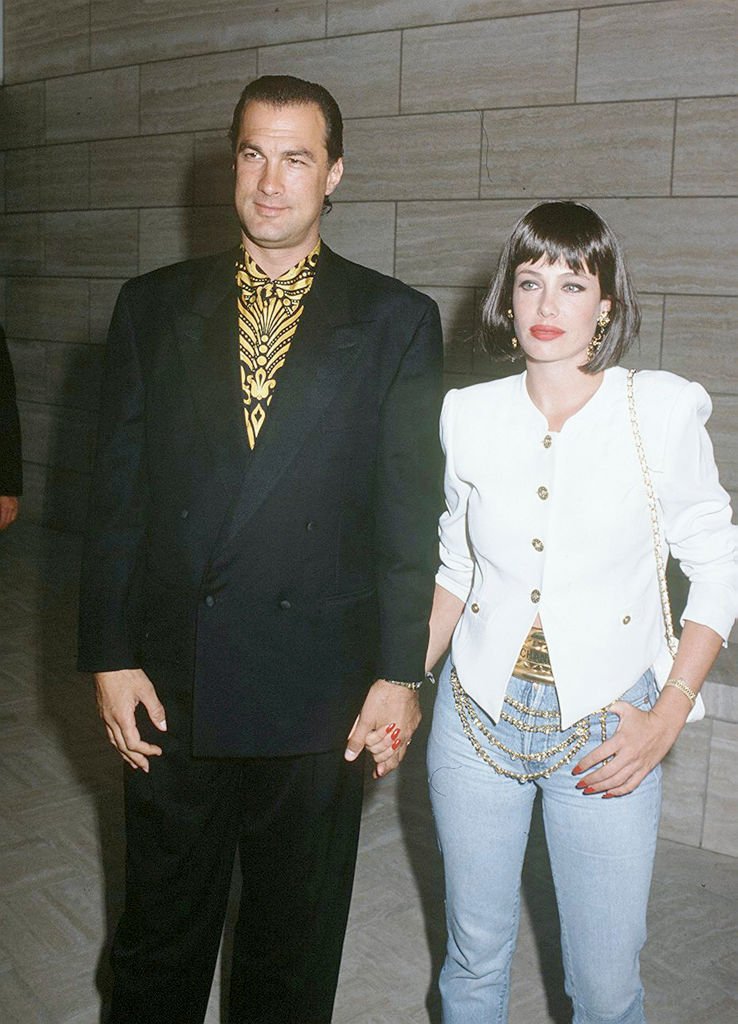 Actor Steven Seagal and wife Kelly LeBrock in 1990 | Source: Getty Images
Years after the two got divorced, LeBrock dubbed her ex-husband a "tragedy of Hollywood" after eleven women accused him of sexual assault and misconduct. She opened up to Page Six, saying:
"I feel sorry for the man."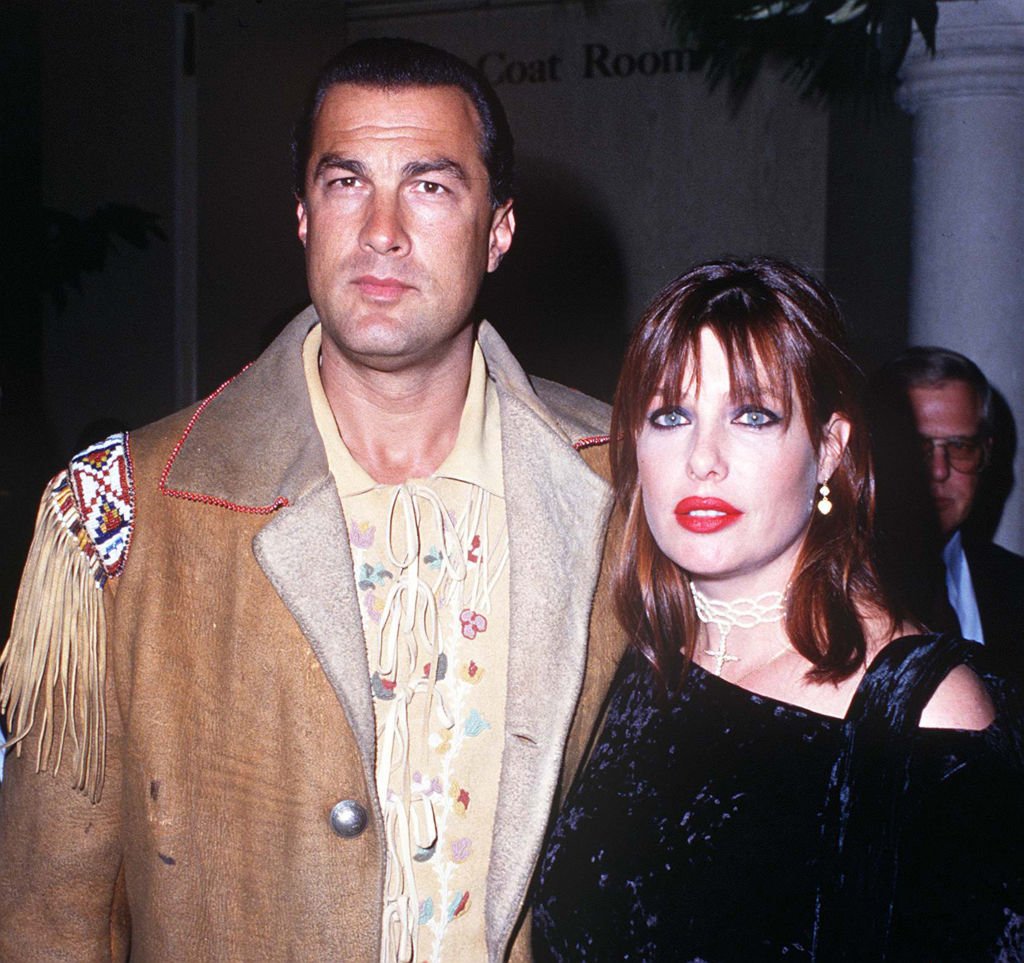 Actor Steven Seagal and wife Kelly LeBrock in 1992 | Source: Getty Images
"I think that he's just a very sad person, and he is what I would call a tragedy of Hollywood. I believe he was very bullied as a child, very sickly, very weak, and I guess people who are treated that way as children end up becoming lost as they age." She shared, adding:
"I wish him all the best."
Seagal, who has both Serbian and Russian citizenships, expressed his admiration for Russia's President Vladimir Putin and shared that despite the ongoing invasion of Ukraine, he still views Russia and Ukraine as "one family."
SEAGAL GOT MARRIED AT 58 FOR THE FOURTH TIME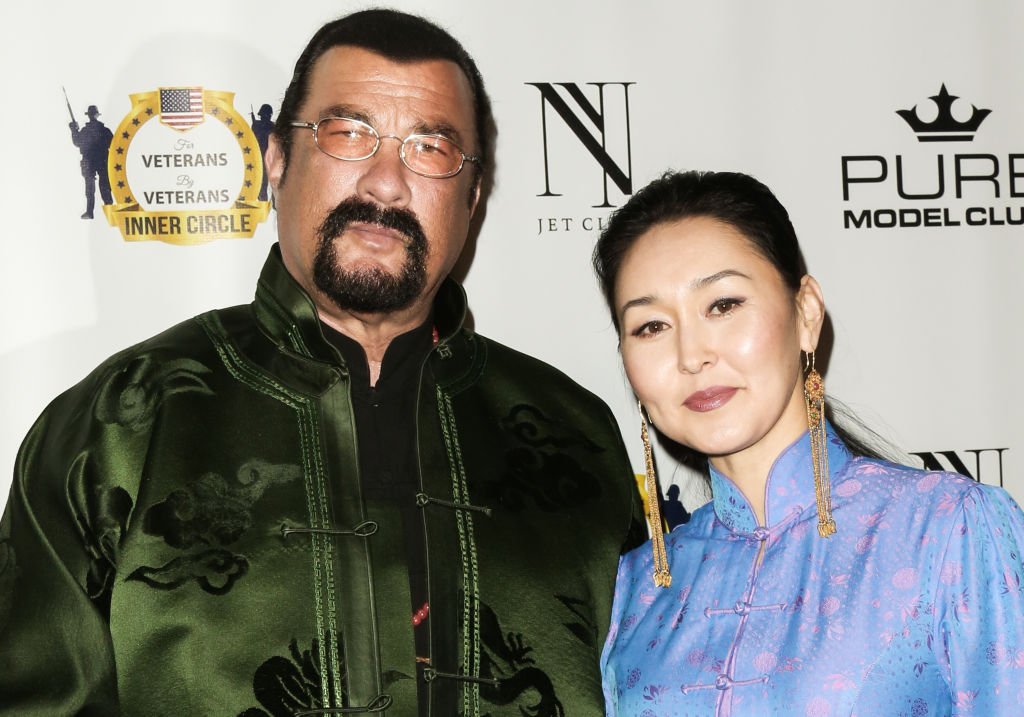 Actor Steven Seagal and his Wife Erdenetuya Seagal at Taglyan Complex on February 23, 2017 in Los Angeles, California. | Source: Getty Images
After divorcing his third wife, the martial arts instructor-turned-action star took a long hiatus from love. Eventually, in 2009, he married his fourth wife, Mongolian native Erdenetuya "Elle" Batsukh.
Batsukh, a professional dancer, met Seagal in 2001 when she worked as his interpreter during a visit there. They met again in 2002 when Seagal visited Outer Mongolia trying to raise money to finance a film.
In 2004, she started working as his assistant, and five years later, the two married. They welcomed their first child together, son Kunzang, shortly after and remain married to date. A year after marrying Batsukh, Seagal purchased his bulletproof mansion, and he lives there with his family.
INSIDE THE ACTOR'S BULLETPROOF HOME WITH LIFE-SIZED STATUES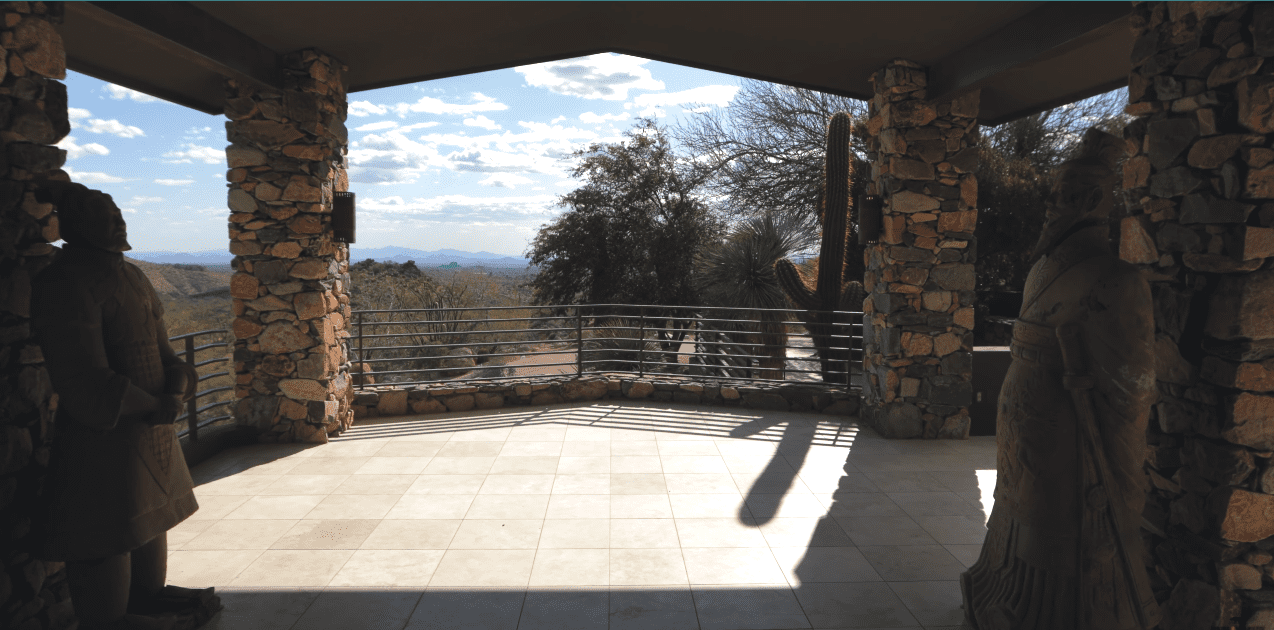 The terrace of Steven Seagal's luxury home that features life-sized statues. | Source: YouTube/Paul Benson Engel & Völkers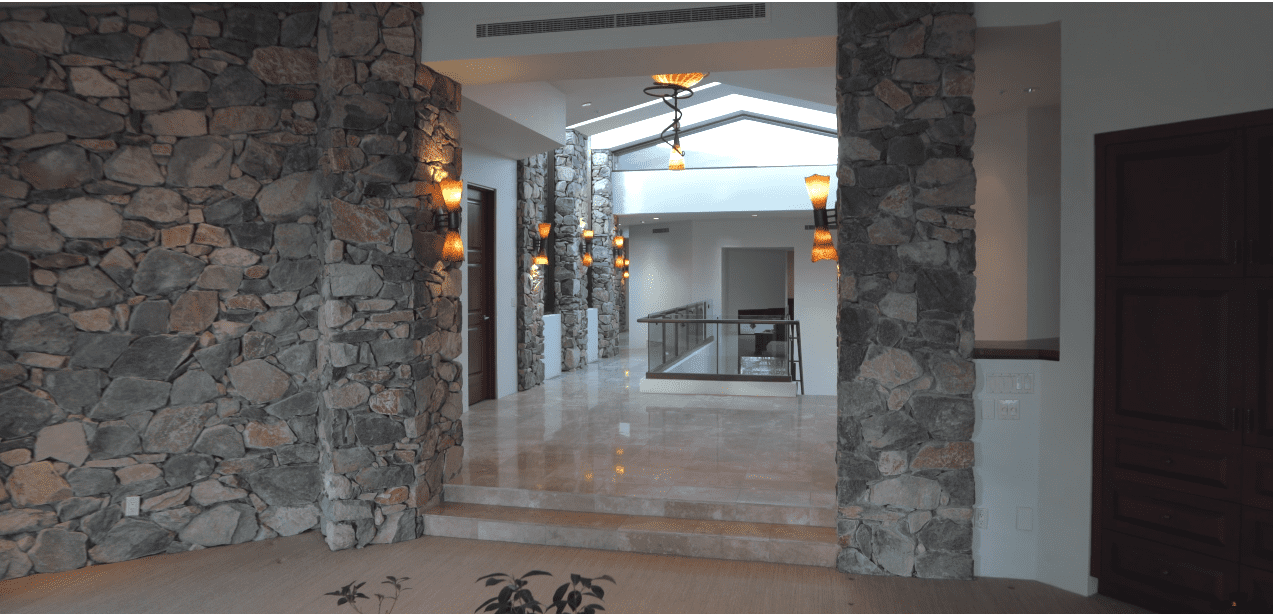 The entryway into the home | Source: YouTube/Paul Benson Engel & Völkers
Seagal's million-dollar fortress is just as mysterious as the man who calls it home. The mansion, constructed in 2001, sits on a picturesque hillside atop a vast 12-acre desert property overlooking the Phoenix metro area.
The property boasts 8,973 square feet featuring five bedrooms — four in the main house and one in the guesthouse — and six bathrooms.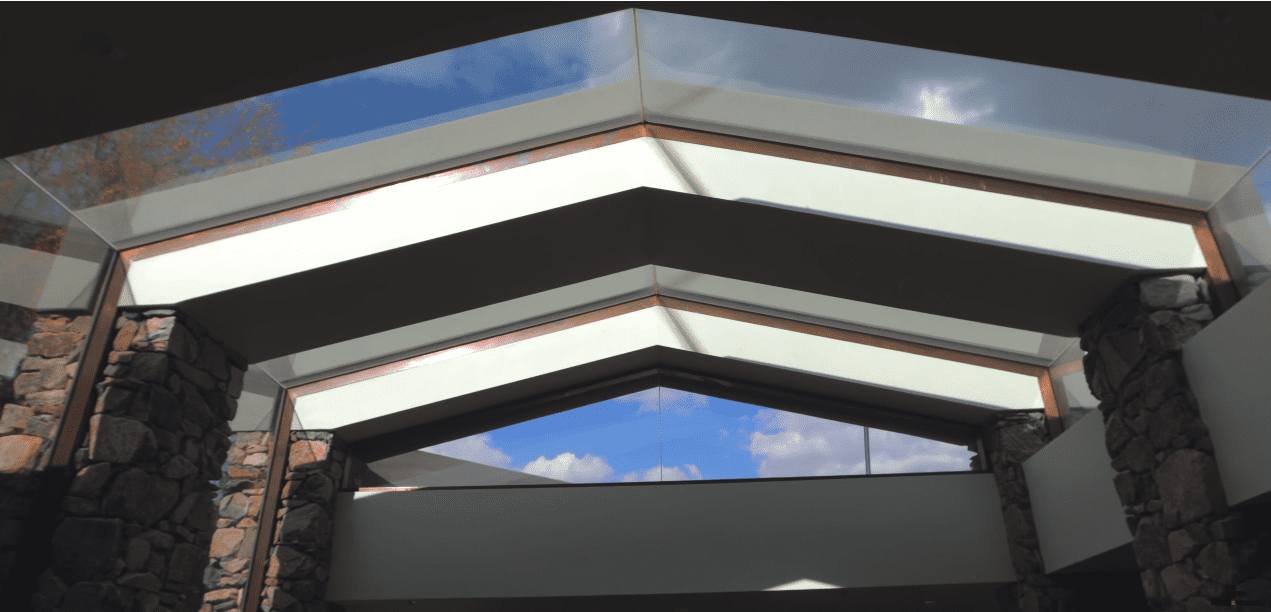 The two-story atrium brings in natural light into the home | Source: YouTube/Paul Benson Engel & Völkers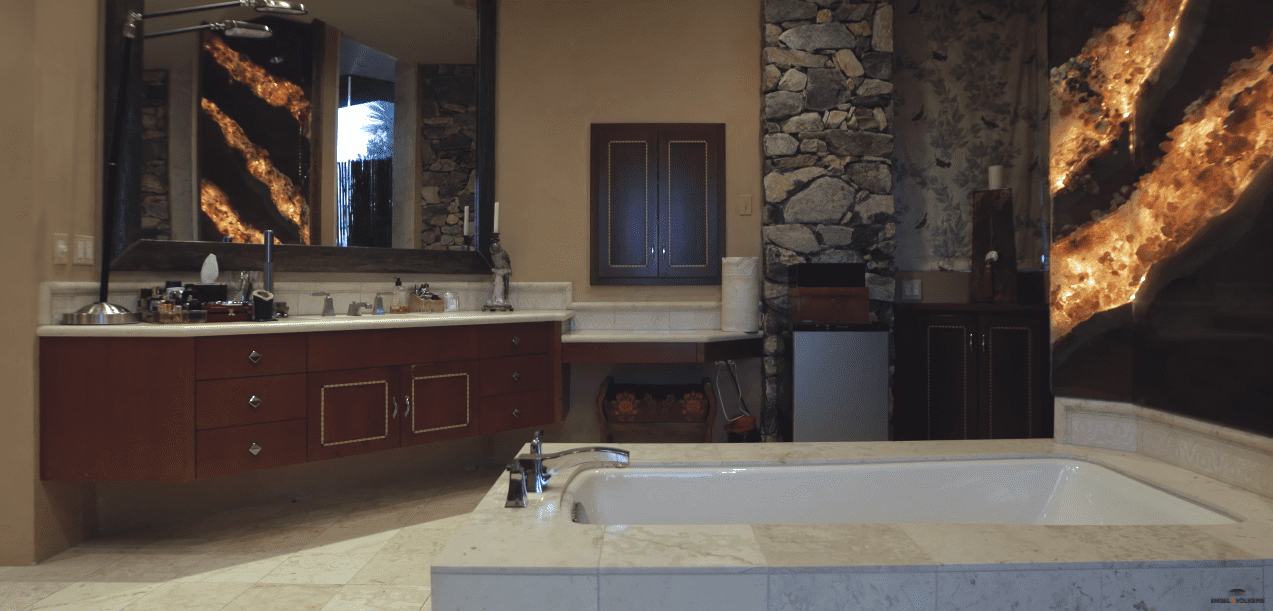 The master bathroom has a marble tub | Source: YouTube/Paul Benson Engel & Völkers
The home looks like a maze featuring floor-to-ceiling glass windows and multidirectional scenes of the cacti-filled desert outside. The grass-fronted windows, fully tinted and bulletproof, are large and airy, with staggering views all around the house.
The entryway features cacti and desert plants while two life-sized Chinese warrior statues grace the terrace, a nod to Seagal's martial arts expertise. The home also has a three-car garage and additional guest parking spaces.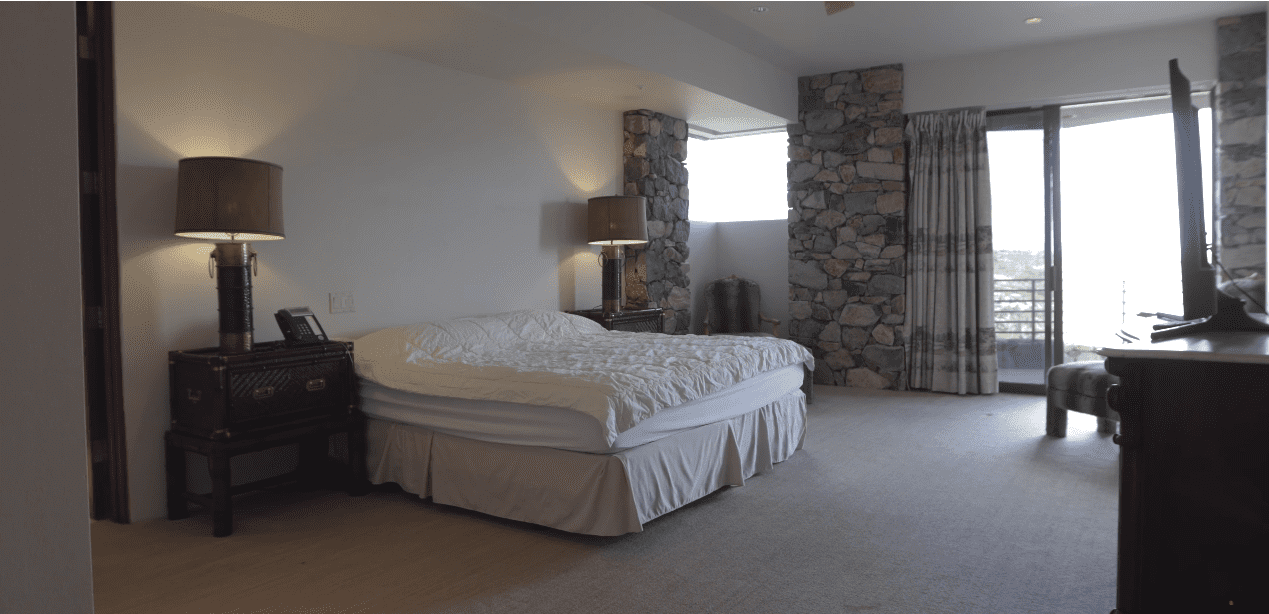 The master bedroom features panoramic views of the outdoors | Source: YouTube/ Paul Benson Engel & Völkers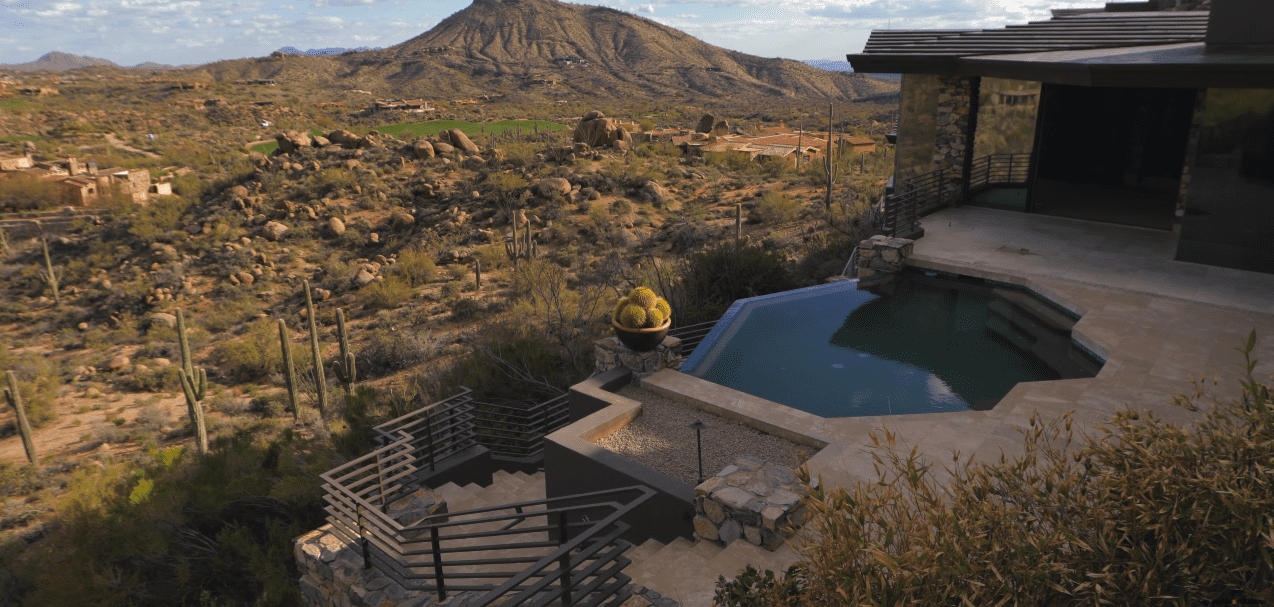 An infinity pool overlooks the scenic views | Source: YouTube/ Paul Benson Engel & Völkers
The home, designed for sumptuous living and lavish entertainment, also features an infinity pool, a private spa, and a hot tub, with a panoramic view of the sprawling desert land.
The home's interior boasts an open plan layout, with vaulted ceilings, copper detailing, and rustic natural stone columns. The eat-in chef's kitchen is one of a kind, with dark wood cabinetry and marble countertops.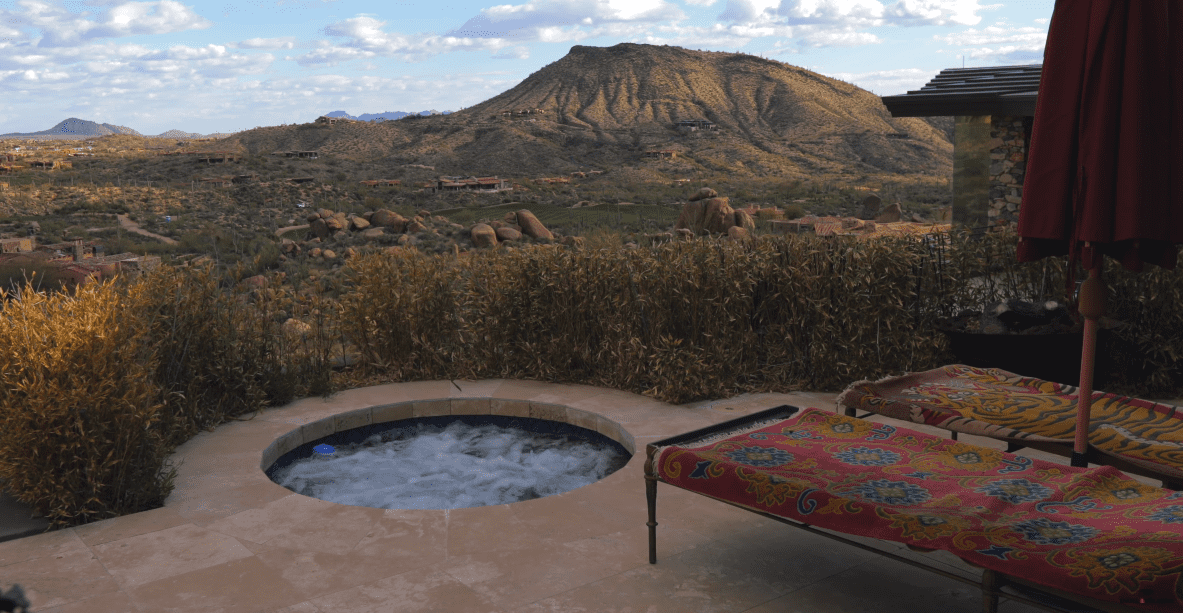 The home boasts a hot tub with beautiful desert sceneries ​| Source: YouTube/Paul Benson Engel & Völkers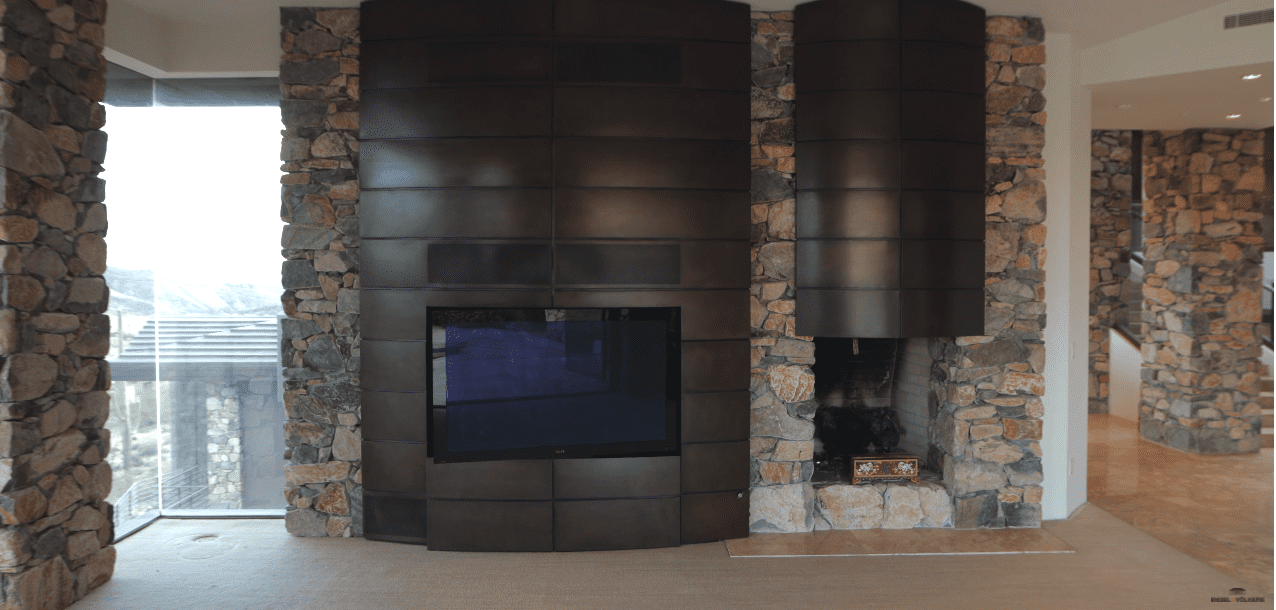 The home's main feature is the natural stone columns and bulletproof windows | Source: YouTube/Paul Benson Engel & Völkers
The state-of-the-art kitchen boasts modern amenities and appliances to cook exciting meals for the homeowners and guests. Outside the kitchen is a BBQ area fitted with a grill that opens up into a breakfast room with dark brown furniture.
The living area has a beige-brown comfy couch facing the vast windows to take advantage of the views below fully. The expansive room also features a fireplace.
The main bedroom showcases simple furniture with wooden wardrobes. The main bathroom is a stunning combo of wood and stone features and includes a marble tub, a fire installation, and a balcony providing access to unparalleled views.
The 9-seater custom-made private theatre is also an attractive part of the home, designed to entertain both the owners and guests of the house, and is big enough to host private screenings.
On top of the breathtaking interior of Seagal's luxury abode, the carefree country chic home also has a two-story atrium and several flex rooms. The property also features a 600-square-foot guesthouse with a bedroom suite complemented by a fully-equipped kitchen and a living room with upscale amenities and comforts.
Please fill in your e-mail so we can share with you our top stories!