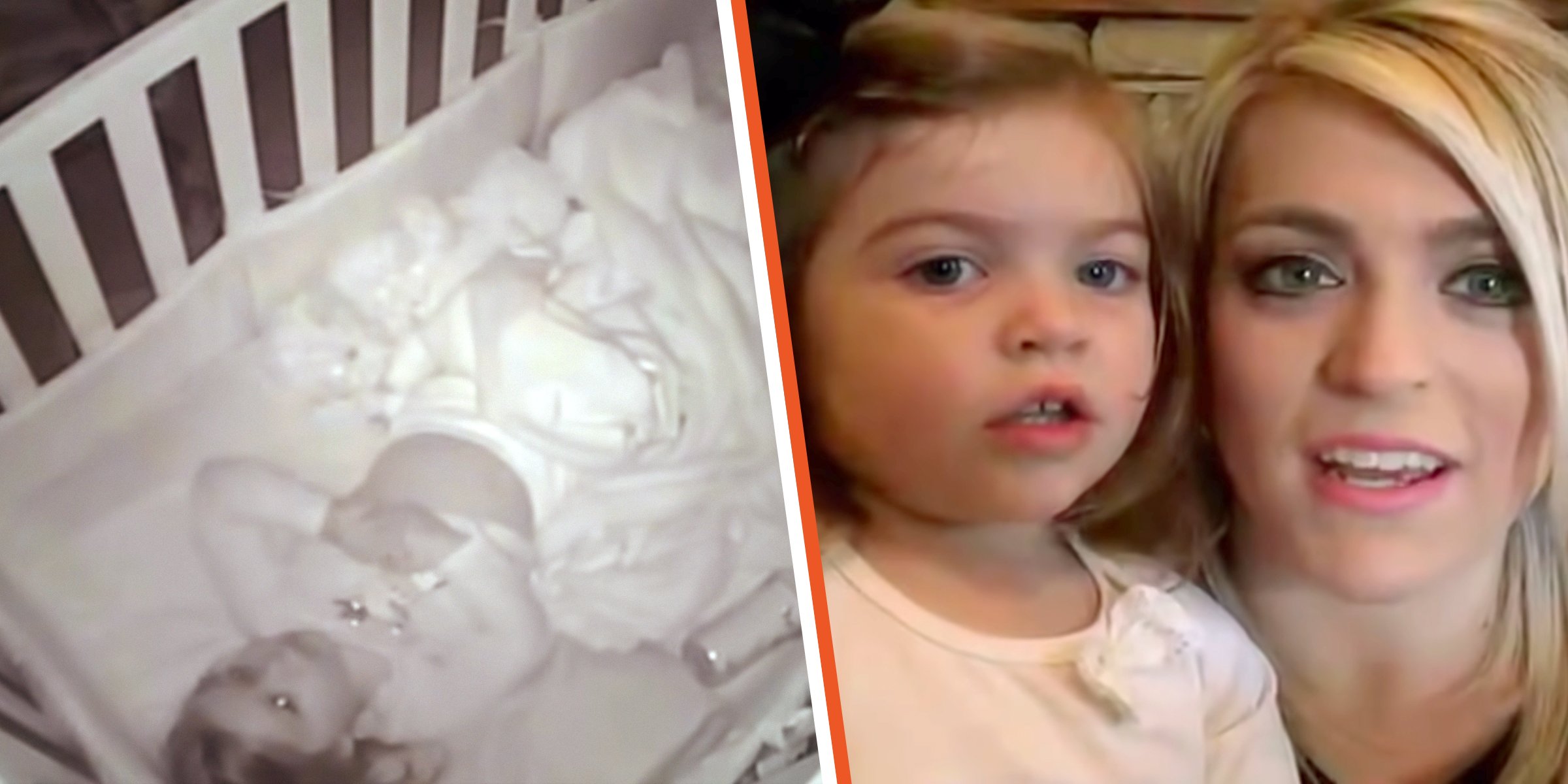 youtube.com/Inside Edition
Parents Put 2-Year-Old Kid to Sleep & Forget to Pray, Later They Hear a Whisper on the Baby Monitor
A South Carolina couple experienced something strange after forgetting to say the bedtime prayers while putting their 2-year-old daughter to sleep.
The mother opened up about it in a Facebook post that many people shared. Most Facebook users were shocked to read her post.
As soon as the couple heard the strange noises, they pressed the record button on the baby monitor and posted the video of their child on Facebook.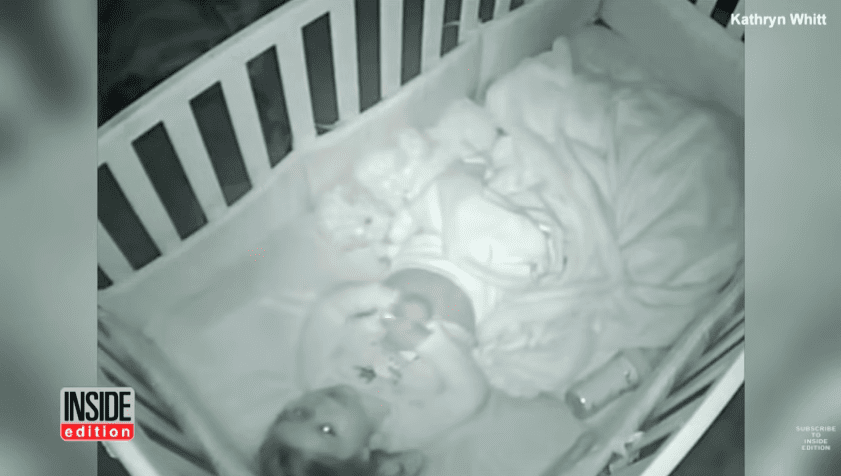 The parents heard strange noises from their toddler's bedroom. | Source: YouTube/Inside Edition
Kathryn and Caleb Whitt's nighttime ritual included saying prayers before putting their kids to sleep. Things took an unusual turn the day they forgot to follow their routine.
On a Sunday night in January 2016, they didn't say their prayers while putting their 2-year-old daughter, Sutton Whitt, to sleep.
After putting Sutton to sleep, they went downstairs to watch the NFC Championship game they had waited for all day. Little did they know that a strange noise would soon interrupt them.
Kathryn Whitt with her daughter Sutton. | Source: YouTube/Inside Edition
The couple turned on the TV to enjoy the NFC game. An hour later, they heard strange noises coming from Sutton's bedroom. Kathryn recalled:
"We started hearing noises upstairs. We then pulled up the baby monitor on my cell phone and hit record."
The couple was shocked to see what the noises were about. They could see their daughter through the baby monitor saying something while looking at the roof.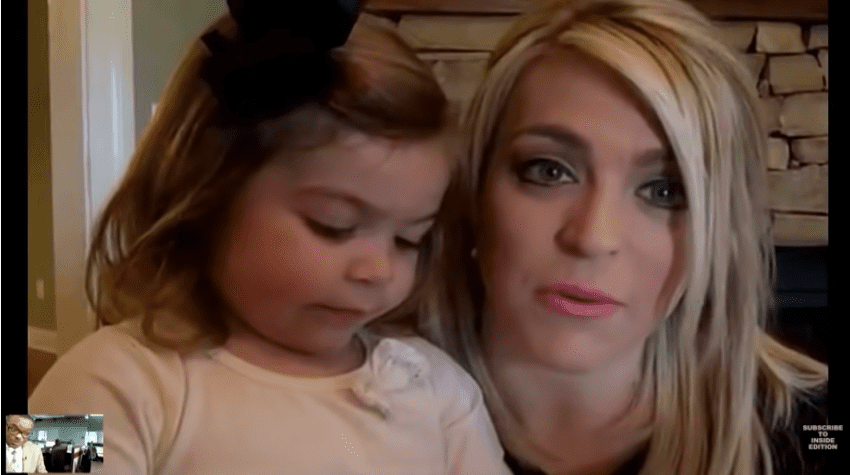 Kathryn recorded the baby monitor footage. | Source: YouTube/Inside Edition
When the Whitts heard the baby monitor's audio closely, they were shocked to know that Sutton was saying her bedtime prayers all by herself.
At first, Kathryn was skeptical about sharing her daughter's video with everyone.
Despite her parents forgetting to say the prayers, it seemed like the toddler knew how important it was to follow the bedtime ritual and pray before sleeping.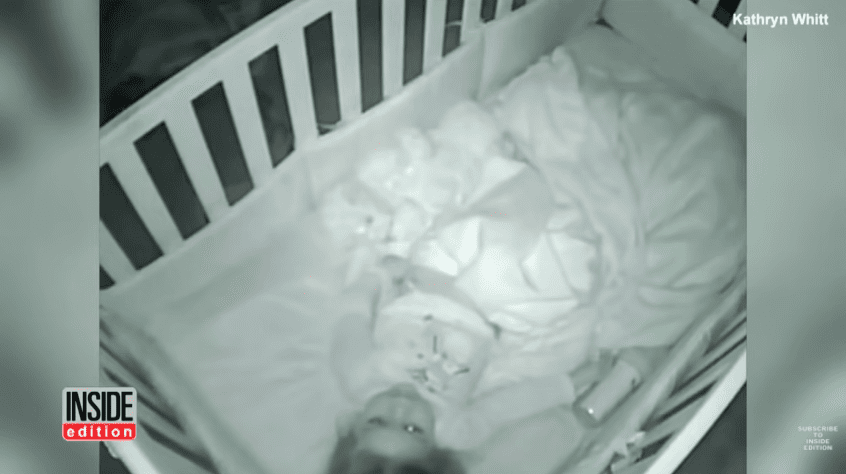 Sutton said her prayers without her parents. | Source: YouTube/Inside Edition
SHE HAD HER VERSION OF THE PRAYERS
As soon as Kathryn realized her daughter was praying, she pressed the record button but could only capture a fraction of the 2-minute-long prayer.
The couple was stunned to see that Sutton had made her version of the prayer where she called out the names of her family members, including her grandparents.
The little girl also said thanks many times while saying her nighttime prayers. Usually, the prayer lasted for twenty seconds when she said it with her parents, but she prolonged it this time.
THE MOM POSTED IT ON FACEBOOK
At first, Kathryn was skeptical about sharing her daughter's video with everyone, but then she decided to do it and posted it on Facebook. She thought the video would stay within her friends' circle on Facebook, but things took a different turn when people shared it on their timelines.
In no time, the video reached thousands of people through Facebook. They were shocked to see the little girl praying for everyone, including Santa Claus.
Kathryn revealed that she had taught her toddler to say thanks for having so many people in her life. She often told her to say their names but hadn't taught her to mention everyone's names one by one.
OTHER PEOPLE REACTED TO THE VIDEO
The mother said she enjoyed the attention she got from people worldwide after her video went viral on Facebook. Several media outlets had also covered her story. She said:
"We've already received so many emails and messages from people saying how this video has touched their lives."
After the video went viral, people started approaching the little girl for autographs, but she had no clue what had happened. Kathryn said her daughter only knew something big had happened.
Sutton now looked forward to saying her nighttime prayers every day and ensured her parents didn't forget about it.
ANOTHER MOTHER WITNESSED SOMETHING UNUSUAL
Like Kathryn, another mom beheld a curious sight thanks to her baby monitor. Sonja Overman received a notification from the baby monitor telling her about unusual movement in her daughter's crib at midnight. When she looked at the footage, she saw an intruder near her baby.
The footage went viral after the mother posted it on her TikTok account. More than 7 million people witnessed what happened in the baby's crib at midnight.
The video shows Grace sleeping peacefully in her crib. A few seconds later, the monitor senses movement when an intruder comes near the baby.
The video showed Overman's pet cat, Pepper, making its way through the longitudinal gaps in the crib. A few seconds later, Grace wakes up and hugs Pepper, who tries to find a way to escape.
Overman got mixed reactions from other TikTokers. Some people found the video cute, while others pointed out that it was dangerous to let a cat come near a toddler.
Click here to read another story about a mother who saw a brunette sitting next to her kids through the baby monitor. She rushed to the living room and found no one there.
Please fill in your e-mail so we can share with you our top stories!