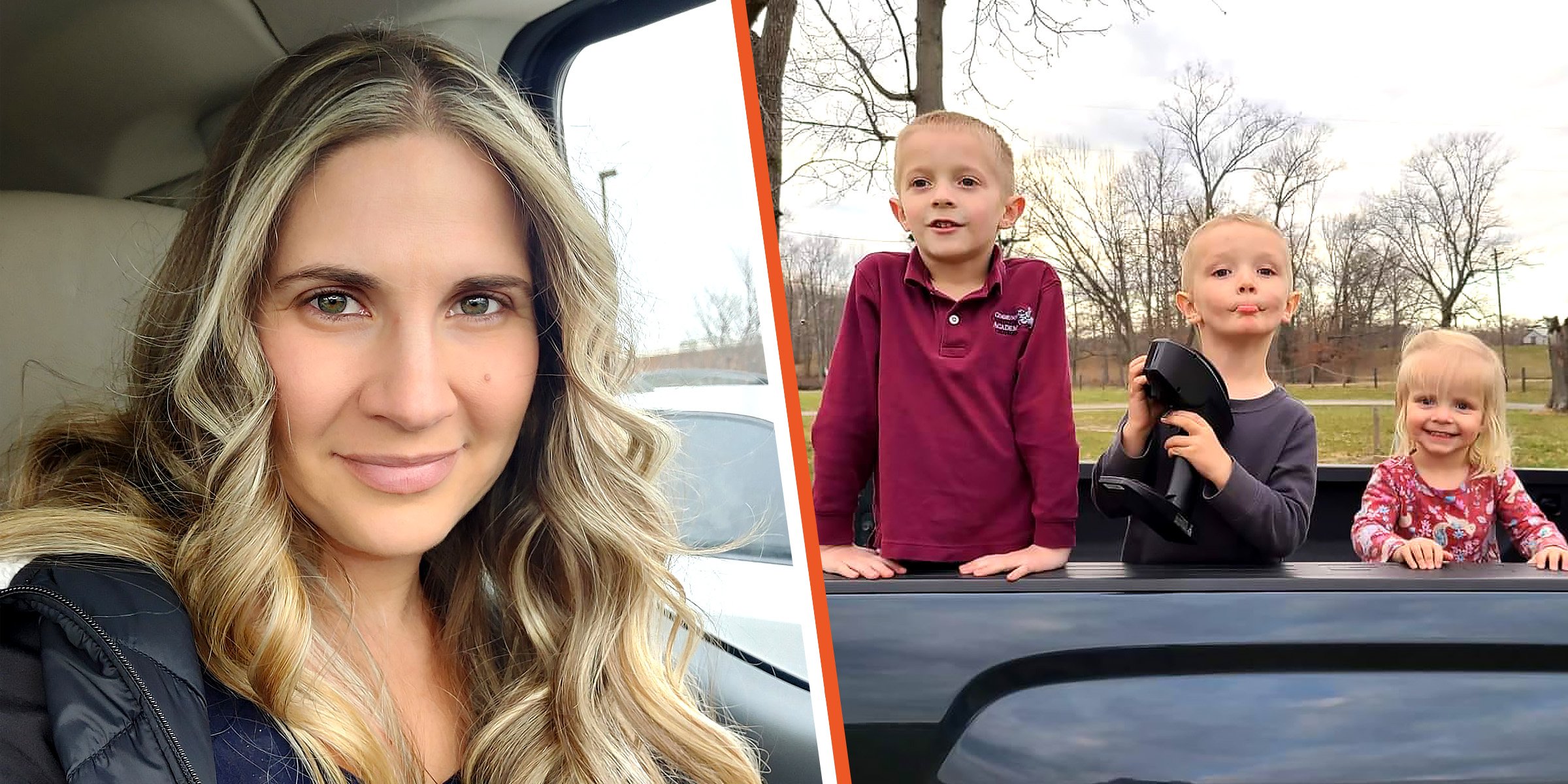 facebook.com/heather.meyer.21
Woman Starts Giving Birth Alone on the Roadside While Her 5 Kids Wait in the Car
A pregnant woman was riding with her five children when she suddenly felt her contractions intensify. She soon realized that she didn't have enough time, so she stopped the car, clutched her phone, and ran across the road.
Every child deserves to be celebrated, and every birth experience is unique. Interestingly enough, some babies prefer a dramatic entry into the world that might stay etched forever in their family's minds.
There seems to be no dearth of astonishing birth stories, from women going into labor at gas stations to delivering babies in the most unusual places. Today's story is centered around something similar, and we hope you'll enjoy reading it.
Heather Skaats and her husband Nick were all too familiar with parenthood. They were parents to five adorable children, including Kaelynn, 13, Aneleigh, 11, Austin, 6, Luke, 3, and Alyssa, 2.
The couple had another daughter Leilah, who died of cancer in 2016 when she was only four. They were devastated after losing their little princess, who meant the world to them.
Time went by, and the couple from Kentucky continued to raise their five children with tender love and care. Then in 2021, they received a piece of pleasant news that changed their lives.
PREGNANT WITH HER SEVENTH CHILD
Skaats discovered she was pregnant with her seventh child, and her joy knew no bounds. They reciprocated her feelings when she shared the delightful news with her husband and kids.
Like this Kentucky couple, another couple from Western Australia had an exciting birth experience that they will gladly remember for the rest of their lives.
The Kentucky woman's pregnancy went smoothly, and she eagerly looked forward to embracing motherhood again. But to her surprise, an exciting experience awaited her, one she never thought she'd have.
On May 15, 2022, Skaats was riding with her five kids when she felt something unusual. The soon-to-be-mom noted that she had light contractions before leaving, so she thought she had time to run an errand.
The 34-year-old woman said her due date was still three weeks away, and she was familiar with laboring for hours with her other children. Skaats shared:
"I thought I wouldn't have a baby in my arms until eight or ten hours later."
But after a while, things took an unexpected turn, and Skaats said her contractions intensified and started coming very close together. It was a clear indication that she was going into labor.
The Kentucky resident said she started driving faster, hoping to have a home water birth as planned without wasting time. But it soon dawned on her that she didn't have enough time. Skaats recalled:
"I pulled over — assured the kids that everything was OK — and then I grabbed my phone and got out of the van."
Skaats said she told her five kids to stay put as she quickly stepped out of the van. She recounted being in a squat position on the ground when her water broke. Further, she mentioned:
"Got out of the car, went to the other side in the grass and literally had a baby. It was so quick! I only thought these things happened in movies (sic)!"
The new mom recollected having support from her husband during the dramatic labor experience. Skaats shared:
"My husband is not too happy about missing it but at least he was on the phone with me when I called to say 'I'm going to have a baby on the side of the road' and 5 seconds later he came out."
Skaats stated that she carefully grabbed her seven-pound baby boy, who immediately started crying and looked at her with adorable eyes.
AN EXCITING ROADSIDE BIRTH
After the unplanned and entertaining labor episode, Skaats said she slowly got back into the van with the baby still attached to her placenta inside her body. Regarding her kids' reaction, she added:
"I wrapped him in a blanket and drove with him close to my chest. I think the kids were in shock. They were pretty quiet."
The Kentucky mother's roadside birth experience, while her five other kids sat in the car, was truly unforgettable, and she turned to Facebook to share it with the world.
Skaats posted about her wildest ride on social media on May 15, and her post has gained over 1.3K reactions and almost 400 comments so far.
Once the doting mom arrived home with her five older children and the newest addition to her family, she delivered her placenta in the shower with help from her older girl, Kaelynn.
Shortly afterward, her midwife arrived, and the family cleaned up the little boy and picked the grass off him. Skaats explained that her previous births helped her stay calm and trust her body.
She and her husband have still not decided on their baby boy's name, though she noted that her son Austin wants to nickname his baby brother "The Flash."
Skaats and Nick are currently considering naming him Porter or Wolf, the street names where he made his dramatic appearance.
Like this Kentucky couple, another couple from Western Australia had an exciting birth experience that they will gladly remember for the rest of their lives.
ANOTHER EXCITING BIRTH STORY
Tiana Keane, 24, and her partner Josh Armstrong, 28, were already parents to two-year-old Ace when they learned they were expecting their second child. As was expected, they were thrilled to welcome another bundle of joy.
The couple met at KFC and instantly knew they had an undeniable connection that was meant to last forever. Like her first pregnancy, Keane hoped to have her second baby in a water birth at her local family birth center.
On April 29, 2022, Keane said she immediately alerted Josh after she felt her contractions intensify. The couple was on their way to the hospital when the expectant mom knew she didn't have much time.
A STOP AT THE FAST-FOOD CHAIN
The Perth resident told her partner to pull over into the parking lot of a local fast-food chain. Keane noted her partner parked the car in Hungry Jack's (also known as Australian Burger King) parking. She also added:
"We only live two minutes away from Hungry Jacks, and we were only a minute up the road when I told Josh to pull over. He pulled up to Hungry Jacks, I threw myself into the backseat."
Keane, an administrator, recalled that her baby came out in two pushes. Despite it being a painful experience, it was less complicated, unlike her previous birth episode with Ace.
The doting parents welcomed baby Reid Armstrong on April 29, weighing seven lb, three oz. Keane and Josh shared that their older boy, Ace, was excited to welcome his baby brother.
Shortly after the dramatic parking lot entry, the mom and her baby were given medical care, and Keane delivered her placenta. The doctors also told the family that the baby and his mother were healthy and good to go home.
Hungry Jack's also pampered the new parents and their bundle of joy with a gift hamper, teddy bear, and chocolates. Keane expressed:
"Me and my partner actually met working at KFC, and now we've got a baby that was born at Hungry Jacks, so we need a big event to happen at McDonald's. Our life is just based around fast food at this point."
We hope you enjoyed reading these exciting birth stories as much as we loved writing them. Stay tuned for more exciting content, and don't forget to share them with your family and friends.
Please fill in your e-mail so we can share with you our top stories!
The information in this article is not intended or implied to be a substitute for professional medical advice, diagnosis or treatment. All content, including text, and images contained on news.AmoMama.com, or available through news.AmoMama.com is for general information purposes only. news.AmoMama.com does not take responsibility for any action taken as a result of reading this article. Before undertaking any course of treatment please consult with your healthcare provider.