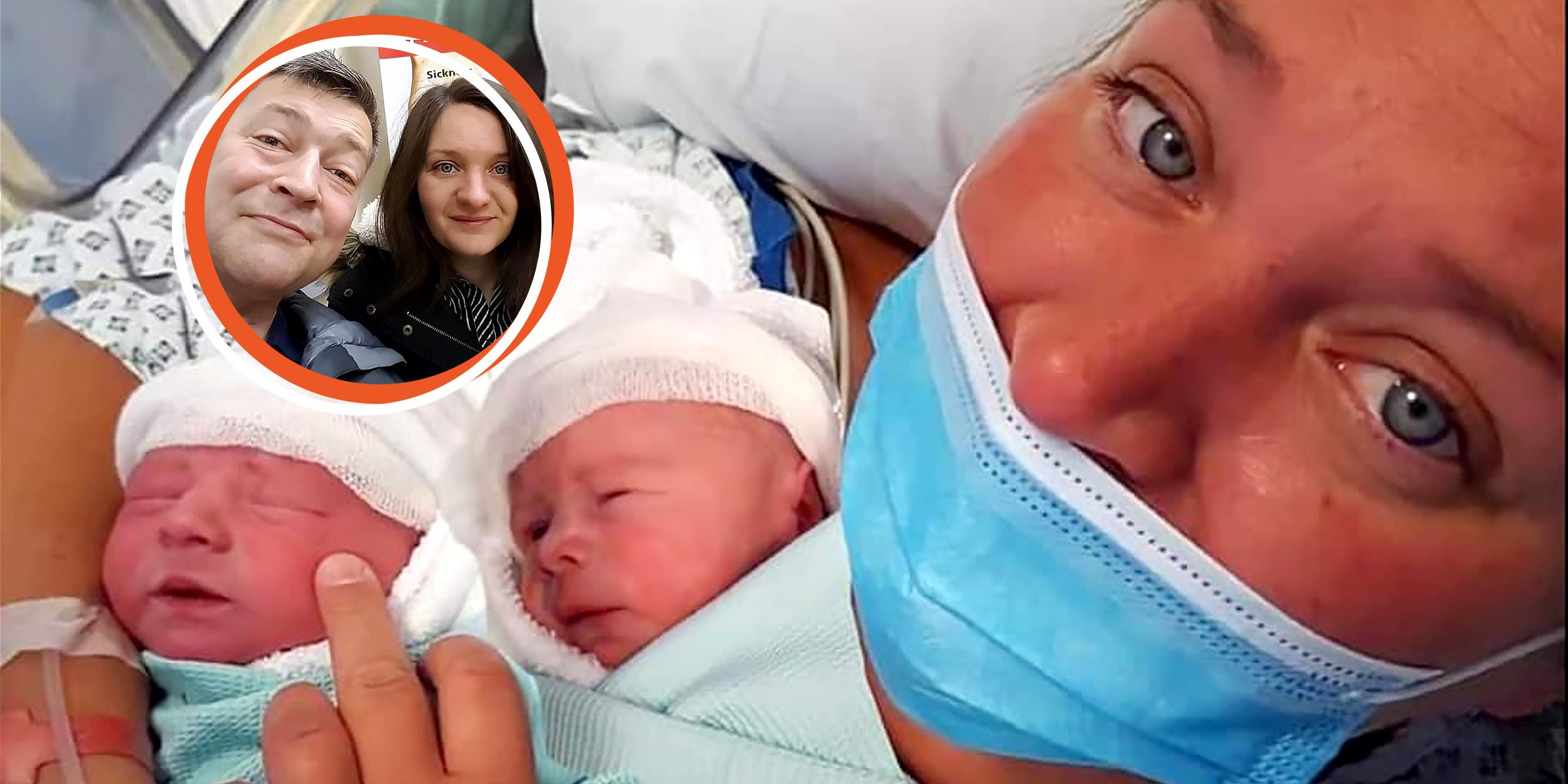 facebook.com/LCKelsall
Woman Makes a Promise to Her Dying Husband, Gives Birth to His Twins 3 Years after His Death
While her husband lived his last days in the hospice, a woman made a heartfelt promise to him. After his death, the heartbroken widow decided to fulfill the promise and gave birth to his twins three years later.
The tragic story of her husband's struggle with throat cancer left most people in tears, but they were happy to know that she felt his presence through their children born after his death.
The proud mom's miraculous story went viral after people discovered that the doctors said her chances of getting pregnant were close to none. Despite their fears, she remained determined to fulfill her promise.
When Lucy Kelsall met her husband, David, she had no idea she would tie the knot with him after a few years. They first met at a rehabilitation center in South Wales, where Lucy came for her treatment in 2005.
She later became a manager at the rehab center after getting treated. Six years later, David walked in through the front door, looking forward to leading a healthy life.
They "felt an instant spark" but couldn't date each other because employee-patient relationships were against the rehab center's rules.
Once his treatment ended, he spent most of his day with Lucy, trying to get to know her better. With each passing day, the affection between them multiplied. Lucy shared:
We became inseparable, and within two years we had moved in together, got married and started trying for a baby."
The heartbroken widow recalled that everything in her life was going great until one day, her husband complained of a sore throat. She didn't know how her life would change forever after that day.
David visited the general physician and checked himself after feeling discomfort in his throat. The doctor said it was nothing serious and prescribed him medications for silent acid reflux.
The once happy woman was now at her lowest.
However, a few months later, David rushed to the hospital after feeling a lump in his throat. The doctors admitted him to the hospital, saying they needed to run a few tests.
Two weeks later, the doctors told them about the test results. They diagnosed David with throat cancer but said they could kill the cancer cells through chemotherapy.
The woman recalled she felt her body go numb whenever she thought about losing her husband. Her love story was nothing less than a fairytale and losing her husband was not an option for her.
Meanwhile, she also found out that she was pregnant, and her husband was delighted to hear the good news. It was a great way to distract themselves from David's recent diagnosis.
Unfortunately, Lucy miscarried two weeks later. The once-happy woman was now at her lowest. However, she didn't give up and stood up again because she had to support her husband in his battle with cancer.
Soon after the diagnosis, David underwent multiple exhausting chemotherapy sessions. The doctors also removed his lymph nodes to prevent the cancerous cells from spreading.
Despite the doctors trying their best to eliminate the cancerous cells, David's condition was not improving. Every time the doctors removed a lump from his throat, another one would appear somewhere else.
Since the doctors wanted David to recover soon, they suggested removing his voice box to prevent the spread of cancer. The decision was quite difficult for Lucy and David, but they decided to go ahead with it despite knowing he wouldn't be able to speak after the surgery. Lucy recalled:
"Without a voice, he began writing love notes to me to express how he felt."
She would find David's handwritten notes in unexpected places, and she would always feel butterflies in her tummy while opening them.
Lucy confessed they had almost forgotten about his cancer until it returned in September 2017. This time, it was a complicated situation because the doctors couldn't remove the tumor since it had developed around an artery.
Three months later, Lucy was horrified to see blood pouring out of her husband's mouth. She immediately took him to the hospital, where the doctors gave up on him because the cancerous cells had spread to his lungs. She recalled:
"I burst into tears as David hugged me tightly."
HE PASSED AWAY BUT SURPRISED LUCY
The couple spent the last few days of David's life at a hospice center before he passed away in December 2017. Lucy was devastated and refused to speak to her friends and family for days.
One morning, she noticed that a piece of paper fell in her bowl while pouring her cereal. She unfolded it and discovered a handwritten love note from her beloved husband that made her feel his presence.
With tears rolling down her cheeks, she went to his drawer to check if he had left more notes for her. She was overwhelmed to discover dozens of letters and cards inside.
SHE HAD TO FULFILL HER PROMISE
Reading the notes made her think about her promise to David. While she was at the hospice with him, she had promised that he would become a father even if he passed away. She revealed:
"A few days before he died I told him I was still going to have his baby and he was so surprised and happy."
After David found out about his cancer, he had had his sperm frozen at a local IVF facility, fearing that he may become impotent after undergoing chemotherapy.
THE UNREAL FERTILITY TREATMENT
Having a baby was the only thing that kept Lucy going after David's death. She thought she would feel his presence through his child.
However, things weren't as easy as they seemed. The chances of having a baby with a limited amount of frozen sperm through IVF were very thin, but Lucy didn't give up.
After her first round of IVF ended up in a miscarriage, she told the doctors to try again. The young widow was determined to bring her deceased husband's child into this world.
During the second round, the doctors weren't hopeful and had told Lucy to discard the two embryos that had formed using the last remains of David's sperm.
Looking at the conditions inside her womb, they were sure the embryos wouldn't survive. However, they decided to put them in her womb on her insistence.
She went back home and prayed for one of the embryos to survive. She even confessed to eating loads of vegetables to get enough nutrients.
SHE WAS PREGNANT WITH DAVID'S TWINS
She found a ray of hope two weeks later after looking at her positive pregnancy tests. She was over the moon to know that the twins inside her belonged to David.
Eight months later, Lucy gave birth to two beautiful baby boys, David and Samuel. Tears rolled down her cheeks when she saw her miracle babies for the first time.
She revealed that she had named one of the children after her late husband because he had his green eyes and resembled him a lot.
As much as Lucy was delighted to hold her babies, she also missed David. She had longed to live this precious moment with him, but fate had other plans for the couple.
She felt David would have been a great father. She could imagine him feeding the twins and changing their diapers all by himself.
Lucy came up with a terrific idea to make her children feel his presence. She gifted blankets, cushions, and teddy bears to her twins, all made from their father's clothes.
She thought doing so would make them feel closer to their dad. The mother-of-two explained that she came up with this idea because she didn't want to throw away his clothes or give them away to someone. She found the perfect way to utilize them.
Click here to read another story about a pregnant mother who went for an ultrasound, but the doctor silently left the room after seeing a blank screen.
Please fill in your e-mail so we can share with you our top stories!
The information in this article is not intended or implied to be a substitute for professional medical advice, diagnosis or treatment. All content, including text, and images contained on news.AmoMama.com, or available through news.AmoMama.com is for general information purposes only. news.AmoMama.com does not take responsibility for any action taken as a result of reading this article. Before undertaking any course of treatment please consult with your healthcare provider.