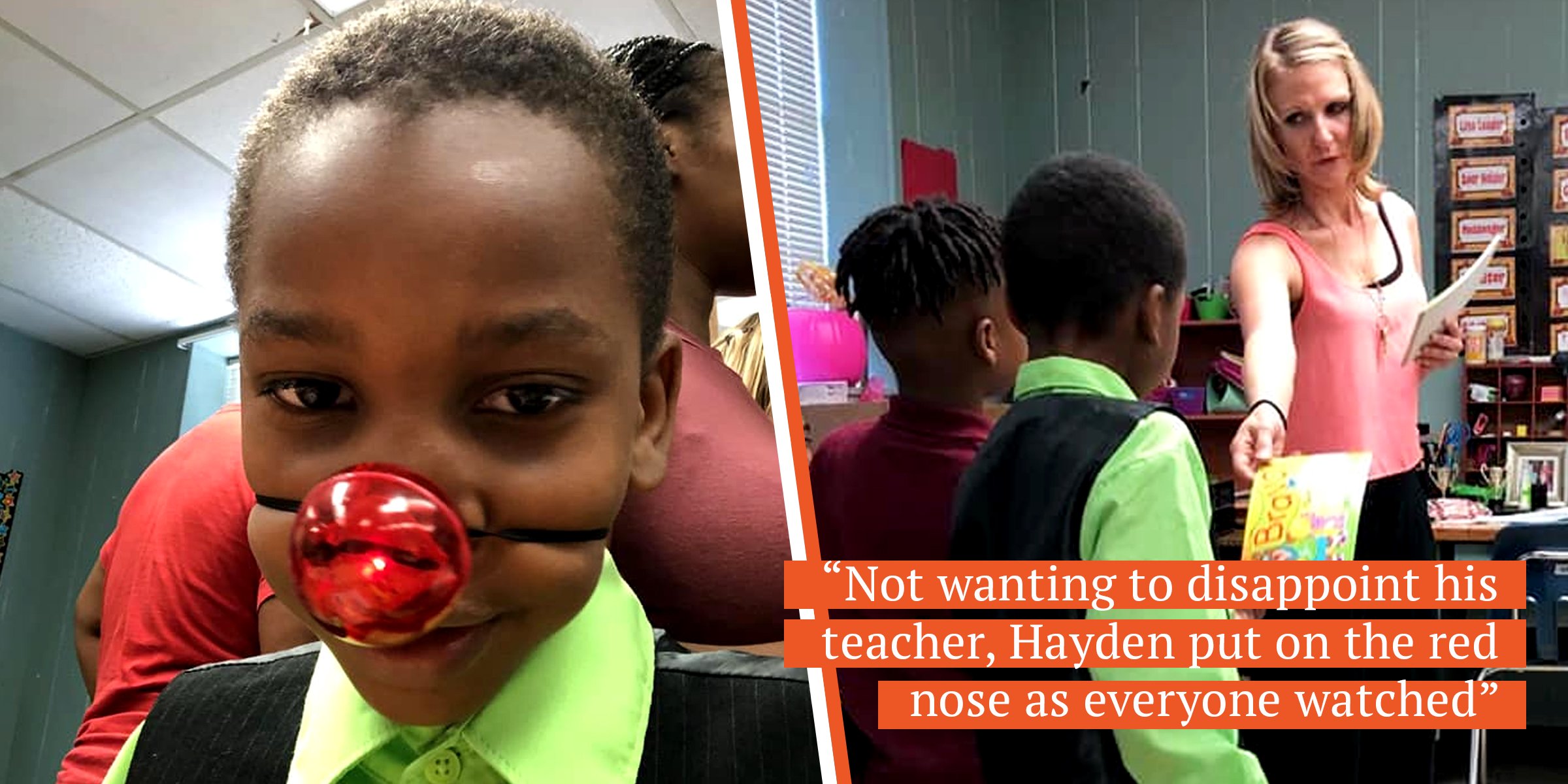 facebook.com/alexistravtosh
Teacher Openly Humiliates 1st-Grade Student, Goes Unpunished until the Public Finds Out about It
A school teacher brushed it off as nothing after openly shaming a 1st-grade student at an awards ceremony in class. A few days later, she was called to the principal's office after the boy's great-aunt posted about the harrowing incident on Facebook.
End-of-year ceremonies can be a rewarding experience for many, especially those witnessing their children receive their academic achievements. Academic excellence, artfully creative, and even kind classmate are some of the recognitions kids get over the school year.
But first-grader Hayden Albert didn't get any of those. What he got at his class honors program terribly disheartened his family and landed his teacher in troubled waters after the incident made headlines in local news.
AN AWARDS EVENT THAT WAS SUPPOSED TO BE FUN
Seven-year-old Hayden was attending first grade at Evangeline Elementary in Lafayette when he, with his classmates and family, attended an awards event in May 2018. Undoubtedly, his family was thrilled.
His teacher Jessica Bordlee had prepared different awards that represented the students' personalities. And there was one for Hayden too, but it wasn't anything pleasant.
While handing out the certificates to the kids, Jessica called Hayden to honor him. The little boy marched to her happily, but his family was shocked after seeing what his teacher had given him.
THE "MOST TALKATIVE CLASS CLOWN"
Hayden was awarded the "Most Talkative" and the "Class Clown" awards. Adding insult to injury, the boy's teacher called him back, saying she'd forgotten something, and gave him a red plastic clown nose to wear in front of the class.
[LaTosha Alexis] couldn't believe that a teacher guiding little children would even do something outrageous like this.
The room was cloaked in silence and embarrassment as Hayden's family watched in disbelief. Just then, Shaneka Hayes, the boy's grandmother, arrived in the classroom. She missed seeing what Hayden got, and she had no idea why everyone was shell-shocked.
Hayes felt uncomfortable and realized whatever it was, it had something to do with Hayden's certificates. Unsurprisingly, the awards her grandson achieved stunned her.
Interviewing exclusively with Daily Advertiser, she said that she knew something was off when she saw her grandson's certificates and explained:
"When our children get certificates, we frame these. We keep these...Who wants to frame something like that?"
Meanwhile, LaTosha Alexis, Hayden's great-aunt, was infuriated. She couldn't believe that a teacher guiding little children would even do something outrageous like this. Furious, LaTosha publicized the matter on Facebook. "Not wanting to disappoint his teacher, Hayden put on the red nose as everyone watched," she wrote, adding:
"This woman publicly humiliated my great-nephew and family. It is the teacher's job to instill confidence and positivity in the child at a very early age (not just the parents)."
LaTosha also said that the audience was embarrassed watching her great-nephew ridiculed publicly. She was so annoyed that she even tagged the school, hoping they would take a stand for justice. However, it wasn't until her post went viral and attracted the attention of the local news that Evangeline Elementary learned about the matter and stepped in.
SUCH AWARDS ARE NOT ENTERTAINED
"There needs to be some action following her behavior," LaTosha wrote in her post, seeking a public apology, and in no time, it came to the school faculty's notice. Joe Craig, chief administrative officer for the Lafayette Parish School System, revealed the management's disapproval of the awards given to their pupil.
Eventually, Felise Williams, principal of Evangeline Elementary, learned about the matter and met the teacher involved. Although Jessica apologized, she wasn't spared by the management. Craig revealed:
"Additionally, due to the severity of the incident, the principal will be recommending disciplinary action taken against the teacher."
SOMETIMES, FEELING SORRY DOESN'T MAKE THINGS BETTER
Jessica Bordlee eventually regretted what she did, and according to a voice message acquired by the local news, she had apologized to Hayden's family.
She had reportedly stated she was sorry if the class clown award she'd given him had offended his family and that it wasn't intended negatively.
As for the plastic red clown nose that made things worse, she alleged that it was Hayden who'd asked for it. In the end, LaTosha's post not only hit the headlines but also sought justice for her great-nephew after the faculty assured her that human resources would take necessary disciplinary action against Jessica.
What would you do if your child was in Hayden's shoes? Would you watch everything calmly till the end, or would you chime in and take a stand for them?
Click here to read about how a mother hid a recording device in her autistic son's backpack and got his abusive teacher fired.
Please fill in your e-mail so we can share with you our top stories!