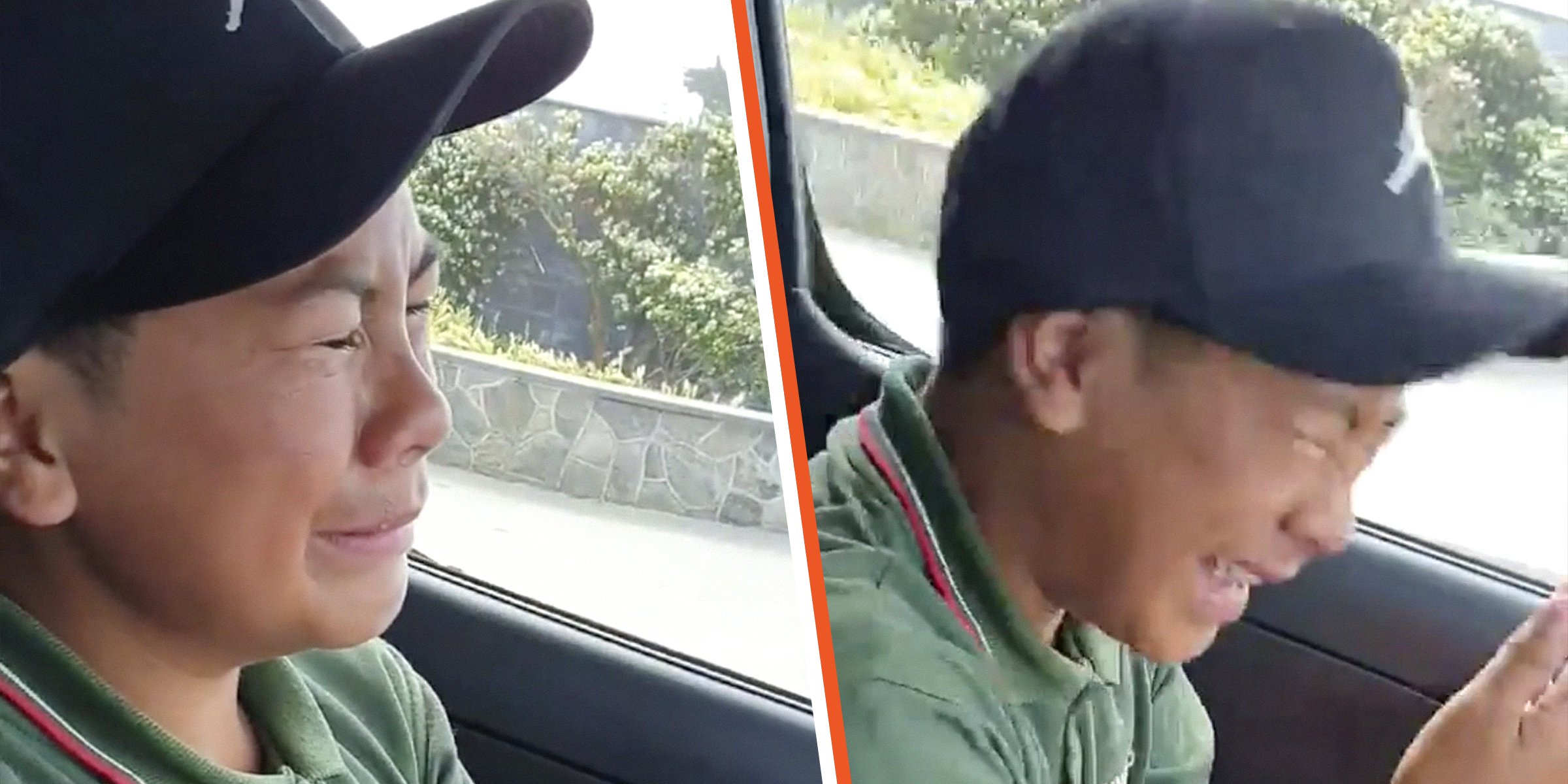 facebook.com/andretheincrediblepvl
11-Year-Old Boy Caring for Dying Brother Is Baffled When He Hears His Name on the Radio
While sitting in the car with his mother, 11-year-old Alize got the biggest surprise of his life when he heard his name on the radio. He looked at his mother in shock, who was filming his reaction.
Do you think older siblings are naturally more responsible than younger ones? Often, children feel neglected and jealous when their younger sibling is born because their parents spend more time taking care of the baby. They feel ignored and start resenting their sibling if they don't get enough attention.
But it is also true that some children with younger siblings turn out to be more responsible. They look after their brothers and sisters and genuinely feel concerned for them. The child in today's story had similar feelings for his younger brother and was ready to do anything for him.
When it comes to being a big brother, 11-year-old Alize from Christchurch, New Zealand, knows no bounds. He is always ready to do anything for his younger siblings, especially his brother, Andre.
Andre and his twin were born when Alize was only seven years old, but he didn't feel jealous of them. Instead, he helped his mother take care of them after knowing they had special needs.
Soon, Andre's twin passed away because of health complications, and their mother was left with Andre, who couldn't speak or see because of a brain injury. The doctors had said he had a low life expectancy because of his rare condition.
The eldest child in the house, Alize, never misses a chance to look after little Andre because he knows how hectic it gets for his mother. He always accompanies her whenever Andre needs to go to the hospital for his routine checkups. Alize said:
"I know he's dying, but I just wanna know he'll always be near me and I'll always be there for him. [sic]"
Alize confessed he loved his little brother with "all his heart" and was more like a guardian angel for Andre. Little did he know that someone would soon reward him for being the best big brother.
Alize's story of kindness went viral when his mother shared a video of him on Facebook where he was seen crying after a familiar voice on the radio said his name.
One day, in November 2019, Alize was sitting in the passenger seat with his little sister while his mother was driving the car. She turned the radio's volume up, waiting for the surprise announcement for Alize.
His mother instantly started filming when Alize heard his grandmother, Vicky, say his name on New Zealand's More FM. Vicky went to a show that rewarded well-deserving children with a trip to Gold Coast, Australia.
The show is called "Jingle Bail," where the radio jockeys are locked up behind bars in shopping centers, and they aren't released until they collect enough funds to sponsor a child's trip to Australia.
Vicky nominated Alize because she thought he deserved a much-needed break after going out of his way to care for Andre. She praised Alize on the radio show, saying:
"Alize just does everything that needs to be done."
Little Alize had no idea his grandmother would approach radio show hosts to appreciate his sincere efforts to look after his younger brother. He couldn't believe it when he first heard his grandmother's voice on the radio show.
Wearing a big smile on his face, Alize heard his grandmother answer the radio jockey's questions, telling her about him being a fantastic elder brother to Andre.
When Vicky said Alize helped his brother without asking, the boy buried his face into his elbow, trying to hide his tears. His mother captured the emotional moment while trying to calm him down.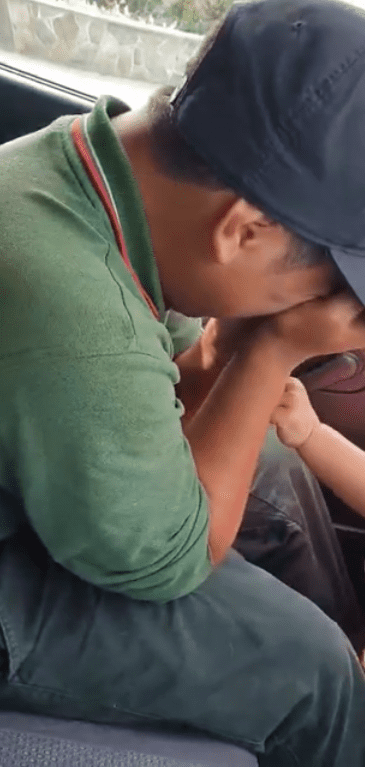 Alize. | Source: facebook.com/Andre The Incredible PVL
The radio jockey further said that Alize sounded like a guardian angel for his little brother. Vicky agreed and said, "he is a hero!" Meanwhile, Alize couldn't stop crying while hearing his grandmother talk about him. After knowing how the 11-year-old took care of his brother, the radio show host said:
"We love the idea that we could pour a bit of love his way."
Vicky said that was an incredible idea and waited for the hosts to reveal how they would reward Alize for his kindness. Alize's eyes widened when he heard about the hosts' plans.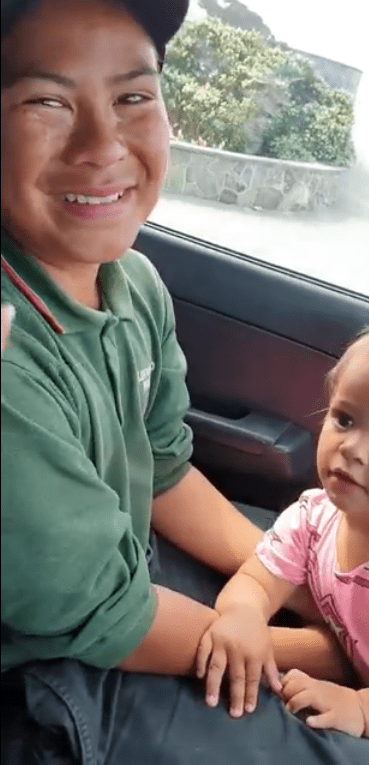 Alize pictured with his younger sister. | Source: facebook.com/Andre The Incredible PVL
THE REWARD FOR HIS KINDNESS
The female radio host said they would "put him on the plane with the rest of the kids" to take them to Gold Coast, Australia. Alize looked at his mother in disbelief, who exclaimed:
"You are going to Australia!"
The little boy burst into tears while Vicky thanked the radio hosts for choosing Alize to join the other children on the trip. The hosts said Alize deserved to go on a mini-vacation because he had done so much for Andre.
The heartwarming video went viral on social media in no time, and many people appreciated Alize for all that he did for his younger brother with special needs.
Alize's story shows that children are selfless beings who can sacrifice their peace to please their loved ones. Besides children, adults can also learn a few good lessons from Alize.
Click here to read another story about three basketball players who stood up for a girl with Down syndrome after watching her get bullied by other students.
Please fill in your e-mail so we can share with you our top stories!
The information in this article is not intended or implied to be a substitute for professional medical advice, diagnosis or treatment. All content, including text, and images contained on news.AmoMama.com, or available through news.AmoMama.com is for general information purposes only. news.AmoMama.com does not take responsibility for any action taken as a result of reading this article. Before undertaking any course of treatment please consult with your healthcare provider.