Getty Images
Prince William, Who Once Comforted Crying Daughter in Public, Praised While Boasting about Her on Camera
Prince William is a shining example of what a good father looks like, and one of his favorite pastimes involves boasting about his children. Most recently, he was praised for boasting about his daughter's football skills on camera; here are the details.
Prince William and his wife, Kate, are great parents to their children. Still, as they grow older, the proud father worries about his kids and the responsibility they automatically inherit upon birth.
Just last year, William revealed that his son, George, who had been on litter picking expeditions in his school, was getting confused and "sort of annoyed" by the carelessness of how others disposed of their waste.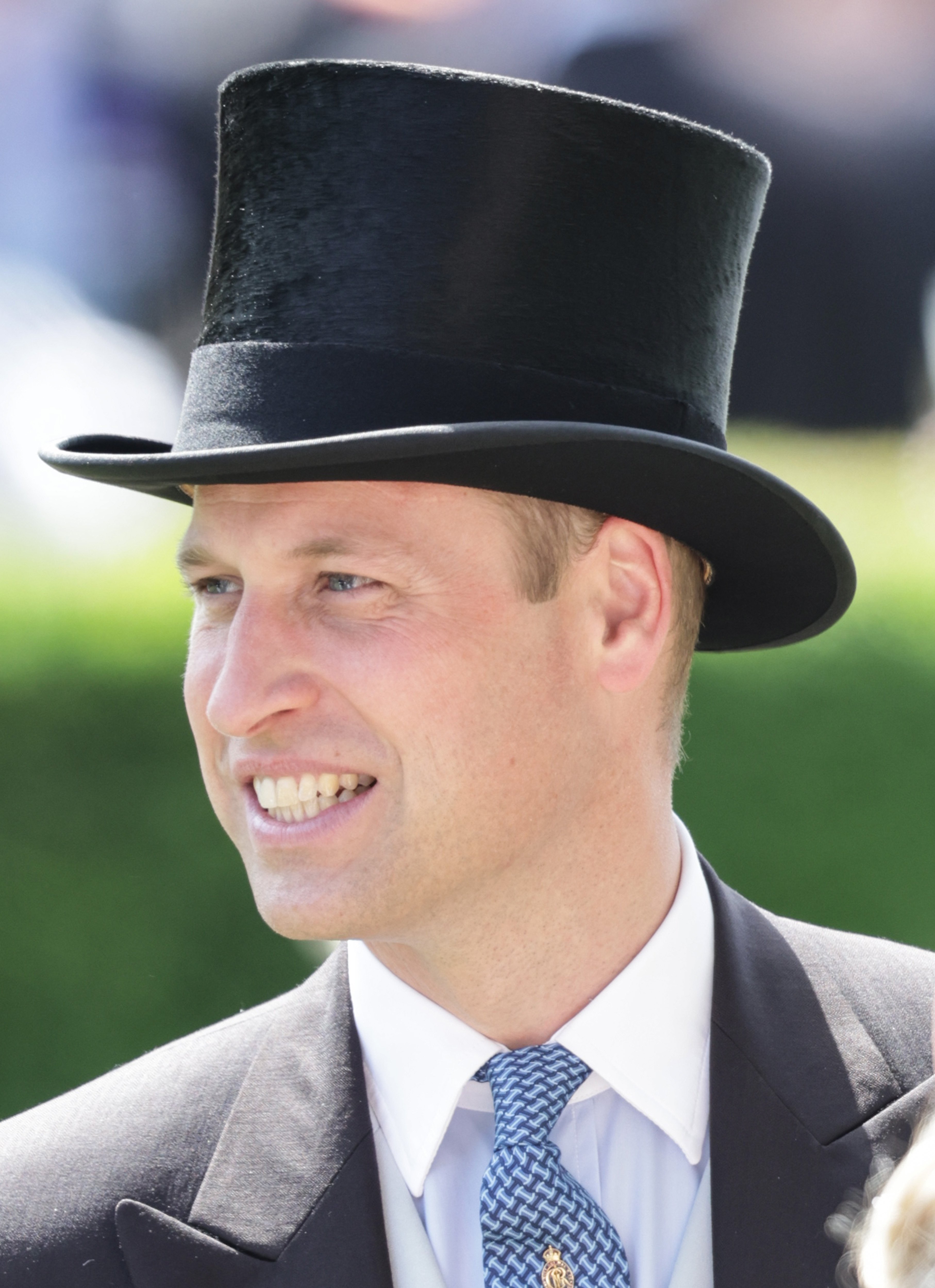 Prince William, Duke of Cambridge, smiles in the parade ring during Royal Ascot 2022 at Ascot Racecourse on June 17, 2022 in Ascot, England. | Source: Getty Images
According to William, George didn't understand why they would pick an area clean of litter one day but return to meet them again the next. The doting father also revealed that his son has become very aware of how the resources he utilizes affect the planet.
It is undoubtedly a good thing for kids to grow up knowing that, but William feels terrible that his kids have to shoulder such a burden at their ages.
He believes young people should have fun and enjoy their childhood and even said he does not want to give them the burden of worrying about the planet.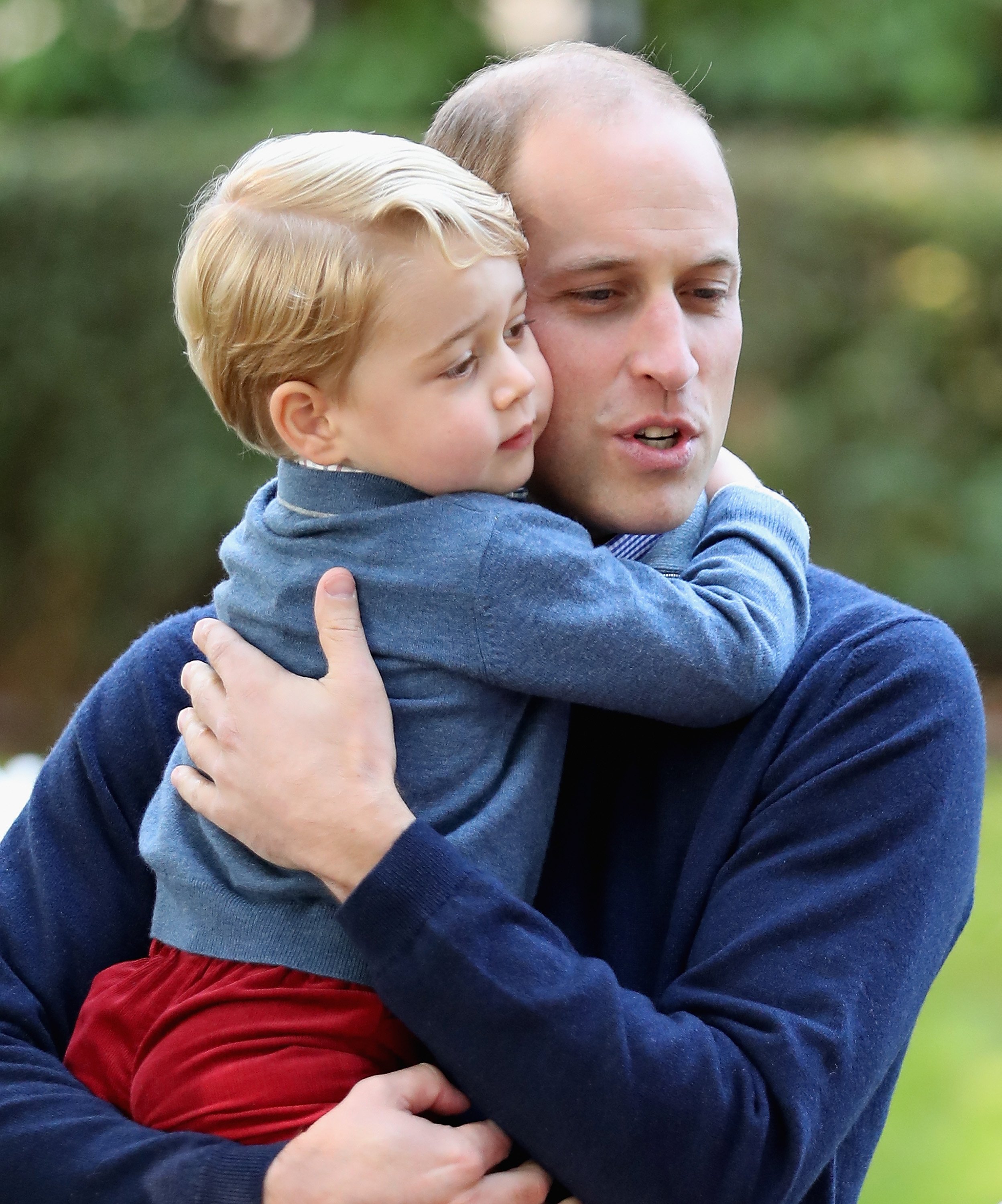 Prince George of Cambridge with Prince William, Duke of Cambridge at a children's party for Military families during the Royal Tour of Canada on September 29, 2016 in Victoria, Canada. | Source: Getty Images
The senior royals are not getting any younger, and with Harry's family out of the picture, big hopes are on the shoulders of William's kids in advance as they now represent the future of the UK monarchy. This means they have a lot of responsibilities and protocols to observe.
As they grow older and get ready to shoulder these responsibilities, all eyes are on them, watching their every move, unlike Harry's kids, who now have the opportunity to become something other than royals.
William's children will only have one future available to them, and it will be in service to their country and the crown as the pressure will be on them to ensure the survival of the British monarchy.
Naturally, William and Kate do their best to give their kids a taste of normalcy by doing school runs and taking them to supermarkets. Still, none of that can save them from the life associated with being members of the royal family.
RAVE REVIEWS FOR A DOTING FATHER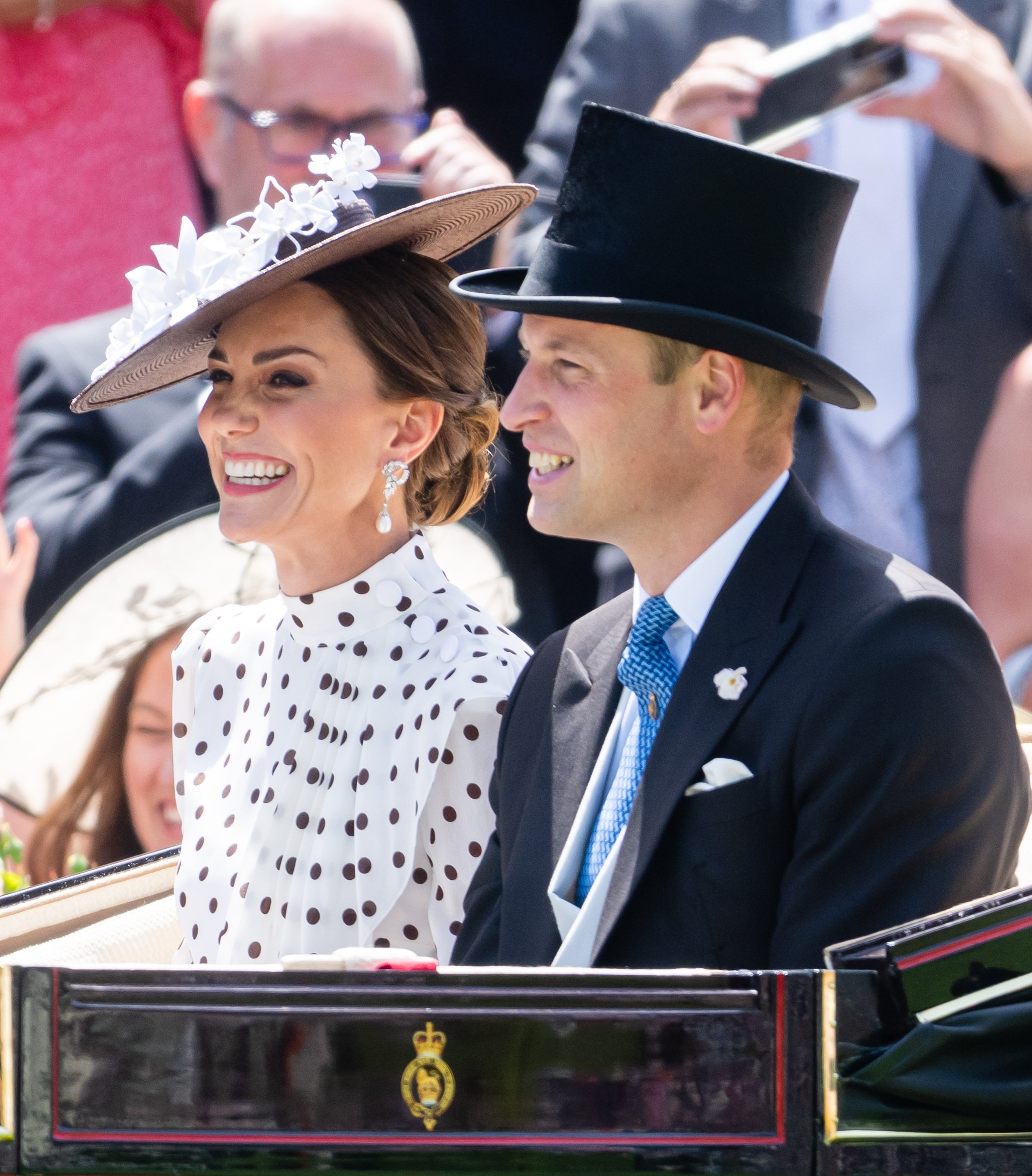 Catherine, Duchess of Cambridge and Prince William, Duke of Cambridge attend Royal Ascot at Ascot Racecourse on June 17, 2022 in Ascot, England. | Source: Getty Images
Prince William has a stoic look on his face most of the time; however, at the recently concluded Platinum Jubilee, he was captured on camera displaying his comforting side to his daughter, Princess Charlotte.
Charlotte has been named the "joker" in the household and has been known to think of herself as "the one in charge."
The young royal, with her siblings, Prince George, 8, and Prince Louis, 4, had been present at their parent's side as they attended various events during the Platinum Jubilee that lasted for four days. Many gathered to honor Queen Elizabeth's decades-long reign as a monarch.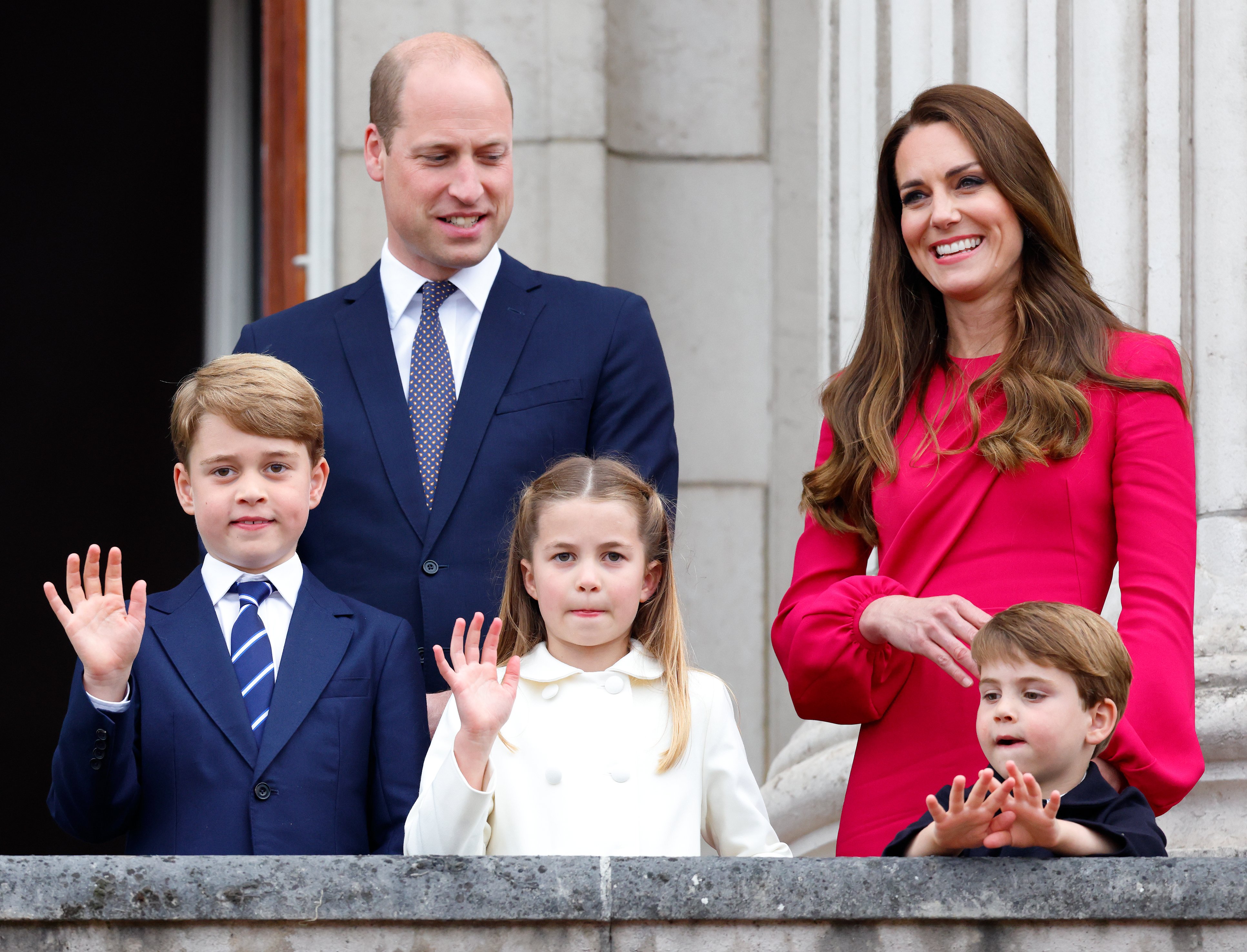 Prince George of Cambridge, Prince William, Duke of Cambridge, Princess Charlotte of Cambridge, Prince Louis of Cambridge and Catherine, Duchess of Cambridge stand on the balcony of Buckingham Palace following the Platinum Pageant on June 5, 2022 in London, England. | Source: Getty Images
At one of the events held just outside Buckingham Palace, Princess Charlotte, a favorite of the public with a sassy attitude, had seemed quite tired, and her father quickly picked up on it. She was seen with her head bowed, wiping her eyes, when William leaned towards her to offer comfort.
He stroked her hair and spoke to her with a tender expression on his face, and she nodded to his words before wiping her nose with one arm and composing herself. The father-daughter exchange melted hearts, but it was not the first time William was caught getting sappy with his kids.
Some days after the Jubilee was concluded, he visited the squad at St. George's Park in Burton-on-Trent ahead of the upcoming UEFA Women's Euro 2022. After he was presented with shirts for himself and Charlotte, he revealed an important message from her.
According to the proud father, she told him to tell them that she is "really good in goal" and revealed that it was a "budding" skill. The praise once again stopped many hearts, and since the video went viral, William has received compliments from social media royal fans.
CHARLOTTE MIRRORS THE LATE DIANA'S PERSONALITY
Prince William has been groomed to take the throne since he was born, and it is fair to say most of his life was exposed to the spotlight's glare without him having a say in it. Perhaps it is why he and his wife, Kate, have chosen to reduce how much exposure their three kids get as they age.
A great sentiment, but it has only gotten people more curious about the personalities of the three young royals who will ensure the continuity of the British royal family long after the reigning monarch breathes her last.
Among the three, Princess Charlotte has won several hearts thanks to her sassy attitude, reminding many of her grandmother, Princess Diana.
Diana, Princess of Wales sitting on a step at her home, Highgrove House, in Doughton, Gloucestershire, 18th July 1986. | Source: Getty Images
Earlier this year, when the royal family gathered for a memorial to mark the demise of Prince Philip, her behavior was analyzed by experts, including Judi James. The latter confirmed that she has attributes similar to the late Diana. James said:
"Like Diana she gives the initial impression of shyness but beneath that appears to be an outgoing, fun personality. She also picked out several of the cameras with her eyes, as Diana always remembered to do."
According to reports, Charlotte has been named the "joker" in the household and has been known to think of herself as "the one in charge" even though she's a second child. Indeed, she even argues with her brother over what music gets played over breakfast.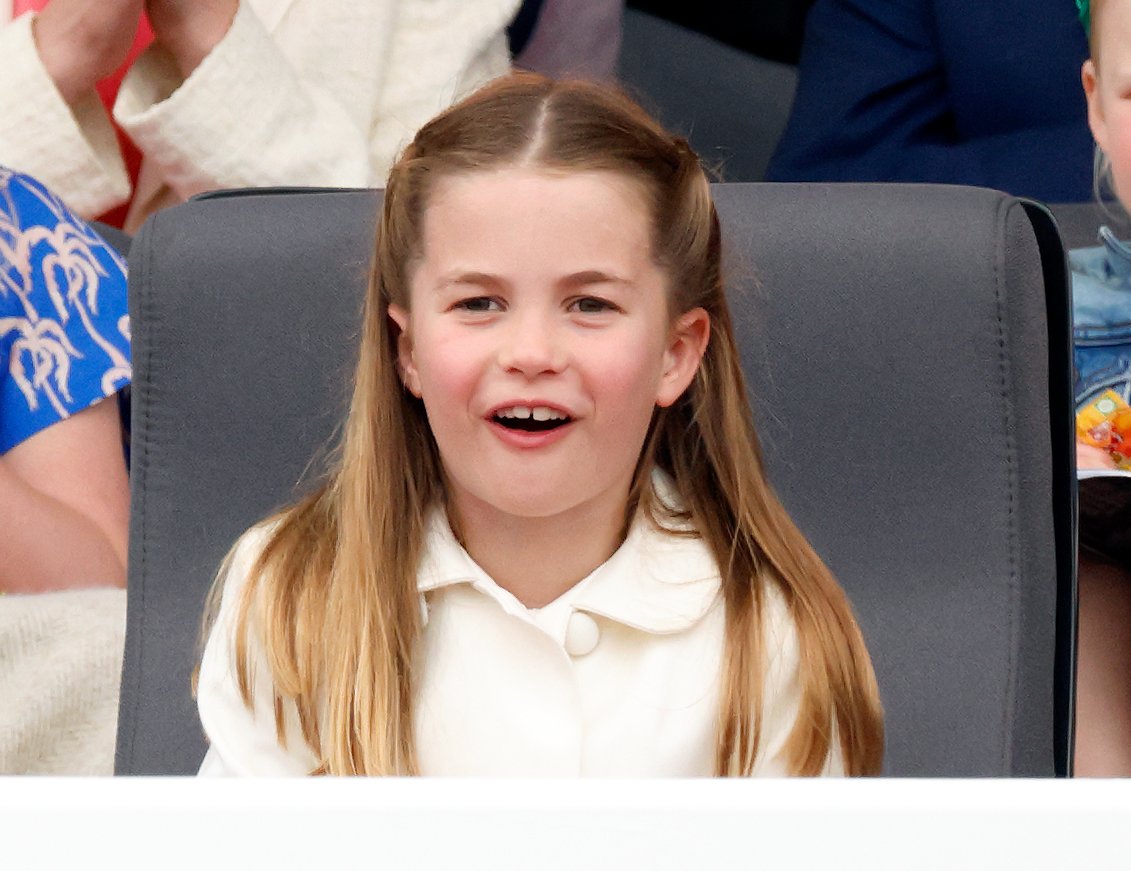 Princess Charlotte of Cambridge attends the Platinum Pageant on The Mall on June 5, 2022 in London, England. | Source: Getty Images
Despite her fun personality, she also seems to be a stickler for the rules. This was observed during the Platinum Jubilee when she was spotted correcting her older brother's posture as they posed on the balcony while the national anthem played.
In 2021, a Christmas card family photo that captured the Cambridge family captured Charlotte with a serious look on her face and a near-perfect posture.
A body language expert named Dr. Lillian Glass surmised that she is being taught about "being lady-like," which is an indication of how steeped she has already become in royal protocol.
Royal fans on social media agreed with Glass' assessment, with many stating that she bore a great resemblance to her great-grandmother, the Queen. With all these, it is little wonder that Prince William is as proud of her as he is.
Please fill in your e-mail so we can share with you our top stories!