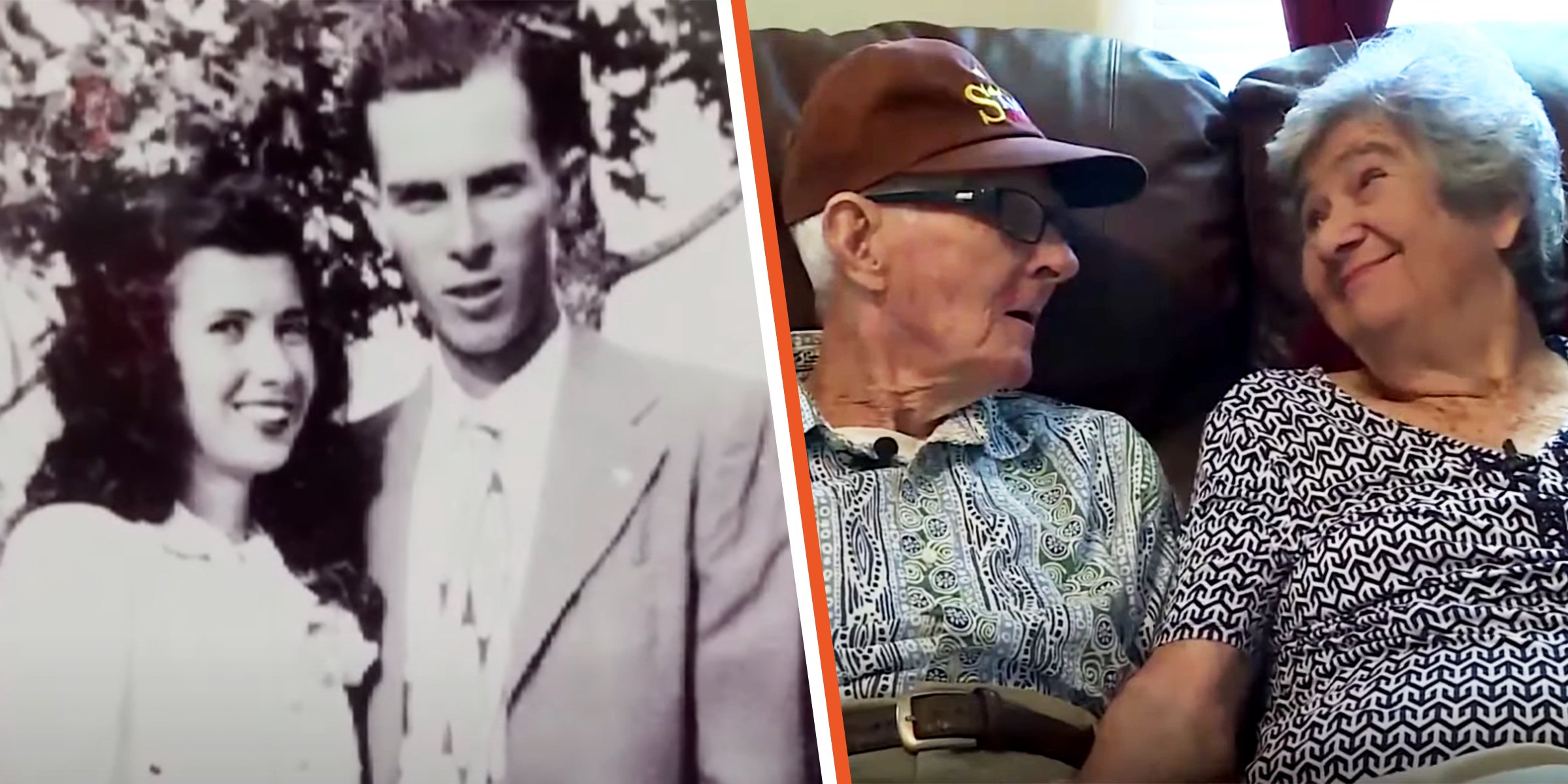 Youtube.com/CBS News
Couple Celebrate 71st Wedding Anniversary, Soon Take Their Last Breath on the Same Day
A husband and wife from Waynesboro, Georgia, celebrated their 71st anniversary and showed the world that some bonds are unbreakable. Their union resembled the storyline in "The Notebook" and was filled with many challenges but even more love.
A wedding is a chance for couples to pledge their unconditional love and eternal devotion to each other. Husbands and wives promise to love and cherish each other till death parts them, but sadly many might break that vow.
Divorce and separation have increased worldwide, and many people have become cynical about true love. However, once in a while, a pair comes along that makes us believe in the promise of forever again.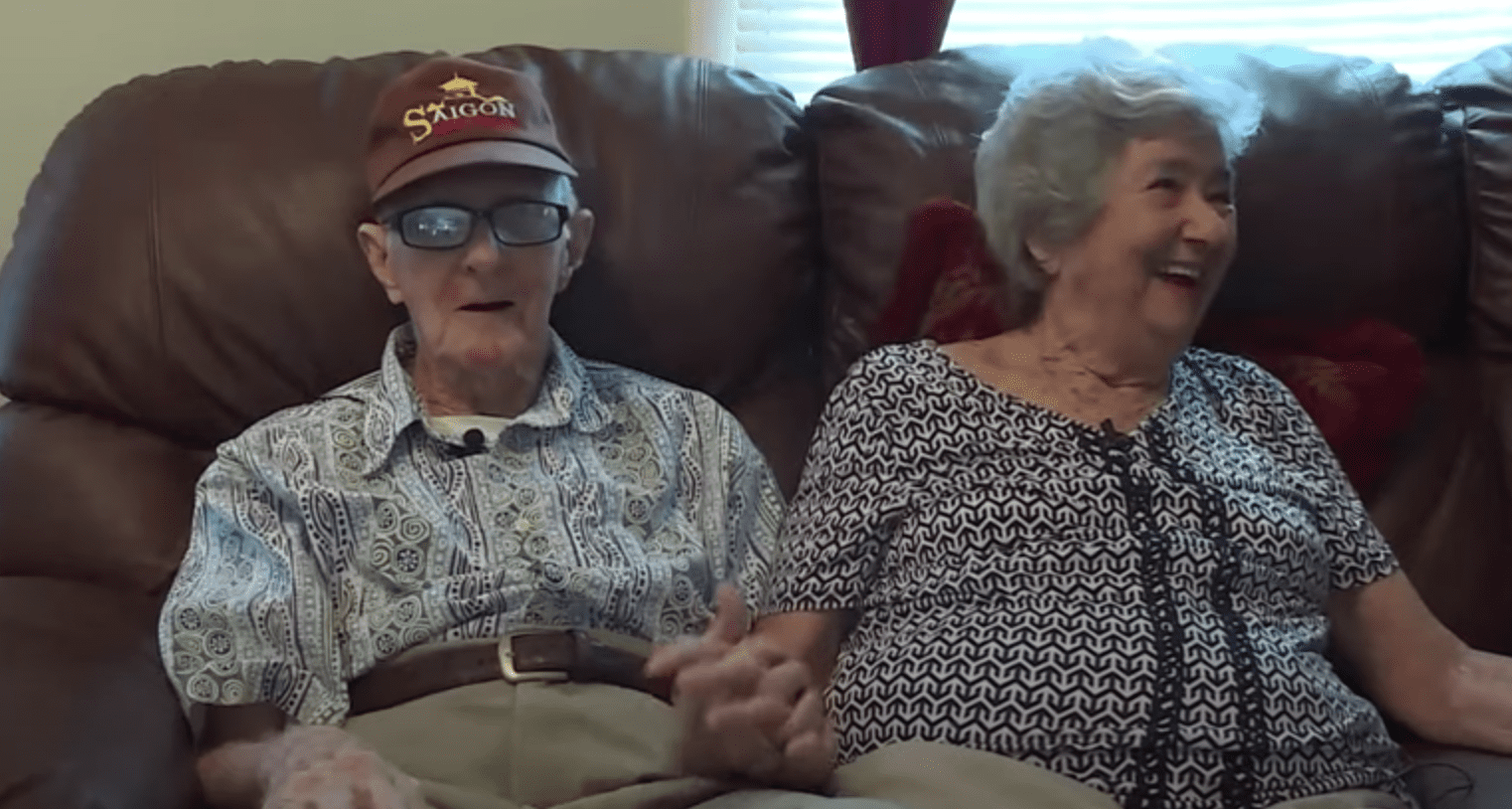 Herbert and Marilyn Frances Delaigle. | Source: Youtube.com/CBS News
Herbert and Marilyn Frances Delaigle's romance started when she was only 16, and he was a bachelor in his early twenties. Herbert noticed his future wife working in the White Way Cafe and couldn't take his eyes off her.
Their advice to other couples hoping to have a long-lasting love story was simple, and Herbert attributed their decades-long union to one action he and Marilyn focused on.
It took some time, but he mustered up the courage to approach a charming Marilyn. He asked her on a movie date, and a year later, they were engaged. Herbert said: "I asked her will she have me as her husband, and she said, of course (sic)."
THEIR MARRIAGE WAS IN DANGER
The young couple also comically shared that they had one of the cheapest weddings to date. A laughing Herbert revealed that he paid only $5 for everything. The pair might have spent more than seven decades together, but it wasn't all moonlight and roses.
Their union started on an uncertain note, and Marilyn shared that she didn't know if they would go through with the wedding — something for which Herbert was to blame.
Their preacher didn't want to marry them because they were an hour late for the ceremony. Marilyn stated: "He was always late." Fortunately, the official agreed to proceed, even though it was a very rushed service.
THE SECRET TO THEIR LONG-LASTING UNION
Through the highs and lows of life, Herbert and Marilyn always prioritized their marriage and kept laughing even when it wasn't easy. When asked what he liked most about his wife, neither could say a word, but it was evident from their facial expressions that they both knew the answer.
Marilyn said she was grateful for her husband's sense of humor. Their remarkable commitment and enduring marriage even came as a surprise to them. In an interview in 2018, Herbert said:
"I never would have dreamed that we would've got this far, and I hope we go a few more years on that."
Their advice to other couples hoping to have a long-lasting love story was simple, and Herbert attributed their decades-long union to one action he and Marilyn focused on. He shared: "Show your love and be there for each other."
Marilyn and Herbert had their fingers intertwined and both smiled as she looked at him. After all the years that had passed, he was still the love of her life, and she always grabbed his hand when given a chance. She stated:
"With him being in service, a lot of the times he'd be gone, and when he's home I always got his hand."
The older woman also affectionately called her spouse "loving, patient and good-hearted," which were qualities she believed made him a good man.
The couple's caretaker, Sharon Gibbons Brown, honored them and shared that she was blessed to be in their company. Brown also said she had heard about love stories in movies, but seeing one in real life was different. She added:
"When I met them, I thought they were so cute the way they had their recliners set right next to each other smiling and looking into each other's eyes as they talked. You could feel the love they had."
The first evening Brown spent with Herbert and Marilyn was something unforgettable. She remembered that they behaved like giddy teenagers, chatting and declaring their love at four in the morning.
The couple's health issues worsened as they aged, and both struggled to survive. Herbert sadly passed away on a Friday in June 2019 at 2:20 a.m. Twelve hours later, at 2:20 p.m., Marilyn took her last breath.
While their cause of death could not be pinpointed, similar cases were linked to Broken heart syndrome—a real condition where severe pain or emotional stress causes the heart's muscles to weaken.
Herbert and Marilyn couldn't bear to live without each other, and for their family, it provided the perfect ending to the best love story they knew. The latter shared a statement:
"It's amazing how they were together for 71 years and now they are together in heaven. What an amazing love story that is."
A MARRIAGE MADE IN HEAVEN
The couple's six kids, 16 grandkids, and 25 great-grandkids were all proud of their devotion and commitment. Daughter, Helen Iris DeLaigle, added: "They were special."
Herbert and Marilyn's once-in-a-lifetime tale proved that marriages are made in heaven. What do you think about spouses dying together? Please share this story with hopeless romantics longing to be with their partners until their final breath.
Click here for another tragically beautiful love story about an inseparable husband and wife. They passed away together, holding hands and displaying that sometimes relationships stand the test of time and last forever.
Please fill in your e-mail so we can share with you our top stories!
The information in this article is not intended or implied to be a substitute for professional medical advice, diagnosis or treatment. All content, including text, and images contained on news.AmoMama.com, or available through news.AmoMama.com is for general information purposes only. news.AmoMama.com does not take responsibility for any action taken as a result of reading this article. Before undertaking any course of treatment please consult with your healthcare provider.