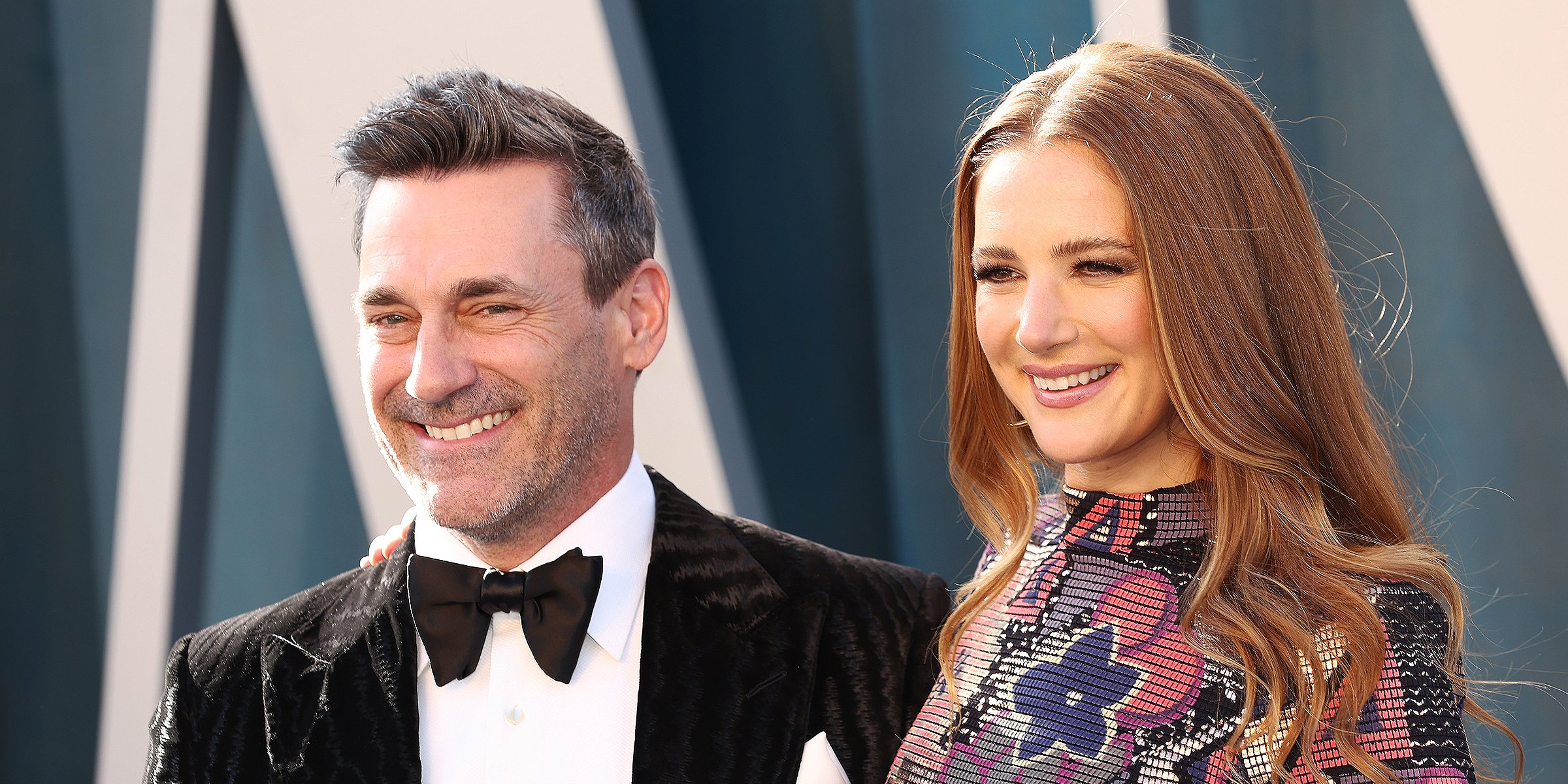 Getty Images
Here's What to Know about Jon Hamm's Girlfriend Anna Osceola and Their Relationship
Anna Osceola is "Mad Men" star Jon Hamm's girlfriend, and they began dating a few years after he ended his 18-year relationship with Jennifer Westfeldt.
Born on March 10, 1971, Jon Hamm has been active in the entertainment industry since the 1990s when he had a small role in "Ally McBeal." He never stopped grinding and got a job as Don Draper in "Mad Men" in 2007, a part that won him a Golden Globe, a Primetime Emmy, and millions of fans worldwide.
Hamm is probably prouder of his relationship with Anna Osceola. Keeping a romance under wraps as a Hollywood star is hard, but Hamm and Osceola have done it. Here's everything you need to know about the famous couple.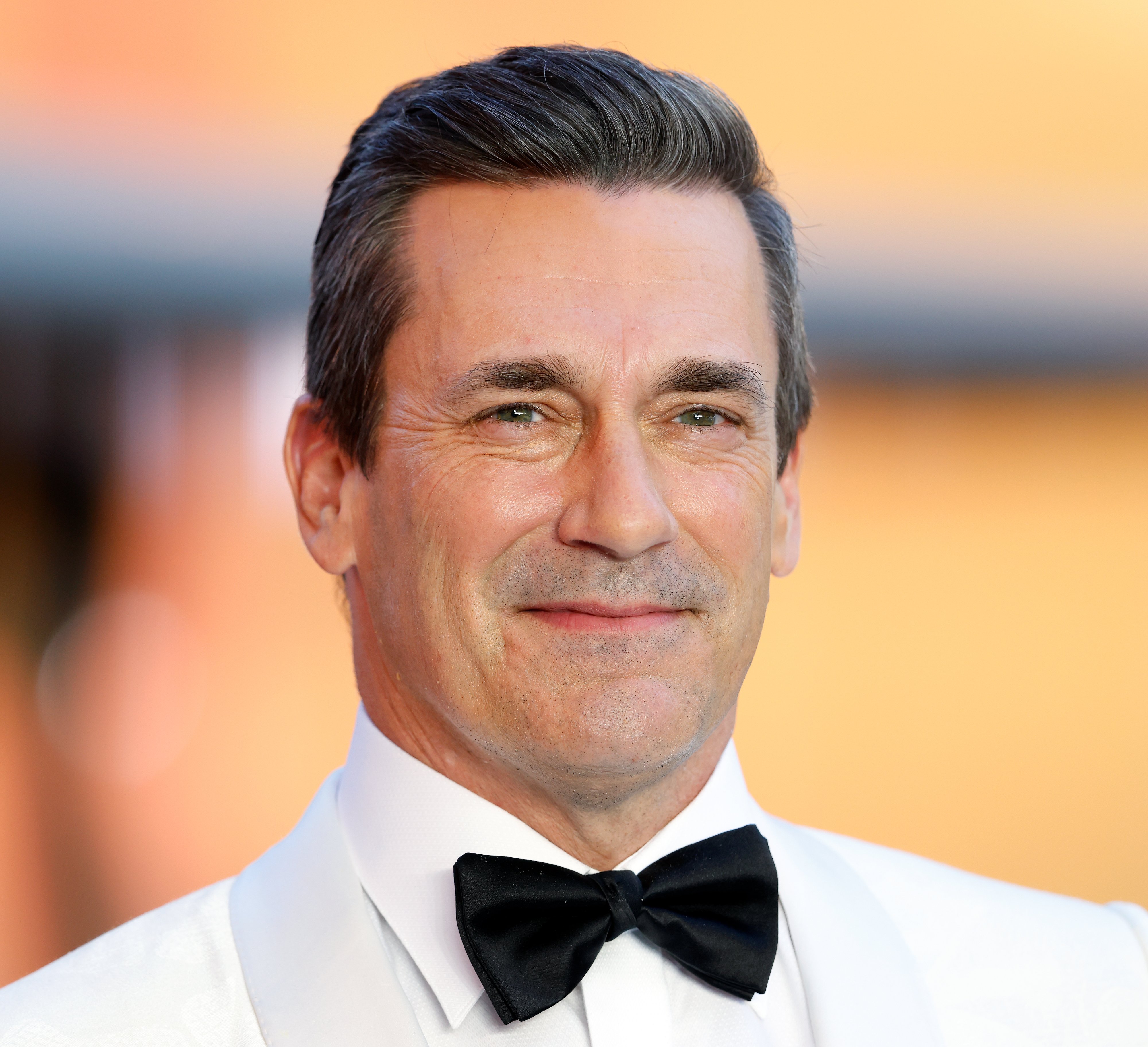 Jon Hamm on May 19, 2022 in London, England | Source: Getty Images
INSIDE JON HAMM AND ANNA OSCEOLA'S ROMANCE
It is common to see stars falling in love with each other because they are already familiar with spending time away from home shooting films or performing live shows. Hamm and Osceola are no different.
Osceola was born on April 8, 1988, in Cambridge, Massachusetts. Her acting debut came in the TV film "Not Another High School Show" in 2007.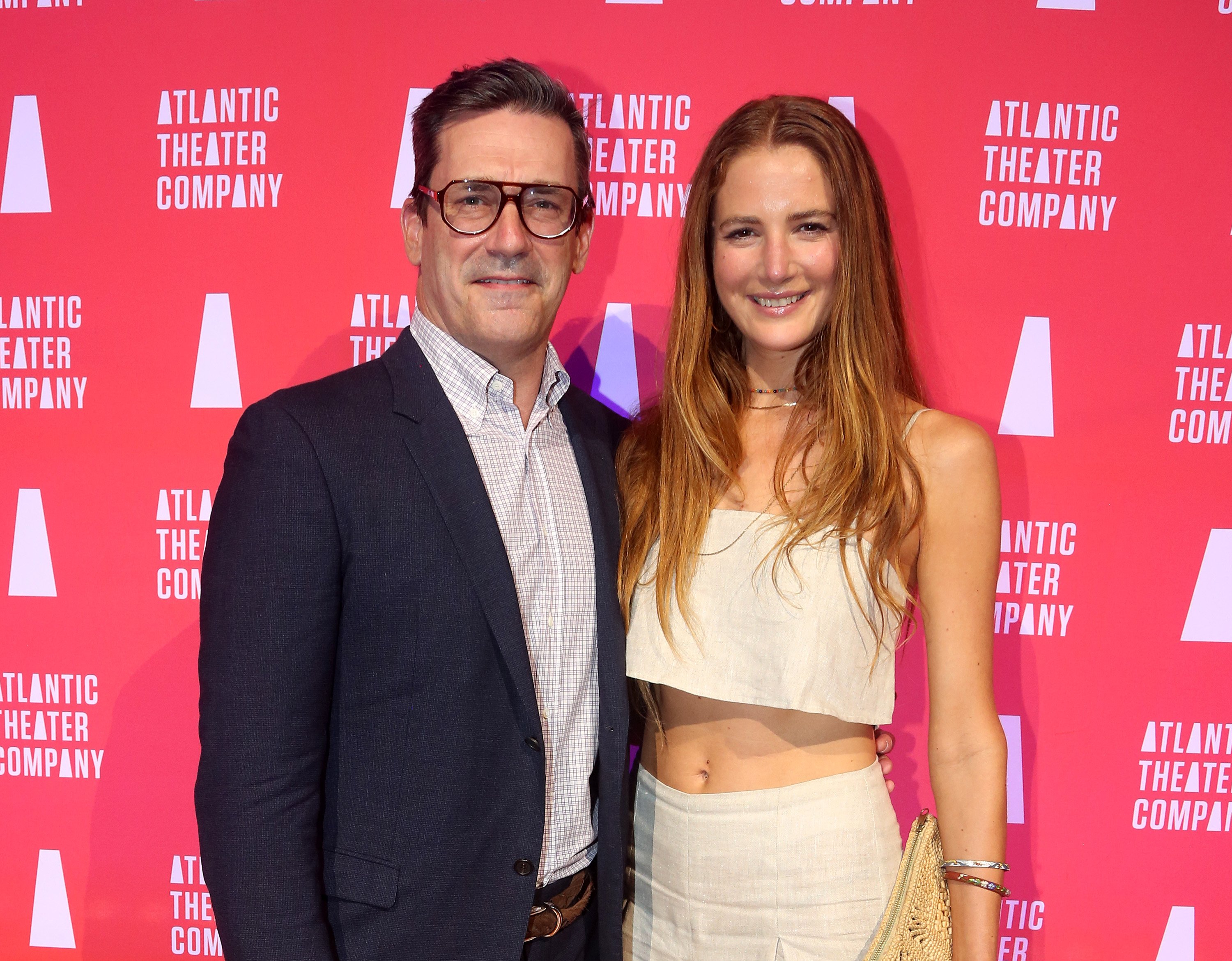 Jon Hamm and his girlfriend Anna Osceola on May 23, 2022 in New York City | Source: Getty Images
After landing small parts in "Superhero Movie," "Big Fat Important Movie," "Greek," and "Rizzoli & Isles," Osceola portrayed Clementine in "Mad Men."
Coincidentally, Osceola and Hamm shared the screen in the show. Clementine was the receptionist at the retreat that Don Draper (Hamm's character) attended in the series finale.
Hamm and Osceola have kept most details of their relationship away from the limelight, but sources claim that they first met on the "Mad Men" set in 2015. They reportedly waited a few years before giving love a try, though.
One of the first times they sparked dating rumors was in 2017 when they were spotted leaving a coffee shop. The following year, they played tennis together. However, sources claim that they began dating in 2020.
Hamm and Osceola's fans got the confirmation they wanted on March 27, 2022.
Since then, Osceola and Hamm have been photographed doing everything from walking their dog and going to California beaches to watching the Super Bowl and going to Italy for vacation.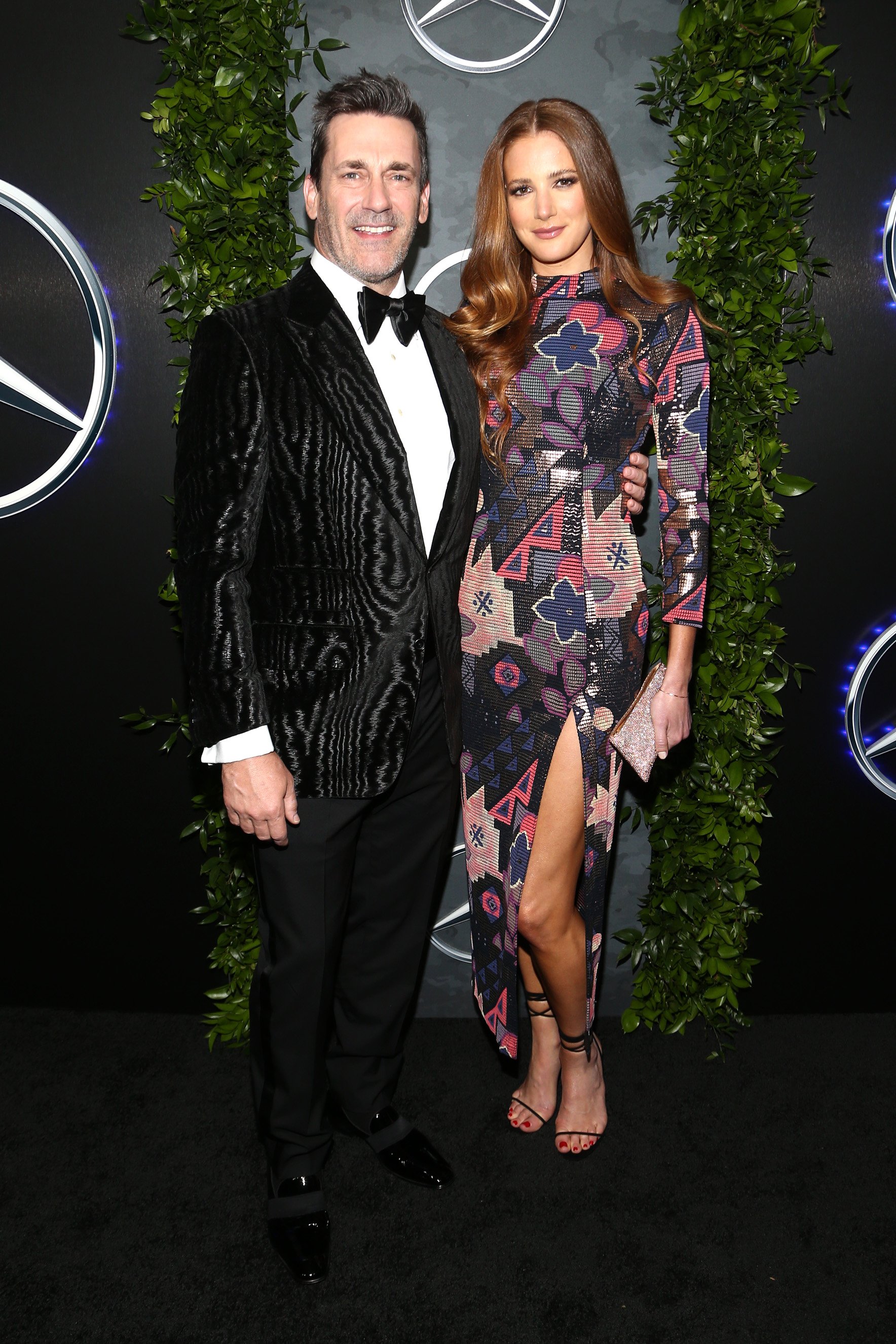 Jon Hamm and Anna Osceola on March 27, 2022 in Los Angeles, California | Source: Getty Images
Hamm and Osceola are so determined to share as little as possible about their romance with the public that they don't even have social media accounts. Hamm explained:
"The point of life is not to put dog ears on yourself and post it online for everyone to see. It's fun; it's adorable, but […] there's no point other than immediate gratification."
Their lack of interest in social media indirectly told everyone that they would not confirm their relationship on Instagram like many other celebrities have done and will keep doing.
Luckily, Hamm and Osceola's fans got the confirmation they wanted on March 27, 2022, when the couple made their red-carpet debut and first public outing at two Oscars afterparties.
Osceola and Hamm attended the Mercedes-Benz Academy Award viewing party at the Four Seasons Hotel in Los Angeles, California (where Hamm is an ambassador) and the Vanity Fair Oscar Party.
Hamm put on black shoes and pants, a white dress shirt, and a patterned black and grey blazer. He gave his outfit that final elegant touch with a black bowtie.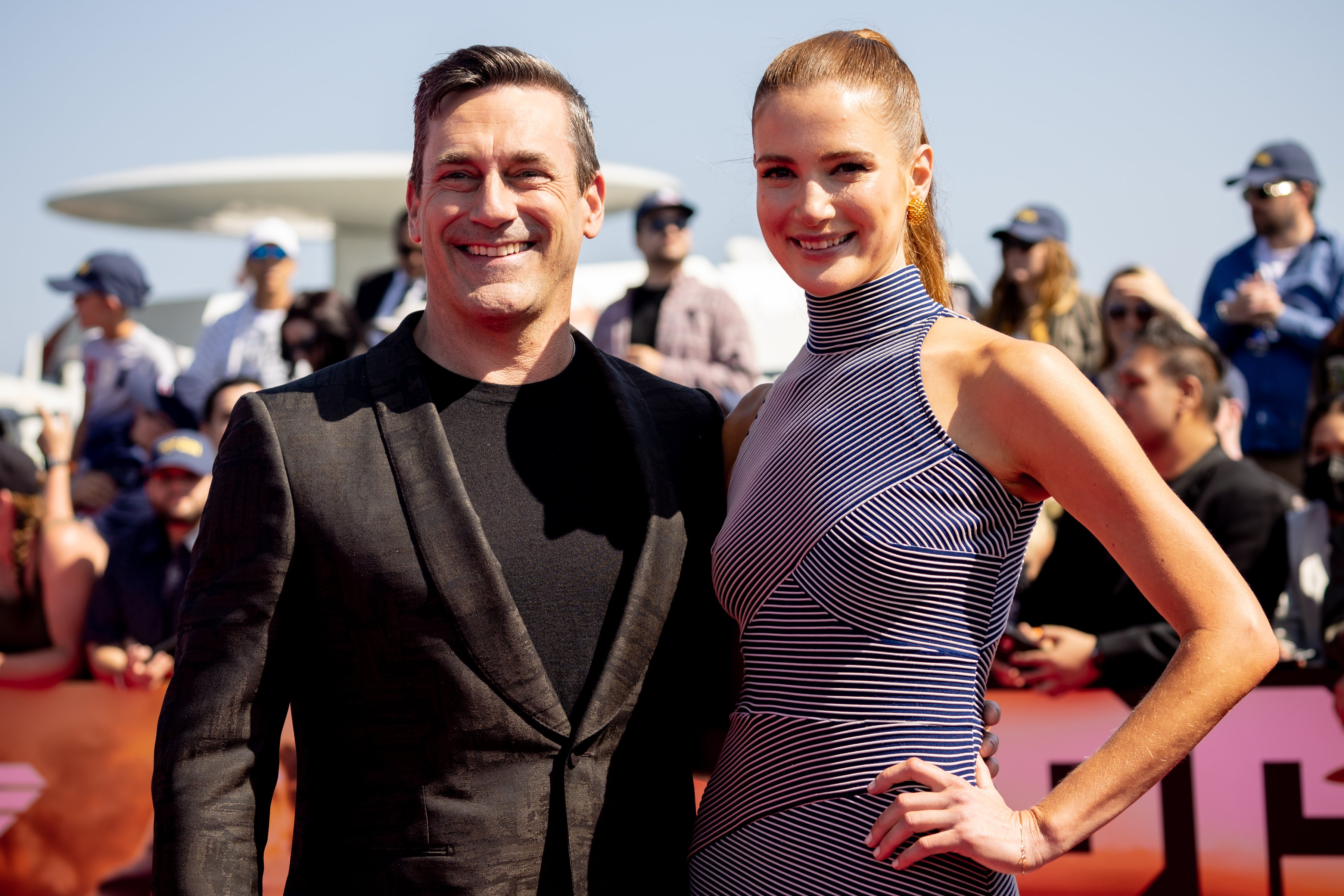 Jon Hamm and Anna Osceola on May 04, 2022 in San Diego, California | Source: Getty Images
Osceola wore a long-sleeved, skin-tight, black gown with a purple, pink, and fuchsia floral pattern. Her dress's high slit design showcased her toned legs and black high heels.
Two months later, the couple made headlines again after posing together during the "Top Gun: Maverick" premiere at the USS Midway in California. Hamm portrays Vice Admiral Beau "Cyclone" Simpson opposite Tom Cruise in the "Top Gun" sequel.
With great sadness, we have decided to separate after 18 years of love and shared history.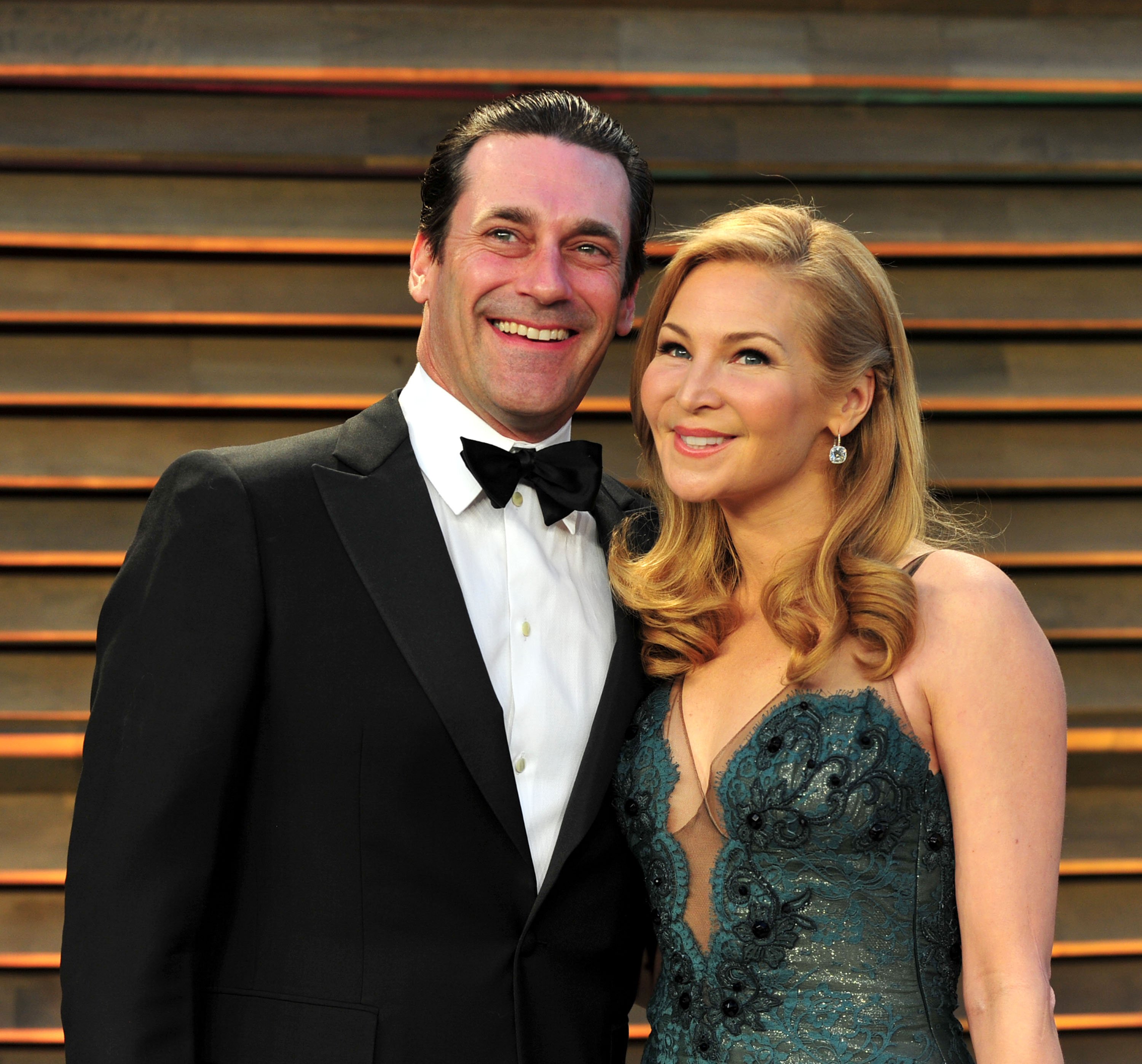 Jon Hamm and Jennifer Westfeldt on March 2, 2014 in West Hollywood, California | Source: Getty Images
WHO DID JON HAMM DATE BEFORE ANNA OSCEOLA?
Osceola is not the only actress Hamm has dated, though. For 18 years, the "Bless the Harts" actor was in a relationship with actress, screenwriter, director, and producer Jennifer Westfeldt.
Westfeldt is best known for "Kissing Jessica Stein," a film she not only co-wrote and co-produced but also starred in. She also got nominated for an Independent Spirt Award for Best First Screenplay and a Golden Satellite Award for Best Actress.
Hamm and Westfeldt also kept the details of their romance away from the spotlight, but they reportedly began dating in 1997. Unfortunately, they announced their breakup in September 2015 and wrote:
"With great sadness, we have decided to separate after 18 years of love and shared history. We will continue to be supportive of each other in every way possible moving forward."
The announcement shocked their fans. It came only five months after Hamm and Westfeldt shut down breakup rumors following his stint in rehab for alcohol abuse. He credited Westfeldt for helping him through his treatment, so everyone thought things were fine.
However, a person who worked closely with the "Mad Men" star revealed that Westfeldt became more like a manager or maternal figure to Hamm than a romantic partner.
She supposedly kept a "tight leash" on him but never stopped supporting him throughout his most challenging times, including his hard-partying nights.
The source pointed out that people close to Hamm and Westfeldt assumed they would break up when he got sober because he would no longer need to lean on her to care for him that much. Luckily, Hamm found love again in Anna Osceola, and they look beautiful together. Way to go!
Please fill in your e-mail so we can share with you our top stories!