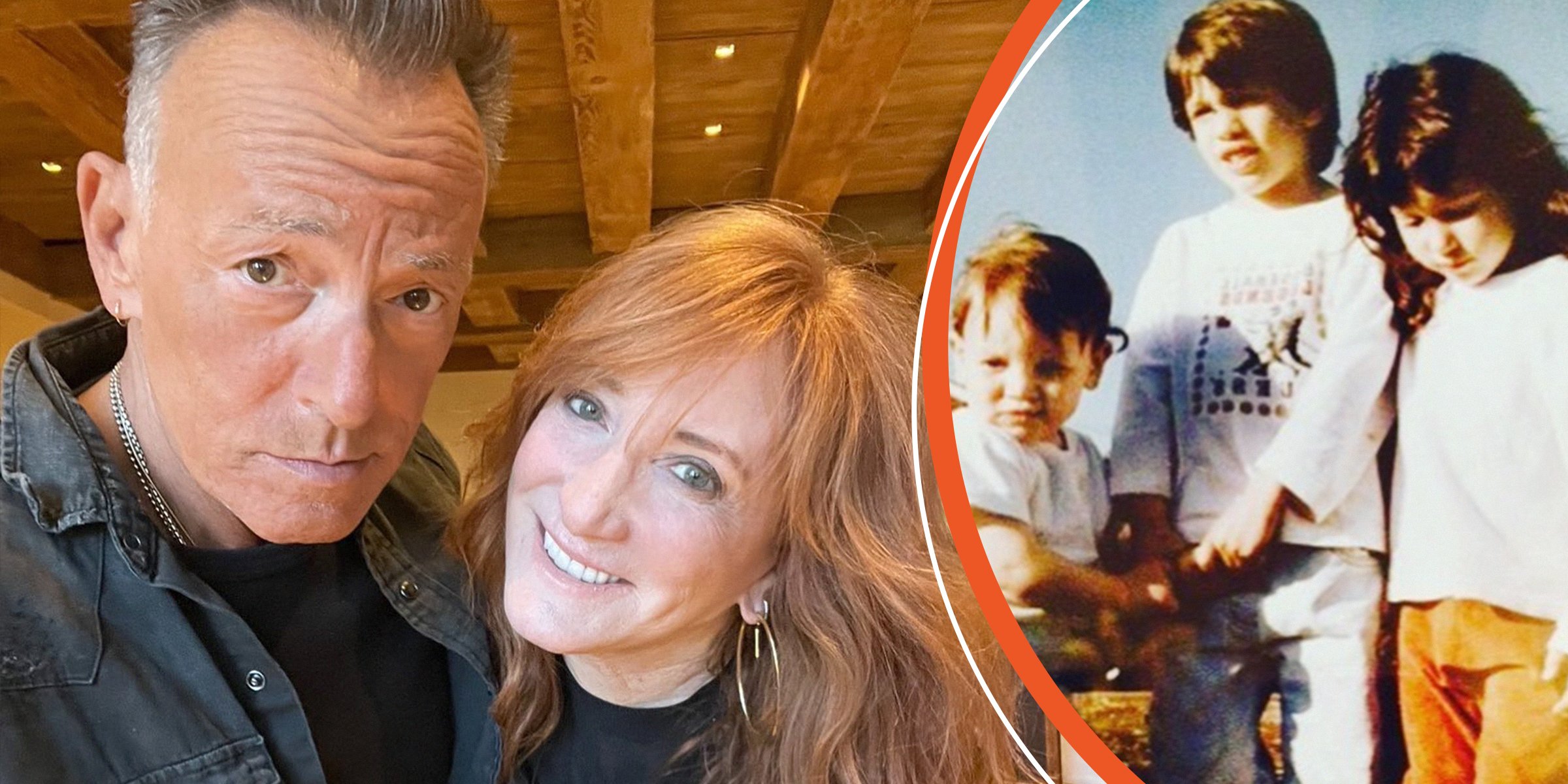 Instagram.com/officialrumbledoll
Bruce Springsteen & Wife of 31 Years Have 3 Kids: One Followed His Footsteps & Another Became a Fireman

Rocker Bruce Springsteen cheated on his first wife with Patti Scialfa, to whom he has been married for more than three decades. The couple not only sang together in a band, but they also welcomed three kids who chose different career paths.
Singer-songwriter Bruce Springsteen met his second wife, Patti Scialfa, at a bar called The Stone Pony, situated in Asbury Park in Monmouth County, New Jersey.
Like him, Scialfa is also a singer-songwriter who joined his music group, E Street Band, in the '90s. Springsteen recalled the first time he laid eyes on his future spouse in an interview with The New York Times in October 2018.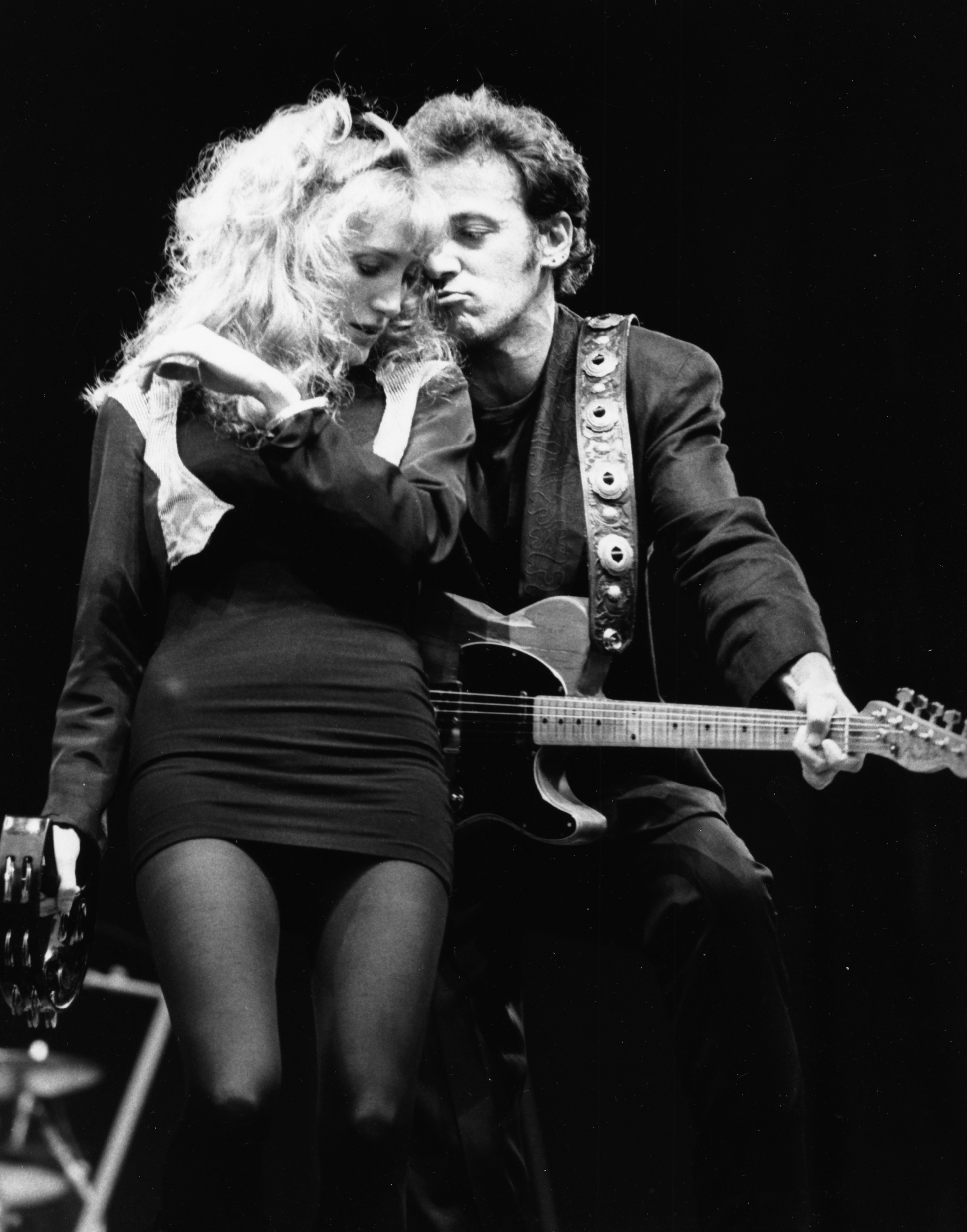 Musician Patti Scialfa performing on stage with singer-songwriter Bruce Springsteen at Wembley Stadium on June 30, 1988 in London. | Source: Getty Images
"She came out and played onstage with; it might have been Bobby Bandiera or, I forget which local band was playing. But she came out and played Exciters' hit 'Tell Him,' and she was very striking right from the beginning," said Springsteen.
With that said, Springsteen and the E Street Band invited Scialfa to join them as part of their "Born in the USA" tour at the time. She told Rolling Stone how the flirtations between her and the New Jersey native started.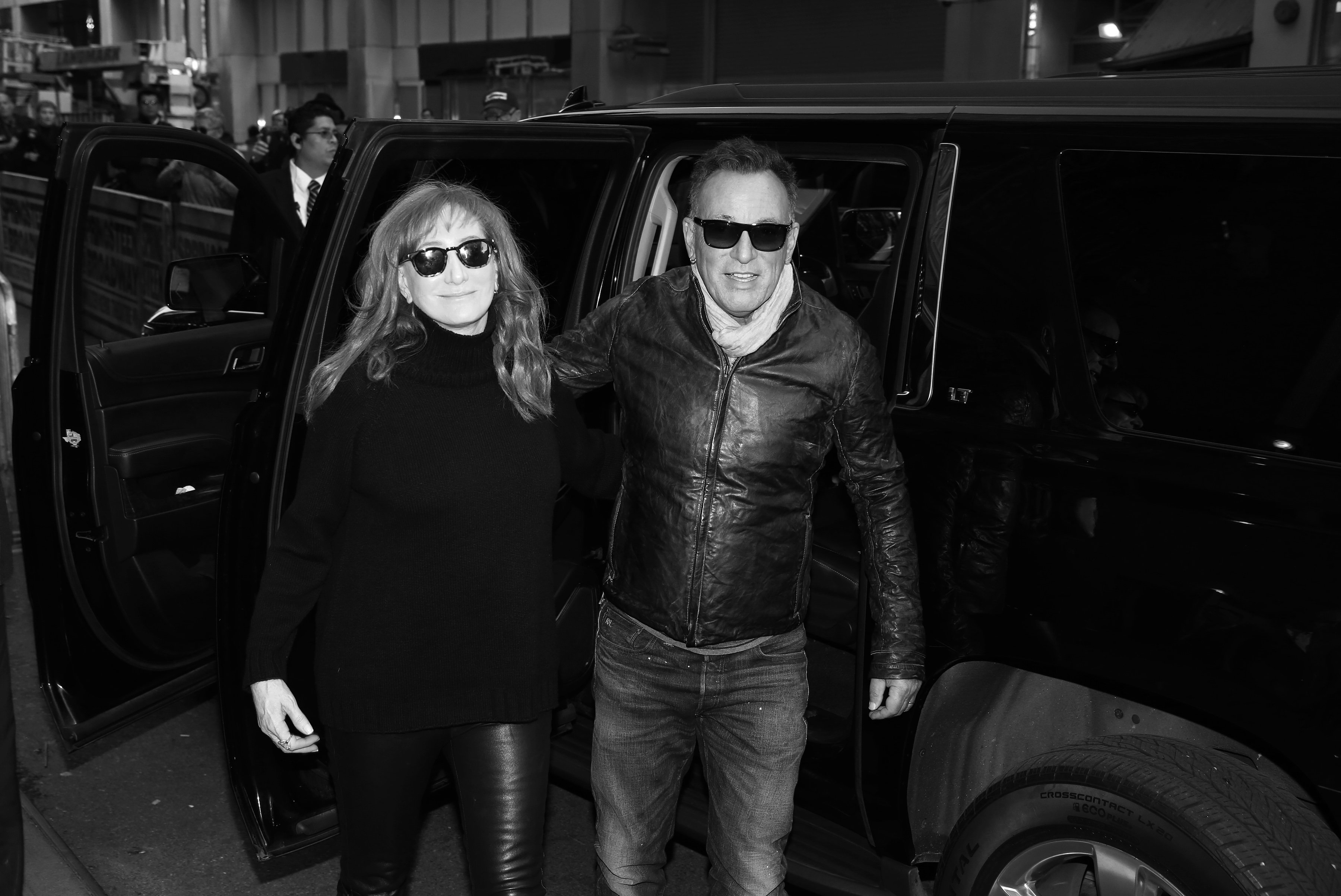 Patti Scialfa and Bruce Springsteen arriving at the Walter Kerr Theater for the official opening night performance of "Springsteen On Broadway" on October 12, 2017 in New York City. | Source: Getty Images
Scialfa remembered that during opening night in 1984, Springsteen advised her on her outfit choice for the evening where she had on a pastel ribbony top:
"And Bruce goes, 'Maybe you should wear something not as pretty."
Springsteen was married to his first wife, actress Julianne Phillips at the time. They wed in 1985 but later divorced in 1989 due to his affair with Scialfa.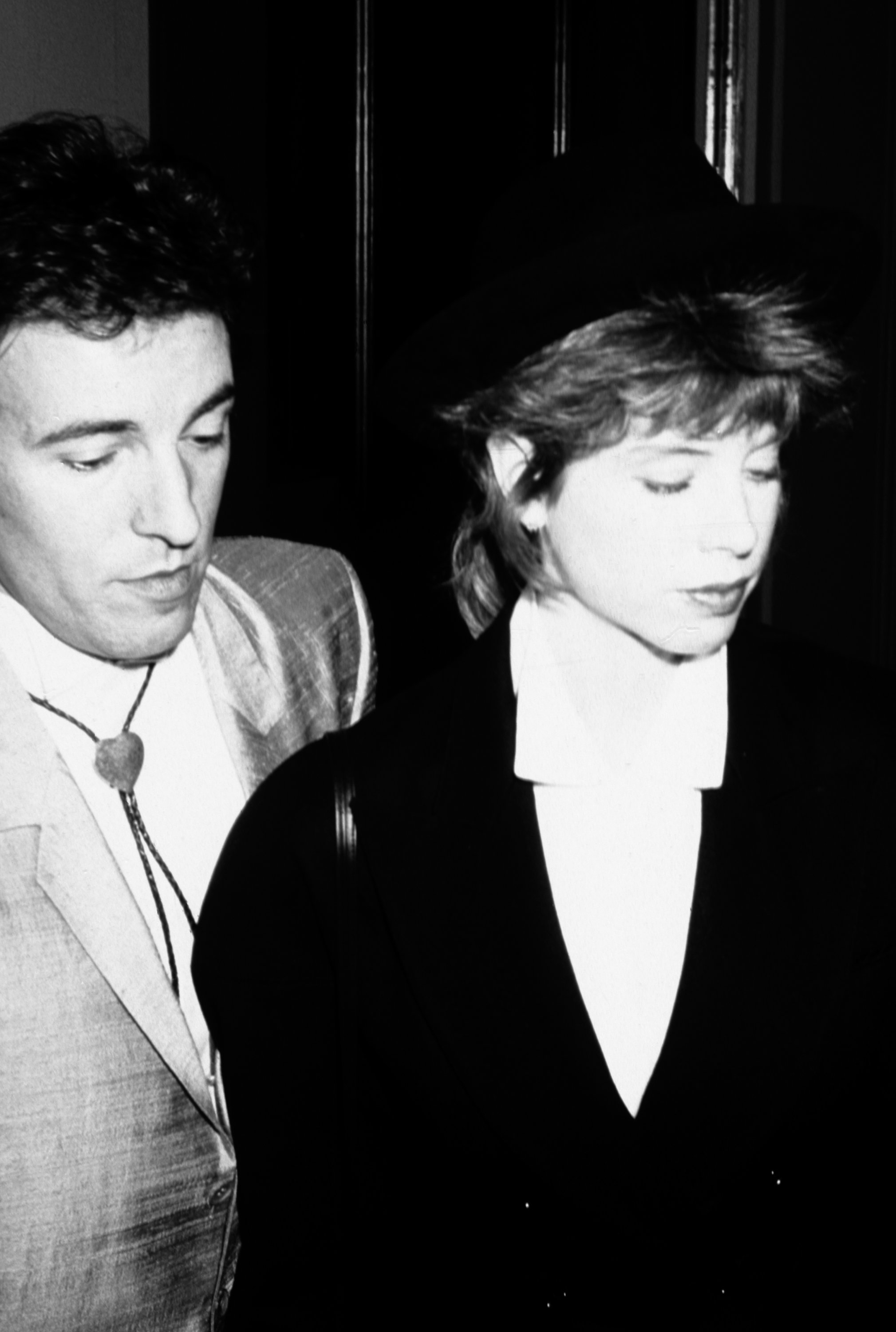 Bruce Springsteen and actress Julianne Phillips attending Second Annual Rock N Roll Hall of Fame Awards at the Waldorf Astoria Hotel on January 21, 1987 in New York City. | Source: Getty Images
He and the guitarist later walked down the aisle in 1991. Scialfa's Aury Park High art teacher, Curtis K. Smith, once revealed to People magazine in 1988 that she had always been in love with Springsteen.
Smith disclosed that Scialfa's brother, Michael, always talked about her being linked to the Oscar Award winner. Hence, it came as no surprise when it became public knowledge that they were romantically involved, said Smith.
Notably, a year before they became man and wife, the lovebirds welcomed their first child together, a son named Evan, in July 1990. Then followed their daughter Jessica the same year they wed in December 1991 and later their last born, another son Sam in January 1994.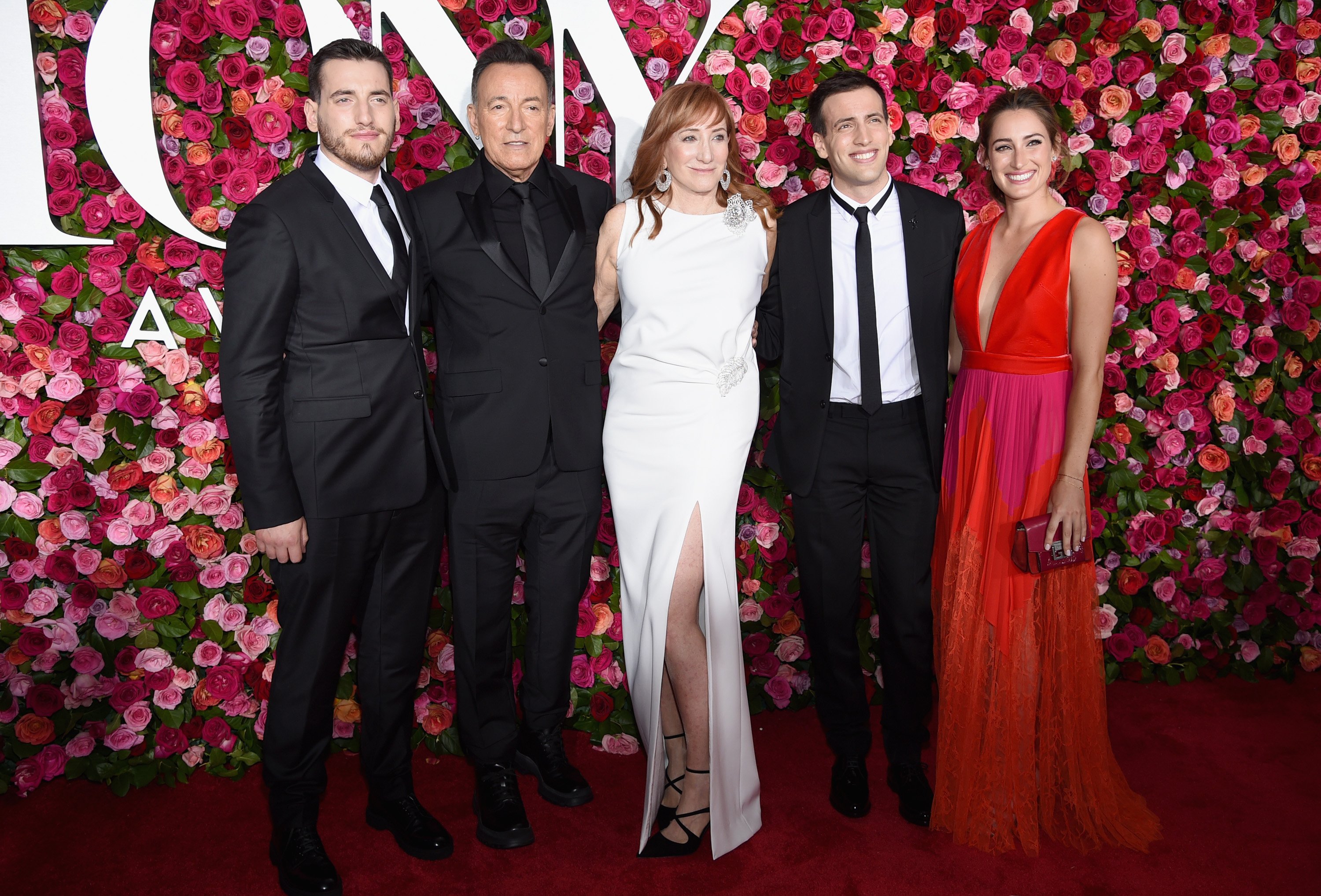 Evan Springsteen, Bruce Springsteen, Patti Scialfa, Sam Springsteen and Jessica Springsteen attending the 72nd Annual Tony Awards at Radio City Music Hall on June 10, 2018 in New York City. | Source: Getty Images
Scialfa once revealed that no matter how old their children are, they are not fans of her constant PDA with their famous father:
"They say, 'Please don't do that in front of us.' I said, 'Hey, you're going to be happy one day when you look back and know your parents really loved each other.'"
THE COUPLE'S KIDS PURSUED DIFFERENT CAREERS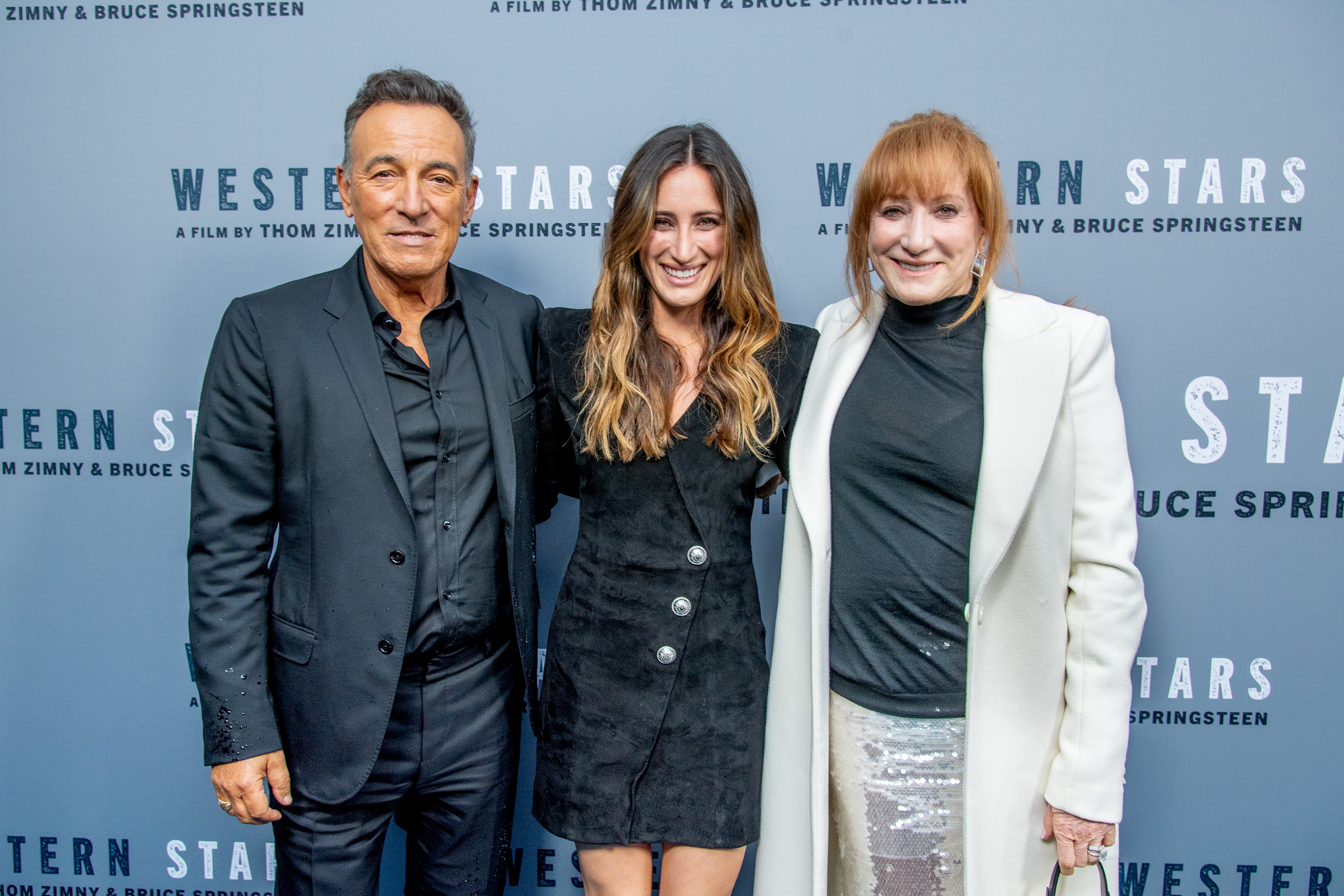 Bruce Springsteen pictured with his daughter, Jessica Springsteen and his wife, Patti Scialfa during the "Western Stars" New York screening at Metrograph on October 16, 2019 in New York City. | Source: Getty Images
Scialfa and Springsteen managed to keep their children from the limelight growing up. In an interview with Teen Vogue in July 2015, Jessica revealed that their mother's influence made her and her brothers pursue different career paths in contrast to theirs.
She believes it was her parent's choice to relocate from Los Angeles and settle down in New Jersey when she was a toddler, which gave her and her siblings a grounded upbringing:
"It was a more grounded upbringing. Everyone knows my parents well here. So, nothing much happens that's out of the ordinary."
Out of the three siblings, Evan is the most rarely seen member of the family, even on his mother's Instagram posts. However, in July 2017, Scialfa posted a photo posing in-between her two sons on social media.
The trio wrapped their arms around each other and smiled for the snapshot. Evan had one hand in his pocket as he slightly faced away from the camera. His mom captioned the post: "#tbt my boys on Mother's Day. I'm a Lucky Girl!!!"
Scialfa's eldest son graduated from Boston College in 2012. Like his parents, Evan has a great voice and seldom performs on stage. His vocals sound similar to his father's, and he has evidently inherited their talents in music.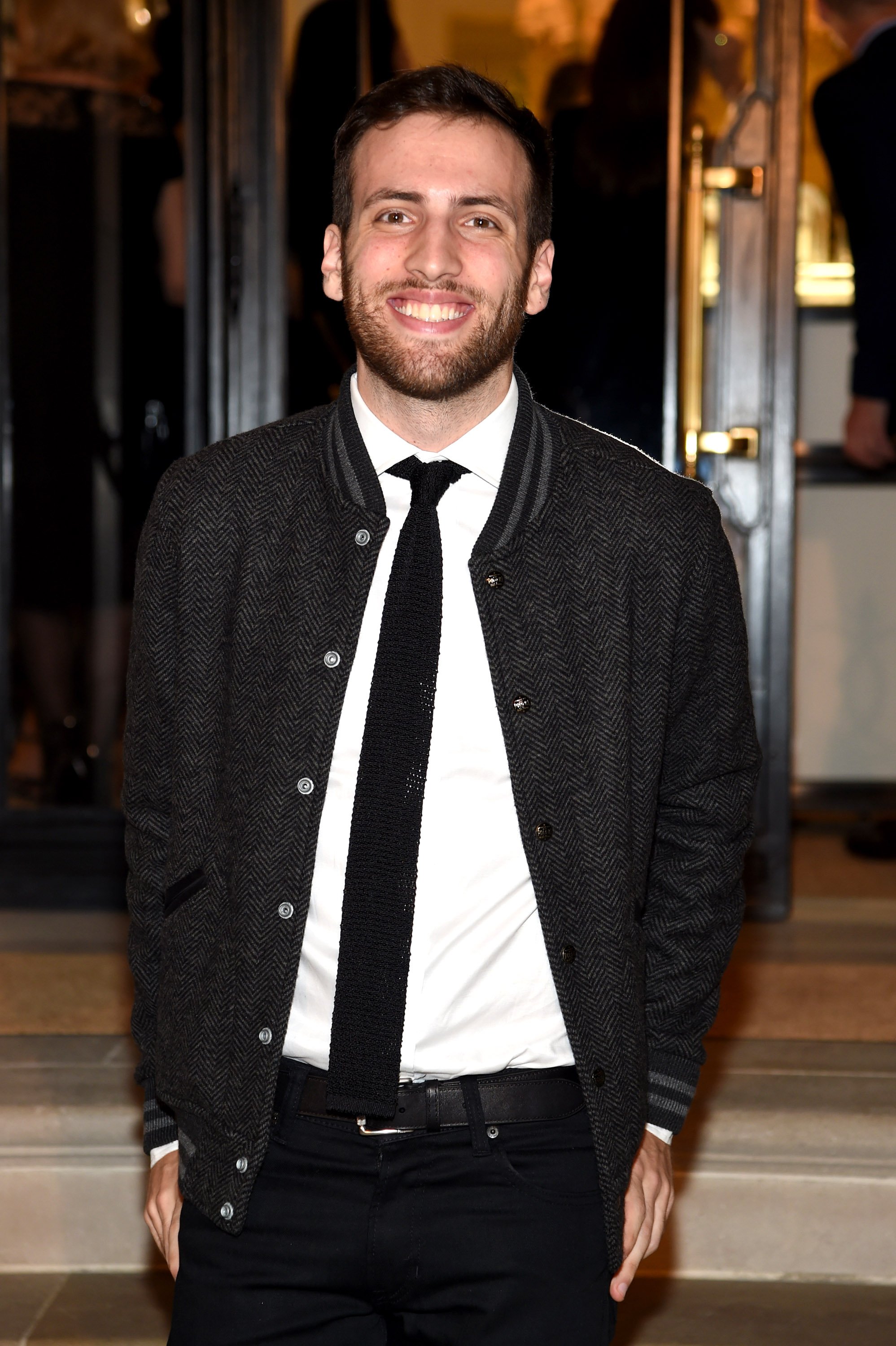 Evan Springsteen attending the Ralph Lauren fashion show during New York Fashion Week: The Shows at Ralph Lauren Madison Avenue Store on September 14, 2016 in New York City. | Source: Getty Images
There is a video of Evan on YouTube dating back to August 2011, as he performs solo on stage to a sitting crowd while playing the guitar. It seemed like he was performing an original song in the clip.
Evan seems to be the only child following in his parents' footsteps in the music business. Springsteen and Scialfa would often invite him as a guest guitarist on tour.
One event in Spain saw the couple and their son sharing the stage with each playing the guitar. As a guest guitarist, Evan has joined his parents on the road several times.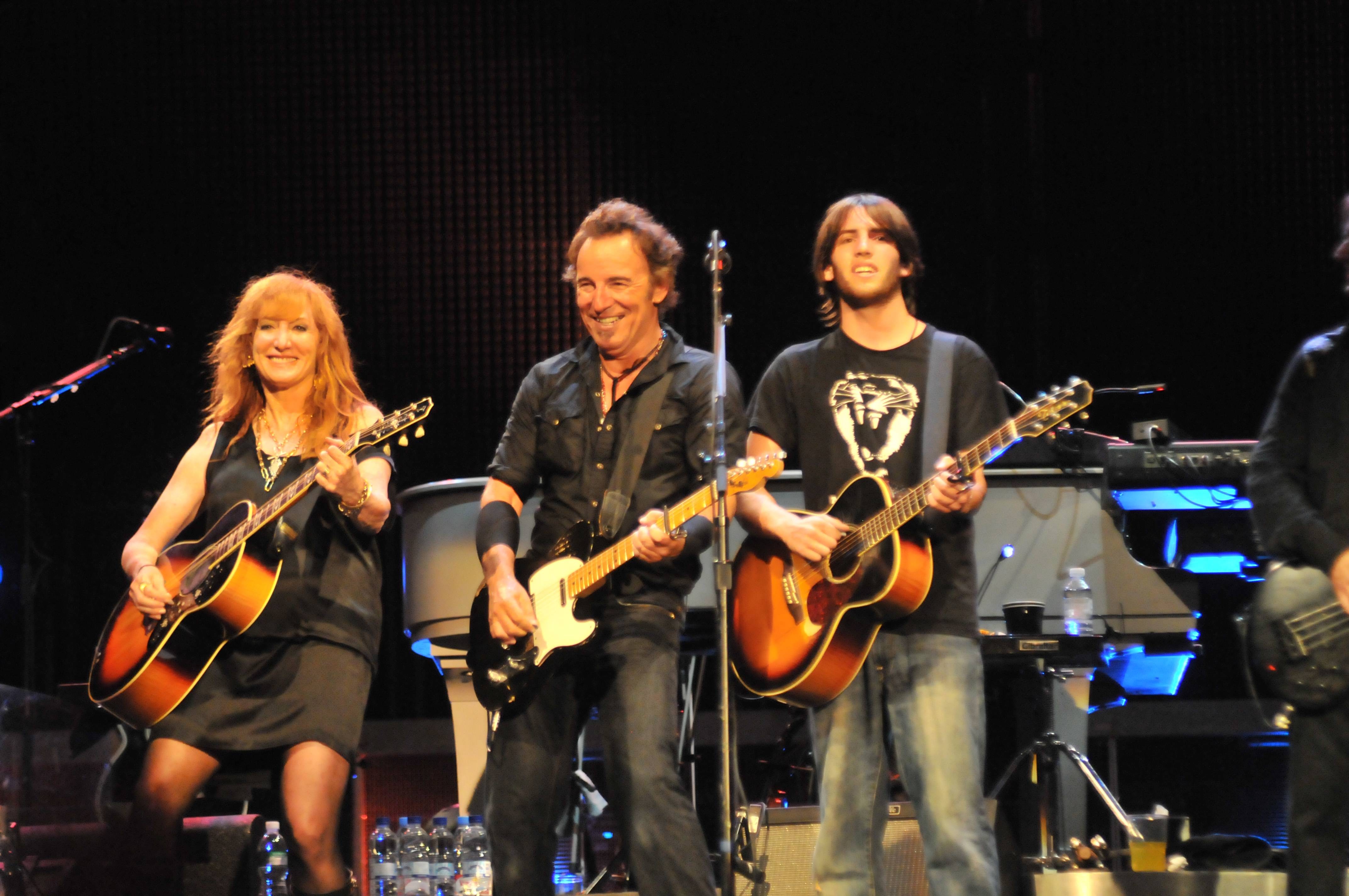 Patti Scialfa, Bruce Springsteen and their son Evan Springsteen performing live onstage in Spain. | Source: Getty Images
Meanwhile, Springsteen and Scialfa's second child, Jessica, avoided nepotism. She recalled a high school friend saying it would have been exciting if she were a "huge brat!" However, Jessica said she was boring.
That said, she became an equestrian after seeing her mother riding a horse at age four. Jessica shared the amount of discipline it took for her to launch her equestrian career:
"There's an incredible amount of communication, balance, precision involved. It took me 18 years of training to get to this level."
The LA native is a show jumping champion rider, having won first place at the Winter Equestrian Festival in 2015. Her proud mother gushed on her Grand Pix win in September 2019. The doting mom posted a snap of her daughter broadly smiling, following her big win in the competition:
"Well done, Jess!! Big Grand Pix win on Zecilie. You both were a joy to watch! Thanks to Monica and Frank McCourt for letting her ride your wonderful horses!!"
In July 2021, the brunette beauty's dream came true when she was chosen to represent Team USA at the 2021 Olympics in Tokyo.
She reacted to the life-changing news on Instagram by sharing a picture of her then-12-year-old horse, with whom she would be competing, and wrote she had been dreaming of such an opportunity her entire life.
Jessica expressed immense gratitude to her team, including friends and family, who made it possible for her to get that far in her professional show jumping career. According to Closer Weekly, she is touted as one of the leading US equestrian riders.
While Jessica forged a career path in sports, her younger brother Sam chose a more noble path and became a fireman. He was sworn in in January 2020 and had his parents present for the auspicious ceremony. Springsteen told abc7NY how proud he and his wife were of their son:
"This is my son's day, so I'm staying out of it. We're very proud. We're very proud. It was a long road. He was very dedicated for quite a few years, and we're just excited for him today."
As he grew up away from the spotlight, Sam avoided speaking to the media after the ceremony, saying he would have to pass on the interview.
Becoming a firefighter has been a life-long dream for Sam, and his mother could not be prouder that he finally achieved it. Taking to Instagram, Scialfa wrote: "Follow that dream, SO PROUD and Happy for you!! Alongside a photo of her son beaming while wearing his uniform.
In August 2019, the mother of three posted another picture of Sam, in black and white, and congratulated him on following his dream: "CONGRATULATIONS. You followed your dreams. JC firefighter. Stay safe, love your brave heart."
THE SIBLINGS FELL ASLEEP AT THEIR DAD'S CONCERTS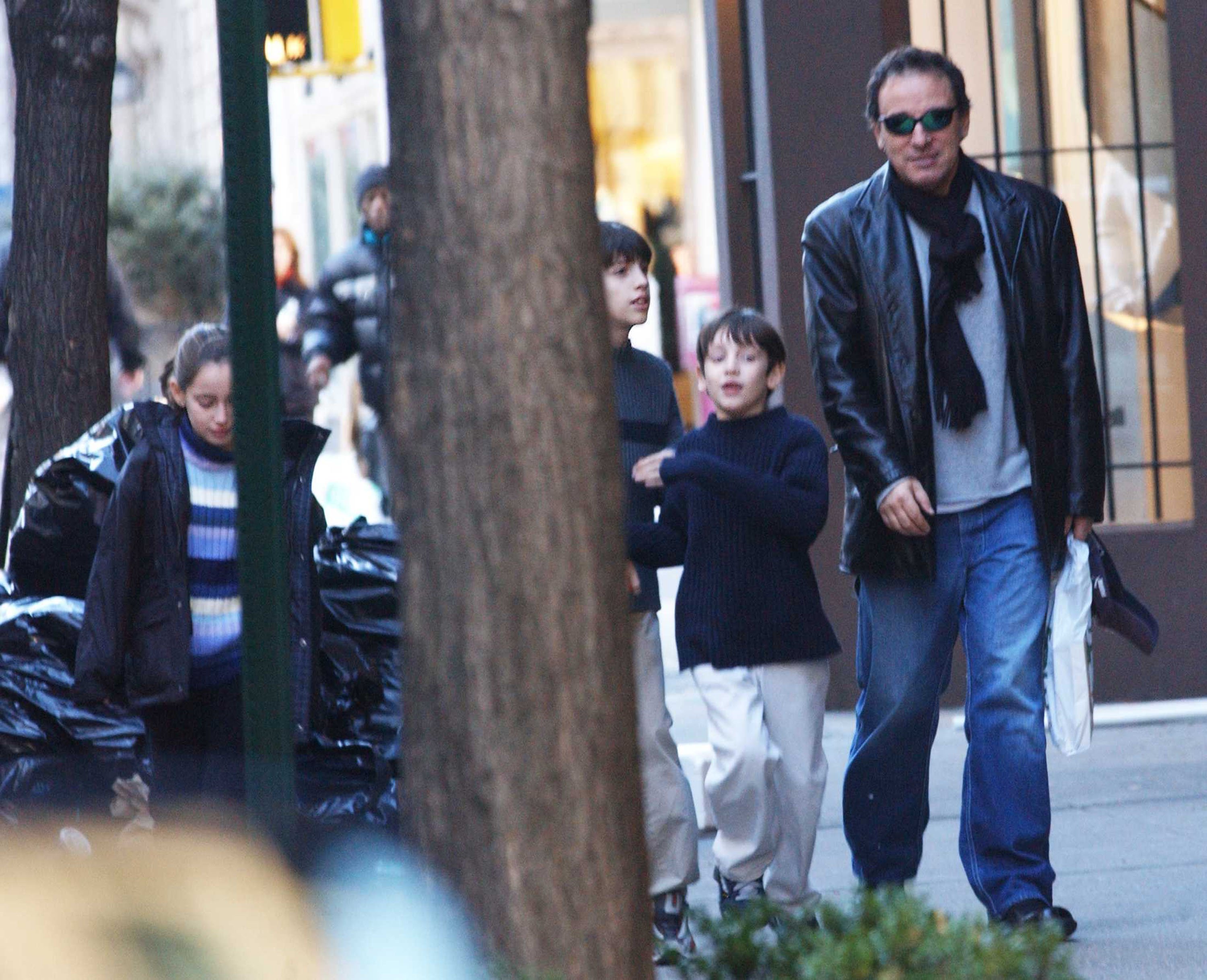 Musician Bruce Springsteen and his children Jessica (L), Evan (C), and Sam (R) spotted taking a walk on February 18, 2002 in New York City. | Source: Getty Images
When looking back to their lives as kids, Jessica revealed that when she and her brothers were little, they used to attend their father's concerts but would only watch the first half of his performance and would fall asleep.
Though they had famous parents, the Springsteen siblings had a grounded upbringing at the family's farmhouse home in New Jersey.
Scialfa revealed that when she, her husband, and children are all at their Colts Neck property, "Bruce and I still get up at seven every morning to make breakfast for the kids."
The Rock' n Roll Hall of Famer shared that as a family of five, they enjoy spending time together in the mornings before everyone goes their separate ways, adding they have always been like that.
Meanwhile, the father of three said he was unsure whether children generally cared enough for their parents as they should until they reached a certain age. "They're furniture until then, and, as a parent, you want to be a sturdy piece of furniture if you can," Springsteen stated.
When speaking on fatherhood in May 2011, Springsteen said that all his kids know well enough that they have his and their mother's support in whatever they want to do with their lives.
"If I can wish for anything for my children, it's that they can pursue their dreams and know that if things don't work out, it's OK. Patti and I will always be there for them," said the 20-time Grammy Award winner.
Please fill in your e-mail so we can share with you our top stories!