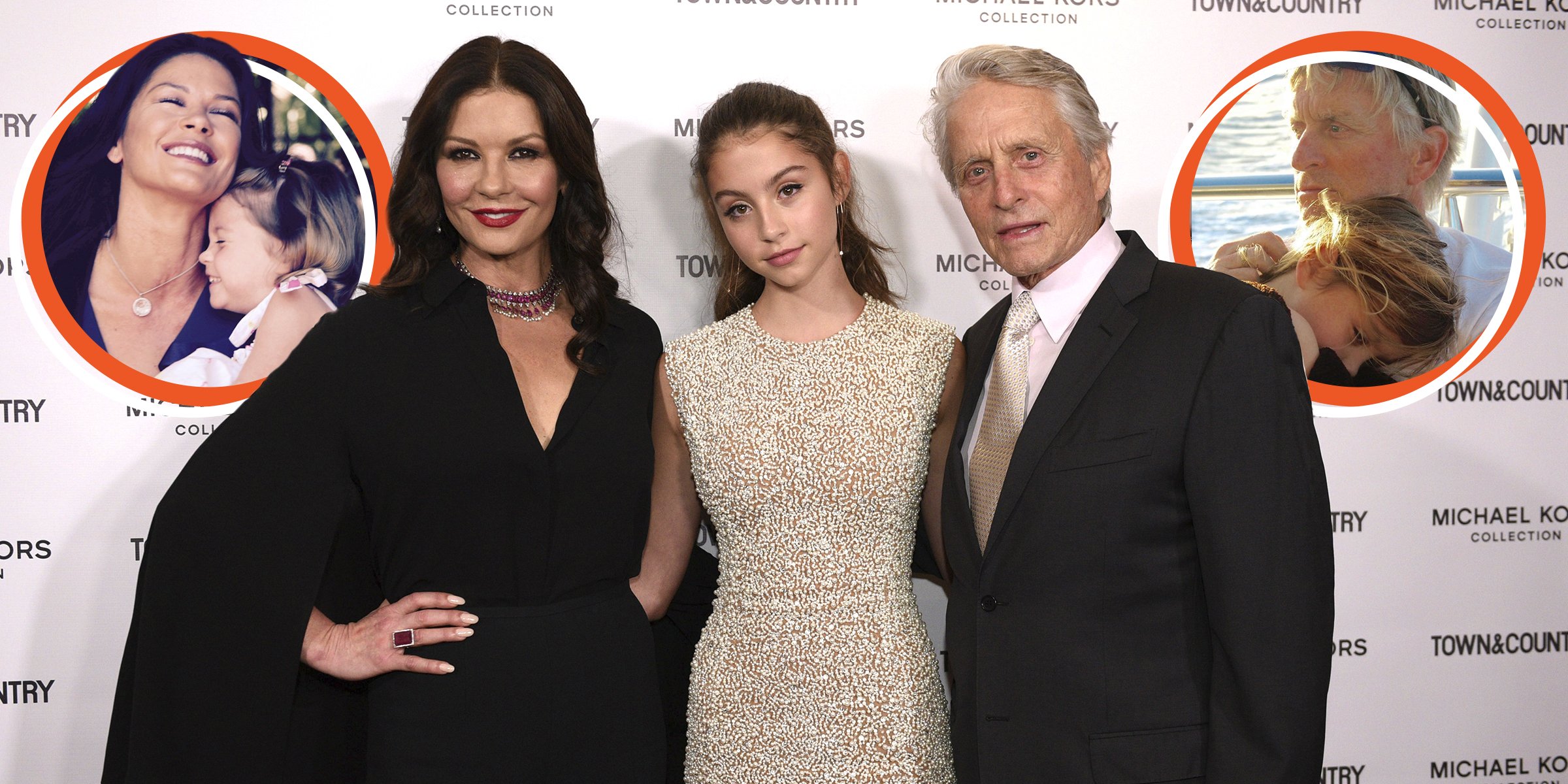 Instagram.com/catherinezetajones - Instagram.com/carys.douglas - Getty Images
Fans Cannot Decide Who Carys Zeta Douglas Looks Like — They Are Debating between 3 Options

Michael Douglas and Catherine Zeta-Jones met and began dating amid much controversy regarding their 25-year age gap. However, the couple had stood the test of time and now share two beautiful children. Yet there has been some confusion lately about who their daughter resembles.
Michael and Catherine faced many rumors when they began dating because many people believed there must be ulterior motives to their dating even though they were so far apart in age. Yet the couple ignored the rumors and got married shortly before their son, Dylan, was born.
The couple was elated to have been blessed with their son, so much so that they sacrificed something that every newlywed couple looks forward to. It turned out to be the right decision for them.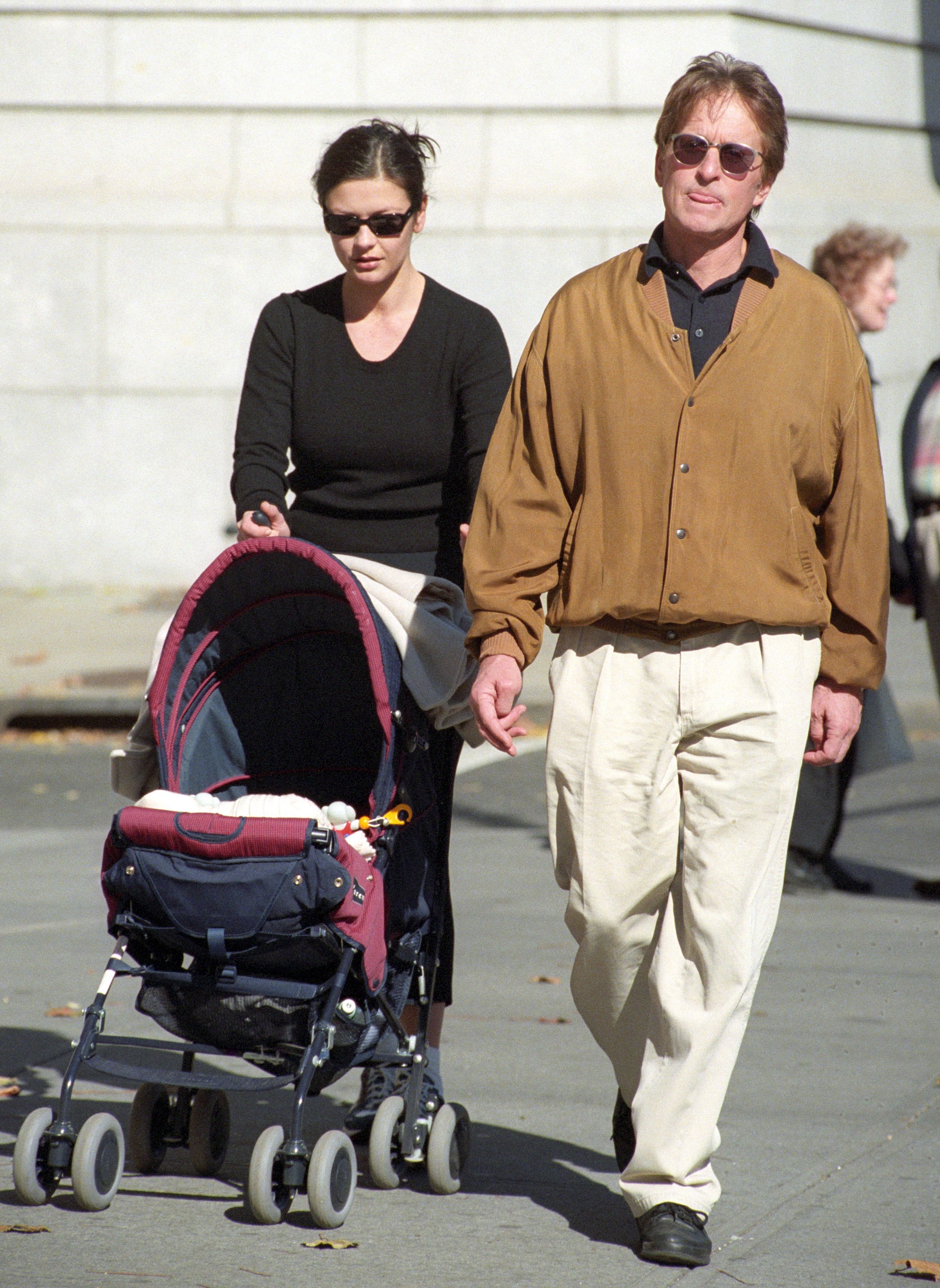 Catherine Zeta Jones and Michael Douglas with their son Dylan walking on Central Park West and 76th Street on October 28, 2000 in New York City. | Source: Getty Images
Michael and Catherine decided that instead of going on their honeymoon, they would stay at home to spend time with their newborn son. The couple was so excited about the birth of their son that Michael said:
"It doesn't get better than this. 2000 is not going to be a year that's forgotten."
THE YOUNGEST OF THE THIRD DOUGLAS GENERATION
The couple enjoyed some time alone with their young son and also enjoyed success in their careers. However, they soon realized that their family of three needed to be expanded, so they welcomed their daughter, Carys.
While their success in Hollywood was rewarding for the couple, they decided they wanted to raise their children in a calmer environment. This led to the family moving to Bermuda because Michael saw it as a family spot.
Because of the quiet environment that Michael and Catherine's children were raised in, they were content and well-adjusted children. They also had no idea what their father did for a living. They certainly did not think that he was a famous actor.
When recounting her childhood and how peacefully and normally she grew up, the couple's daughter, Carys, said:
"I thought my dad was a pancake maker. I didn't know he was an actor. Honestly."
Carys has grown into a beautiful young lady who is educated, well-rounded, and generally lovely. She has her parents to thank for these characteristics. Even Carys' friends say you would never know that she had famous parents.
FANS DIVIDED INTO 3 TEAMS TO DECIDE WHO CARYS LOOKS LIKE
While Michael and Catherine did their best to keep their children outside Hollywood and give them a normal upbringing, they could not avoid the limelight shining on them due to their parents having such successful Hollywood careers.
In 2018, the couple's daughter appeared on the magazine cover with her mother. This magazine cover was what had fans divided on who exactly Carys looked like, her mom, her dad, or somebody else entirely.
In the article, it was written that Carys looked just like her mother. However, as soon as fans read this, they became divided into three groups. While some believed that Carys looked like her mother, others thought she looked more like her father. There were even those who believed she looked like her grandfather, Kirk.
Fans are so passionate about their opinions that they took to the post's comment section on Twitter and commented on which of her family's characteristics Carys had inherited and why they thought she looked like each family member.
One fan commented that although Carys was a beautiful young woman, she did not look anything like her mother, and another commented that she had her grandfather Kirk's eyes. Some thought that she had strong Douglas genes.
The arguments were so strong that the Twitter thread was hundreds of comments long, with people letting the world know whose side they were on when it came to Carys' looks. However, one clear thing was that each person thought that she was beautiful no matter who she looked like.
However, many fans thought that she looked almost exactly like her mother and said it was a sure case of like mother like daughter. The young woman's debut magazine cover was gorgeous regardless of fans' opinions.
CARYS FOLLOWS IN HER PARENTS AND GRANDPA'S FOOTSTEPS
Although the dispute about who Carys looked like has not been settled, there is one thing that's certain: she is following in the footsteps of her famous family. She has been in school productions of "Tommy and Spring Awakening" and "Once on This Island."
The young woman is also interested in music and plays the piano well. While she has also dreamed of an Ivy League education and possibly becoming a doctor, her true passion lies in her family's footsteps, a career in Hollywood.
Carys went on to graduate with honors in an International Baccalaureate, which means that she now has the opportunity to decide what she would like to pursue as a career. Her graduation was met with cute wishes from both her parents.
Catherine mentioned that Carys had studied history and politics, as did her brother, Dylan. Catherine said that both her children were extremely intelligent and inherited that from Catherine herself.
Before Carys went to college, her mother took to Instagram to wish her well. The actress posted a throwback video of her daughter sitting on the bathroom floor, sharing her love of books with the world. While she knew the video was sweet, she knew that Carys would be upset if she knew her mother posted the video.
Having famous parents can have many benefits, and one of those is that they can tell you what it is like to work in Hollywood. Catherine and Michael have warned their daughter that a career in Hollywood is not everything it's cracked up to be.
Michael and Catherine have both told Carys that she should think carefully about working in Hollywood as it is a challenging industry. However, despite her parents' warnings, she is determined to make a name for herself as an actress.
While the family has warned the children what it is like to work in Hollywood, fans seem to think that seeing another Douglas on stage would be fantastic and have taken to social media to voice their opinions.
Please fill in your e-mail so we can share with you our top stories!