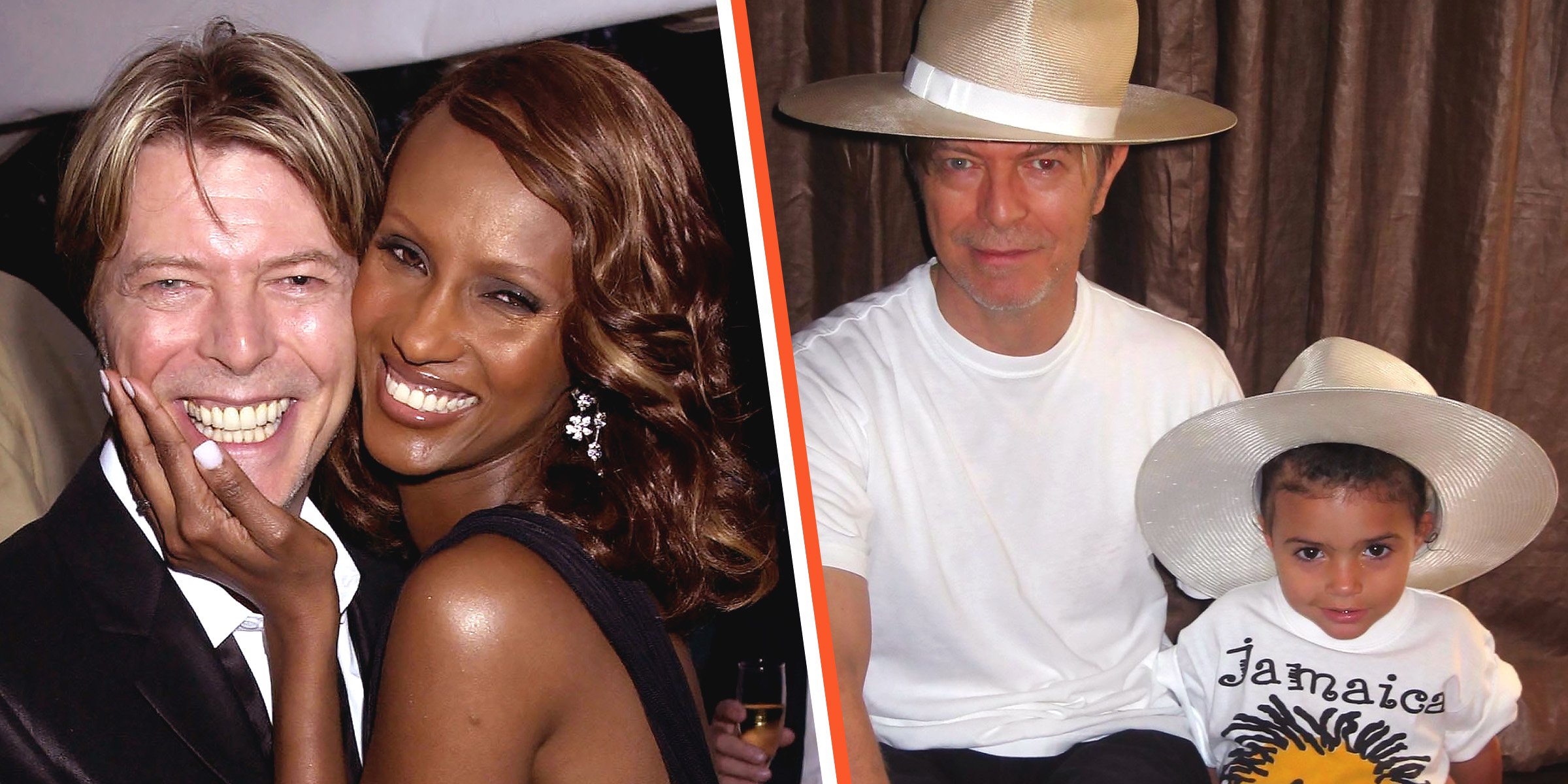 Getty Images
David Bowie's Marriage to Iman Was 'Done Deal' on Their 1st Date — They Wanted Kids 'More than Anything'

David Bowie and Iman Abdulmajid were married for twenty-four years before death came between them in 2016. But their love story commenced long before then, thanks to a blind date that changed everything.
For legendary sweethearts David Bowie and Iman Abdulmajid, their enduring love story was only possible thanks to the intervention of a matchmaker. The person who takes the credit is none other than Bowie's longtime friend and hairdresser, Teddy Antolin.
The thoughtful friend has been open about hooking the lovebirds up, noting that he intervened because his friend lived an increasingly solitary existence.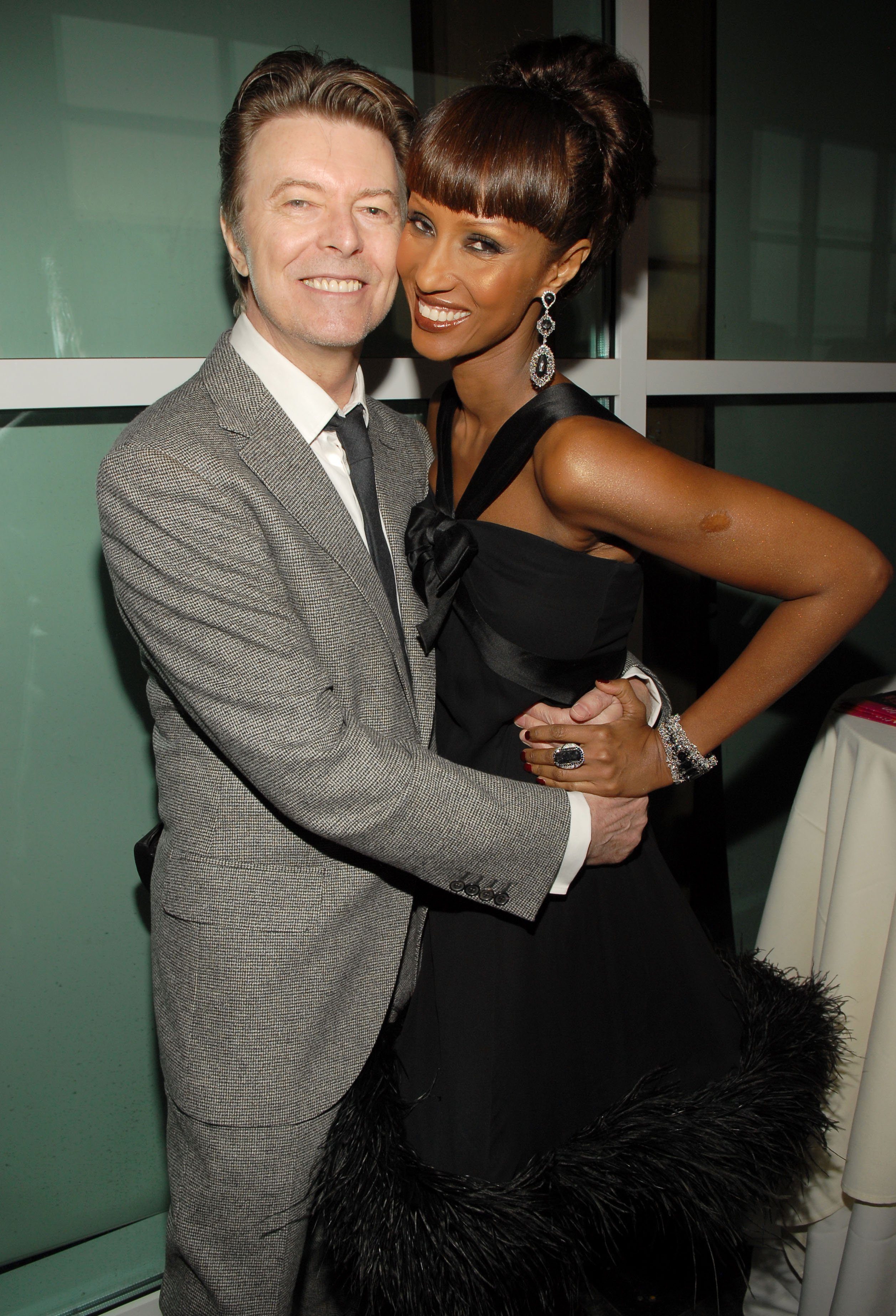 David Bowie smiling in a photo with his wife, Iman at the 2007 Food Bank of New York Can-Do Awards Dinner Honoring The Edge and Jimmy Fallon | Source: Getty Images
Antolin once reflected, "David was very lonely. It was so sad—all this hard work David did each day, and then he was alone." As Antolin noted, Bowie was at the height of his worldwide fame at the time back in the eighties. Unwilling to see his longtime friend lead a sad life, he decided to intervene, setting up a blind date.
He pleaded with Bowie to show up at his birthday party in Los Angeles, also inviting the infamous supermodel, Iman. Neither suspected his motive but was glad to turn up for a friend.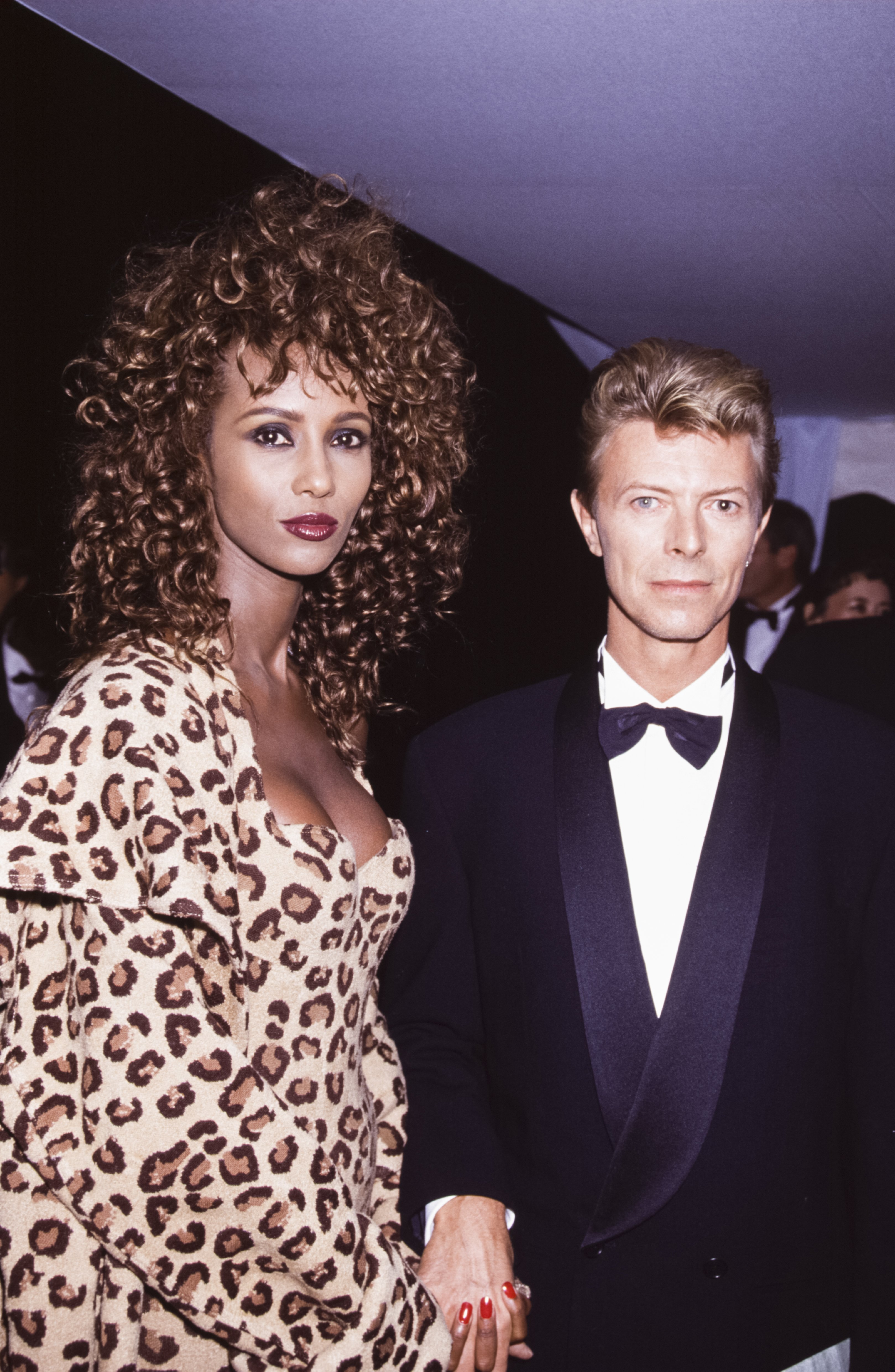 David Bowie with his wife Iman in September 1991 in Versailles, France | Source: Getty Images
The two arrived at the venue, with Bowie clad in white attire while Iman donned an all-black ensemble that matched her Mercedes. It was not a birthday bash as they expected but a four-person date at an otherwise empty New York restaurant.
Antolin recalled how perfect the duo looked in their outfits, which coincidentally complemented each other. The moment Iman entered the room, she stole the attention, with the singer's eyes not leaving her for a second.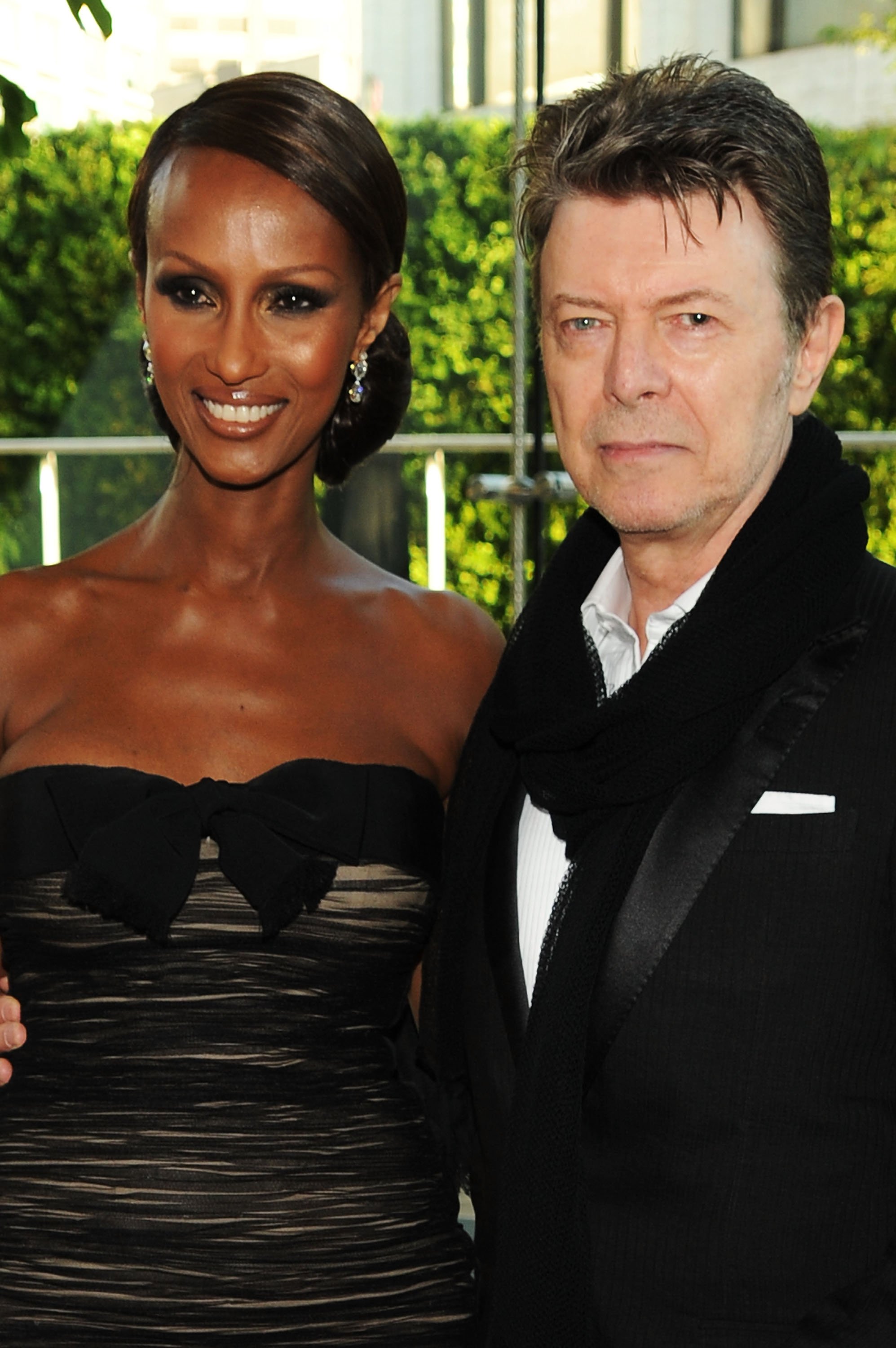 Model Iman and musician David Bowie attend the 2010 CFDA Fashion Awards at Alice Tully Hall, Lincoln Center on June 7, 2010 in New York City | Source: Getty Images
The hairdresser described the electrifying moment as love at first sight, noting that he could feel the sparks flying as they locked gazes.
From that moment on, Bowie was smitten by his to-be wife. He could not sleep due to the overwhelming excitement he felt. He even began compiling names for their future kids despite being in the dark about Iman's feelings towards him. He once revealed:
"That she would be my wife in my head was a done deal. I'd never gone after anything with such passion in all my life. I just knew she was the one."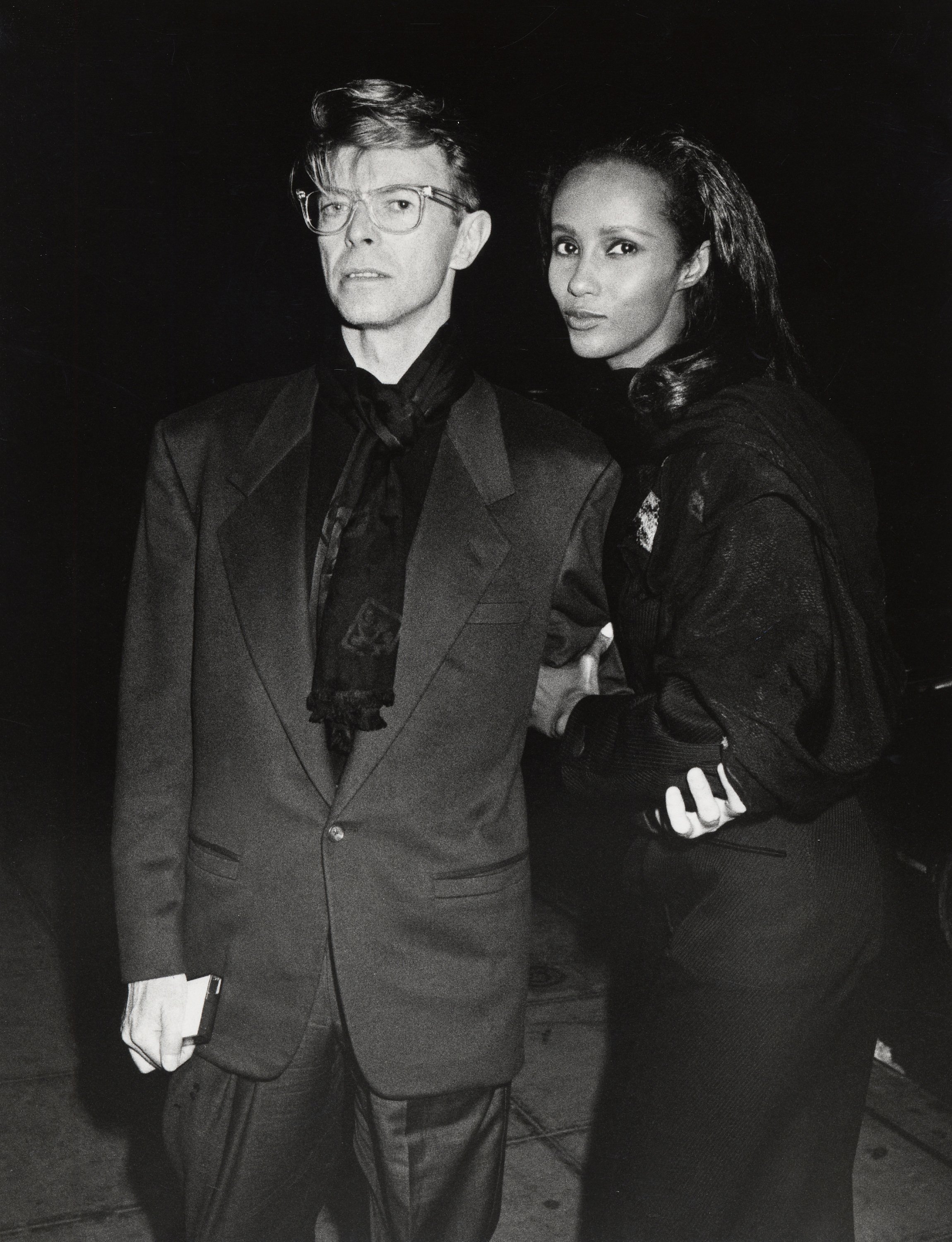 David Bowie with his wife Iman at the Eduard Nakhamkin Fine Arts Gallery Benefiting The American Cancer Society event on November 27, 1990 | Source: Getty Images
It took the supermodel a few months to realize she reciprocated his feelings. For her, the switch flipped after he knelt on one occasion to tie her shoelace in the middle of the streets.
She realized then that he was her soulmate. After only a few months of dating, the pair got engaged. Notably, Iman turned down Bowie the first time he proposed.
According to Teddy, she wanted him to meet some people first and understand he was not only marrying her but her whole tribe. Thankfully, she said "yes" the second time he proposed and never regretted that decision. Two years after their first meeting, David Bowie and Iman sealed the deal by tying the knot on April 24, 1992.
BOWIE AND IMAN'S DECISION TO HAVE A CHILD
Admittedly, the lovebirds always wanted to have kids together right from the onset of their romance. Yet, it took the couple ten years before welcoming their first and only daughter together, Alexandria Jones.
Explaining why it took them so long to become parents despite wanting it "more than anything else," Bowie noted that they waited to ensure the circumstances were "absolutely right." Going further, he said:
"[We] didn't want ourselves working flat out during the first couple of years of the baby's life. This is a wonderful tie in both our lives."
When the child finally arrived, the lovebirds, who each had kids from previous relationships, were overjoyed. Following the baby's arrival, Bowie admitted in an interview that their daughter brought them joy and drew them closer to each other while enriching their lives beyond belief.
The two reflected that closeness in their choice of name for their kid, which had special significance to them. Bowie recalled having "Alexander" as one of his favorite baby names for a long time.
To his surprise, his wife, who never knew about this preference, suggested one day that if they welcomed a girl, they should call her "Alexandria, after the Greco-Egyptian City." Realizing how close the name was to his choice, it became a done deal.
Admittedly, the birth of their daughter changed Bowie more than he realized. The singer-songwriter went candid about how much the child imparted his life during a 2003 interview.
Since her birth, he found himself drawn to writing aggressively, from a more optimistic standpoint, even when writing about dark subject matters.
He believed that was his way of subconsciously preventing himself from casting a dark shadow over her future. Overall, Alexandria's birth enabled Bowie to have a more positive standpoint.
IMAN'S BIG DREAMS FOR HER DAUGHTER
Much like her husband, Ian wanted the perfect future for their daughter. Hence, despite her ravaging beauty, she frowned upon the idea of having her daughter become a model like herself.
She also strived to keep the girl from simply becoming the superstar child of a famous couple, like many of her peers. As a result, the proud mom was forced to turn down offers from several modeling agencies asking to sign Alexandria.
Their daughter, who cherished those offers, believed Iman was being overprotective. However, her mom made her understand keeping her life private was in her favor.
Alexandria grew up to become a painter like her famous dad, even inspiring her mom to take up the art. She also inherited her dad's lyrical prowess, becoming a poet and a singer.
While not as famous as Bowie, the starlet has garnered an impressive fan following from sharing her poetry on her public Instagram. Most of her works center around feminist love, intimacy, and autonomy themes.
She shared her first song on Instagram in February 2021, which blew up after her half-brother Duncan Jones commended her singing prowess on Twitter. Hopefully, inheriting her dad's artistic genes and unveiling them to the world is only the onset of many feats Alexandra has in store.
Please fill in your e-mail so we can share with you our top stories!