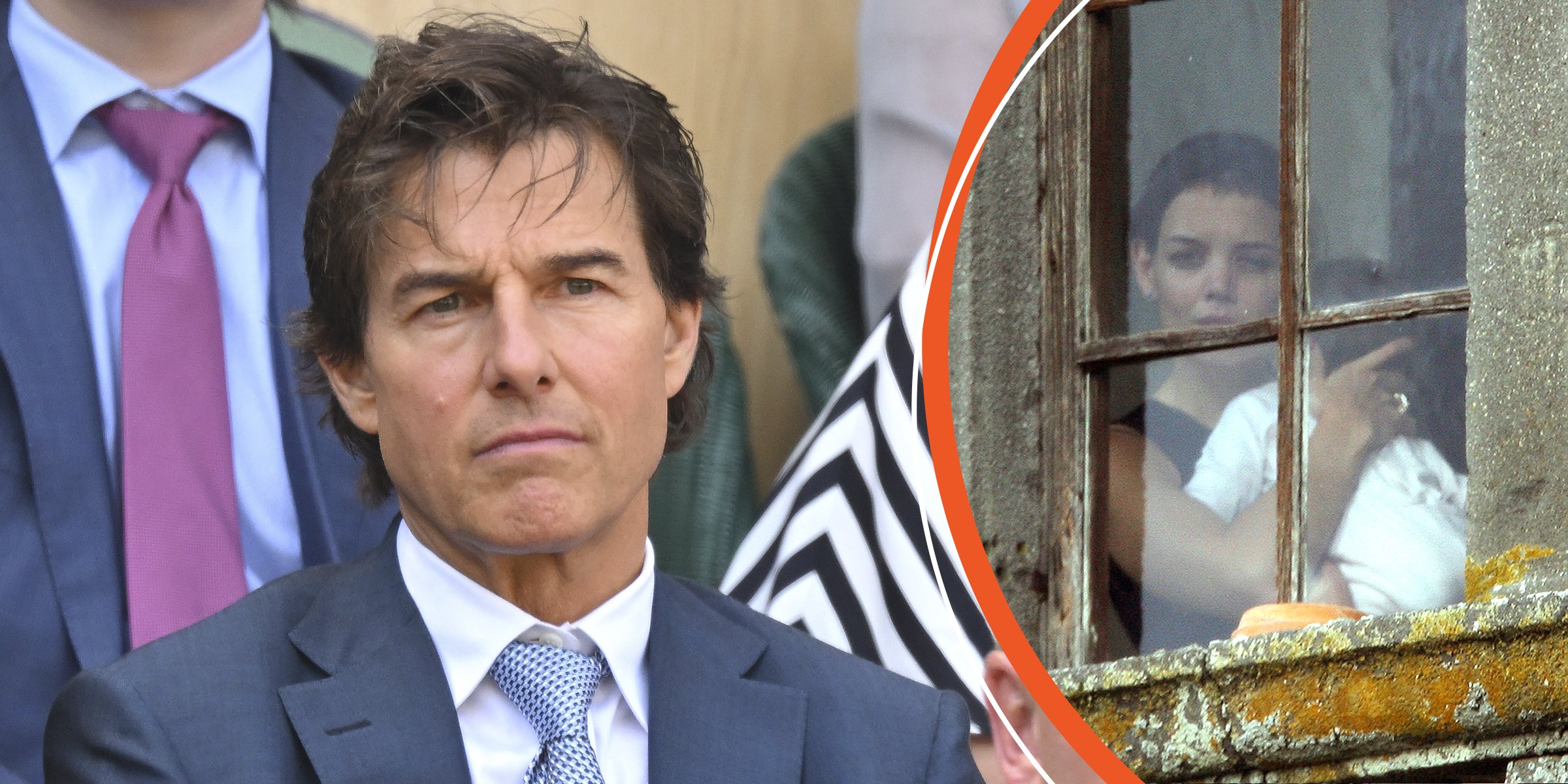 Getty Images
Tom Cruise 'Always Wanted to Be a Father' Yet Chose Not to See Youngest Daughter & Lost Custody of Her

Tom Cruise's strained relationship with his youngest daughter Suri has led to speculations that their differences had a link to his belief in Scientology.
Legendary actor and Scientologist Tom Cruise grew up craving an opportunity to become a father. His life-long desire to become a dad stemmed from his rough childhood, especially the abuse he suffered at his dad's hands.
The star has been open about his rough childhood, his strained relationship with his father, and how it informed his life's choices. Cruise lived in constant uncertainty and fear of his dad as a kid.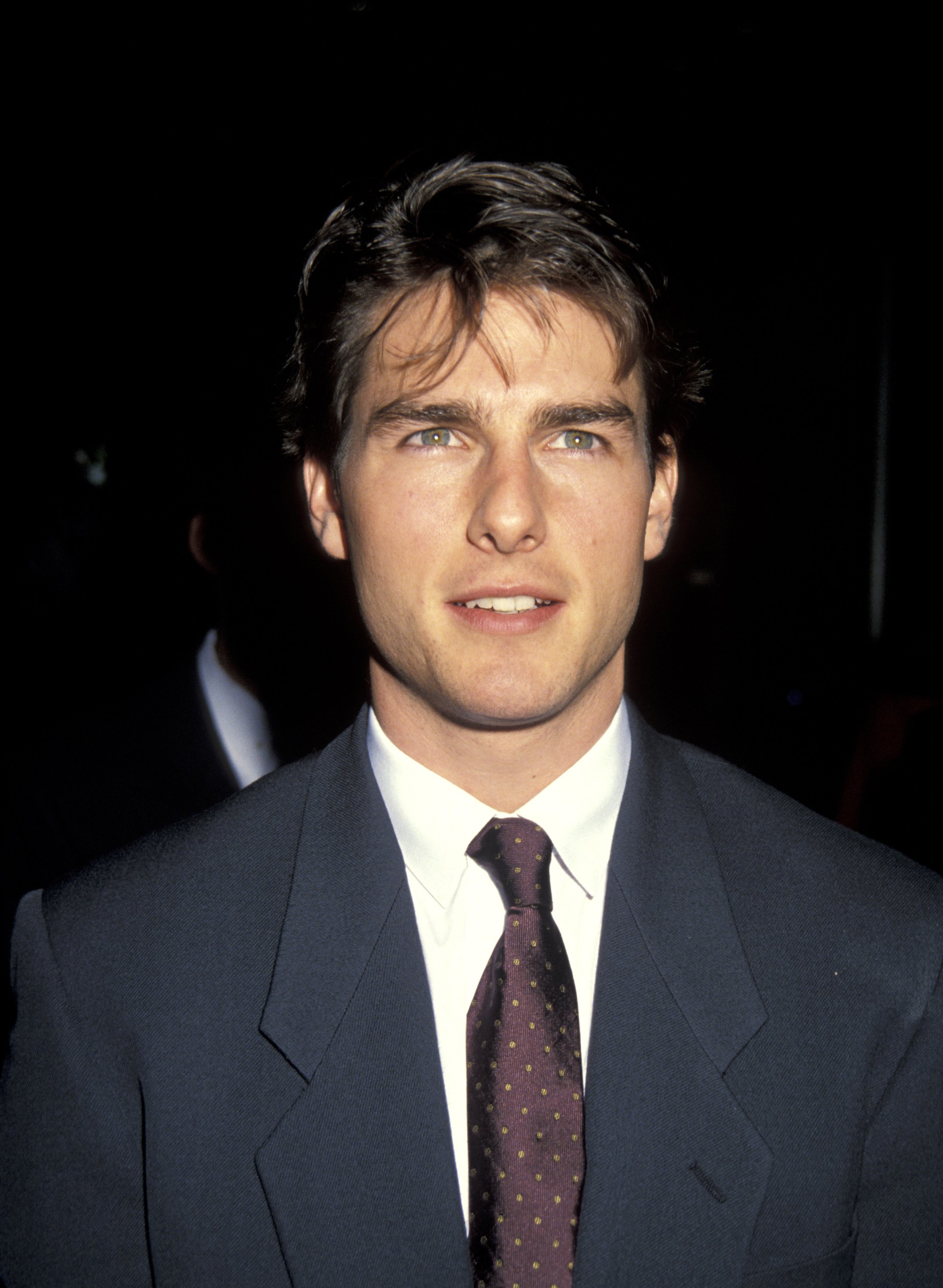 Tom Cruise during The 52nd Annual Golden Apple Awards at Beverly Hilton Hotel in Beverly Hills, CA, United States. | Source: Getty Images
He described his father, Thomas Cruise Mapother III, as a coward and a bully who never hesitated to kick him when something went wrong. As a defense mechanism, he began to pull away from his dad and convinced himself not to trust him.
Cruise considers his childhood experience a great life lesson, which ultimately deepened his desire to become a better father. He divulged:
"My whole life, I always wanted to be a father. I always said to myself that my children would be able to depend on me and I would always be there for them and love them – that I'd never make a promise to my kids that I couldn't keep."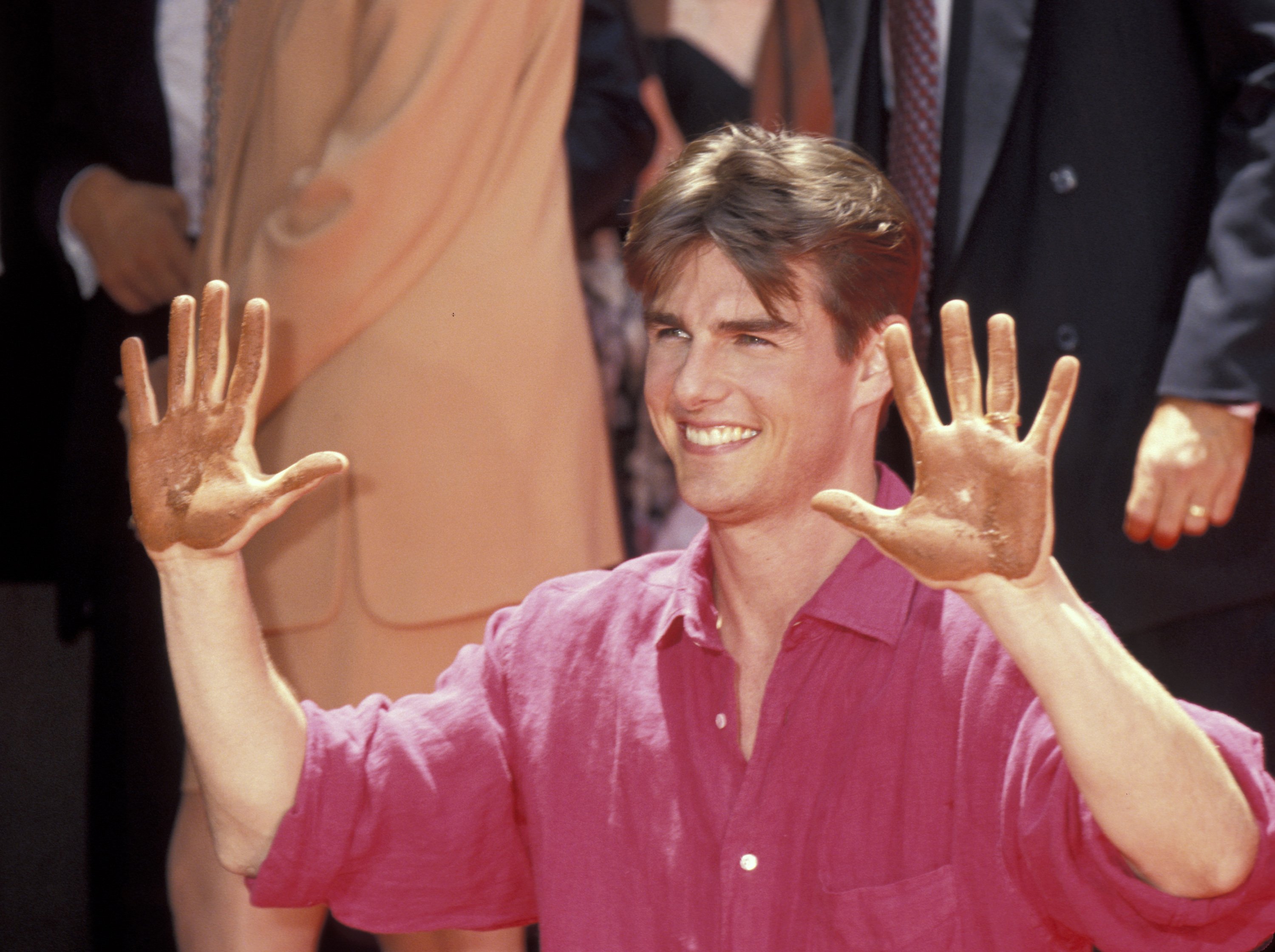 Tom Cruise during Tom Cruise Hand and Footprint Ceremony at Mann's Chinese Theatre at Mann's Chinese Theatre in Hollywood, California, United States. | Source: Getty Images
To fulfill his fatherhood ambitions, the actor began putting plans in motion earlier in his life. As early as the nineties, the icon set out to build a refuge where he would raise his children the right way.
Plans for the project took off in 1990, eventually materializing into a gigantic abode comprising a guesthouse, main quarters, and several rooms, all set in his dream destination.
He has enjoyed decades in the luxurious house surrounded by family and friends and finally fulfilled his dreams of carving out the perfect refuge for his children to grow up.
A DREAM COME TRUE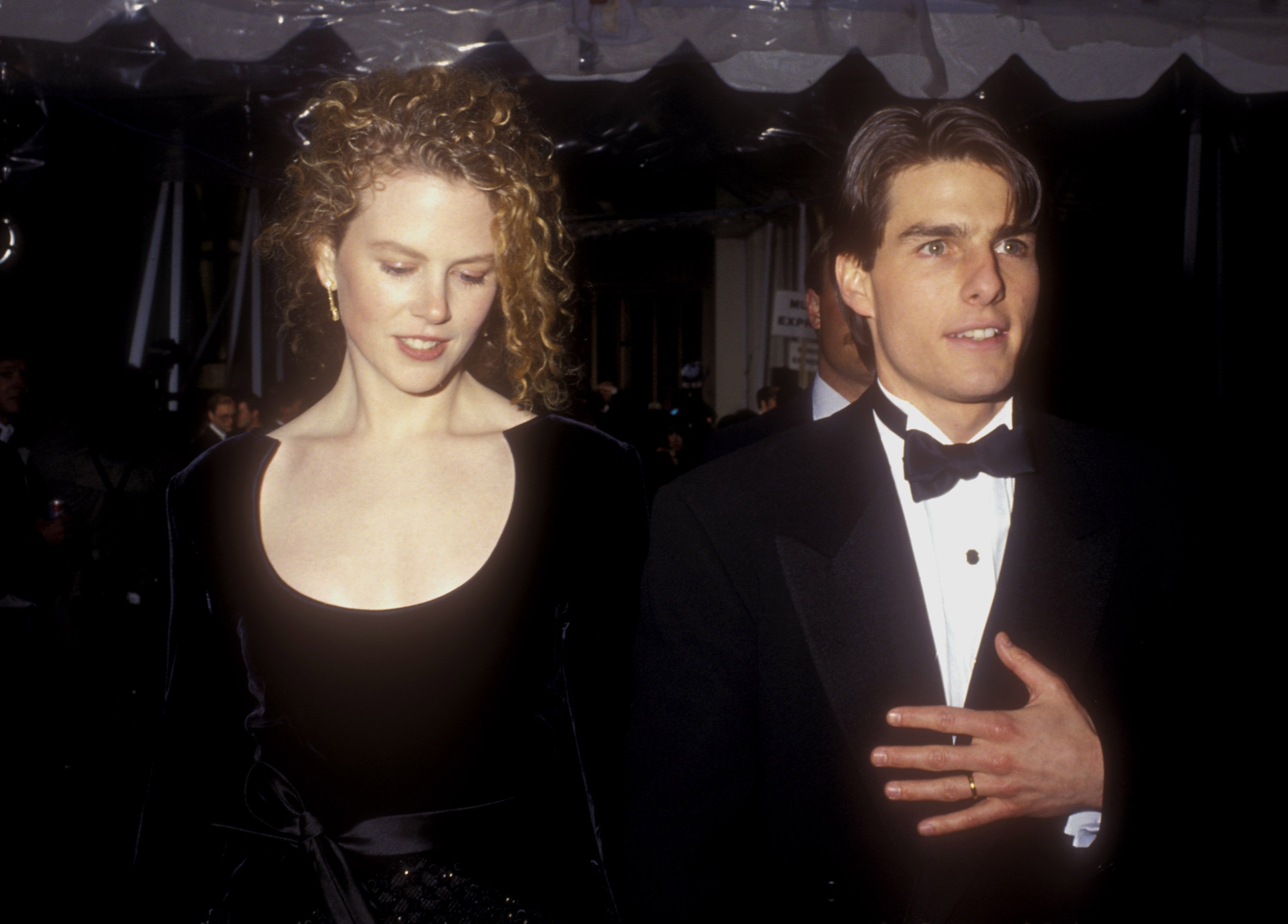 Nicole Kidman and Tom Cruise during 63rd Annual Academy Awards at Shrine Auditorium in Los Angeles, California, United States. | Source: Getty Images
Having witnessed his dreams come true, Tom Cruise remained committed to his responsibilities to his kids. He has remained a dedicated dad since his fatherhood journey started in the nineties.
The actor became a first-time dad when he and then-wife Nicole Kidman adopted daughter Isabella "Bella" Cruise. Three years later, they adopted another child, son Connor Cruise shortly after his birth in 1995.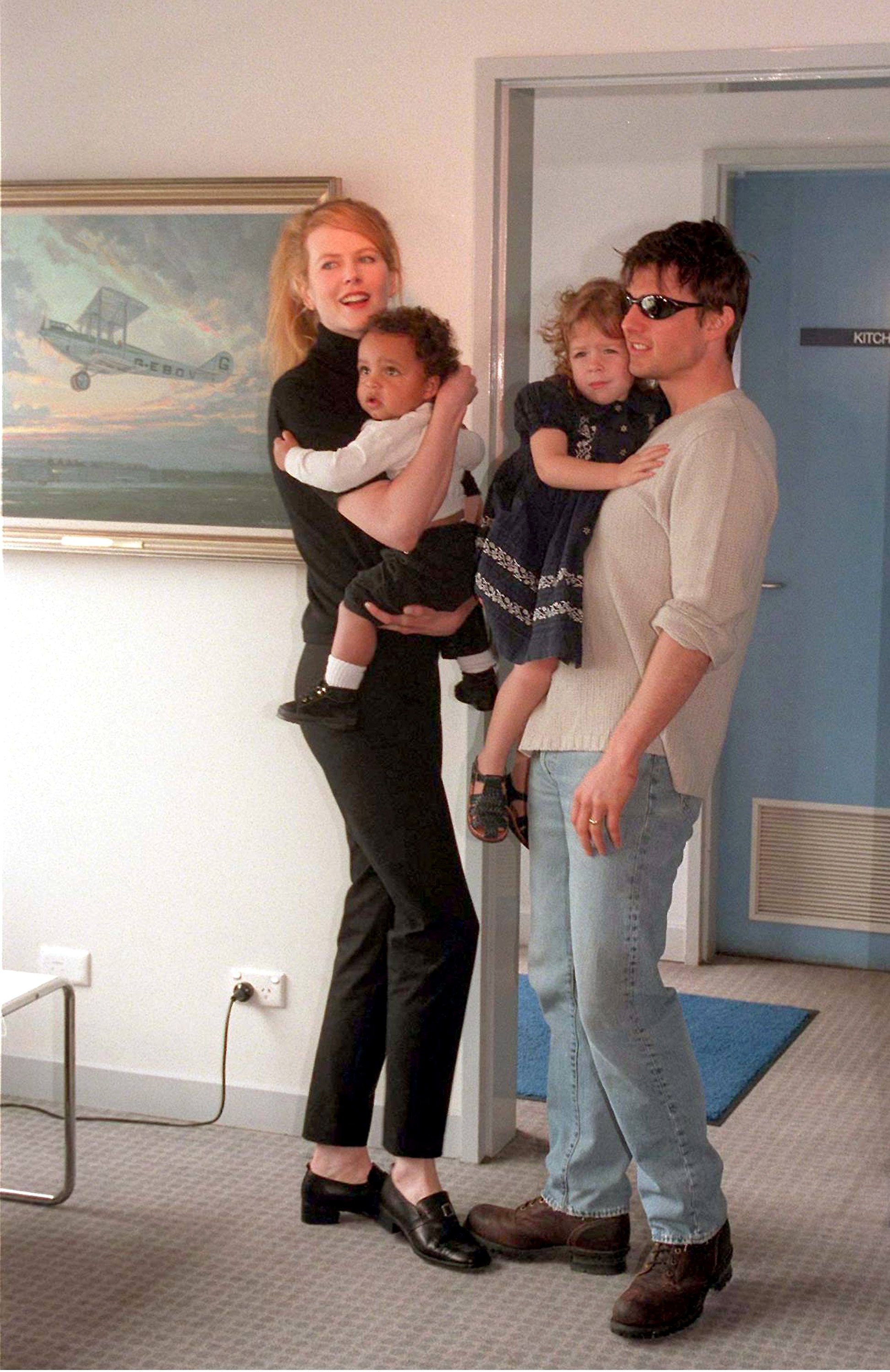 Actors Nicole Kidman and husband Tom Cruise arrive at Sydney Kingsford Smith airport and introduce their children Connor and Isabella to the media January 24, 1996 in Sydney, Australia. | Source: Getty Images
Cruise and Kidman called it quits in 2001, after a decade together. The star married actress Katie Holmes, who was raised a catholic. In 2006, the pair welcomed a daughter, Suri Cruise, making Cruise a father of three.
His excitement and anticipation for his first biological child made the star go out of his way to put everything in place. Cruise reportedly bought an ultrasound machine to enable them to take photos of the baby at will and monitor her progress throughout the pregnancy from the comfort of their home.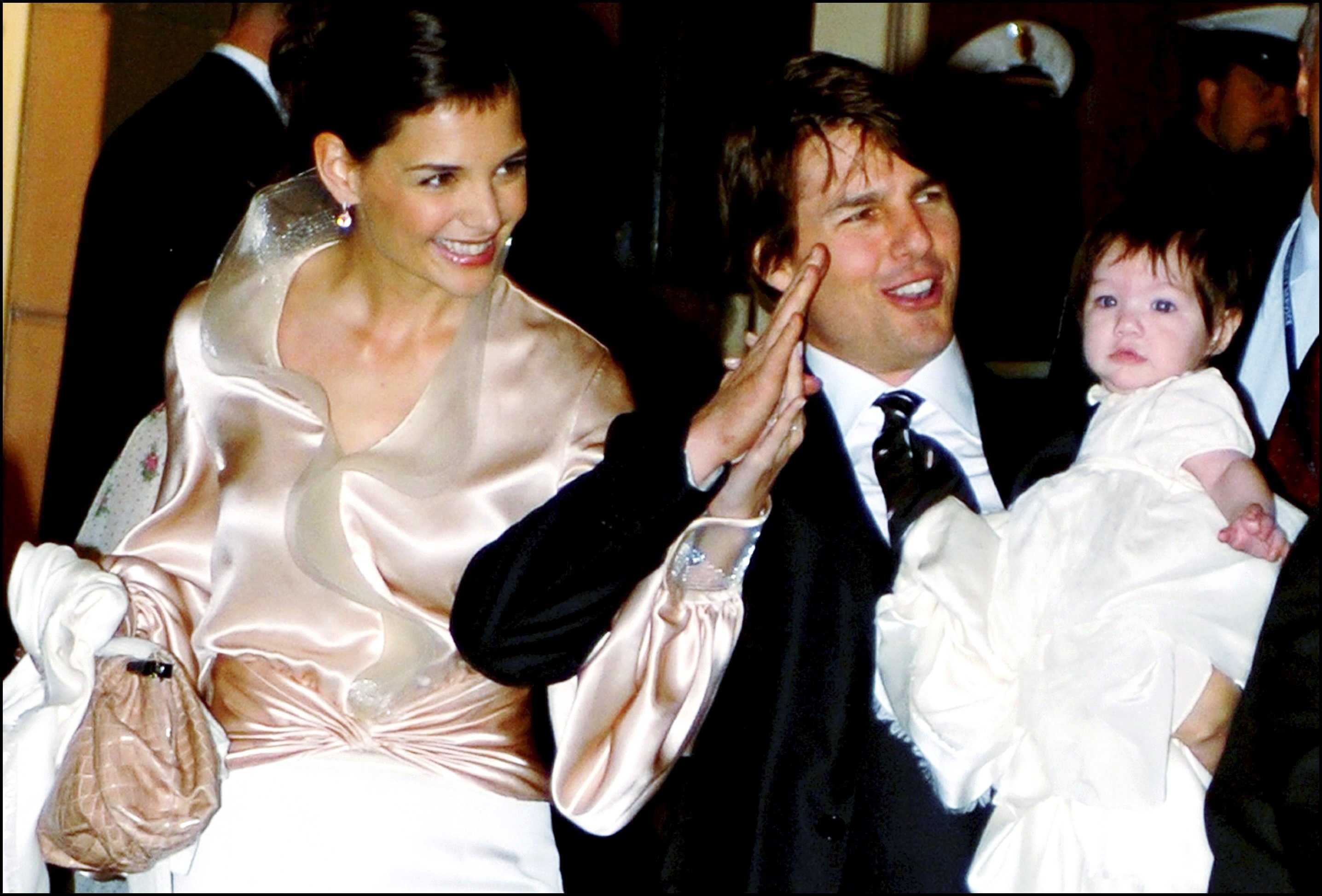 Tom Cruise, Suri Cruise and Katie Holmes in Rome for wedding in Rome, Italy on November 16, 2006. | Source: Getty Images
At some point, his dedication to fatherhood caused him to duck out of the Academy Award ceremony to return home to be with his wife and kids. The dad-of-three has proven time and again just how much he enjoys fatherhood. He once quipped:
"I love it! I love being a father. I always wanted to. As a kid, I couldn't wait to grow up. I remember being four years old – I always wanted to work and grow up."
Although he could not give his kids a complete family due to three respective divorces, becoming a father of three was the ultimate fulfillment of his longtime goals.
FATHERHOOD WASN'T ALL IT SEEMED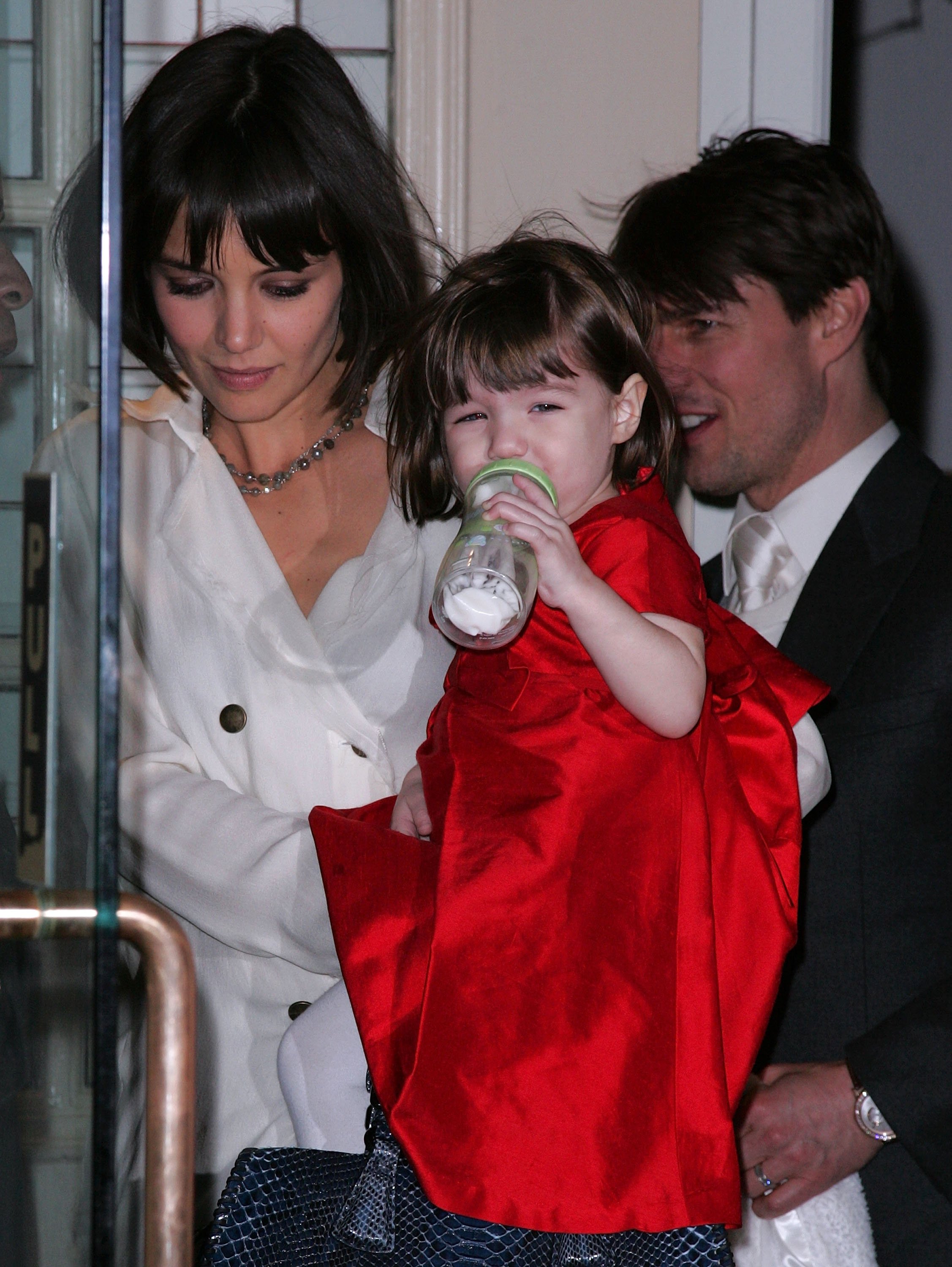 Actress Katie Holmes and actor Tom Cruise sighting with daughter Suri Cruise in New York City on January 14, 2008. | Source: Getty Images
Despite Tom Cruise's strong desire to become a dad and enjoy fatherhood to the fullest, things didn't exactly go as he hoped, especially with his youngest daughter, Suri.
His relationship with his youngest kid began falling apart following his divorce from Holmes in 2012. Sources attributed their split to the actress' desire to protect their daughter from Scientology.
Ultimately, Holmes also filed for custody of the child and won, giving Cruise limited access to his daughter's life. After losing the custody battle, Cruise was allowed to see Suri only a few days a week.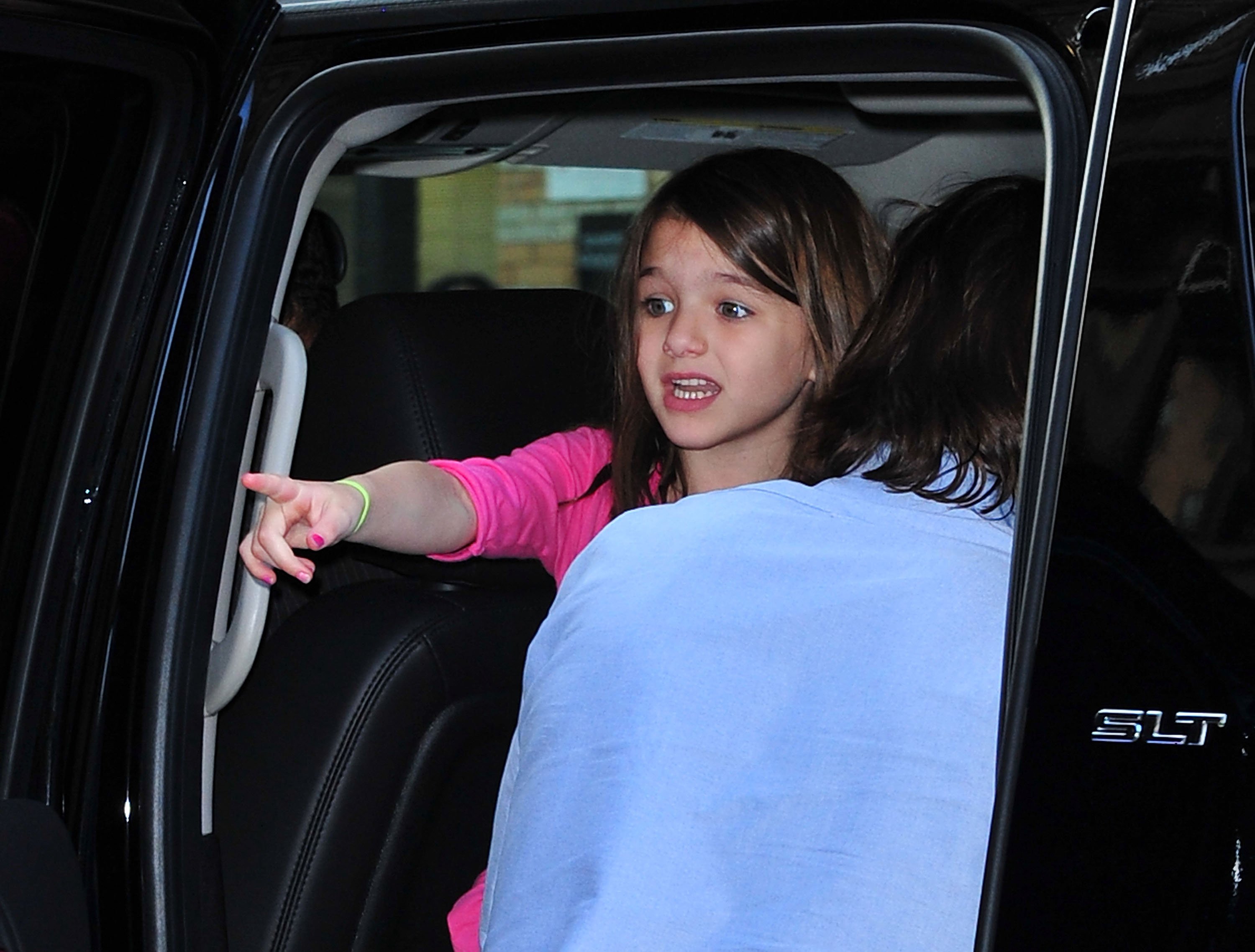 Tom Cruise and Suri Cruise seen on the streets of Manhattan on August 8, 2011 in New York City. | Source: Getty Images
However, he chose not to use his 10-days a month right to his daughter, opting to sever ties with her entirely instead. He has reportedly had no contact with the now-teenager since 2013.
Several sources claim the actor chose to cut ties with Suri because she was not a believer in Scientology. A source once revealed:
"Every person is allowed to see their child if they wanted to. He chooses not to because she is not a Scientologist."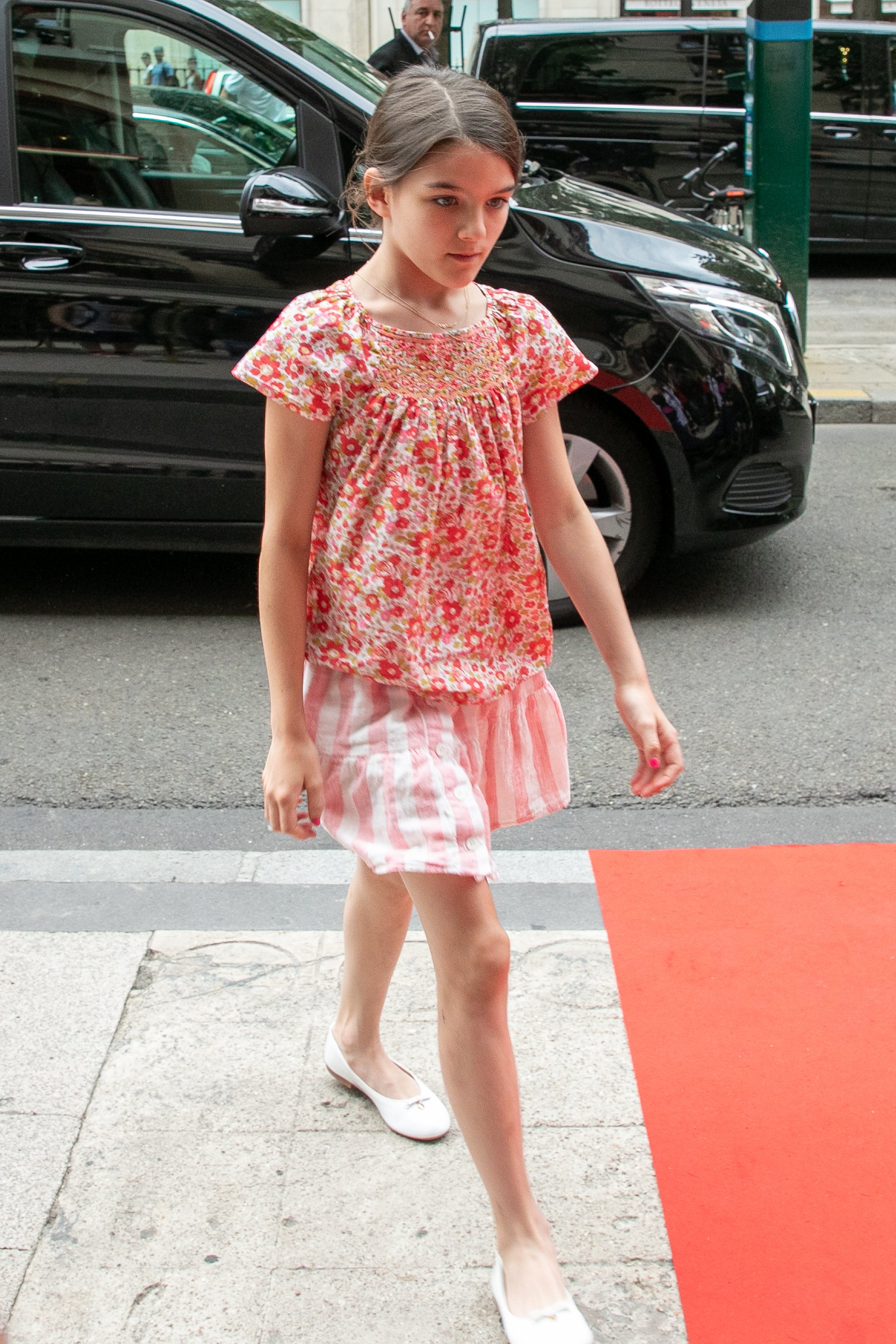 Suri Cruise is seen on July 1, 2018 in Paris, France. | Source: Getty Images
Notwithstanding, he remains committed to his fatherhood responsibilities, paying child support dedicatedly until she turns eighteen. Interestingly, the actor has repeatedly refuted claims that he abandoned his youngest daughter.
Although he admitted to seeing her very rarely, often a few times a year, the actor has faced scrutiny for being more committed to his other engagements than he was to the teenager.
On one occasion, Cruise was accused of flying to London from Pittsburgh to attend the International Association of Scientology convention but never took time to make a quick trip to Suri.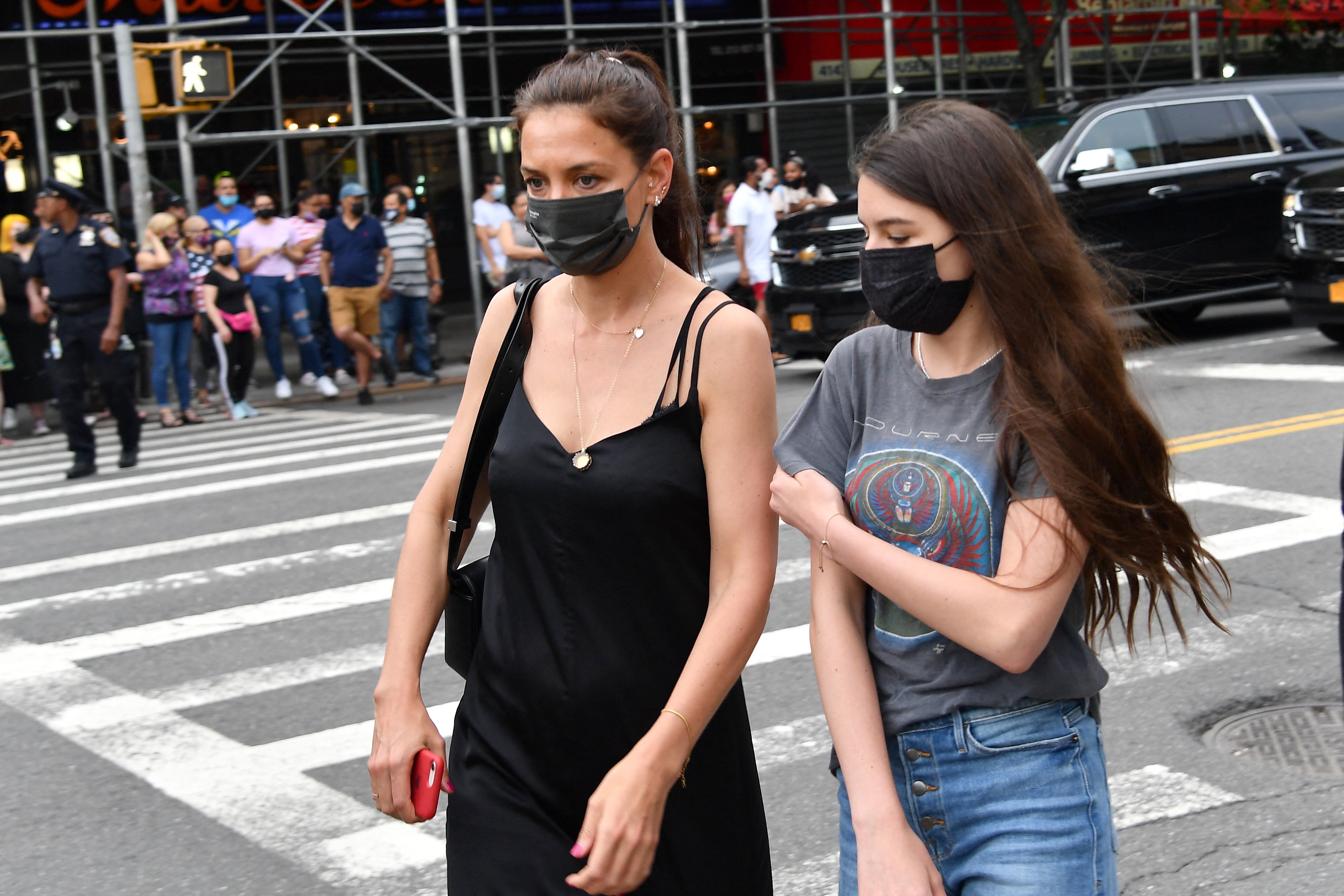 Katie Holmes and daughter Suri Cruise arrive the opening night premiere of "In The Heights" during the Tribeca Festival at the United Palace Theatre on June 9, 2021 in New York City. | Source: Getty Images
In response, the "Top Gun" star explained that events like the convention were important, making it his responsibility to attend. While he never attributed his estrangement from his daughter to her religious background, he openly admitted that Suri was no longer a Scientology member.
Meanwhile, his older kids, whom he shares with Kidman, have remained devoted to the religion despite their mom's decision to quit Scientology. This has reportedly put a strain between the kids and their mom.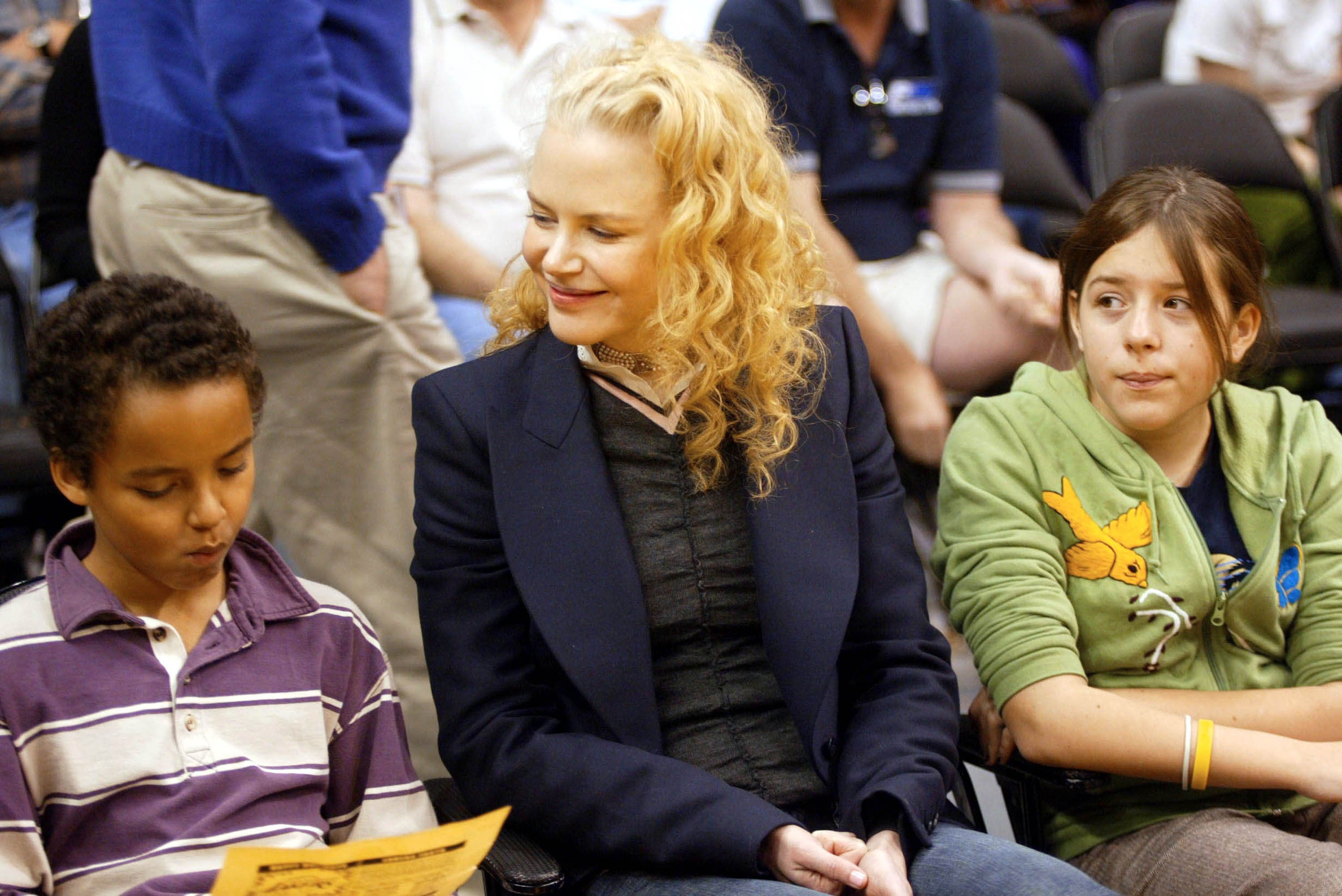 Actress Nicole Kidman and her children Connor (L) and Isabella (R) attend a game between the Los Angeles Lakers and the Miami Heat at the Staples Center December 25, 2004 in Los Angeles, California. | Source: Getty Images
Former Scientologist and author Leah Remini claimed in her book that Kidman's daughter, Isabella, once called her "SP," which stands for "suppressive person," a designation the church of Scientology attaches to people they are expected to avoid contact with.
Going further, Remini revealed that Isabella had no intention of seeing her mom again if she had a choice, as she once admitted. If these admissions were anything to go by, there is undoubtedly more to Tom Cruise's strained relationship with his daughter Suri than he cares to let off.
Please fill in your e-mail so we can share with you our top stories!