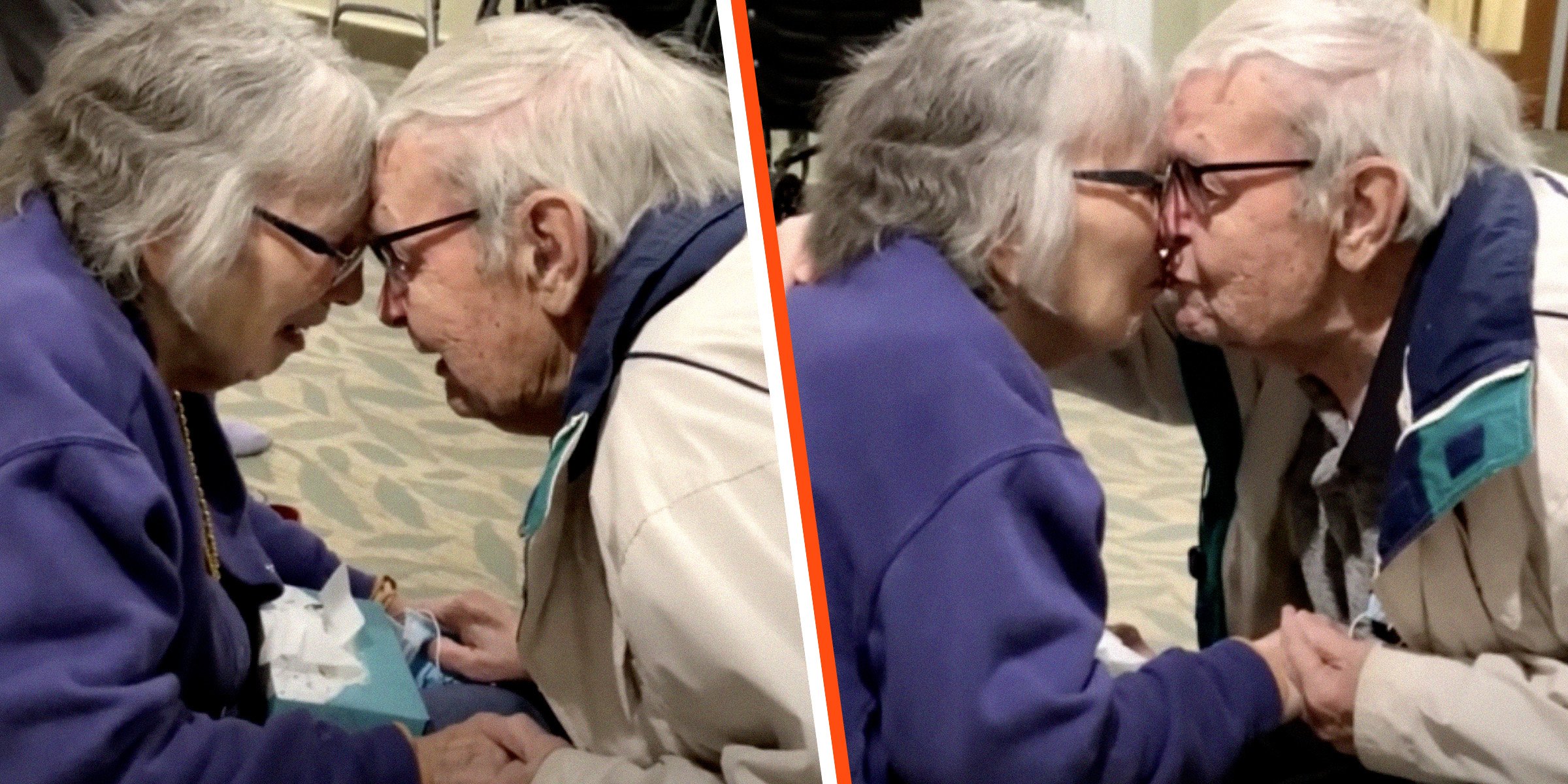 Youtube.com/CBSNews
Couple Married for 70 Years Reunite after Months Apart, Can't Hold Their Tears While Kissing

An elderly couple's sweet reunion after months apart moved many to tears as they repeatedly reaffirmed their enduring love for each other in a feat of emotion.
A heartwarming video that has since gone viral shows the moment an elderly couple in New York City reunited after several months apart.
The twosome, Jean Willard, who was 89 at the time, and her husband Walter Willard, then 91, experienced their heartfelt reunion in May 2020, breaking into an emotional kissing spree. Their story has inspired many to believe in true love.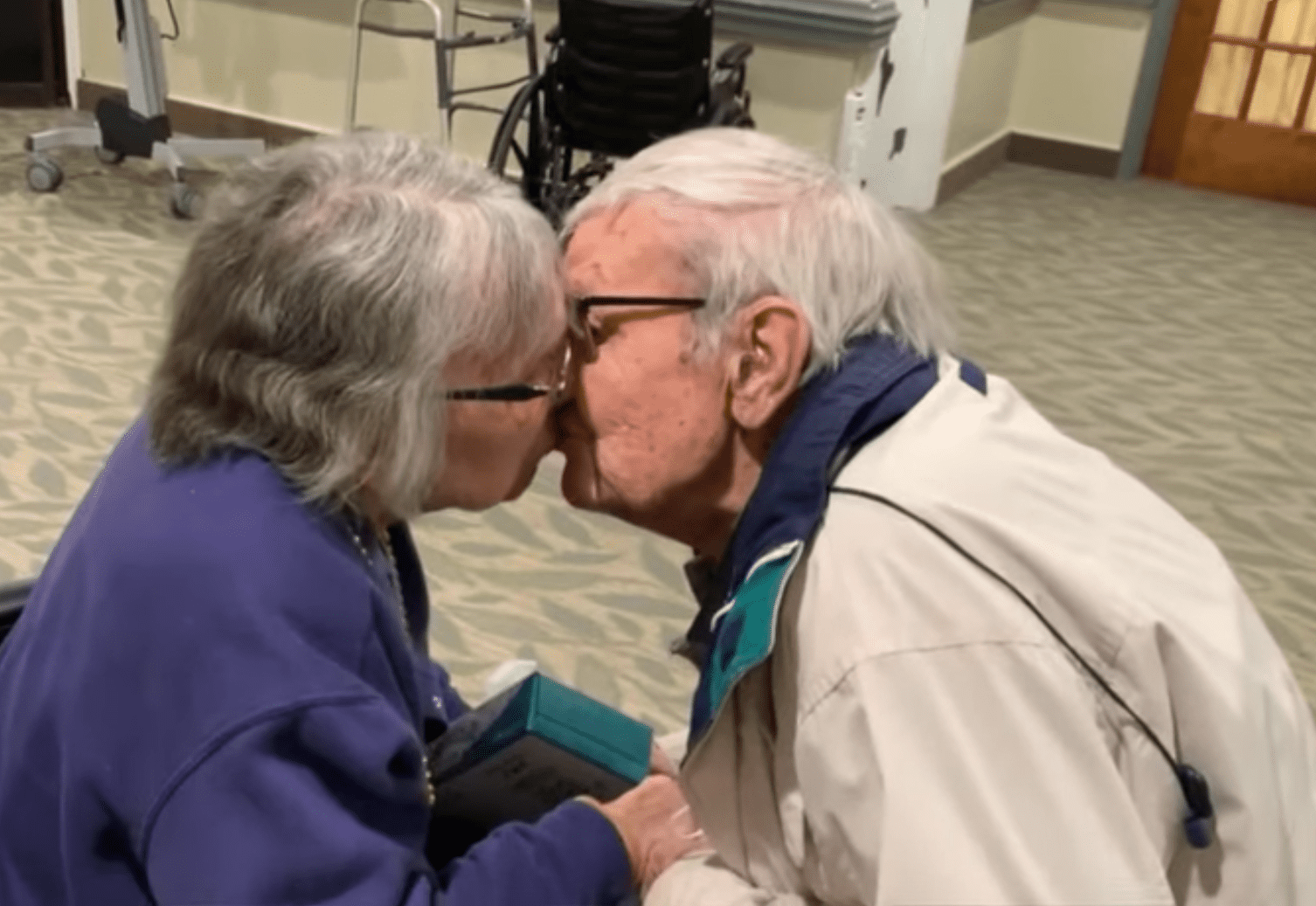 Jean and Walter Willard kissing after reuniting with each other. | Source: Youtube.com/CBS News
TORN APART BY THE PANDEMIC
Jean and Walter, who had been married for 70 years, were inseparable throughout their union. However, when the coronavirus hit the world in 2020, they were forced apart due to health reasons.
According to their daughters, Wanda Glenn and Wendy Gillard, Jean and Walter always enjoyed good health despite being 89 and 91 at the time.
This changed in 2019 when the former fell and broke her pelvis. Unfortunately, this episode was followed by signs of dementia, prompting their kids to resort to moving her into the Eddy Memorial Geriatric Center in Troy, New York City.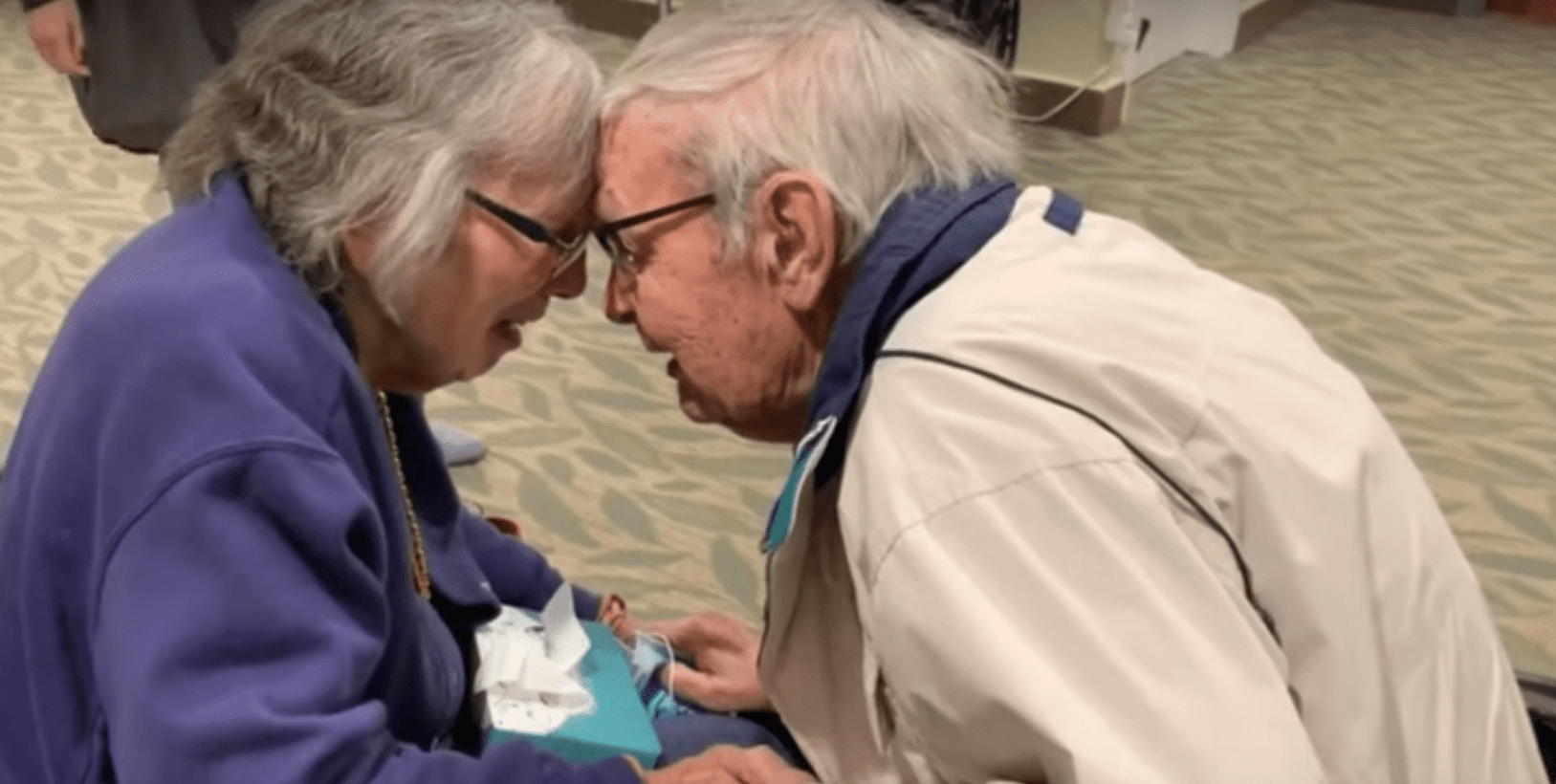 Jean and Walter Willard getting emotional after reuniting. | Source: Youtube.com/CBS News
They opted for the care home because it was only a stone's throw from their home, allowing Walter to visit his wife conveniently. Sadly, their luck changed in 2020 when the coronavirus pandemic struck.
Due to the lockdown restrictions, Walter could no longer keep up with the visits. Following the heartbreaking realization he could no longer visit his wife, the older man also suffered a major health scare.
His daughters revealed he suffered a brain bleed following a fall, leading him to undergo surgery and rehab. Seeing how their dad struggled without his wife, they decided to move him into the same facility as their mom.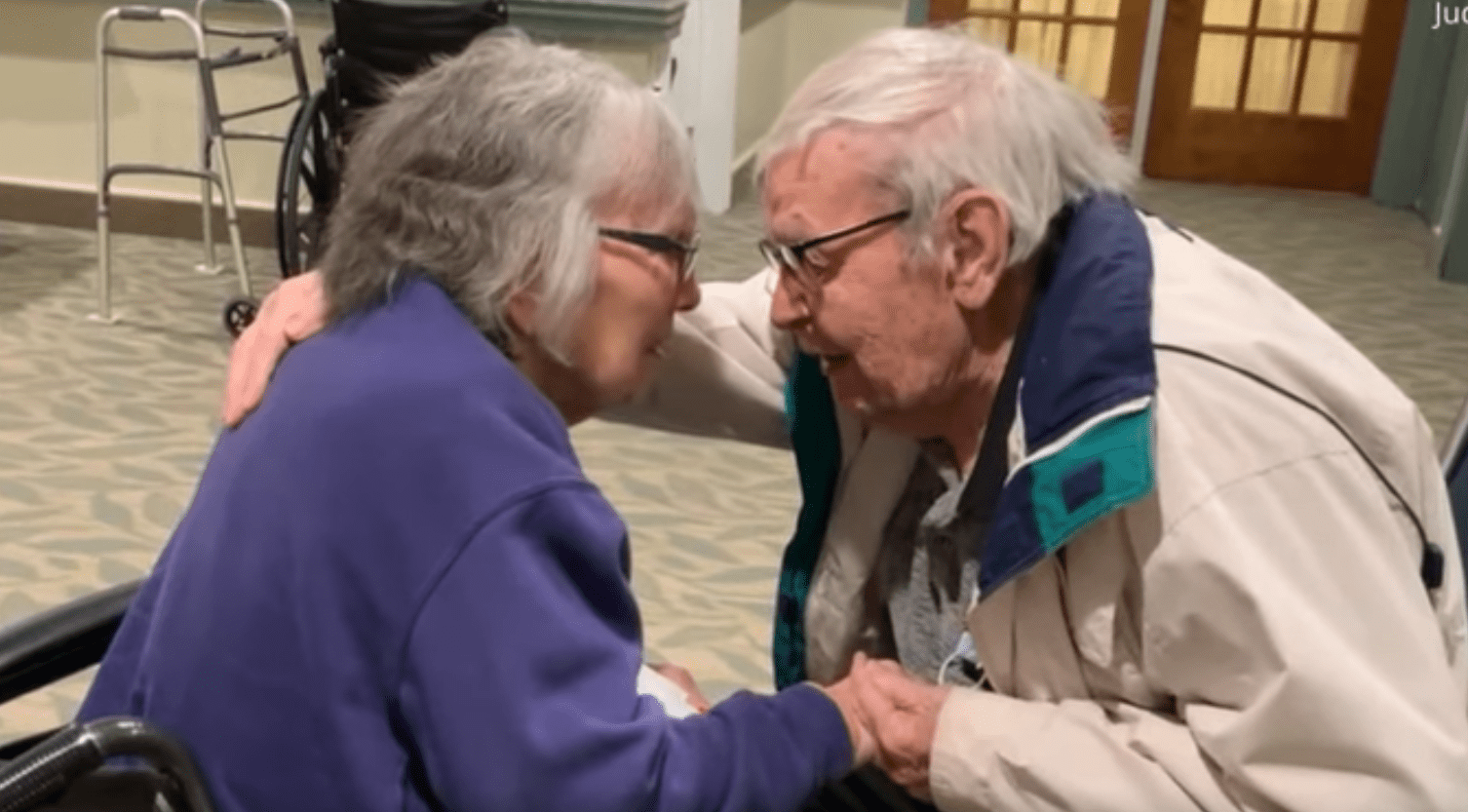 Jean and Walter Willard getting emotional after reuniting with each other. | Source: Youtube.com/CBS News
THE LONG-AWAITED REUNION
Notably, the safety restrictions in the care home forbade Walter from moving into the home at the peak of the pandemic. However, the couple's daughter, Wendy, convinced the director to change his mind.
The day of the reunion finally arrived, and the elderly couple finally saw their wish come true. A video of the heartwarming moment, captured by staff members, showed the duo whispering "I love you" to each other, breaking off their endearing chants only to lean in for another kiss and reminisce on their 70 years together.
COMMENTS FROM NETIZENS
Since sharing the video, several netizens have reacted to the heartfelt reunion between the duo, who were still in love despite their many years together. Reacting to the now-viral video, commenters said:
"Awee such an inspiring love story that they were united."

– (@Juscallme Philly) May 26, 2020
"Aw, this is so sweet! I'm so happy for this couple. They love each other so much. 70 years, WOW. I don't know anybody who stayed or lived that long together. Thank you for sharing this video. It brought tears to my eyes. CONGRATULATIONS.

– (@Julie Riter) May 26, 2020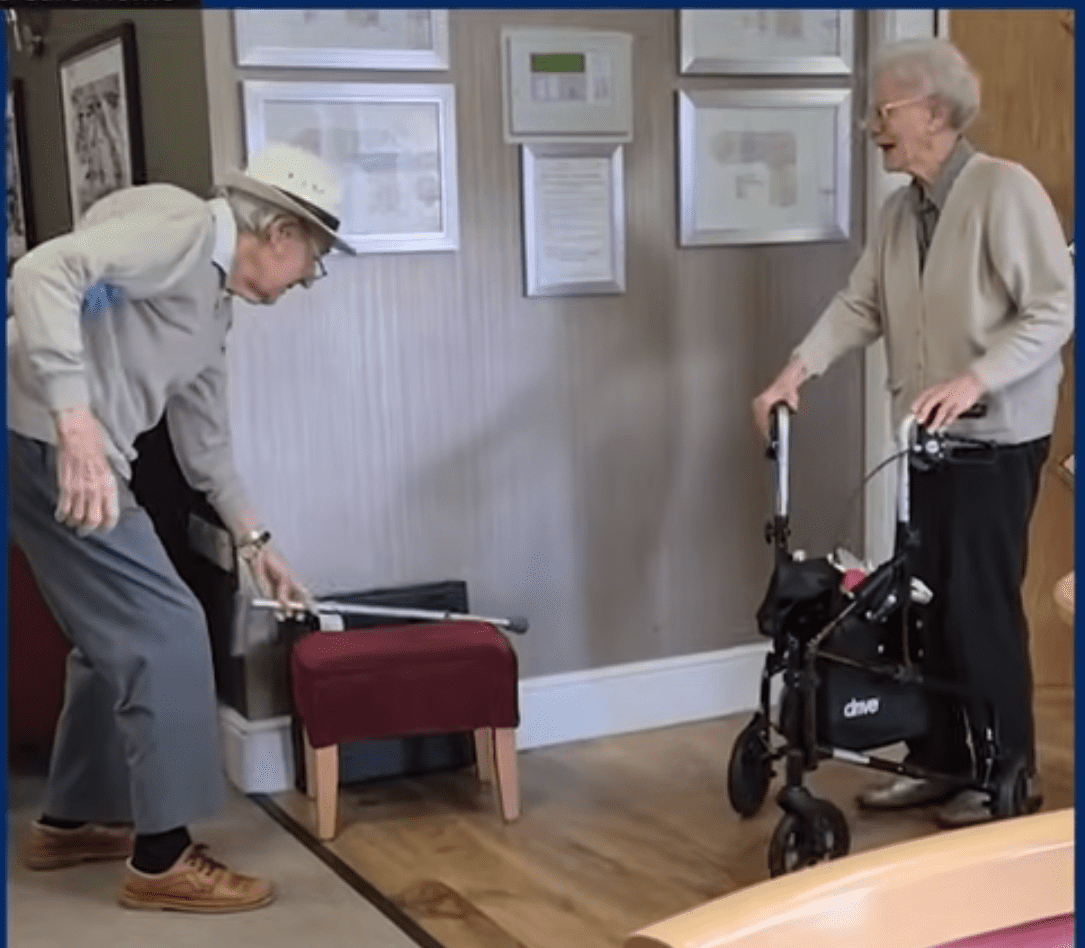 Mary Davis and Gordon reuniting after being away from each other. | Source: Youtube.com/Inside Edition
Last year, another couple made headlines with their reunion after eight months apart. The duo, Mary Davis and her husband Gordon, recorded the heartfelt moment in April 2021 at the Bailey House care Home in Mansfield, Nottingham.
BRAVING THE DIFFICULT TIMES
Mary Davis and Gordon spent their lives together for over 68 years, enjoying their love and weathering many storms as a married couple. However, their years of bliss were cut short when Gordon, then 89, had to move into a care home in 2020.
Soon after the move, the coronavirus pandemic hit the world. The lockdown and COVID-19 restrictions made it impossible for Mary to visit her husband, forcing them to stay apart.
In February 2021, the older woman also moved into a care home, the Baily House Care Home, in Mansfield, which was far from her husband. She lived there for two months before receiving the best gift she could wish for in the guise of her longtime husband.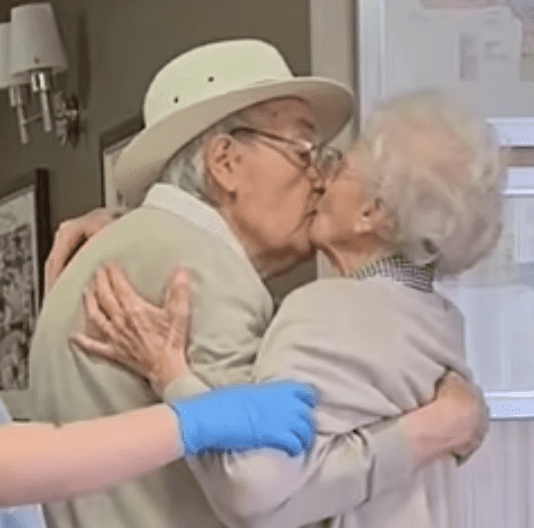 Mary Davis and Gordon kissing after reuniting. | Source: Youtube.com/Inside Edition
THE EMOTIONAL REUNION
After eight months apart, Mary and Gordon finally got the miracle they craved for so long. In April 2021, Gordon was transferred to the Bailey House Care Home, where his wife resided.
Their excitement knew no bounds upon seeing each other as they embraced and exchanged warm kisses amid tears while seated in their respective wheelchairs.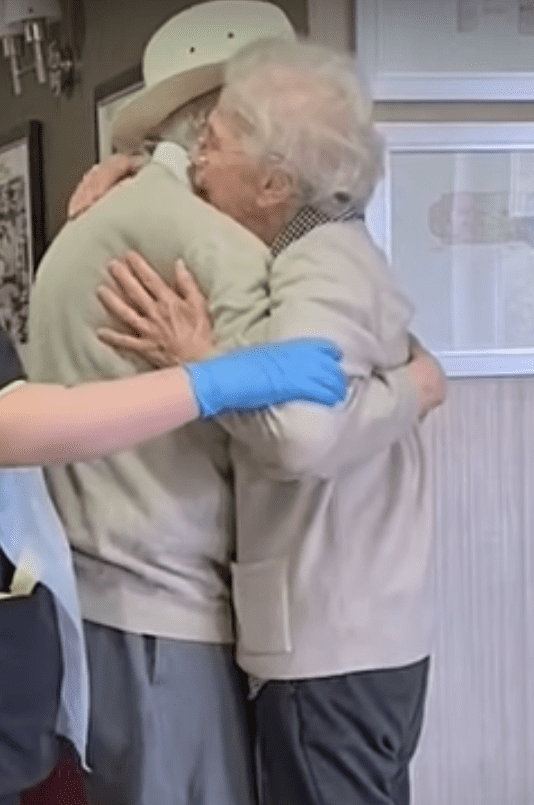 Mary Davis and Gordon hugging each other. | Source: Youtube.com/Inside Edition
In the video captured by the care home staff, the pair could be seen looking ecstatic as they walked into each other's arms, assisted by their caregivers. Recounting the moment, the then-89-year-old woman divulged:
"It was wonderful! It's so nice to see him again. When he had to move into care, I cried buckets. But now we are able to be together."
While the surprise of being reunited with her husband was overwhelming, Mary was even happier knowing he was finally by her side and "wouldn't have to look" for her again. The Bailey House care home staff shared the heartwarming video on Facebook, documenting Mary Davis' grand surprise.
NETIZENS REACT TO THE POST
Several netizens have shared their thoughts on the beautiful couple, tagging them a reflection of a love that endures. One wrote:
"This should have never happened. What about the ones who died from loneliness? How are they going to get their spouses back? To rip one's love away from each other is heartbreaking. I'm glad they get their lives back."
Others commented on the elderly couple for still nursing their love for each other after so many years together. For many, this was proof that true love really existed.
Please fill in your e-mail so we can share with you our top stories!