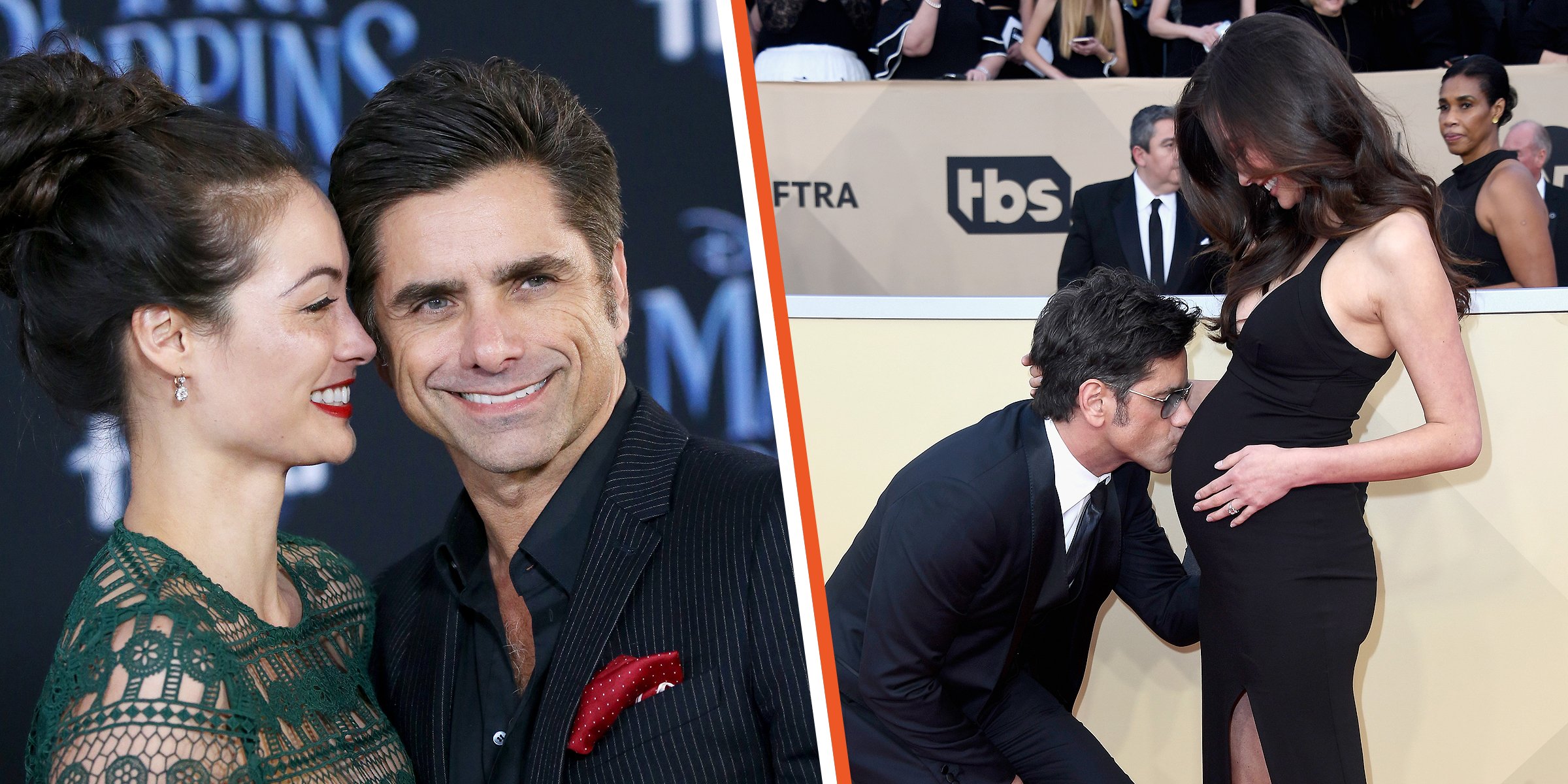 Getty Images
John Stamos Found His 'Forever' Love after 50 & Later Became a Dad Proving It's Worth Waiting For

John Stamos is nearly 60 years old, but it was not until the past decade that he found his soulmate. The actor, who is previously divorced, gave love another shot after a failed marriage, and today, he is a happily married family man.
Lovers of the ABC sitcom "Full House" recall uncle Jesse, brother-in-law to the widowed Danny. He partnered with his sister's husband to raise their kids. Eventually, he started a family with Rebecca Donaldson.
Life away from the camera was not too different. The actor had fallen in love with a femme fatale star, Rebecca Romijn, whom he met in 1994. Three years later, they took their love story to another level via an engagement, and in 1998, the Hollywood celebrities tied the knot.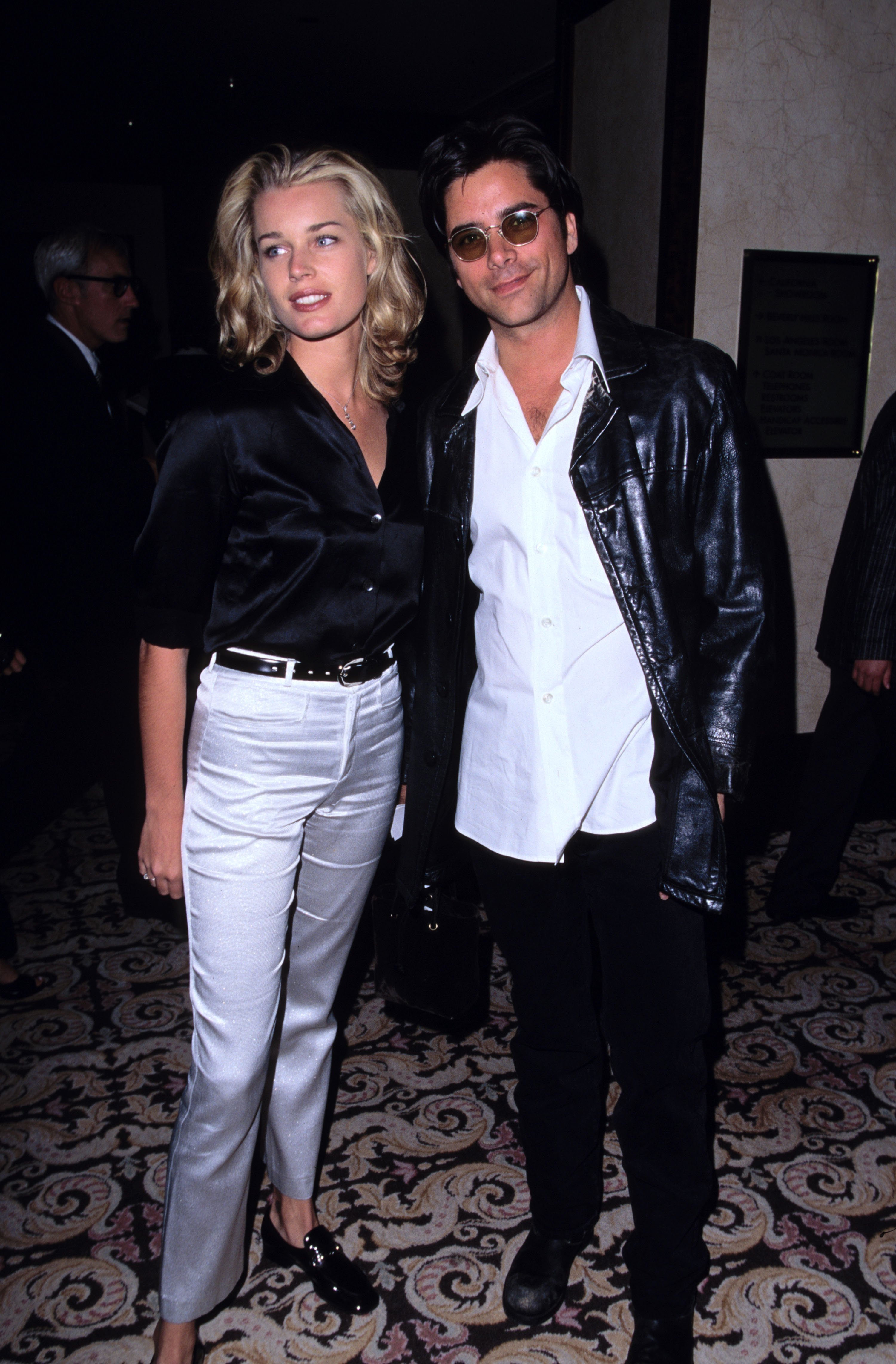 Rebecca Romjin & John Stamos during Nancy Davis Annual Race to Erase MS at UCLA Drake Stadiium in Westwood, California, United States. | Source: Getty Images
Unfortunately, this fairy tale romance was short-lived. In 2004, Stamos shocked fans when he filed for divorce; the following year, the process was finalized. Speaking about the divorce, Romijn, already married and a mother to two kids, admitted it was tough. In her words:
"Going through a divorce is terrible; it's awful. I was with him for 10 years. Divorce feels like a failure … and there were a lot of things that I had to let go of that were very sad."
Although the former couple never revealed the reasons for their split, it appeared to be an amicable dissolution. Seventeen years after their failed marriage, Romijn shared more details about their time. She said:
"I have a lot of really fun memories. I have a lot of fond memories of him. A lot of things about him that I miss. But yeah, it's tricky. It's a very hard decision to come to when you decide to end a marriage. It was heartbreaking."
Similarly, Stamos agreed that it was heartbreaking. The actor had planned to marry and enjoy family life with his wife, but it did not happen as he thought it would.
In 2009, the "Bye Bye Birdie" star admitted he felt like a failure because of their failed marriage. Stamos added, "It wasn't as much about her as it was that the whole thing didn't work."
Additionally, he explained that neither party was to blame for their separation. The actor confessed that although he loved to party, it did not affect their commitment to each other. According to him:
"I don't think it contributed to it. I was lost there for a while. I think I needed to be on my own to be me again."
JOHN STAMOS MEETS HIS DREAM GIRL
Following his divorce in 2004, Stamos lived a bachelor's lifestyle. He enjoyed partying while he grew his career in the entertainment industry. Life was good but he still thought about having a family.
In a refreshingly honest revelation, the actor recalled:
"I always wanted to have kids, but I didn't think I'd meet the right person. And maybe I felt like, well, I have everything, I shouldn't be greedy."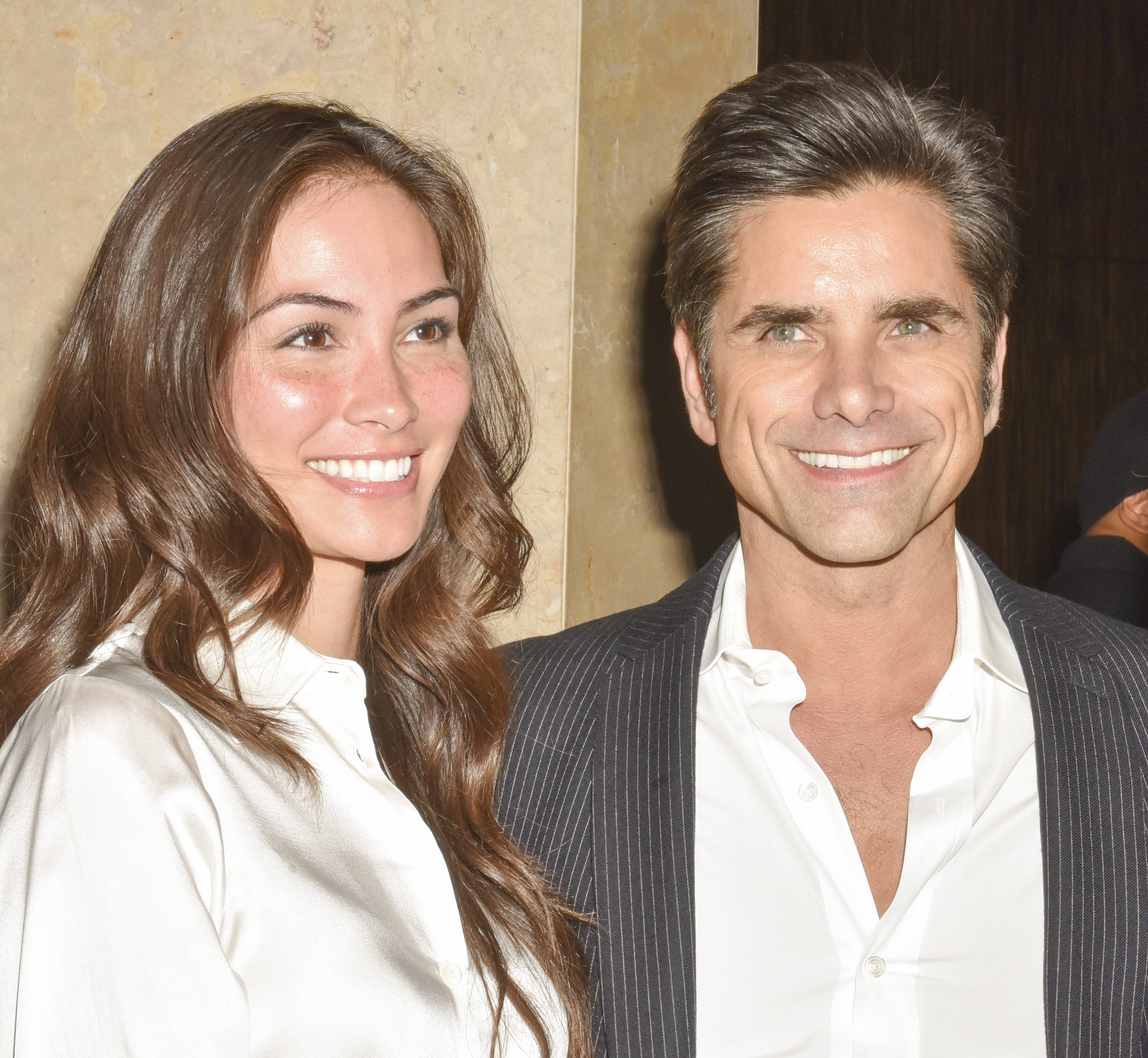 Actors Caitlin McHugh (L) and John Stamos attend Saban Community Clinic's 40th Annual Dinner Gala at The Beverly Hilton Hotel on November 14, 2016 in Beverly Hills, California. | Source: Getty Images
The "Big Shot" actor met his present wife, Caitlin McHugh, in 2011. They both starred in an episode of "Law & Order: SVU."
While recounting their first meeting, Stamos explained that he played the role of an egotistical guy who, ironically, tried to fool Caitlin into having a baby with him. Four years later, the pair met again. This time, Caitlin was in the audience to support her friend who appeared in "Fuller House."
Stamos, who was part of the cast, noticed Caitlin and asked if she was stalking him. The confidence in her response made him fall in love with her. "She was like, 'No.' That's why I love her. She was like, "What? No. I haven't thought of you twice,'" he said.
Soon, they started dating, and in 2017, Stamos proposed to the actress during a trip to Disneyland. The actor shared an animated photo of him and his fiancé done by Paul Briggs, a Disney artist. The caption read:
"I asked…she said yes…And we lived happily ever after."
Following the announcement, neither of them revealed further details about their engagement. However, in 2016, the on-screen diva explained that they intend to keep their lives private and enjoy a happily ever after.
Stamos could not help but be delighted about his romance with Caitlin, and even though they wanted to keep things under wraps, he occasionally shared sweet tidbits about her. In an interview with ET, he said:
"I hope [to have kids], that's always been my plan. It's just taken me a lot longer than I anticipated. It would be a tragedy if I didn't have children and I finally found the right woman -- the perfect woman."
Thankfully, it all happened as he had envisaged. The couple had a beautiful wedding ceremony in February 2018. They exchanged vows inside Little Brown Church in Studio City, California, heading for a wedding reception at Stamos's lavish mansion.
McHugh looked gorgeous in her white off-shoulder wedding gown and her hair, which was in beach waves, fell effortlessly to one side. The actress was already pregnant with their son and her dress fit her perfectly. A few months after their wedding, Stamos announced the birth of his son.
The proud father uploaded a black-and-white photo and penned the most adorable note for their newborn, Billy Stamos. McHugh is constantly on the receiving end of her husband's charming compliments.
Three months postpartum, the model resumed work and earned the highest praises from the "Big Shot" star. She had shared a post online about resuming work, and Stamos applauded her breathtaking appearance.
STAMOS IS MAKING HIS "FULL HOUSE" WORK
The "Full House" star's house is filling up his home with his wife and toddler son. But despite the fatherhood duties, he still makes time to enjoy romance. He said:
"We surprise each other. Last week, she took me to the Lavender Festival and I absolutely loved it. The simplest things are what we strive to get back into."
While the couple keeps the flame burning by making time to enjoy each other's company, they also are hands-on when parenting little Billy. Stamos confessed that they could not imagine life without their son. However, he jokingly added that even though they must sometimes deal with a screaming child, they are ready for the responsibility.
The "Full House" actor feels blessed to have his family. In February, while celebrating his anniversary with his wife, the on-screen star praised Caitlin, recognizing her influence in his life. He shared several images and added that she is the "best wife, mother, friend, and support system."
Stamos loves to dote on his model wife. In May, while celebrating her birthday, he updated his Instagram with beautiful shots of the birthday girl and their son.
Please fill in your e-mail so we can share with you our top stories!