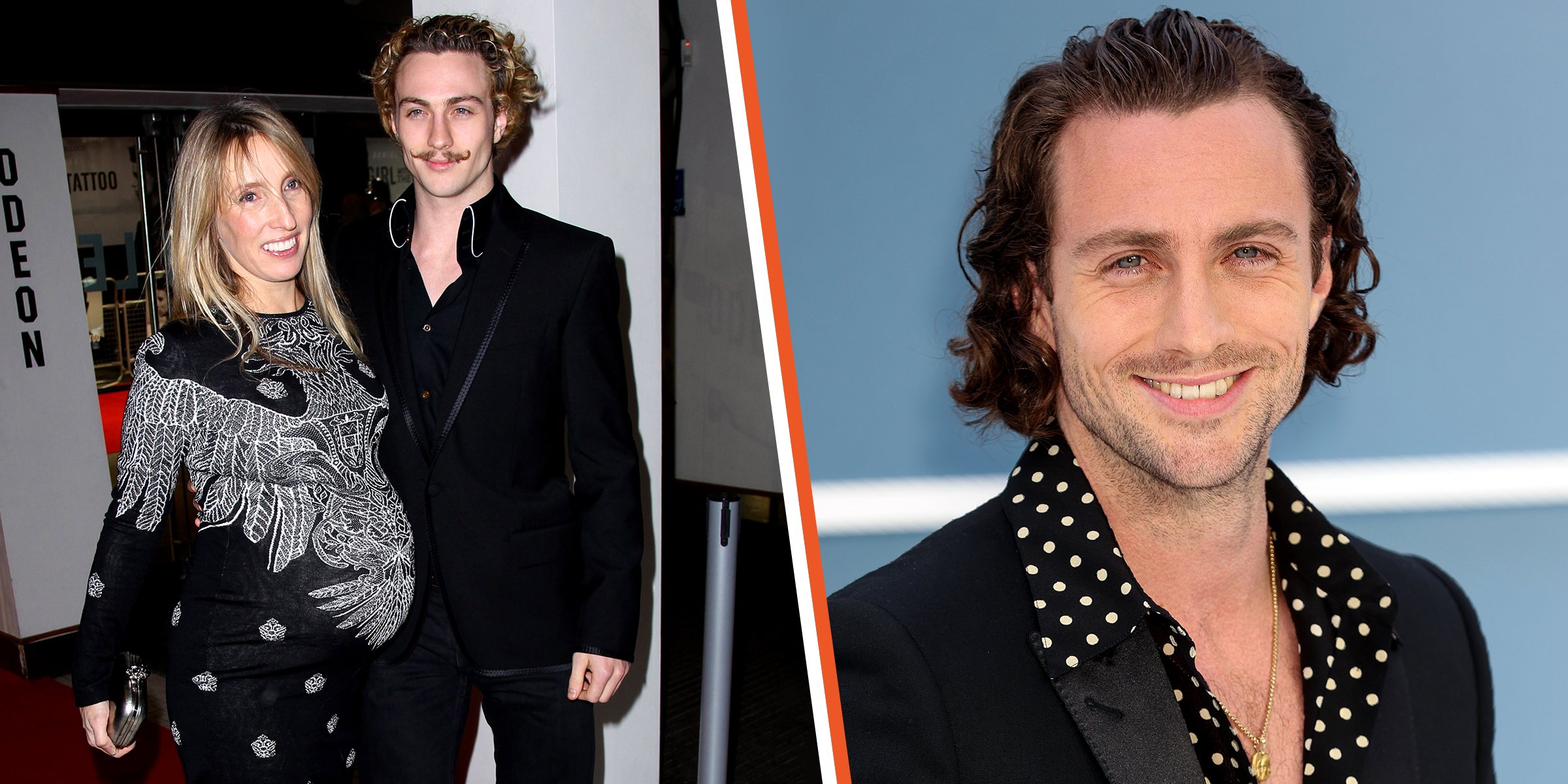 Getty Images
Wylda Rae Johnson: Meet Aaron Taylor-Johnson's Daughter

Wylda Rae Johnson is the daughter of the famous couple, Sam Taylor-Johnson and Aaron Taylor-Johnson. Despite having such well-known parents, they have managed to keep the 12-year-old out of the spotlight.
Wylda Rae Johnson is director Sam Taylor-Johnson and actor Aaron Taylor-Johnson's eldest daughter. The youngster's parents surprised the world by having a big age difference.
The 12-year-old's mother and father recently recommitted to each other and remarried after being together for ten years.
So here's what we found out about Wylda Rae Johnson, the daughter of one of the most famous people in Hollywood.
WYLDA RAE JOHNSON WAS BORN IN LONDON
Wylda Rae Johnson was born in London on July 7, 2010, and her zodiac sign is cancer. Her dad, Aaron, was just 20 years old when she was born and became a father for the first time. Wylda's mother, Sam, was 43 years old at the time of her birth.
Her dad may have become a parent at a young age, but he remains a caring father. Aaron loves reading to Wylda, and he read one of his daughter's favorite books to an audience at Hammer Museum.
Wylda had an accident in the summer of 2020 and broke her arm. Her mom revealed it in a post on her Instagram page that she shared in mid-2020.
Sam didn't show her daughter's face in the post she shared about her injury, which has become standard regarding Wylda's parents. The youngster's mother and father try to hide her from the public.
Wylda's mother has done the opposite regarding her eldest kids from her first marriage. The 55-year-old filmmaker publishes photos of her older daughters but prefers to hide the lives of her younger daughters.
The youngster's dad said on "Friday Night with Jonathan Ross" in 2010 that they kept the sex of their first daughter a secret when Sam was pregnant. Aaron had already tasted fatherhood before his daughter Wylda was born, as he was the father to Sam's daughters from her first marriage.
Wylda's father took her and her sisters to watch "Spider-Man: No Way Home." The girls recognized Andrew Garfield and were happy to see him.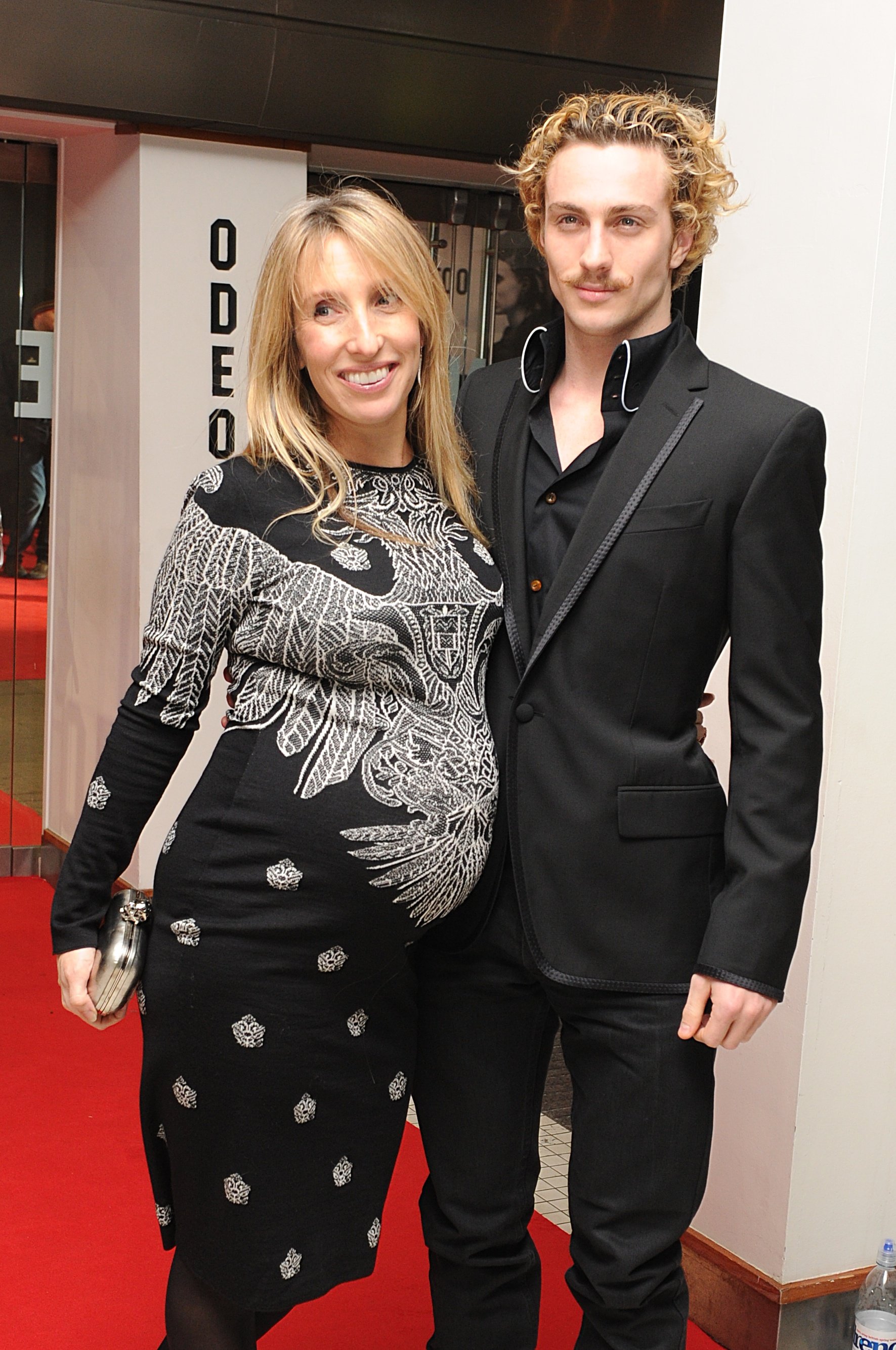 Sam and Aaron Taylor-Johnson arriving for the world premiere of "The Girl with The Dragon Tattoo" in December 2011, in London. | Source: Getty Images
The 12-year-old's parents only married two years after Wylda was born. Wylda has a strong mother who has survived cancer twice. Her father said women raised him, and he's now raising women.
According to the "Kick-Ass" star, Sam is a good role model for Wylda. He once said his daughters have "the best woman to look up to," and they'll all be strong women too.
Wylda is friends with Amy Adams's daughter. When she was six years old, Wylda had a play date with her when her dad Aaron got the Golden Globe for Best Supporting Actor in 2017. The "Nocturnal Animals" actor said to Entertainment Tonight at the time that Wylda and Amy's daughter was "good friends" and were "hanging out."
WYLDA RAE JOHNSON'S FATHER IS 23 YEARS YOUNGER THAN HER MOTHER
Wylda Rae Johnson's parents are both in the entertainment industry. Her mom Sam is a producer and director known for top films such as 2015's "Fifty Shades of Grey," "Nowhere Boy" in 2009, and 2008's "Love You More."
Her father, Aaron, is a film, television, and stage actor. Aaron started acting when he was six and is known for the play "All My Sons" and the movies "Angus, Thongs and Perfect Snogging," "Godzilla," and "Captain America: The Winter Soldier."
Wylda's parents' relationship got a lot of attention simply because her mom is 23 years older than her dad. Aaron was 19 years old when he began a relationship with the director after meeting while shooting the film "Nowhere Boy."
The 12-year-old's parents seem to love each other very much. The pair renewed their vows in June 2022, after tying the knot in 2012. The "Bullet Train" actor shared the fantastic news in an Instagram post alongside a loved-up photo of the couple. He captioned it:
"Yesterday was the most beautiful day, summer solstice, our 10th anniversary… we renewed our vows to one another and confessed our love in front of our nearest and dearest friends and family; it was a celebration of love and joy!"
The 32-year-old actor said how incredible the day was and how blessed they were. He ended by saying, "Sammy, you are my love, my life, my soulmate, my wife, my world!"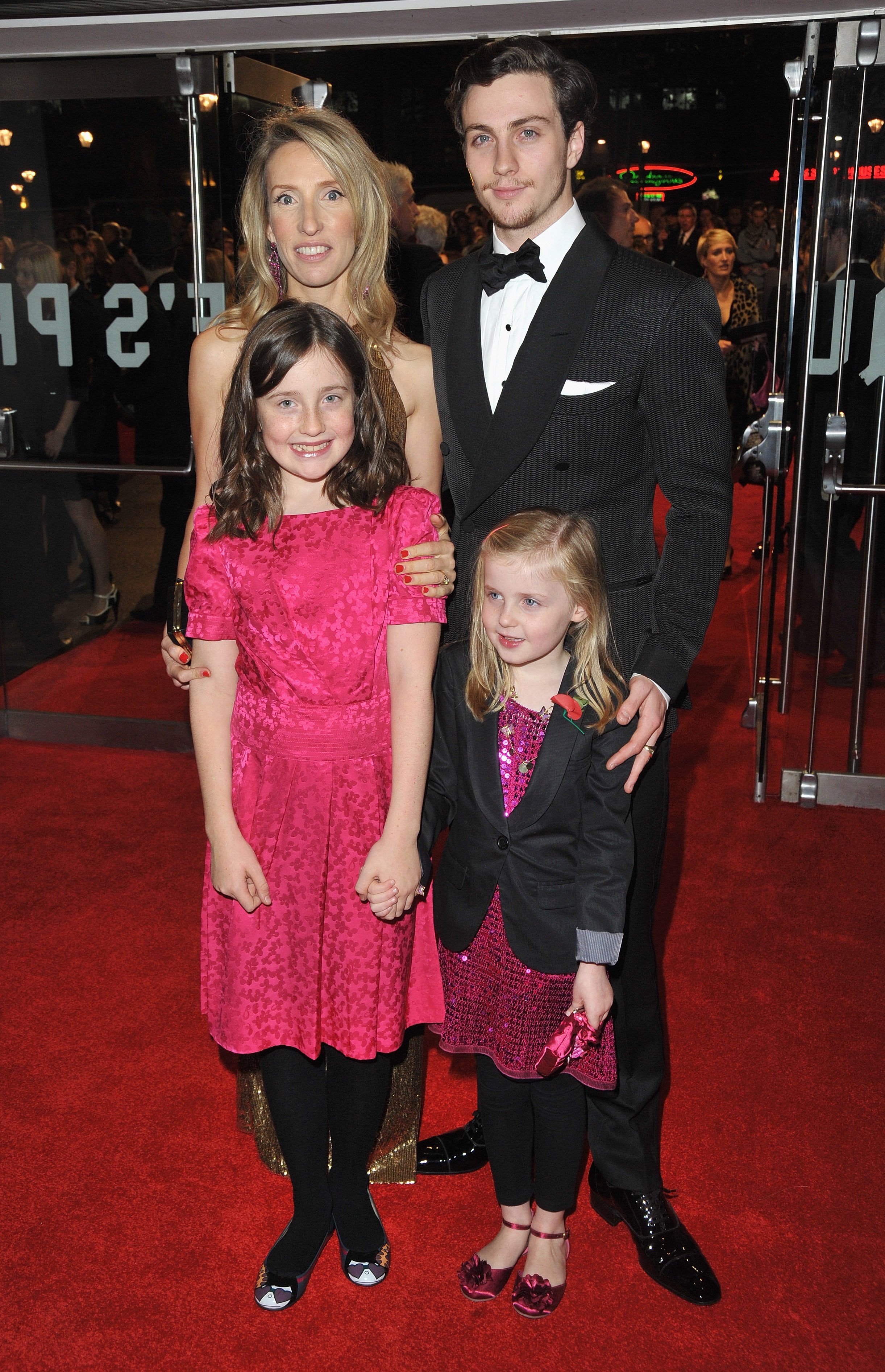 Director Sam Taylor-Wood, actor Aaron Johnson, Abby Greenheart and Angelica Jopling attend the Closing Gala premiere of "Nowhere Boy" on October 29, 2009 in London. | Source: Getty Images
WYLDA RAE JOHNSON HAS A PRIVATE LIFE
Wylda Rae Johnson has such loving parents and with their relationship often talked about negatively online due to their vast age difference, they have chosen to keep their daughters' lives private.
As parents, they prefer to keep their children's lives private. They don't attend events with them or post photos of them on social media. Only a few rare pictures of Wylda with her parents during her walks can be found.
Despite the constant negative comments about Wylda's parents' marriage, the couple has stayed happy and in love.
In 2017 she spoke about people's interest in the age difference in her marriage and said she "would be the unhappiest person" and still miserable if she cared about what people thought.
WYLDA RAE JOHNSON HAS 3 SISTERS
Wylda Rae Johnson has one sibling, Romy Hero Johnson, and two sisters, Angelica and Jessie Phoenix Jopling, born during her mother's previous marriage with Jay Jopling.
Her eldest sister Angelica was born on April 24, 1997, followed by Jessie on November 2005. Wylda's youngest sister Romy was born on January 18, 2012.
Wylda's older sister Angelica is now associated with the arts. She's the founding director of the exhibition program "Incubator." Wylda's father raised her older sisters as his own despite him not being their biological father. Her sister Angelica is just seven years younger than Aaron Taylor.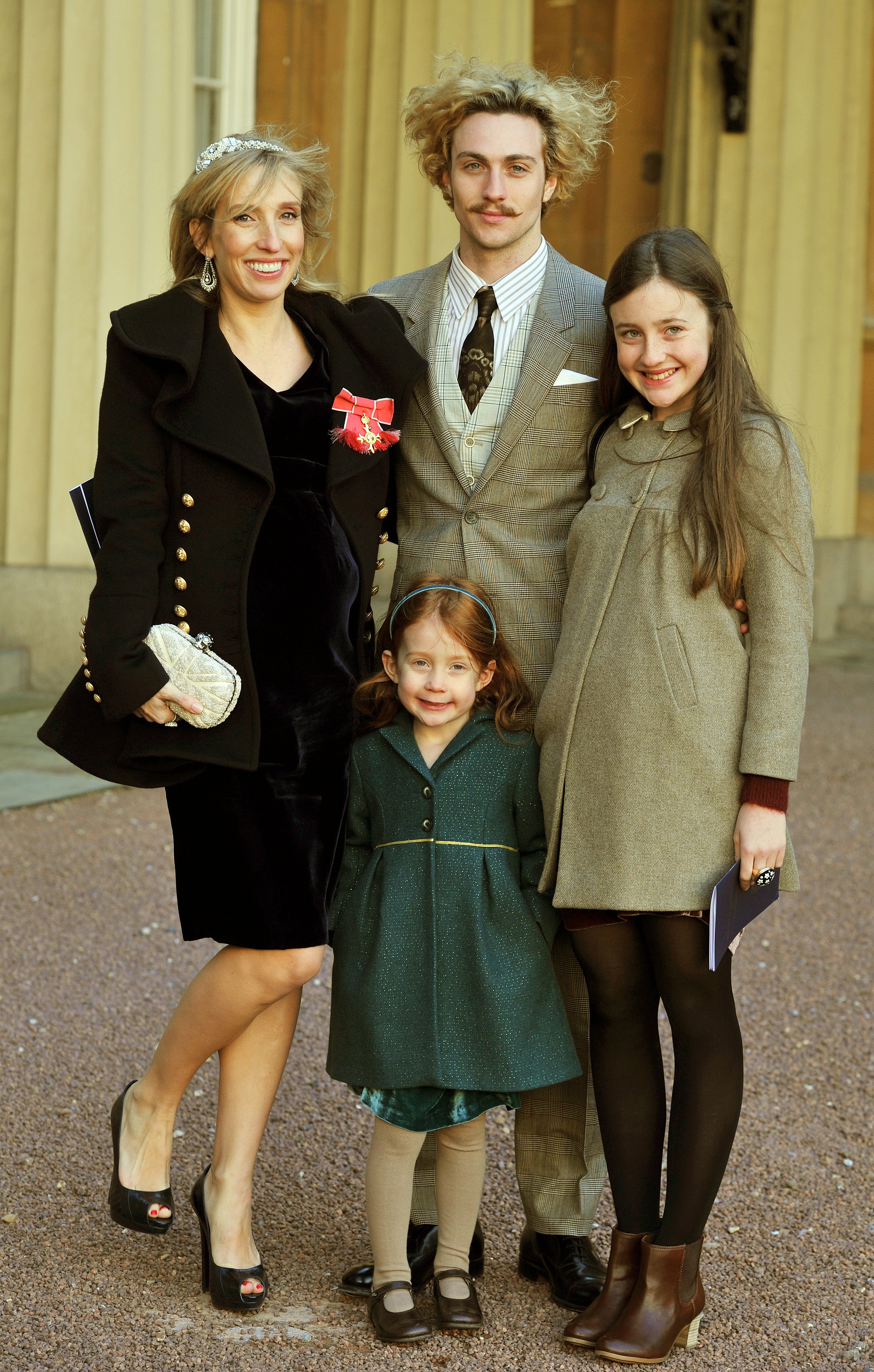 Sam Taylor-Wood and Aaron Johnson and her children Angelica (R) and Jessie during an Investiture Ceremony at Buckingham Palace on December 14, 2011, in London. | Source: Getty Images
It's great to see how Wylda and her unusual family have chosen to live their lives how they want to despite what people say. We wish them more love and happiness!
Please fill in your e-mail so we can share with you our top stories!