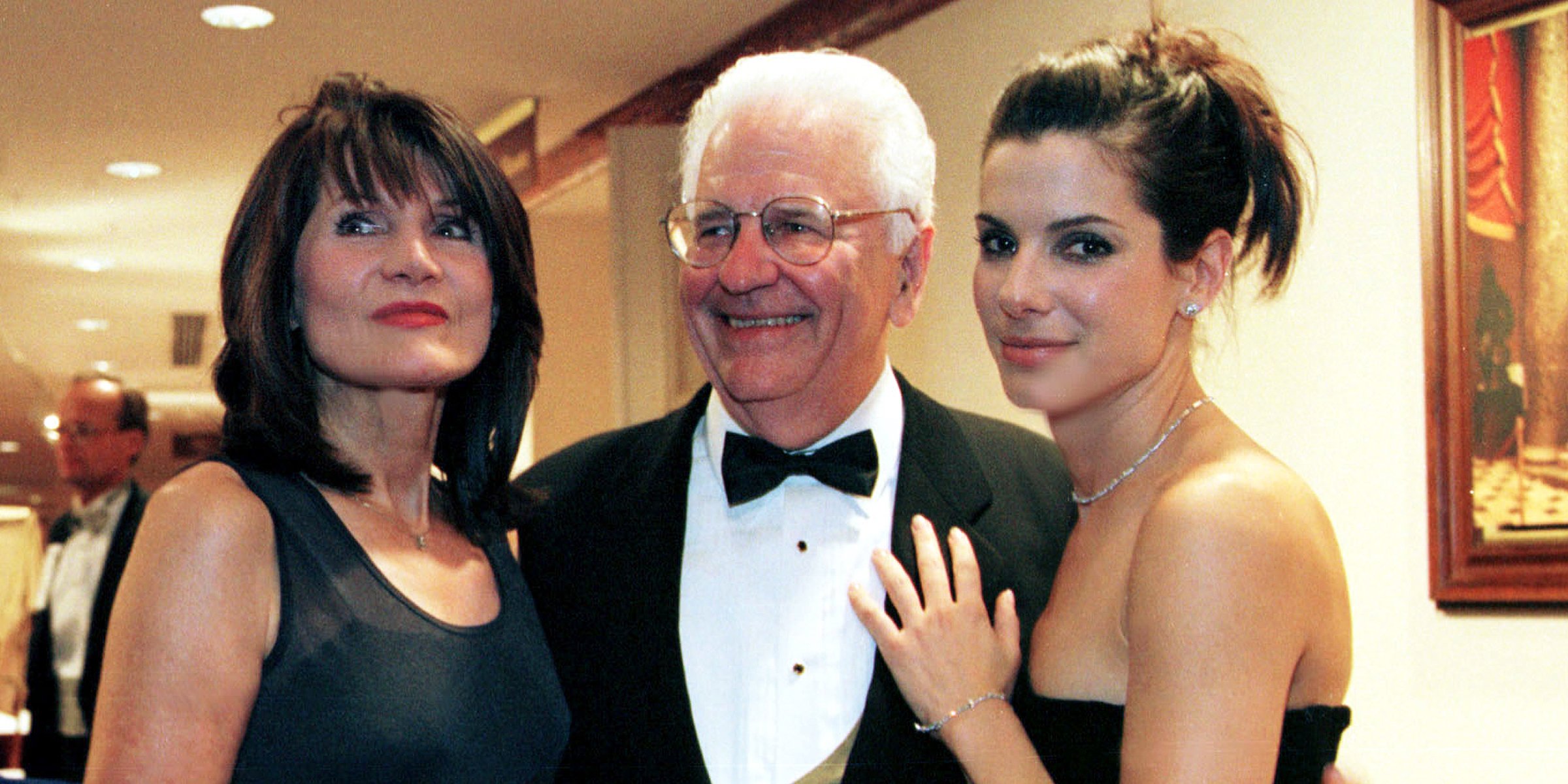 Getty Images
Sandra Bullock's Parents Were Singers - Find Out How They Influenced Her Career

Academy Award-winning actress Sandra Bullock's parents are Helga and John W. Bullock. The actress had quite an interesting childhood with her parents both being musicians.
Sandra Bullock's parents have known each other for a long time. The pair worked together; her father worked for the Pentagon, and her mother was his secretary.
The actress said her father got a job as a blacksmith to get to Julliard, where he wanted to fulfill his dream of becoming an opera singer.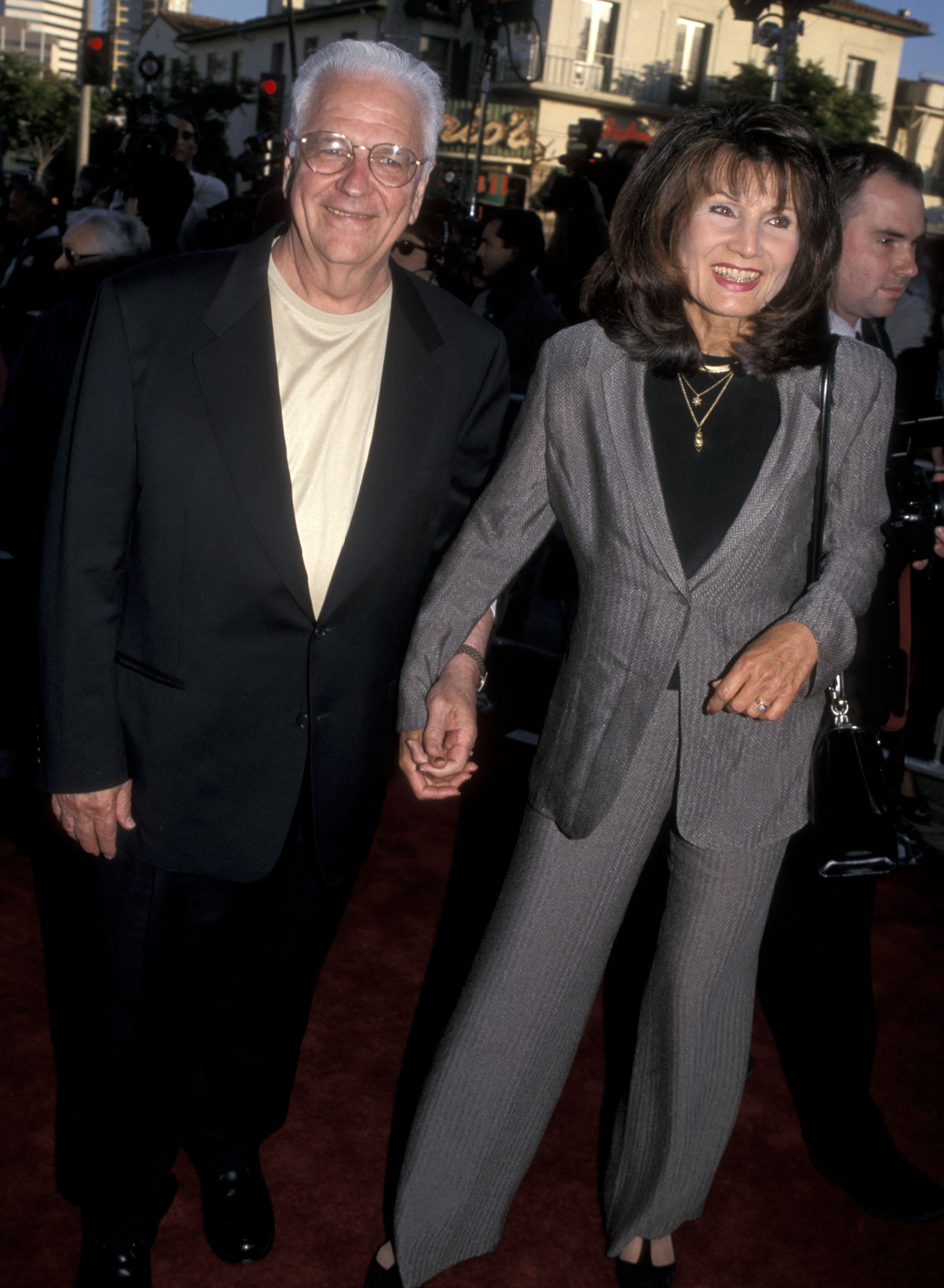 John Bullock and wife Helga Meyer attend the 'Hope Floats' Westwood Premiere on May 27, 1998 in Westwood, California. | Source: Getty Images
Sandra's parents had a significant influence on the kind of actress and person she became. She said her mom instilled in her a lot of valuable lessons that have helped a lot in her career and life. Find out all about the Golden Globe Award-winning actress's parents.
SANDRA BULLOCK'S PARENTS MET IN GERMANY
Sandra Bullock's parents met in Germany, and the two worked together. The actress said her parents became musicians when she was still a child; she wondered why they "can't be normal people."
It was because the actress said it was "embarrassing" when her parents were singing in the house, and the other kids heard the noise. The "Lost City" star said when her mom's career was doing well, she was often away from home. However, she and her sister would go with her mother to the opera.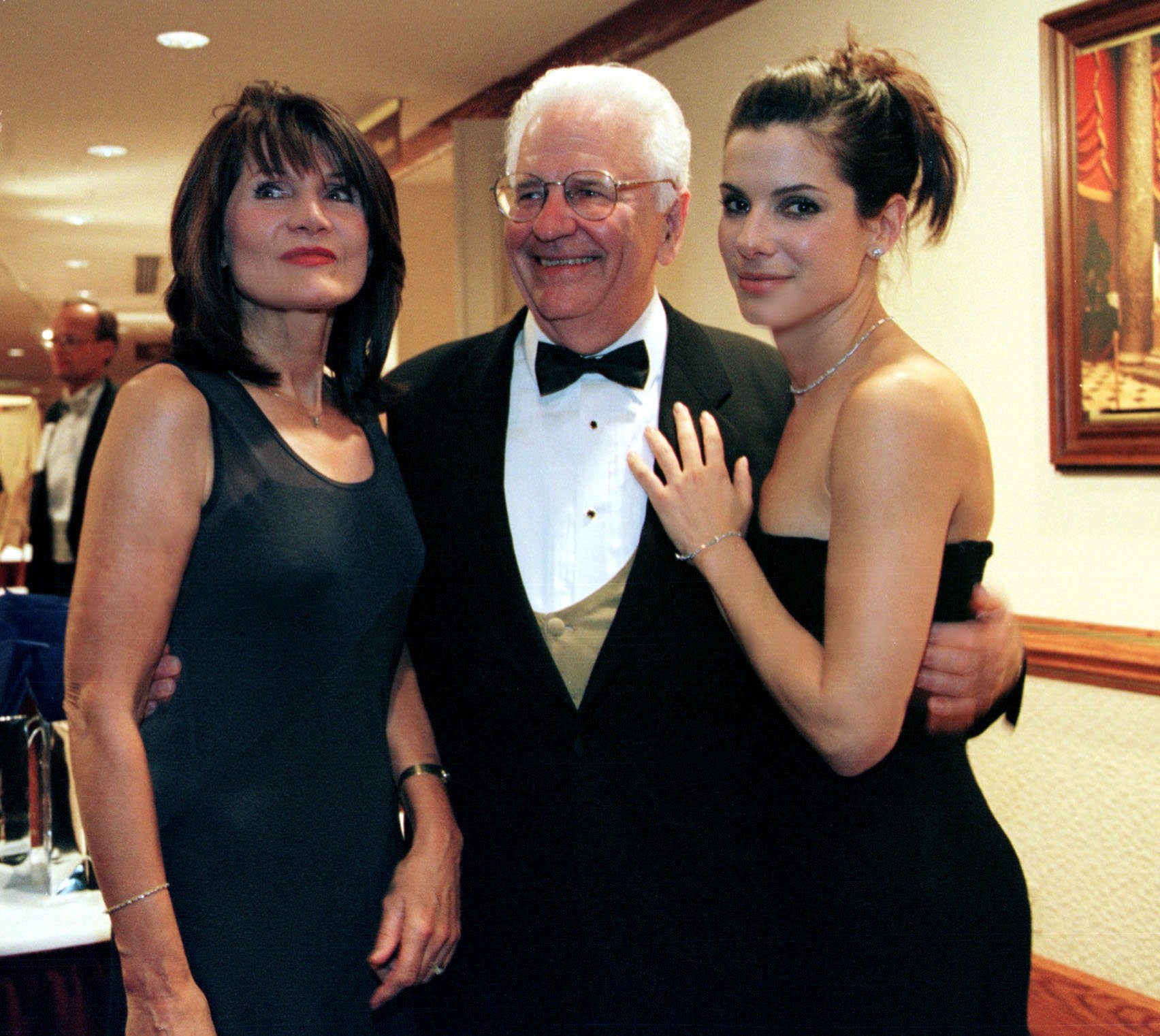 Sandra Bullock (R) with her parents Helga and John at the Lombardi Gala on October 3, 1998 in Washington, D.C. | Source: Getty Images
Besides always being busy with her career, there were many things that Helga taught her daughters. Growing up, Sandra's mom always said she and her sister should always be original and not conform, which Sandra found difficult as she felt that one needs to conform to be accepted. Combined with the constant traveling, it sometimes made Sandra angry.
Helga and John W. Bullock shared two daughters during their marriage, Sandra and Gesine. Their eldest, Sandra, was born on July 26, 1964, in Arlington, Virginia, and their secondborn, Gesine, was born on March 6, 1970, in Washington, DC.
The "Speed" star revealed to Cosmopolitan that her mom instilled a lot of great teachings in her, like being independent and standing on her own. She said:
"My mother instilled that in me and my sister. 'Make your own way. You don't need a man to get where you want to go. Make your own money, get your own career together, and then if you happen to meet a great guy, you'll meet him on a good level.'"
Sandra Bullock's parents have always been very supportive of her. When she left home for New York at the age of twenty-one, her parents supported her. They said she should give it her all and expected nothing less since they had to struggle as artists.
Another thing Sandra recalled about her parents was that they couldn't say, "I'm sorry." She says "it was a generational thing" and eventually saw their pain and fear.
SANDRA BULLOCK'S MOTHER, HELGA BULLOCK
Helga Bullock was born in 1942 in Nuremberg, Germany. Her parents were Eugene Meyer and Elisabeth Wilhelmine Böhnert. Before getting married, she was Helga Meyer. She was an opera singer and singing teacher and often traveled from America to Germany to perform.
Sandra's mom has helped shape the actress's life in a significant way. The actress once opened up about her mom's last moments with her before she died.
Before Sandra's mother passed away, Helga told Sandra not to be like her as she sat by her bedside, trying not to cry.
According to the "Ocean's 8" actress, she realized at that moment that her mom didn't want her to go through life shut down and "afraid of feeling." Thanks to that, the star says she's no longer afraid to admit that life has ensured she feels "everything."
Sadly, Helga Bullock passed away on April 4, 2000. After hearing of her death, Sandra immediately rushed to Helga's home in Texas. Losing her mother wasn't easy for the Oscar-winning actress. A source revealed at the time that Sandra was "very upset" and just wanted "to be with her family and friends."
SANDRA BULLOCK'S FATHER WAS A SINGING TEACHER
Sandra's father, John Wilson Bullock, was born in Birmingham, Alabama, in 1925, to Mary LaBlanche Wilson and Jesse Burch Bullock. John, who fought in World War II, worked as a voice coach.
Sandra's sister Gesine posted about their father in late 2018 on her Instagram account. She shared two images of their dad with the caption:
"Fresh out of high school, dad landed in Normandy. That experience stayed with him until his last day with us at 93. To all our veterans, thank you for your service. It has meaning beyond anything we can fathom. #veteransday"
Besides being a singing teacher, Sandra once shared that her father also remodeled old houses. She said her dad helped her restore an old house she bought in Los Angeles, and she loved doing that with her father.
John passed away on September 18, 2018, at 93. The actress said at the time that losing her father "just blew her mind."
She said the loss also made her realize that life "happens whether you schedule it or not." Sadly, the actress's two dogs also died shortly after her dad.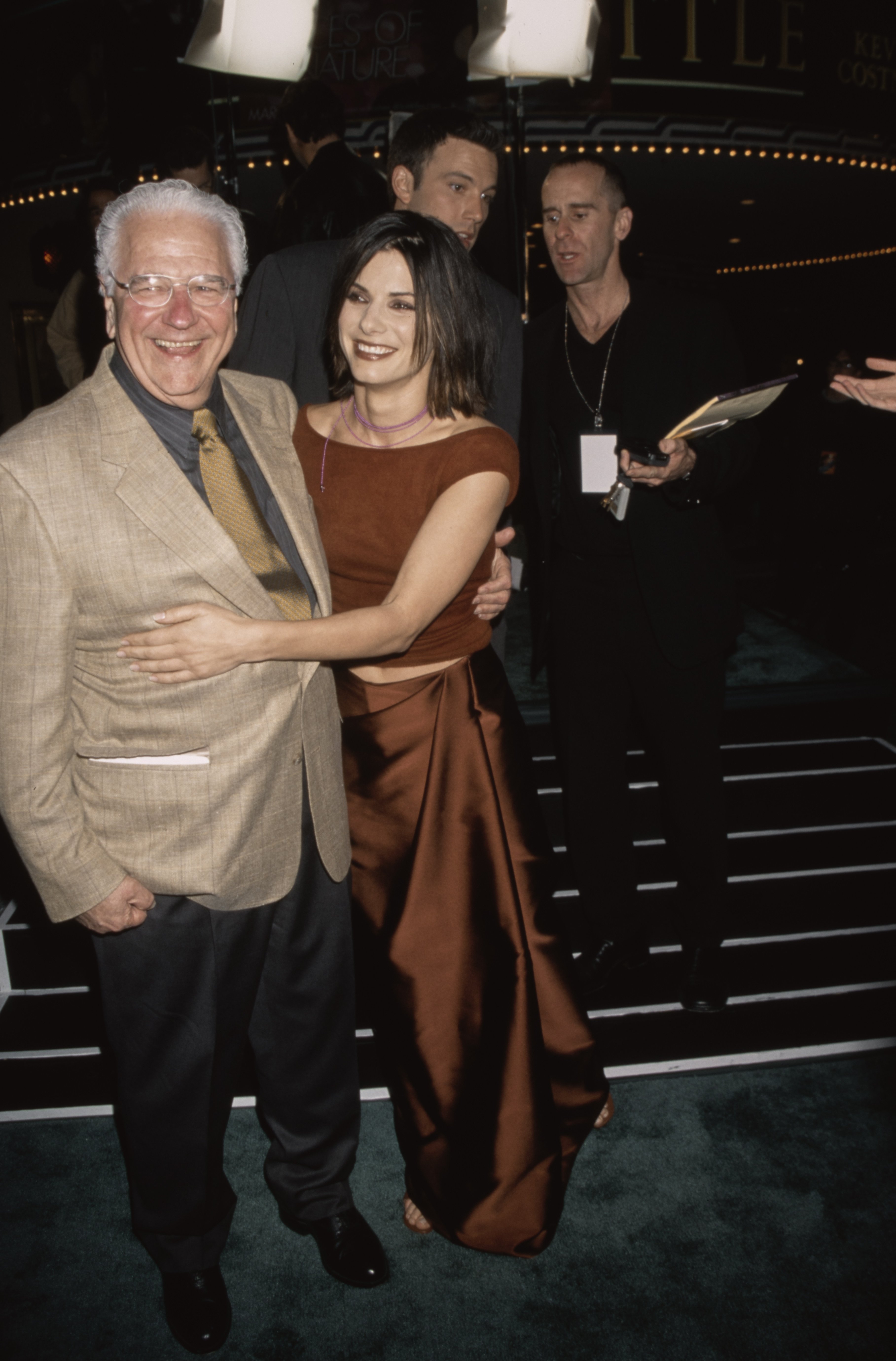 John Wilson Bullock and Sandra Bullock attend the Westwood premiere of 'Forces of Nature' in Los Angeles, California, on March 12, 1999. | Source: Getty Images
John may be gone, but he's certainly not forgotten, as his daughters, especially Gesine, love sharing posts about him on their social media.
Sandra Bullock's parents seem like they fulfilled most, if not all, of their dreams before the time came for them to leave this earth.
Despite Sandra's parents being gone, they instilled so many amazing teachings in their daughters, which will help them continue to succeed in life and always remember them.
Please fill in your e-mail so we can share with you our top stories!