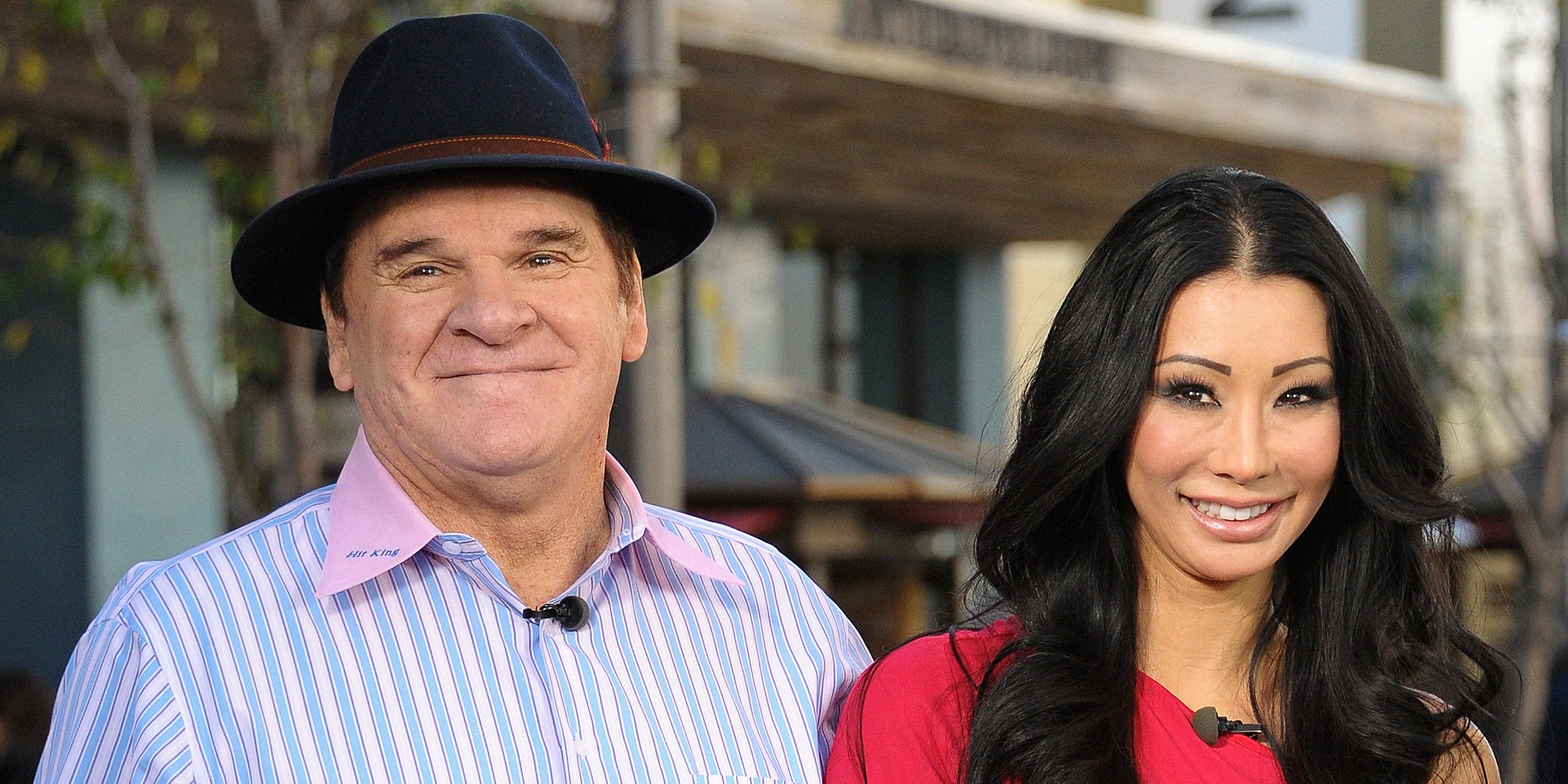 Getty Images
Pete Rose and His Partner Kiana Kim's Relationship: Facts to Know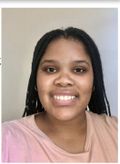 Baseball superstar Pete Rose married his third wife, model and actress Kiana Kim, in his 70s. Learn more facts about their marriage and their past relationships.
The former Cincinnati Reds player Pete Rose got engaged to Playboy model and commercial actress Kiana Kim. Nicknamed "Charlie Hustle," Pete had a long career in baseball as a player from 1963 to 1986 before becoming a manager from 1984 to 1989.
His successful career in the sport ended when he was banned in 1989 for gambling addiction. Despite never having his name etched into the Baseball Hall of Fame, many will remember him as one of the greatest hitters the sport has ever seen.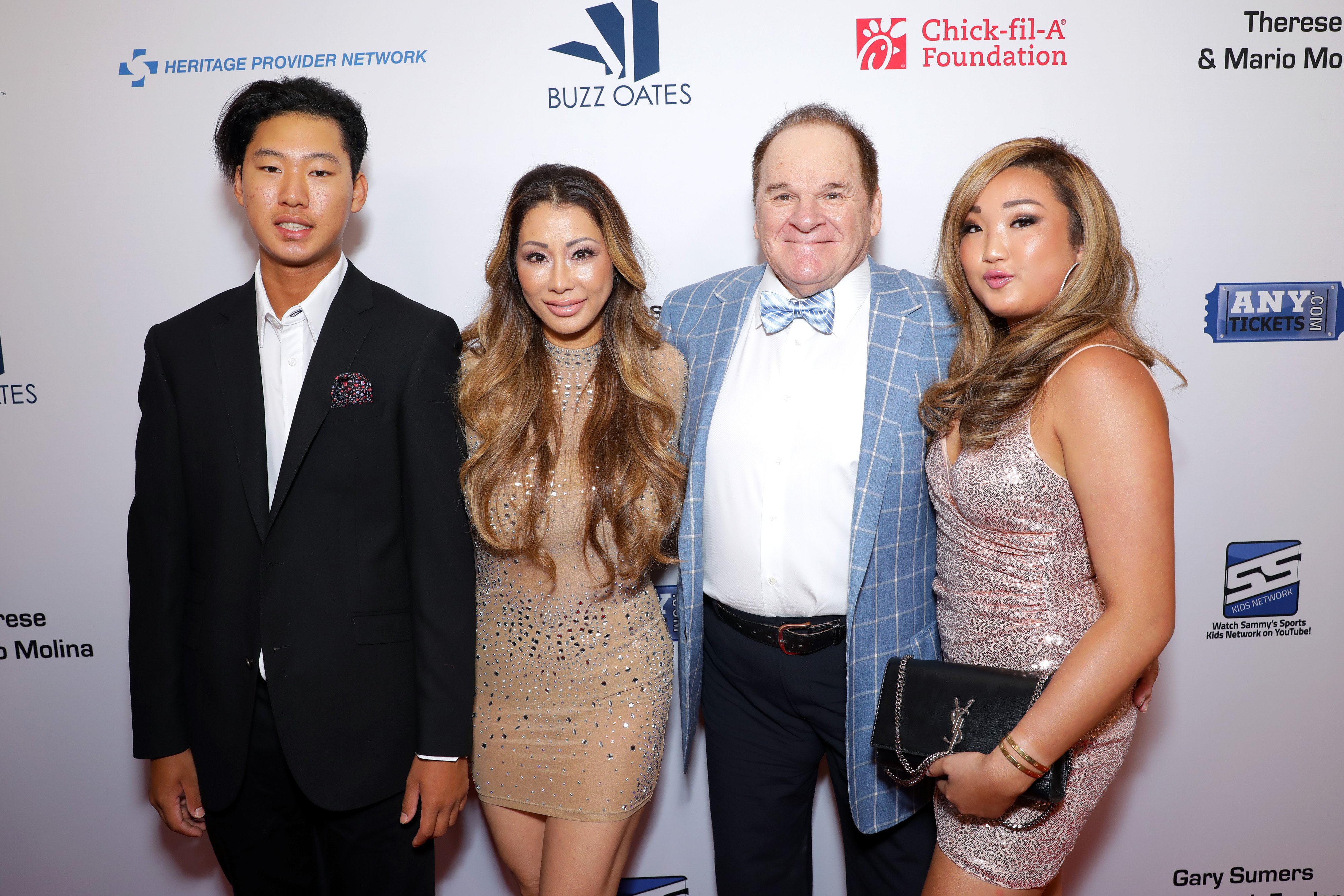 Pete Rose and Kiana Kim at the 19th Annual Harold and Carole Pump Foundation Gala with their family in California on August 9, 2019 | Source: Getty Images
WHAT TO KNOW ABOUT KIANA KIM
Kiana was born in Seoul, South Korea, on March 3, 1980. She moved with her family to Los Angeles when she was five. Due to their eyebrow-raising age difference - Pete is 39 years older than Kiana- the couple had the most controversial relationship in baseball.
They made a public appearance together on "Howard Stern Show" in 2010, and Kiana instantly became the top-searched person on Google. She made a name for herself when she modeled for Playboy in 2010, but she was the average university student before she graced magazine covers.
Kiana went to Arizona State University and graduated with a degree in Business Management. After graduating, she had a job as a flight attendant with Korean Airlines.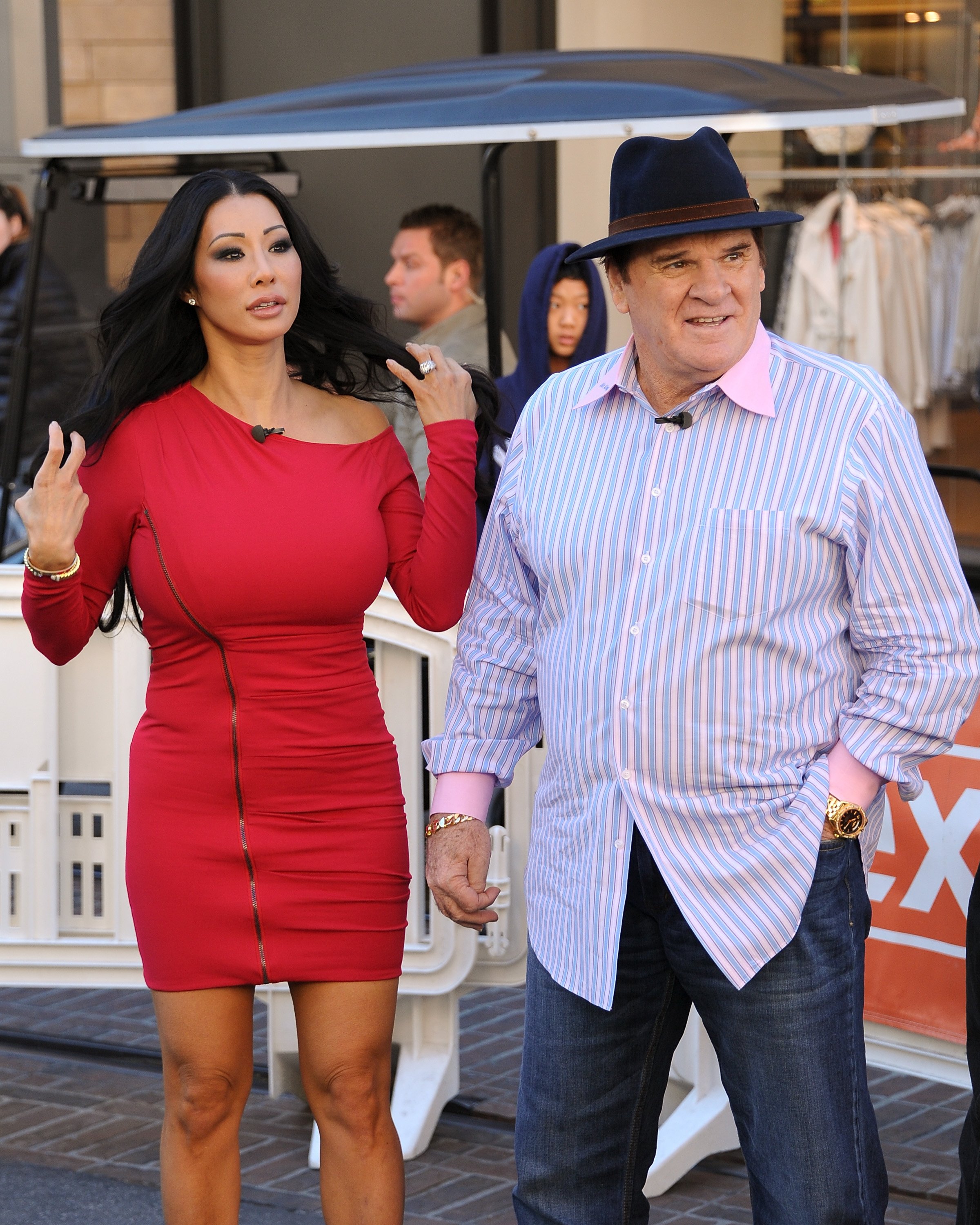 Pete Rose and Kiana Kim at Extra at The Grove in California on January 11, 2013 | Source: Getty Images
Before setting her sights on the marketing industry, she was also a real estate agent. She did all that while maintaining her career as a model and actress. Kiana decided to leave her job as a flight attendant to pursue real estate so that she could look after her children.
Kiana had two children, Cassie and Ashton, from her first marriage, while Pete had five children from his previous two marriages. All her hard work in various fields paid off as she was guessed to have a net worth of $1.5 million.
Proving that she is not just a pretty face, Kiana was a successful realtor and earned several impressive awards for her volume of shares. Kiana eventually decided to focus her attention on operating a hair salon, with her modeling and acting career a priority as well.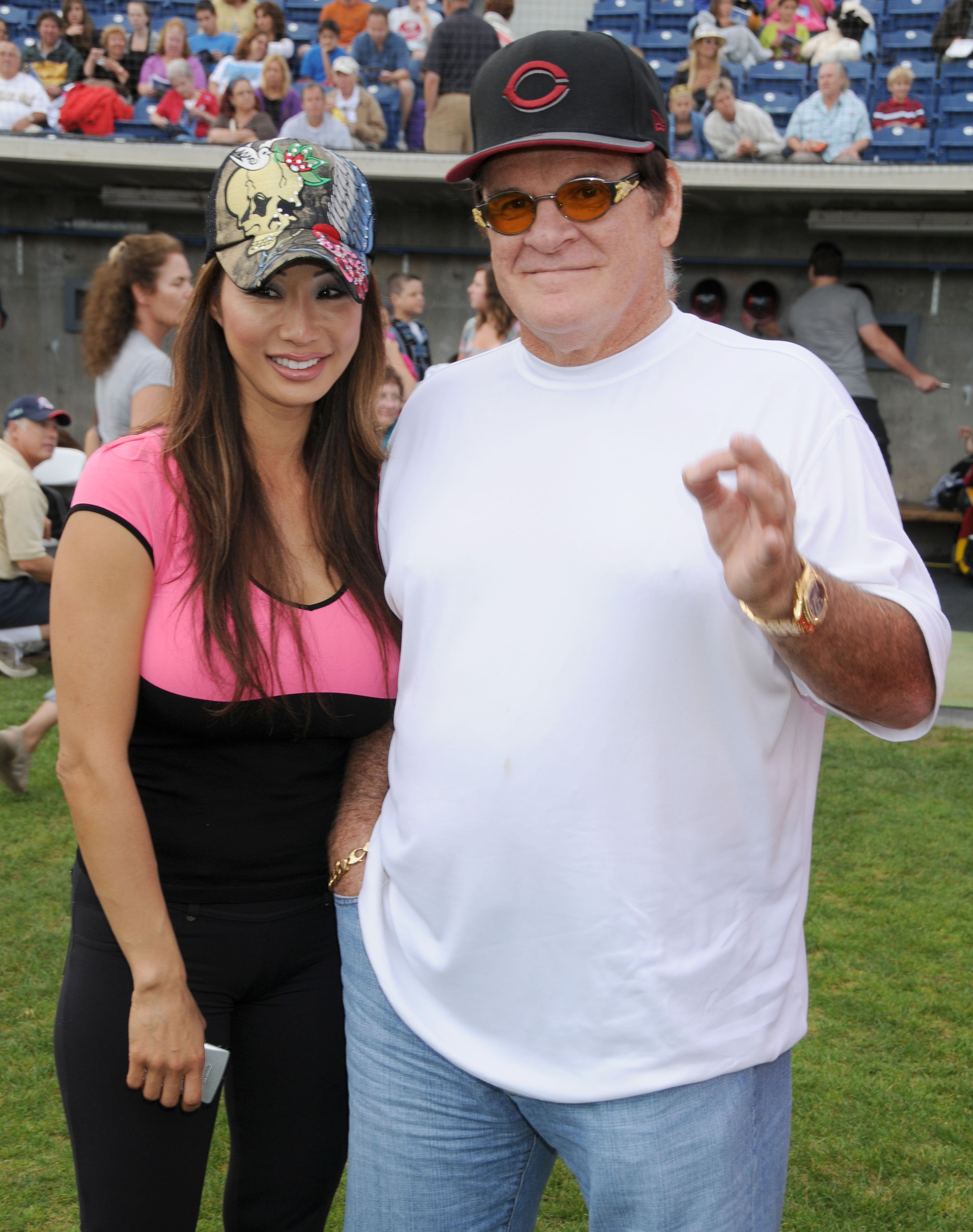 Pete Rose and Kiana Kim Steve Garvey Celebrity Softball Game in California on January 10, 2010 | Source: Getty Images
PETE AND KIANA HAVE A TV SHOW TOGETHER
Kiana and Pete had a reality TV show together in 2013 that played on TLC. "Rose: Hits and Mrs" had only six episodes before it was taken off the air, but the public had a peek into their lives with their children.
Kiana's two kids lived with the couple, and the show documented her attempts to create her skincare line to expand on her brand.
WHO ARE PETE ROSE'S EX-WIVES?
Born in Cincinnati, Ohio, on April 14, 1941, Pete had an impressive collection of accolades during his time as a baseball player. He won Player Of The Decade in the '70s with 4,256 total career hits and 3,562 games. Not only was he denied a place in the Baseball Hall of Fame, but he was also banned from the sport entirely.
Before marrying Kiana, Pete married Karolyn Englehardt in 1964 and then Carol J Woliung in 1984. Pete shared two children with Karolyn, Fawn, and Pete, and two more children with Carol, Tyler, and Carol.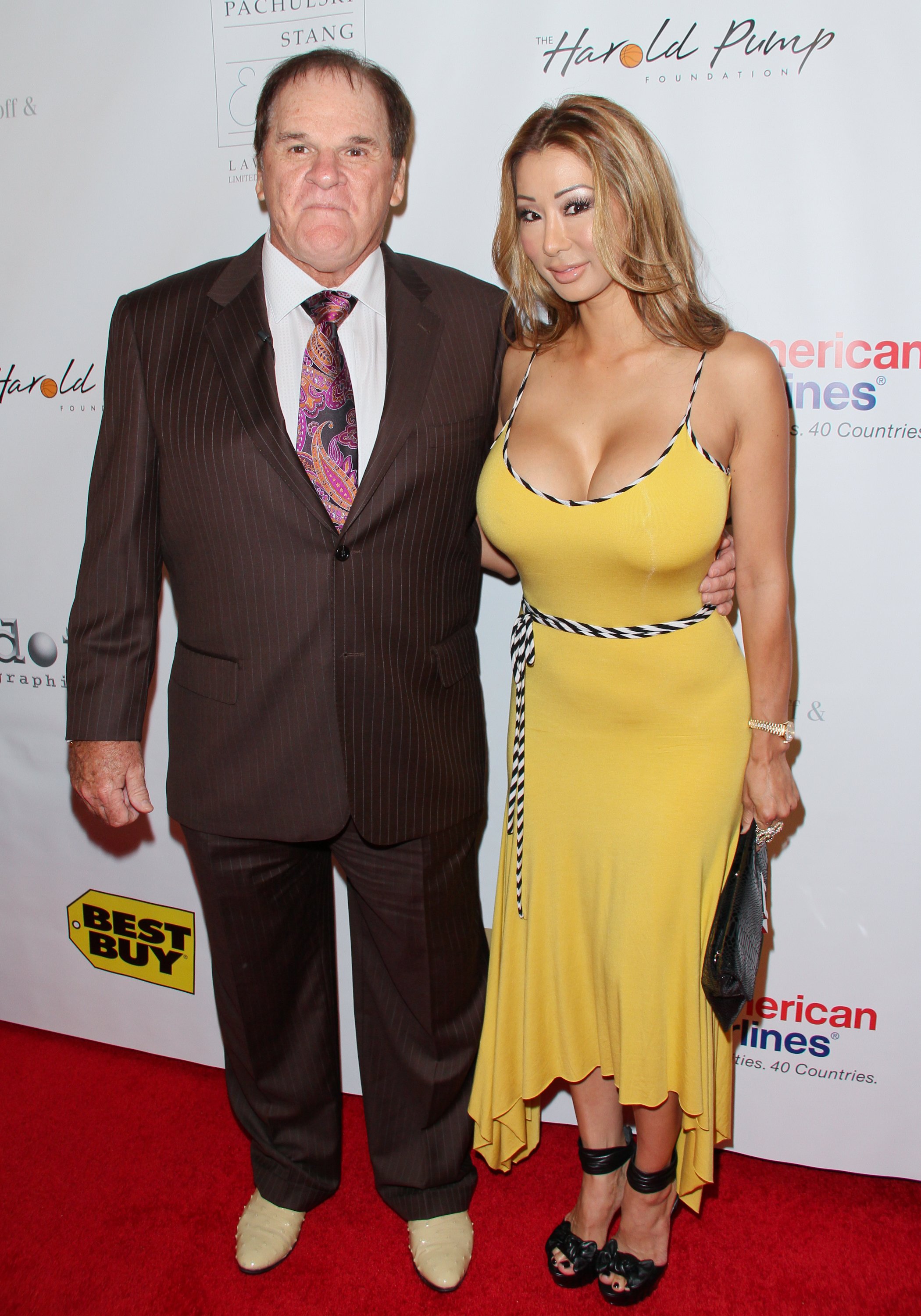 Pete Rose and Kiana Kim at the 11th Annual Harold Pump Foundation Gala in California on August 3, 2011 | Source: Getty Images
He also had a daughter, Morgan Erin Rubio. The divorce process between Pete and Carol became rocky when the pair split in 2011, but the divorce was never finalized, and Pete was in a rush to marry Kiana.
According to court documents filed by Pete that were obtained, he asked a judge to pronounce him and Carol legally divorced. In the legal papers, Pete stated that he and Carol had separated on December 31, 2009, when he proposed to Kiana. Carol was being "unreasonable" and hindering his efforts to marry his third wife.
The documents further read that Pete was 77 years old and the standstill was "causing both parties emotional pain and pressure." His wish was that the judge grant a "status only" judgment.
In an old interview, Karolyn, Pete's first wife, reminisced on her 16 years of marriage to Pete, sharing that a music box she received at one of Pete's All-Star games was one of her favorite memorabilia from their marriage.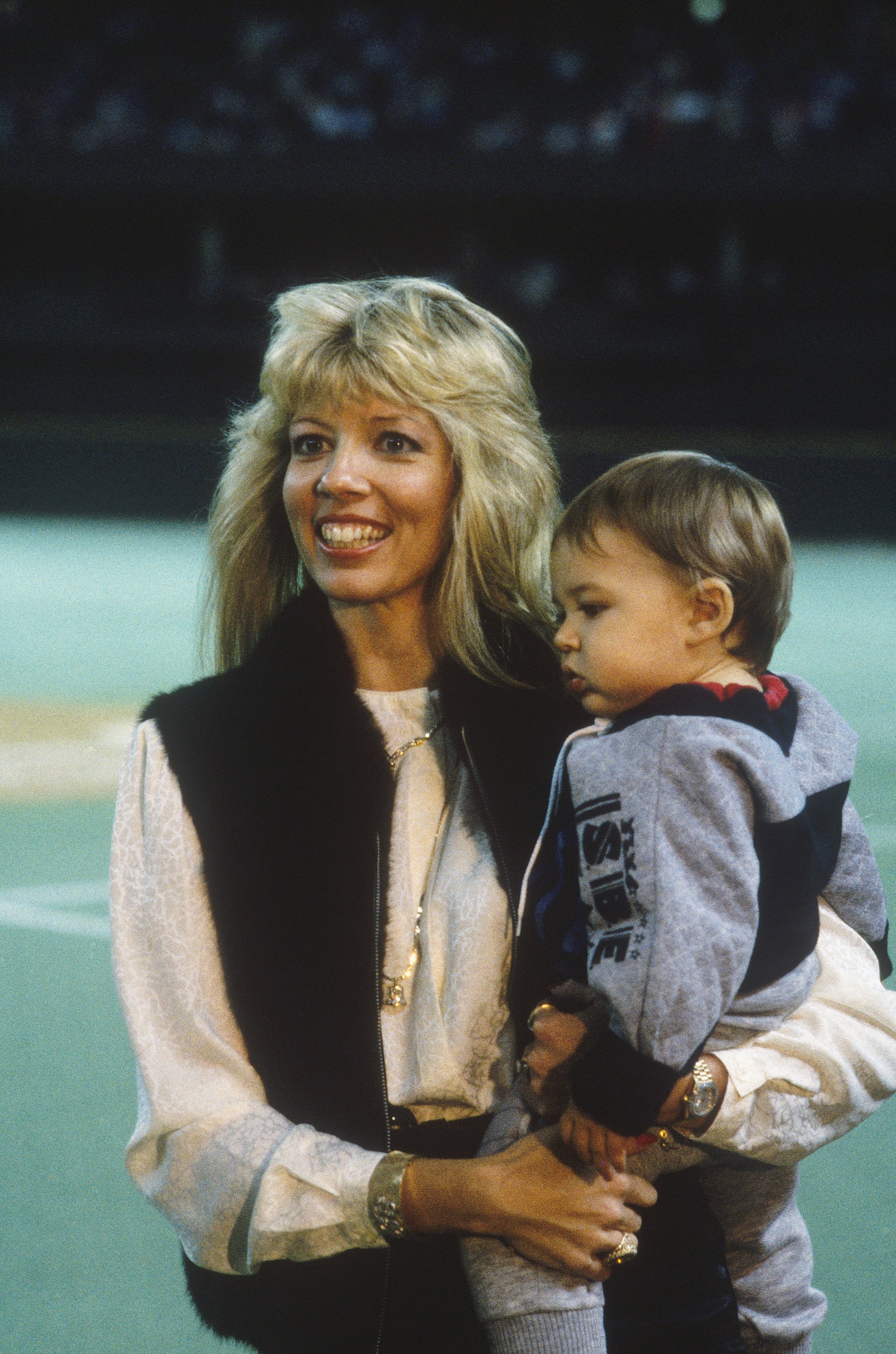 Pete Rose's second wife Carol J Woliung at Riverfront Stadium holding their son in Ohio on September 11, 1985 | Source: Getty Images
For all the sweet moments they shared, there were bitter ones, too; when Pete would be on the road and wouldn't call, infidelity rumors, and a public paternity suit against Pete.
Karolyn was widely considered the poster child for an athlete's wife: devoted to her husband and caring for the home and the children. Pete was captain of the Cincinnati Reds, and she was the captain's wife, a title she held dear to her heart; never did she imagine they end up getting divorced.
The pair had separated a few times during their marriage, but they always got back together- until the last time when it became too much.
The baseball legend would have relationships with other women, embarrassing Karolyn, and their children; she felt trapped in the lifestyle of an athlete's wife, putting up with things she usually would not. It all became too much for her, and they divorced.
Please fill in your e-mail so we can share with you our top stories!