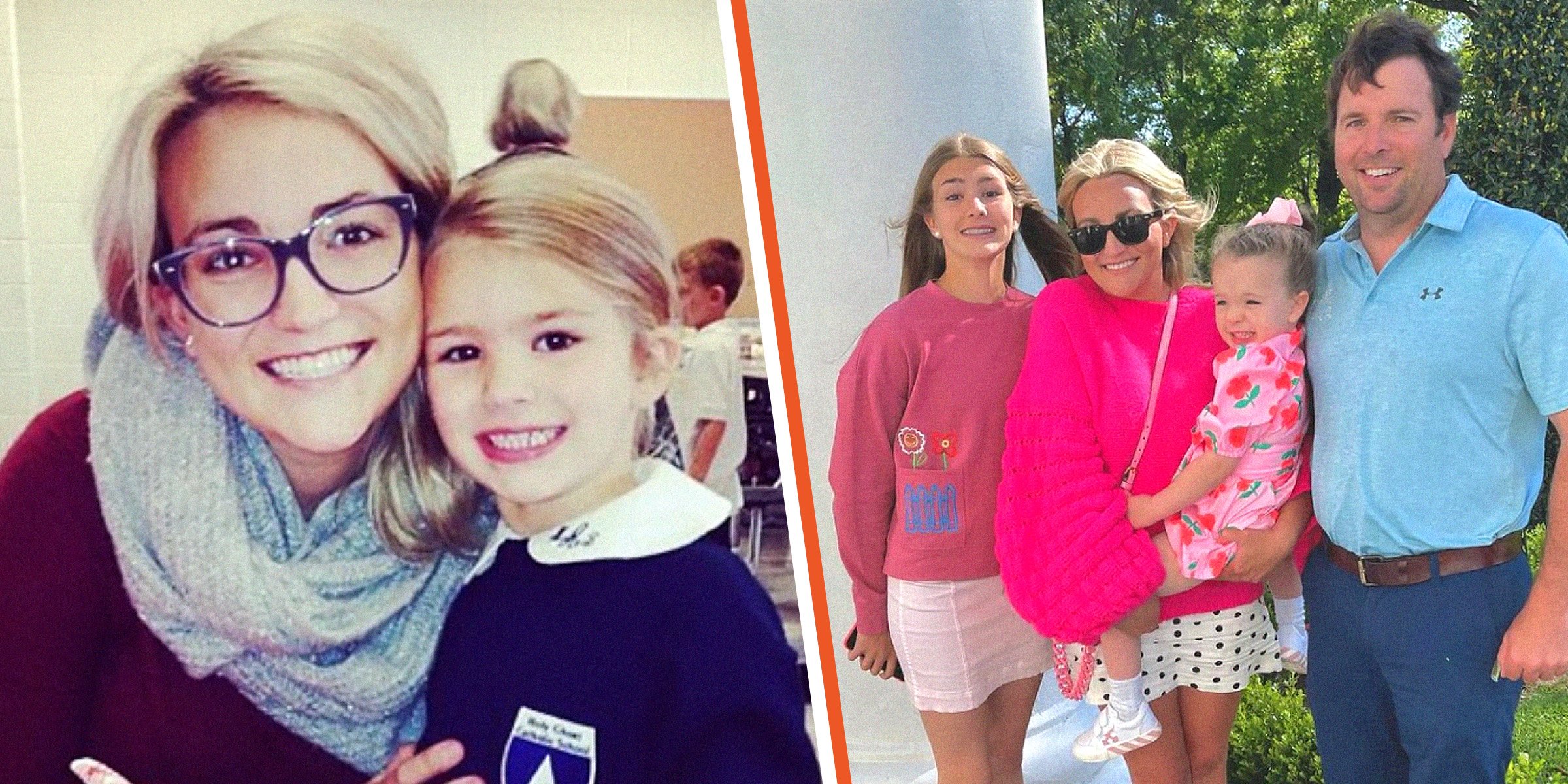 Instagram/jamielynnspears
Maddie Briann Aldridge Made the News before Her Birth - Meet Jamie Lynn Spears' Daughter

Maddie Briann Aldridge is the first daughter of Jamie Lynn Spears, born when her mother was only a teen. Here's what we know about the Nickelodeon star's daughter, who also had her fair share of media coverage.
Maddie Briann Aldridge is the daughter of child star Jamie Lynn Spears, who the actress had at a very young age with her then-boyfriend, Casey Aldridge.
Now 13 years old, Maddie is a middle school graduate, recently receiving her diploma at an outdoor graduation ceremony.
Jamie shared the proud moment on Instagram with a photo of her daughter wearing a dainty white dress and turquoise heels while holding up her diploma. Throughout her life, Maddie was featured in new outlets more than once, including her near-death experience.
MADDIE BRIANN ALDRIDGE WAS UNDER THE SPOTLIGHT SINCE BEFORE HER BIRTH
Maddie was born on June 19, 2008, in McComb, Mississippi, USA. Her middle name, Briann, pays homage to her late cousin, Brian, who died in a 2008 car accident.
Although she was a blessing to her family, Maddie's mom did not expect to have her at 16 years young, with her then-boyfriend of two years, 18-year-old Casey. At that time, Jamie's career was still on the rise with her starring titular role in Nickelodeon's "Zoey 101."
Her family and team initially hid her pregnancy, but such news so big that it would change her physical figure could only be kept for some time. She revealed in her memoir, as told by The Things:
"There was a whole lot of fighting going on between everyone involved. The entire Spears team was already caught up in my sister's PR difficulties, and everyone around me just wanted to make this 'issue' disappear."
Her managers stopped Jamie's schooling and confiscated her phone, fearing the news would spread. Aside from her family and team, no one else knew. When Maddie was born, Jamie left her career to raise her daughter away from the cameras.
Nickelodeon later welcomed Maddie to appear on an episode of their show, "Double Dare." Maddie also had acting experience through commercials and campaigns.
Beyond her career, Maddie grew up like an ordinary girl, focusing on academics and extracurricular activities. As a bright student, Maddie is excelling in school and has been recognized for academic achievements. She is also active in sports and enjoys playing softball.
MADDIE ALDRIDGE WAS IN A NEAR-FATAL ACCIDENT
Now happy and healthy, Maddie once had her life on the line after a nearly fatal accident. While on an ATV in February 2017, Maddie's vehicle flipped into a pond. She was flown to a nearby hospital, where she struggled to survive for five days.
Her mother still recalls the day her daughter was released from the hospital – a gift Jamie will never take for granted. She wrote in a post, as told by Us Weekly:
"I may be wearing hospital socks since I didn't have shoes and someone else's clothes, but I was walking out of that hospital way more than I had going in, I had a healthy baby girl, and nothing else mattered."
MADDIE ALDRIDGE'S PARENTS DON'T HAVE A GOOD RELATIONSHIP
Maddie's mom continues to be present in her life, but not the same was always said about her father. The former couple began dating in 2005, but shortly after her pregnancy, news about Jamie and Casey's engagement surfaced in the media. However, their wedding never materialized.
"She did a lot of growing up, but he didn't," a source said, as reported by Glamour. "I think she put up with more than she cared to put up with." The actress also spoke about her ex's life after Maddie was born, claiming that he went back to his lifestyle without a child – partying and disappearing. She said:
"He was just blatant in his actions, not even trying to deceive me or keep his activities hidden [...]. His disinterest, lack of fatherly attention, and disregard for our needs were evident in most of his decisions."
Their engagement ended in March 2009, and although they briefly reconciled in 2010, it never worked out. Casey Aldridge has since been in trouble with the law several times, including six counts of burglary. Jamie has moved on with her life and is now married to Jamie Watson.
Please fill in your e-mail so we can share with you our top stories!