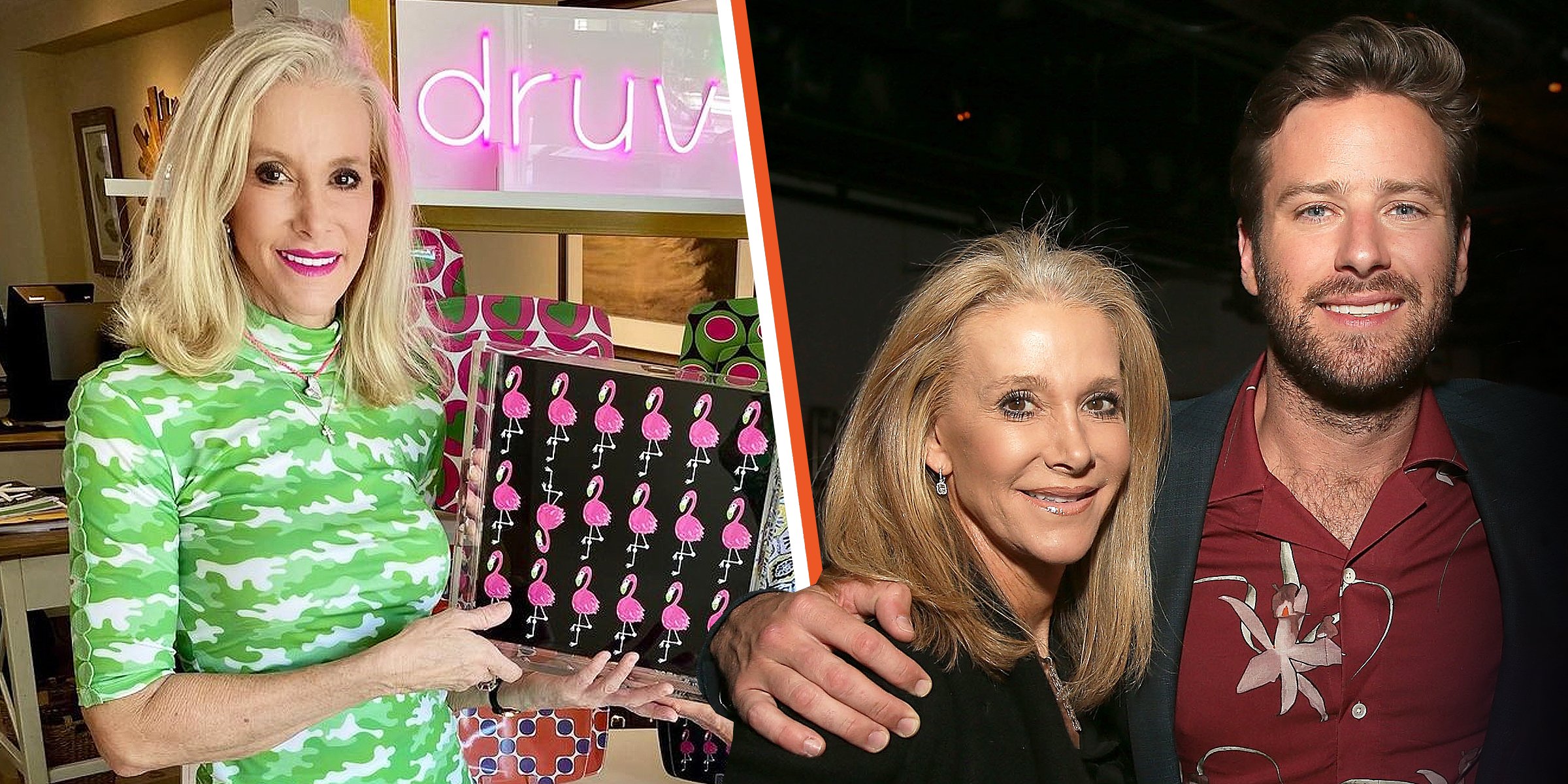 Getty Images | Instagram/druhammer
Dru Ann Mobley Is Armie Hammer's Supportive Mother & Founder of a Charity Brand

Dru Ann Mobley teaches Bible study in Los Angeles and is very religious. She's best known as the mother of American actor Armie Hammer.
Dru Ann Mobley is a mother of two, and one of her children is Hollywood actor Armie Hammer. Her son Armie got into a big scandal because of his sexual preferences.
Dru Ann Mobley's son Armie and his family will feature in the "House of Hammer" miniseries on Discovery+. The show will be about the scandals associated with the Hammer family.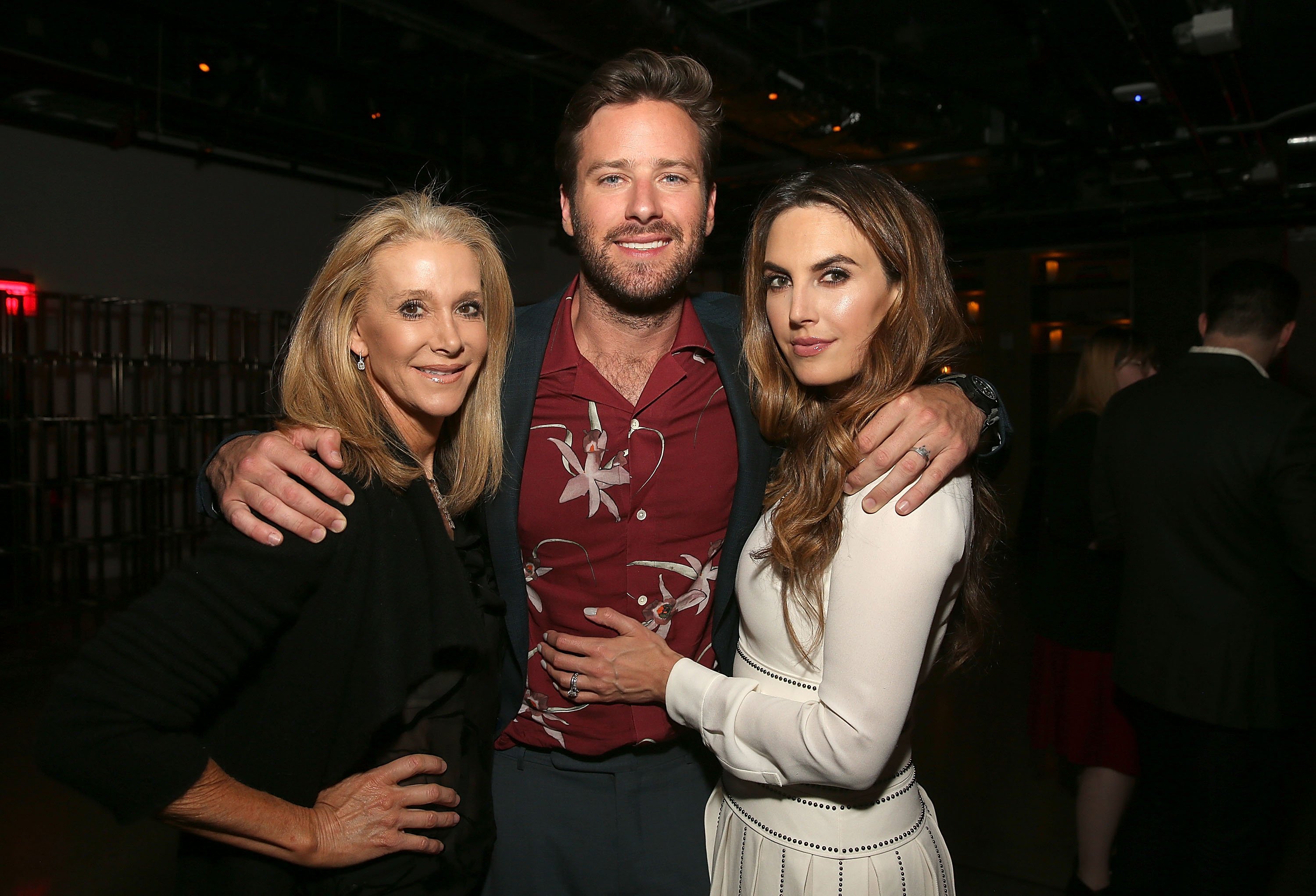 Dru Ann Mobley, actor Armie Hammer and actress Elizabeth Chambers pose at the premiere of A24's "Free Fire" after party on April 13, 2017, in Los Angeles | Source: Getty Images
The Hammer clan has been shrouded by a lot of controversy over the years. But what's there to know about Armie's mother, Dru?
DRU ANN MOBLEY IS A CHRISTIAN
Dru Ann Mobley is from Tulsa, Oklahoma, and she graduated from Oklahoma State University. Her parents are Donna Rae (Kaufman) and longtime Tulsa real estate developer Douglas Lee "Doug" Mobley.
Her parents survived the Depression, so Dru raised her children strictly. Dru's son Armie once revealed that his mother didn't raise them like they were wealthy. According to him, how Dru raised her kids benefited them in that it prevented them from being spoilt.
Dru is a former bank loan officer who now teaches Bible study in Los Angeles. She's very religious and has a strict outlook on life.
Dru also has very strict morals, which prevented her from even watching some of her son's movies. Because of her views, Dru didn't watch the film "Call Me by Your Name," which starred Armie.
Dru became a member of the board of trustees of Oral Roberts University, a Christian school. They lived in Dallas, Texas, before moving to the Cayman Islands in 1993. After staying in the Cayman Islands for five years, they returned to the United States and lived in Los Angeles.
Dru is also a businesswoman with over 30 years of experience in home design, real estate investing, and development. She has a brand called Druville, which focuses on home design and lifestyle.
According to the brand's site, it was "born out of a love for creativity, vibrant colors, and giving back." She said her "fun, whimsical yet elevated products" will help her fulfill her greatest desire to fund charities to bring help and hope to people.
Her other project is the Hammered Heart Foundation, a non-profit corporation. Their proceeds go to the foundation's partners, who are ministries around America to help those in need.
DRU ANN MOBLEY'S FAMILY
Dru Ann Mobley and her former husband Michael Hammer met on a plane he had to rebook after missing his first flight in 1985. The two tied the knot that same year and had their first child in 1986.
Dru helped Michael eliminate some of his problems because of her Christian beliefs. According to Michael, "the [bad experiences] didn't just stop, but they started dwindling" when he became a Christian.
Dru and Michael share two sons, Armie and Viktor. Her first son Armie had a promising career in Hollywood but lost it all because of a scandal involving his sexual preference.
Armie got his breakthrough role in 2010 in "The Social Network." He appeared in several films alongside well-known Hollywood actors such as Johnny Depp and Timothée Chalamet. Dru's firstborn was featured in "The Lone Ranger," "The Man from U.N.C.L.E.," "Cars 3," and "Hotel Mumbai."
Dru's son already has kids, so she is also a grandmother. Her granddaughter is Harper Grace, and her grandson is Ford Douglas Armand.
The doting mom is not shy to show off her children and grandchildren to the world. She is a loving mother and grandmother, and her Instagram page is full of photos of her sons, daughters-in-law, and grandchildren.
Dru Ann Mobley initially disapproved of Armie's decision to act but eventually supported her son's acting career. When Armie's first movie "Billy: The Early Years" came out, Dru arranged for 300 people to watch the film at the Hammer Museum's Billy Wilder Theatre.
Regarding the scandals surrounding her son Armie, Dru has not spoken openly about them. However, her behavior suggests that she's supporting him during this period.
According to an article in March 2022 by Page Six, it was revealed that Dru was still by her son's side. While attending the Gateway Celebrity Friday Night cancer event, Dru reportedly said her son had a good year in 2021 and that everything said about him wasn't true.
In 2021, Dru opened up about how she felt about the scandal surrounding her son by writing a letter about her son to Vanity Fair. After a feature on the Hammer family, Armie's life, and the scandals surrounding him, Dru sent a letter to the publication denying the allegations against her son.
She started the letter by saying she forgave the publication for writing a "scathing" article on her family. Dru said she felt upset that another piece had been written about her son Armie and their family.
Dru further explained that the report didn't vindicate their family but only had information about former alleged mistresses and their former husbands. She also said the way her ex-husband Michael was portrayed was "hurtful" and didn't like the way the publication "printed 'alleged' false accusations against [her] son."
She also wrote that no family is perfect and that "every family has 'something,'" and revealed, "What I know is these Jewish Hammer men you tore apart in your article have all come to know Jesus as their Messiah."
Dru concluded the letter by "asking for mercy and Grace" and also asked the publication to stop "degrading" her family.
Please fill in your e-mail so we can share with you our top stories!