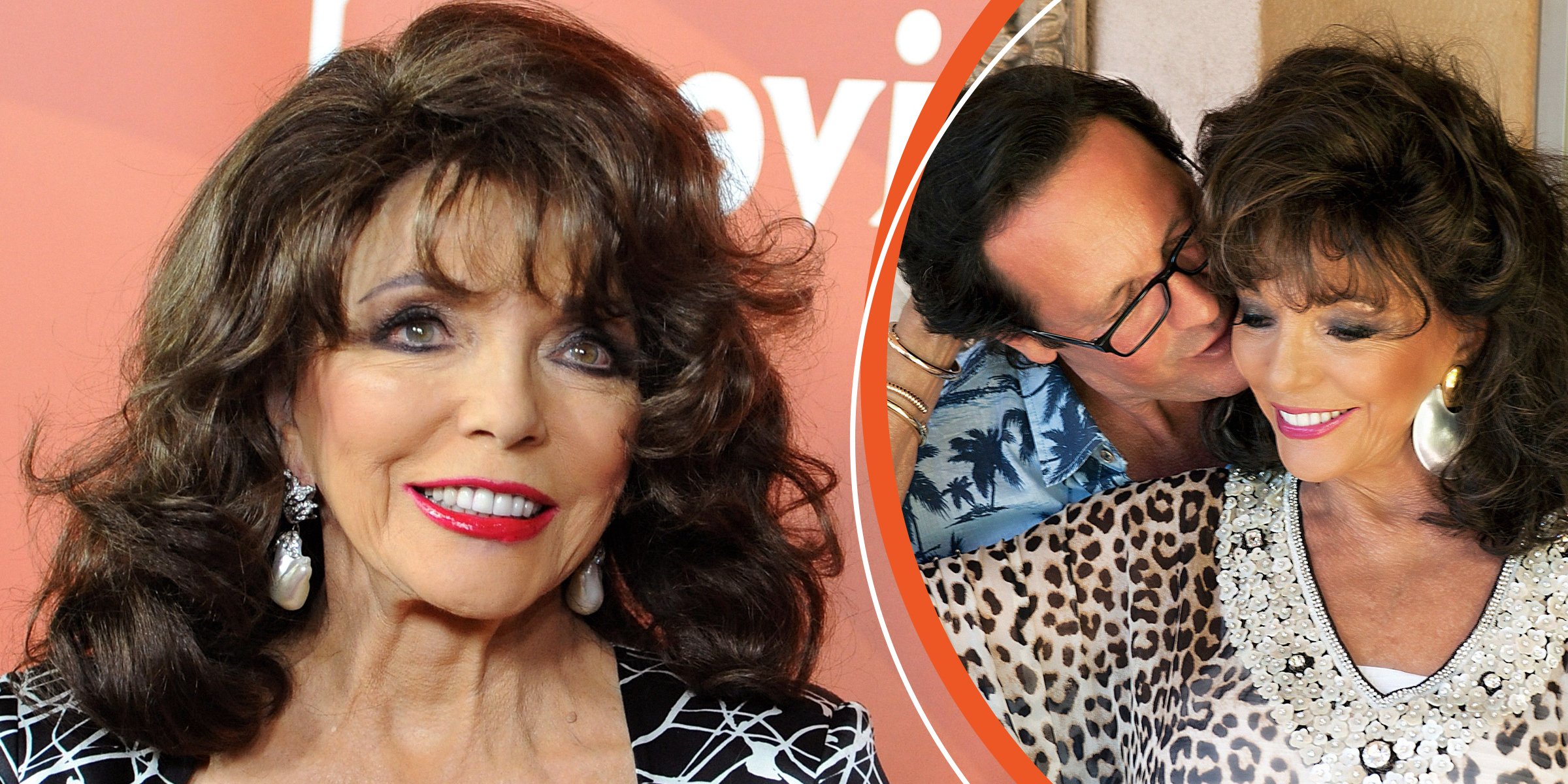 Getty Images
Joan Collins' Husband 'Wasn't Born' When She Was 30 — He Has Stayed with Her for 20 Years

Joan Collins was not lucky in love for a large portion of her life. However, later on, she found her knight in shining armor, who supported her through her health struggles alongside her children and grandchildren.
Collins has been married five times. The first of her husbands was Maxwell Reed, who she married in 1952 at only seventeen years old. The couple got divorced four years later. Seven months after the couple's wedding, Reed tried to sell Collins to an Arabian Sheik.
Her first marriage was her worst. Her relationship was marred with many devastating incidents that made Collins feel used and guilty as she was an impressionable young woman when they married.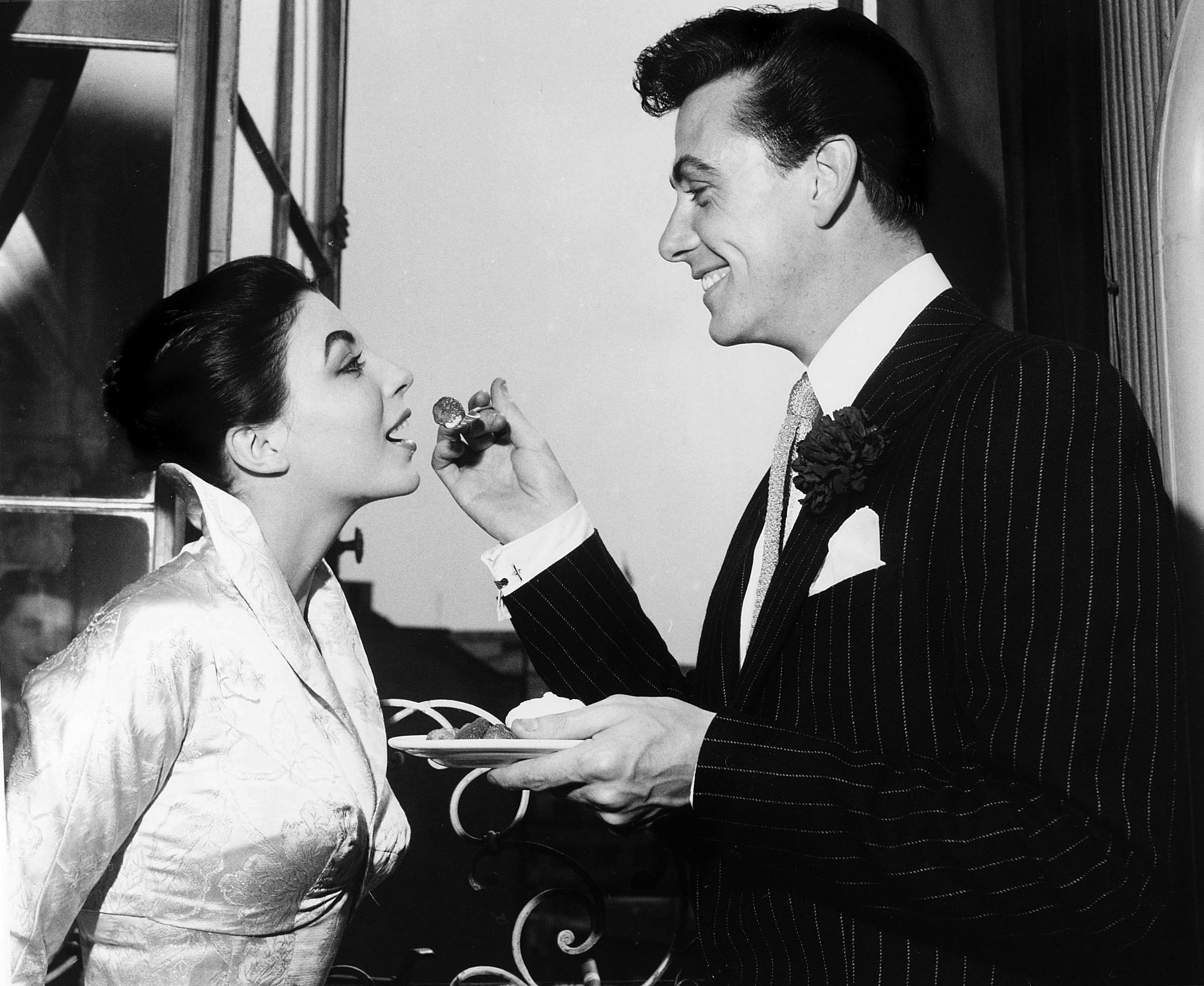 Maxwell Reed and Joan Collins enjoy strawberries and cream at their wedding reception. 25 May 1952, London, England | Source: Getty Images
The star then married Anthony Newley in 1963. The couple welcomed two children together; a daughter, Tara, and a son, Alexander. Eight years later, the couple got divorced. No reason was shared for the divorce.
While there was no clue as to why her second marriage ended, her third marriage had an apparent deciding factor in the dissolution of the union. Her third husband was a good man, but he had insurmountable problems.
Her third marriage was to businessman Ron Kass a year after she divorced Newley. She shared that he asked her to marry him just weeks after meeting her, and she agreed. They were happily married with one child, Katyna, for some years before Kass' substance abuse issues broke them down.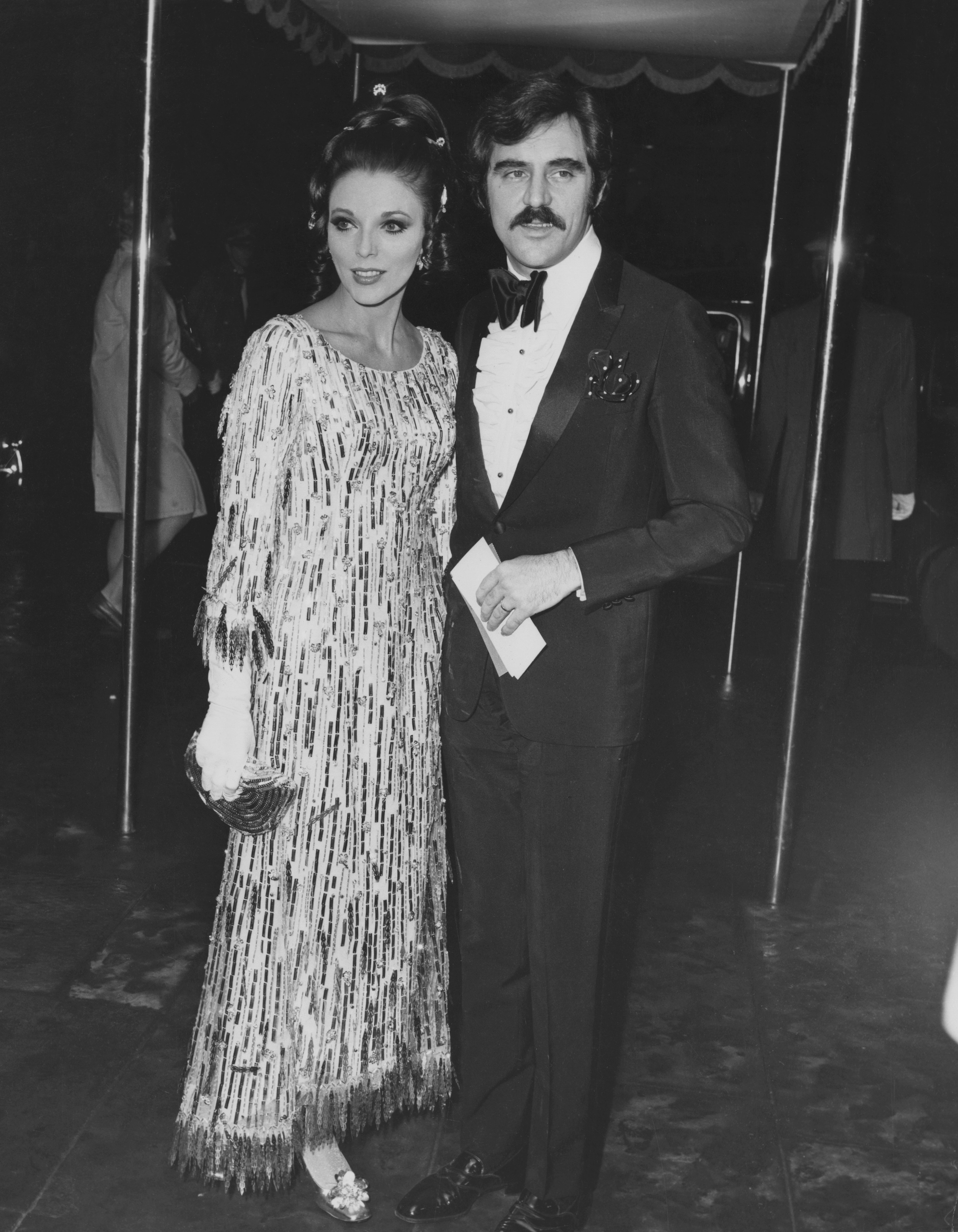 Anthony Newley and Joan Collins arrive at the Odeon Marble Arch in London for the premiere of the film 'Doctor Dolittle', 12th December 1967 | Source: Getty Images
The marriage lasted ten years, but the substance abuse was something with which Collins could not live. She filed for divorce for the sake of her and her young daughter. She quickly moved on to the next husband.
She was then married to Peter Holm in 1985. However, 14 years her junior, he constantly asked her for money, and then she caught him cheating on her. The couple got divorced two years after walking down the aisle.
Only fifteen years after her final divorce, she finally found the man she would love for the rest of her life. It has been her longest relationship, with the couple married for twenty years.
COLLINS FINALLY MET HER SOULMATE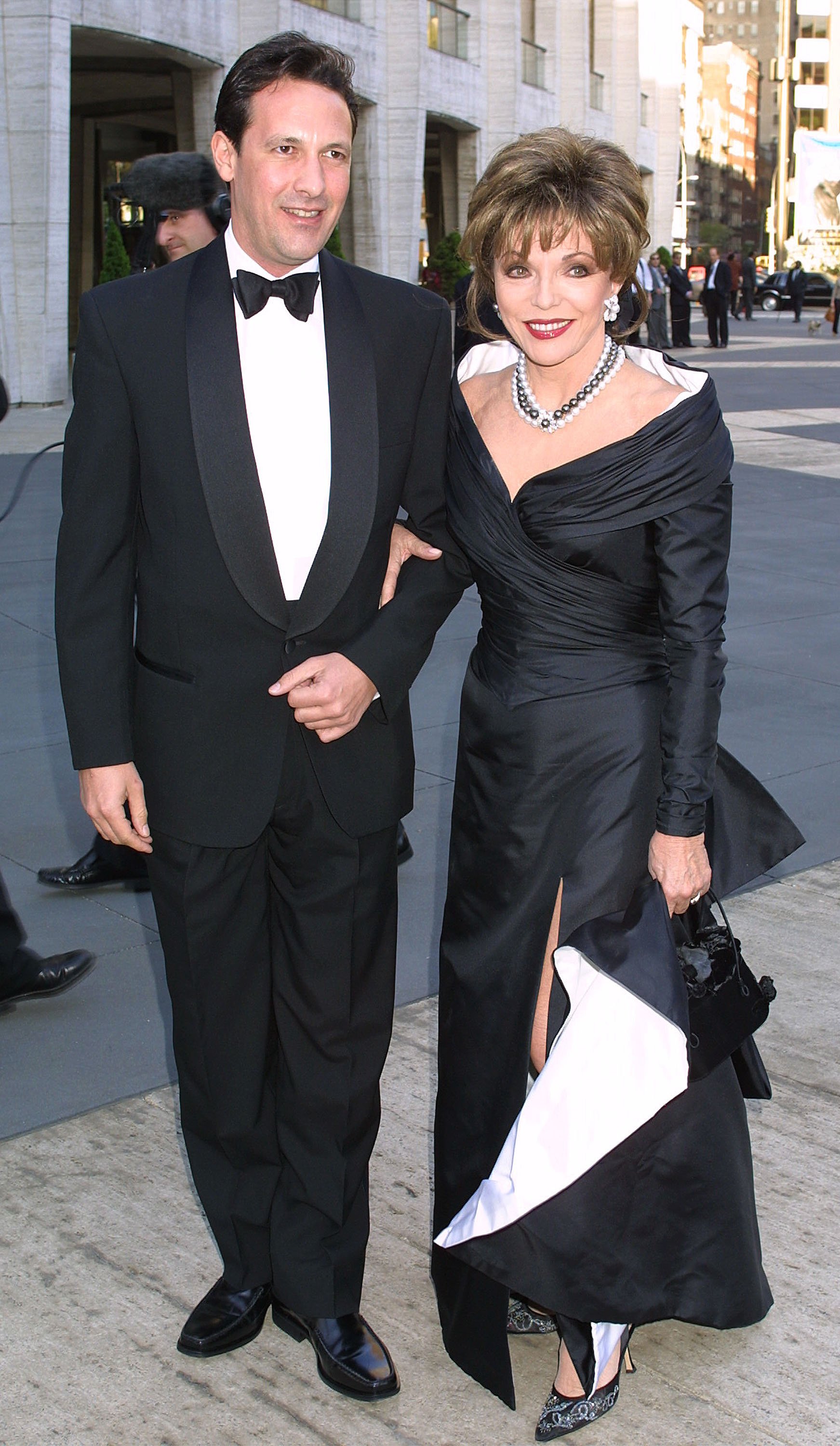 Joan Collins and Percy Gibson attend the American Ballet Theater's Spring 2001 Gala April 30, 2001 at The Metropolitan Opera House in Lincoln Center in New York City | Source: Getty Images
After many complicated relationships, Collins finally met Percy Gibson, 31 years her junior, and fell in love. Collins mentioned that their age gap did not affect their love for one another and said they fell in love fast.
Collins had experienced a lot of heartache from a very young age and was wary of men in general by the time she had divorced her fourth husband. She took forever to find the man who could make her truly happy.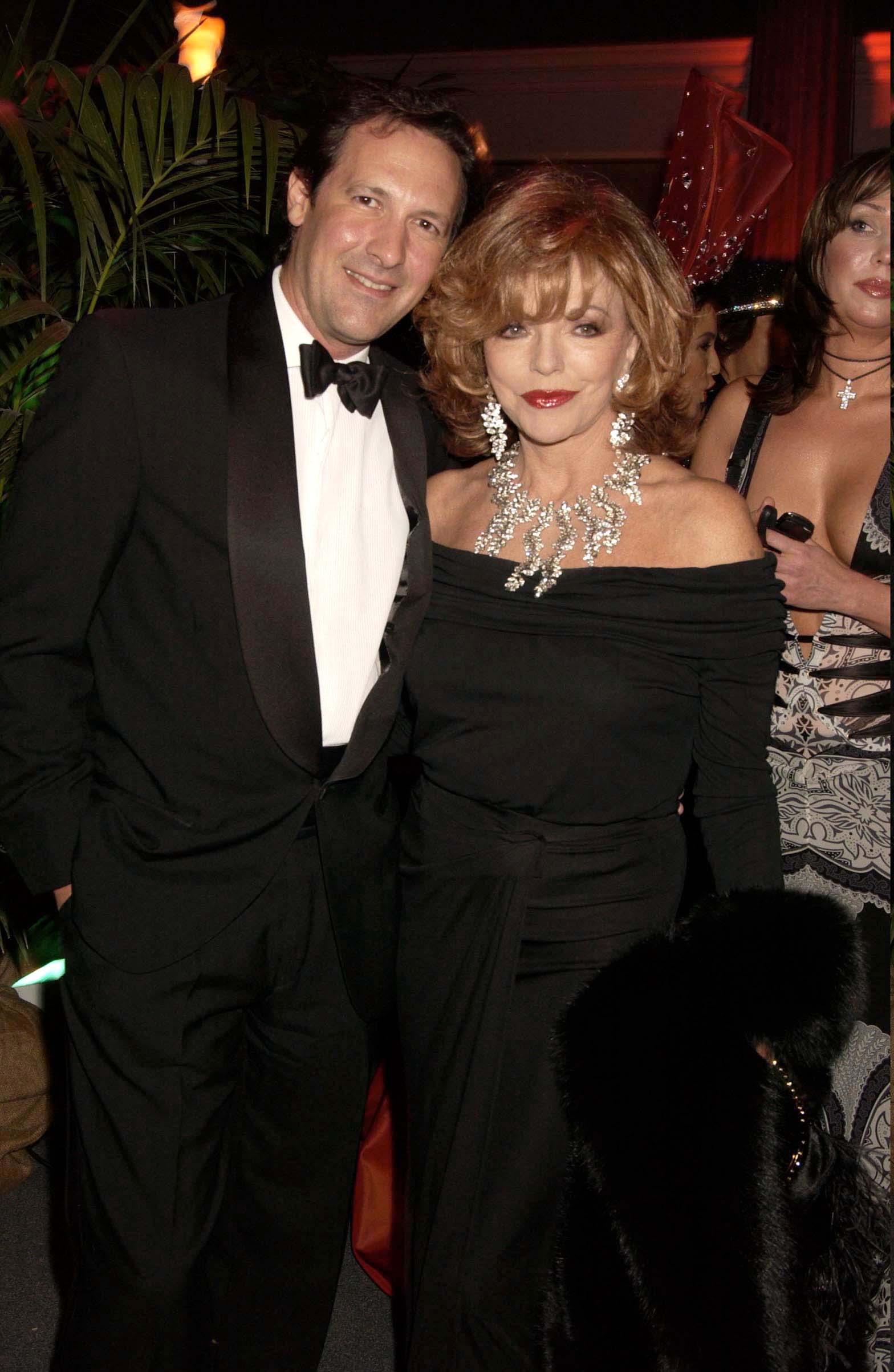 Joan Collins Percy Gibson attend the Andy Wong Chinese New Year Party at the Old Billingsgate Market In London | Source: Getty Images
The pair often joke about their age gap, and Collins once did that on an appearance on "Good Morning Britain. When she was asked if she would have met Gibson in her 30s, she responded:
"He wasn't born!"
The couple got married two years after their first meeting, and it was Gibson's second marriage, while it made five for Collins. The star said she had finally met her soulmate and the man who would be her husband for the rest of her life.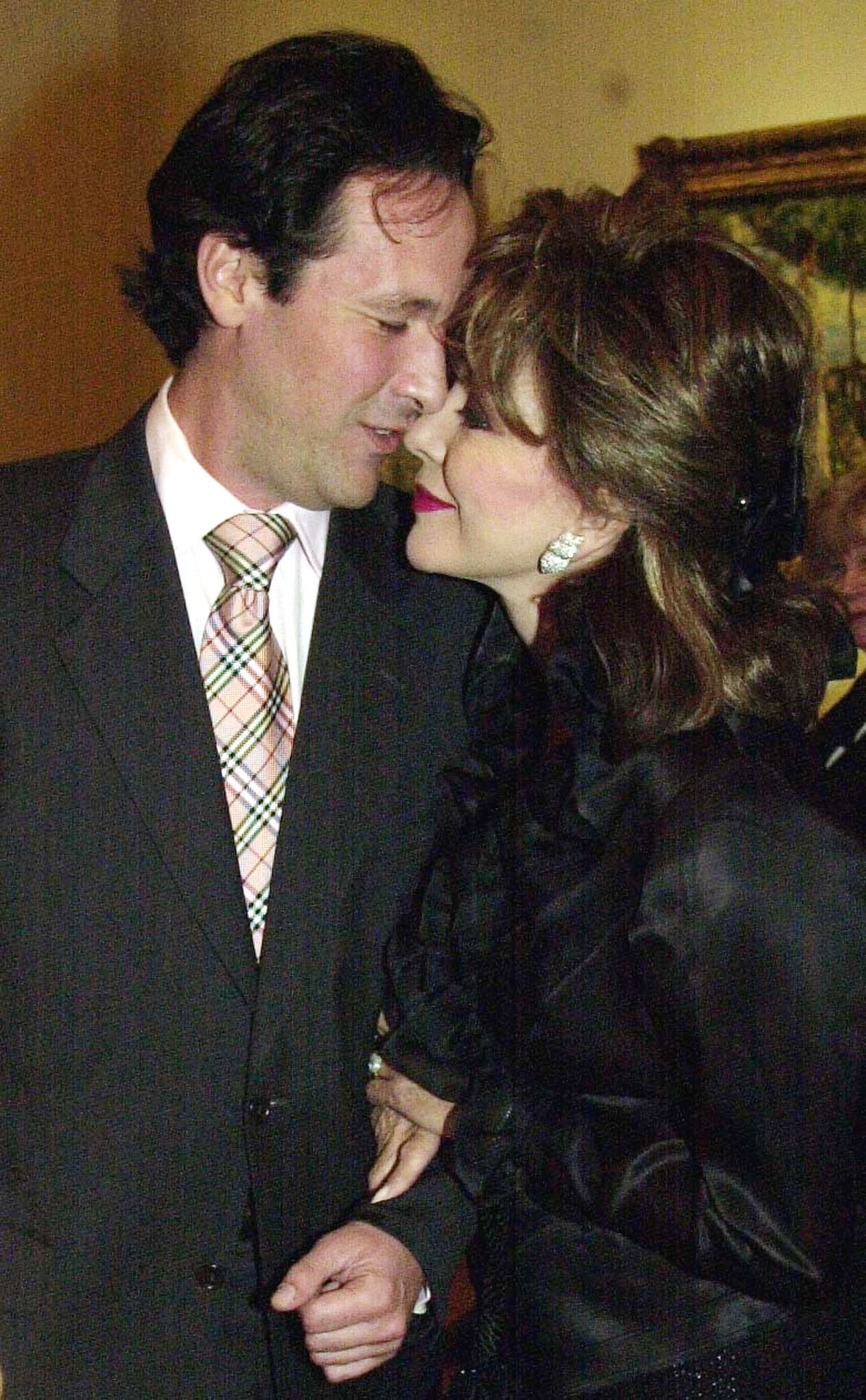 Joan Collins and Percy Gibson at the Royal Academy of Arts in London, February 13, 2022 | Source: Getty Images
She has spoken many times about how much she loves Gibson and how grateful she is that their union has outlasted all of her previous relationships, as she is happier than she has ever been.
On "Good Morning Britain," Collins called her husband "Perfect Percy" and said they were happily married. They had just celebrated their 18th wedding anniversary and hosted a party for it, which she called "And They Said It Wouldn't Last."
However, their marriage has lasted much longer than any of her other marriages. At the party, Collins was asked what she thought the secret to such a long union was, and she said: "Separate bathrooms."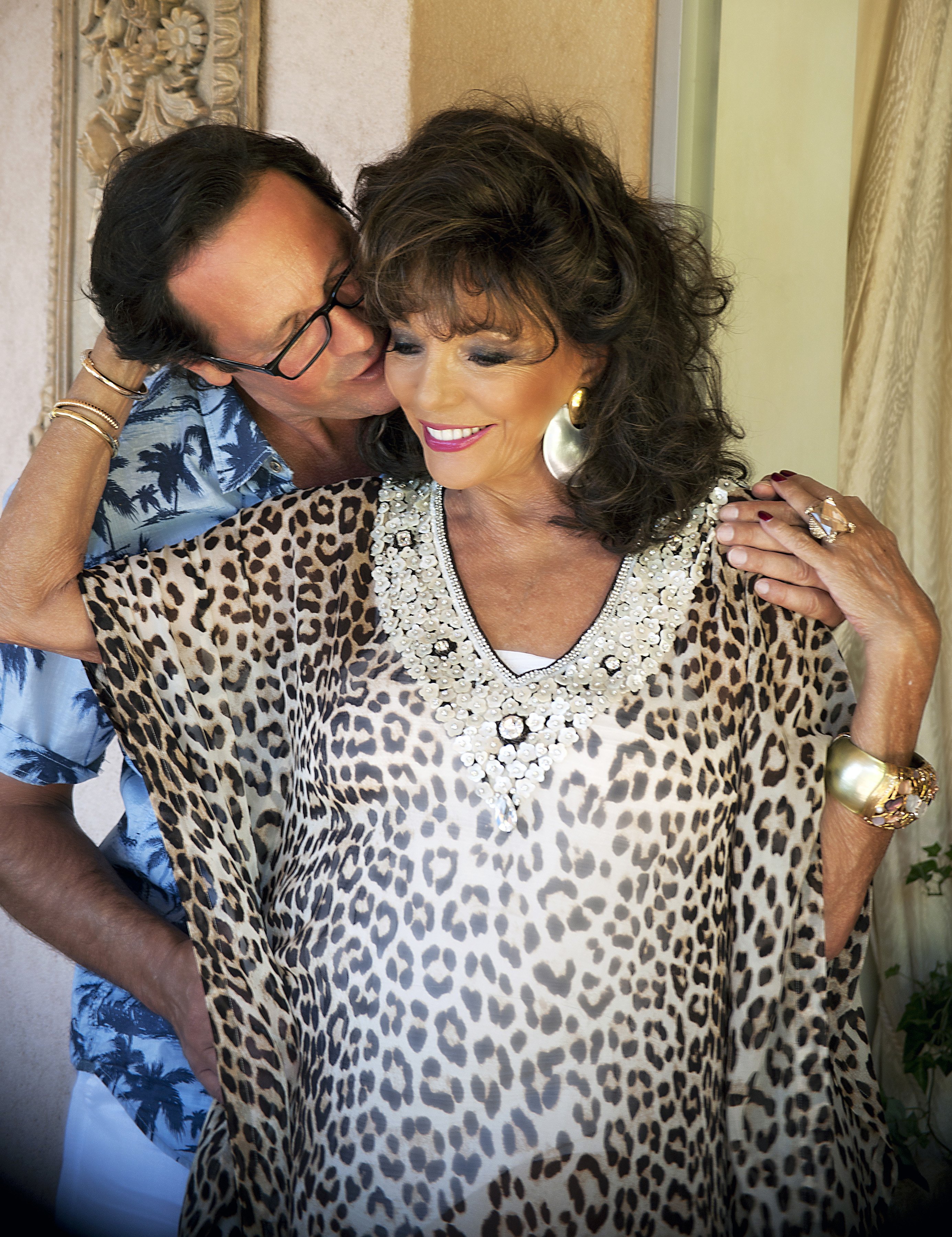 Joan Collins and Percy Gibson on vacation in San Tropez in the South of France in in August 2013 | Source: Getty Images
When Gibson was asked the same question, he gave an answer that made Collins laugh. He said the secret to having a happy marriage was to say "Yes, Dear" to anything his wife said or asked of him.
Recently, Collins suffered a health scare in Monaco. The star was airlifted to a hospital after she suffered a pinched nerve in her leg. However, she is now said to be doing well. Alongside her during these struggles was Gibson.
While Collins did not share much about her health scare, one obvious thing was Gibson's unwavering support as she navigated the difficult time and healed. She is now said to be much better.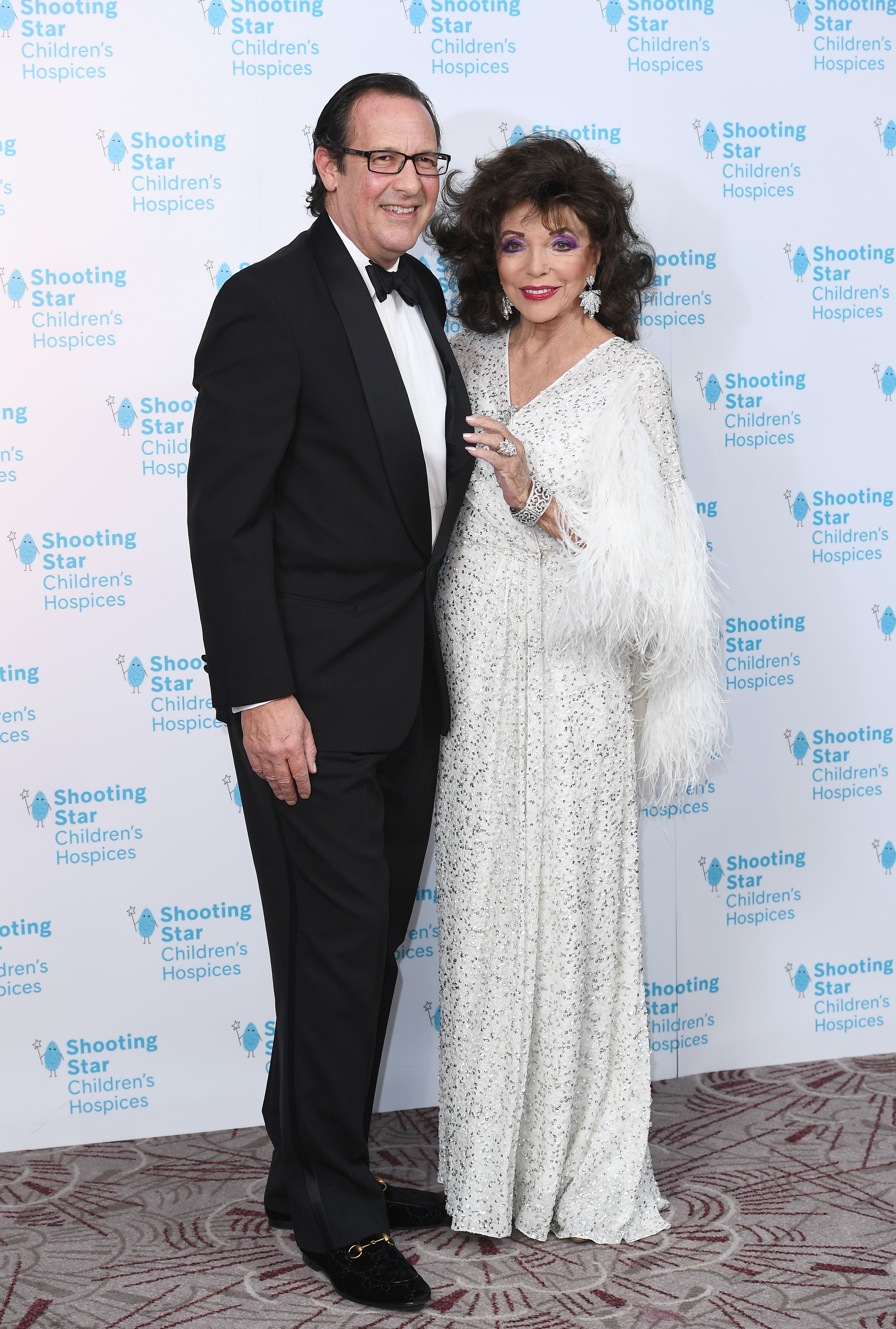 Percy Gibson and Joan Collins attends the Shooting Star Ball in aid of Shooting Star Children's Hospices at the Royal Lancaster Hotel on November 12, 2021 in London, England | Source: Getty Images
A month after she made headlines with her health scare, Collins took to her Instagram page to share photos of herself and Gibson on vacation in the South of France. Collins stunned her fans with her youthful looks in her blue bikini.
The post was met with much love from friends and fans alike. Many fans commented on how good the star still looked at 89 years old, while others admired her and Percy's apparent love for one another.
GIBSON IS A STEPFATHER TO COLLINS' CHILDREN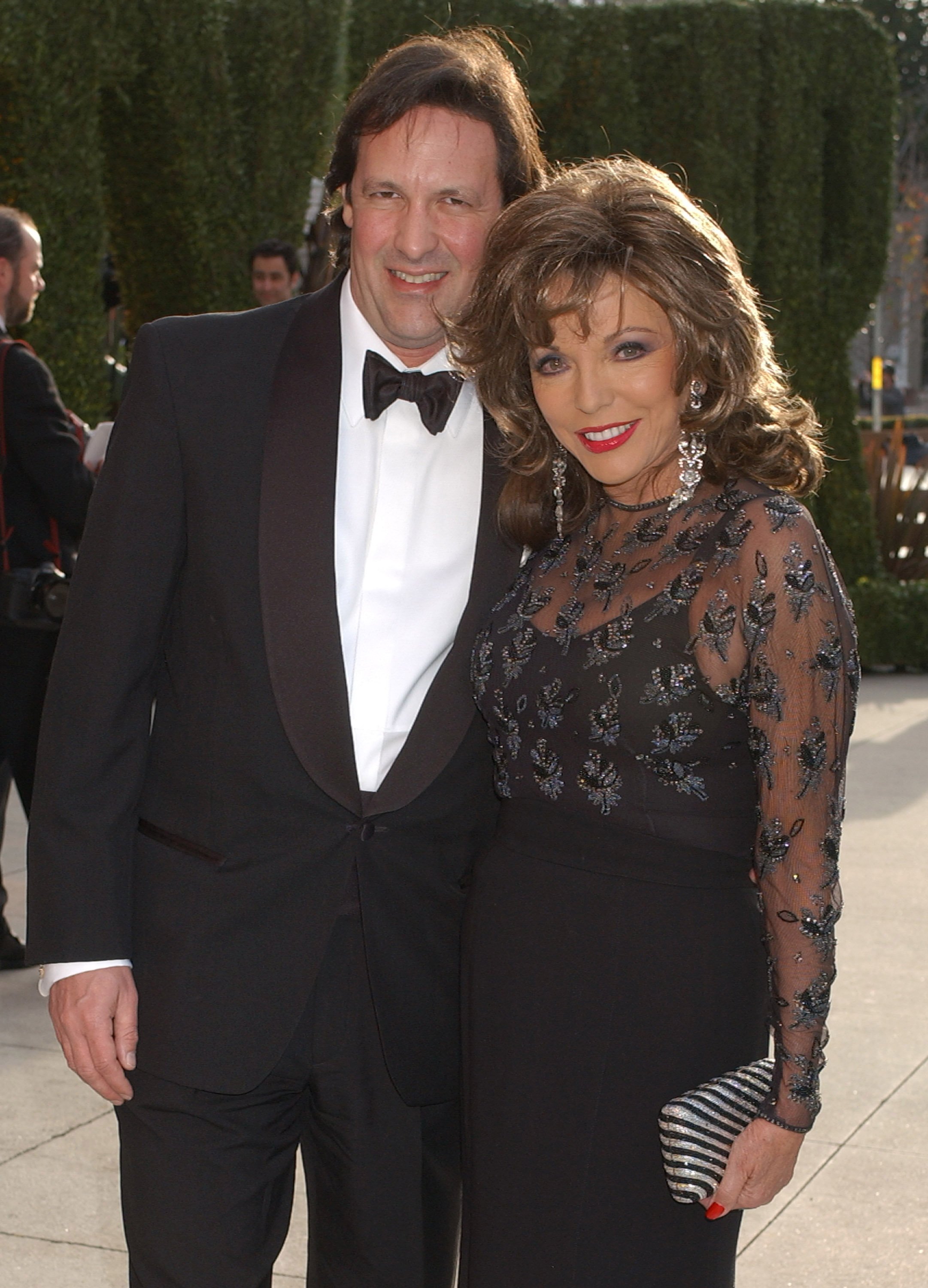 Joan Collins and Percy Gibson attend the 2006 Vanity Fair Oscar Party hosted by Graydon Carter | Source: Getty Images
Although Gibson has been Collins' longest marriage, the couple shares no children. However, Gibson is the stepfather of Collins' three children; Tara, Alexander, and Katyna. Collins also has grandchildren.
Collins' daughter, Tara, is a mother to two children, Miel and Weston. Her son, Alexander, is the father of one daughter, Ava Grace. Collins' grandchildren do not call her "grandma," as she prefers to be referred to as "DoDo."
Gibson is considered Collins' grandchildren's step-grandfather, even though he is still relatively young, at only thirty-three years older than her eldest grandchild, born in 1998.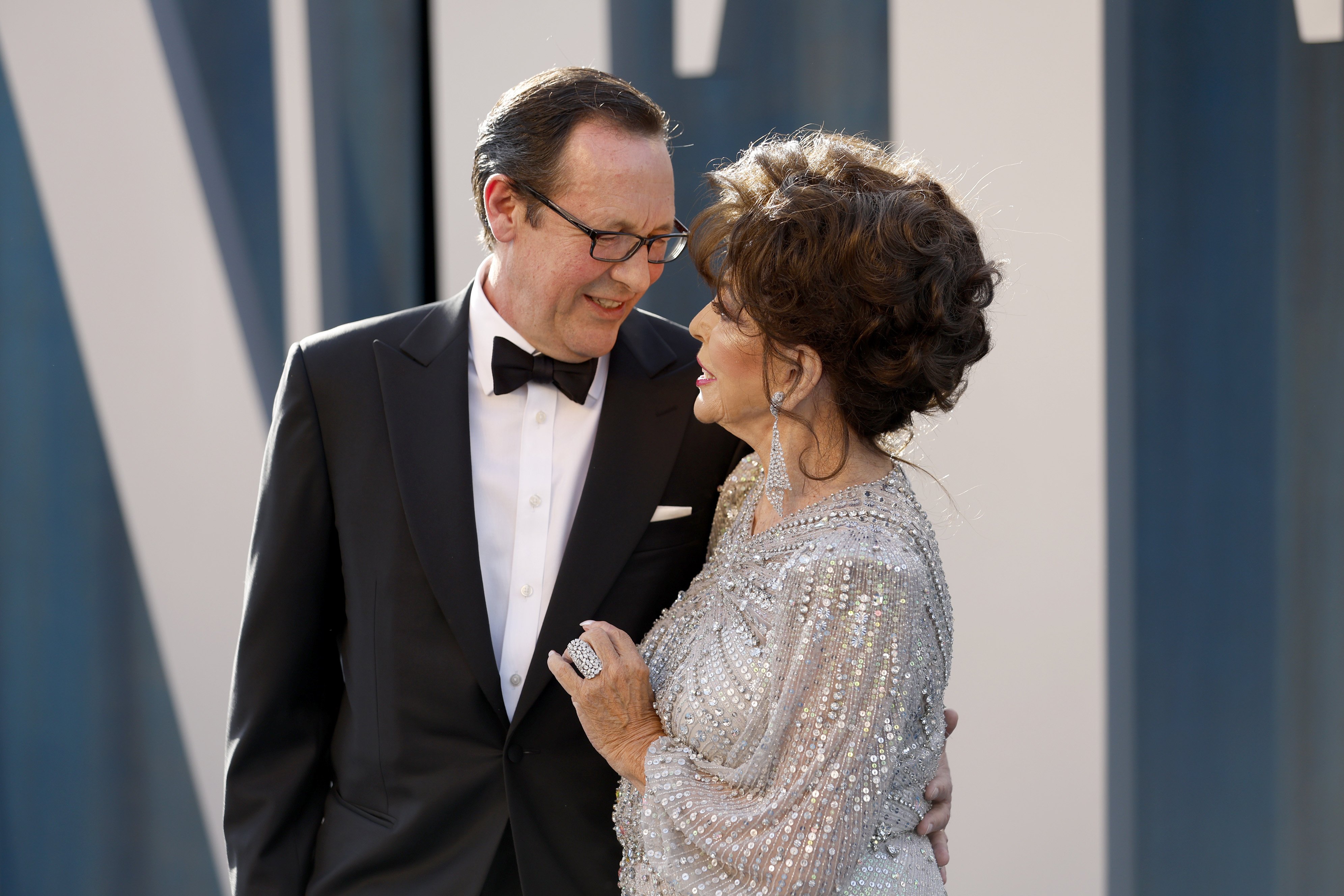 Percy Gibson and Joan Collins attend the 2022 Vanity Fair Oscar Party hosted by Radhika Jones at Wallis Annenberg Center for the Performing Arts on March 27, 2022 in Beverly Hills, California. | Source: Getty Images
While Gibson does not have any social media that fans are aware of, Collins is not shy to share her love for him on her social media. As well as photographs of her family and throwback photos, Collins' Instagram page is flooded with pictures of Gibson.
Fans also recognize how happy the couple is together and often comment on the photographs she shares of her and her beau. We wish the couple nothing but love, health, and happiness in the days to come.
Please fill in your e-mail so we can share with you our top stories!