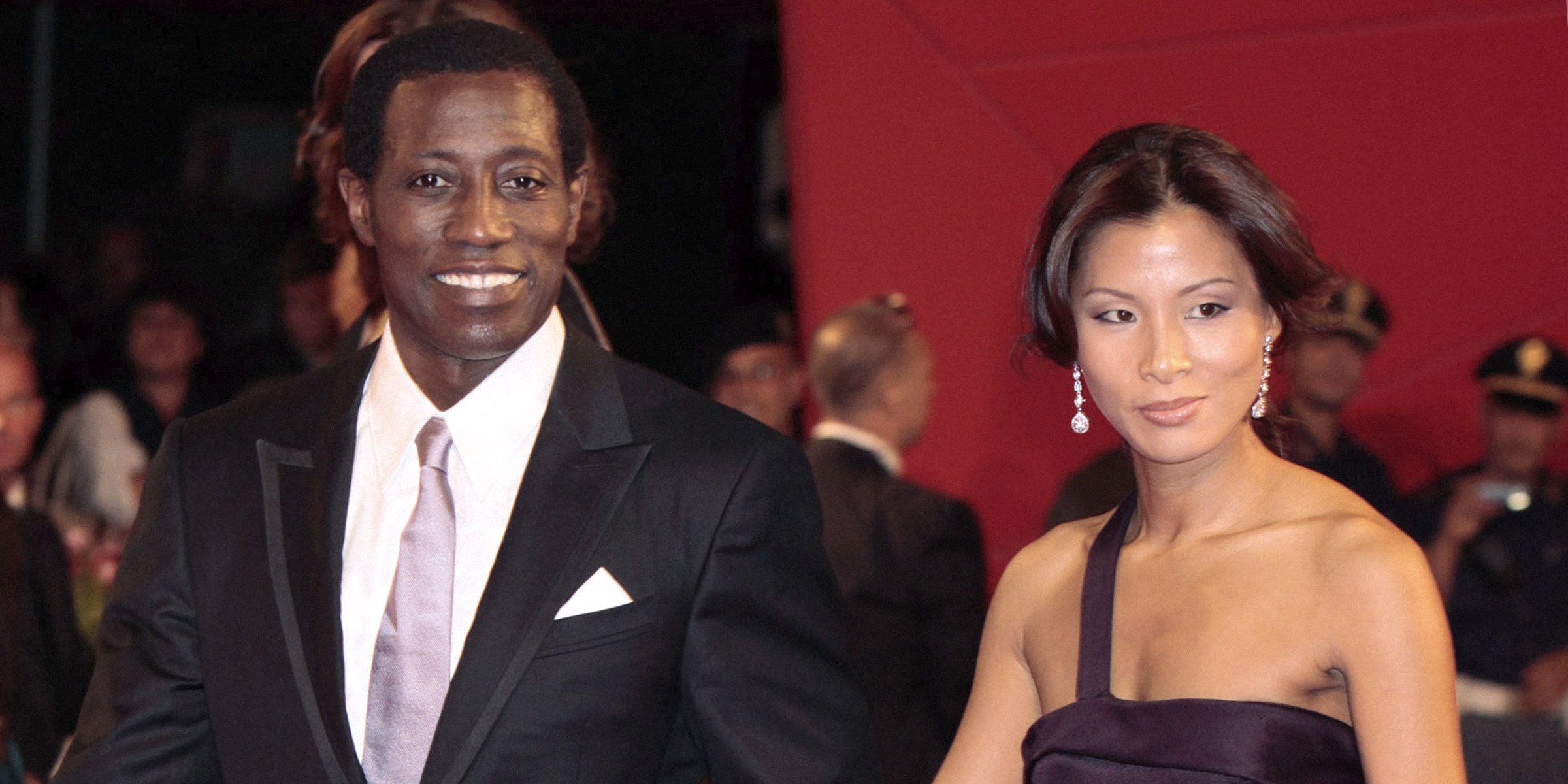 Getty Images
Nakyung Park Is Wesley Snipes' Wife & Supported Him during His Imprisonment over a Decade Ago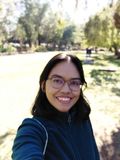 In addition to her extraordinary creative achievements in the art world, Nakyung Park is best known as the wife of Hollywood actor Wesley Snipes. Despite her private nature, Nakyung knows how to stand up and defend her husband.
Nakyung Park is an established artist widely known for her exceptional talent in painting. While her creativity is acknowledged internationally, her marriage to Hollywood actor Wesley Snipes propelled her to stardom.
Park has been married to Snipes for twenty years, and their relationship has been challenged and strengthened by a slew of events. The long-term pair triumphed over the seasoned actor's imprisonment.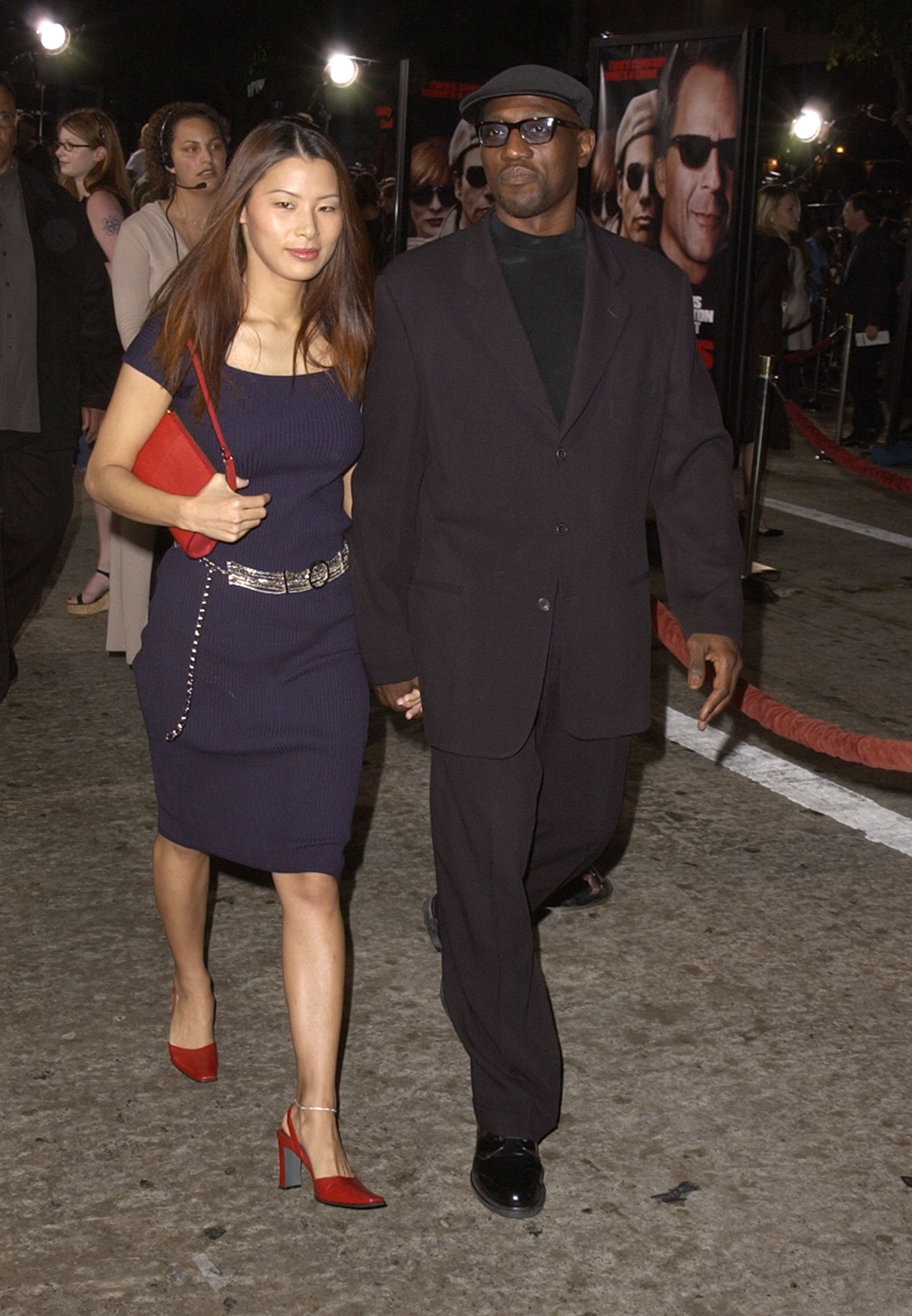 Wesley Snipes and Nakyung Park attend the "Bandits" film premiere on October 4, 2001, in Los Angeles, California. | Source: Getty Images
NAKYUNG PARK IS AN ARTIST FROM SOUTH KOREA
Park was born in Seoul, South Korea, but eventually relocated to the United States, where she became known by her nickname, "Nikki." She is the daughter of Munhwa Broadcasting Corporation director Park Cheol.
In the South Korean entertainment industry, Cheol is well-known for producing a series of well-liked television programs in the 1980s and 1990s. He made the hit television drama series "What is Love," which earned a high viewing of 64.9% in 1991-1992.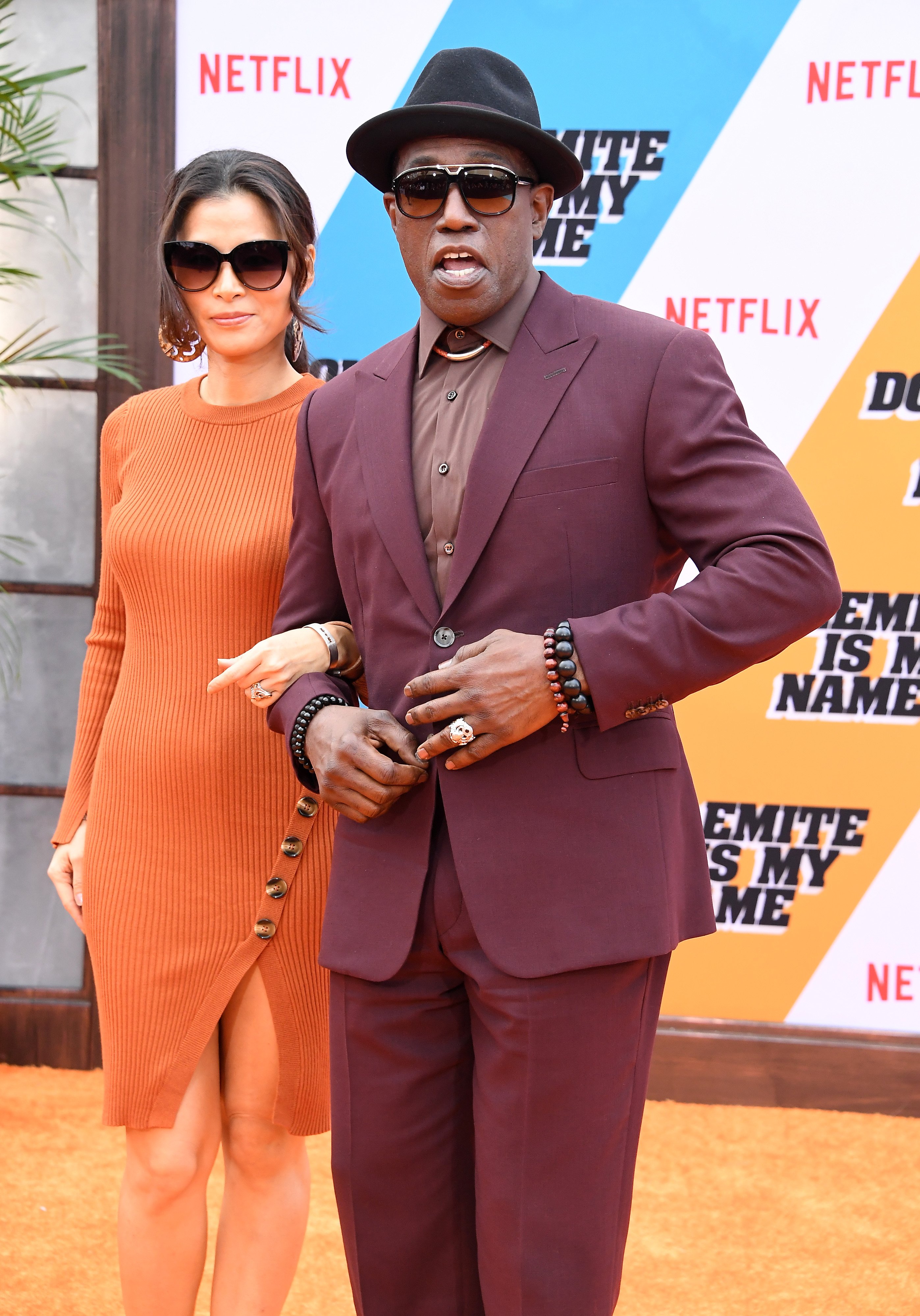 Nakyung Park and Wesley Snipes at the premiere of Netflix's "Dolemite Is My Name" on September 28, 2019, in Westwood, California. | Source: Getty Images
Sadly, Cheol passed away in July 2020, leaving his daughter and Snipes heartbroken. During his eulogy for Cheol, Snipes emphasized his late father-in-law's contributions to the current appreciation of Korean culture. He added:
"From the era of reconstruction in Korea, through the years of turbulence, through vision, courage and creativity, you helped the people cry, laugh and grow."
Snipes has always had a soft spot for South Korea and thinks highly of Cheol's accomplishments. The seasoned actor attended the 2019 Chungju World Martial Arts Masterships 2019, where his athleticism earned acknowledgment.
Snipes is no stranger to martial arts, having obtained a fifth-degree black belt in Shokotan karate, one of several martial systems he studied. Kung fu, Hapkido, Kushindaryu Jujutsu, and Sanuces Ryu Jujutsu were all within his skill set.
The icon's passion for South Korea and martial arts and his commitment to racial equality in Hollywood have earned him widespread acclaim. On the set of "One Night Stand," he insisted that an actress of Asian descent play his on-screen wife.
Chinese actress Ming Na-Wen, known for the Disney film "Mulan" was chosen to portray the character of Snipes' fictional wife in the movie. Snipes has long believed that this groundbreaking initiative will help break down barriers around issues of sexuality and race.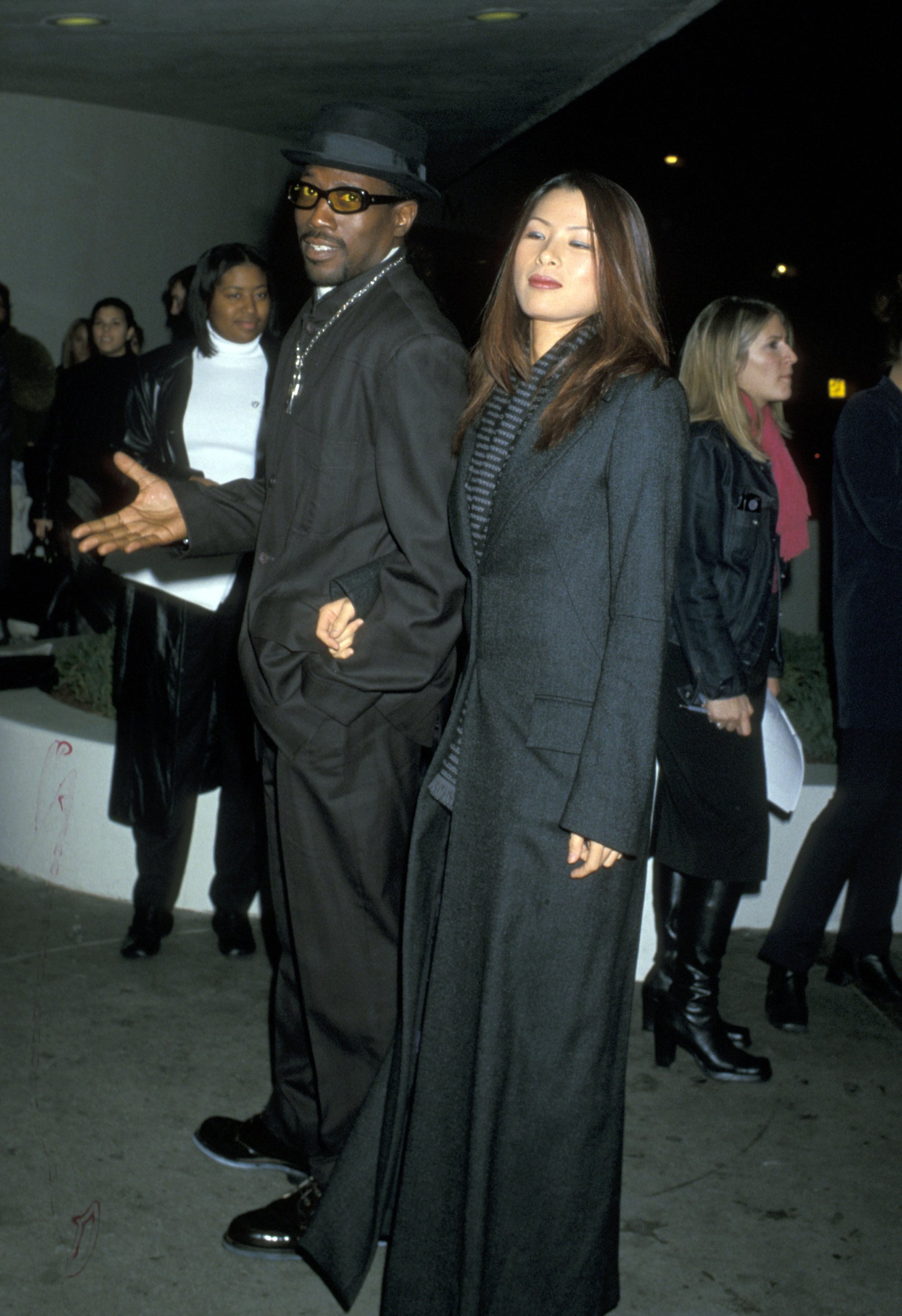 Wesley Snipes and Nikki Park attend the "Once In A Lifetime" premiere on April 7, 2002, in New York. | Source: Getty Images
NAKYUNG PARK AND WESLEY SNIPES HAVE BEEN TOGETHER SINCE 2003
Even though Park and Snipes have been a couple since March 2003, how they first became acquainted is still a mystery. They have four children: daughter Iset-Jua-T, and sons Alaafia Jehu-T, Akhenaten Kihwa-T, and Alimayu Moa-T.
Park seems a protective mother, as she does all she can to keep her four children out of the limelight.
The couple had a bittersweet memory associated with one of their four children. When the World Trade Center's twin towers collapsed on September 11, 2001, it destroyed Snipes' apartment in New York City.
Thankfully, Snipes and his wife were not there when the tragedy occurred since they were on the west coast caring for their only daughter, Iset-Jua-T, who happens to have the same birthday as the "Blade" star.
Before having four children with Park, Snipes was already a parent to Jelani Asar, his son from his previous marriage to his former wife, April Dubois. Since their divorce in 1990, no one has seen the former couple's only son in public.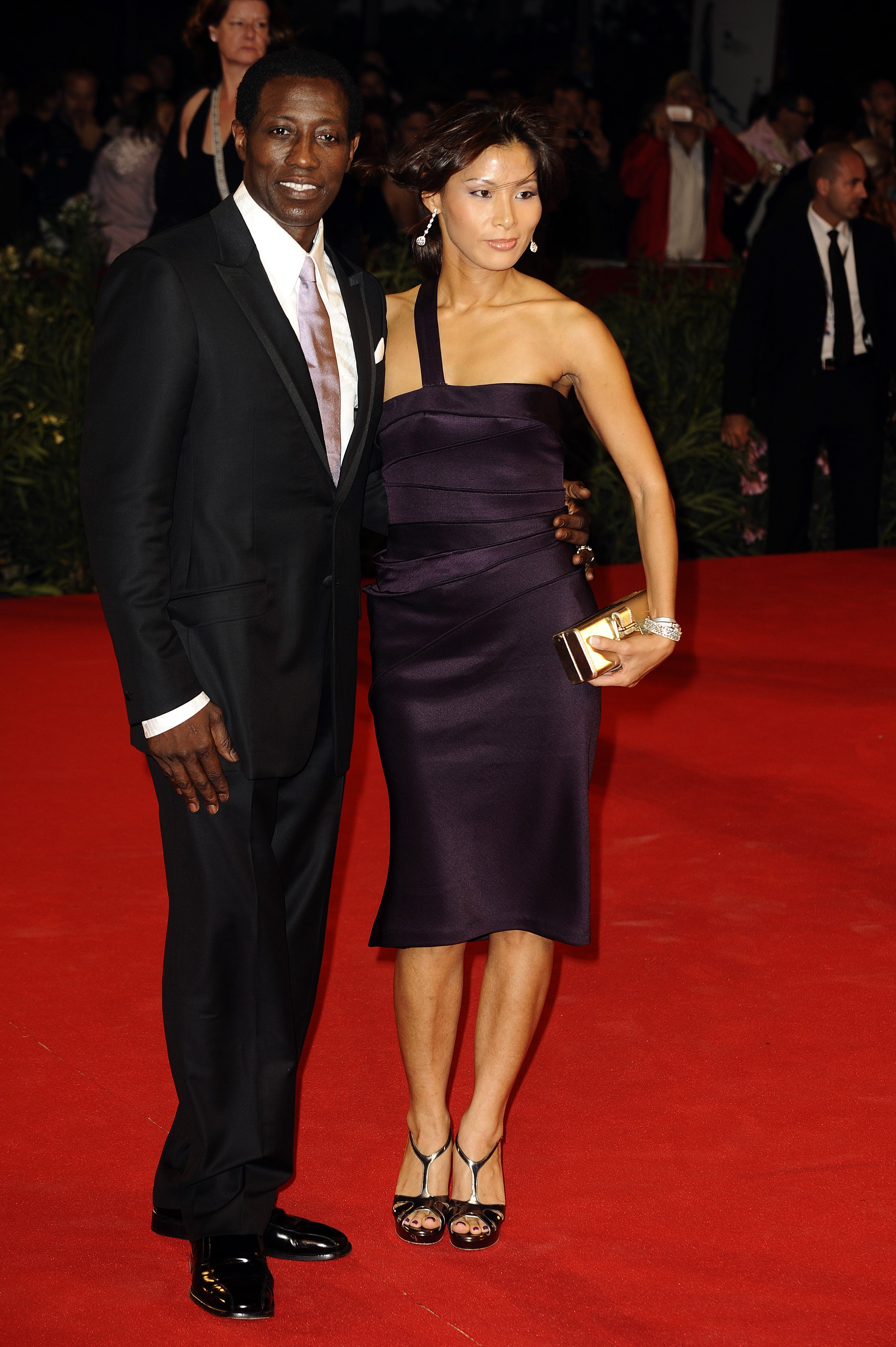 Nakyung Park and Wesley Snipes attend the 66th Venice Film Festival on September 8, 2009, in Venice, Italy. | Source: Getty Images
NAKYUNG PARK HAS FOUR CHILDREN
Park seems a protective mother, as she does all she can to keep her four children out of the limelight. Even though she places a high value on her children's privacy, some information about them is known, although in a limited sense.
Interestingly, the letter "T" appears next to all of their children's names. It's unknown why Park and the movie star used a particular letter in their children's names.
The visual artist and her famous husband appeared to treat their only daughter, Iset Jua-T, born in 2001, like a royal family member. Her given name is derived from an ancient Egyptian word that means "(She) of the throne."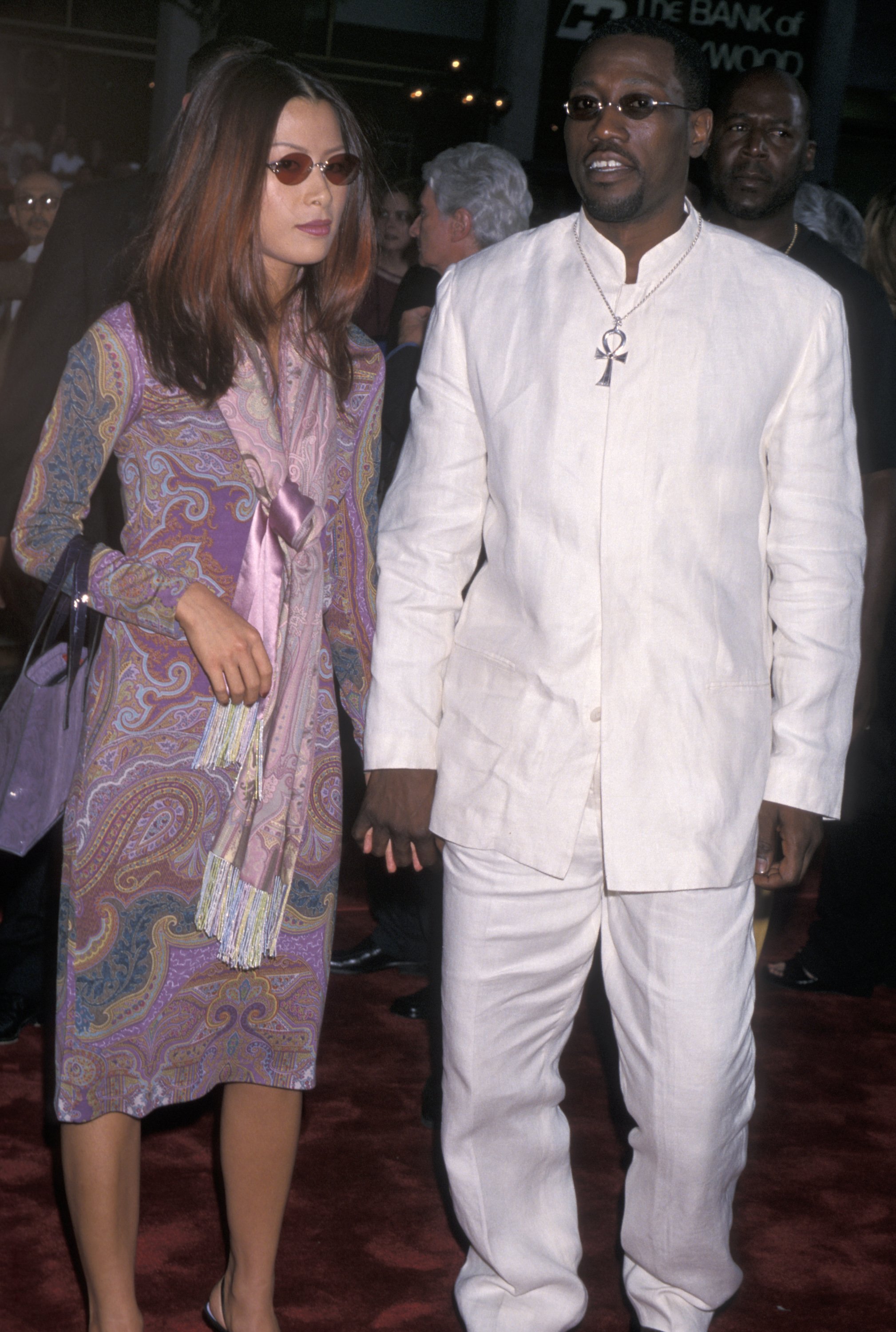 Nakyung Park and Wesley Snipes attend "The Art of War" premiere on August 23, 2000, in Hollywood, California. | Source: Getty Images
Park's three other sons, like Iset Jua-T, have unique names with different meanings. Akhenaten-T, born in 2000, is a name that seems to be inspired by an Egyptian Pharaoh; Alaafia, born in 2004, is an Arabic name that means "peace."
Meanwhile, Alimayu, born in 2007, follows suit with her parents' penchant for ancient or African names. The couple's youngest son's name is an Ethiopian name, which means "in honor of God."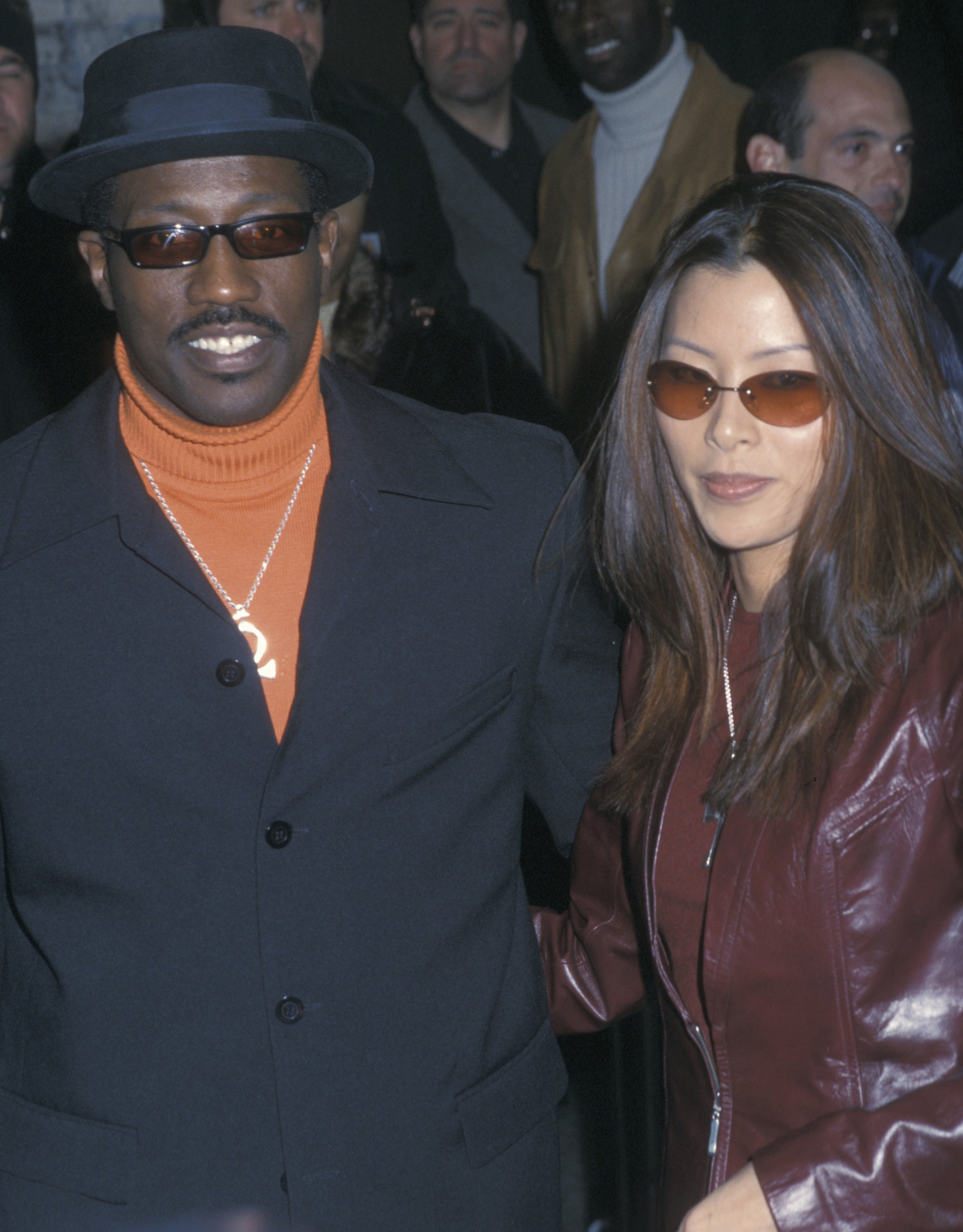 Wesley Snipes and Nakyung Park at the Supper Club on April 7, 2002. | Source: Getty Images
Another unfortunate event put a strain not just on the relationship between the couple but also on their children. During the Christmas season, a federal judge ordered him to go to prison to serve his three-year sentence.
On the other hand, Snipes requested a federal court to postpone his sentence until January 2011. He argued in his filed "Emergency Motion To Stay Self Surrender" that he is a father of four children.
The doting dad added that he should not be forced to turn himself "in the middle of the holiday season." While on bond, he said he had always treated his obligations with the utmost respect and kept them all.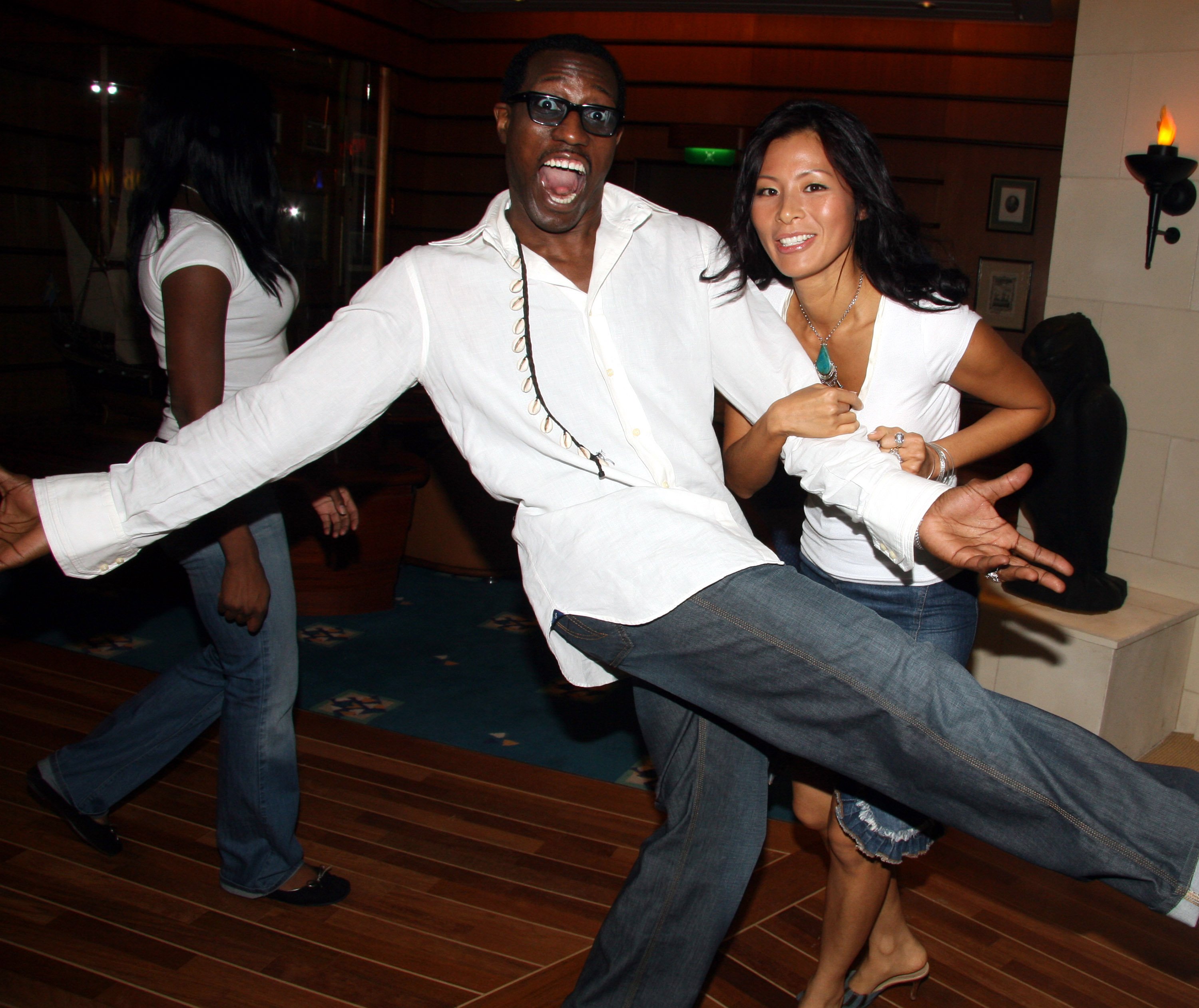 Wesley Snipes and Nikki Park at the after party of Spike Lee's 20 Anniversary Celebration Benefit on May 12, 2006. | Source: Getty Images
NAKYUNG PARK STAYS WITH HER HUSBAND DESPITE LIFE'S DIFFICULTIES
The stars are aligned for Snipes to accomplish great things. He earned several acting credits throughout his Hollywood career. He was the stuff of Hollywood legends, as he was everything a movie star could want: talented, beautiful, and physically fit.
Despite his fame, many people around him find him difficult to work with. Furthermore, in 2008, a court sentenced him to three years in prison for failing to submit $15 million in federal income tax returns.
Snipes was sent to prison in December 2010 after he was unable to reverse his conviction after contesting it. Park penned a long letter to their friends and relatives in response to her husband's imprisonment, appealing for their support.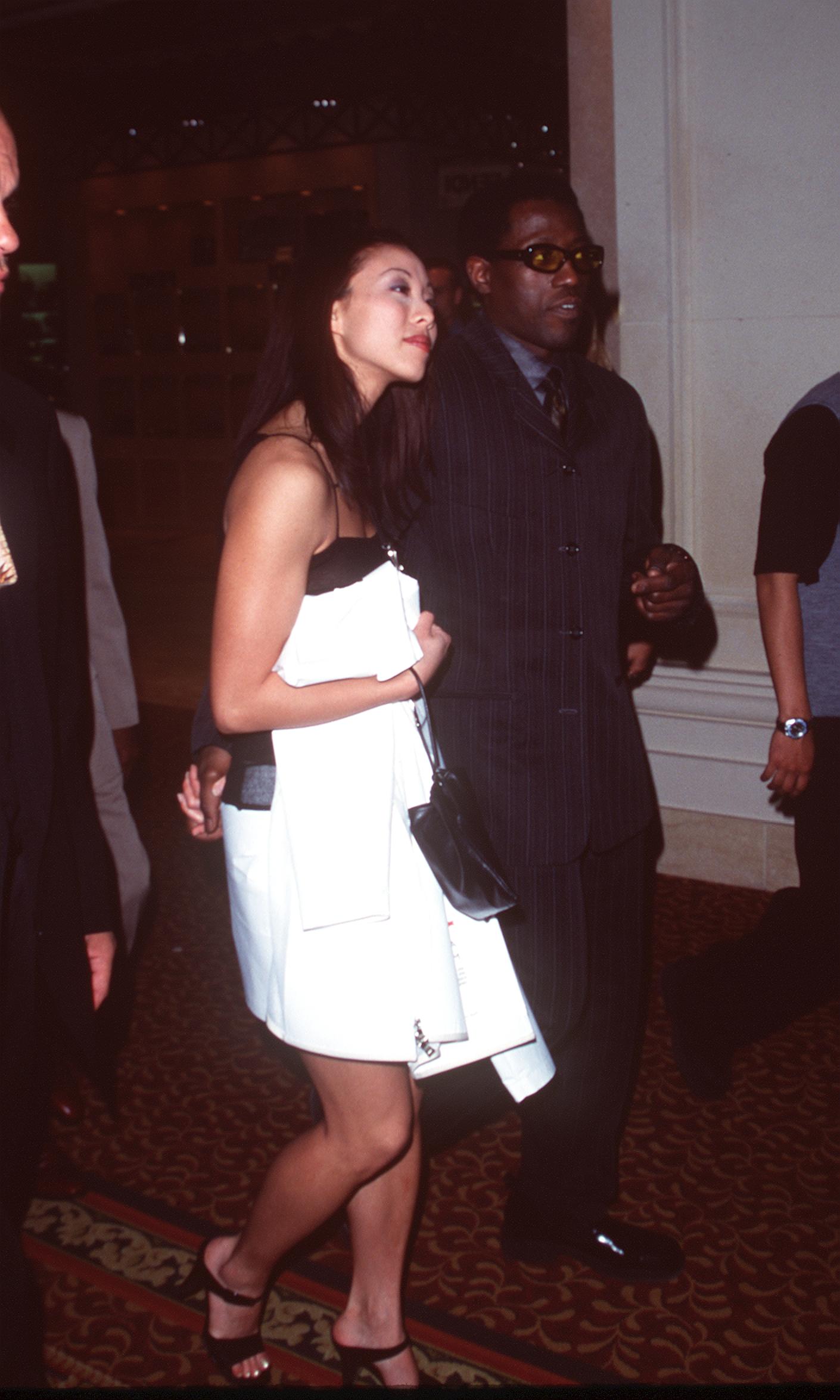 Wesley Snipes and Nakyung Park on May 29, 1999. | Source: Getty Images
According to Park, the statement made by the court on her husband's case was a "shocking decision" for all of them. She pointed out that her family had suffered a challenging period. Park added:
"My warrior husband is still standing strong, willing to give his all to defend his liberty, something that had never crossed our minds that he would have to fight to keep."
She also claimed in the letter about the government's abuse of power and noted that they used her husband's fame to make him an example of a crime she believed Snipes never committed.
Park also criticized the media for allegedly helping the government's propaganda and portraying her husband's case as a tax fraud scheme. She described her husband's situation as "excruciating," comparing it to a terrible film in which the public only heard one side of the story.
Even though things were complicated, Park thanked their friends and family for their support. Snipes ultimately served two and a half years in prison. The renowned actor was released from jail in 2013.
After being released, Snipes never used the term "prison" in his vocabulary; instead, he referred to the facility as a "camp." Moreover, while incarcerated, he expressed his opinions and the lessons he had learned. He said:
"The biggest thing I got from it was learning the value of time and how we often squander it ... I understand that very clearly now, having been away from my family and loved ones two and a half years."
Overall, Snipes considered his time behind bars a "positive experience." In addition to restoring his freedom, he also claimed to have emerged as a "clearer person" with a better knowledge of his values and purpose.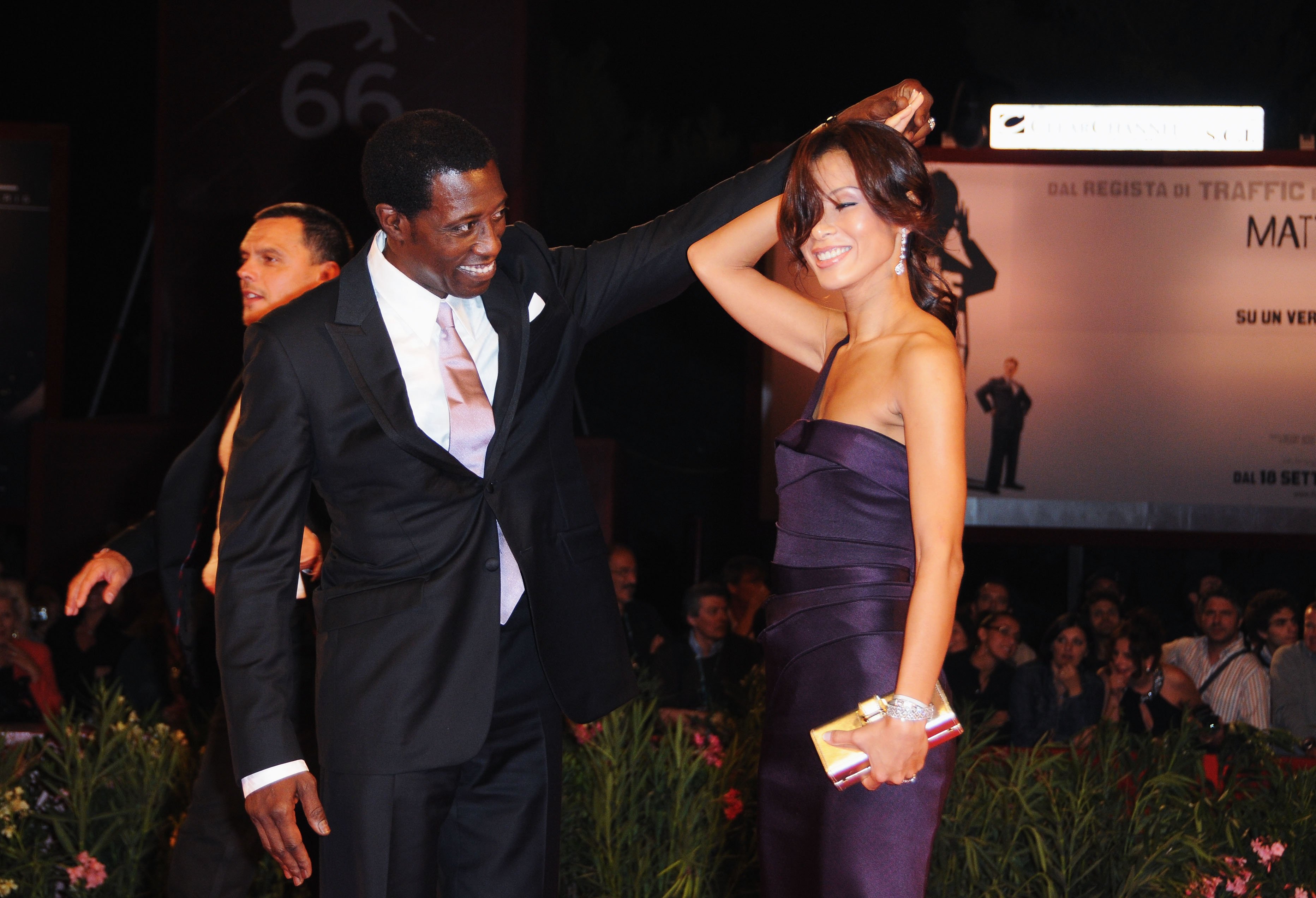 Wesley Snipes looks at his wife Nakyung Park on September 8, 2009, in Venice, Italy. | Source: Getty Images
Wesley Snipes' relationship with his family has improved dramatically after his release. On the other hand, Park stays supportive and devoted to her marriage to her husband. Even facing the most serious challenges, she has never abandoned his side.
Park pursues her art and wishes to spend her life away from the limelight. Her husband has worked on several initiatives involving technology, communications, and creating new digital platforms.
Please fill in your e-mail so we can share with you our top stories!