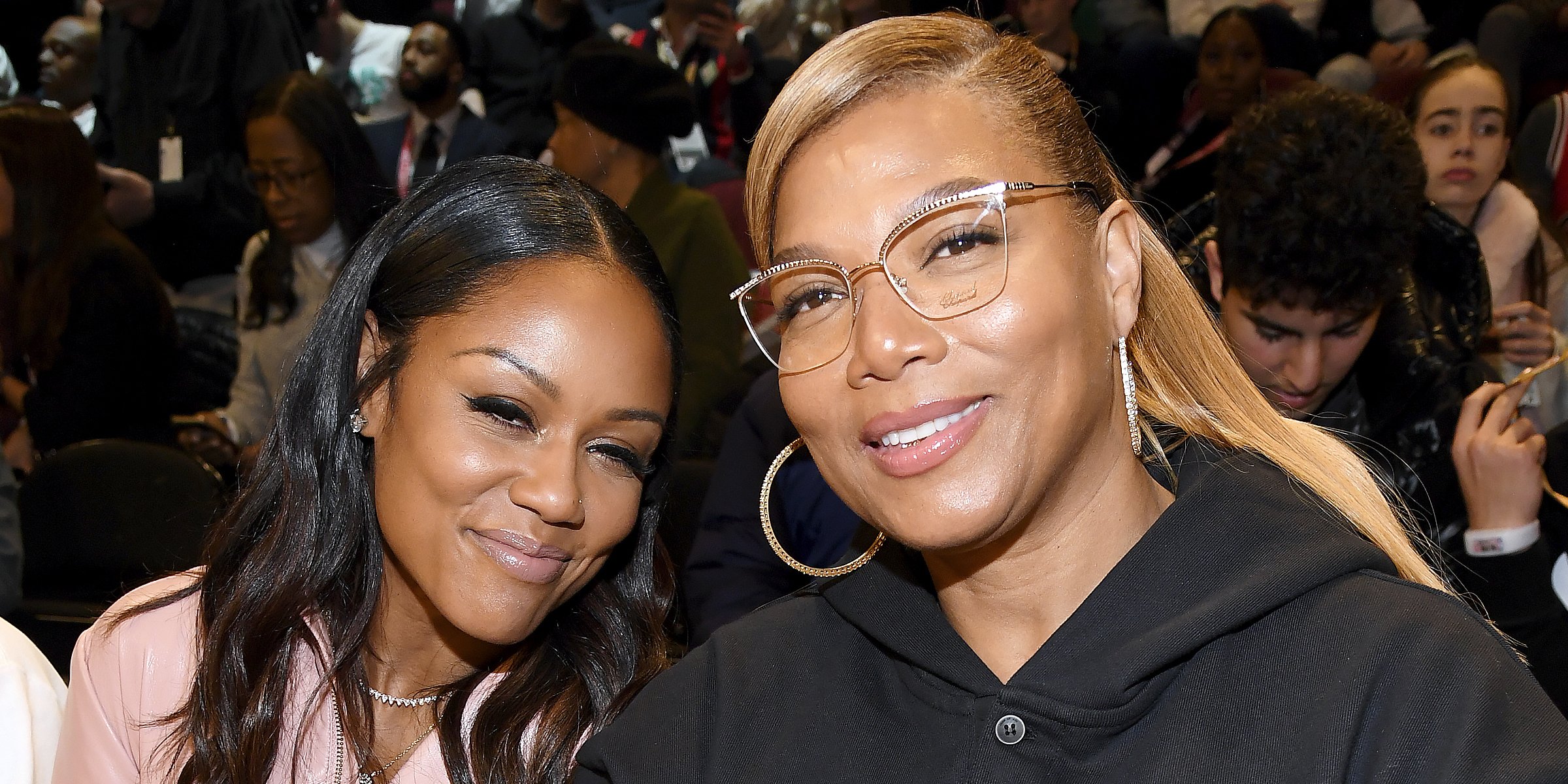 Getty Images
Eboni Nichols Is an Accomplished Choreographer - Everything about Queen Latifah's Partner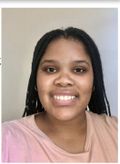 Queen started as one of the few female rappers of color in the music industry before pursuing a successful career as an actress. Latifah has been quiet about her love life but has been in a relationship with her partner, Eboni Nichols. The couple met on a dancing show and had reportedly welcomed a child. Learn more about Eboni and her successful career as a choreographer.
Queen Latifah has been a well-known actress for years, from her successful career in music as a rap artist to appearing in multiple blockbusters such as "Hairspray" and "Bringing Down the House."
Latifah had only once mentioned her long-term partner, Eboni Nichols, with the couple rarely making public outings. Eboni is a professional choreographer from California; she worked with multiple A-List celebrities and choreographed T.V. shows and movies during her career.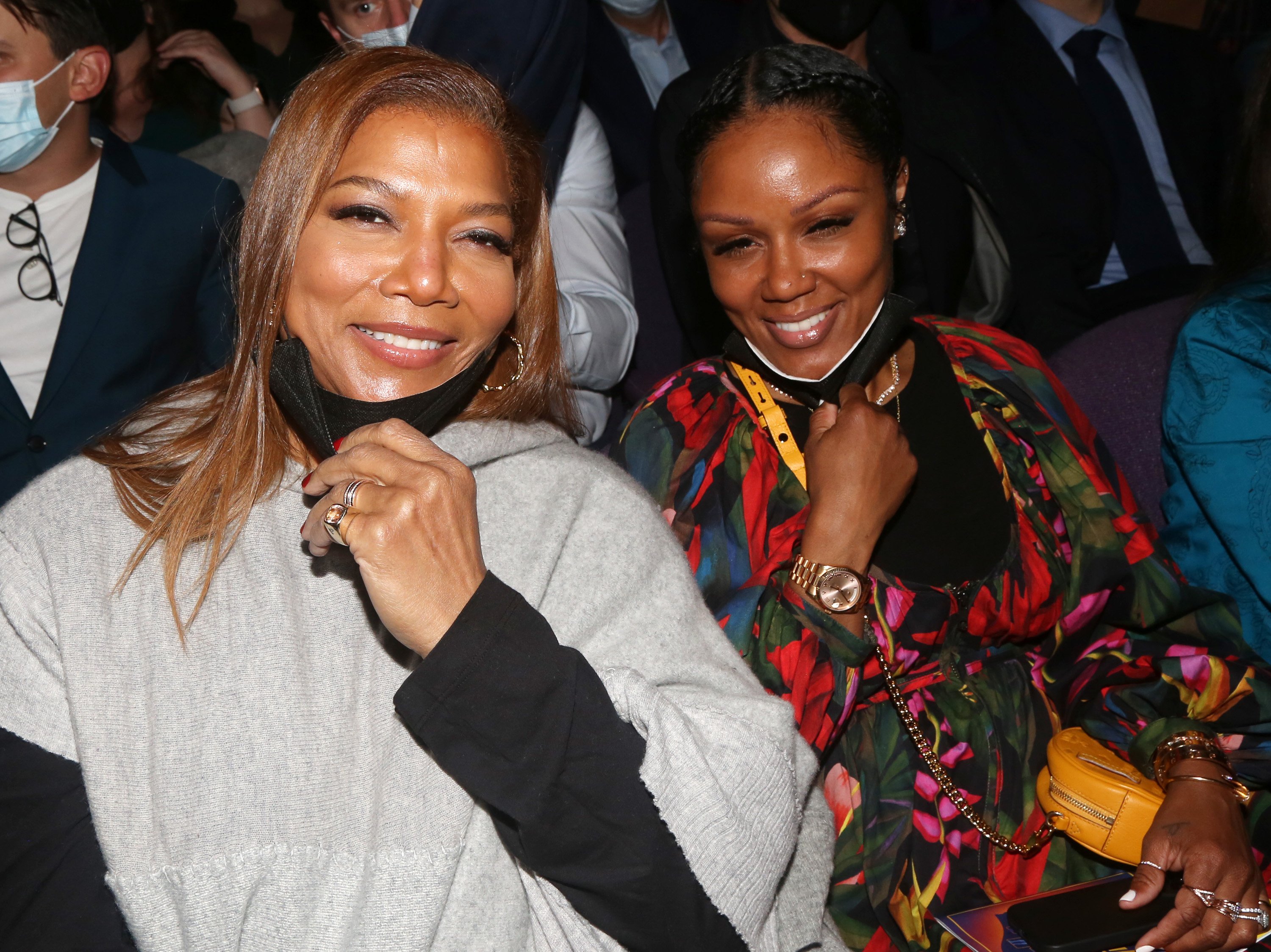 Eboni Nichols and Queen Latifah at the opening night of "Strange Loop" in New York on April 26, 2022 | Source: Getty Images
WHO IS EBONI NICHOLS?
At eight, Eboni knew she loved dancing; she went to Bre Dance Studio, and that's when she realized she wanted to be a professional dancer. After graduating from Valley View High School in Moreno Valley, Eboni enrolled at Chapman University in Orange, California.
She studied Theatre and Dance and graduated with a B. F.A. in the field. Her years of practice as a dancer landed her in showbiz. She quickly became a cheerleader for the Los Angeles Laker Girls.
Her career went up a notch when she began traveling with artists on tours and appearing in music videos. She had worked with Beyoncé, Aaliyah, Jennifer Lopez, Mary J. Blige, and Will Smith. As a trained dancer, Eboni ventured into choreography.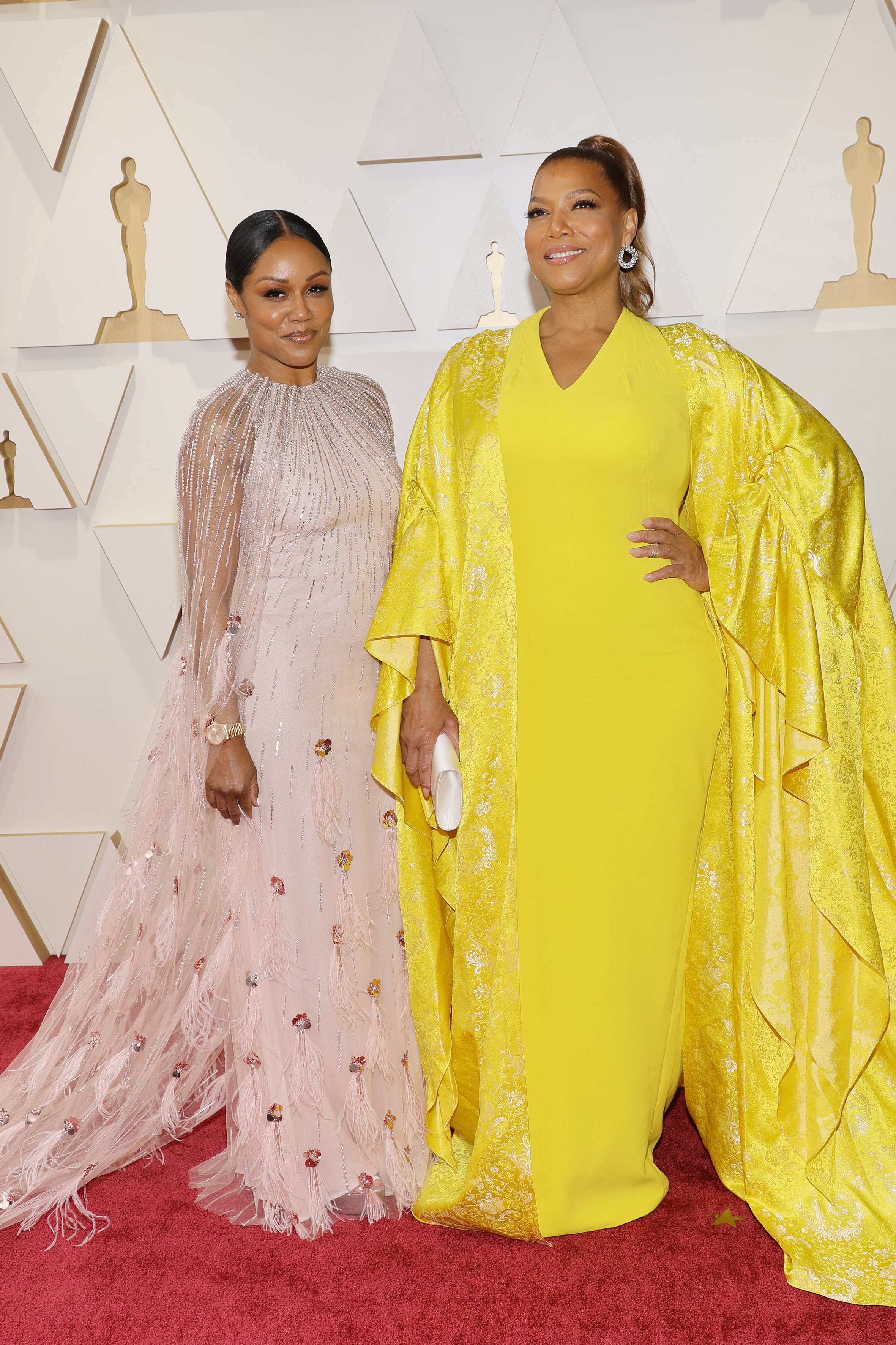 Eboni Nichols and Queen Latifah at the 94th Annual Academy Awards in California on March 27, 2022 | Source: Getty Images
She choreographed for commercials, television, and films. She choreographed "Jane the Virgin" for all of its five seasons and ABC's comedy show "Fresh Off the Boat." Her experience choreographing for films included working in "Jumanji: Welcome to the Jungle," "Office Christmas Party," and "Girls Trip."
Despite being a talented and sought-after choreographer, Eboni prioritized giving back to her community. She spent her free time mentoring aspiring young dancers and helping them chase their dreams.
Ebony was selected to be a part of the Television Academy's Board of Governors, and she was the Co-Governor of the Choreography Peer Group of the Television Academy. She shared this title with fellow choreographer Mandy Moore.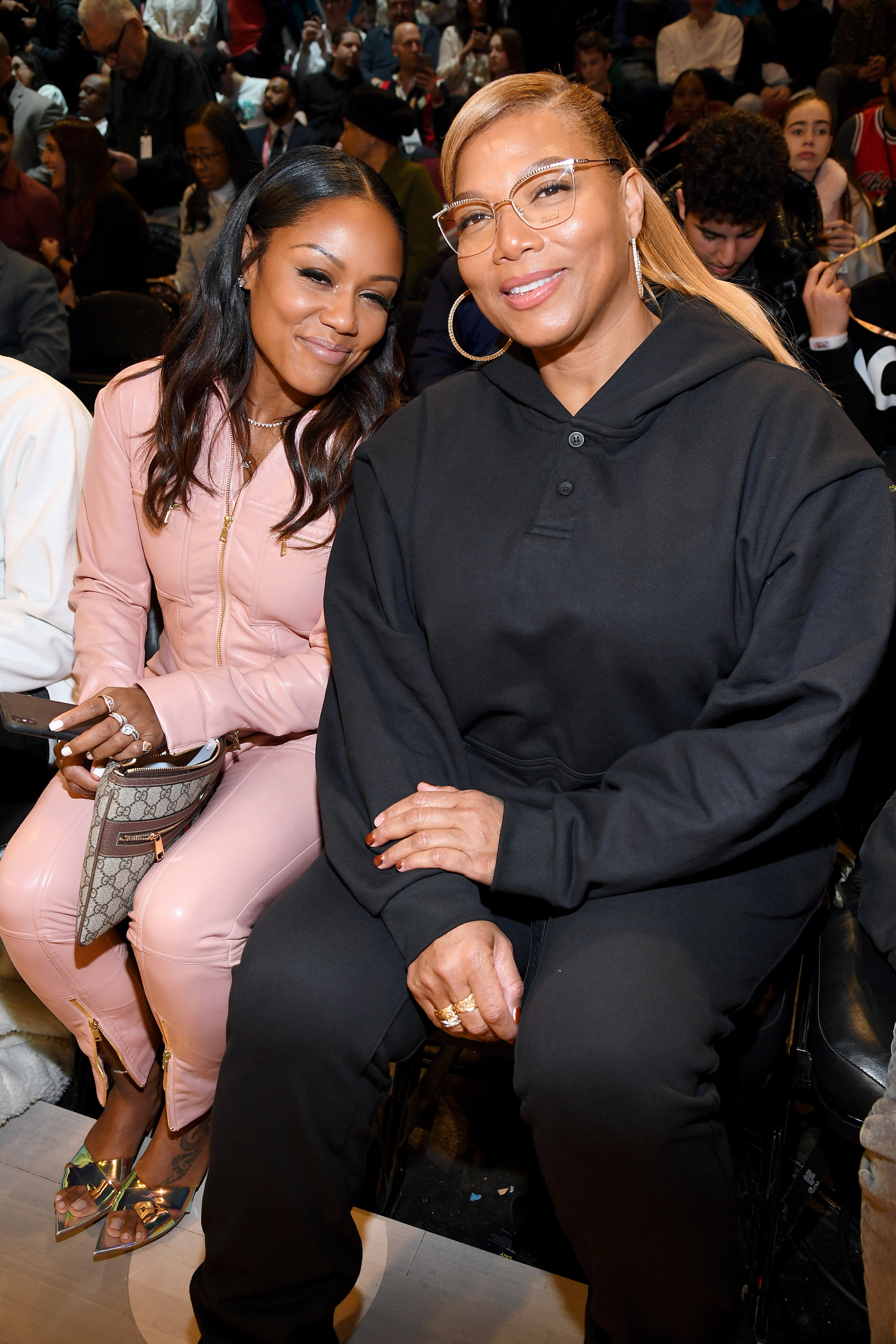 Eboni Nichols and Queen Latifah at the 69th NBA All-Star game in Chicago on January 16, 2020 | Source: Getty Images
EBONI NICHOLS AND QUEEN LATIFAH'S LONG-TERM RELATIONSHIP
Latifah chose to keep her personal life discreet, refusing to share certain aspects of herself, including her love life. She was okay with people assuming about her relationship status and sexual orientation, stating that they would do that anyway. Born in New Jersey, Dana Owens, known as Queen Latifah, said:
"I don't have a problem discussing the topic of somebody being gay, but I do have a problem discussing my personal life. You don't get that part of me. Sorry."
She's made a handful of public appearances with Eboni, including attending the Academy Awards. Latifah wowed in a yellow ball gown, while Eboni chose to keep it simple in a beige, floor-length dress.
They were one of the multiple same-sex couples that walked the red carpet at the award ceremony, including Wanda Sykes and her partner.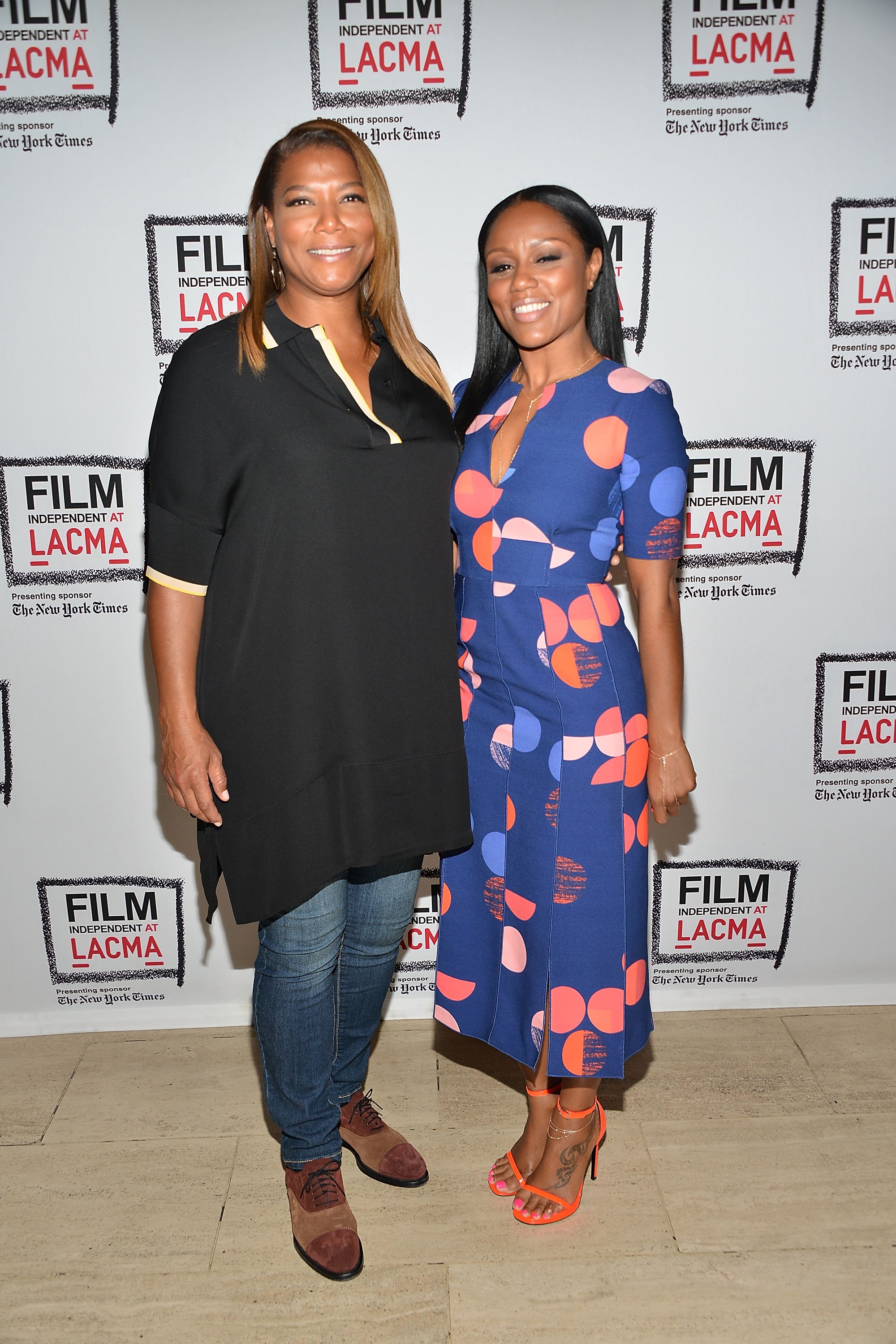 Eboni Nichols and Queen Latifah at the screening of "Bessie" in California on May 9, 2015 | Source: Getty Images
They also attended the Broadway musical "Strange Loop" on its opening night in Manhattan. They appeared to be relaxed and enjoying themselves; they arrived wearing black masks but lowered them for photographs.
While Latifah wore neutral tones of grey and black with hooped earrings and her signature straightened, caramel hair, her partner chose bold attire; Eboni wore a patterned dress with multiple vibrant colors.
In 2015 they were snapped enjoying each other's company in Brazil; paparazzi caught them smiling and donning bikinis. Rumors began to swirl that Eboni and Latifah had met in 2009 when Latifah made a guest appearance on "Dancing with the Stars."
However, they did not start dating until 2013; when Eboni was photographed wearing a large diamond ring, it sparked engagement rumors. Neither one of them publicly confirmed or denied marriage rumors.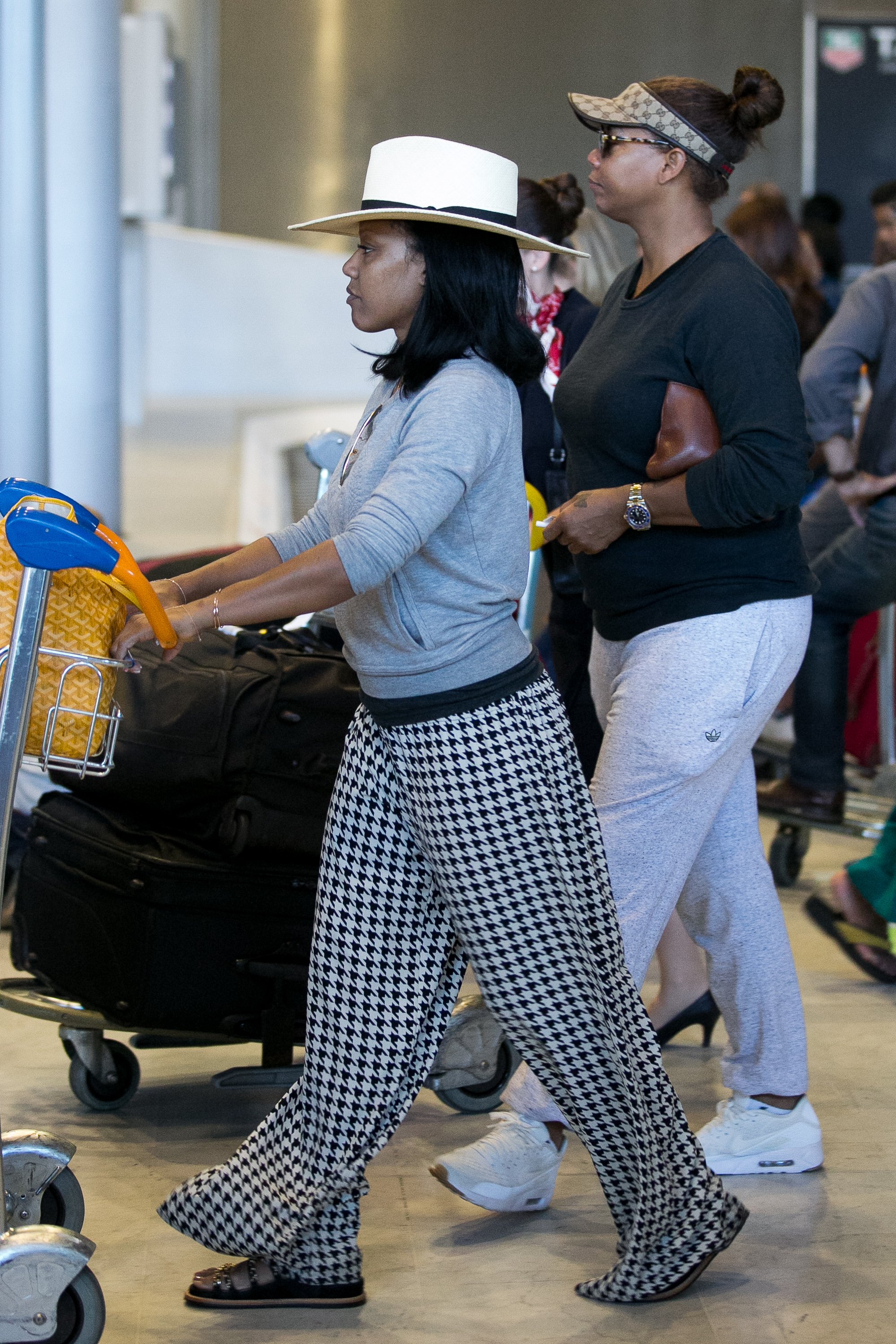 Eboni Nichols and Queen Latifah at an airport in France on July 6, 2015 | Source: Getty Images
EBONI NICHOLS HAS A SON
Queen Latifah decided to start a family in what might be thought to be late in life; she was well in her 40s when rumors began that she and Eboni were expecting.
She shared that she had thought long and hard about motherhood; she even considered adoption. Jokingly calling herself a procrastinator, she revealed that she had been dealing with a lot.
She spent her 40s enjoying herself, or as she phrased it, 'getting the parting out of her system.' She eventually reached a point where she felt she was ready to be a mother.
She stuck to her guns about refusing to share much detail about her private life; if the world wanted to know if she ever did choose to have a child, she cracked a joke saying she would one day appear with a baby on her hip. She stated that she had a lot of love to give and plenty of children needed it.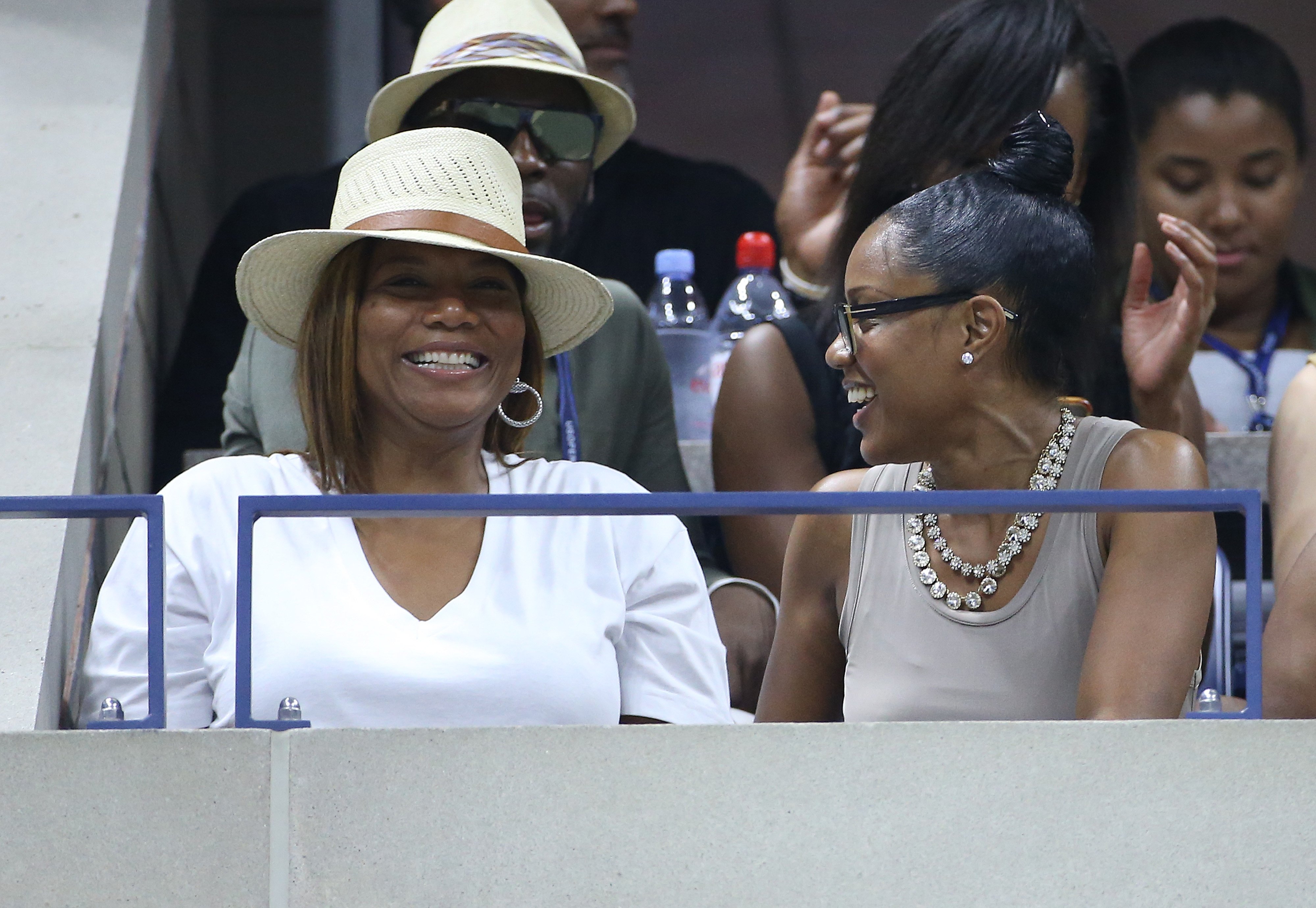 Eboni Nichols and Queen Latifah at the US Open in New York on September 7, 2016 | Source: Getty Images
Speculation arose that Latifah and Eboni chose to start their own family when Eboni was spotted out and about with a large baby bump. The images taken of her were from a Beverly Hills medical facility; she dressed casually in leggings and a denim shirt.
Eboni wore a fitted black top that did little to conceal her visible baby bump. The couple reportedly welcomed a son in 2019. Queen Latifah seemingly confirmed the rumors during her 2021 BET Awards acceptance speech.
After receiving her Lifetime Achievement award, she said, "Eboni, my love," referring to her partner, and "Rebel, my love," acknowledging their son. Latifah ended her speech by proclaiming "happy pride" to the audience.
Please fill in your e-mail so we can share with you our top stories!