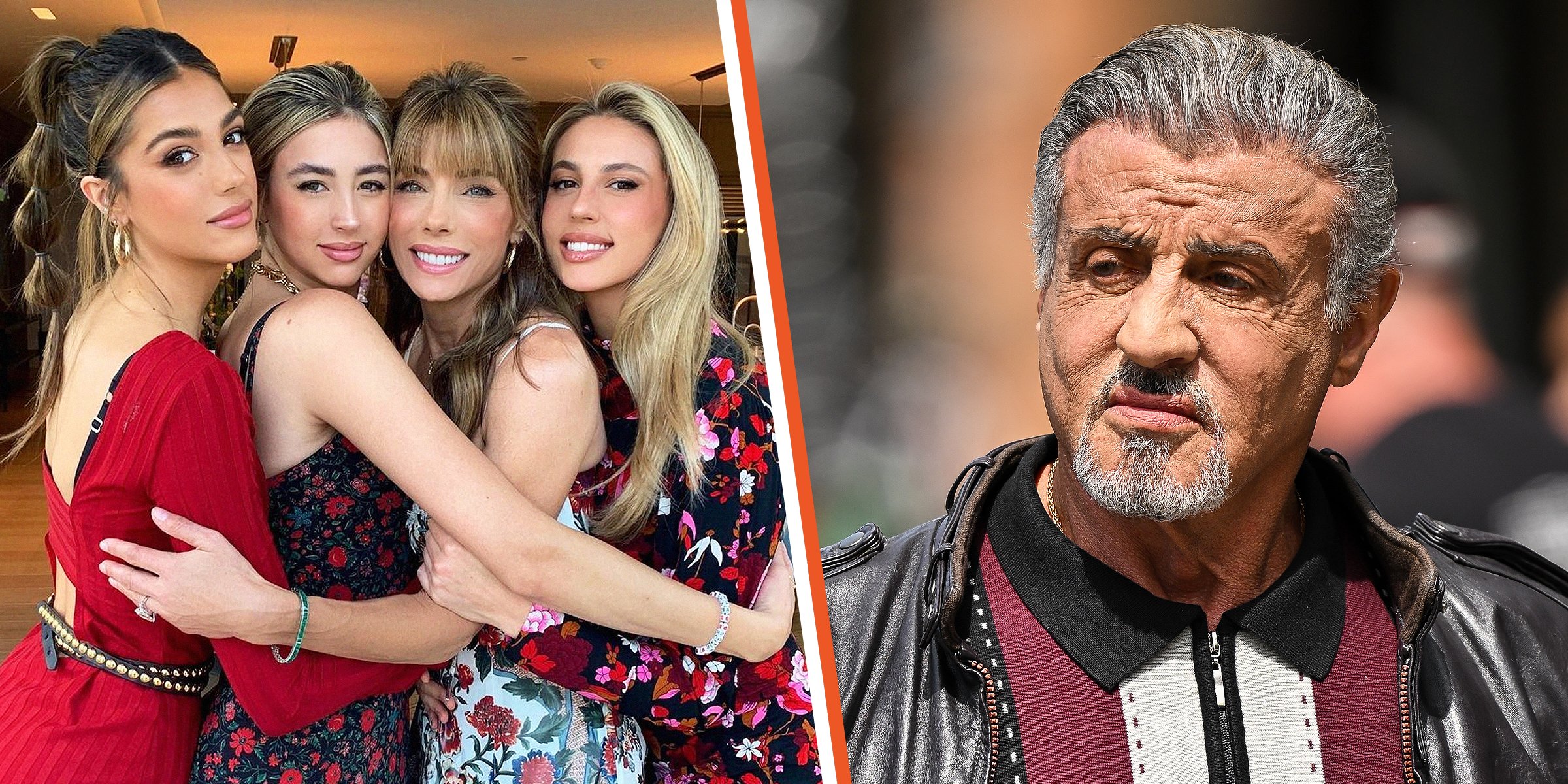 Getty Images - Instagram.com/jenniferflavinstallone
Jennifer Flavin Admitted Differences with Sylvester Stallone as She Gave Marriage Advice to her Daughters

Entrepreneur Jennifer Flavin and Hollywood A-Lister Sylvester Stallone announced the end of their marriage after nearly 30 years together. While the estranged couple had been married for so long, their relationship endured infidelity and rumors of a love child.
Actor Sylvester Stallone and former model Jennifer Flavin first crossed paths in 1988 at a restaurant. He was in his early 40s, and she was a 19-year-old visiting Hollywood.
Sparks flew instantly, but the pair only went public with their relationship in 1990 when they attended a Los Angeles event together.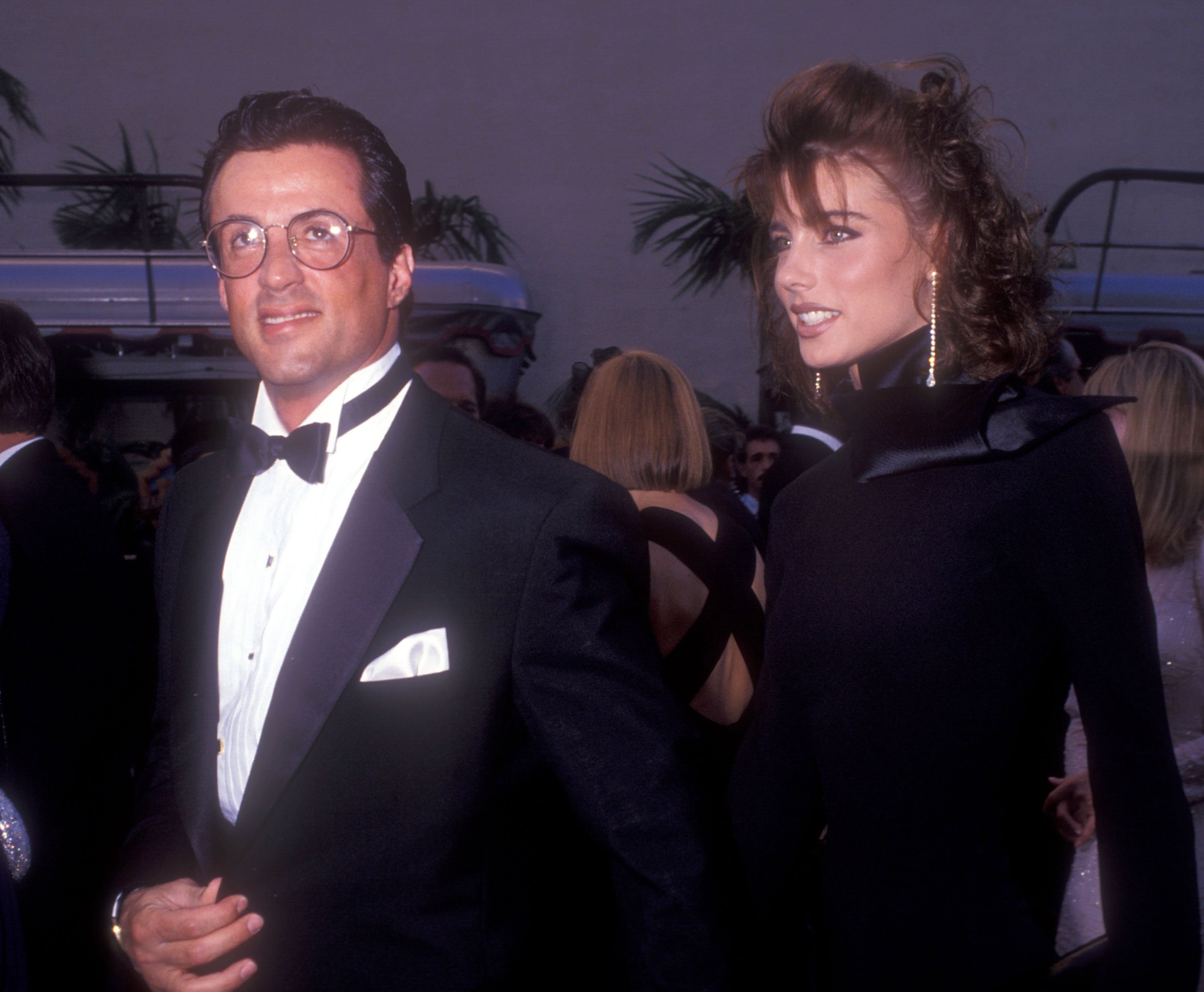 Actor Sylvestor Stallone and model Jennifer Flaven during Warner Bros. Studio Rededication - 1990 at Warner Bros. Studios in Burbank, California | Source: Getty Images
However, their romance was not without its troubles. Stallone unconventionally broke up with Flavin through a letter he sent via Fed Ex. She discussed the break-up in a 1994 interview:
"He sent me a six-page handwritten letter, in pen. It was pretty sloppy."
The businesswoman later learned that the screenwriter had ended their relationship because he was cheating on her with supermodel Janice Dickinson.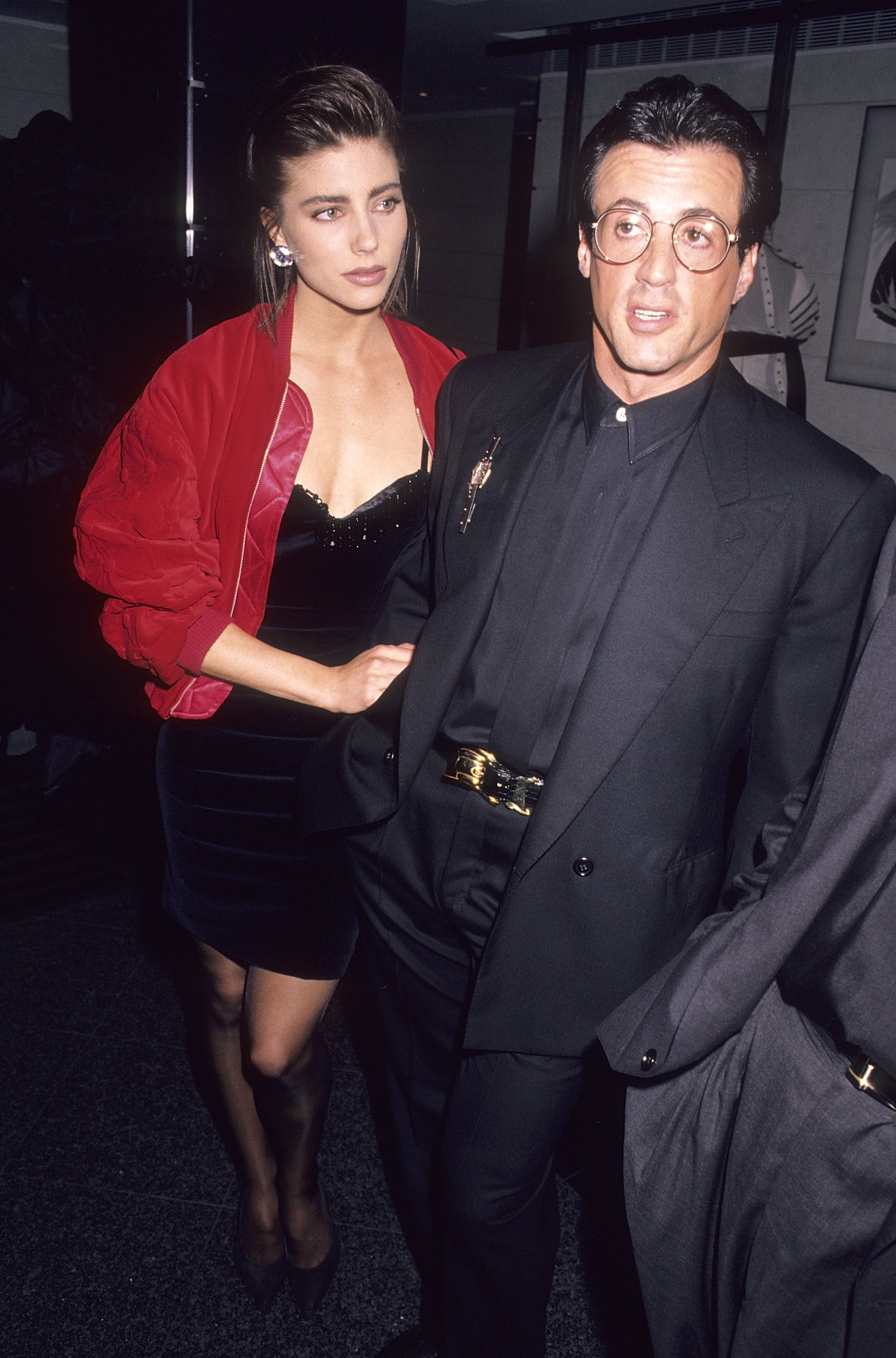 Sylvester Stallone and girlfriend Jennifer Flavin attend the Gianni Versace Boutique Grand Opening Cocktail Reception on April 24, 1990 at Gianni Versace Boutique, 817 Madison Avenue in New York City | Source: Getty Images
In addition, there were rumors that Stallone had fathered a child who happened to be Dickinson's daughter. Flavin spoke about the ordeal in an interview with People:
"It hit me like a ton of bricks. I had no idea this was going to happen."
Still, that experience did not stop her and Stallone from rekindling their romance. The couple even got married in 1997 despite their age difference. Stallone and Flavin celebrated their 25th wedding anniversary in May 2022.
They marked the special occasion by paying tribute to one another on social media. The "Rambo" star said, "not enough words could describe what this incredibly selfless dedicated, patient woman has meant to our lives and I only wish there could be another 25!"
Flavin wrote on her socials, alongside a gallery of throwback photos of the couple, "Thank you for always keeping me laughing, loving and protecting our beautiful family."
Regardless, after being married for 25 years, HollywoodLife reported in August 2022 that Flavin filed for divorce from Stallone. Stallone told TMZ that he and Flavin are going on "different paths," but he still loves her. This statement came after people assumed that the estranged couple was divorcing because of their Rottweiler pet named Dwight.
Insiders previously revealed to the publication that the Oscar nominee wanted to have the dog for family protection, but Flavin disagreed. The disagreement triggered a heated exchange between the two, leading to certain things being unraveled. It resulted in Flavin filing for divorce.
However, Stallone insisted that the reason for their legal separation had nothing to do with the canine. He also praised his estranged wife and said he respected her:
"We did not end the relationship on such a trivial argument. We just went in different directions. I have the highest respect for Jennifer. I will always love her. She's an amazing woman. She's the nicest human I've ever met."
Stallone previously had a tattoo of the California native on his arm but has since covered it with the Rottweiler. He explained that because he had had the tat for 14 years, he needed to refresh it, but things went sideways.
As a resort, he replaced it with the dog and said it was with no ill intent to do so, adding he still has a tattoo of Flavin on his backside.
FLAVIN SPOKE WITH HER DAUGHTERS ABOUT MARITAL WOES
Meanwhile, Flavin has long alluded that their marriage was in trouble 16 months before their split. She admitted they had been arguing, adding he was "very messy" unlike her.
Moreover, the mother of three gave her daughters, Sistine and Sophia, relationship advice in an interview in April 2021, admitting that marriage is hard:
"You are going to fight and you're going to have your differences. You have to exhale and take time out. There isn't anybody's relationship that is perfect and happy all the time. Live with those people and see if you can handle their ups and downs, their mood swings, their quirks."
Flavin, who is also a mom to Scarlet, divulged that she is an A-type individual, and it is the opposite of the father of her kids, adding, "He's very messy, and I'm not."
During her appearance on her two daughters' "UNWAXED Podcast," she mentioned that "marriage is long, you're not always going to be happy, understand that." Flavin also said arguing in a union could be beneficial:
"Sometimes fighting's good because you get out a lot of stuff that you've been holding in and you let it go and then you're good again."
She revealed that she often tells friends having relationship woes that it would eventually pass "but don't throw it away." Flavin clarified that she did not give such advice to those in abusive relationships.
Merely days before she filed for divorce in Palm Beach County, Florida, on August 19, 2022, Flavin posted a photo of her and her children on Instagram who showed support amid the divorce.
She and her three daughters posed together, alongside the caption: "These girls are my priority, nothing else matters. The 4 of us forever."
Sistine commented on the post: "Strongest woman I know," while Sophia stated: "You are our rock, cheerleader, and most incredible mom. We are so lucky to have you, love you so much."
STALLONE SHARES PHOTO WITH WIFE FOLLOWING THE DIVORCE FILING
Since news of the divorce made headlines, Stallone released a statement to CNN stating that he adores his family and that they were low-key addressing the issue at hand:
"I love my family. We are amicably and privately addressing these personal issues."
Despite his problems with Flavin, the movie star posted a joint photo with her on their daughter's birthday. Their eldest child Sophia celebrated her 26th birthday on August 27, 2022. The proud father paid tribute to his daughter on social media by sharing a series of family portraits.
Meanwhile, Flavin told People in her divorce statement that even though she and Stallone would no longer be husband and wife, she would forever honor the time they shared.
"While we will no longer be married, I will always cherish the more than 30-year relationship that we shared, and I know we are both committed to our beautiful daughters," said the "Bar Girls" star.
Please fill in your e-mail so we can share with you our top stories!