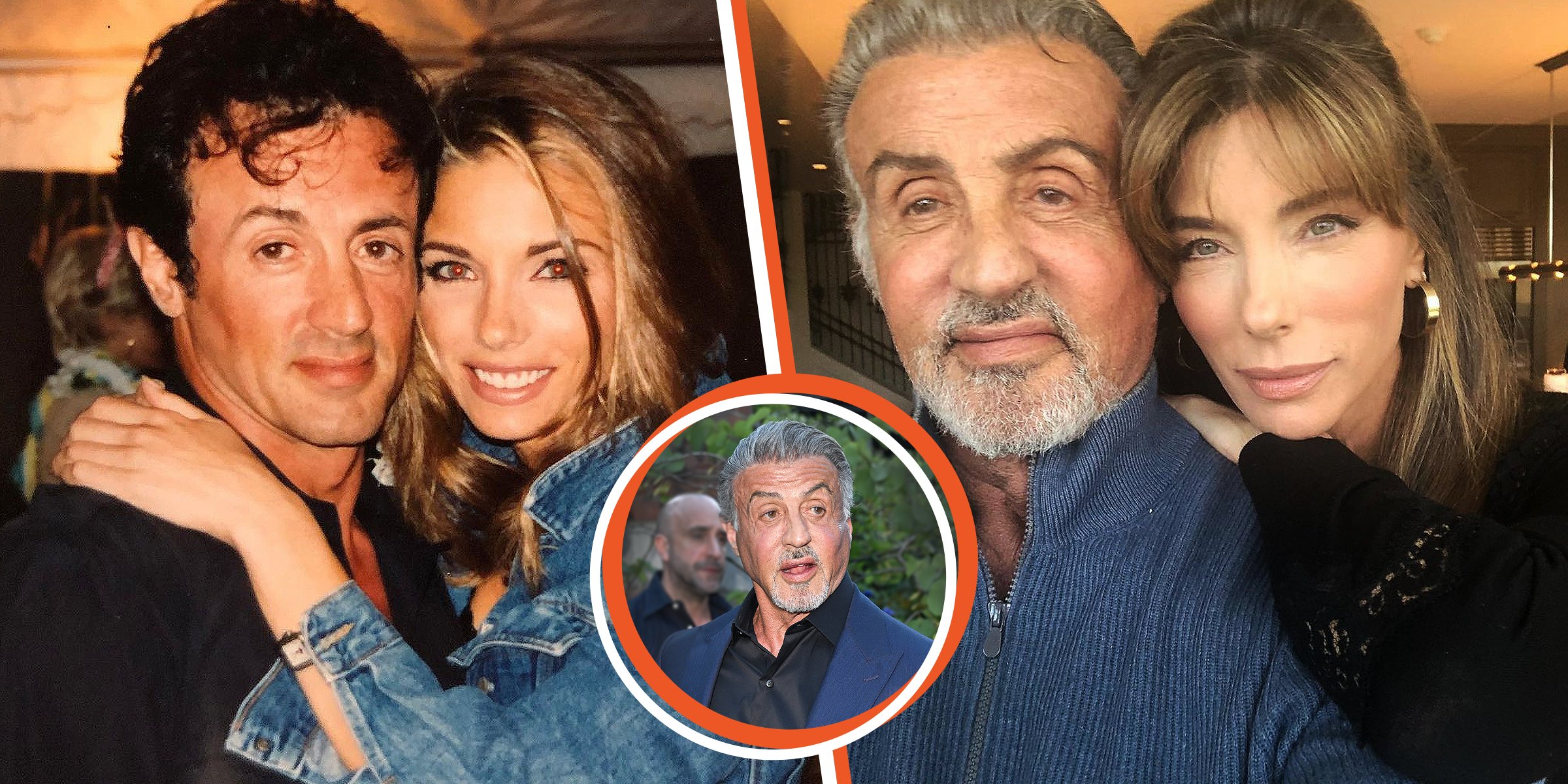 Getty Images | Instagram.com/jenniferflavinstallone
Sylvester Stallone Was 'Blindsided' by Divorce Filing after Wife Made Him Coffee in Bed Daily, Friends Say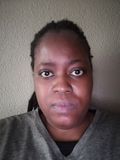 Sylvester Stallone and Jennifer Flavin fought over a dog that was said to have been the reason they were divorcing. However, before that, Flavin would dote over her husband, bringing him coffee in bed, and they teased and joked around while he played pranks on her.
On August 19, 2022, Jennifer Flavin filed for divorce against her husband, Sylvester Stallone. The couple had been married for twenty-five years, leaving the actor shocked by the surprise filing.
According to friends who spoke to Page Six, the couple had looked very happy just weeks before Flavin filed. Sylvester had been working on shooting the series "Tulsa King" in Oklahoma City with his wife constantly present on set.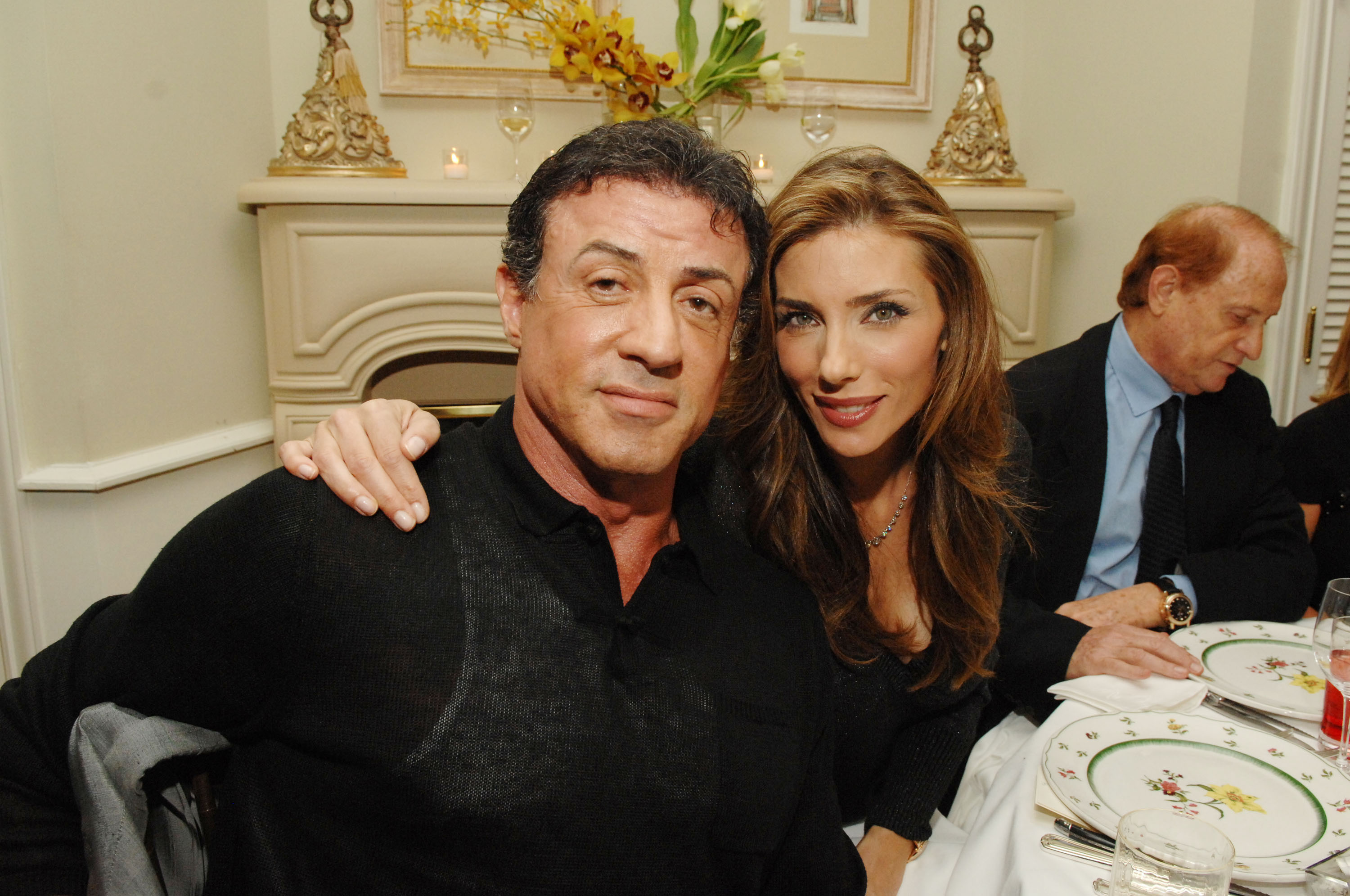 Sylvester Stallone and Jennifer Flavin Stallone at Mike Medavoy's birthday party on January 21, 2008, in Bel Air, California | Source: Getty Images
So when the divorce filing came, Sylvester was allegedly "blindsided" when the papers came while he was in Oklahoma City. A Page Six source said they couldn't have thought of a "nicer couple."
The insider noted how things seemed great between the pair and had no idea what had changed. In Flavin's divorce petition, she claimed Sylvester had "engaged in the intentional dissipation, depletion and/or waste of marital assets," which negatively affected their "marital estate."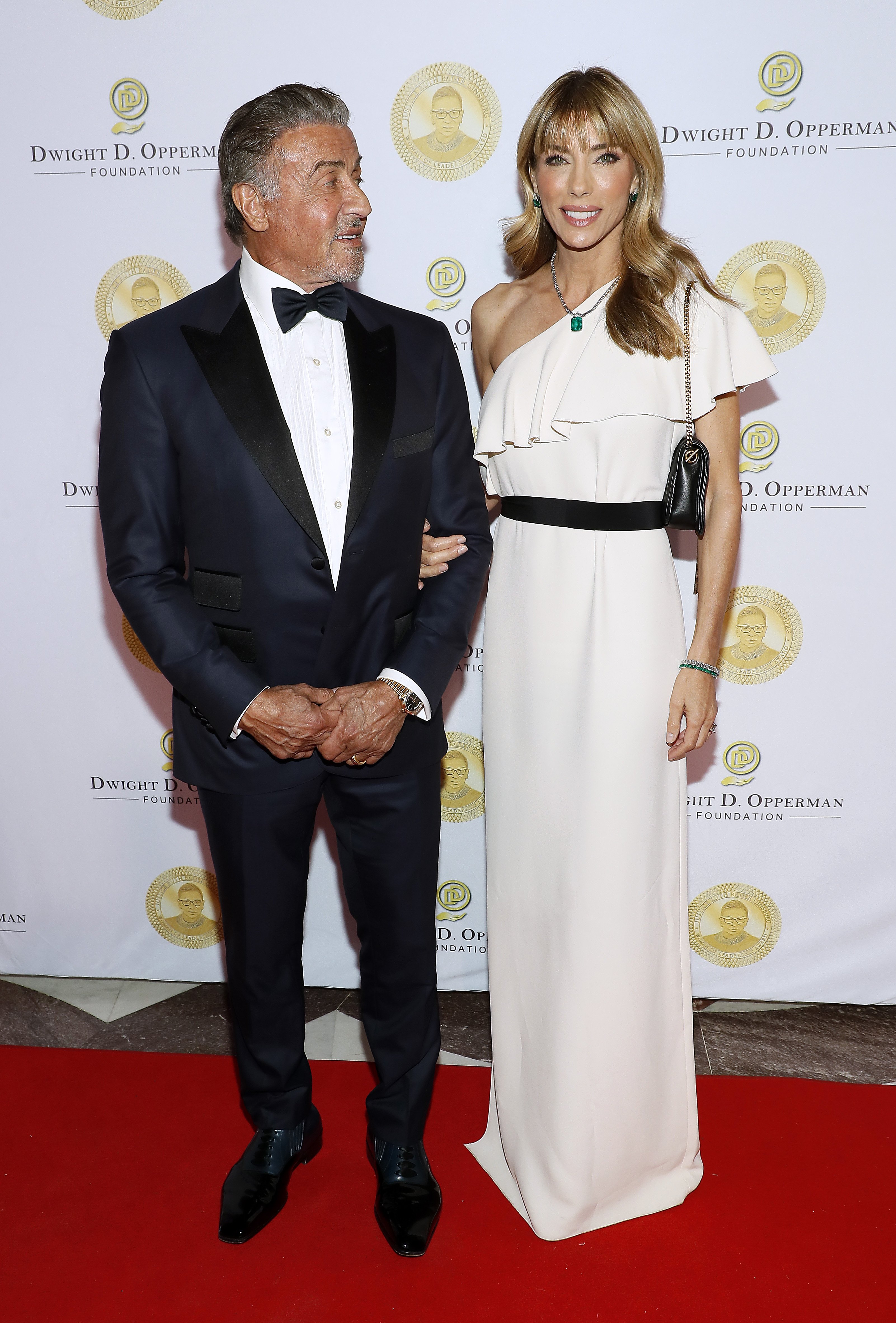 Sylvester Stallone and Jennifer Flavin Stallone at the 3rd annual Ruth Bader Ginsburg Woman of Leadership Award on March 11, 2022, in Washington, DC. | Source: Getty Images
She asked the court to stop him from transferring or selling any of their assets during their divorce. However, another source alleged that Flavin's statement about their assets was "ridiculous," and it didn't make sense why her lawyers included it in their petition.
The insider described it as a lie and noted how the actor hadn't sold little things like T-shirts. Sylvester's representative released a statement on his behalf after the filing, stating:
"I love my family. We are amicably and privately addressing these personal issues."
The representative shared how the actor had intentionally wanted to work through the issues with his wife. However, it didn't seem like it was going to be possible now because she'd gone public about their problems.
Flavin and her husband had raised three daughters together before things went sour. In her court documents, the former model, then 54, described her marriage as "irretrievably broken" and wanted the accumulated assets to be distributed equally.
The "Rocky" actor's wife asked, in her Palm Beach County, Florida filing, that she wished to be "compensated and made whole" by getting more money than Sylvester, then 76, from their estate.
Flavin went in guns blazing as she revealed that she wanted to restore her maiden name. She also wished to receive exclusive use of the Palm Beach home while her husband stayed in their California home.
THE FIGHT THAT LED TO SYLVESTER AND JENNIFER'S SEPARATION
Before Flavin and Sylvester split, the couple allegedly argued about whether the star could get a new dog. TMZ's sources wanted a Rottweiler for his family's protection, but his wife didn't want another dog.
The couple allegedly clashed over the issue, and each refused to budge. The publication's insiders said the argument brought up other issues in their marriage, but the problems didn't seem like things that could end their union or those they couldn't work through.
However, in an update, Sylvester explained that his new dog, Dwight, had not triggered their divorce. After his wife filed for divorce, the actor decided to cover the tattoo of her face on his upper arm with that of his new dog.
The filing shocked the star after he and Flavin met ten years before they fell in love and tied the knot in May 1997. The "Creed" actor and his wife's adult daughters are Sophia, Sistine, and Scarlet.
JENNIFER MADE SYLVESTER COFFEE IN BED WHILE HE WAS THE CAUSE OF HER LAUGHTER
On February 1, 2022, long before their divorce filing, Sylvester and Flavin appeared on Sophia and Sistine's podcast, Unwaxed, where they discussed their relationship. The chemistry between the pair was palpable as they interacted, with the actor jokingly admitting:
"If she was out of my life, it would be mass suicide - which infers that I have multiple personalities."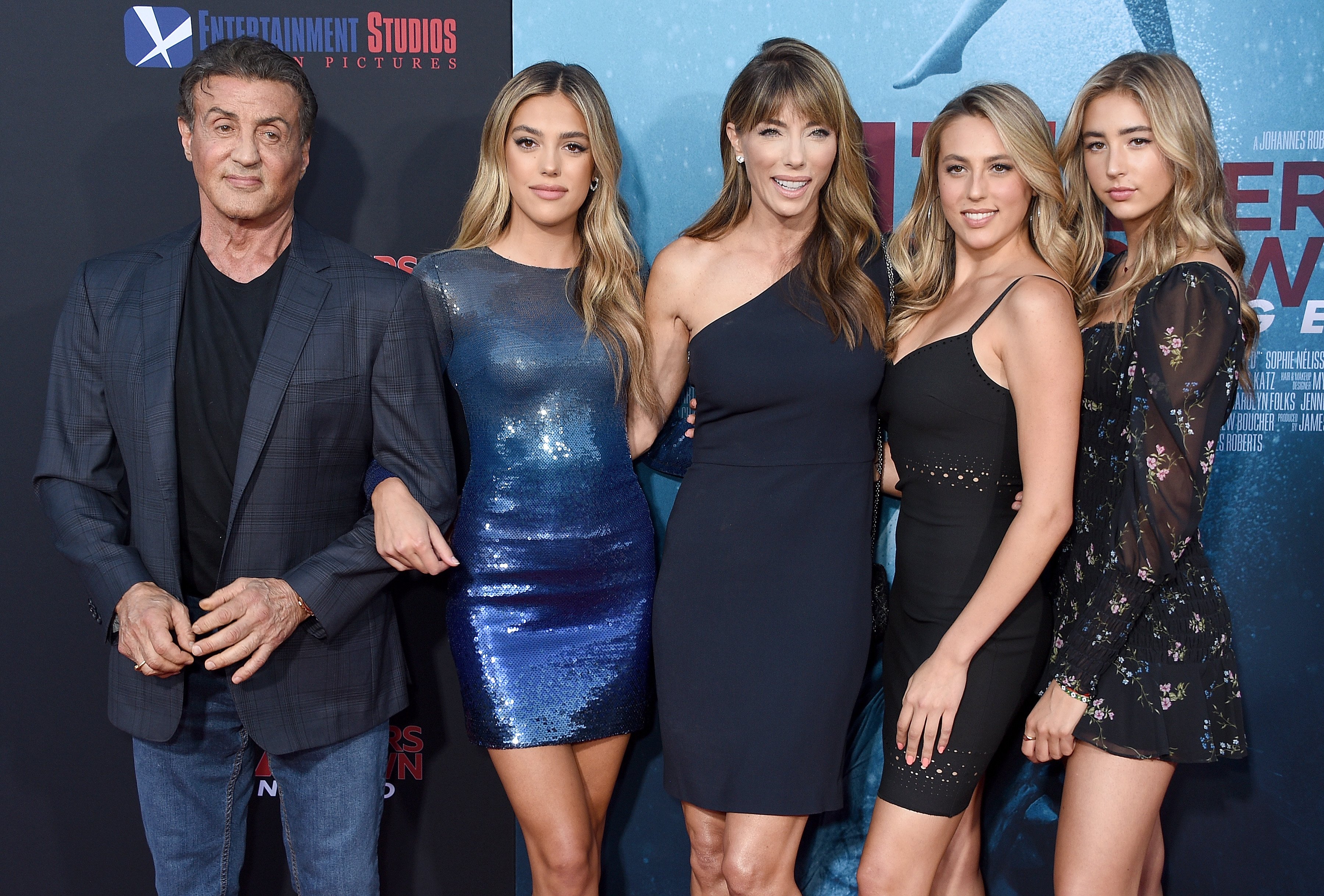 Sylvester and Sistine Rose Stallone, Jennifer Flavin, Sophia Rose and Scarlet Rose Stallone at the Los Angeles premiere of "47 Meters Down Uncaged" on August 13, 2019, in Westwood, California | Source: Getty Images
The duo laughed and joked freely, and when asked what they did for each other, they didn't falter. Flavin explained how she kept the "Rambo" actor on track in his everyday life, saying:
"I keep him extremely organized, so I do everything. I do everything from the minute we wake up, from getting him coffee to bringing it to him in bed, bringing him cookies in bed every morning, then going downstairs."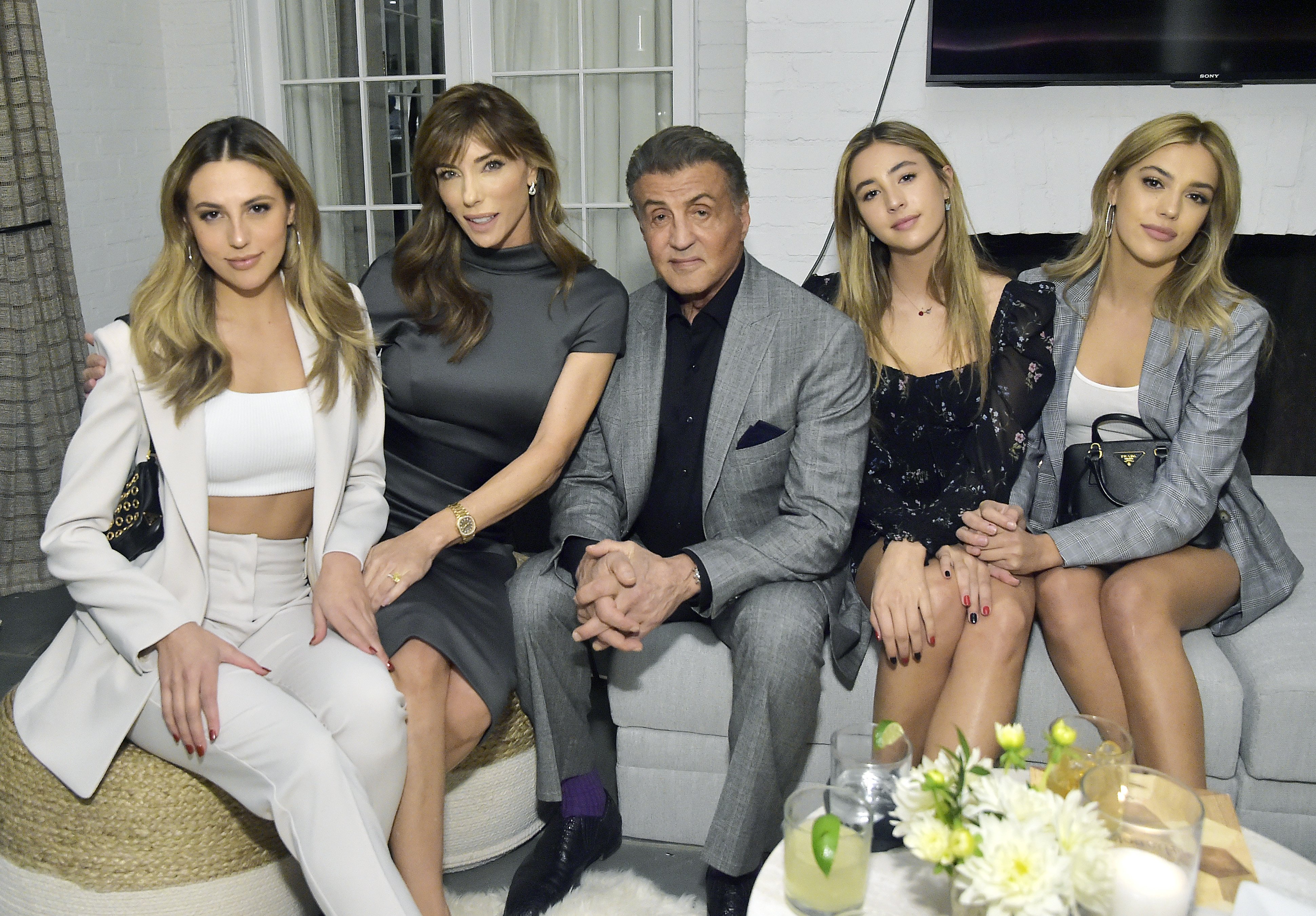 Sophia Rose Stallone, Jennifer Flavin, Sylvester Stallone, Scarlet Rose Stallone, and Sistine Stallone at A Sense Of Home's First Ever Annual Gala on November 1, 2019, in Beverly Hills, California | Source: Getty Images
Sylvester feigned embarrassment as he warned his wife not to air his love for biscottis in the morning and complained that she brought him ginger snaps instead of what he liked.
While caressing and touching her husband lovingly, the former model also revealed that she made him breakfast before checking his schedule to ensure everything was aligned. Flavin shared how Sylvester would tell a few jokes, adding:
"That's what keeps us going, 'cause I laugh, and I laugh, and I laugh because he's so [expletive] funny. Sly is the funniest man I've ever met."
When asked what he did for his wife, the actor joked that he aggravated her before admitting that he didn't know what he did for her. However, he confessed that Flavin knew he'd jump in front of a "small train" for her.
Then on a serious note, the star shared how he thought his wife was fantastic and amazing, which he told her daily. He admitted that he didn't know how she held it together and added that Flavin was a "little crazy."
She jokingly accused him of the same, leading him to note how something had to rub off on her. Sylvester clarified that he meant she was "good crazy," like how she could go for long without eating while concentrating on doing a puzzle.
He [Sylvester Stallone] teased her [Jennifer Flavin] that she'd looked angelic after luring her to the door by making it seem there was soemthing she needed to see.
The couple's daughters noted how they shared humor as they were able to make fun of each other and wanted to know what kept their relationship young and fun. Flavin explained that they didn't take the jokes and insults seriously.
Turning to his wife, Sylvester told her she was the worst human being he'd ever met, causing her to tickle him. However, on a serious note, the star said his wife had thick skin, with Flavin adding how they had fun and understood each other.
The mother of three also shared how they knew each other's moods, which meant she could back off when needed. The former model said she never went "for the jugular" and didn't like fighting.
One of their daughters noted how their mother didn't fight with Sylvester because she knew he was being humorous or pranking her. The daughter recalled an incident where the star and his then-girlfriend were in New York when it was snowing, and he locked Flavin outside the balcony with only her underwear on!
The actor joked that he did it because he was proud of her and wanted the world to see how lucky he was. He teased her that she'd looked angelic after luring her to the door by making it seem there was something she needed to see.
Please fill in your e-mail so we can share with you our top stories!