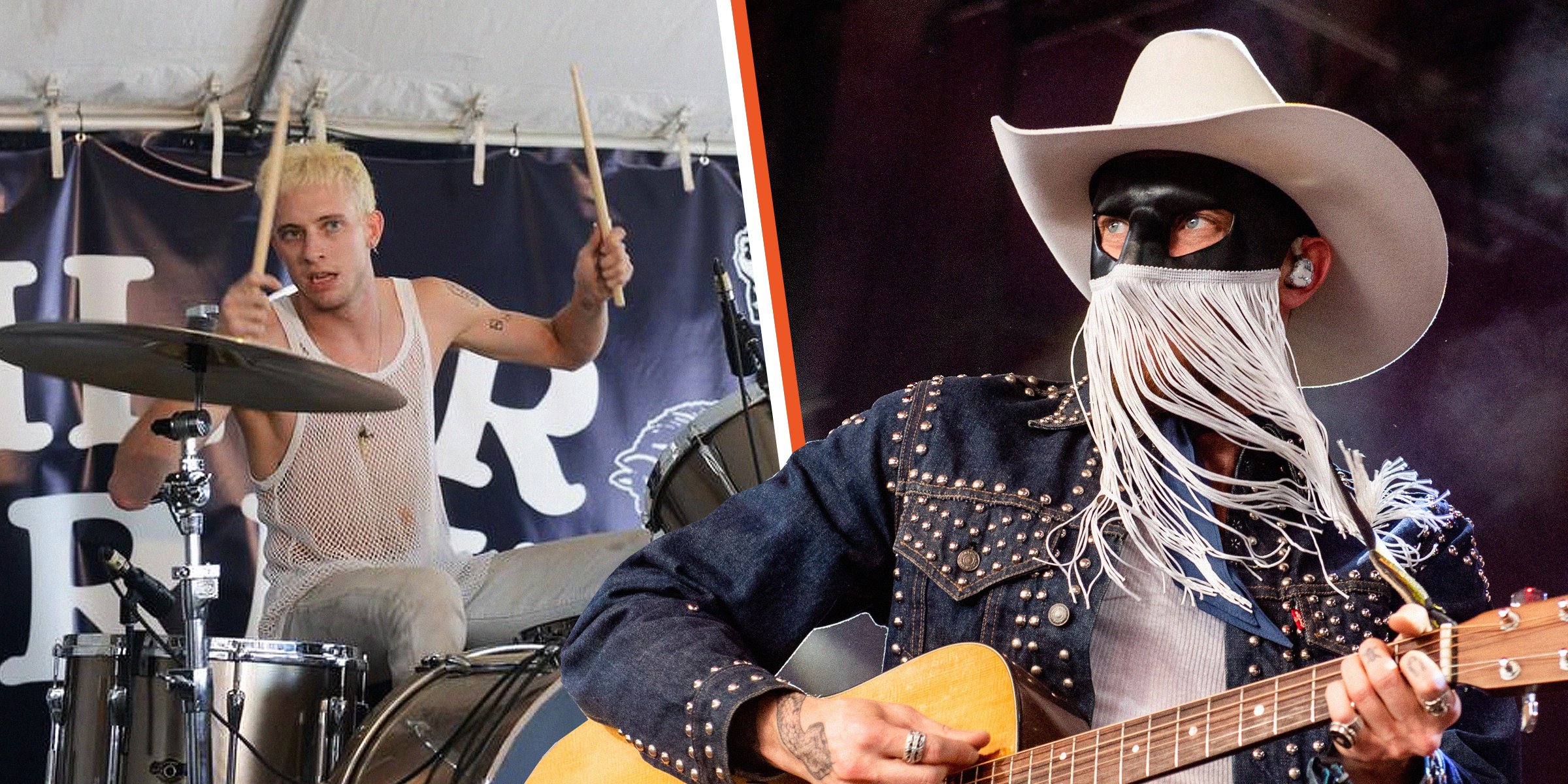 Getty Images | Facebook.com/sailorjerry
Daniel Pitout: The Life of the Man behind the Orville Peck Mask

Some people have found it hard to reconcile Daniel Pitout, a skillful drummer, with the talented singer, and songwriter, Orville Peck. But the big question remains are these two related? Or is it the same person? Let's find out facts about the life of a talented entertainer.
Daniel Pitout is the blonde-haired drummer who was identified as a member of two Canadian garage and punk bands, Nü Sensae and Eating Out.
But apart from appearing in the rearview of thriving bands, Pitout became interested in making an impression that is sure to last the test of time.
In 2019, the world was introduced to a performer behind a mask, Orville Peck. He debuted his singing career by releasing "Pony."
Soon, he revisited fans with a 2020 EP titled "Show Pony." This time, Peck had mastered his art — voice and other technicalities, and he featured an all-time music giant, Shain Twain.
He went on to release other songs and albums, including "Bronco," "Kalahari Down," and "All I Can Say." His consistency and mesmerizing lyrics have earned him an incredible following.
But fans have been anxious about the identity of the masked singer. Who is he? Is he Daniel Pitout, the drummer from the Canadian groups?
IS DANIEL PITOUT HIDING BEHIND AN ORVILLE PECK MASK?
Orville Peck, also known as Pitout, is a country singer whose voice reminds music lovers of the legendary Johnny Cash. However, there are glaring differences between the men. Pitout, a skilled guitarist and fascinating performer, frame his face with a customized mask made of leather and fringes.
His identity may be open for debate, but not his sexuality. Nevertheless, Pitout is vocal about his sexual orientation.
Apart from Pitout's unique appearance, his selling point is his voice and lyrics, which focus primarily on love and heartbreaks. The talented entertainer has continuously proven that he knows his onions in songwriting and performing. During an interview, while performing at Troubadour, he said:
"There's nothing I love more than the history of music. I just find the stories behind all of it so fascinating. That's what I nerd out about."
Apart from sharing his ideas on love, the singer has refused to explain his actual identity. But eagle-eyed fans already uncovered it.
Pitout seems unwilling to reveal the secret behind his real name and feels comfortable with people assuming what they want. He says his music gives enough revelation and believes "everyone gets to decide a little bit what I mean to them."
DANIEL PITOUT GREW UP IN JOHANNESBURG
Apart from songwriting, singing, and assuming a persona, Pitout is an actor. His IMDb bio shows that he has appeared in three onscreen productions, including "Ice Cream Truckers," "Hunx: Private Room," and "Scream."
This multi-faceted artist was born in Johannesburg, South Africa, where he lived until he was 15. Despite being far from home, he still holds his birthplace dear. Pitout explained that Johannesburg is his home and favorite city.
Pitout was exposed to music as a young child because his parents loved listening to diverse artists. As a result, the South African-born became affiliated with multiple artists, cutting across different genres and influencing his perception of music.
He admitted to finding country and punk music fascinating, which he soon made his genre. However, when asked why he settled for country music, he confessed that the theatrical aspect of the genre got him spellbound as a child.
He understood the genuineness behind the lyrics and could relate to the emotions enshrined in country songs. Furthermore, the "Bronco" singer once revealed that his music knowledge was self-taught from a young age. He said:
"I taught myself how to play a bunch of instruments when I was young My father always had an acoustic guitar around the house…I had an old Casio keyboard…I would play on that and teach myself some piano."
Apart from playing musical tunes, Pitout invested time in learning the lyrics to his favorite songs. Soon, he began singing along whenever they played.
The entertainer credited himself for his creativity. Also, he agreed that learning the technical angle of music is important and that his bandmates guide him through. In a refreshingly honest reveal, he added:
"I feel there's two schools of thought about it but I definitely approach things from more of the, like, DIY space."
Whether he went to the best music school or gained knowledge in the comfort of his home, Pitout has proved to fans that his mind is very creative, to the extent that he can even carve a different image and name for himself through music!
He is not only a skilled performer but also a gifted drummer who understands teamwork. In addition, the singer has an overwhelming discography, where he performed with his bandmates. They include "Eating Out," "Tea Swamp Park," "Three Dreams," "Hairdresser Blues," and "Nite Prison."
DANIEL PITOUT PLAYED IN TWO BANDS
While many may know him as the infamous Orville Peck, Pitout is also a band creator. He founded and named one of his bands, "Eating Out," and is the group's frontman.
So far, the band has released one album and a single. The lead singer mentioned that when he writes songs for the group, he begins by creating sounds from his guitar.
Then, once the melody is set, he adds the personal lyrics, making it wholesome. But that's not all; Pitout is very detailed about his videos for the band. He spends time and money providing credible storylines and dramatization.
The drummer claimed that owning a band has always been a wish. In a 2010 interview, he talked about how he gathered his team. According to him:
"I always wanted to be in a band where I played guitar and sang, so that was always the goal...I wanted to get people who were different. I asked Geoff because I always liked his drumming in Peace."
Before forming his band, Pitout was a drummer for the Nü Sensae group. It was created in 2008 in Vancouver, alongside two other members, including Andrea Lukić, Brady McKnight, and Pitout. Their frequent performances were in an underground club, The Emergency Room. Soon, they began touring.
The group has released more than one album and a variety of songs, but unlike Eating Out, they do not sing about personal experiences. Their list of songs is "Derek's Song," "Sundowning," and "TV, Death And The Devil."
DANIEL PITOUT IS ONE OF THE FEW OPENLY GAY MEMBERS ON THE DIY PUNK SCENE
His identity may be open for debate, but not his sexuality. Nevertheless, Pitout is vocal about his sexual orientation. He is gay and openly advocates for the queer group.
In 2012, he launched a project promoting HIV/AIDS awareness through music and art. Pitout is confident in his sexuality and tries to enlighten the younger generation to be proud to show who they are and never allow their sexuality to affect their sense of judgment.
The singer advised young men willing to start a punk band to ensure they are committed to it while having fun on such a project.
DANIEL PITOUT LAUNCHED AIDS DAY MUSIC PROJECT
Pitout has remained committed to adding value to his community while educating the public. In 2012, through his AIDS music project, which saw colleagues donating personal items, he raised funds from the Foundation for AIDS Research and the Vancouver AIDS Society.
"PETER PAN GOES WRONG"
Apart from singing, Pitout has also delved into acting. In 2016 he became a cast member in "Peter Pan Goes Wrong," where he played Jonathan.
The show, produced in the West End by Kenny Wax Ltd and Stage Presence Ltd., returned to Apollo Theatre for a limited rerun; it later aired on TV.
"Peter Pan Goes Wrong" made history with its fundraising—about £29,000 was realized from collections at the doors. The funds were directed toward the Great Ormond Street Hospital Children's Charity.
HOLLYWOOD HILLS TREEHOUSE
Pitout's love for homeliness is deduced in his songs and lifestyle. In 2022, the singer purchased a tree house in Hollywood Hills for $1.9million.
This has been home to a host of celebrities. In 2005, the property belonged to famed guitarist John Frusciante, who sold it to model Josie Moran.
Meryl Streep's daughter, Mamie Gummer, later bought the home and sold it to Jack Nicholson's daughter, Jennifer. The treehouse sits on 1,700 square feet. It has three bedrooms and three bathrooms.
There is also a recording studio, medium-sized windows, and brightly painted walls. Outside boasts a spacious sitting area around a stone fire pit, an Al fresco dining area, and a kitchen.
Please fill in your e-mail so we can share with you our top stories!