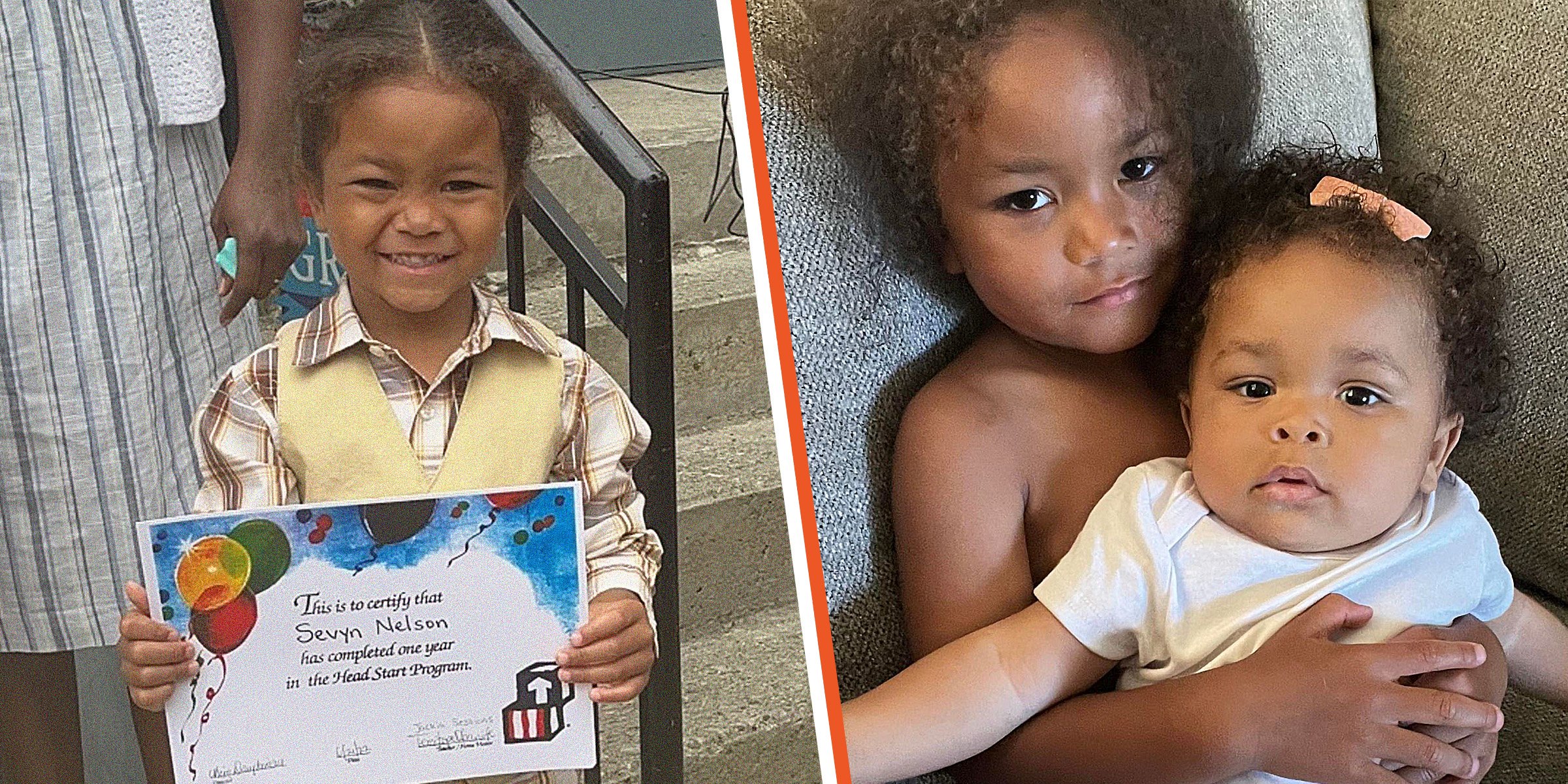 Facebook.com/real.voice.71066 - Gofundme.com/sevyn reign cali assad
4-Year-Old Boy Dies due to Car Crash, 'Saves' Younger Sister at the Cost of His Life

When a mother took her four children on a road trip from New York to meet their family in Texas, she had no idea what would happen on the road. Her son took his last breath a few days after they left their home.
Sometimes, life surprises us with unexpected things that ruin our plans. Many of us have planned for a year ahead, but we know fate can change our yearly targets with just one life-changing incident. That incident might be the death of a loved one.
The family in today's story wished to visit their relatives in another state, but fate had other plans. They could never reach their destination because of an unfortunate incident that turned their lives upside down. It was something they hadn't seen coming.
The Road Trip
It was a regular day for four-year-old Sevyn Nelson and his siblings when their mother told them they were going on a road trip to meet their family in Texas. Sevyn, Cali, and Asaad got into their minivan with their 9-month-old sister, Reign, in the car seat.
The kids were looking forward to meeting their family as their mother drove them to their destination across Oklahoma. No one in the minivan knew what would happen when they stopped at a traffic signal at an intersection.
As soon as their mother pulled the brakes, the kids felt a massive jerk after a semi-truck rear-ended their minivan.
The impact caused their vehicle to cross two lanes and land on the median. Pamela Dickey, Sevyn's cousin, said:
"The impact was so severe that little 9-month-old Reign, her car seat split in half, and she was actually ejected from the vehicle. [sic]"
The Accident
The unfortunate crash caught the attention of people passing by, and soon, first responders arrived at the accident site to rescue the family of five. One after the other, they pulled out children from the car while Sevyn was still stuck.
After rescuing the mother and three children, the first responders reached the minivan's backseat and saw Sevyn. When they pulled him out, they knew he was not okay and needed immediate medical attention.
While the authorities moved Sevyn, his mother, and siblings to the nearest hospital in Oklahoma, other family members were shocked after learning about the incident. The children's father flew in from Albany after hearing about the crash.
The Injuries
The back of the minivan was crushed on impact while Sevyn was in it. The authorities brought him to the hospital in a very fragile condition, while his siblings and mother didn't have a lot of injuries.
While the family mourned their irreplaceable loss, they prayed for Reign's quick recovery.
Cali, Asaad, and their mother were discharged from the hospital on September 1, 2022, two days after the accident. Meanwhile, little Reign underwent surgery, so the doctors kept her under observation for a few days.
One Death
On September 3, 2022, the doctors revealed something the family wasn't ready for. They said Sevyn was no more. The little boy didn't survive the crash, but he saved his sister by bearing the impact of the collision. He was seated right behind her. Dickey recalled:
"I said to my cousin, 'You know Sevyn died a hero because he saved his sister, you know, he was crushed, and she was untouched, so he's her hero, I think.'"
While the family mourned their irreplaceable loss, they prayed for Reign's quick recovery. "We're lucky to have her, honestly, the fact that she was ejected from the vehicle, we're so lucky to have her," Dickey said.
No One Is Ready
When the family set out on the road trip, they didn't expect to lose Sevyn. His death shook his parents because they weren't ready to bury their four-year-old boy. They had dreamt of celebrating his achievements, but fate had other plans. Dickey said:
"No one's ready for something like this. I just feel like it pulls the rug up from under you."
Since the family didn't reside in Oklahoma, they needed funds to live in a new city until Reign recovered. Dickey set up a GoFundMe page on behalf of Sevyn's family, who were living in an accommodation provided by the Ronald McDonald House Charities.
Our thoughts and prayers are with Sevyn's family and the people who are dealing with the pain of this unimaginable tragedy. We pray Reign recovers soon and the family reaches their home safely.
Click here to read another story about a nine-year-old boy who lost his life in a New York car crash. His family said his death would save other people's lives.
Please fill in your e-mail so we can share with you our top stories!
The information in this article is not intended or implied to be a substitute for professional medical advice, diagnosis or treatment. All content, including text, and images contained on news.AmoMama.com, or available through news.AmoMama.com is for general information purposes only. news.AmoMama.com does not take responsibility for any action taken as a result of reading this article. Before undertaking any course of treatment please consult with your healthcare provider.