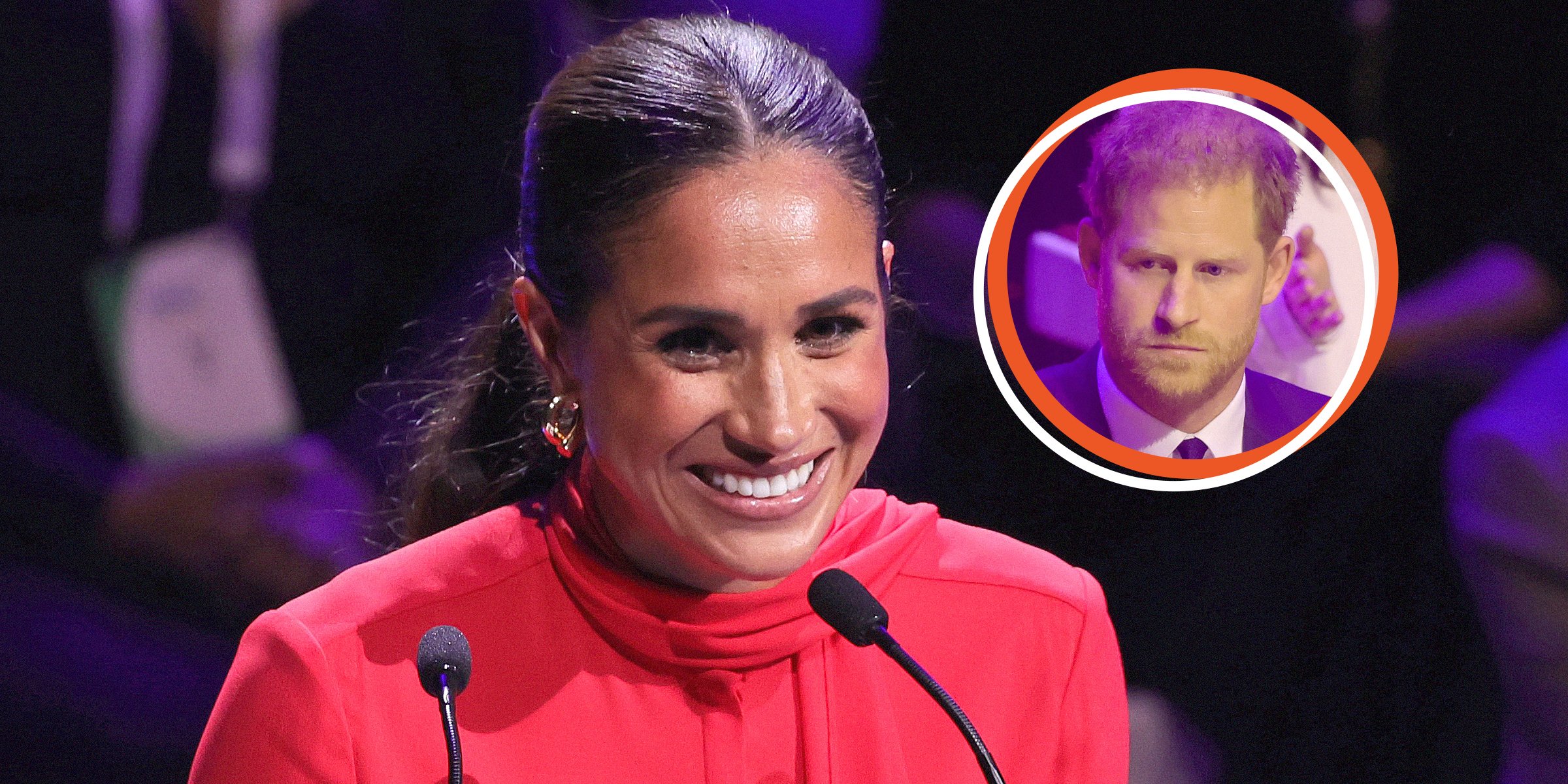 Getty Images
Meghan Markle Wore $1,000 Look & Performed 'Love Letter to Harry' in the UK While He Looked Uneasy, Expert Says

Meghan Markle has never been one to downplay her fashion sense. She looked dapper in her $1000 outfit during the One Young World Summit in Manchester, where she touched on some personal moments in her life. Body language expert says that Harry looked "much more ill at ease" as Meghan gave her speech.
Meghan Markle and Prince Harry are back in the UK, the first trip they have made since attending the Queen's Jubilee event in June. The pair is in the UK for a series of charity events.
While their presence has always been a heated topic of discussion and speculation since the pair quit their royal duties and relocated to the US, this time around, they made headlines for something different altogether.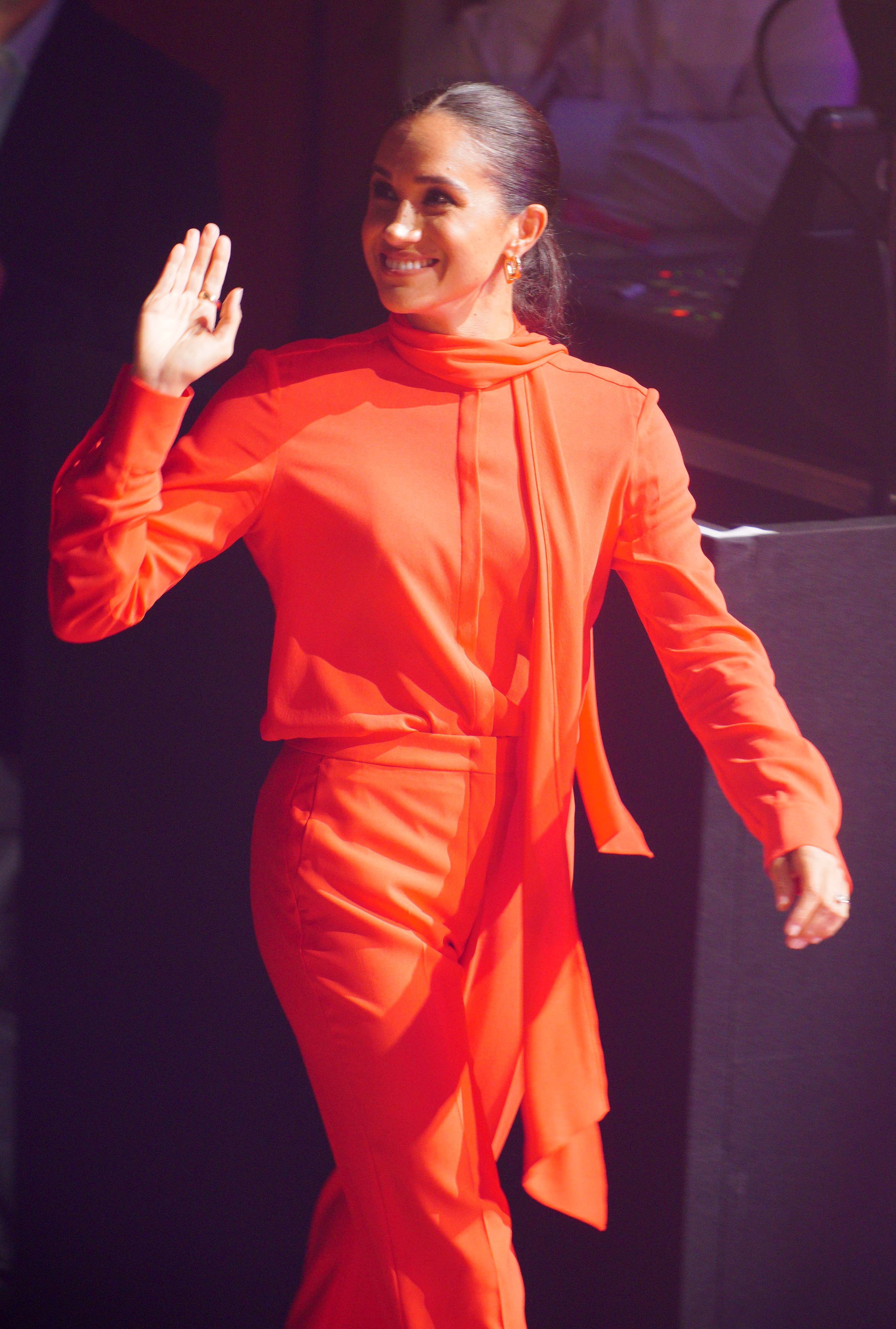 The Duchess of Sussex attends the One Young World 2022 Manchester Summit at Bridgewater Hall, Manchester, during their visit to the UK. | Source: Getty Images
The former "Suits" actress attracted media and fans' attention after appearing at the One Young World Summit in Manchester, England, which brought together young leaders from more than 190 countries.
The Duchess sported a stylish and exorbitant scarlet £471 blouse from the luxury brand Another Tomorrow, paired with a matching classic £541 wide-leg trousers. She reportedly paired the red outfit with heels from her favorite Italian brand Aquazzura and Tabayer jewelry.
The pair arrived at Bridgewater Hall after traveling to the city via train and held hands as they walked to their designated sitting spot on a center-stage bench. The Duchess took to the podium to give her keynote speech in front of over 2000 attendees and delegates after the host introduced her.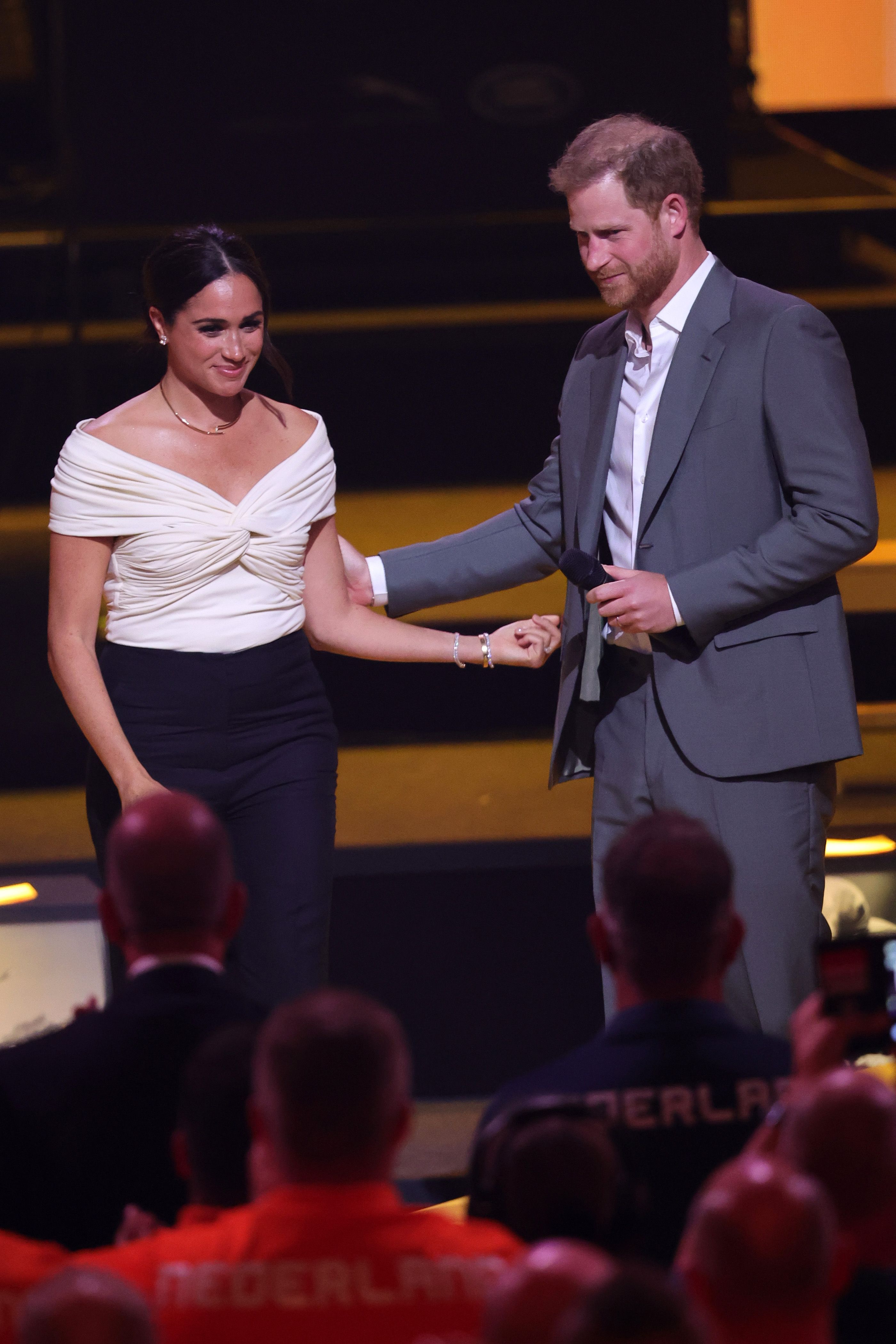 Prince Harry, Duke of Sussex and Meghan, Duchess of Sussex are seen on stage during the Invictus Games The Hague 2020 Opening Ceremony at Zuiderpark on April 16, 2022 in The Hague, Netherlands | Source: Getty Images
The speech is her first in-person speech in the UK since she and her husband stepped down from being working royals in 2020 and relocated to the US.
During the speech, Meghan, who walked to the stage amid huge cheers, also acknowledged how nice it was to be back in the UK and among the One Young World group, where she has been a counselor since 2014.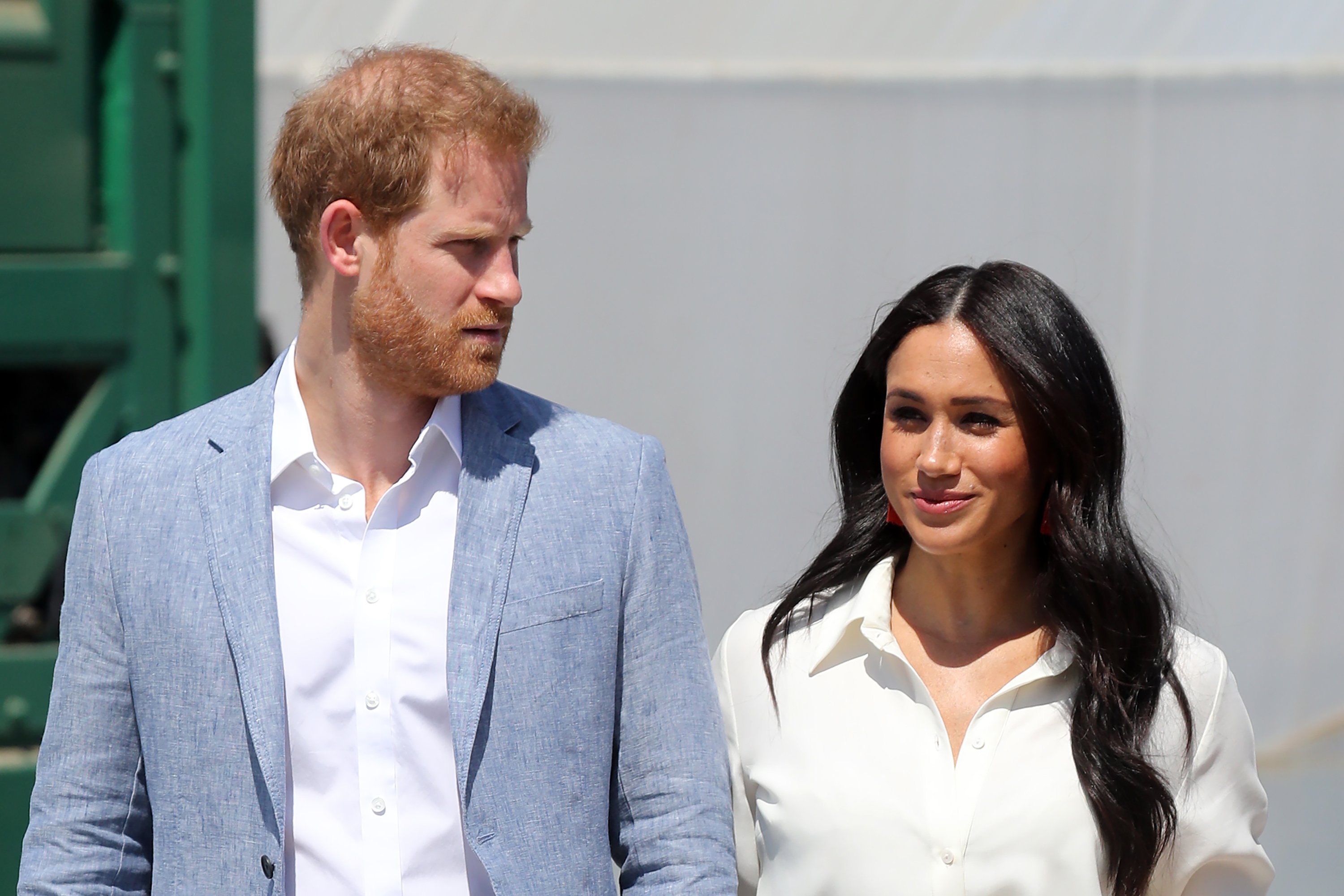 Prince Harry, Duke of Sussex and Meghan, Duchess of Sussex visit a township to learn about Youth Employment Services on October 02, 2019 in Johannesburg, South Africa. | Source: Getty Images
She reminisced about her first ever summit, recalling how she was the girl from "Suits" surrounded by world leaders, activists, prime ministers, and humanitarians, and how nervous she had been, calling it a "pinch-me moment."
Meghan Markle's Speech at the One Young World Summit
The Duchess shared how her life had changed exponentially since her first summit in 2014. She shared that she has since become a wife and a mother amid claps and cheers.
The Duchess also talked about her journey of motherhood and the impact it has had on her life. She revealed that she now views that world through her son's eyes. At the indirect mention of her son Archie, everyone burst into a round of applause.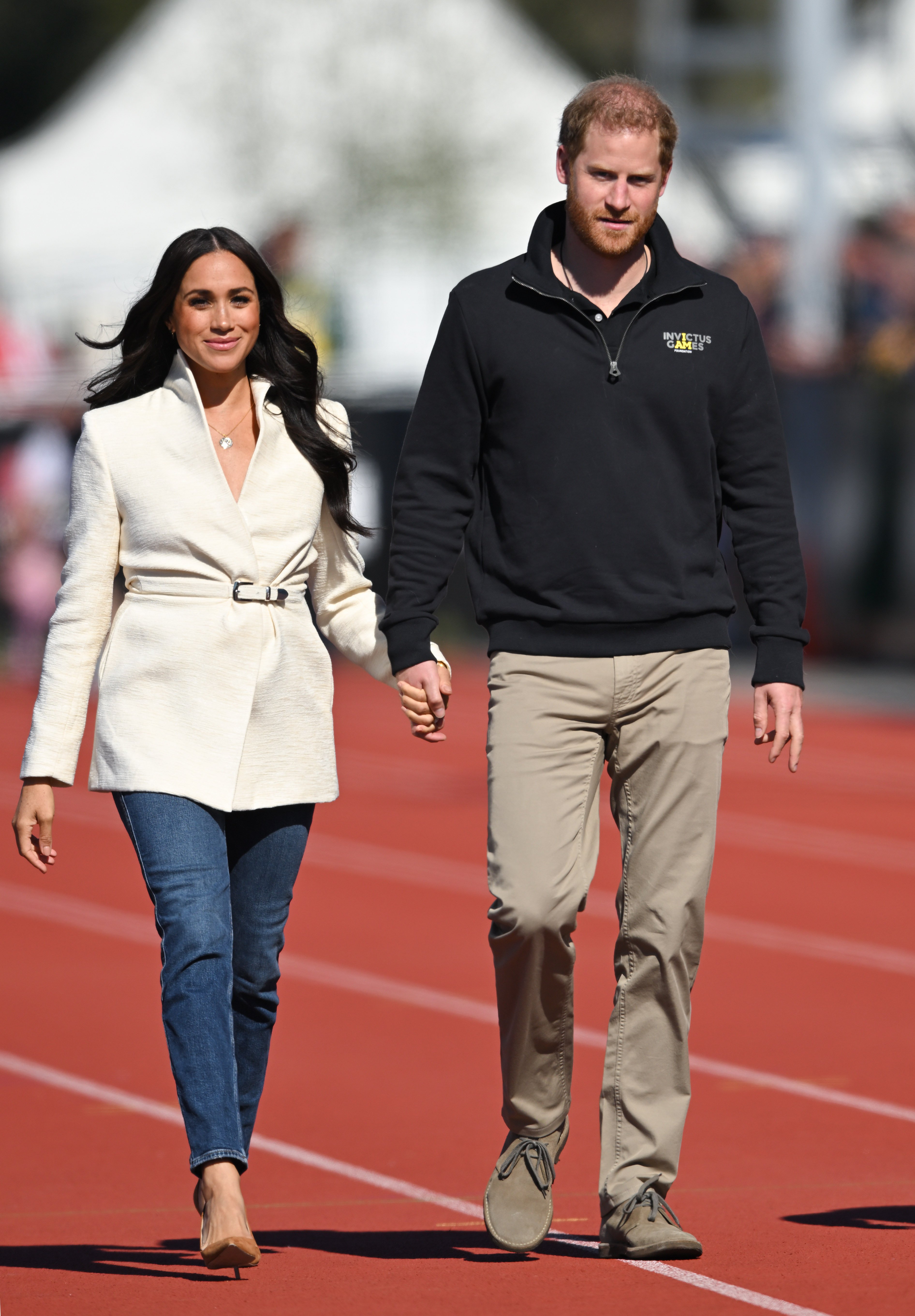 Prince Harry, Duke of Sussex and Meghan, Duchess of Sussex attend the athletics event during the Invictus Games at Zuiderpark on April 17, 2022 in The Hague, Netherlands | Source: Getty Images
The pair welcomed their first child, son Archie Harrison Mountbatten-Windsor on May 6, 2019, and showed him off to the world as they posed for photos at St George Hall in Windsor, with Meghan telling the press:
"It's magic, it's pretty amazing. I have the two best guys in the world so I'm really happy"
She also acknowledged Harry's presence at the summit, thanking him for joining her "to be able to witness and see her respect for the organization." She joined the organization long before she met him and, says that his presence there made it all feel full circle.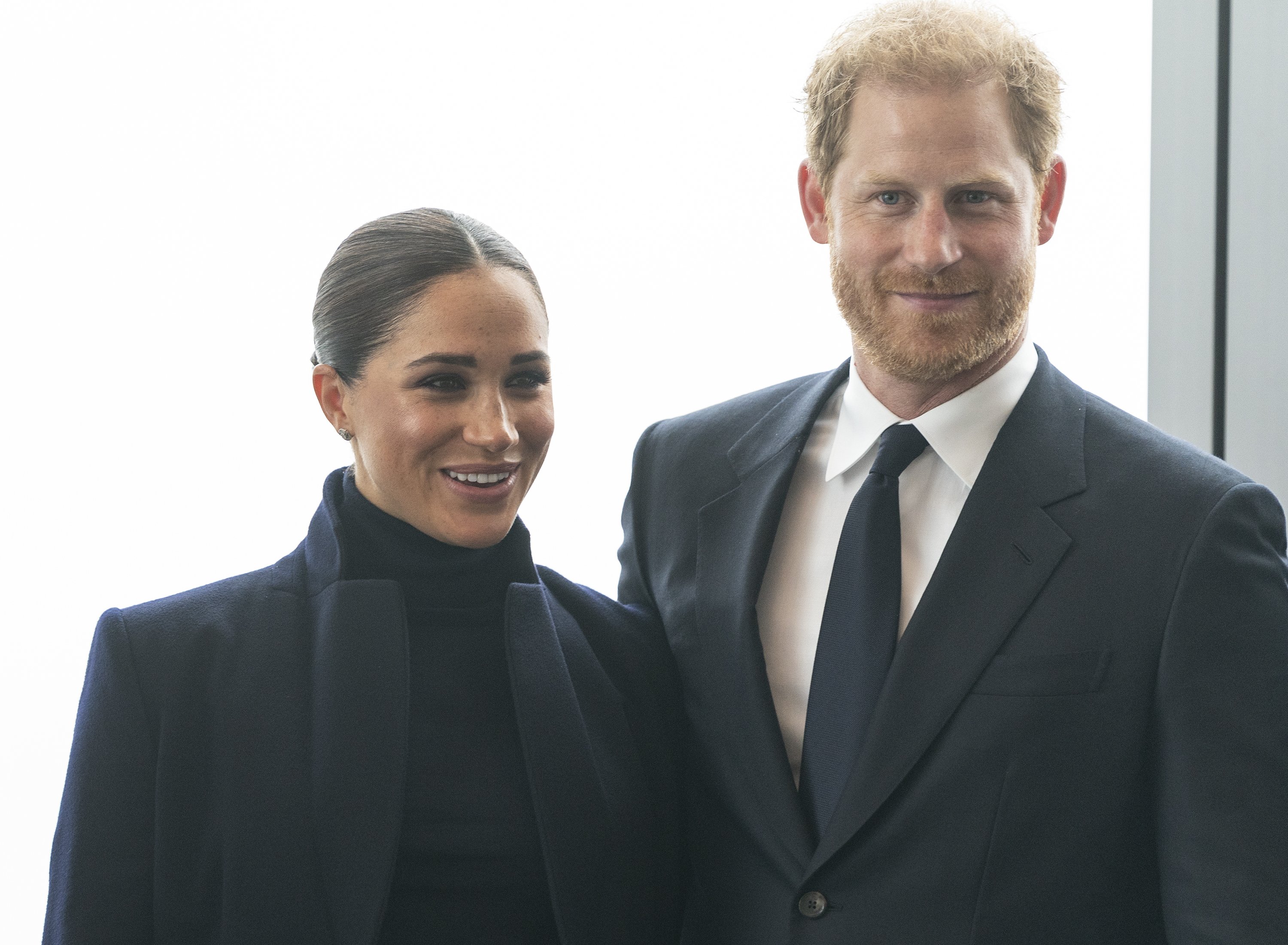 The Duke and Duchess of Sussex, Prince Harry and Meghan visit One World Observatory on 102nd floor of Freedom Tower of World Trade Center on September 23, 2021 | Source: Getty Images
"We often hear people say the time is now, but I'm going to double down on that by saying that your time is now. The important work can't wait for tomorrow. And this week the world is watching as you cement your place in history by showcasing the good that you are doing today in the present moment." She said.
Further along in the speech, Meghan declared how humbled and privileged to, not only stand before the attendees but beside them as they impacted the world.
Following the highly publicized opening speech, body language expert Judi James says the Duchess offered a "small love letter" to her husband, with her coy expression, nose wrinkles, and giggles.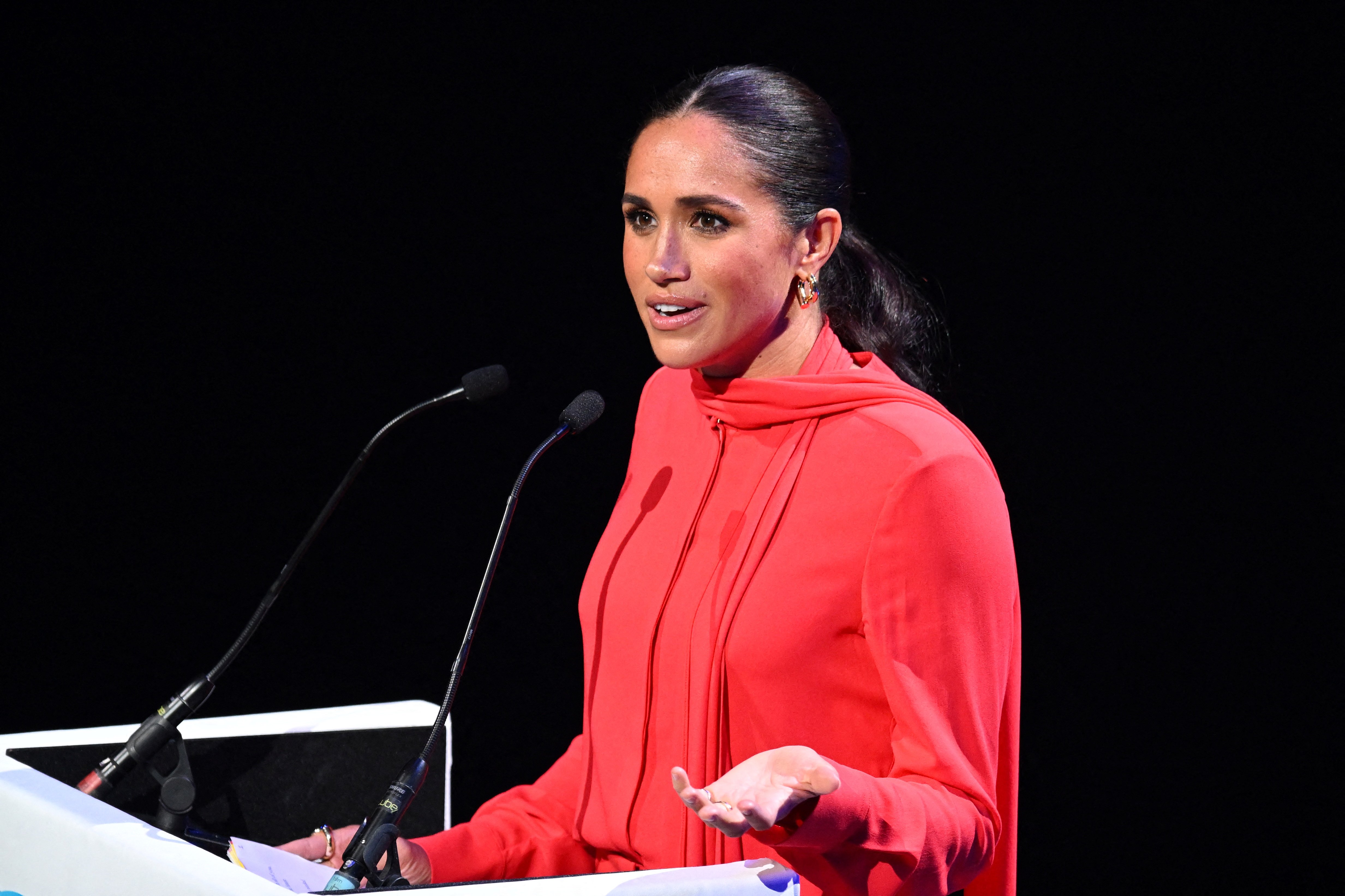 The Duchess of Sussex attends the One Young World 2022 Manchester Summit at Bridgewater Hall, Manchester, during their visit to the UK. | Source: Getty Images
Her face looked puckered in coyness as she waited for the crowd to respond to her words about being married to Harry. She then explained that Meghan's eye fluttering made her appear to still be in love and in the honeymoon stage with Harry.
According to James, Meghan had these long blinks and nose wrinkles whenever she referred to Harry. On the other hand, Harry appeared ill at ease as his wife spoke to the delegates at the four-day event.
James, who runs her own four-part body language series on Channel Five called "Naked Celebrity" explained that Harry responded to his partner by looking down and then upward with what looked like a sigh.
She explained that Harry touching his clothes and checking and seemingly adjusting his tie throughout Meghan's speech was a sign of anxiety and suggested a desire for self-reassurance.
What Will the Sussexes Do on Their Tour of Europe?
The pair, who flew into the UK on Saturday, September 3, had plenty planned out for their tour. They kickstarted it with their attendance at the One Young World Summit in Manchester on September 5, with Meghan's speech and meetings with delegates who she said were doing outstanding work on gender equality.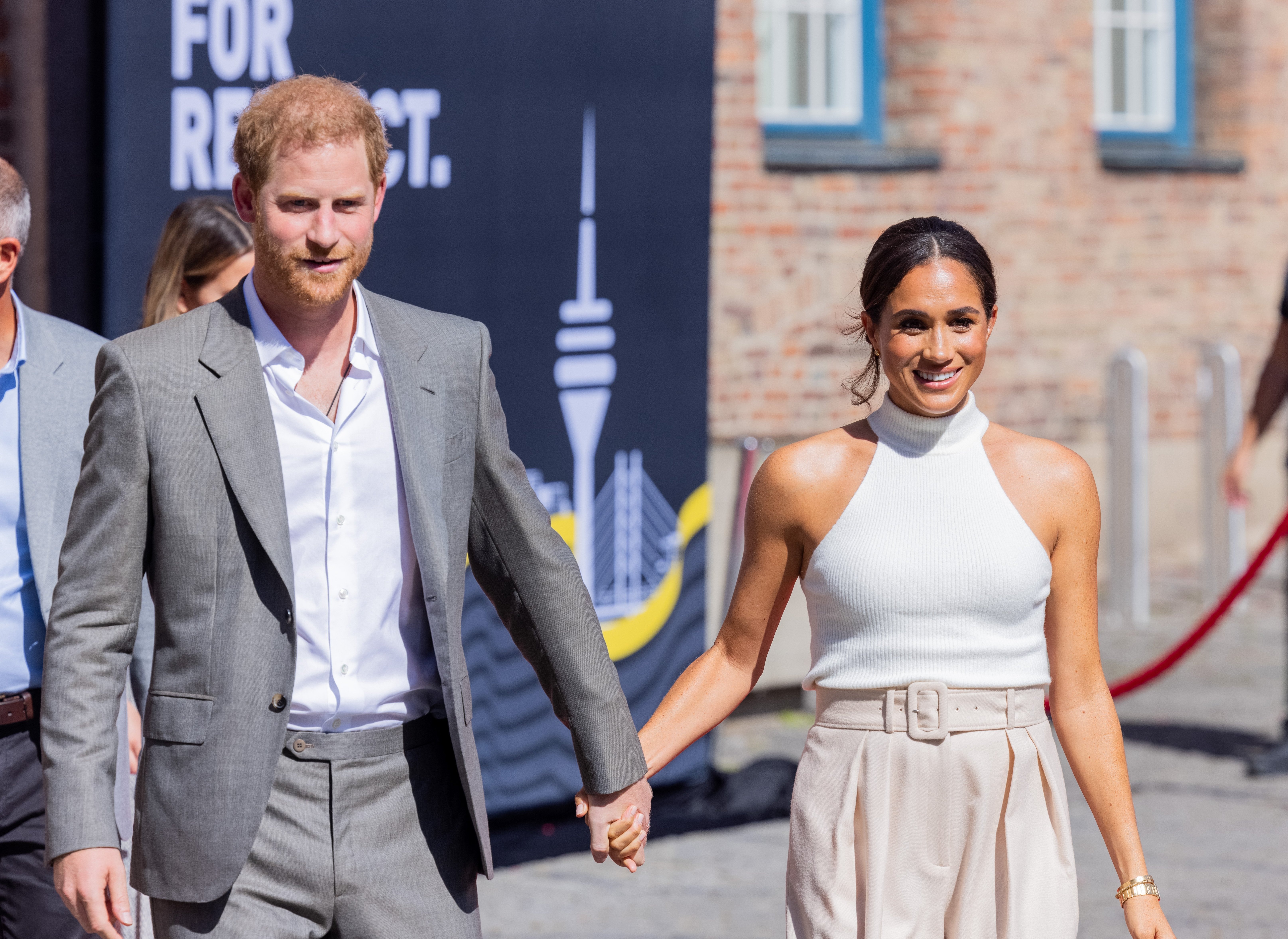 Britain's Prince Harry (l), Duke of Sussex, and his wife Meghan (r), Duchess of Sussex, arrive from City Hall | Source: Getty Images
The tickets for the event are reported to cost a whopping one thousand pounds per day, which translates to three thousand pounds for the entirety of the three-day event.
On Tuesday, September 6, the couple will also attend the Invictus Dusseldorf 2023 One Year to Go event in Germany. The Invictus Games Twitter account confirmed their attendance on August 15, writing:
"We are pleased to announce that The Duke and Duchess of Sussex will be joining us in Düsseldorf on the 6th of September to mark one year to go until the Invictus Games Dusseldorf 2023! More information coming soon."
The pair will then fly back to England to attend the WellChild Awards, a charity Harry has patronized since 2007, on Thursday, September 8. Meghan and Harry attended the previous event in 2019, where Harry gave an emotional speech as he spoke about his son.
Please fill in your e-mail so we can share with you our top stories!