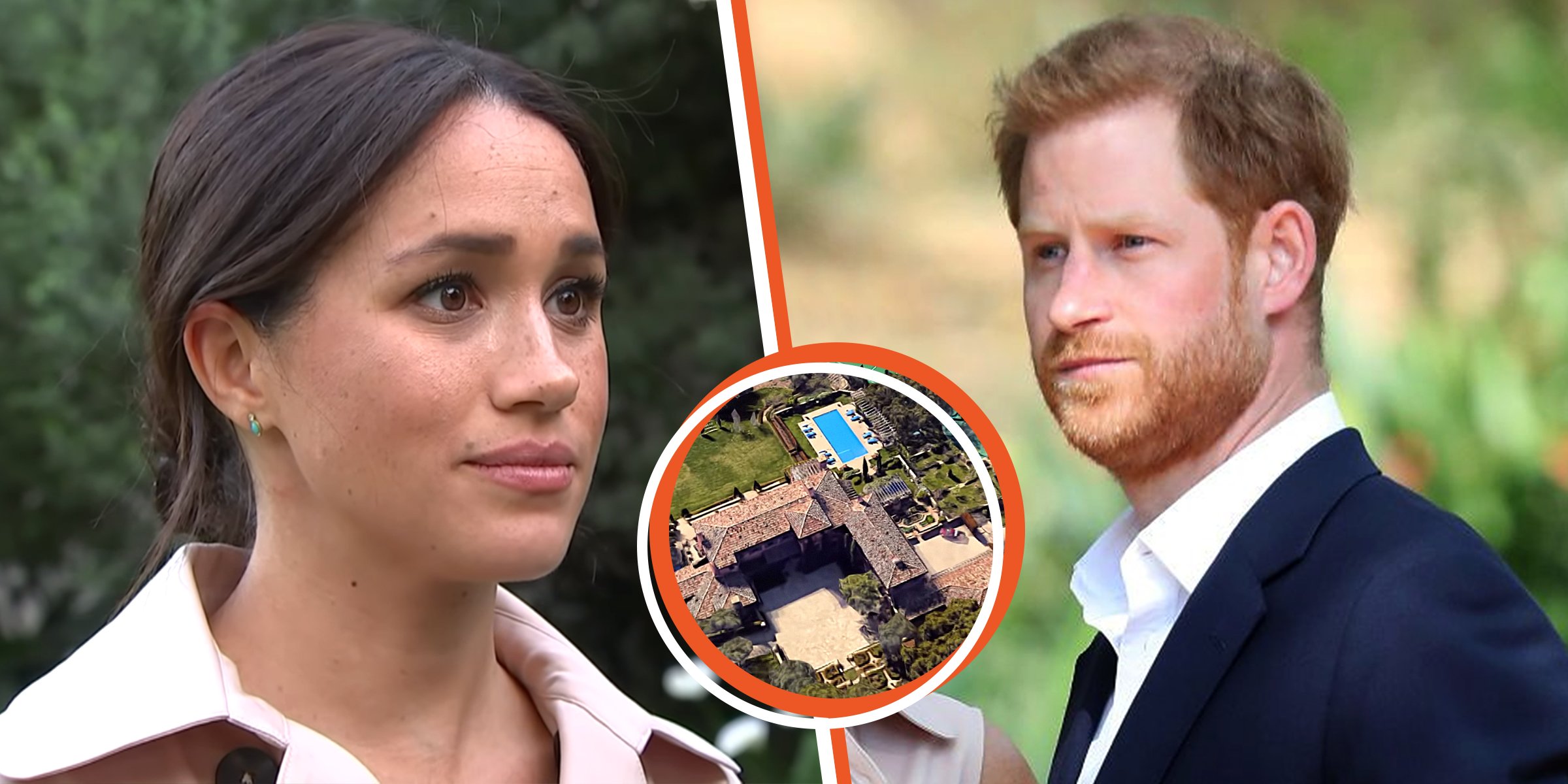 Meghan Markle | Meghan Markle and Prince Harry's California Mansion | Prince Harry | Source: Youtube.com/ITV News | Google street view | Getty Images
Meghan Markle Struggled with Not Being Able to Afford $14M Mansion after They Left UK & Had No Jobs

Meghan Markle has been mum for the past few months, but in her last interview, she openly talked about relocating back home with Prince Harry. Markle revealed she and the prince struggled to find their feet upon arrival and could not afford their $14 million dream home, with high ceilings.
Duchess of Sussex, Meghan Markle, had her last interview in August 2022 with The Cut at her mansion in Montecito, California. She spoke about leaving The Firm behind and the developments since she and her spouse Prince Harry exited England.
Markle now has a podcast called "Archetypes," which she launched through a lucrative deal and stated in the cover story that the project was her reintroduction since "Megxit."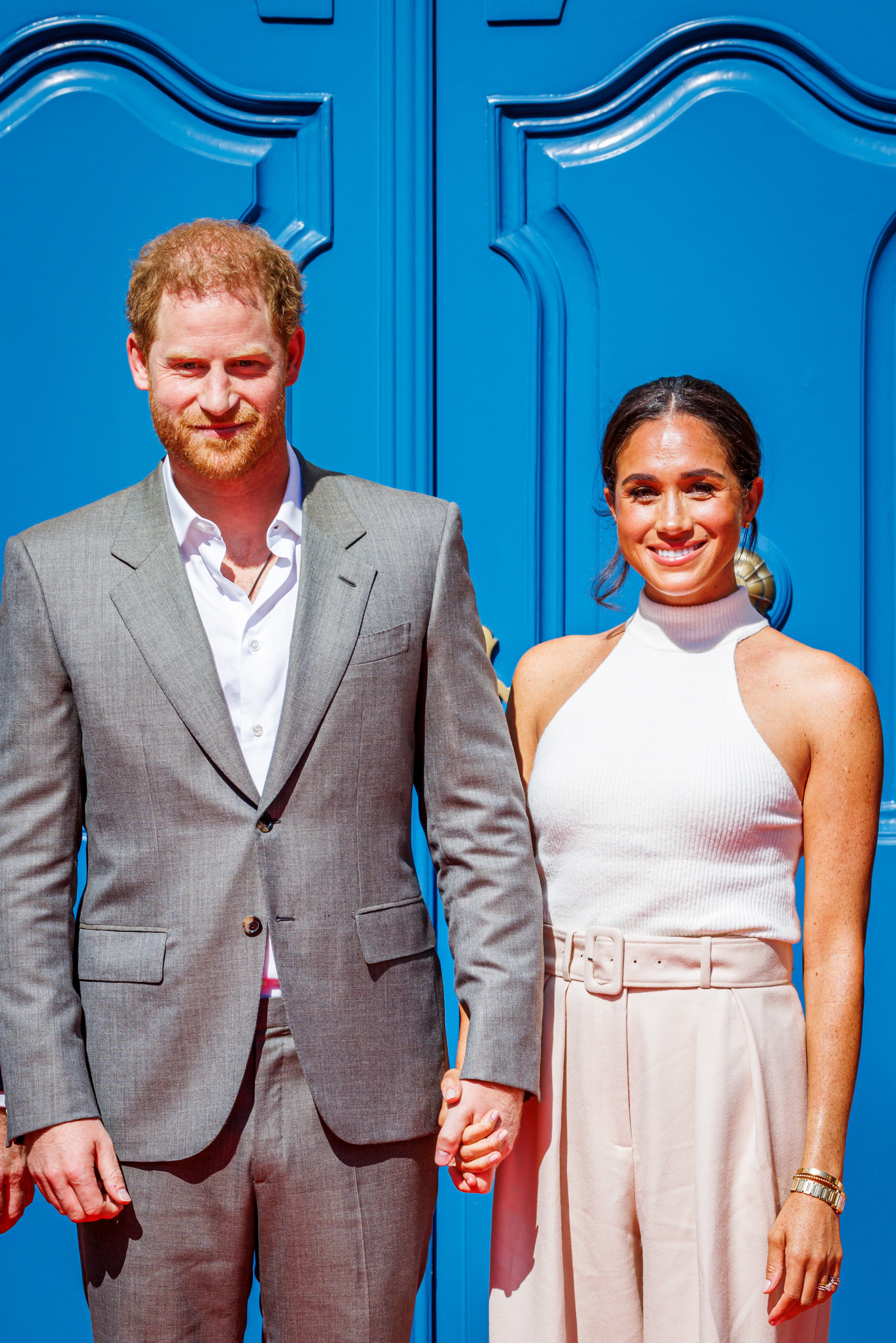 Prince Harry and his wife Meghan Markle visiting the city hall during the Invictus Games Dusseldorf 2023 - One Year To Go events on September 6, 2022 in Dusseldorf, Germany | Source: Getty Images
The former actress expressed the authenticity of the podcast and how it makes her feel as an individual, adding it just amplified her voice:
"It's so real. I feel different. I feel clearer. It's like I'm finding – not finding my voice. I've had my voice for a long time, but being able to use it."
After being back and forth with the Royal Family and her own family through the media, she was asked whether there was room for forgiveness.
"I think forgiveness is important," Markle noted. "It takes a lot more energy not to forgive. But it takes a lot of effort to forgive. I've made an effort, especially knowing that I can say anything," she added.
The American native has since left The Firm behind, and her children with Prince Harry, son Archie, and daughter Lilibet are doing great. The mother of two is now ready for her next act.
The royal couple and their brood reside in their dream home that they could not afford at first. When the Duke and Duchess of Sussex first moved to America, finding a house became challenging because they were jobless after stepping down as senior royals in January 2020.
Markle told the publication that she and Prince Harry began their home search in Montecito, and one particular property that "kept popping up online" caught their attention.
However, they initially hesitated to view the house because of financial restraints. The Duchess emphasized there was no way they would go and see the property knowing very well that they had no income to purchase it in the first place:
"We didn't have jobs, so we were not going to come and see this house. It wasn't possible. It's like when I was younger, and you're window shopping – it's like, 'I don't want to go and look at all the things that I can't afford. That doesn't feel good.'"
The couple eventually went to view the abode after signing a reported $25 million Spotify deal and a reported $100 million Netflix deal.
They instantly fell in love with the mansion upon viewing it in person and purchased it for $14.65 million. "We did everything we could to get this house," Markle revealed.
She divulged that she and her spouse loved the house before seeing what it looked like inside. The two palm trees on the grounds of the 14,000-square-foot property are sentimental for the couple.
Markle & Prince Harry's Mediterranean-Style Mansion
Prince Harry and Markle's property grounds feature 14 acres of lush greenery that overlaps the outdoor area upstairs.
The windows with wrought iron balconies open right out to the lawn, and the green scenery outside, featuring the two palm trees the prince said, represents him and his wife because of the attachment at the roots. He explained that he and Markle move together as one.
The outdoor sitting area comprises beige furnishes complimenting the wall and wooden planks above. The lush green extends to the exterior wall covering parts of the house.
The mansion has manicured garden all around the abode with artifacts and stairs to maneuver through the whimsical-looking terrace.
The property grounds also feature a play area for the couple's eldest child, Archie, and his younger sister Lilibet. The estate also has a large swimming pool, a full-sized tennis court, and a detached guesthouse.
The Themed Interior of the Mansion
The chateau features eight bedrooms and 16 bathrooms, including a gym, a library, a sauna, an arcade, a lift, a games room, and a home cinema.
The primary bedroom has a beige theme with wooden furniture and wooden floors. The space consists of framed windows and doors, a ceramic fireplace with lights above it, a rug matching the white floral bedding, and a desk with a matching chair and a pedestal positioned in front of a mirror.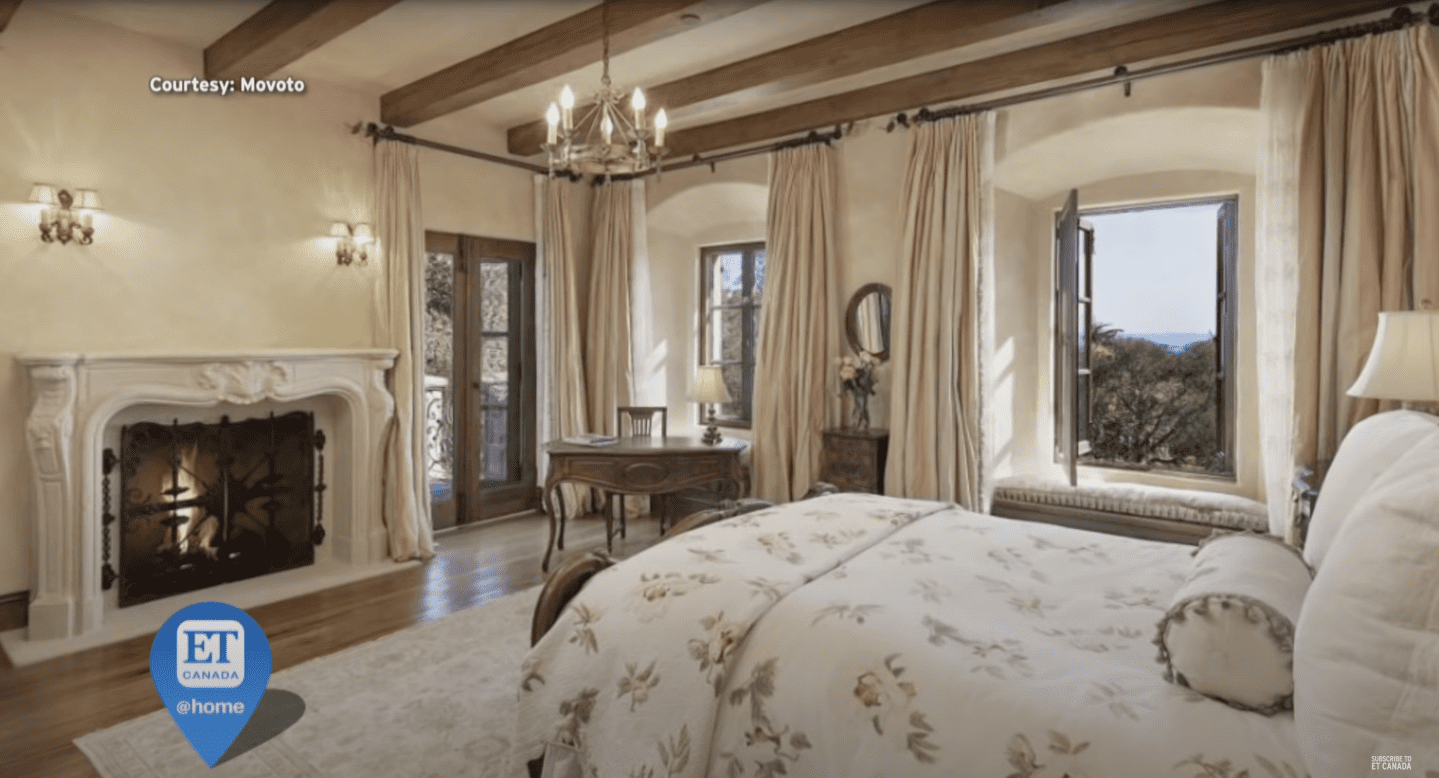 Prince Harry and Meghan Markle's master bedroom at their California estate | Source: YouTube.com/ITV News
The country-style main suite has an ensuite bathroom and access to a private balcony with an ivy-covered pergola, per LoveProperty.com.
The couple opted for wallpaper and similar curtains to their bedroom in their home theatre. The room features a wooden coffee table between the home system and the beige sofas.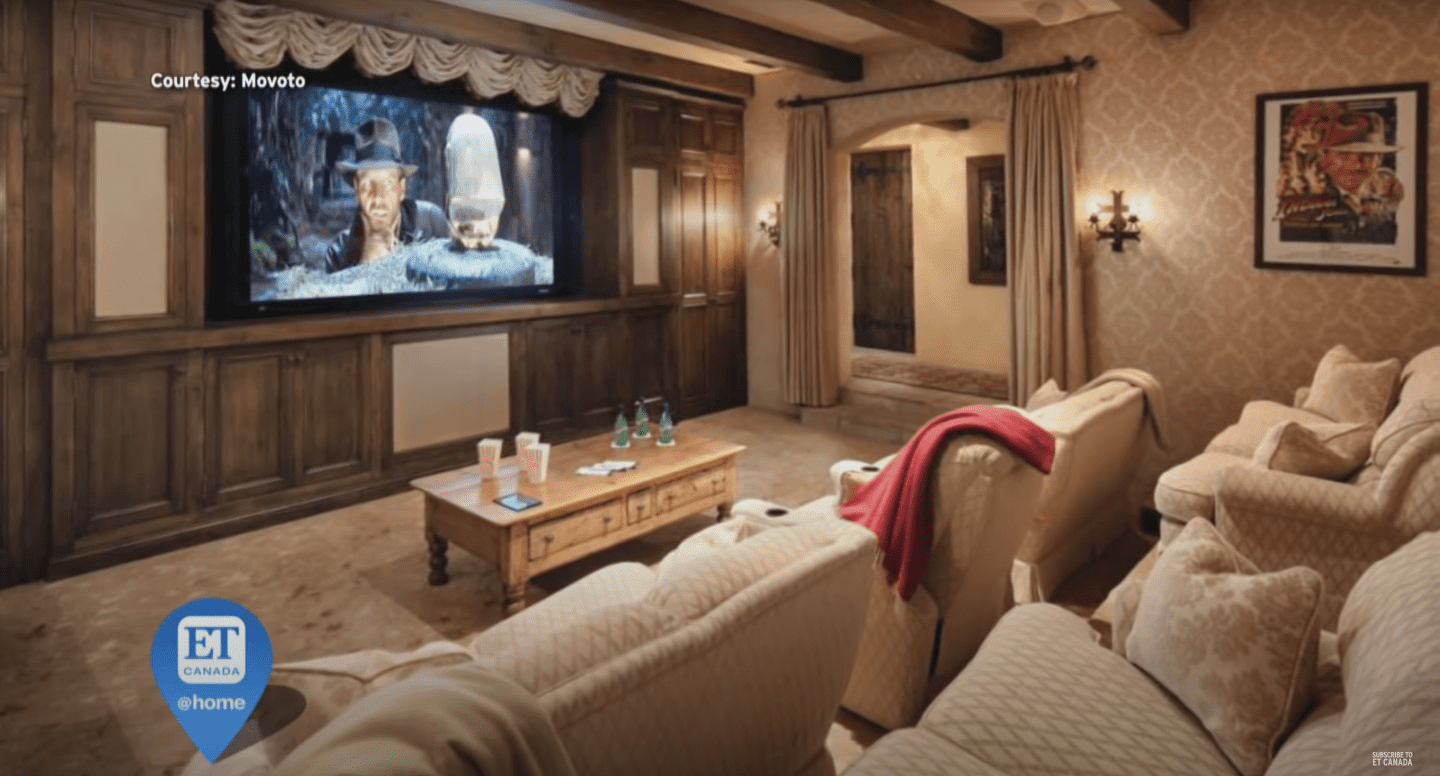 Meghan Markle and Prince Harry home cinema at their mansion in Santa Barbara, California | Source: YouTube.com/ITV News
The regal-inspired entertainment area also boasts wood-paneled walls and a big TV, and a mini curtain in front of it.
The gym room in the abode also features wooden floors and the same wooden-beamed ceiling style all around the house. The equipment-filled space has framed windows with Roman blinds.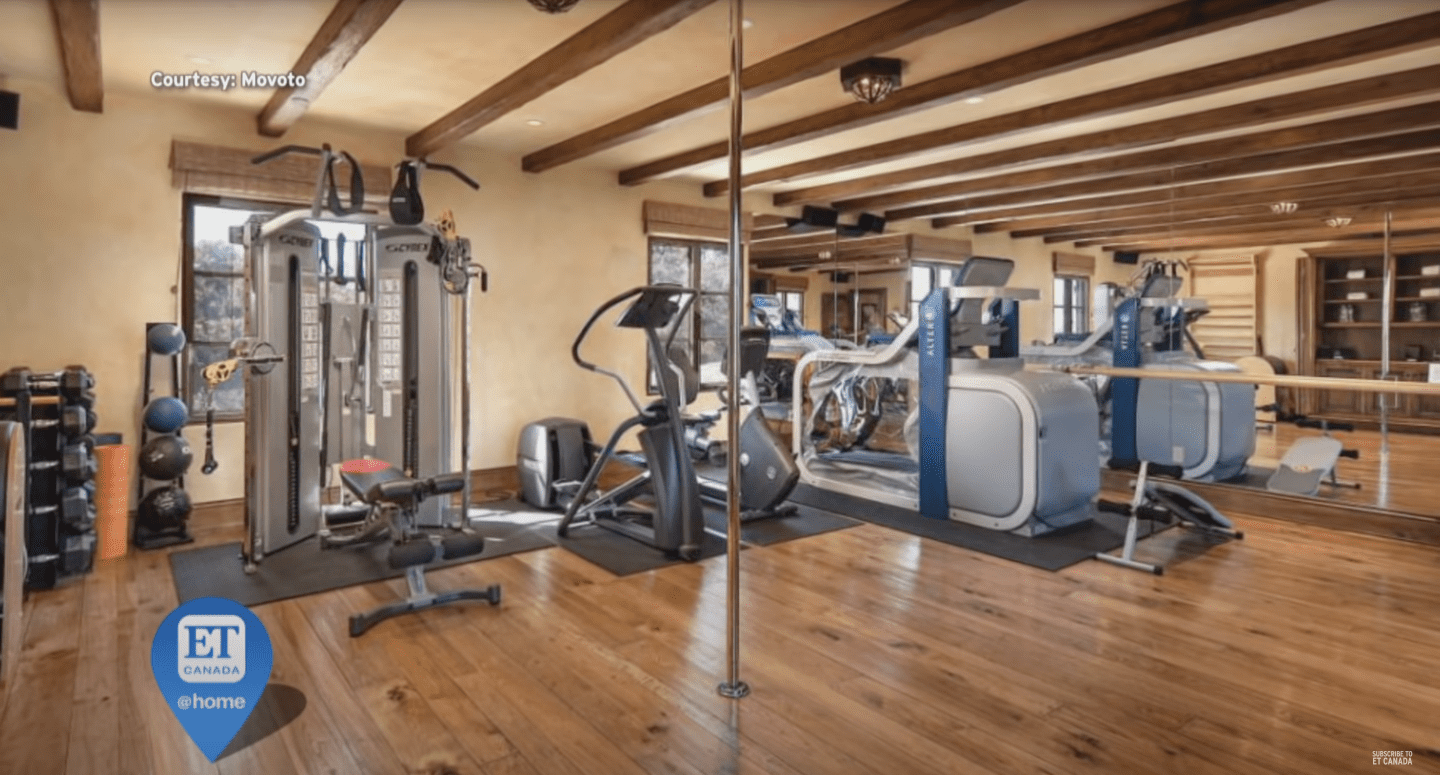 Prince Harry and Meghan Markle's wooden floored gym room at their West Coast property | Source: YouTube.com/ITV News
Markle and Prince Harry have a shared home office that she gave a glimpse of in August 2021 when she celebrated her 40th birthday. The space has a stone fireplace and a large wooden desk.
The room showcased Markle's neutral theme taste as she decorated the table with a quartz crystal and a tea tray; there is also a Hermes throw and a plush dog bed for the family pet. The space features paneled walls and black framed windows.
Markle & Prince Harry Enjoy Their New Life in California
Markle said they enjoy living in the abode because whenever she walks in, she feels "Joy. And calm. It's healing. You feel free."
The Duke and Duchess moved to the Mediterranean-style mansion on the West Coast of the US when the pandemic began.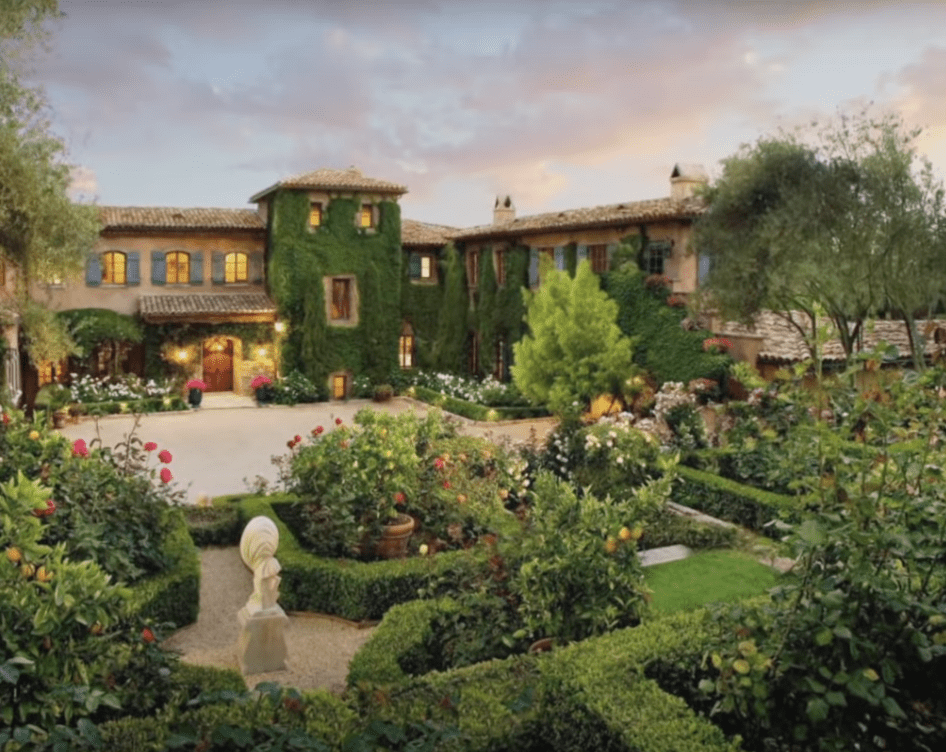 The exterior design of Meghan Markle and Prince Harry's Mediterranean-style mansion in Montecito, California | Source: YouTube.com/ITV News
Markle told TV host Ellen DeGeneres during her appearance on the now-defunct "The Ellen DeGeneres Show" in November 2018 that her husband enjoys living the California lifestyle and the weather:
"We've just been able to spend a lot of time at home. We're just happy."
The "Suits" alum shared that because they have a chicken coop in their backyard, Archie had learned to feed the chickens at their Santa Barbara home.
Please fill in your e-mail so we can share with you our top stories!