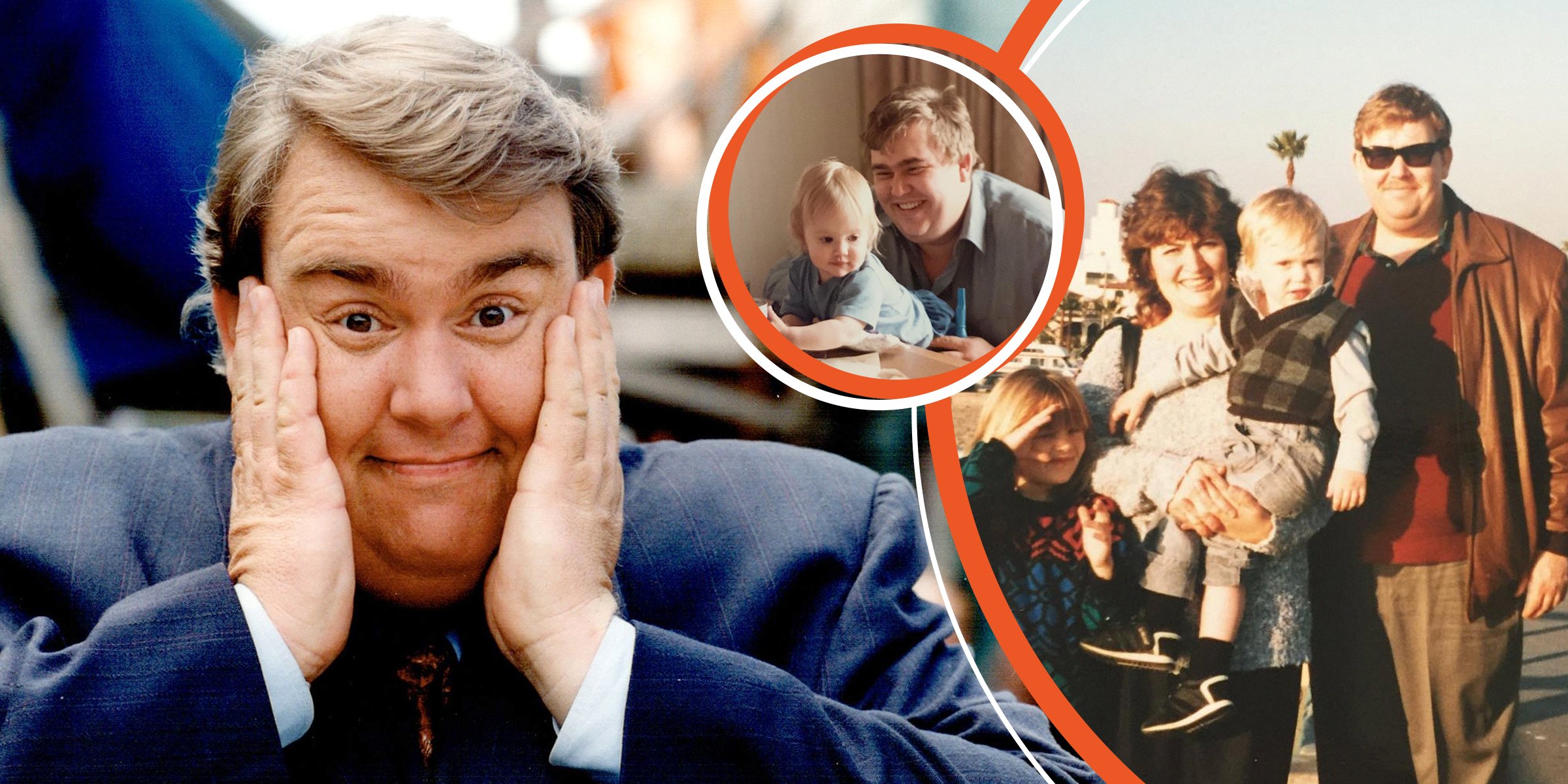 John Candy ┃John Candy and Christopher Candy ┃Jennifer Candy, Rosemary Hobor, Christopher Candy and John Candy ┃Source: Getty Images | instagram.com/chriscandy4ever ┃ instagram.com/therealjencandy
John Candy Was Loving Dad until Death — Co-stars Took His Kids 'Under Their Wing' as They Follow in His Steps

John Candy was a much-loved Hollywood star who left behind a legacy in show business. He was a doting father of two and a loving husband to Rosemary Hobor, who predicted his death.
Actor John Candy was one of Hollywood's finest comedians and was well-known for his unforgettable roles in films such as "Planes, Trains & Automobiles" (1987) and "Uncle Buck" (1989).
Sadly, his thriving career and life were cut short when he suddenly passed away at age 43. John died from cardiac arrest in March 1994 while in Durango, Mexico.
Actor John Candy posing for a photo session on April 12, 1993 in Los Angeles, California ┃ Source: Getty Images
At the time of his passing, he was filming the Western comedy "Wagons East." John had also completed his directorial debut for the movie "Hostage for a Day."
The "Police Surgeon" star was survived by his beloved wife, Rosemary Hobor, and their two children, daughter Jennifer and son Christopher.
John's Heartbreaking Last Conversations with His Kids
In an exclusive interview with The Hollywood Reporter in October 2016, John's kids candidly talked about the day he took his last breath.
Christopher revealed that he was only nine years old when his father passed and that they spoke the night before he tragically died. John told his son that he loved him and said "goodnight."
His sister Jennifer was 14 when they lost their dad, and she shared that the night before that fateful day, she was studying for a test, and they talked on the phone.
Jennifer admitted that she was "distant" when speaking to her father because she was busy studying. She told him she loved him and would talk to him again later. She hung up and went back to studying after that.
The day her dad died, an amethyst he brought home from Mexico for the family abruptly broke to pieces. John's wife told the kids it was a sign that their dad was saying goodbye.
John passed away while his children were at school attending a Friday mass at St. Martins of Tours. They were pulled from class by Father Donie, who walked them down to the rectory, where they found their father's assistant, Bob Crane, and their mom, who was in tears.
They broke the devastating news to the siblings, and Christopher remembered him and Jennifer breaking into tears. She shed tears uncontrollably for a few minutes and stopped. After that, she never wept in public again.
Meanwhile, her brother recalled when they learned about their father's cause of death instantly, which shocked him:
"We found out that it was a heart attack pretty immediately. I remember going, 'Why?' because it doesn't make sense when you're that young."
Jennifer remembered the type of man her late parent was and revealed that he portrayed some of the characters he played on screen in real-life. She and Christopher described their dad as warm-hearted and persistent.
Jennifer compared her father to his first prominent SCTV character, Johnny LaRue. She explained that he was more like his on-screen persona because LaRue was a businessman and likable, "but Dad was not smarmy."
She added that his Uncle Buck character and Del Griffith from "Planes, Trains & Automobiles" matched her father's real-life character. "He brought a little bit of himself to all of his characters," Jennifer stated.
When John departed, he did not have to worry much about his children because there were people who stepped up to care for them beyond expectation.
John's Co-stars and Friends Took Care of His Brood
John's friends took his children under their wing, and his son and daughter revealed that several former castmates played significant roles in their lives after his death.
Jennifer disclosed Tino Insana, who played Uncle Ted in "Bobby's World," was one of their father's best friends who was always there for her and Christopher. He gave her helpful advice and took them on entertainment outings, said Christopher:
"He was there and took us to movies and even came to my tee-ball games. And John Hughes was wonderful. We are fortunate to know some of the people we know."
Hughes also regularly checked in with the kids and, at times, invited them over for game nights or a movie and told them tales about their father.
He told them a story about them going to dinner one evening and had their camps set to meet them in a hotel lobby and travel by car. Hughes and John noticed that a particular individual in the vehicle seemed unsettled.
The same man sat at a table with them and spilled a glass of wine at dinner. Christopher said Hughes turned over to his dad and told him that clearly, his pal could not keep up. It turns out John did not know the unidentified man either and figured Hughes knew him.
They later learned that it was merely a fan who found a way into their car and rode with them, and to their surprise, he made it to the dinner, but "they made him leave."
Jennifer & Christopher Followed in Their Dad's Footsteps
Now, as grown adults, Jennifer and Christopher are both actors and voice-over artists, having worked on their late father's cartoon, "Camp Candy." Undoubtedly their dad's name has helped them break into showbiz, but Jennifer said they never had to rely on it:
"It took a while for us even to use the name. I wanted to develop who I was as a person, develop what I wanted to do."
She admitted that people have suggested that she and Christopher make phone calls and have higher-ups do something for them, and she declined.
Meanwhile, Christopher acknowledged that having an uncanny resemblance to their father and the Candy name works against them at times during auditions. He always gets mistaken for being his father's brother.
Although the brother and sister duo have never been asked to perform like their dad, Christopher admitted that he has a desire to partake in one of John's film reboots.
Both he and Jennifer are the spitting image of their dad. Christopher confessed that he struggled with his likeness with his deceased parent when he was younger.
He said people used to call him "John" accidentally and that some still do. However, things changed as he got older because he embraced his appearance more than ever before.
On the other hand, Jennifer has always embraced her resemblance to their dad. She divulged people used to tell her that she looked just like John, and she would express gratitude. Then they would add, "But you're much prettier than your dad!"
Jennifer admitted that she also laughs precisely like her father used to. Notably, she and Christopher have the same chuckle as John.
Decades have passed since John's death, but for his kids, he is "not gone." Christopher said they always talk about him: "He's not really gone because we talk about him so much, and we'll always open a box, and there are a billion photos of him. So, it's like, there he is."
In addition, Jennifer concluded that though their loved one is no more, he is not entirely gone but "is always there."
Please fill in your e-mail so we can share with you our top stories!
The information in this article is not intended or implied to be a substitute for professional medical advice, diagnosis or treatment. All content, including text, and images contained on news.AmoMama.com, or available through news.AmoMama.com is for general information purposes only. news.AmoMama.com does not take responsibility for any action taken as a result of reading this article. Before undertaking any course of treatment please consult with your healthcare provider.