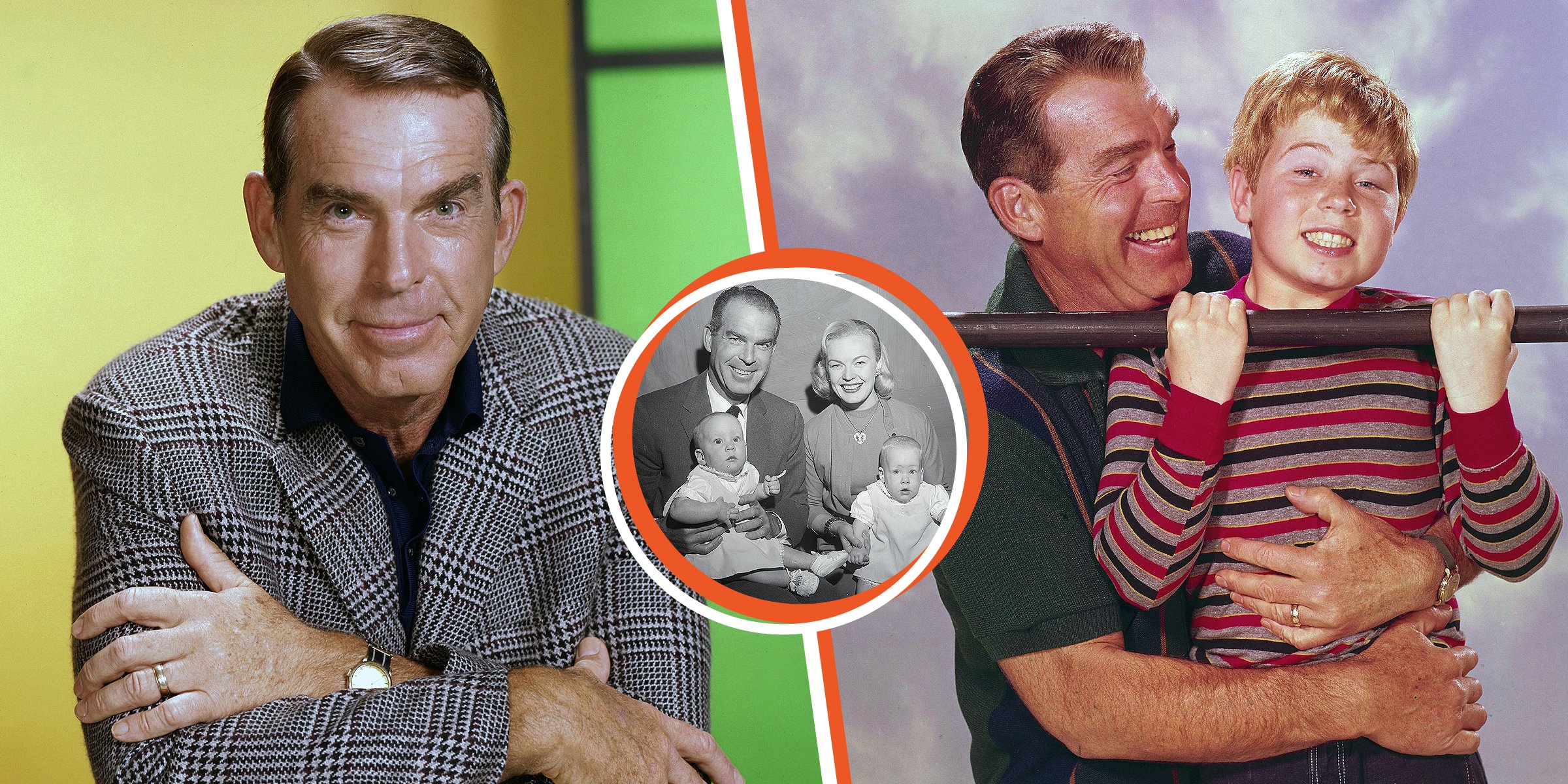 Fred MacMurray | Fred MacMurray, June Haver, June Haver and Katherine Marie | Fred MacMurray and Stanley Livingston | Source: Getty Images
Fred McMurray Adopted Twins with His Wife of 50 Years & Became Dad of 4 after His Ex Died

Fred MacMurray was a happy family man when he married his first wife. However, a 1953 tragedy would make him a grieving widower with two children to cater for. But shortly after, he found love again with a divorcee, and they remained together for five decades until death ended their union. Here are the details.
Fred MacMurray may not ring any bells for younger generations, but he was one of the most famous names in Hollywood.
His role as Steven Douglas in the American sitcom "My Three Sons" brought him international recognition, and to date, he remains a role model to many movie stars. However, before the Hollywood star found fame, he was an unusual man who had to do menial jobs to survive.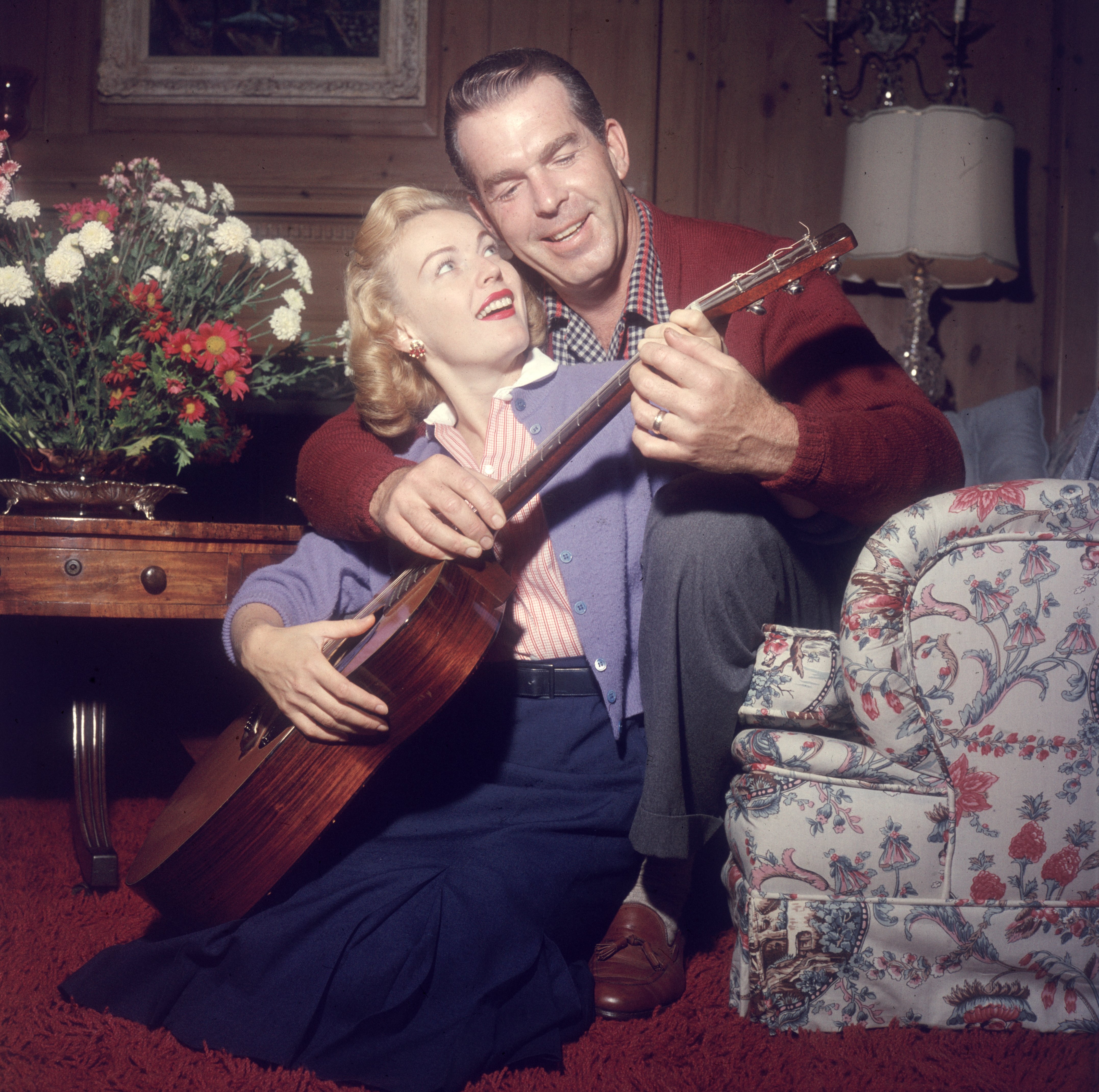 Fred MacMurray shows his wife, actor June Haver, how to play the guitar while sitting behind her on the living room floor. | Source: Getty Images
During his years in college, McMurray worked four jobs. According to the icon's daughter, the actor's first job was washing dishes. He also worked as a furniture delivery man, a saxophone player, and a pea canner.
Undoubtedly, MacMurray had a complicated life before he found fame. During this difficult period, the actor met his first wife, Lillian Lamonte.
The pair first met in August 1933 at a bar where MacMurray and his friends performed. They were in New York rehearsing for the "Smoke Gets in Your Eyes" number, and Lamonte was a model in the background.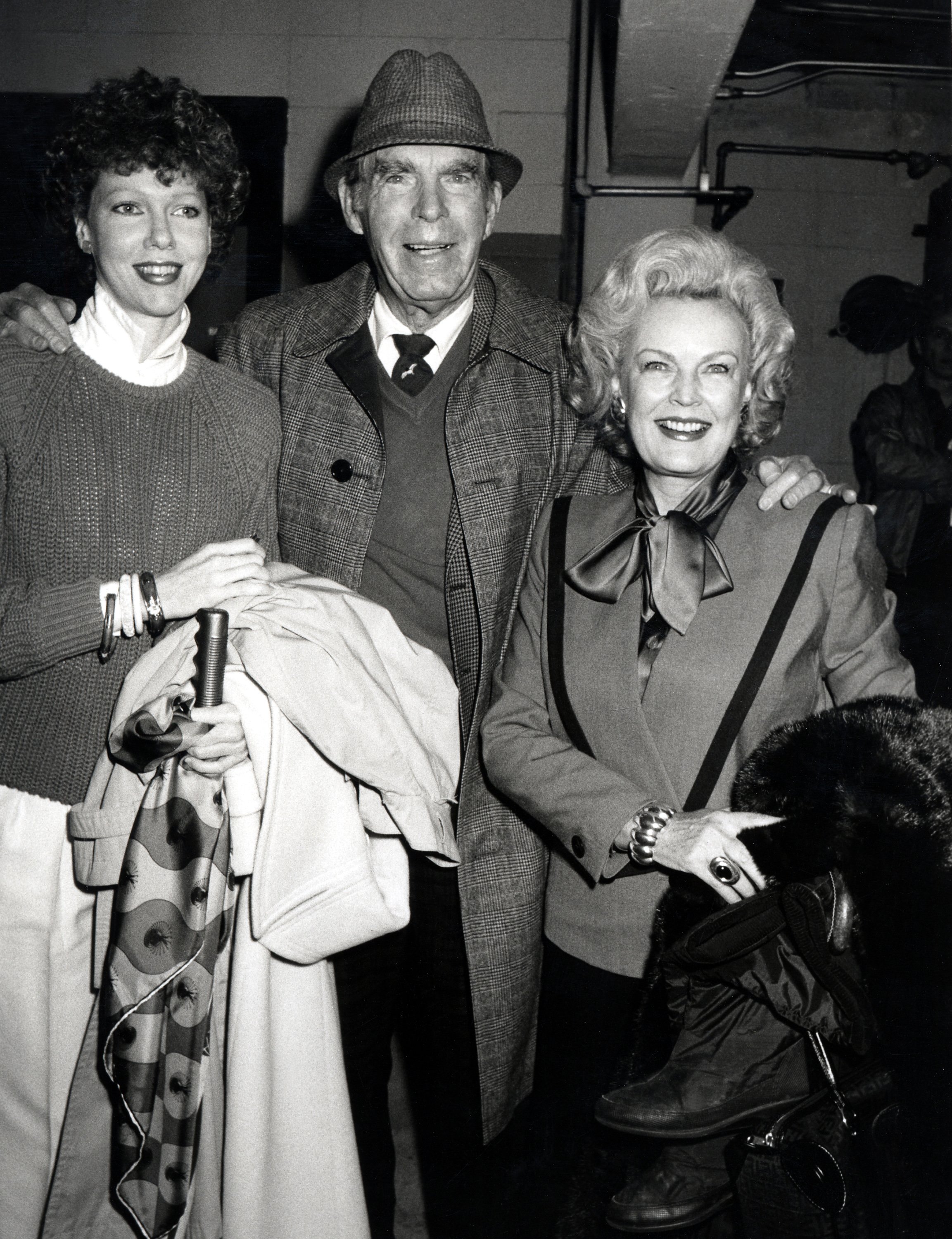 Fred MacMurray, June Haver, and their daughter during the 1986 St. Patricks Day Parade at Beverly Hills in Beverly Hills, California, United States. | Source: Getty Images
Her tall, statuesque figure caught the actor's eyes, and according to MacMurray, it was love at first sight. Not long after, MacMurray summoned the courage to ask her out, and Lamonte accepted. The couple dated for a while, after which the actor was convinced he wanted to marry her.
By 1936, the duo tied the knot and later resided in California. They adopted two kids, whom Lamonte stayed home to look after while MacMurray continued to pursue his acting career.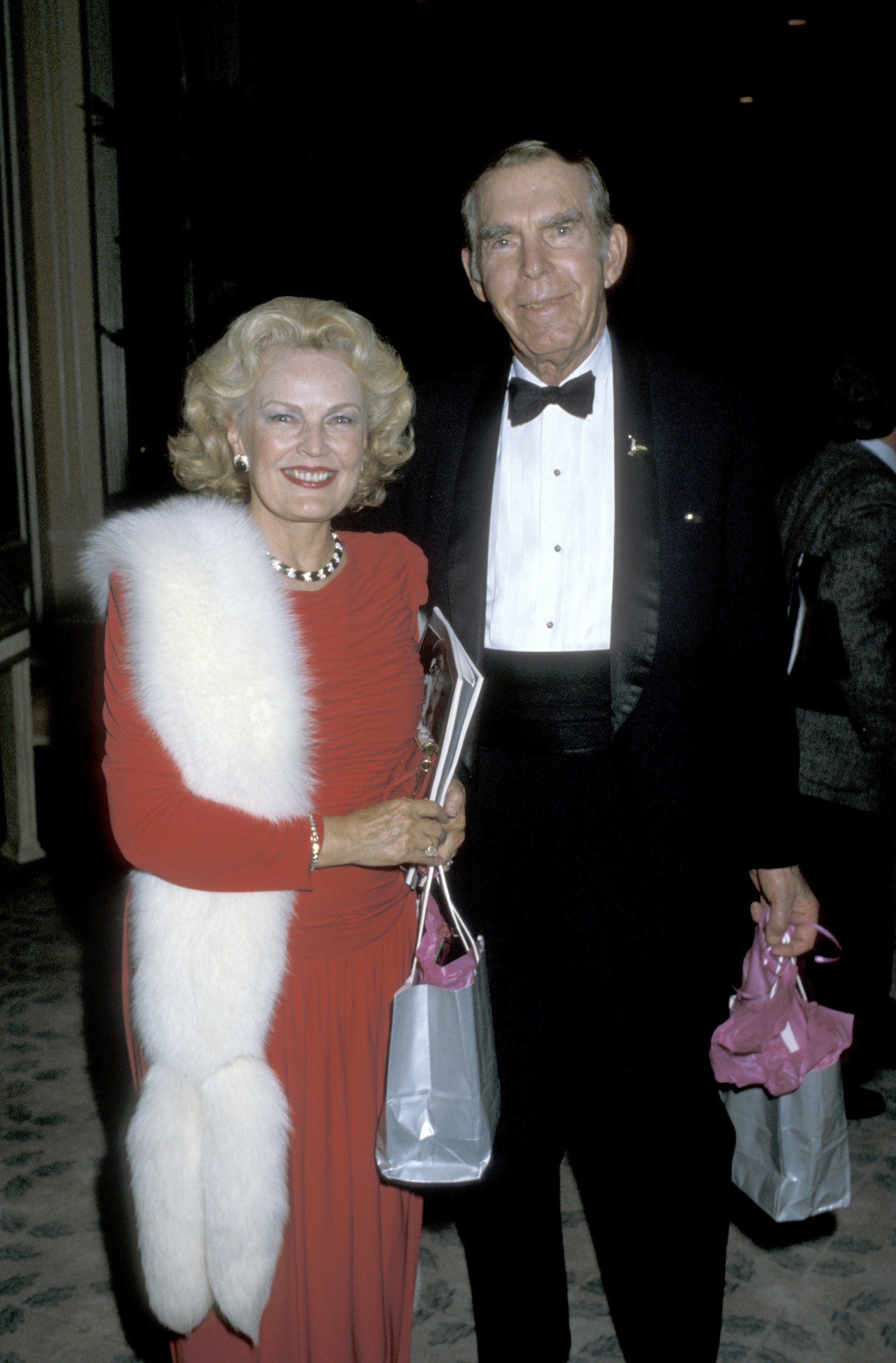 June Haver and Fred MacMurray during AFI Lifetime Achievement Award to Billy Wilder at Beverly Hilton Hotel in Beverly Hills, California, United States. | Source: Getty Images
The actor eventually found fame, and he lived happily with his family for the next few years. However, for unknown reasons, Lamonte took her life in 1953, after 17 years of marriage. It was devastating for MacMurray, who was left behind with their two children.
Following Lamonte's death, there were rumors of romantic involvements between MacMurray and his co-stars even while the former was still married. However, the actor insisted that he was a devoted husband. In his words:
"When I came to Hollywood in 1934, I was engaged to Lilian. So there were never any romantic items with anyone else. We married in 1936. But now, I'm an extra man for the first time in my life."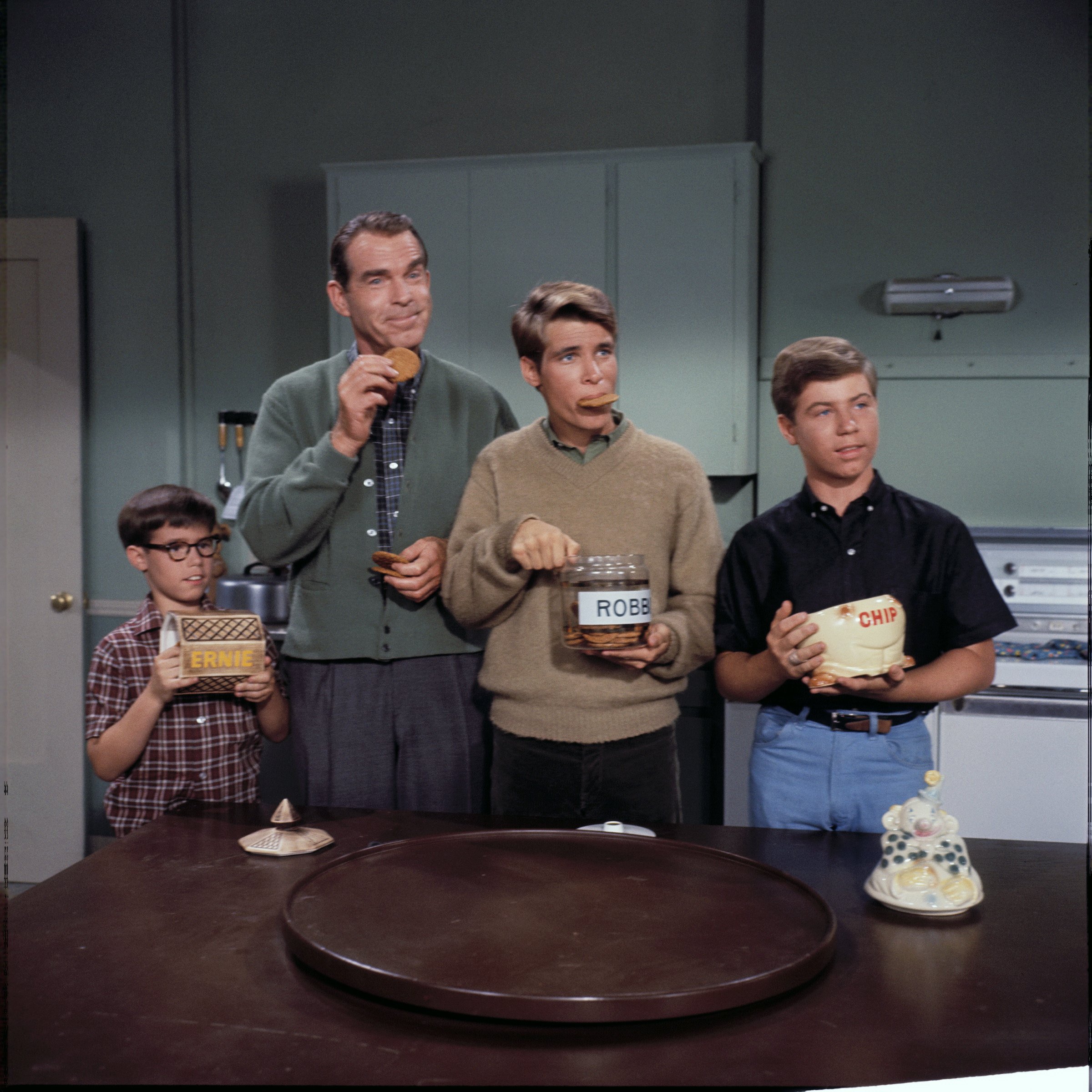 The cast of "My Three Sons," Barry Livingston as Ernie Thompson Douglas, Fred MacMurray as Steve Douglas, Don Grady as Robbie Douglas, and Stanley Livingston as Chip Douglas, were pictured while filming. | Source: Getty Images
Even though he claimed not to have been involved in any other romance, he shared very close bonds with some female co-stars, one of whom was Carole Lombard.
The pair were so close that MacMurray named his daughter from his first marriage after the actress. Pictures shared on social media also captured the amazing relationship MacMurray and Lombard shared.
Inside MacMurray Happy Relationship with His Second Wife
After Lamonte's demise, MacMurray found love again in the arms of June Haver. The latter was a singer and actress who featured in many productions.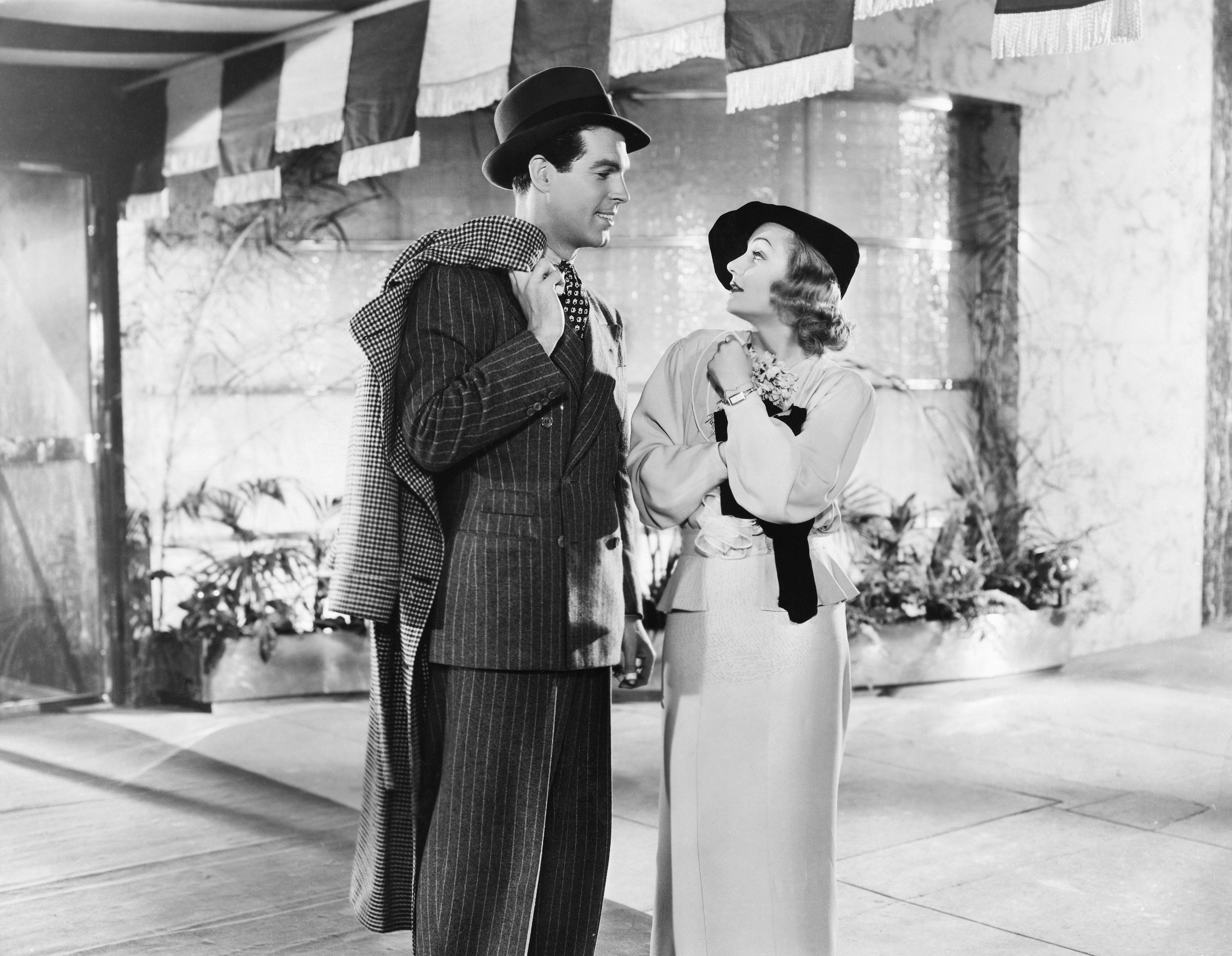 Fred MacMurray as Theodore Drew III and Carole Lombard as Regi Allen in the 1935 film Hands Across the Table. | Source: Getty Images
She first crossed paths with the actor on the set of the 1945 film "Where Do We Go From Here?" The movie saw the couple tie the knot on screen but away from the camera, a romantic relationship would have to wait.
Until the end of their union, Haver never regretted her decision, as quitting her career gave her enough time for her family.
At the time, MacMurray was still happily married to Lamonte, while Haver was unmarried. So, the pair parted ways. While things continued to go smoothly for MacMurray for the next few years, it was the opposite for Haver.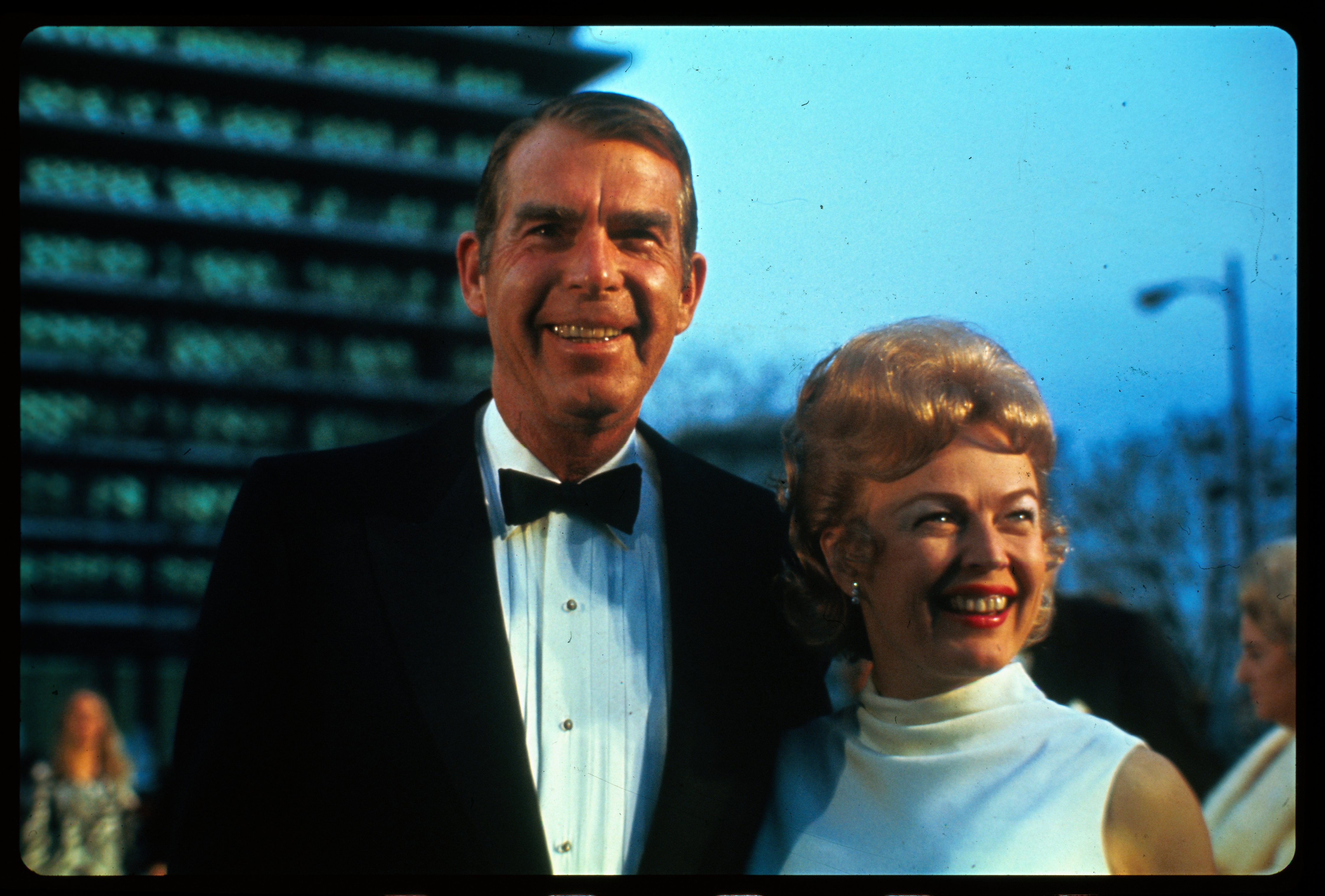 Fred MacMurray and his wife, former actress June Haver, arrive at the Academy Awards presentations. | Source: Getty Images
In 1947, the actress married her first husband and Trumpeter, Jimmy Zito. Sadly, the union was short-lived, ending in less than a year.
Then, in 1949, Haver got engaged for the second time to John Duzik, but their relationship could not go further, as he died in her arms after surgery. Years later, Haver joined the Sisters of Charity Convent in Xavier, Kan, as a novice nun but could only stay for eight months.
Overall, she was miserable. But in 1953, at a New Year's Eve party, the actress met MacMurray again. On June 28, 1954, they married at the Ojai Valley Inn.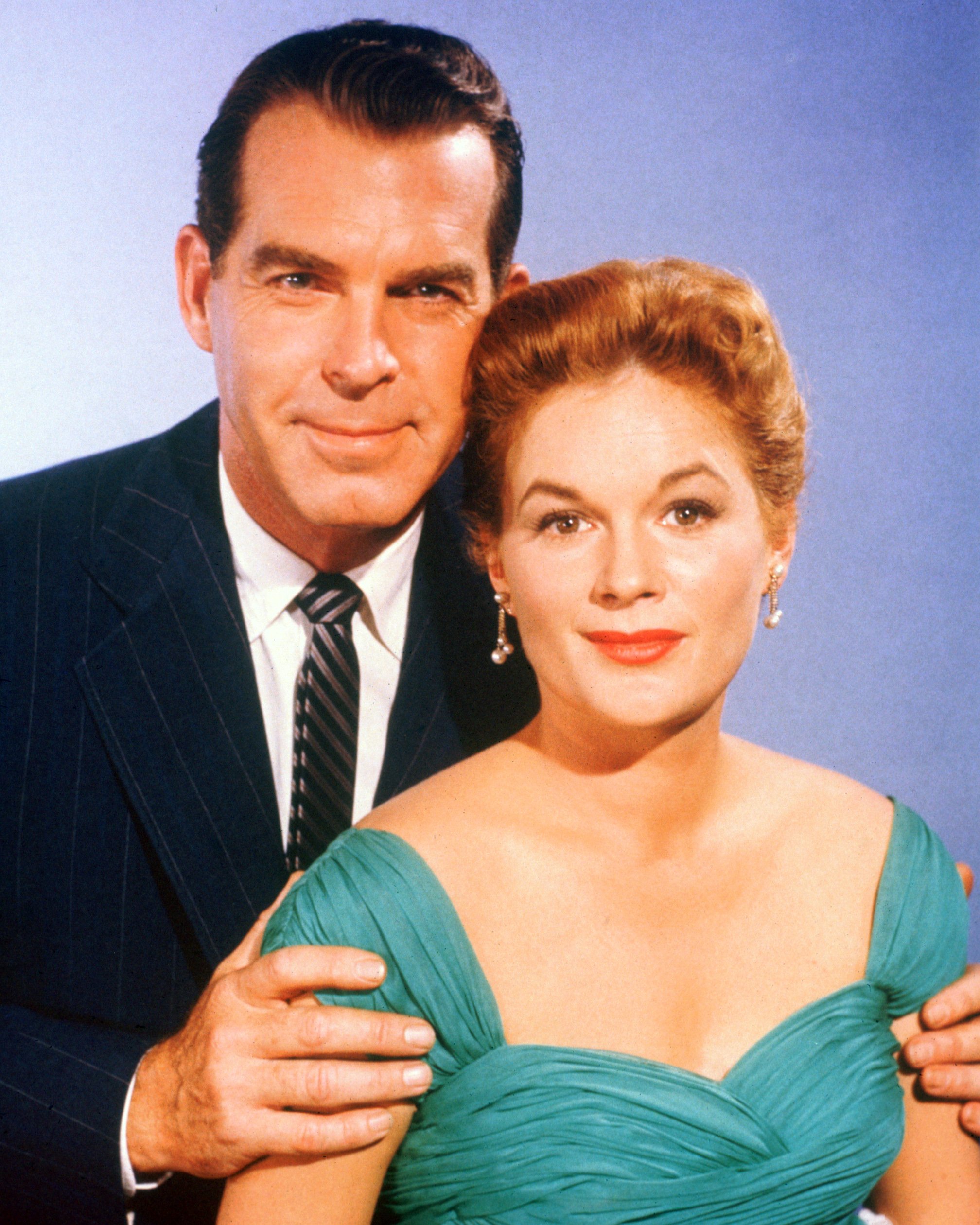 Fred MacMurray (1908 - 1991) as Wilson Daniels and Jean Hagen as Freeda Daniels (1923 - 1977) in 'The Shaggy Dog,' 1959. | Source: Getty Images
Two years later, Haver and McMurray adopted infant twin girls making a total of four children; the first two were from the actor's first marriage. Following the arrival of their babies, Haver decided to quit her career as an actress and never made another film. According to her:
"I'm a mother now. I'm needed at home."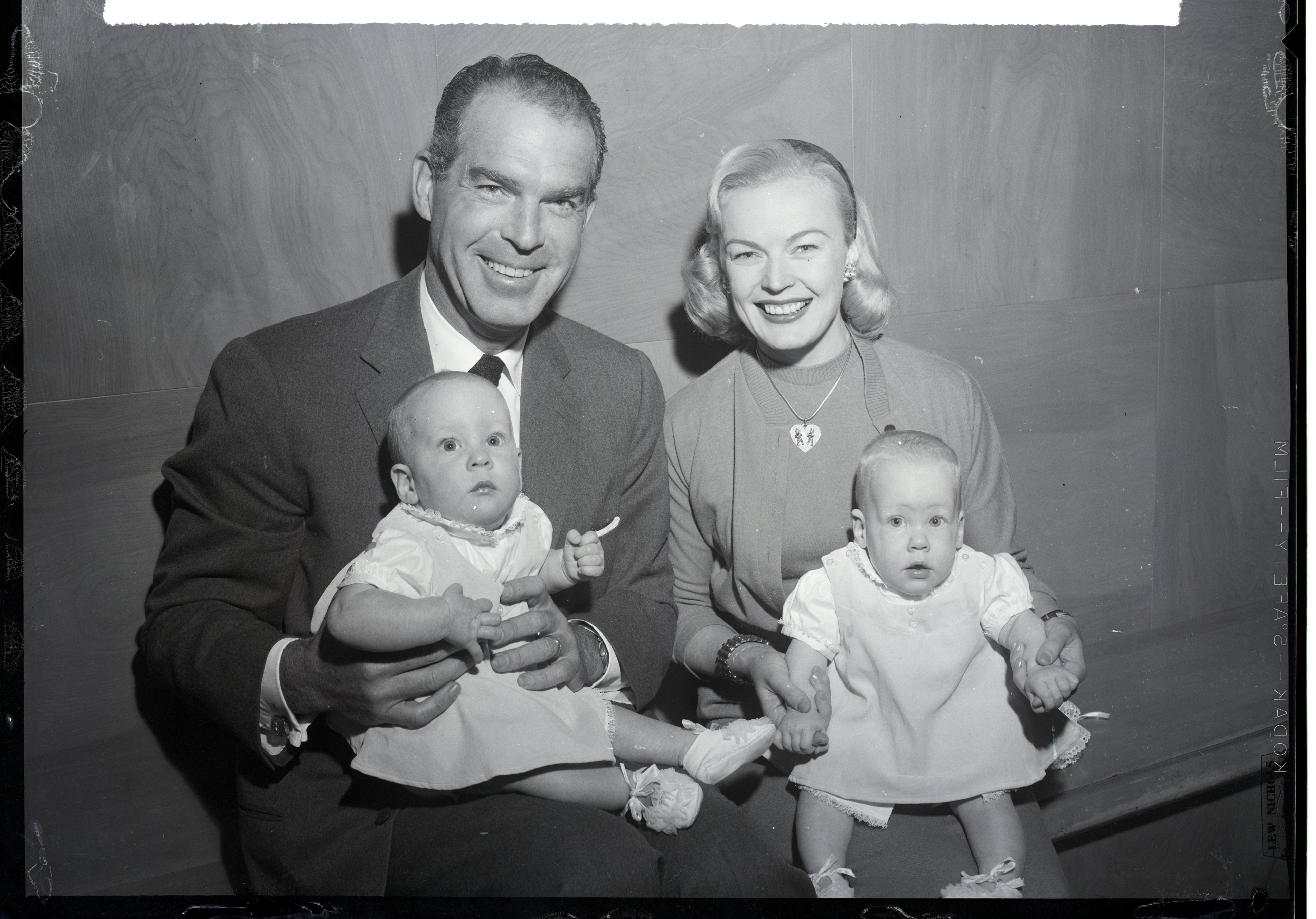 Fred MacMurray and his actress-wife, June Haver, received a real Christmas present on December 4 when the court approved their adoption of seven-month-old twin girls. | Source: Getty Images
Until the end of their union, Haver never regretted her decision, as quitting her career gave her enough time for her family. She and MacMurray were extremely happy in their marriage.
They spent time together cooking while dreaming of raising their family on a 1500-acre ranch in Healdsburg, California, which the actor had purchased in 1941.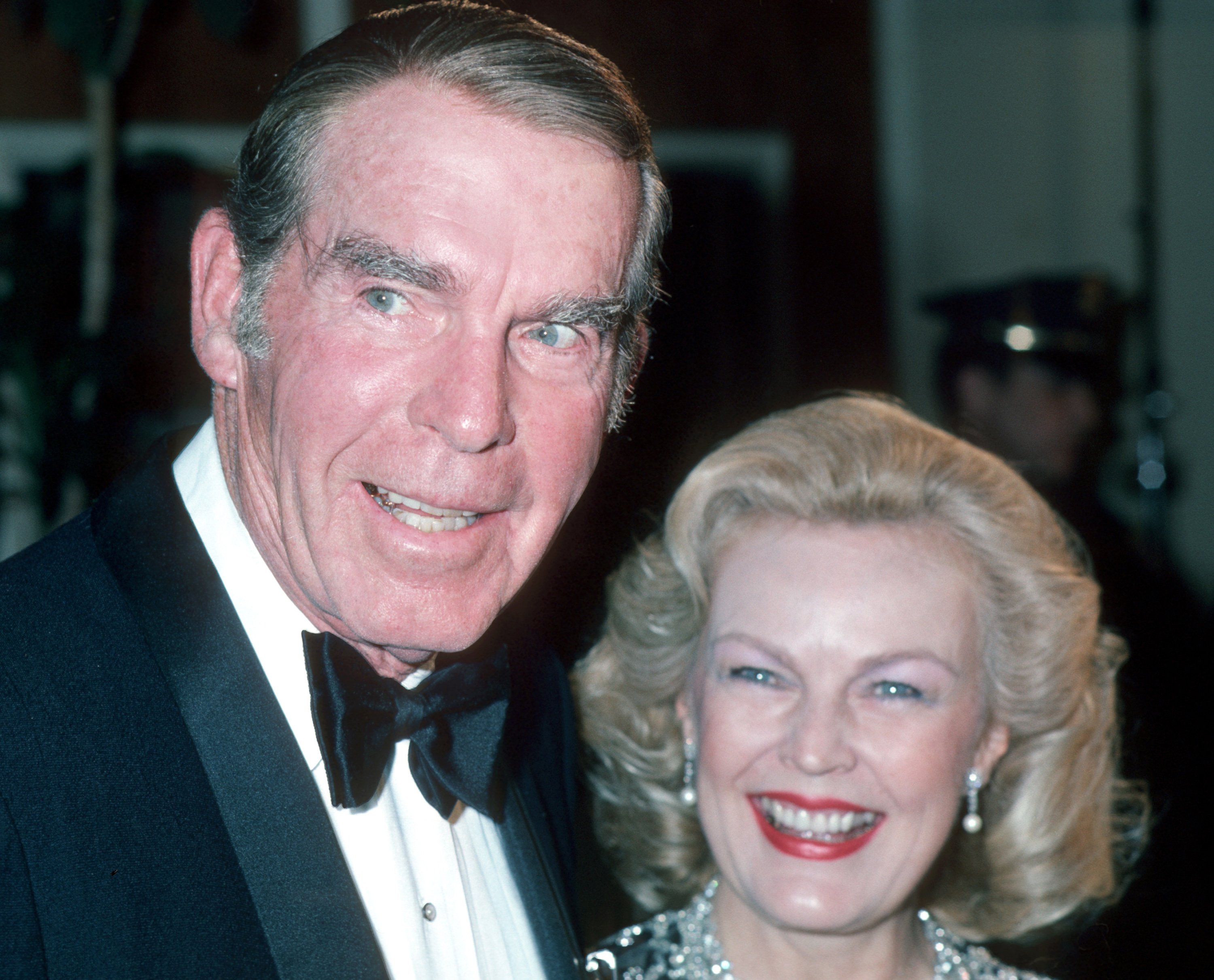 June Haver and Fred MacMurray during Benefit for St. Vincent de Paul November 19, 1985, at Beverly Hilton Hotel in Beverly Hills, California, United States. | Source: Getty Images
Ultimately, happy life together was all they could wish for. For five decades, the couple enjoyed marital bliss until it ended following MacMurray's demise in November 1991. The Hollywood icon passed away from pneumonia while battling cancer.
Kate Preserves Her Father's Legacy
Over a decade after MacMurray's death, Haver died from respiratory failure in Los Angeles at 79. The couple was survived by their four children, Laurie Sipma, Kate, Susan Pool, and Robert. Many years later, Kate still keeps her father's legacy alive.
She sold the family's 1500-acre ranch to E&J Gallo property with the motive of turning the property into a vineyard called MacMurray Estate Vineyards.
Fred MacMurray, June Haver, and Daughter during Heritage Museum Gala - February 21, 1987, at Century Plaza Hotel in Century City, California, United States. | Source: Getty Images
It all worked out, and Kate was hired as the creative consultant for a line of super premium wines like pinot noir and cool-climate whites.
It meant the world to Kate to preserve the ranch, which held beautiful memories. According to her, her family's heart and soul were there, and any qualities of merit she had came from growing up on the property.
The National Suicide Prevention Lifeline is 1-800-273-8255. Other international suicide helplines can be found at befrienders.org.
Please fill in your e-mail so we can share with you our top stories!
The information in this article is not intended or implied to be a substitute for professional medical advice, diagnosis or treatment. All content, including text, and images contained on news.AmoMama.com, or available through news.AmoMama.com is for general information purposes only. news.AmoMama.com does not take responsibility for any action taken as a result of reading this article. Before undertaking any course of treatment please consult with your healthcare provider.