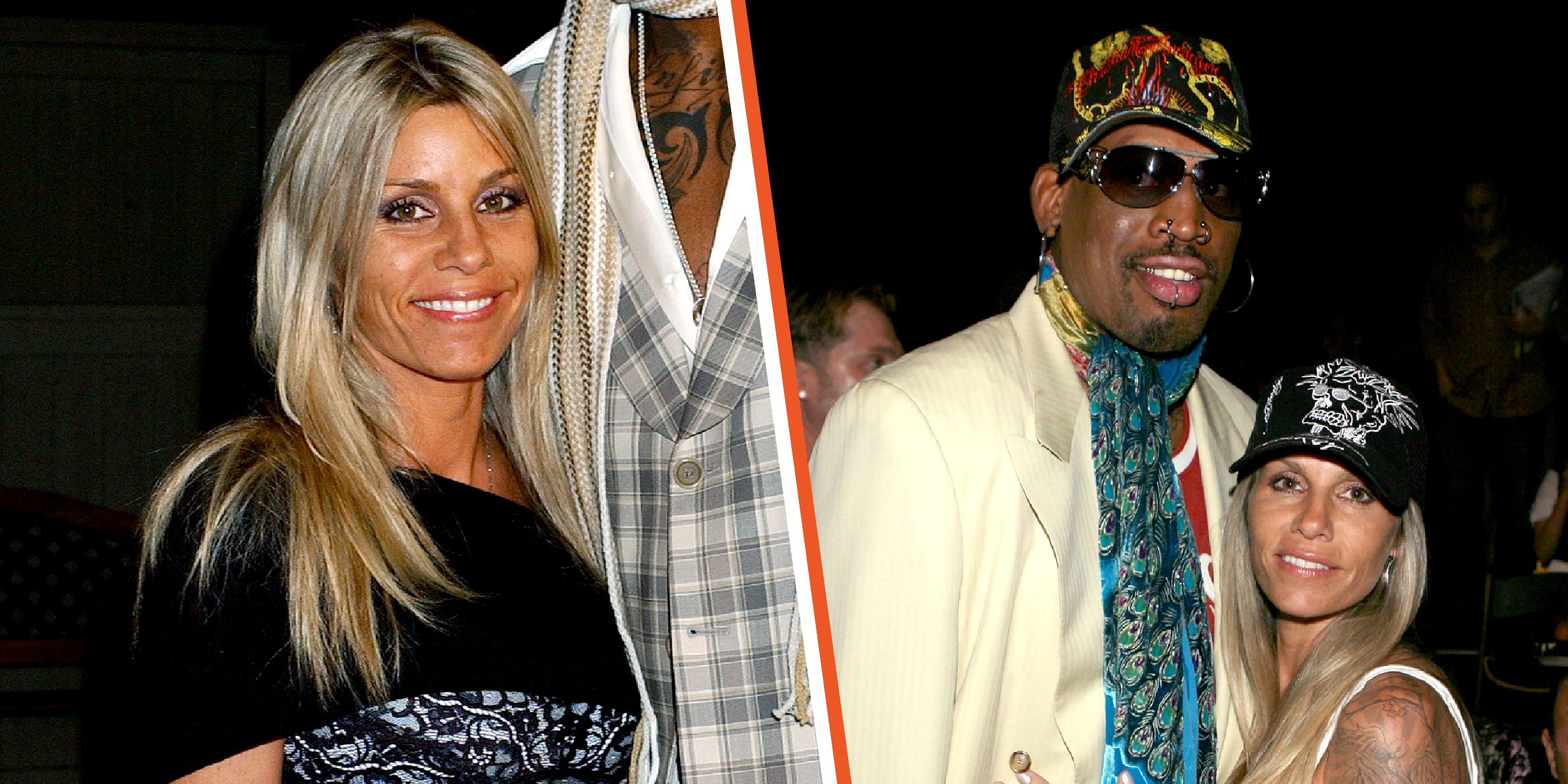 Michelle Moyer | Michelle Moyer and Dennis Rodman | Source: Getty Images
Michelle Moyer: The Life of Dennis Rodman's Ex-wife Who Filed for Divorce Less than a Year into Their Marriage

Michelle Moyer was Dennis Rodman's wife, and they had dated for a while before getting married. Less than a year after their wedding, she filed for divorce from the NBA legend, but they tried to work through things for almost another decade.
Dennis Keith Rodman, born on May 13, 1961, never looked athletic in high school. After high school, he worked several odd jobs while playing basketball at local courts.
His game style caught the coaches' attention, and he soon accepted to attend Cooke County Junior College. He could not keep up with school work and dropped out but later enrolled at Southeastern Oklahoma State.
While playing basketball for the school, Dennis overwhelmed his opponents. In 1986, he made a second-round pick at the NBA draft for the Detroit Pistons.
His fierce defense led the club to win two consecutive championships in 1989 and 1990, and he became the Defensive Player of the Year in 1990.
He had five NBA championships, played for over three teams, and two All-Star appearances throughout his career, and was the league's top defensive player twice.
Despite his success on the court, Dennis was not as successful in his relationships. His first two marriages to Annie Bakes and Carmen Electra lasted for a year each, and when he married Michelle Moyer, she filed for divorce after less than a year.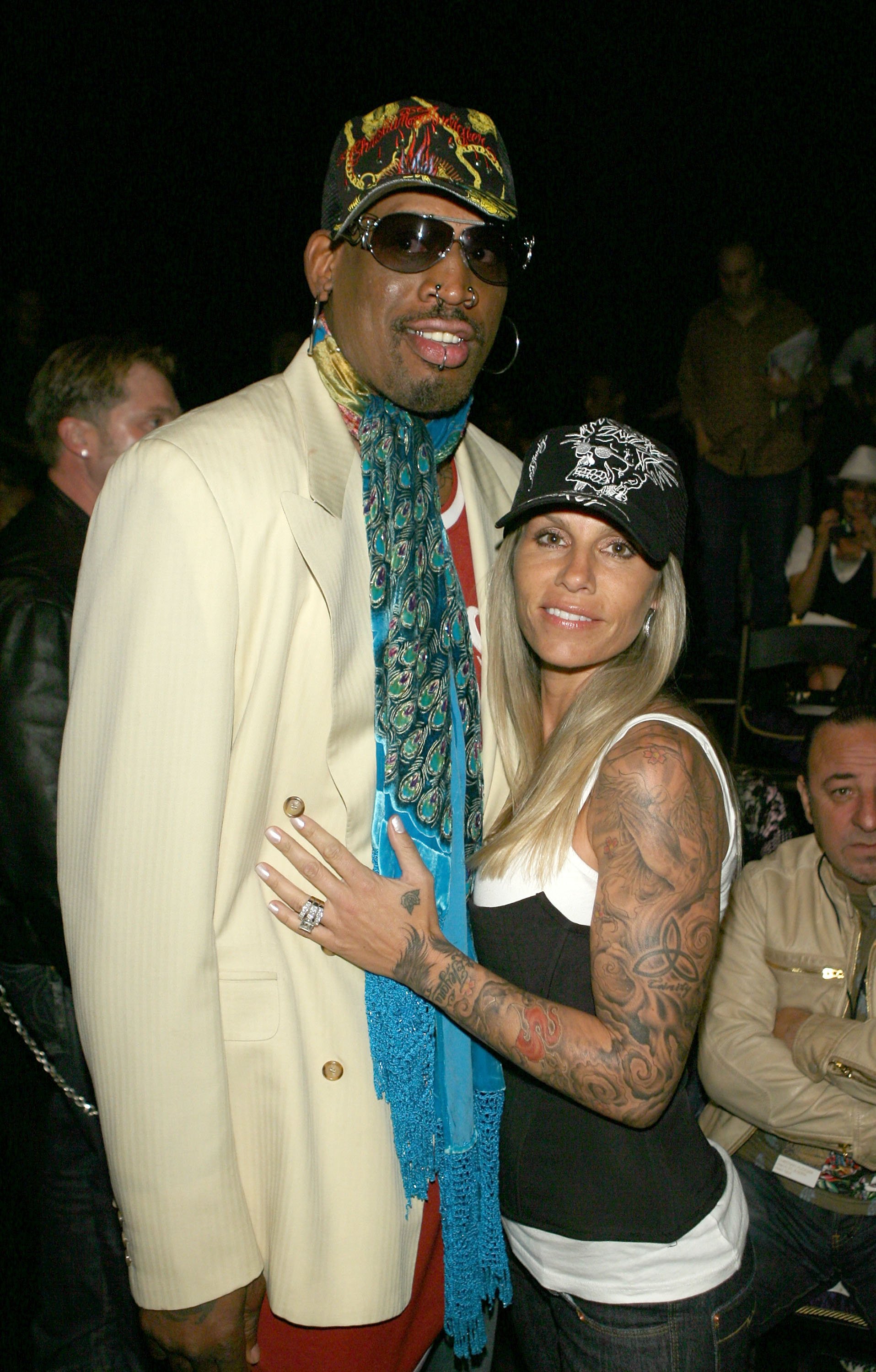 Dennis Rodman and Michelle Moyer at the Christian Audigier Fall 2007 fashion show on March 21, 2007 | Source: Getty Images
Who Is Michelle Moyer?
Moyer became known as Dennis's longtime girlfriend and later ex-wife, and there is very little information about her professional background.
The couple first met in 1999 at a bar and started dating. They dated for four years before getting married on the NBA star's 42nd birthday on May 13, 2003.
Before marriage, the couple had welcomed two children, and after their wedding, even though they both lived in Newport Beach, California, Dennis revealed they would not live under the same roof.
Despite the NBA star revealing that Moyer kept him balanced, she filed for divorce the following year, less than a year after their wedding.
Why Did Michelle Moyer Divorce Dennis Rodman?
After filing for divorce, Moyer and Dennis tried to work things out. When things did not work out between them, she filed for divorce again in 2012, and the court granted it.
During the second divorce proceedings, she revealed that he owed her over $800,000 in child support and over $50,000 in spousal support.
Moyer also filed a temporary restraining order against him. The Orange County court commissioner informed Dennis he would go to jail for 20 days for contempt of court if he did not pay what he owed within a given time frame.
His lawyer later revealed that the former NBA star was flat broke and would not be able to pay the money. The lawyer said:
"In all honesty, Dennis, although a very sweet person, is an alcoholic. His sickness impacts his ability to get work."
How Many Kids Did Dennis Rodman and Michelle Moyer Have?
Michelle Moyer and Dennis welcomed their first son, Dennis Rodman, Jr., also known as D.J. Rodman, in 2000. Dennis Jr. has taken after his father and is a promising college basketball player.
Dennis Jr. plays for the Washington State Cougars at Washington State University, and his father wishes to see him play in the NBA.
Dennis and Moyer welcomed their second child, Trinity Rodman, in 2002, and she is also a rising star. She made history in 2021 when she was drafted as the youngest National Women's Soccer League player.
Trinity, who plays for Washington Spirit, also hopes to play soccer at Washington State University. She became the highest-paid player in the league in 2022 after signing a four-year contract with the Washington Spirit.
After her first season with them, Trinity was named the U.S. Soccer Young Female Player of the Year and won the NWSL Rookie of the Year.
There is little doubt that Moyer is proud of her kids and frequently acknowledges their accomplishments on her Instagram page while encouraging them to do more.
Please fill in your e-mail so we can share with you our top stories!