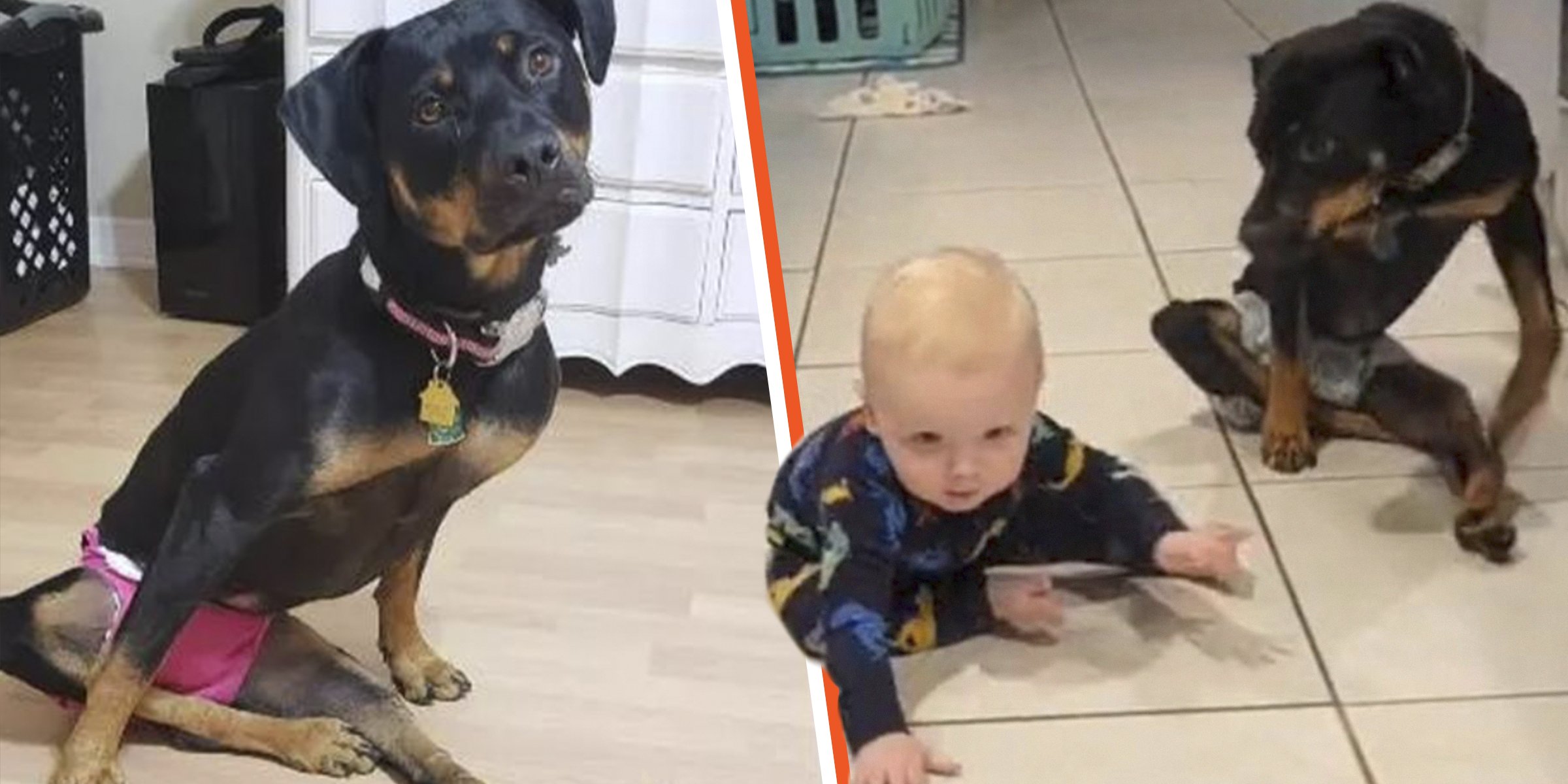 Dog Kahlua | Dog Kahlua and Baby Caleb | Source: tiktok.com/kahluasadventure | facebook.com/WeArePetsRadar
Florida Family Adopts Paralyzed Dog – Now She Teaches Their Baby How to Crawl

Our bonds with animals can sometimes be more profound than our human connections. One baby boy and his adorable dog have made people smile worldwide, and when you see the duo in action, they will also melt your heart!
Pets often crawl deep into their owners' hearts, bringing an abundance of joy and laughter. Their energy and excitement fill homes with endless hours of fun, which was the case for a family living in Port Charlotte, Florida.
They adopted a paralyzed dog and hoped he would fit into their busy household, never imagining that he would teach them all a thing or two.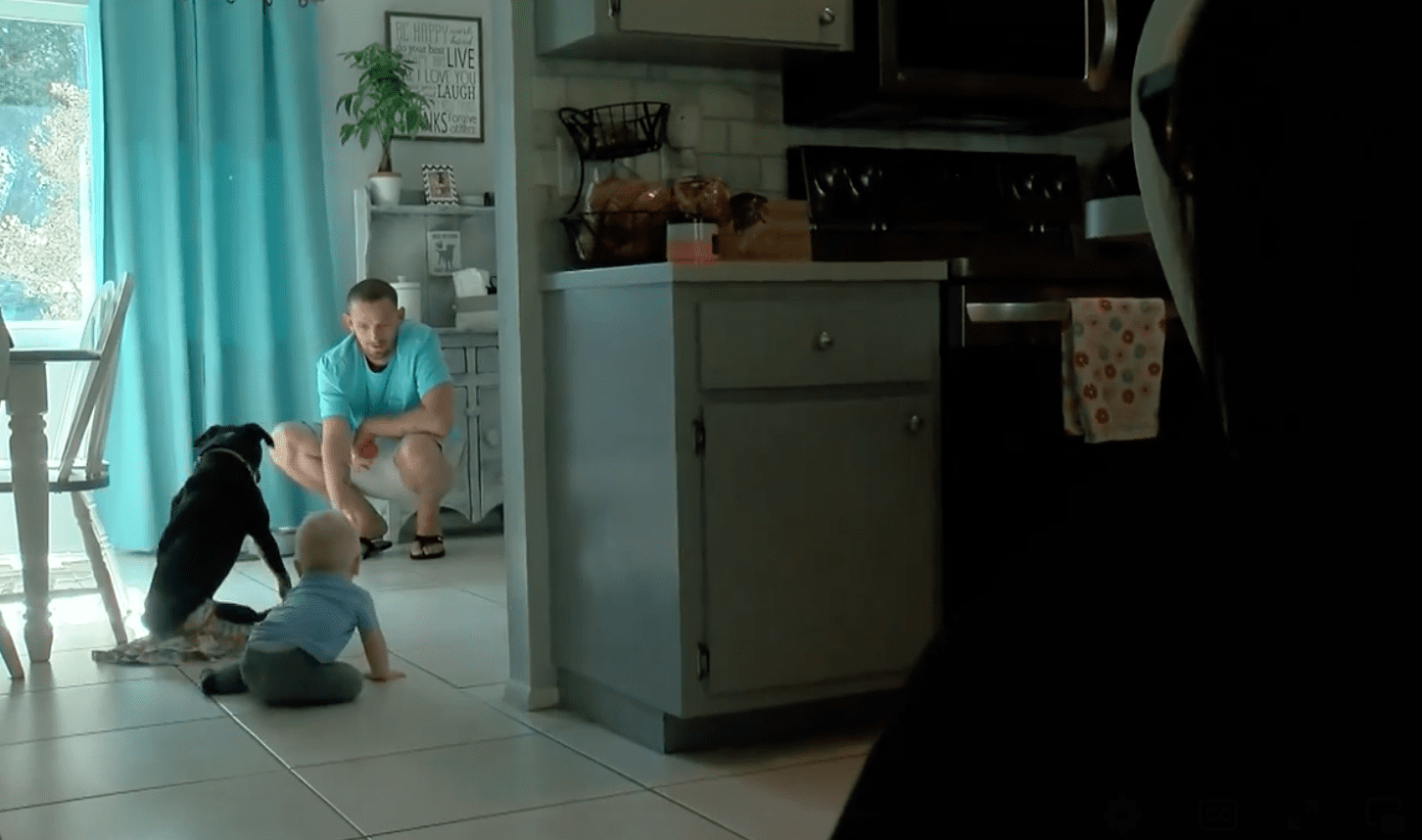 Baby Caleb and dog Kahlua. | Source: facebook.com/Sean Martinelli
A Devastating Accident
Kahlua is a black and brown dog with no shortage of spirit and enthusiasm. Sadly, a terrible accident led to pain and suffering for the canine.
In a TikTok video, her owner Lori Dugas explained what happened. The pup fell out of a window and broke her spine and hip— an incident that left the dog unable to use her back legs.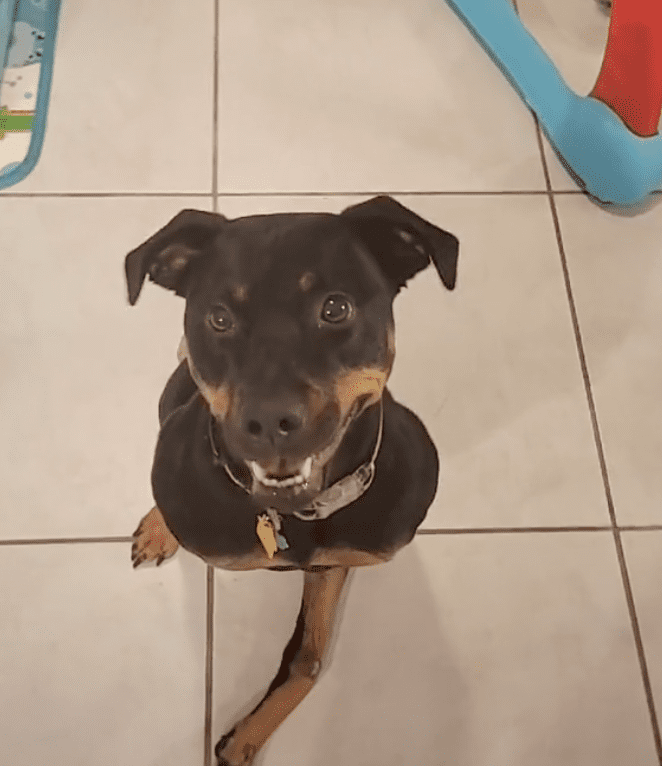 Kahlua the dog. | Source: tiktok.com/kahluasadventure
Taking a Chance on the Miracle Dog
Thankfully, the dog had great foster parents who helped her adjust to her new way of life. It wasn't easy, but she was a fighter. Kahlua quickly learned how to get around again.
In a heartwarming way, it was almost as if Kahlua was paying the family back for the affection and adoration they showed her.
Kahlua found a forever home with Dugas, and the mom hoped the pup would fit in with the rest of her busy brood.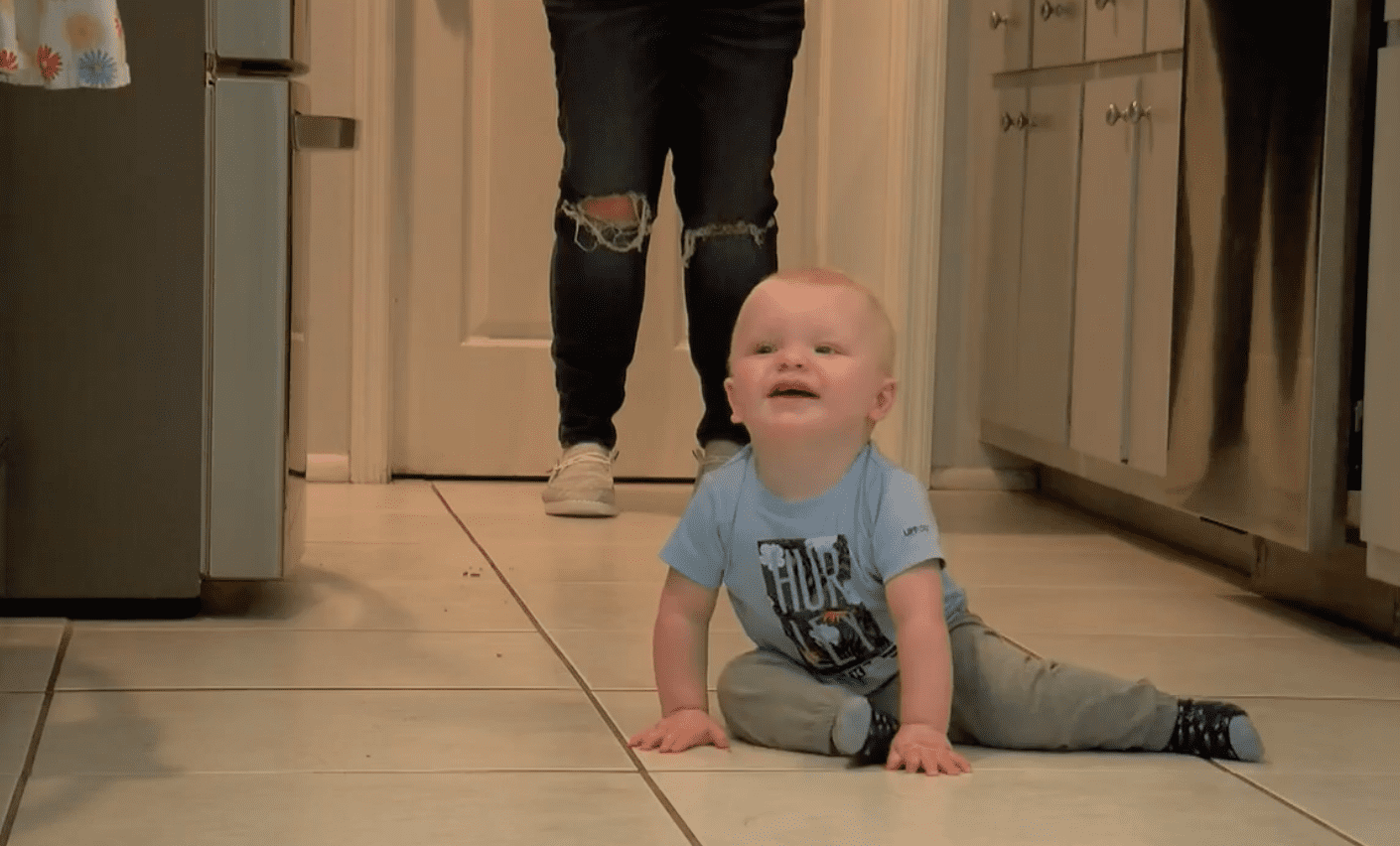 Baby Caleb. | Source: facebook.com/Sean Martinelli
The Dog Is a Great Teacher
Dugas was thrilled to see how well Kahlua adjusted and noted that the pup was "absolutely living her best life." She also shared a few memorable moments on TikTok.
To her surprise, the clips she posted in August 2022 went viral. In a video, Dugas shared how Kahlua had taught her baby boy, Caleb, to move around. The onscreen text stated:
"Our paralyzed dog taught the baby how to crawl."
The mother could also be heard as she said: "Show him how to do it, Kahlua!" The moment attracted millions of viewers' attention.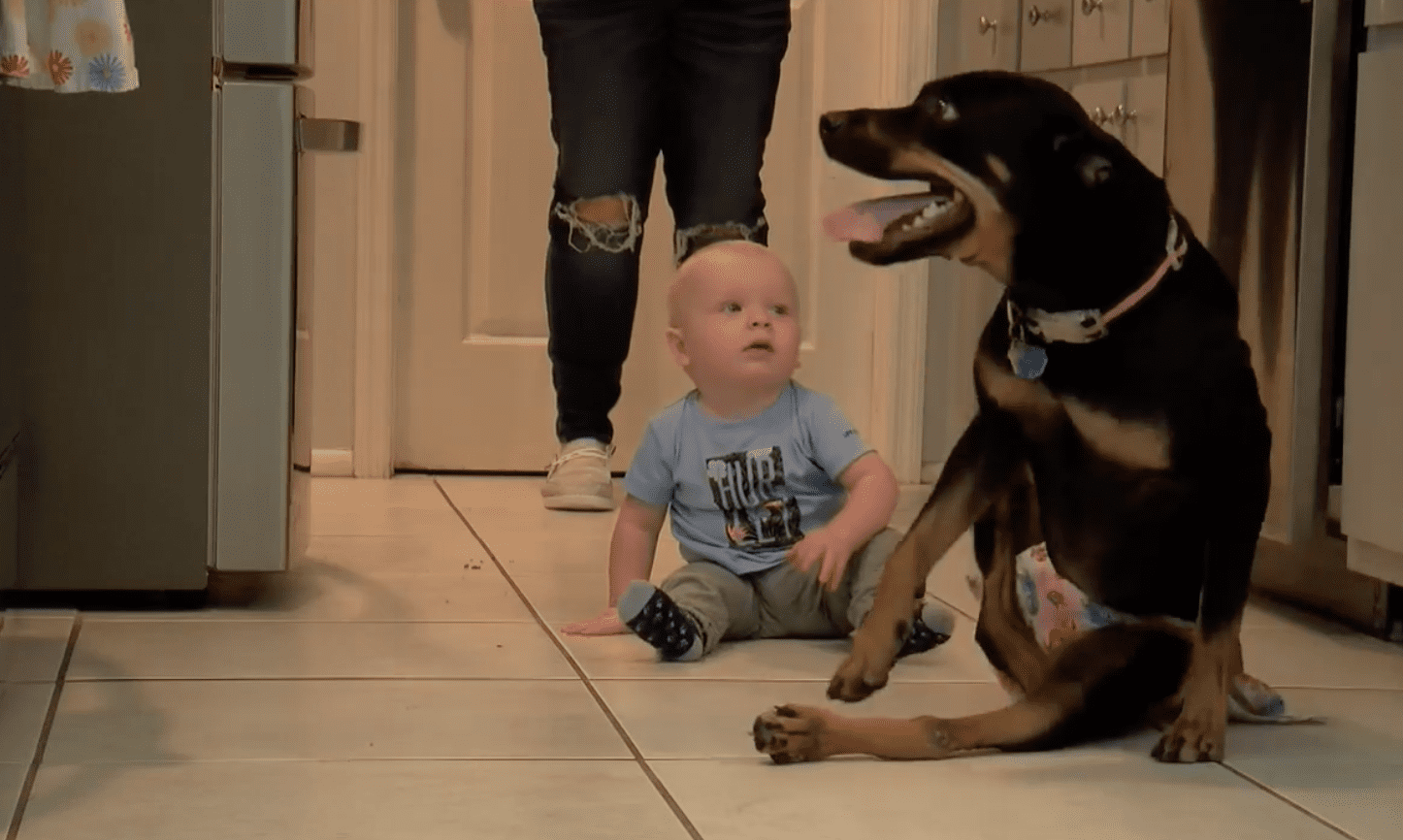 Baby Caleb and dog Kahlua. | Source: facebook.com/Sean Martinelli
Paying Them Back
The brief footage displayed how the baby and dog hopped around with mom Dugas cheering for both of them. While Kahlua and the toddler weren't precisely "crawling," they managed to bounce, and the dog's actions appeared to encourage the baby.
In a heartwarming way, it was almost as if Kahlua was paying the family back for the affection and adoration they showed her.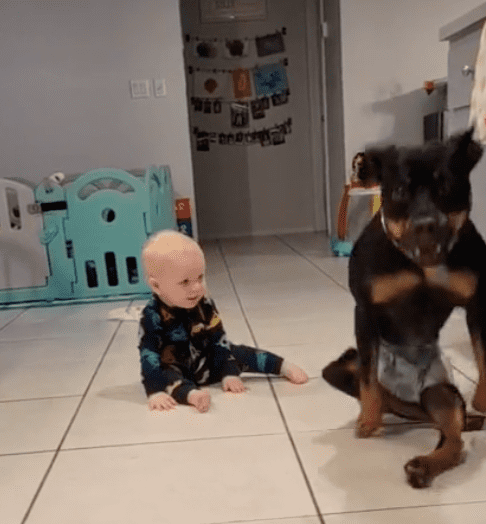 Kahlua the dog and baby Caleb. | Source: tiktok.com/kahluasadventure
The Video Touched Thousands of Hearts
The dog will never be able to walk on all four legs again. However, she has not allowed her situation to get her down. In the now-viral video, it is evident that nothing holds Kahlua back as she crawled enthusiastically with her best friend, Caleb.
With her wagging tail, the dog was as happy as ever, and her joy was infectious. Netizens couldn't get enough of Kahlua's antics and how delighted she was because she had a crawling partner!
Baby Caleb was equally enthused, and the duo was having a ball together. The video of them crawling has spread positivity worldwide and brightened many people's days.
Questions from Netizens
In the comment section, Dugas told a netizen that Kahlua "didn't know she was paralyzed" and lived life as any other pup would.
The proud dog mom also received questions from users wondering why the dog didn't use wheels to help her get around more comfortably. Dugas shared that Kahlua did have special wheels, but they were designed to be used outside.
The Online Reaction
Dugas called the dog "an amazing addition to [their] home," and online users agreed. Many people shared that the clip moved them to tears, while others called the video the best clip they had seen:
"It takes a great person to care for a dog with limitations. [The] best video clip I have seen all day."

- (Ttam Darius) August 15, 2022
"How beautiful! Dogs have a wonderful way of connecting to the babies they love!"

- (Kim Schwartz) August 15, 2022
"How beautiful is that? Thank you for taking care of that pup. They are going to be best buddies."

- (Roberta Stancy Tintor) August 16, 2022
"God Bless this family for your continued love to this obviously happy pup who gives you unconditional love back!"

- (Arleyne Al White) August 15, 2022
The dog taught her family and netizens about love, showing them the power of never giving up, no matter the circumstances. We wish Kahlua and baby Caleb many years of happy adventures together. They already share a special bond, which will undoubtedly strengthen over time!
Click here for another story about a toddler and a dog with a special connection. The duo enjoyed sharing toys, and one day the pup started doing something comical and unusual. Discover what the pet owner found in her dog's mouth!
Please fill in your e-mail so we can share with you our top stories!
The information in this article is not intended or implied to be a substitute for professional medical advice, diagnosis or treatment. All content, including text, and images contained on news.AmoMama.com, or available through news.AmoMama.com is for general information purposes only. news.AmoMama.com does not take responsibility for any action taken as a result of reading this article. Before undertaking any course of treatment please consult with your healthcare provider.