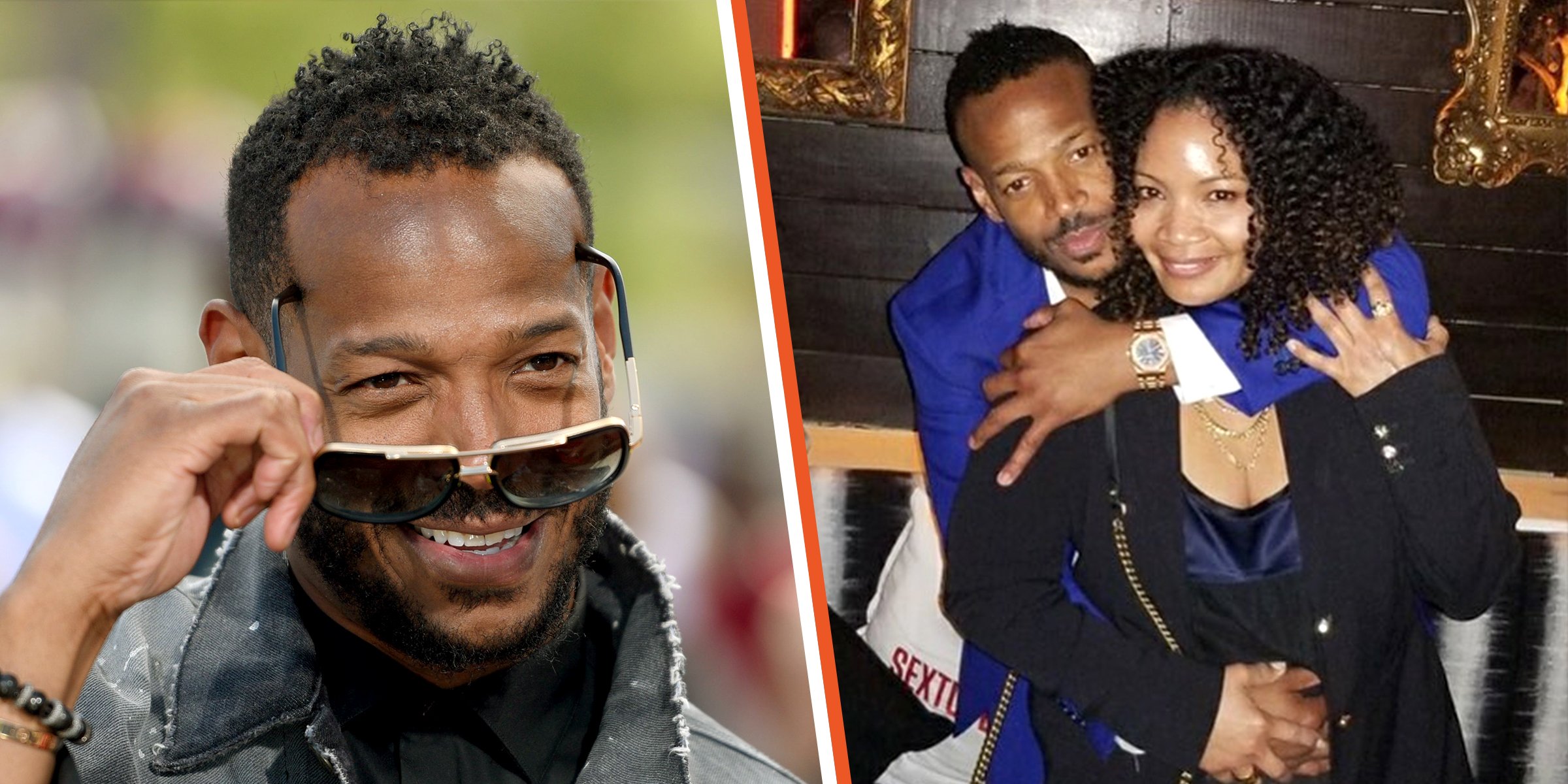 Marlon Wayans | Marlon Wayans and Angela Zackery | Source: Getty Images | instagram.com/marlonwayans
Marlon Wayans Is Yet to Marry and Share Kids with His Former Longtime Partner Angela Zackery

Famous Hollywood actor and comedian Marlon Wayans never got married. The 50-year-old star had a longtime partner Angela Zackery; however, she never became Marlon Wayan's wife.
Marlon Wayans is one of Hollywood's most well-known stars. Besides being an actor and comedian, Wayans is also a writer and producer. He has appeared in countless films and TV shows.
The star may have had numerous relationships over the years, but he has never walked down the aisle. The 50-year-old comedian once revealed the reason why he never married.
In an interview with Essence in August 2021, he spoke in detail about his personal life. Wayans opened up about a moment he shared with his mother, Elvira Alethia. Alethia sadly passed away in 2020 at 81.
In July 2020, Wayans took to Instagram and shared an emotional message about how he felt when he lost his mother. The post was an image of the actor with his mother, and he partly wrote in the caption:
"Losing you shattered me into 1000 pieces. I'm putting myself back together piece by piece. You will always be my glue. Miss you".
Wayans said he was celebrating his mother and that he "accomplished so much" and made his mom proud, and she's now his angel. The actor also wrote that he gave all his birthdays to her. Wayans said he didn't know what to do now that she was gone.
Marlon Wayans on Why He Never Married
Marlon Wayans landed a role in the Aretha Franklin biopic "RESPECT". His character in the biopic Ted White is perfect for the actor as he's a self-professed romantic. Speaking to Essence in 2021 about his role, Wayans said he "wanted to play love" as he thinks it's something Black people don't see a lot.
He went on to talk about "muchings the Blues" and why he liked it. Wayans stated, "What was beautiful about Lady Sings the Blues is that man loved that woman". The actor further revealed how some of his family members, such as his mother and sister, reacted to it by saying, "That made my sister's skin crawl. My momma cried. It was a romance".
The 50-year-old actor shared that in the biopic, people would fall in love with their relationship, even though it was tumultuous. He said, "I know that we'll get into the abuse, but I'm going to make y'all fall in love with this relationship".
Despite the actor being romantic and loving love, there are certain things he wasn't prepared to do in his personal life, like getting married. The last born in the Wayans family never wanted to get married for many years.
That was until he experienced a loss that changed his decision and made him open to the idea of marriage. Wayans had a change of mind only after the death of his beloved mother.
During the same interview with Essence in 2021, he said his mother was why he never walked down the aisle and didn't want any woman to come between them. Wayans expressed:
"I never got married because I knew my mom needed me. Women sometimes want to battle for your attention, they want to battle for your love, they want to be the one. Me and my mama share the same birthday. I'm not trying to hear you".
The 50-year-old comedian thinks he still has a chance at finding happiness and getting married despite his age. However, the fact that Wayans has never married doesn't mean he's not yet a father. He's a father of two and shares a daughter and a son with Angela Zackery, his former longtime partner.
Angela Zackery and Marlon Wayans
Angela Zackery and Marlon Wayans are parents to two children they welcomed together during their long-term relationship. Their kids are their daughter Amai Zackery Wayans, who's now 22 years old, and their son Shawn Howell Wayans, 20. Wayans and Zackery had a longtime relationship that spanned over two decades from 1992 to 2013, but the pair never married.
Wayans once spoke about how he feels about marriage and that it's no longer necessary. He said what both people need when they are together is peace and further expressed what love is to him and said:
"Love is a vacation. I don't want to give nobody issues. I want to give you smiles, and I hope you want to give me the same".
He further said he doesn't want drama or fighting but "just wants to smile". Other things he wants to enjoy in a marriage are laughing, eating well, traveling, being loved, being hugged, and "all the good stuff". He ended by saying, "All that other nonsense? It's for the birds, man".
The star's way of looking at relationships and marriage allowed him to show a deeper side of Franklin and White's toxic relationship in "RESPECT". He didn't want to show the relationship just at the surface level but from a different perspective.
Wayans wished to remind those who will watch the biopic that Franklin fell in love with White because something about him made her fall in love and that, at one point, there was something good about him that made her trust him.
Wayans said instead of looking at how bad White was to Franklin, people need to remember that "he helped build her" and was "a vessel for her greatness". The actor further stated that he just wanted to honor Franklin's relationship and her "as the Queen" and honor women.
Marlon Wayans said he loves the movie because despite the abuse and Franklin and White's relationship being damaged, she still loves him, and he loves her but is insecure.
Please fill in your e-mail so we can share with you our top stories!