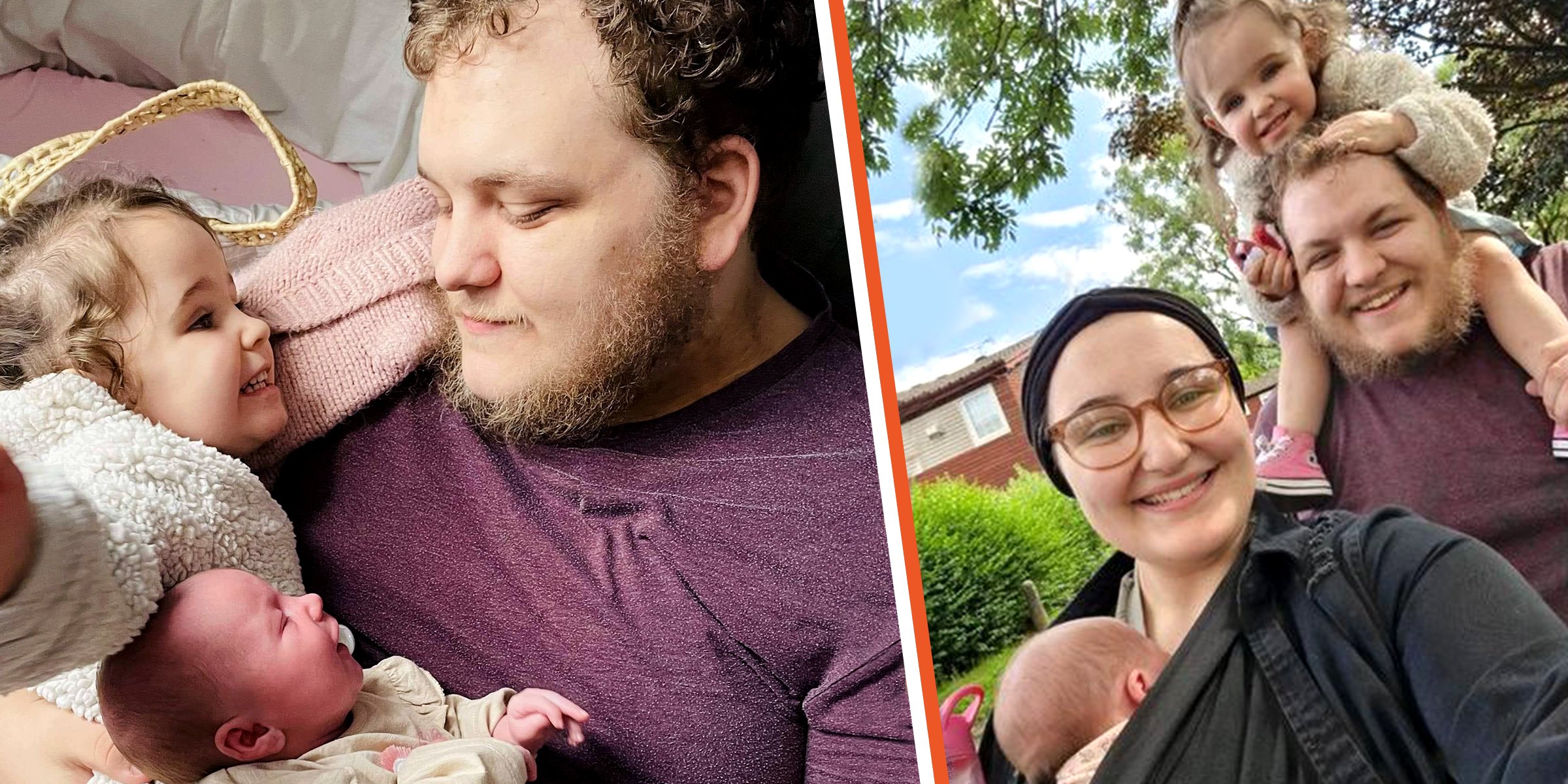 Jacob Oakley, Esme Rose, and Cassidy | Megan, Jacob, Esme Rose, and Cassidy | Source: Facebook.com/jacob.woodbrignall | Facebook.com/TheScottishDailyRecord
Couple Lost Baby Girl Soon after Her Twin's Death – Mom Gave Her Good Night Kiss Hours before the Accident

When a mother smothered her baby girl with extra hugs and kisses one night, she had no idea what awaited her and her beautiful family. After some time, she was awoken by her partner's screams and cries for help. What she saw next broke her heart into a million pieces.
Becoming a parent is no easy feat. Often, people who transition into parenthood face a myriad of challenges and struggles along the way. Parents might sometimes feel overwhelmed when faced with circumstances that are likely to take a toll on their emotional and mental well-being.
But the moment a parent holds their little one for the first time, their exhaustion, anxiety, and pain subside, making way for joy, love, and gratitude. Nothing can be more upsetting for parents than seeing their kids in trouble, and they would do anything to remedy the situation. Take a look at this couple's tear-jerking story.
The Oakleys
Megan and Jacob Oakley were a lovely couple from Runcorn, Cheshire, England. Like most couples, they looked forward to embracing parenthood and doting on their babies. In 2019, the Oakleys were blessed with a lovely baby girl, Esme Rose.
What happened next was something she could have never anticipated.
Starting a Family
Little Rose brought so much light and joy into her parents' world, and they couldn't stop showering her with tender love and care. Two years after welcoming their beautiful daughter, Megan and Jacob received another delightful news.
Much to their surprise, the Oakleys discovered they were pregnant again, this time with twins. Megan and Jacob couldn't wait to have their twin baby girls, and Rose was ecstatic to get promoted to the position of an older sister.
The Night that Changed Everything
In 2021, the Cheshire couple welcomed baby Cassidy into their hearts and home. Sadly, they were said to have lost Cassidy's twin, Harper, after an earlier miscarriage. While Megan and Jacob were devastated by their loss, they decided to be the best parents to their two children.
But they didn't know at the time that another tragedy would soon ambush their lives. It all began on September 5, 2021, when parents Megan and Jacob were taking turns tending to their baby girl during the night.
Cries for Help
Megan noted that baby Cassidy fell asleep at around 9:30 p.m., with her dad beside her. After saying good night to Jacob and their lovely little girl, the mother said she went to bed. What happened next was something she could have never anticipated. She recounted:
"I gave [Cassidy] extra hugs and kisses and was next awoken at 11pm with Jacob shouting my name begging me to help him."
A Painful Memory
In an inquest held in Warrington on Wednesday, September 14, 2022, the Oakleys recalled the painful details of the night that altered their lives.
According to Liverpool Echo, Jacob accidentally dozed off before waking up half an hour later by what he referred to as a "higher force." Megan recollected:
"Sadly my partner shut his eyes and unintentionally fell asleep. If you all have children you know how exhausting it is."
The Hardest Goodbye
The heartbroken father said he saw his little girl "wedged" between the sofa and the wall. Soon afterward, Megan and Jacob hurried to help their baby girl and said they even attempted CPR until the paramedics arrived. Little Cassidy was then taken to Warrington Hospital.
Sadly, the little girl couldn't recover and passed away peacefully after her life support was switched off on September 9, 2021. Baby Cassidy was surrounded by her loving parents in her final moments and was only six weeks old at the time.
Broken beyond Repair
The grief-stricken Oakley couple paid a heartfelt tribute to their beloved daughter and said they would forever be crippled by the loss of their "bright, blue-eyed baby girl."
They mentioned how they were determined to give her a beautiful life and described her as their very own Merida, the princess from Disney's "Brave."
Messages of Support
The heartbreaking story of Megan and Jacob's tragic loss touched the hearts of several netizens, many of whom shared messages of condolence with the couple:
"Heartbreaking, and to have lost her twin previously absolutely devastating (sic)."

— (@jeandoyle61) September 15, 2022
"Megan Oakley I'm so so sorry for your losses (am a twin mum) - your angels are together. Hope as a family you are all getting the support you need (sic)."

— (@zoe.temmen) September 15, 2022
"Devastating for any family... My heart goes out to them."

— (@colin.chedotal.77) September 15, 2022
Indeed, what the Oakleys experienced is any parent's worst possible nightmare. We send our deepest condolences, love, and prayers to the heartbroken parents who lived one tragedy after another. May God ease their pain and give them the strength to cope with their loss.
Rest in eternal peace, little Cassidy and Harper. Your beautiful family will always love you. We request all AmoMama readers to keep the bereaved family in their heartfelt prayers.
Please fill in your e-mail so we can share with you our top stories!
The information in this article is not intended or implied to be a substitute for professional medical advice, diagnosis or treatment. All content, including text, and images contained on news.AmoMama.com, or available through news.AmoMama.com is for general information purposes only. news.AmoMama.com does not take responsibility for any action taken as a result of reading this article. Before undertaking any course of treatment please consult with your healthcare provider.