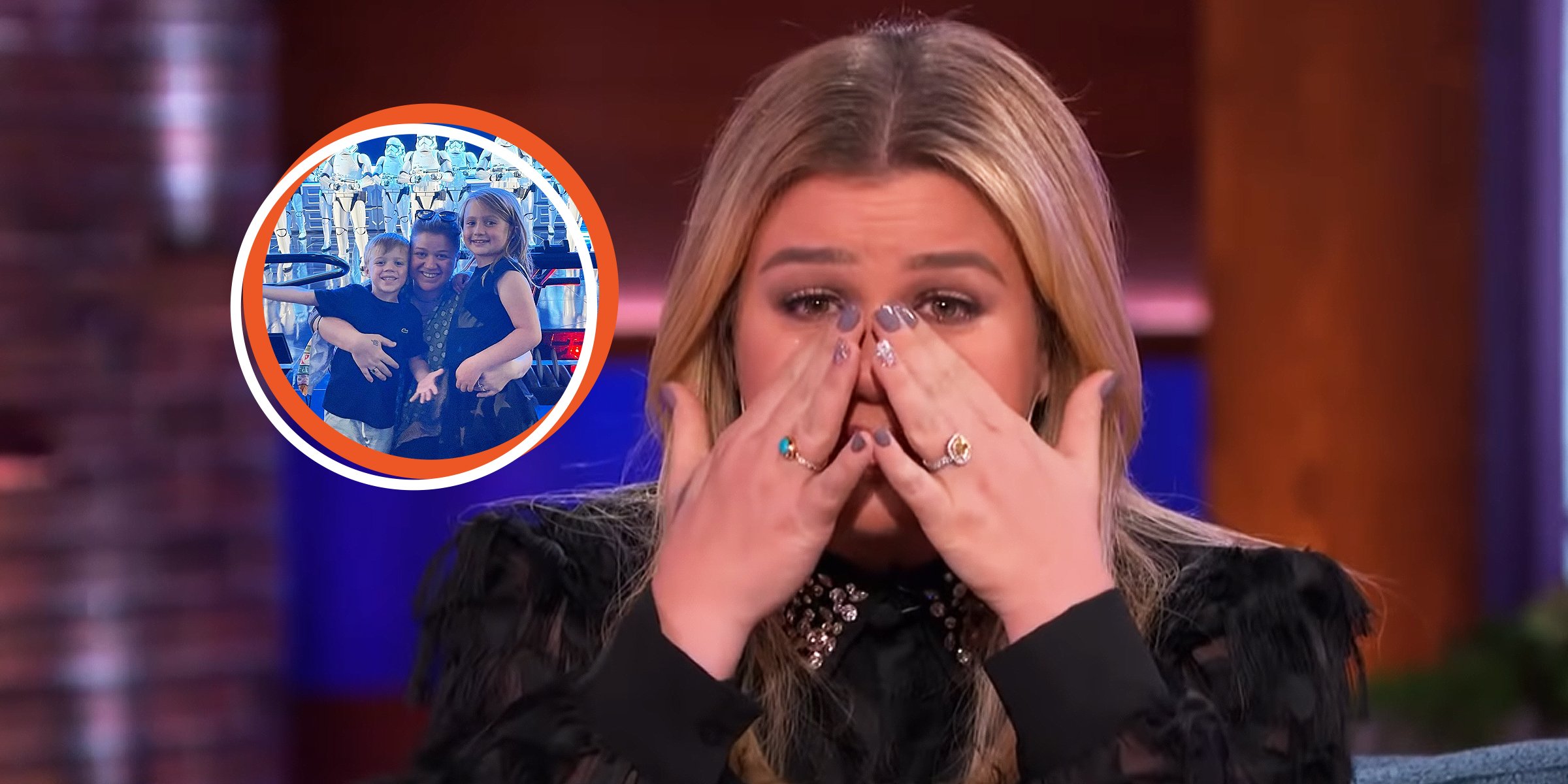 Kelly Clarkson, River Rose and Remington Alexander. | Kelly Clarkson | Source: Youtube.com/The Kelly Clarkson Show | Instagram.com/kellyclarkson
Kelly Clarkson Quit 'The Voice' to Enjoy More Time with Kids Whom She Rarely Shows

Kelly Clarkson has revealed many of her life struggles, including divorce and being a single mom after her relationship with her husband fell apart. Now, she has announced a new phase in her life.
Clarkson was married to Brandon Blackstock from 2013 to 2021. When they got divorced, Clarkson was open about how it affected her and her children. She shared many details about her divorce with her fans.
Despite going through a rough patch in her life, she found solace in her career and continued to work hard. She did not let her relationship affect how she went about her daily business or how she mothered her children.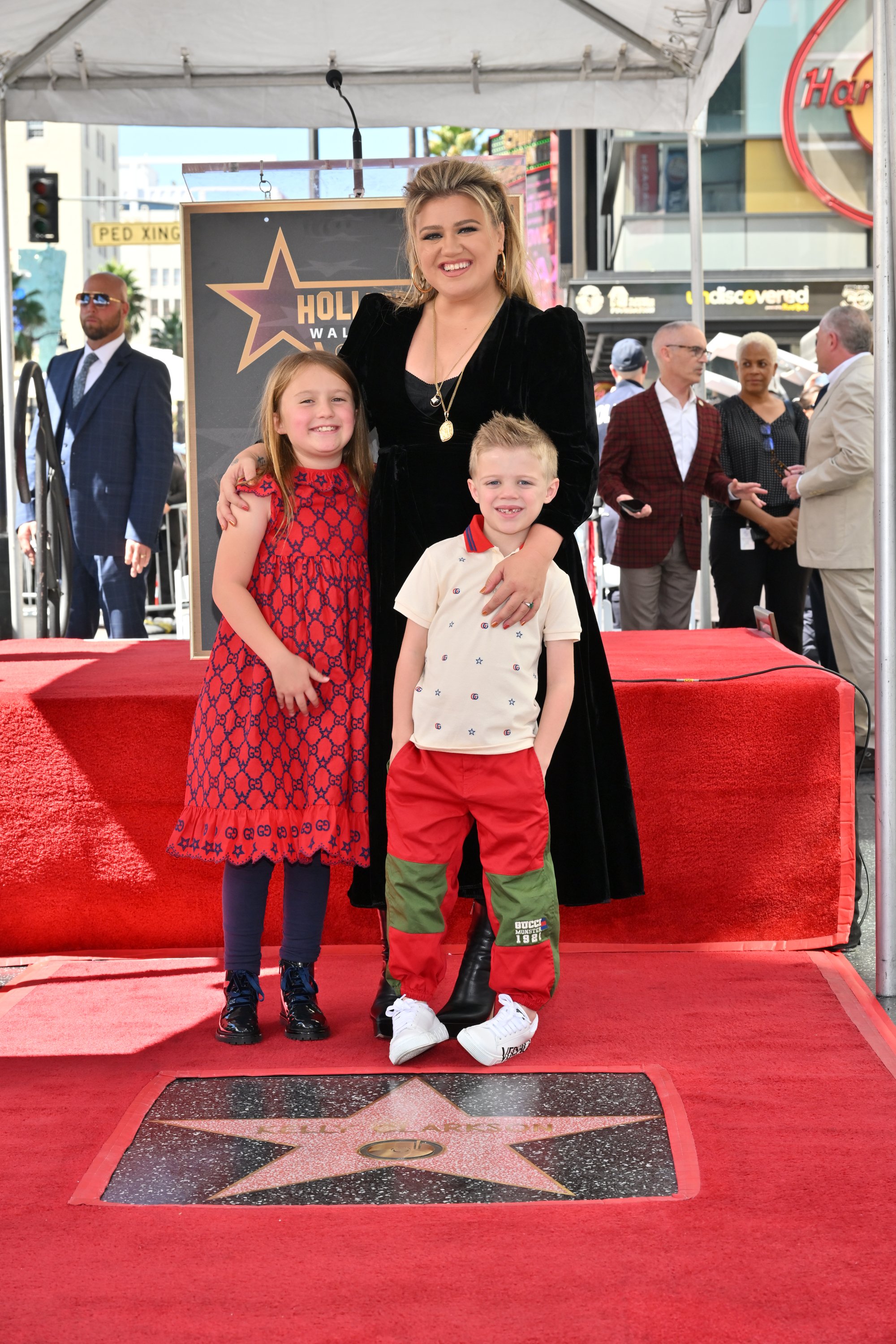 Kelly Clarkson and children River Rose Blackstock and Remington Alexander Blackstock pose during the Star Ceremony for Kelly Clarkson on the Hollywood Walk of Fame on September 19, 2022 in Los Angeles, California | Source: Getty Images
Clarkson filed for divorce in June 2020, citing irreconcilable differences. The divorce was finalized in July of 2021, though, as Clarkson requested that she and Blackstock be allowed to move on with their lives separately.
While a source revealed that the couple's marriage was not great and had "many issues", Clarkson was not expecting her divorce from Blackstock to be as dramatic as it was. The process took the singer by surprise.
Clarkson revealed that she had to learn how to care for her children amid her divorce. She did this by pushing back filming "The Voice" by 30 minutes so that she could spend each morning and night with them.
She also mentioned that she always felt terrible about appearing weak in front of her children by crying or showing them that she was upset amid the divorce. However, she learned through therapy that she could show these parts of herself to her children without feeling ashamed.
Clarkson Felt Guilty About Working Too Much
While Clarkson and Blackstock were still married, the couple had four children. They shared two, and Blackstock had two from a previous marriage. The singer revealed then that she loved her job, but her family came first.
Clarkson was honest about her feelings as a working mom and told "People" she had to juggle everything. She admitted:
"There are days when [expletive] hits the fan, and I'm crying because there's not enough time to do everything. But that's any mom. It's a hard thing to take care of children. You're molding lives."
The singer then admitted that she felt mom guilt a lot because she could not spend all her time with her children. She said a lot of the shame stemmed from the fact that her mother did not have help, and she did, but she realized that she couldn't do it all alone.
Clarkson said that she managed her guilt by realizing that she bends backward for her children as much as she can and is there for them whenever she can be. She also mentioned how important her career was to her.
While filming "The Voice", Clarkson was often away from home and concerned that she wasn't seeing her children enough. However, when she spoke to her mother, she realized that she spent more time with her children than many women do.
Clarkson strives to spend as much time with her children as possible because she does not want to be a mom who doesn't see her children. She said:
"It's hard to be a really good mom and a really good person at your job, but I do have a village of people."
The singer said that she finds it easier to deal with being a working mom because she has so many people around her who love and support her in everything she does, which helps her feel less guilty.
She said that she makes time for her children whenever she can and has even made some drastic moves in the past couple of weeks to ensure that she has some uninterrupted time with her little ones.
Clarkson Prefers Privacy
Although Clarkson has been open about her struggles and has shared her relatable views with the world, she does enjoy her privacy. She ensures that she and her family get enough downtime away from tabloids and cameras.
In the summer of 2022, Clarkson and her children took some time off to spend with each other, which is something Clarkson has been waiting for since she started her career in the music industry 16 years ago.
She took the entire summer off and even turned down some job offers to do so. She admitted:
"The first time since I'm 16 years old, I am taking my summer off. And it's one of those things, I feel bad because things come up, but at some point, you know, you've just got to be able to, like, set the dates and say nothing will interfere with this time."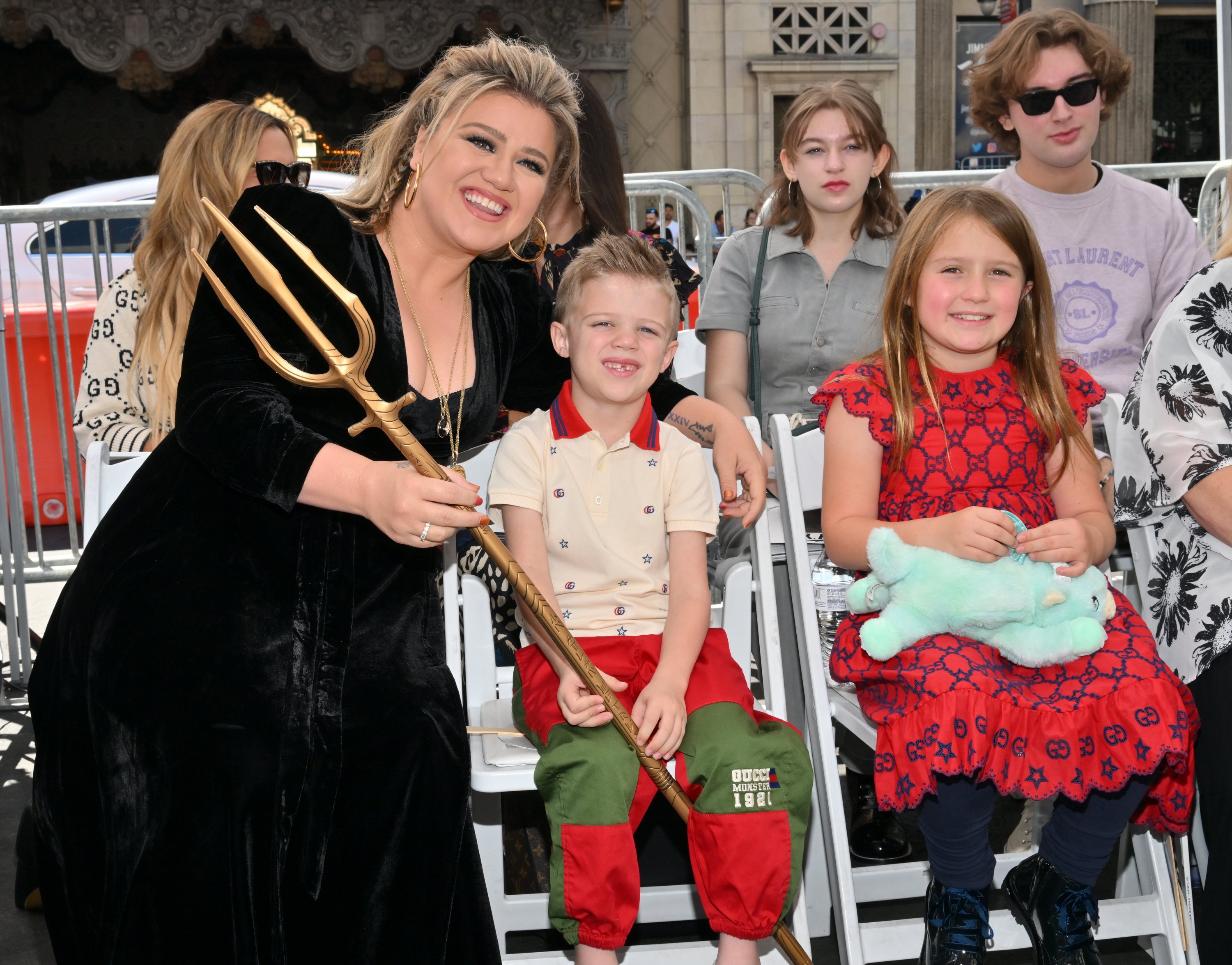 Kelly Clarkson and children Remington Alexander Blackstock and River Rose Blackstock attend Clarksons star ceremony on the Hollywood Walk of Fame on September 19, 2022 in Los Angeles, California | Source: Getty Images
She then said that she realized this uninterrupted time with her children was precious, especially as she is a working mom. She also revealed that she would not be returning to the TV show she has been on for years.
Although Clarkson enjoys quality time with her children, she also knows that she has to discipline them so that they behave. She mentioned that if her children got out of hand, she was not afraid to spank them. She noted that she would never strike her children, but spanking was not the same as hitting.
Clarkson Leaves "The Voice"
In early 2022, Clarkson revealed that she would be replaced by singer Camilla Cabello in the upcoming season of "The Voice". This came after much speculation from fans that her time on the show was coming to an end.
No official reason was given for her departure from the show, which some found surprising. "Team Kelly" has won four times in the last eight seasons, and some assumed that Clarkson would continue on the show for a long time.
Although she gave no particular reason for leaving the show, many believe it is because she has exciting projects of her own coming up. She already has her own talk show, and many think there are other projects on the horizon for her.
Another reason that fans believe Clarkson might be leaving the show is that she wants to spend more time with her children as they grow up. She confirmed in an Instagram Live Q$A session that she wanted to spend more time with her children and make some changes to her life.
Clarkson admitted that she knew her kids would only want to hang out with her for a few more years before they wanted to do their own thing, and she wanted to make the most of that while she could.
Please fill in your e-mail so we can share with you our top stories!