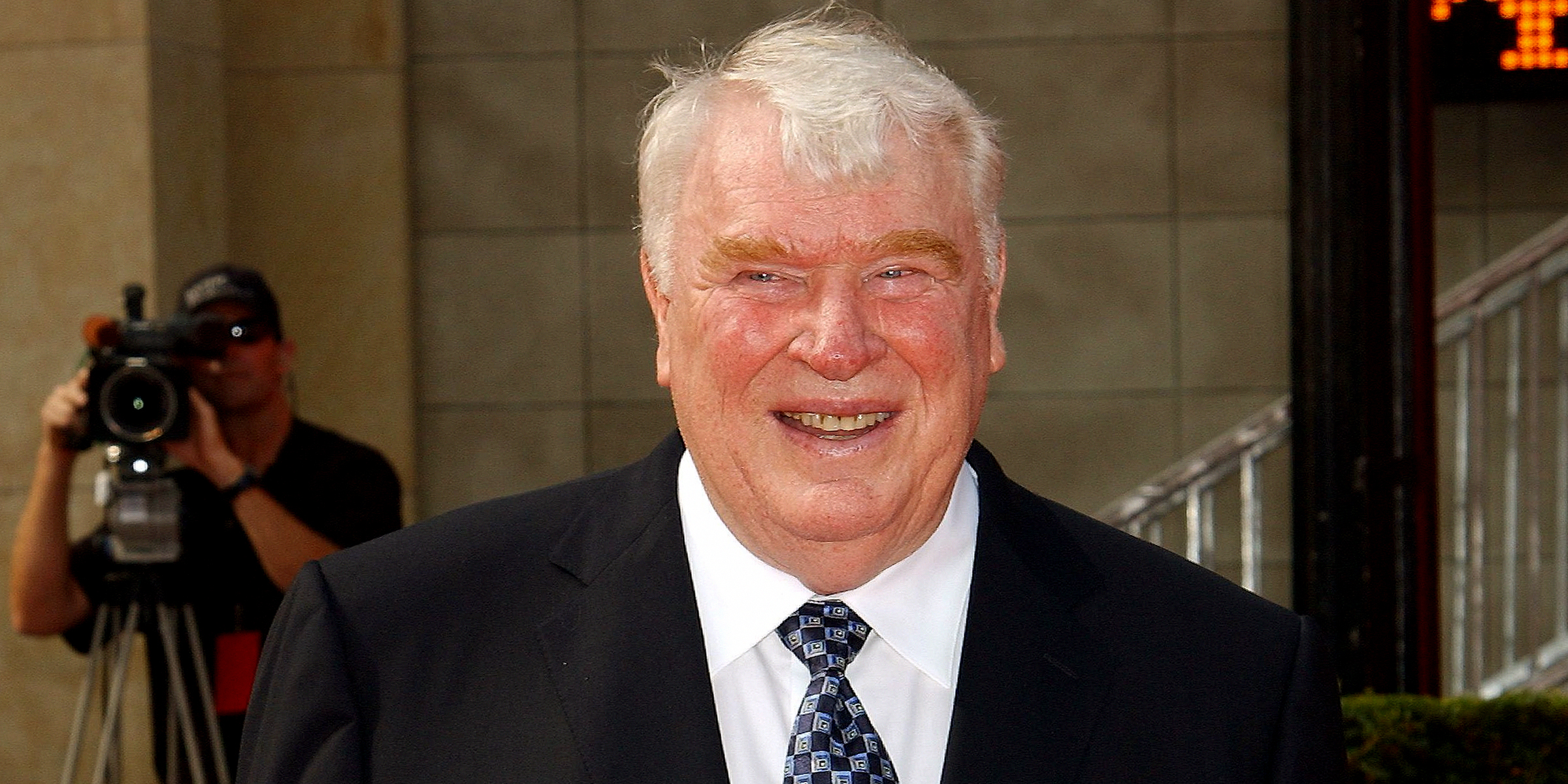 John Madden | Source: Getty Images
Virginia Madden Is John Madden's Independent Wife and He Supported Her
In addition to her responsibilities as a mother of two, Virginia Madden, who was married to a renowned football coach, showed her role as a supportive spouse until the end of her husband's life.
Virginia Madden has earned her own fame, despite being the spouse of the late John Madden, a highly respected football coach and popular sports commentator in the National Football League (NFL), who passed away two years ago.
While John soared to success in the NFL, Virginia quietly stood by his side as a strong and inspiring force within their family, driving him forward and helping him stay motivated.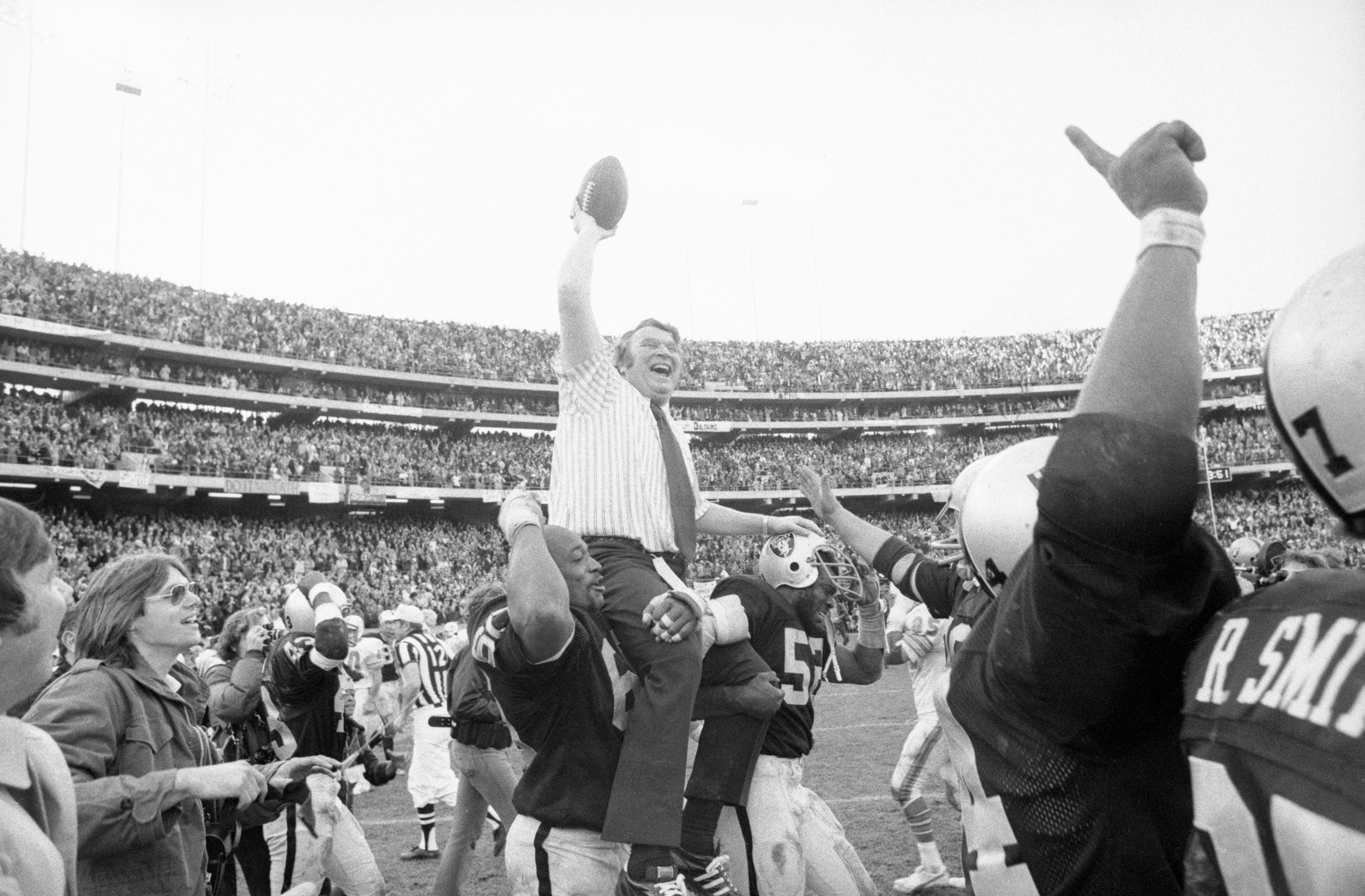 John Madden holds the game ball high in the air as he rides the shoulders of Otis Sistrunk and Gary Weaver following Oakland Raiders 28-26 victory over Miami in 1974. | Source: Getty Images
For six remarkable decades, John and Virginia were inseparable partners. John was a revered football coach and sports commentator, while Virginia was his avid supporter.
Little information is available about Virginia's age or profession, but the story goes that the two lovebirds first crossed paths at a cozy watering hole in California. Together, they raised their two children.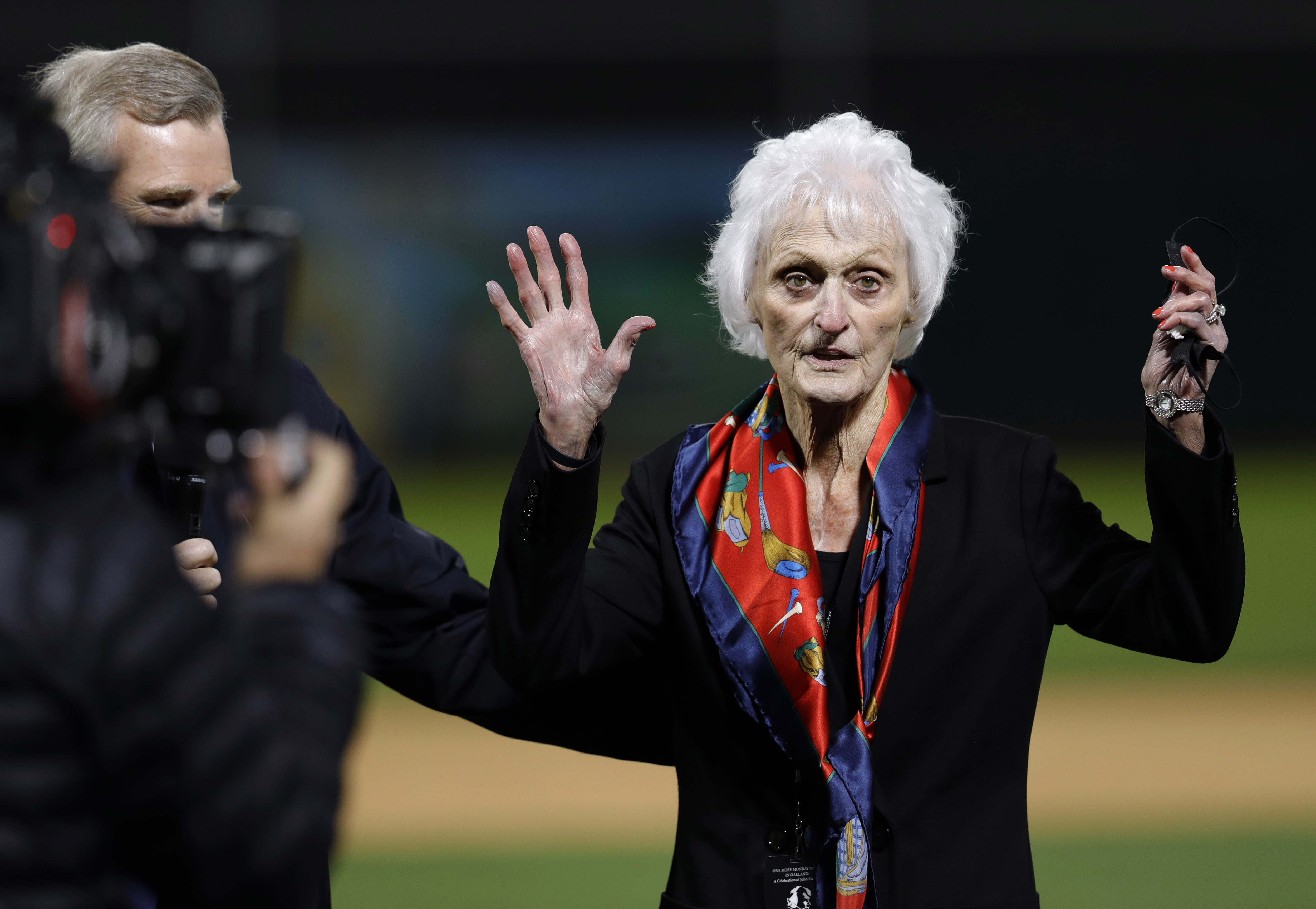 Virginia Madden at the Celebration of John Madden memorial event at the Coliseum on February 14, 2022, in Oakland, California. | Source: Getty Images
Virginia Madden Was a Student of Cal Poly
Virginia first met John in a bar in Pismo Beach, California. Virginia recalled in a 1993 Sports Illustrated interview that while they did meet in a bar, it was not typical of their social habits.
She goes on to say that they might never have met if they hadn't both happened to be there on that particular day. Their meeting occurred when they were still students at California Polytechnic State University in San Luis Obispo, California (Cal Poly).
Virginia and John got engaged shortly after the meeting. After earning his bachelor's degree in education in 1959, John signed up with the Philadelphia Eagles and joined their training camp.
Madden's football career was cut short by his knee injury while training. Nonetheless, this event did not mark the end of his journey, as he had other purposes in life: to pursue his education and to find the love of his life.
John returned to Cal Poly to get his master's degree in education, where Virginia was already teaching and getting her master's in the same field. Additionally, he was planning to marry her.
John Madden Often Told Friends It Was Virginia Who Raised Their Sons
Virginia and John tied the knot on December 26, 1959, at St. Mary of the Assumption Church in Santa Maria. During their marriage, they welcomed two sons: Joseph and Michael.
Their sons were brought up in Pleasanton, California. Although both parents were involved, John perceived his wife as the primary caregiver and often told his friends that she was the one who raised their sons well.
Virginia remained a constant presence in their sons' lives. She was an important part of raising their children, and her ability to enforce rules made her a strong authority figure in their family.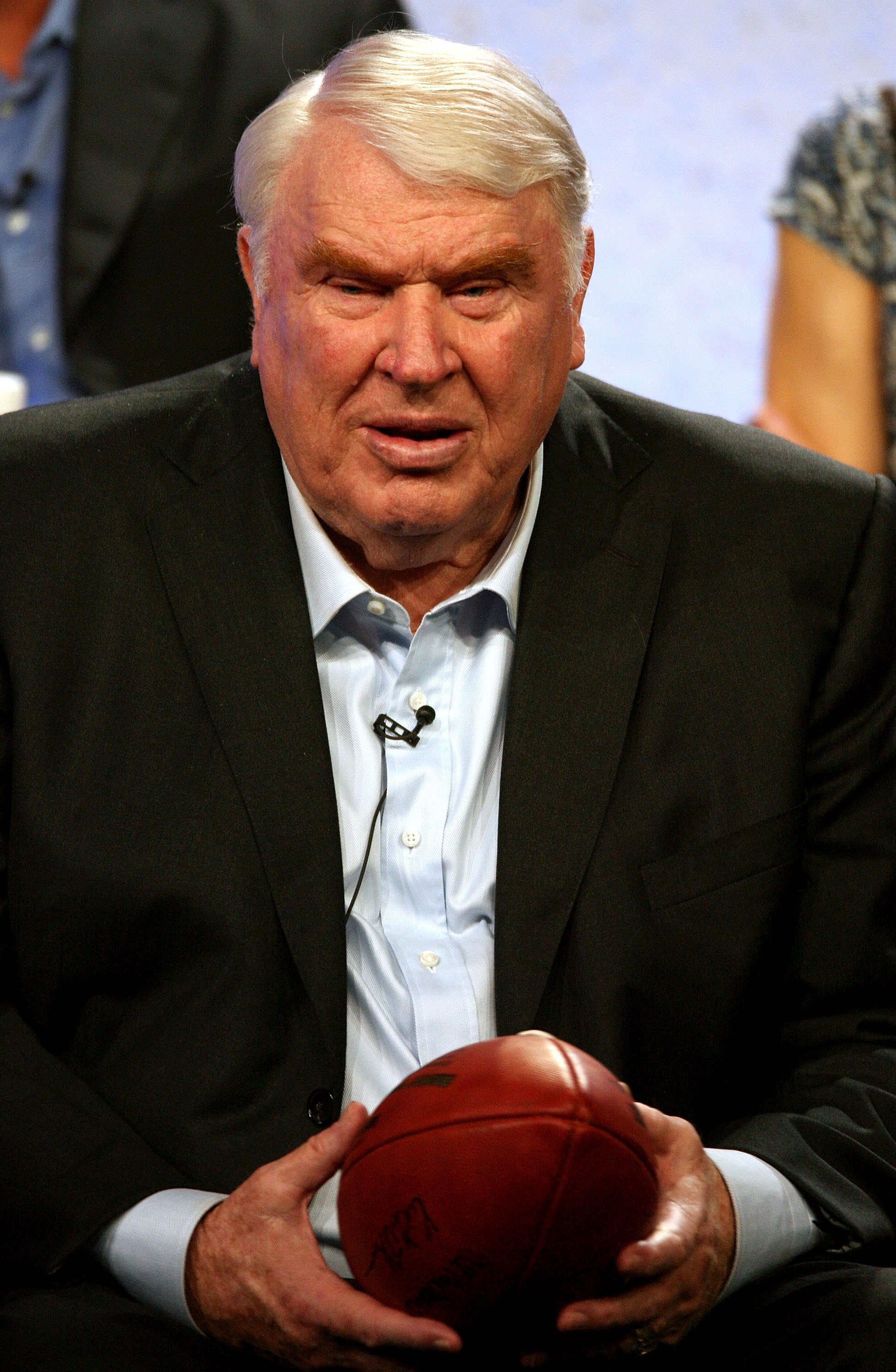 John Madden speaks for the TV show "NBC Sunday Night Football" during the NBC Univesal Cable portion of the Television Critics Association Press Tour at the Beverly Hilton Hotel on July 16, 2007, in Beverly Hills, California. | Source: Getty Images
Joseph went to Brown University, and Michael reportedly attended Harvard University, where he became part of the university's football team.
Virginia had always supported John's career choices, especially when he quit coaching the Oakland Raiders after being hospitalized due to a bleeding ulcer.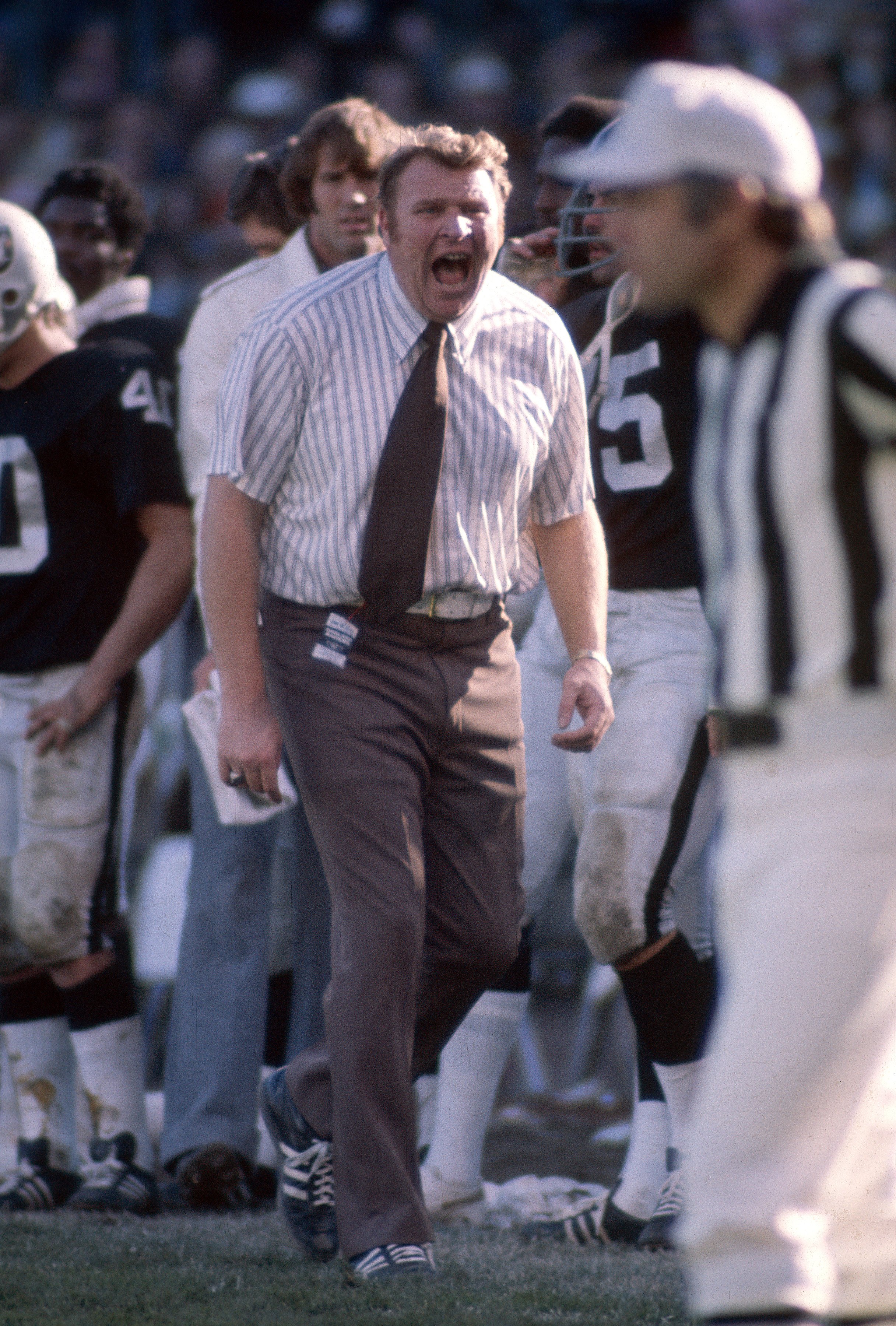 John Madden head coach of the Oakland Raiders shouts at the referee from the sideline during an NFL game at the Oakland Coliseum in 1970s, in Oakland, California.| Source: Getty Images
John took pride in Virginia's ability to handle their sons, something he felt he lacked. During the teenage years of their sons, John was busy with work and often admitted that he missed out on a lot of their childhood.
One day, Virginia reminded John of his promise to buy their son Michael a truck and encouraged him to start planning for it once he was old enough to drive.
John replied there was no rush since Michael had four more years before turning 16. But Virginia told him he was wrong and their son would mark the age in just six months.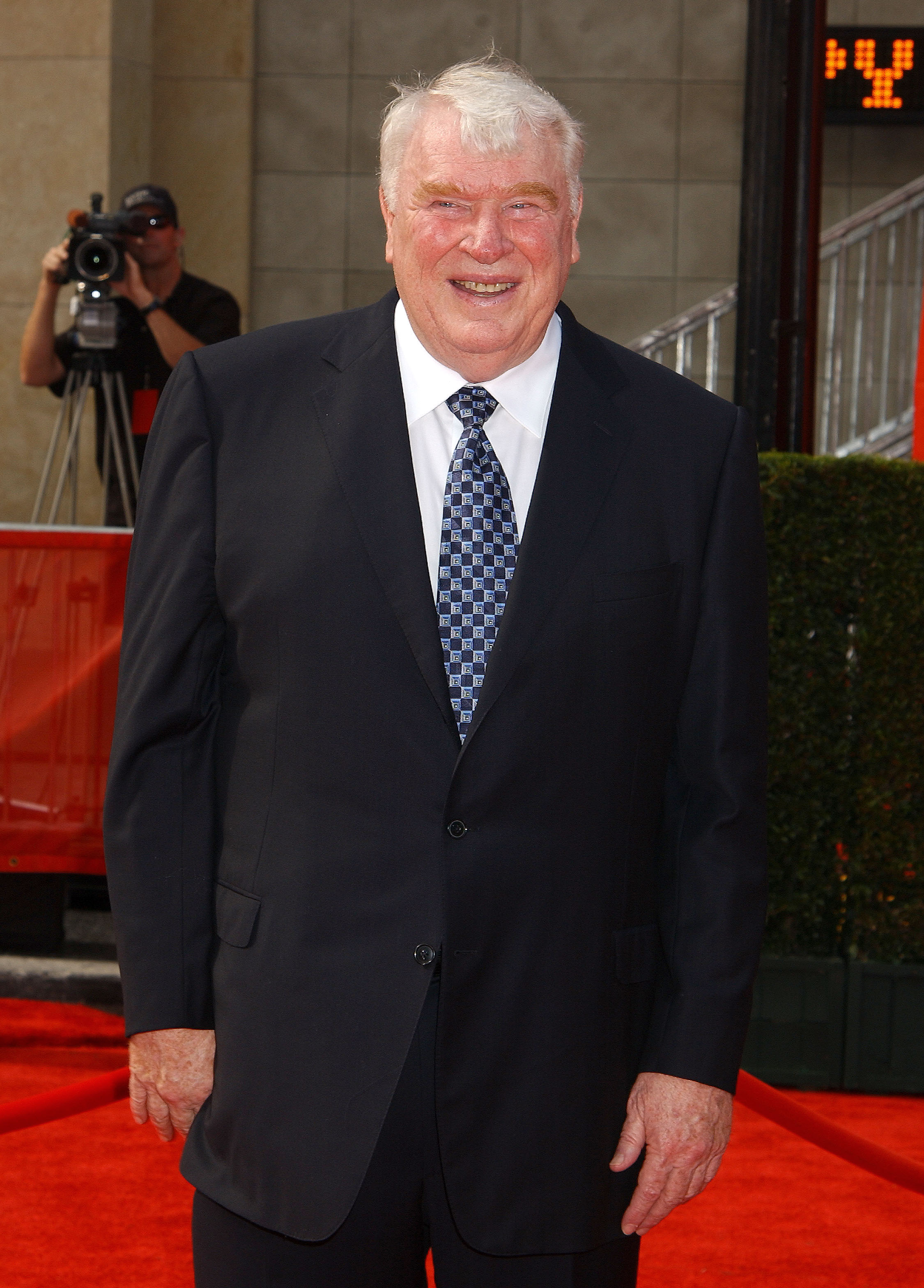 John Madden attend the ESPY Awards at Kodak Theatre in 2003 in Hollywood, California. | Source: Getty Images
Virginia Madden Also Ran Her Own Saloon
Besides being a mother of two, Virginia is also a businesswoman. She ran a local saloon. Although John was partially on board with the saloon project, he believed he should support his wife's business. He said:
"But if you have the kind of life I've had, you have to have an independent wife, so if your independent wife behaves independently, you have to support her."
John's wife was also in charge of caring for the family's antiques. One of these items was a highway "yield" sign, John's gift from three-time All-America linebacker Ted Hendricks.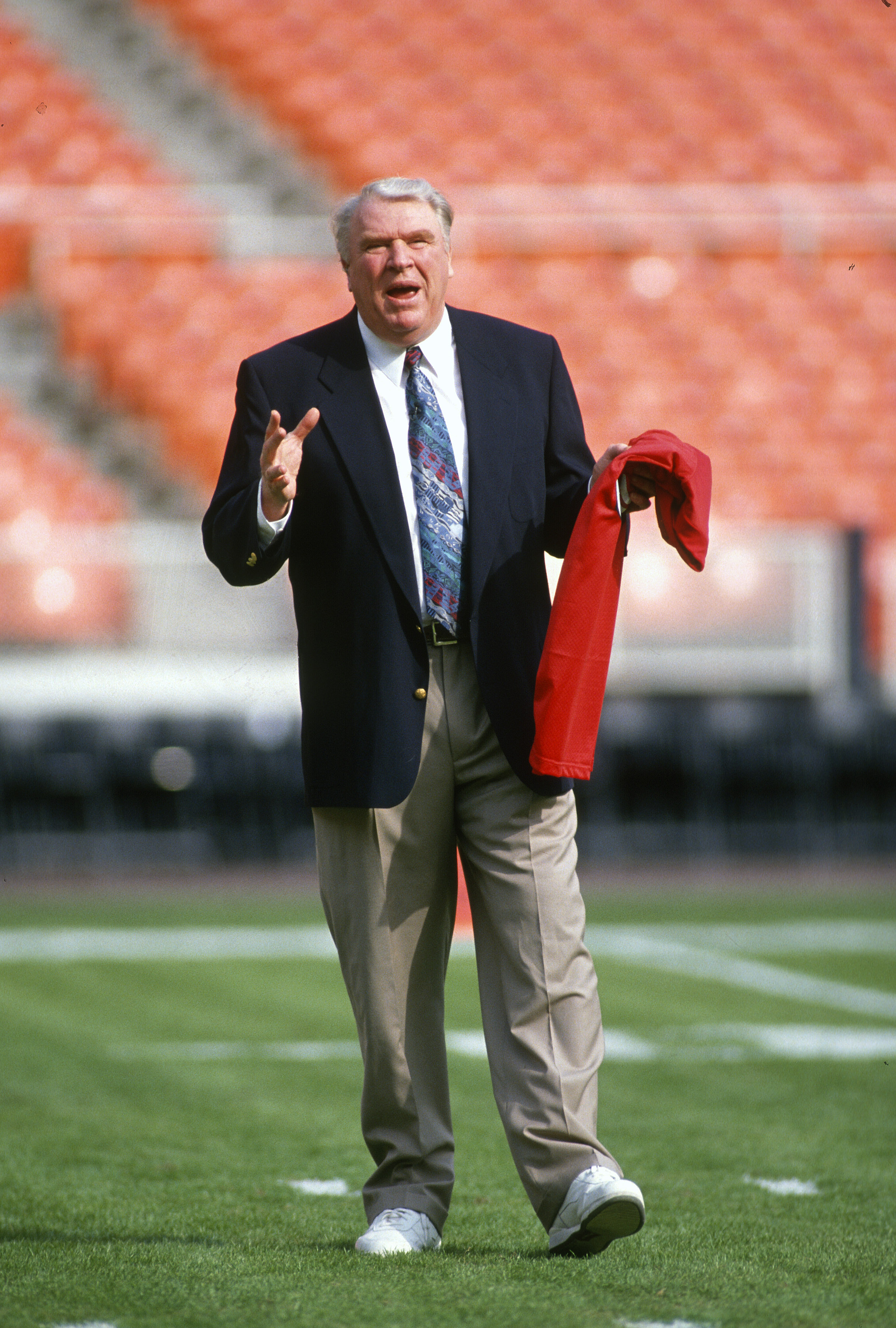 John Madden walks on the field prior to the start of an NFL Football game in 1994. | Source: Getty Images
Virginia had always supported John's career choices, especially when he quit coaching the Oakland Raiders after being hospitalized due to a bleeding ulcer. She also supported him when he decided to become a sports commentator.
John never intended to become a TV football analyst, but after retiring from the Raiders, he was bored at home. His wife was preoccupied with her business, and his children were teenagers, so he had plenty of free time.
Meanwhile, Barry Franks, the head of a talent agency, approached him about doing a screen test for a part-time football commentary job on TV. The invite from the agency ultimately shot him to stardom and success.
Sadly, John, aged 85, passed away on December 28, 2021, after battling an undisclosed illness. He is survived by Virginia, his sons Joseph and Michael, and his five grandchildren.
Many famous football players, including NFL commissioner Roger Goodell, sent their condolences to the family. Virginia received the most applause at a farewell ceremony where former players, fans, and family friends said goodbye to the late coach.
She conveyed her deep connection to the city of Oakland and declared her intention to establish a scholarship fund for underprivileged children in the area in honor of her late husband.
Meanwhile, the former Oakland Raiders team, led by Al Davis, recognized Virginia as John's main supporter, underscoring their shared passion for football and confirming their status as a football family.
Despite John's passing, numerous individuals still commemorate his legacy. Like John, enthusiasts greatly respect other deceased sports icons, such as NBA legends Kobe Bryant and Bill Russell, and boxing legend Muhammad Ali.
Subscribe to AmoMama on Google News!
Please fill in your e-mail so we can share with you our top stories!