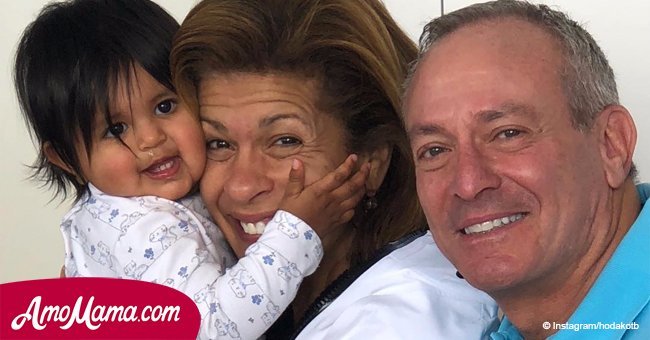 Hoda Kotb's daughter just said her first-ever word. And it's far from what her mom expected

Contrary to the mother's expectation, her first word was completely random.
According to an article published by Closer Weekly, Today show host Hoda Kotb was thrilled and amused to share the first word that her one-year-old daughter Hayley uttered – 'Bob.'
In Kotb's view, her little Hayley is growing up very fast and is already learning to say small words. However, the proud mother couldn't help but chuckle when she heard the first word uttered by her one-year-old.
Hayley's first word was 'Bob,' which as it turns out, was a completely random name. Kotb said that neither she nor her partner Joel Schiffman knew anybody by that name.
Kotb suggested that it might have been a combination of two words rather than a name. She suspected that Hayley might have hinted at the word 'bottle.'
Little Hayley has also learned how to say 'mama' and 'dada.' The TV host shared that it was her mother who taught Hayley to say 'mama,' while she was covering the recent Winter Olympics in South Korea.
Kotb missed her daughter's first birthday due to her South Korea trip. However, she shared with her fans that the mother-daughter duo had had a pre-birthday celebration before she traveled.
She shared a video of the celebration, in which Kotb sang Hayley the birthday song and captured her reaction. On returning home from the business trip, she also shared a heart-warming picture of reuniting with Hayley and Schiffman.
The happy mother had also announced her new children's book titled I've Loved You Since Forever. Speaking of the book, Kotb revealed that Hayley was the inspiration behind it and that it was an ode to the parent-child love.
Kotb has often spoken about her experience as a mother. She admitted that before Hayley, her life revolved mostly around work. She added that the birth of her daughter, whom she had wished and prayed for, changed her life.
Please fill in your e-mail so we can share with you our top stories!