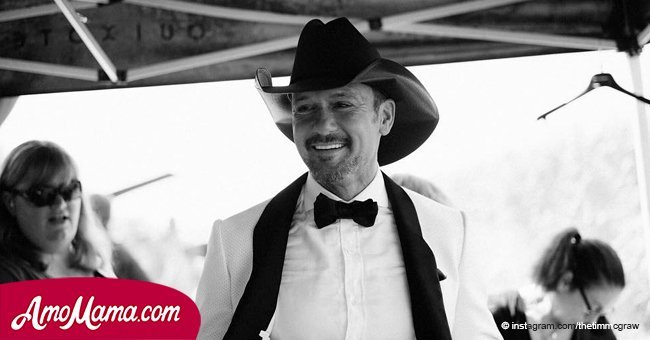 Shortly after sudden collapse, Tim McGraw's alleged weight loss reason became known
After the star fell on stage recently, many fans assumed that his health could be suffering. But the star has been living a healthy life since quitting alcohol.
According to Closer Weekly, Tim McGraw was just dehydrated at his last show. The star goes out of his way to stay healthy by exercising and eating right.
Tim McGraw, 50, looks better than ever after a drastic weight loss. In the past, the country singer had opened up about his decision to get back in shape.
He revealed that it had a lot to do with his choice to stop drinking. The star made headlines when he flaunted his abs in People magazine in 2013 after he made the big lifestyle change.
McGraw told Men's Health in 2014 that he had drunk and partied too much. He admitted that it got to the point where his three daughters were getting older, and they could notice it.
In 2016, he told The Washington Post that he thought that he was at a point in his career where it was either time to give up, or not be the best he could be. He shared that he felt like he was at sort of a crossroads with his life on all fronts.
At that point, he wanted to control something, because he felt it was getting out of control. He couldn't control anything about all the things he'd worked so hard for that's when he chose to take control of his physical well-being.
"When your wife tells you it's gone too far, that's a big wake-up call. That, and realizing you're gonna lose everything you have. Not monetarily, not career-wise, but family-wise."
Tim McGraw, Closer Weekly, March 12, 2018
The country singer started a strict three-times-a-day workout regimen, which not only helped him physically but also mentally. He once told People that, "Working out is a great way to go out on stage."
He revealed that his adrenaline would be going and he would be ready. In a past interview with The New York Times, the singer opened up about what he eats.
While on tour, McGraw admitted that he tried to watch what he ate three to four days a week. He confessed that he really liked cheeseburgers, pizza, and pasta.
But when he's preparing for an award show or photo shoot, he shifts to a very healthy diet filled with protein, vegetables, and fruits. He shared that right before he went to bed, he would have some yogurt with granola on top.
A day after collapsing on stage, McGraw was spotted happy and healthy according to Entertainment Tonight. He was seen out and about with his wife, Faith Hill, on Monday, flashing a smile as photographers snapped his picture.
Shortly after the incident happened, a rep for McGraw told ET that the star was suffering from dehydration. The rep shared that McGraw was attended to by local medical staff on-site and would be fine.
He and Hill thanked everyone for their love and support and looked forward to seeing their Irish fans again soon according to the rep.
Please fill in your e-mail so we can share with you our top stories!