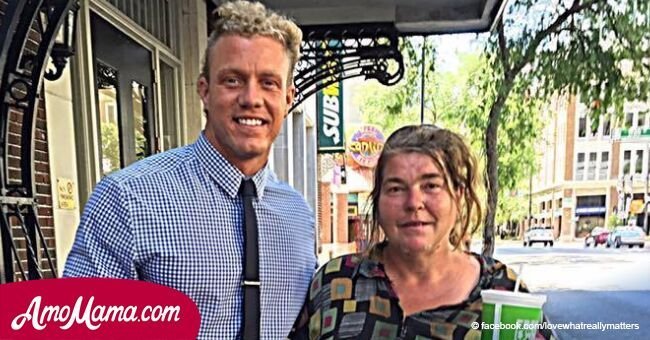 Man eats lunch with homeless woman every day until she made a confession that changed everything
After meeting her on several occasions and discovering her secret, this man decided he needed to do something to help her.
According to So Share This, personal trainer and sales account executive Greg Smith, from Orlando, Florida, helped a homeless woman named Amy Jo learn how to read.
The same outlet explained that Greg would pass Amy Jo each day on his way to work, but she didn't behave like most homeless people.
He explained, in an online post he made, that although he wears suits for work every day, she never asked for money.
He eventually sat down with her to chat for a while only to learn how her life had been a rough path. They started eating lunch together.
He explained that each Tuesday, Amy Joe would meet with him at the corner of Pine Street and S. Orange Ave in downtown Orlando.
Although at first, these dates were going perfect, one day she 'dropped a bomb' on him, according to what he wrote on Facebook.
'Last week Amy Joe kind of dropped a bomb on me…she cannot read... She began to tell me any money that she can collect she uses to check out library books that help with learning to read instead of buying FOOD,' he wrote.
This confession moved the man, and he decided he would do something to help her get on her feet, starting by teaching her how to read.
'So now not only do Amy Joe and I sit and have lunch, I'm teaching her to read. I rent one library book a week, and we read it together Tuesday, and she practices on her own throughout the rest of the week,' he explained.
After that, he also found her a place to stay, claiming that he will support her while she becomes financially independent.
The 25-year-old personal trainer pointed out that he wasn't trying to make people feel bad about themselves with the post, claiming that maybe it could lead to someone helping another person.
He also said that he has people trying to find her a job, as he continues to check in on Amy Jo. He wants to establish a foundation in her name for other homeless folks.
Please fill in your e-mail so we can share with you our top stories!