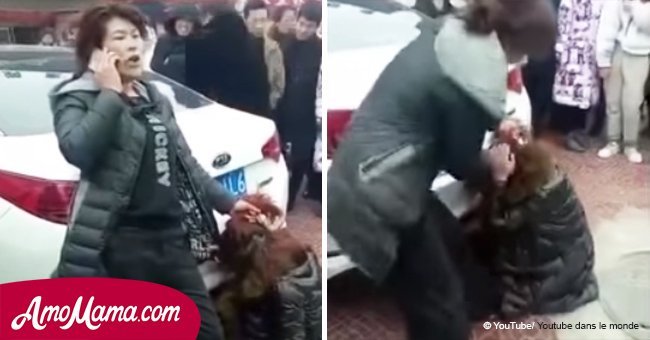 Woman brutally beats up husband's mistress. In the middle of assault she called husband

A scorned wife decided to take the matter into her own hands.
As reported by Meaww, a video footage has caught the moment a wife beat her husband's mistress and she even called him in the middle of assault to come and watch it.
The incident occurred on February 28, 2018, in the streets of Luannan County in northern China.
The unidentified woman alleged that her husband had been cheating on her for three years. It's not known how the wife spotted and caught the alleged mistress, according to Meaww.
In the video that was filmed by a witness using a mobile phone, the wife is seen beating the mistress in front of many people.
After the wife had beaten her up, she holds her by the hair as the mistress was sitting on the ground behind the car.
Then, the wife calls her husband, asking about his whereabouts. "Come here. I've caught her. Hurry up! I'm by the Jin Mao Tower," she tells him.
After she hangs up the phone, the wife faces the crowd and begin to slap the mistress again. "Tell everyone what you are. Tell them you're a mistress. Tell them!" she yells.
While bawling her eyes out, the mistress says, "I'm a mistress."
She then tells the onlookers that the woman is a homewrecker and that she's been with her husband for three years.
The wife mocks the mistress more in front of the crowd as she grabs her legs, begging for mercy.
The people around them can be heard laughing in the background.
According to Meaww, adultery in China is not a punishable crime. It seems normal in the country that the wives end up taking matters into their own hands. There are some cases that they appear to be more aggressive and more violent than this one.
Please fill in your e-mail so we can share with you our top stories!