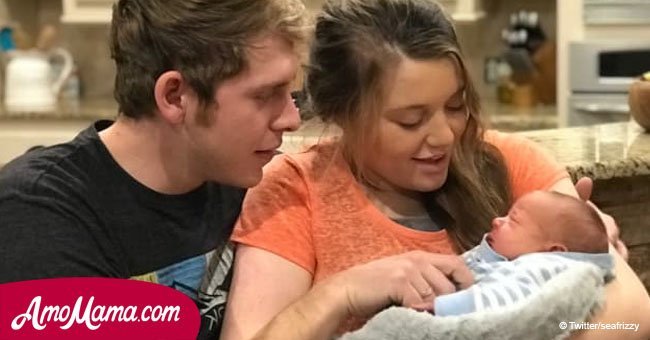 Here's why Joy-Anna Duggar broke a major family rule when she gave birth to her son

Counting On's Joy-Anna Duggar had a pregnancy that was surrounded by speculation and rumors among the fans of the TV personality. Even her delivery was a mystery until now.
The TLC network premiered two exclusive webisodes surrounding the circumstances around the arrival of Joy-Anna Duggar Forsyth, 20, that shed light on the reasons that forced her to give birth in a hospital instead of at home as the family is accustomed to.
According to Inquisitr, the Duggar family is known for advocating home births, with siblings and midwives in attendance, and since it was discovered that Duggar Forsyth gave birth in the hospital, the fans are wondering why did she do it.
The two webisodes answer this question and reveal a few other exclusive details involving Duggar Forsyth becoming a mother, but they can only be enjoyed by registered users of TLC Go who have a password to access it.
The two webisodes are 10 minutes long, and they follow Duggar Forsyth's last arrangements to give birth to her firstborn, Gideon, in a home birth, until the actual delivery of the baby, which had to be done through an emergency C-section.
In the first webisode, family members shared stories about the new parents when they were growing up. In the second one, we see the situation that forced Duggar Forsyth to take a last-minute ride to the hospital due to an unexpected complication.
Duggar Forsyth had everything set up to have a natural and homely delivery and she reportedly labored for about 20 hours, only to discover that her baby was breech and there was no other option than to carry out an emergency C-section.
The offered explanation, far from calming the curious followers, lead some of them to further criticism of the Duggar's and their preference for handing their pregnancies the old-fashioned way, arguing that a modern-day medical checkup would have made it easier.
The second webisode had another surprise for the fans of Counting On, as Jill Duggar Dillard, who was supposedly ousted from the show along with her husband Derick Dillard because of his controversial transphobic remarks on social media.
This unexpected appearance by Duggar Dillard is now making the public wonder if only Derick will no longer appear. Derick had previously claimed that he was never fired from the show but it was the couple's decision to leave.
Please fill in your e-mail so we can share with you our top stories!