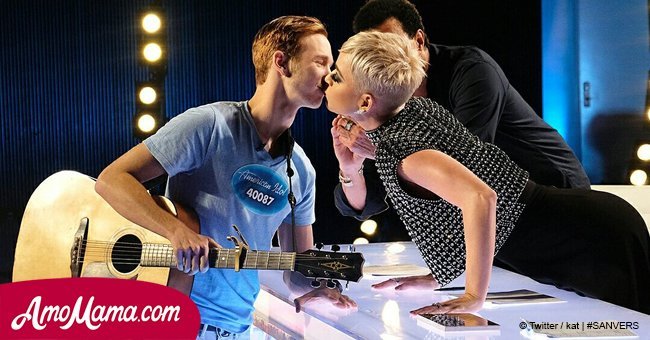 American Idol' contestant admits he never kissed a girl before. Then Katy Perry invites him
The judge did something totally unexpected.
According to AOL, a contestant made a candid confession on the premiere of American Idol on March 11, 2018.
Benjamin Glaze, a contestant on American Idol, will remember the Sunday for a long time to come. The teenager from Enid, Oklahoma, was kissed by the vivacious pop singer.
A cashier at an electronics store, Glaze confessed that he had never had a girlfriend and had never been kissed on the lips.
He joked that he liked his job as cute girls come up to him and say "Hi." Bryan asked him if he's "kissed a girl and liked it," a reference to Perry's 2008 hit.
Glaze then said that he had never kissed a girl before.
After his confession, Perry did not need any prompting as she asked the youngster to come in closer. He politely landed a peck on her cheek.
The second time, the star made sure it landed on the lips even as Glaze landed on the floor.
It was not the perfect Hollywood kiss and the youngster seemed startled from the brief encounter with Perry.
Most viewers watching the episode were not amused by Perry's advances. A user on Twitter, Laissez Bear, pointed out that if a male judge kissed a girl the way Perry did, there would have been rioting. He felt this showed 'double standard against men.'
Many also felt that Perry should have asked him first, though he did not seem to mind the kiss.
It is also quite possible that the producers of the show cut out the bits of relevant dialogue between the two.
He sang Nick Jonas' Levels for his audition in front of judges Luke Bryan, Lionel Richie, and Katy Perry.
The young singer was not lucky when it came to his performance. The judges decided against taking him to Hollywood.
The talent-hunt show returned for a new season on ABC after a hiatus of two years. It previously aired on Fox and ended its 15-season tenure in 2016.
Please fill in your e-mail so we can share with you our top stories!