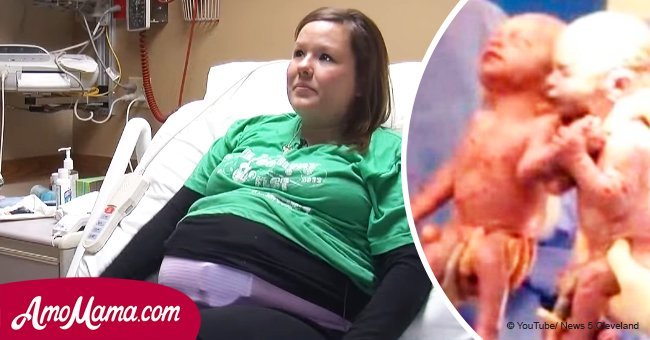 Doctor gasps after delivering twins. Mom understood why, looking at babies' hands

It's the story that captured the attention of international news outlets worldwide and left doctors stunned.
According to Bored Daddy, Sarah Thistlewaite's daughters, Jenna and Jillian, are a rare set of monoamniotic or 'mono mono' identical twins, which means they shared an amniotic sack and were in constant contact during the pregnancy.
The formation occurs in approximately .3 percent of births and can require intensive care during the third trimester to avoid complications. That prenatal connection between the two twins, Jenna and Jillian, made the moment all the more powerful.
Doctors first identified the monoamniotic pregnancy at 19 weeks during Thistlewaite's third ultrasound. She and her husband, who already had a one-year-old son named Jaxon, were informed they were having identical twins but were warned their rare condition carried severe risks.
The condition meant that the mom had to remain on bed rest for weeks at Akron General Medical Center in Ohio. The twins had to be constantly monitored for nearly two months since mono mono twins can easily become entangled in each other's umbilical cords.
Thistlethwaite says her 57 days on bed rest passed surprisingly quickly. She taught herself to knit using YouTube videos, knitted baby hats, shopped too much on Amazon and looked forward to visits from her husband and son.
The girls were born 48 seconds apart; baby Jenna, 4 pounds 2 ounces and 17 inches, was born first and followed closely by Jillian, 3 pounds 13 ounces and 17.5 inches. Seeing them holding hands, Thistlethwaite said, was 'the most heartfelt thing I've ever seen.'
The sisters remained inseparable, always sitting together at meal times and reaching for each other. Now aged two they both have distinctive personalities but will take care of each other if one is sad.
Mom and dad said they always wanted three kids, they just weren't expecting to have three of them so quickly. But now that Jenna and Jillian are growing fast and healthy, their parents can start to focus on their lives.
Thistlethwaite knows her daughters are lucky to have each been born with a built-in best friend. She says she can't wait to see how they support and push one another through life.
Please fill in your e-mail so we can share with you our top stories!