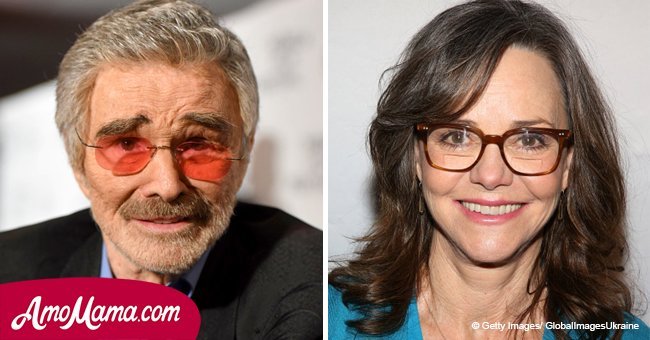 Burt Reynolds makes 'weird confession' that he has loved Sally Field since she was 7

His joke about how long he has been in love with Sally Field, who he calls the love of his life to this day, was not understood by most, and it made many uncomfortable.
The 82-year-old Hollywood icon and action hero Burt Reynolds, spoke with Today's Hoda Kotb in an interview in which he reflected on his legendary acting career and he revisited an episode of his love life that he considers his greatest lost.
As reported by Entertainment Weekly, the star of Magnum PI was questioned by the TV host about his feelings for fellow actress Sally Field, 71, with whom he famously dated in the 1980's for five years. Ever since, Reynolds has kept saying she was the love of his life.
Even though he keeps talking about his relationship with Field, the actor seems to still be a little embarrassed when they bring about the subject when he is not expecting it, but he always ends up opening himself about how he longs for those times with her.
On this occasion, his answer has caused a bit of a stir as he has been quoted saying something that can sound scandalous for many people. He revealed how old Field was when he first noticed her, and nobody was expecting it.
'You're naughty, you really are," Reynolds told Kotb when she asked the question. "I'm dead in the water no matter what I say. Well, she was 7 when I fell in love with her. She stayed 7 for about 11 years. I would say, Sally.'
If you feel some ambiguity to the comment, it is because it is meant to be taken as a joke. As Yahoo reported, Reynolds only met Field when they were both adults. They met on the set of the 1977 film Smokey and the Bandit and then started a romance.
In 2015 Reynolds talked to Vanity Fair about how difficult it has been for him ever since the relationship ended to make peace with the fact that he let her go because of his own actions, which he has always regretted.
'I miss her terribly. Even now, it's hard on me. I don't know why I was so stupid. Men are like that, you know. You find the perfect person, and then you do everything you can to screw it up,' he said at the time.
Please fill in your e-mail so we can share with you our top stories!