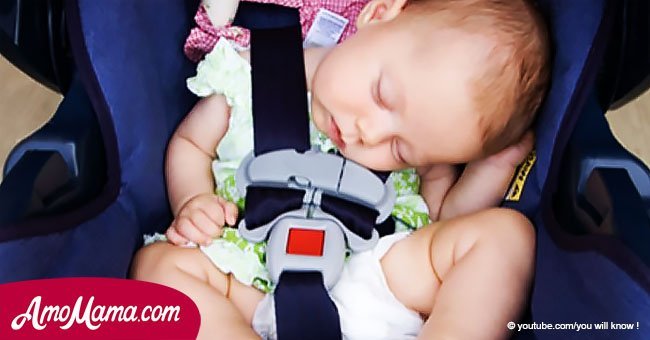 Nanny puts the child in the car seat. When parents return they find the baby dead with a blue face.
Losing a child is the most recurrent parent's nightmare, as no mother or father should ever have to bury their own baby.
According to Newsner, unfortunately, that horror became a reality for Ali and Derek Dodd after they left their 11-week-old baby at an in-home daycare.
The chose day-care provider in Oklahoma to watch for their boy, Shepard. The woman was highly recommended by a friend and she would only watch teacher's kids.
This meant she would be closed during the Summers and school breaks, which was great for this couple, as Derek is a teacher.
On April 6, 2015, the Dodds left their son at the home daycare they had chosen for the sixth time, but they didn't know that their lives would be changed forever in a matter of hours.
Source: Facebook/Ali Dodd
At 12:51 p.m., the provider called Ali and told her to get there quickly, as caregiver reported that Shepard wasn't breathing.
"She said, 'Ali, get here quick. I don't know what happened! I put him down for a nap, and when I came back to check on him, he was blue.'" the mother explained.
Source: Facebook/Ali Dodd
The daycare provider called 911, and a police officer and EMTs had responded. After talked with an EMT over the phone, she knew the situation was critical.
Ali and Derek will never forget the moment they discovered their son was gone. The family was also forced to accept that Shephard's death could have been prevented and that it was a mistake on the caregiver's part.
"This wasn't an accident. She knew that a car seat wasn't safe for sleep and that two hours is much too long to leave an infant behind a closed door," Derek explained.
Source: Facebook/Ali Dodd
The official cause of Shephard's death was positional asphyxiation, as the boy was left to sleep alone in a buckled car seat.
The authorities received complaints from other parents concerning the daycare practitioner in question, but according to Derek, she hasn't been charged with any crime. Shephard's case is still open.
Please fill in your e-mail so we can share with you our top stories!